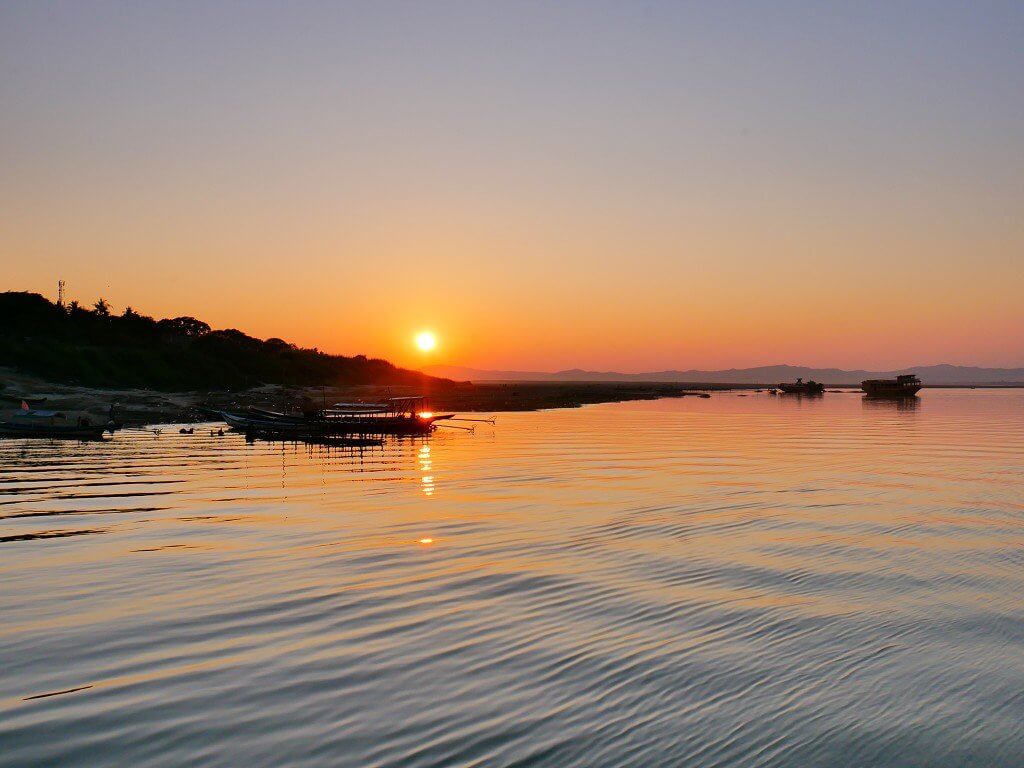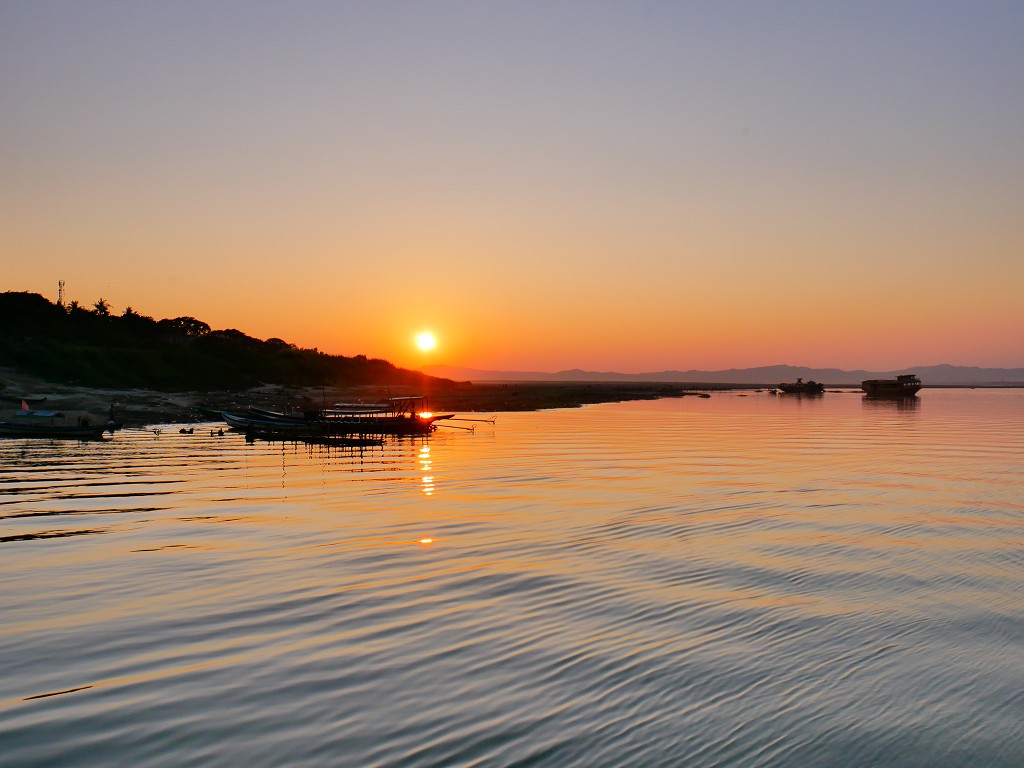 These events occurred on Tuesday the 7th of January, 2020. Jonas and I took a cruise down the Irrawaddy River from Mandalay to Nyaung-U (near Old Bagan) in Myanmar. At the bottom of this article, you can find information on how to book this Irrawaddy River trip yourself.
Finding the Irrawaddy River Cruise
Before we'd left Chiang Mai, we had to decide where we'd go after Mandalay. In Mandalay, the road to Yangon forks in two paths: to the temples of Old Bagan or to Inle Lake. Both are popular tourist destinations in Myanmar that can later lead to Naypyitaw – Myanmar's brand-new capital city. We certainly knew we wanted to go to Naypyitaw.
As we hadn't visited that many temples in Thailand, we weren't suffering from temple fatigue—yet. A lake is a lake is a lake, so Inle Lake didn't really speak to our imagination. The deciding factor was that both Mandalay and Old Bagan hug the Irrawaddy (ဧရာဝတီမြစ်) river; Myanmar's longest river and, in colonial times, the original road to Mandalay. As you might know, we're big fans of rivers and have kayaked halfway down the Danube in 2019. To say that we missed being on rivers was an understatement.
Searching for a ferry yielded no results. Even though we don't really like cruises, we began Googling for one. There were many Irrawaddy river cruises that charged well in the four-digit numbers. Even the loathed Avalon river cruises; a company that uses the word "exotic" ironically. We first encountered this adversary on the Danube river in Regensburg.
Then we found one for €76 for two people that would arrive from Mandalay to Bagan on the same day. It would leave from the Gaw Wein jetty at 6:45 in the morning and arrive in Nyaung-U something between 9 and 12 hours later. We bought the tickets two and a half weeks in advance and then booked our accommodations in Mandalay and Nyaung-U. The price to travel upstream from Bagan to Mandalay was much cheaper at about €28 since it wouldn't include a stop along the way.
The Gaw Wein Jetty in Mandalay
On the morning of departure, we just had to slide into our comfy clothes and put our backpacks on. It was our fifth day in Myanmar. Our hotel had prepared us some takeaway breakfast since it was so early. We said goodbye to the staff of the Royal Yadarnabon hotel and got into our Grab car to the Gaw Wein jetty.
Once at the jetty, there was less chaos than anticipated. It was really cold in the early morning and so dark that it was hard to see where we had to go. There was a tiny table with two people signing people in. A young woman checked for our names on the list and pointed to the path that led down to the boat. Having done the day trip to Mingun the day before, I knew these paths could be muddy and slippery. We both embarked without any dramatic falls.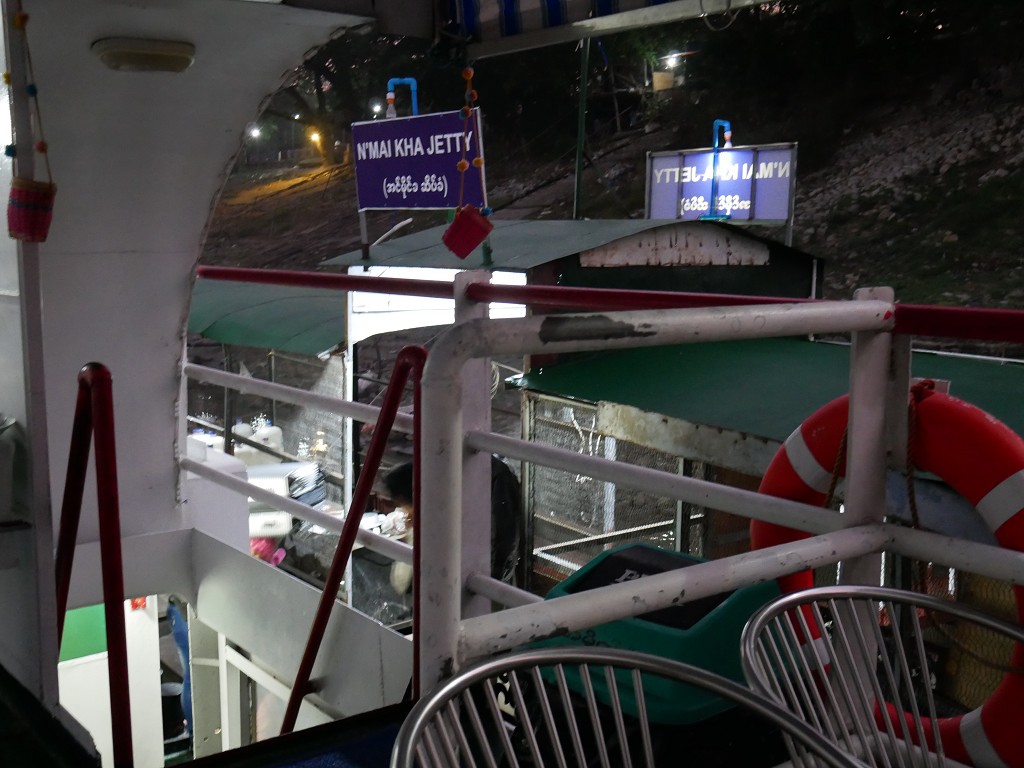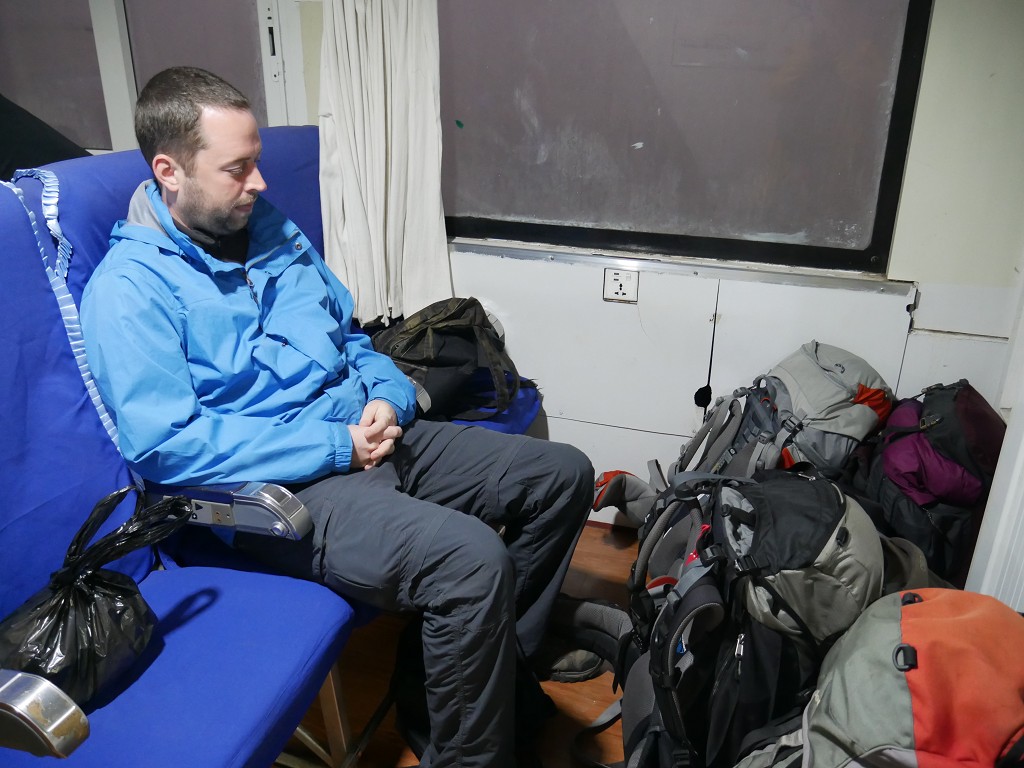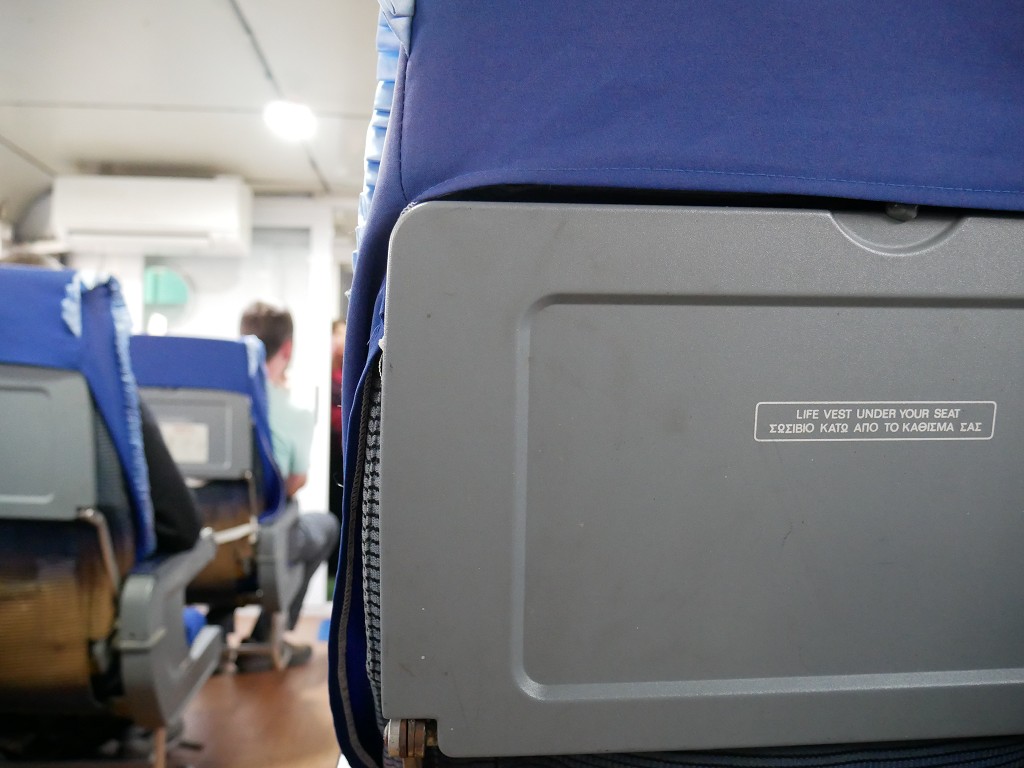 The young woman who'd checked us in showed us our seat options. The boat had old seats from a Greek airplane. We chose the one where we could put our huge backpacks in front of us and had access to a wall socket. A few other people also put their backpacks in our corner with the implication we'd watch their luggage. Then we sat down to relax a bit while more people arrived at dawn. I read some Wikipedia articles until I slowly dozed off. Then the engines turned on. At 6:35 – ten minutes before the official departure time – we unhooked from the shore and started our downstream journey.
Departing Mandalay and Watching the Sunrise at Sagaing
Jonas and I went to the upper deck to catch the sunrise at 6:46. The chairs were a bit moist and there was a mist on the water. A few motorized barges of different sizes were already on their way to pick up goods or make deliveries. Some ships are anchored in the waterway, some are starting up and sending up dark smoke from their engines. Everything is grey until the first bit of light makes everything shimmer.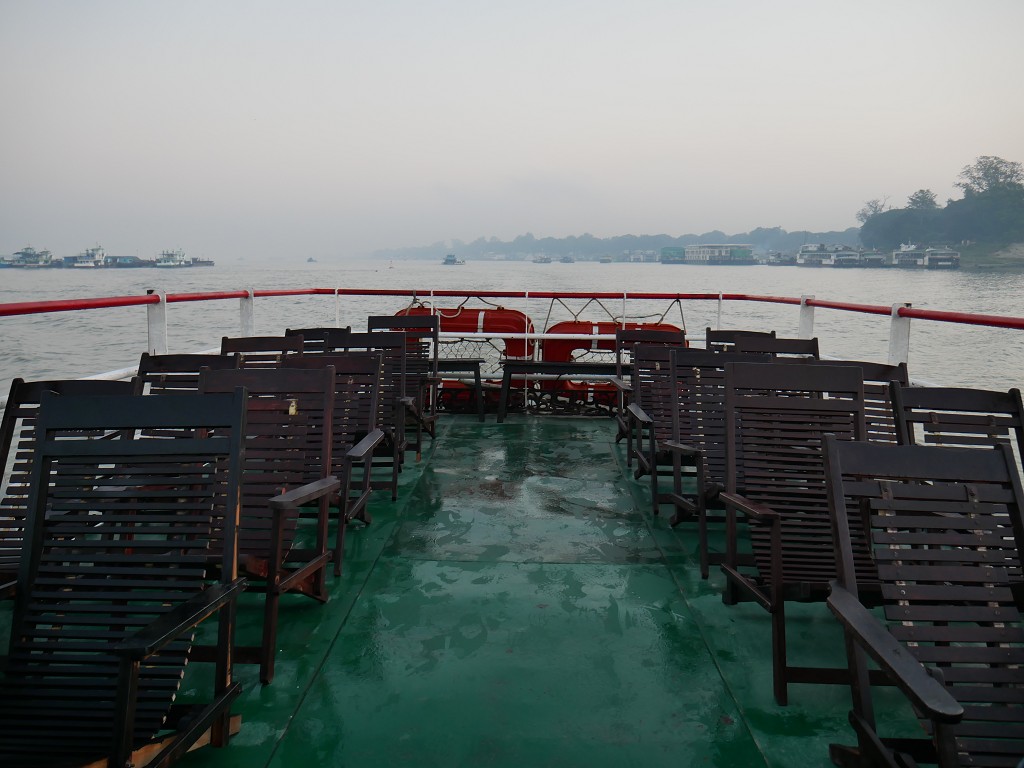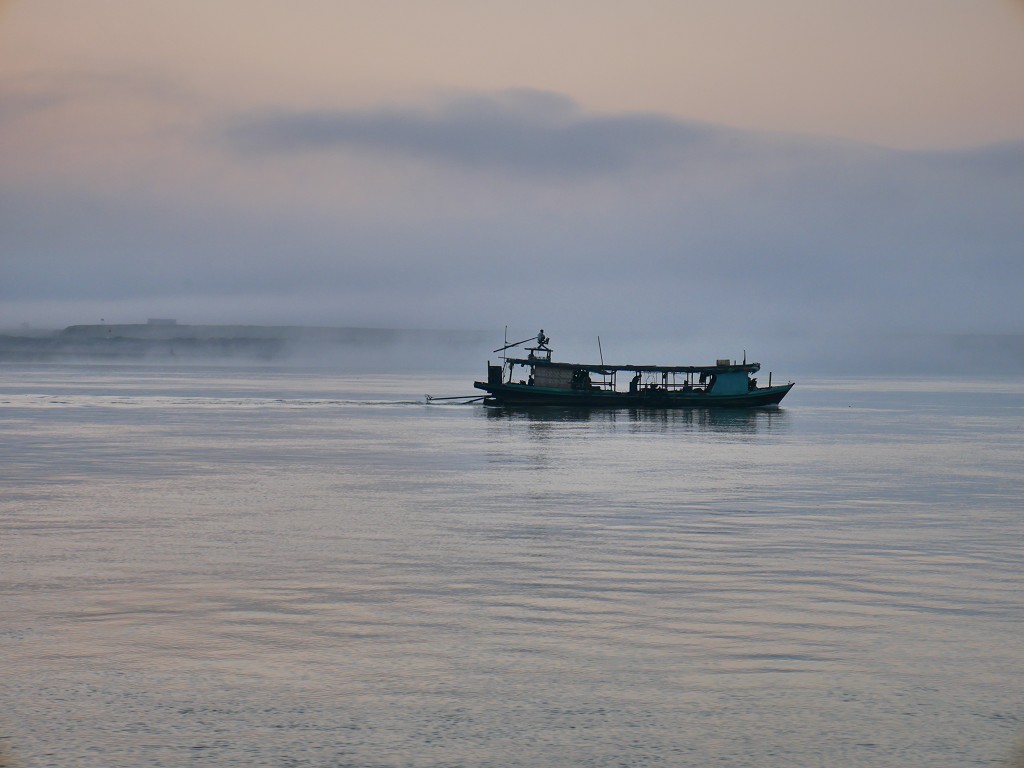 Since this was the dry season, the water levels in the Irrawaddy river were low. The current is visible but not as strong as can be. The weak sandy edges of the shore had been eroded away by every flood or monsoon peak discharge. Low water levels and siltation pose a danger for running aground on a sandbank, so we fully expected delays for this reason.
Once the sun is above the horizon, everything turns orange. It takes a while for the heat to reach our faces. We can stop shivering now. Flocks of birds fly over and the guests aboard move around impatiently for the announced breakfast. It's the usual international bunch; there are Russians, Chinese, Germans, Spanish, Polish, British, and US Americans—in the two flavors of backpackers and suitcasers.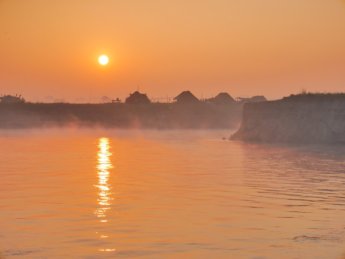 The outline of Sagaing's (စစ်ကိုင်း) many shoreside pagodas emerges. There are two bridges crossing the Irrawaddy river here, and both are pretty impressive. First is the Ayeyarwady/Yadanabon bridge, which opened in 2008 and has three massive arches. Downstream is the Ava/Inwa rail and road bridge, which the British had put in place in 1934 and was the only bridge to cross the vast Irrawaddy river. During World War II, those same Brits destroyed the bridge to hamper the Japanese Fifteenth Army when in retreat. After the war, they didn't repair it. Burma gained independence from its colonizers in 1948. They eventually repaired the Ava bridge in 1954. During the intermediate years, they ferried the train across the river to still continue the service to Myitkyina.
Also read: taking the train from Yangon to Mawlamyine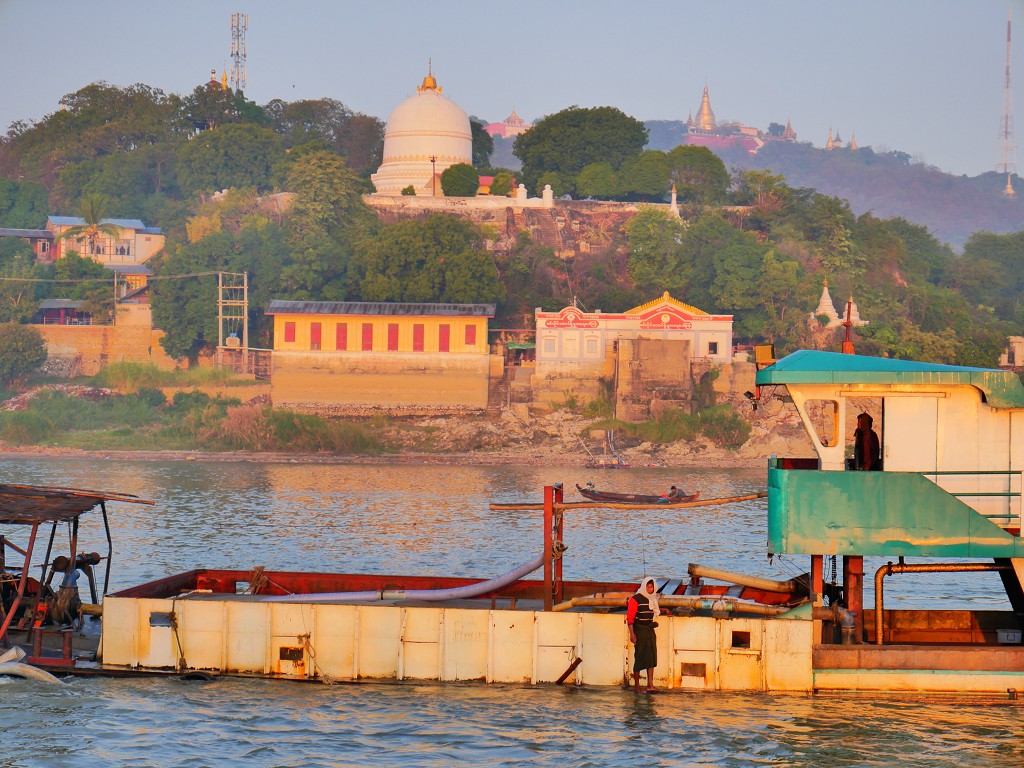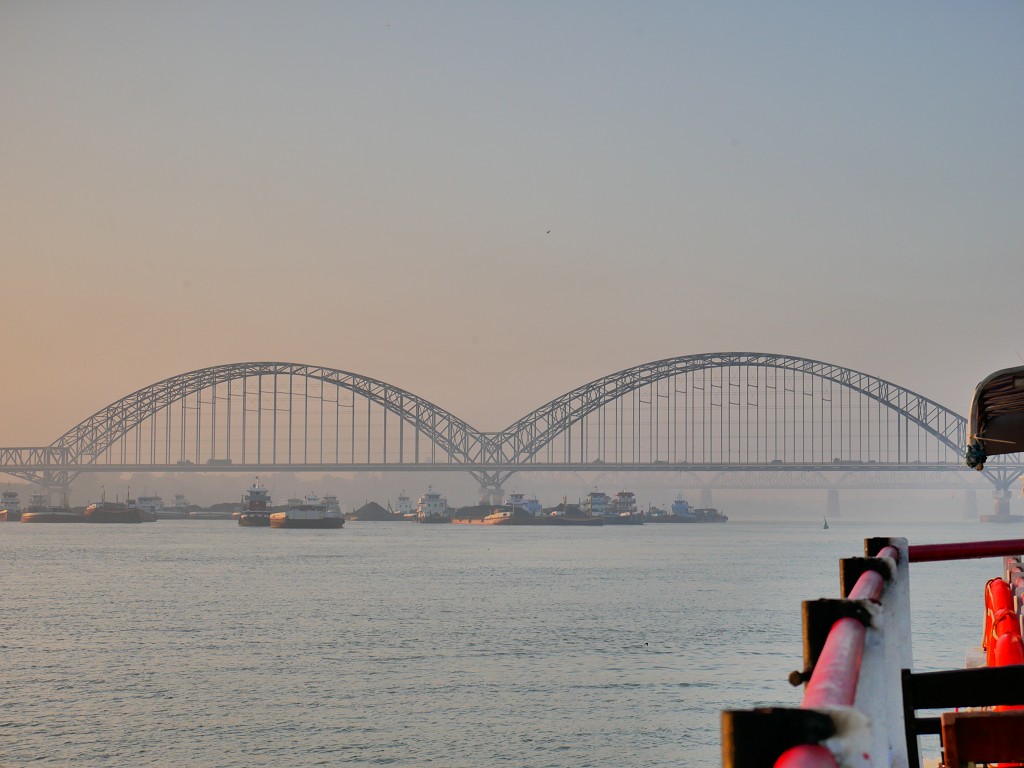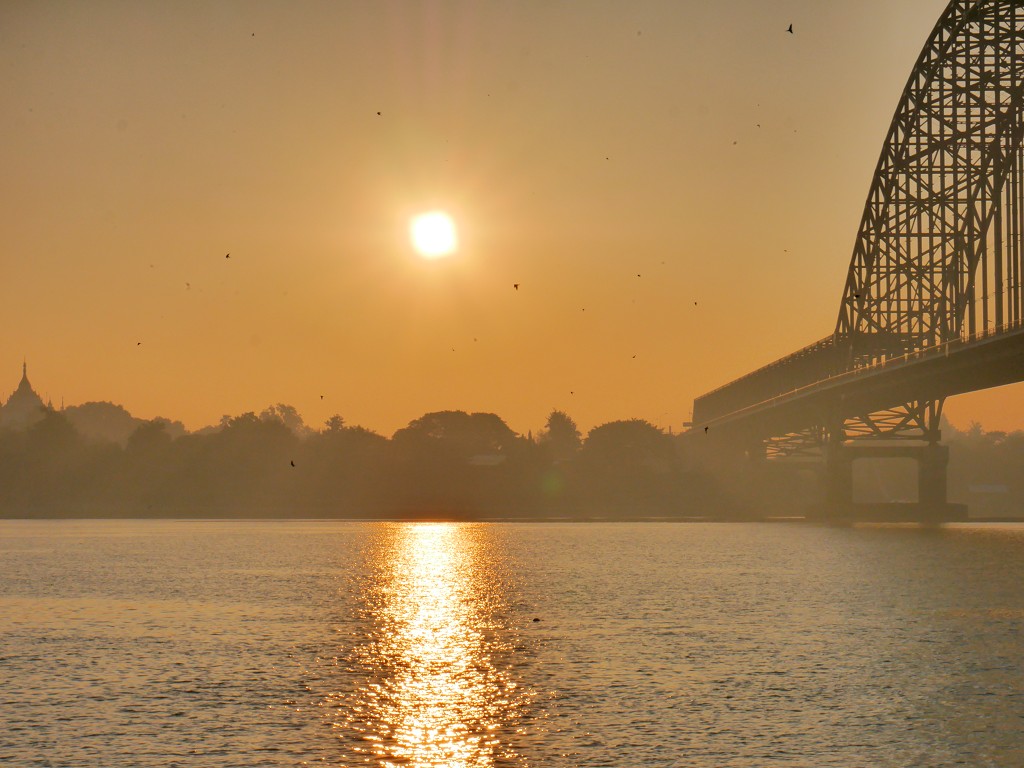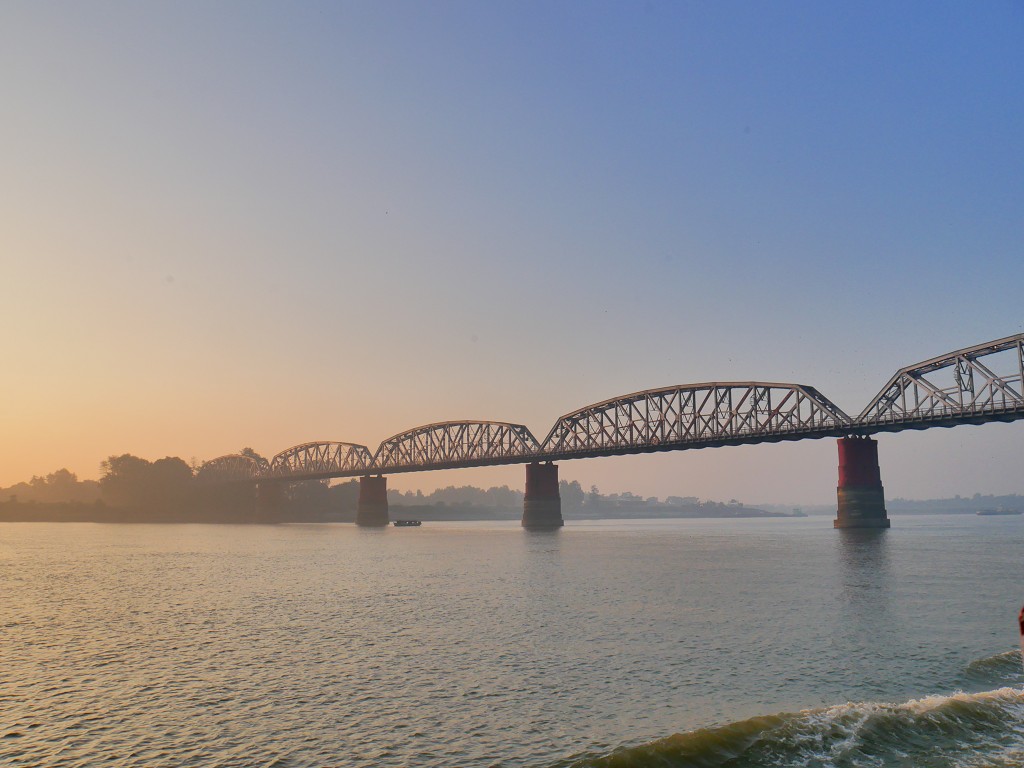 Since 1988, the Myanma government has gone on a bridge-building spree. There are now eight bridges that cross the Irrawaddy river.
Breakfast and Lunch Aboard
Before 7:30, we had a hot cup of coffee, some toast with jam, a banana, and some Myanma sweets. The engine's vibrations slowly make the coffee cup slide to the edge of the table, but we intervene on time. We're still wearing the hoodies of our jackets, but the coffee does a better job of warming us up, especially our stiff fingers. I don't know how people muster up the appetite to eat this early, but the sweet baklava kind of thing really hits the spot. I find out later that it's called shwegyi sanwin makin (ရွှေချီဆနွင်းမကင်း) and that you can find it everywhere on markets in Myanmar. For this and coffee, we go back to the buffet for seconds.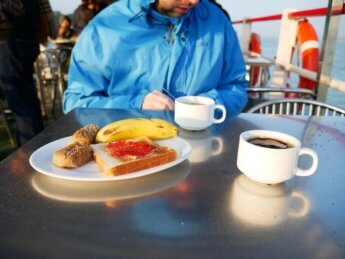 We go back downstairs to our seats to nap for a few hours. There's a sign that tells us the boat's name is RV Nmai Kha with the distances from Mandalay to various places. It says the journey to Nyaung-U will be 119 nautical miles. By the time we wake up, it's very warm and time to take off our layers of clothes and go back upstairs to the sunny upper deck. There's quite some traffic on this stretch of the river, from fishing boats with tiny umbrellas to cargo ships and many small cruise ships like ours. Jonas and I observe the red and green buoys we know so well from our kayak trip on the Danube. When traveling downstream, you're supposed to pass the red buoys on the left and the green buoys on the right – often, there's only one buoy in the river.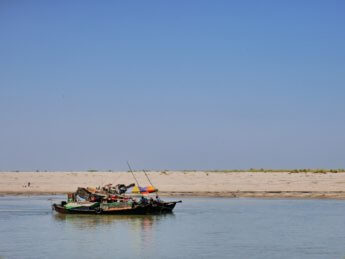 Most boats seem to adhere to this rule. One cruise ship that's faster than us approaches us from the back with one man on the bow. They are about to overtake us in a kind of dodgy situation with another cruise ship from the same company that travels upstream. On the upstream boat, there are three men on the bow; one alert to spotting shallow waters, and two to each side with long flexible sticks that they use to poke the murky waters and the river bed. Right after we passed a red buoy on the correct (left) side, the upstream boat with the men with sticks passes the buoy on its left side. I guess that's why they were testing the shallow waters to see if they could wing it.
The upstream boat also has no tourists aboard, whereas the downstream boat is full of people like us.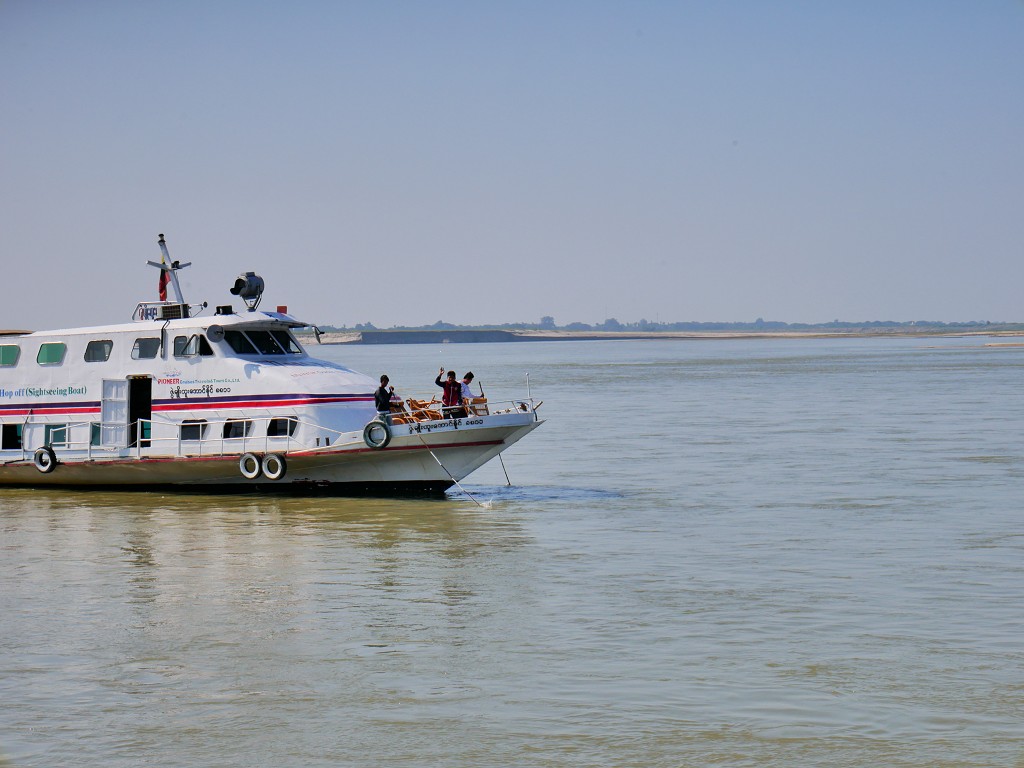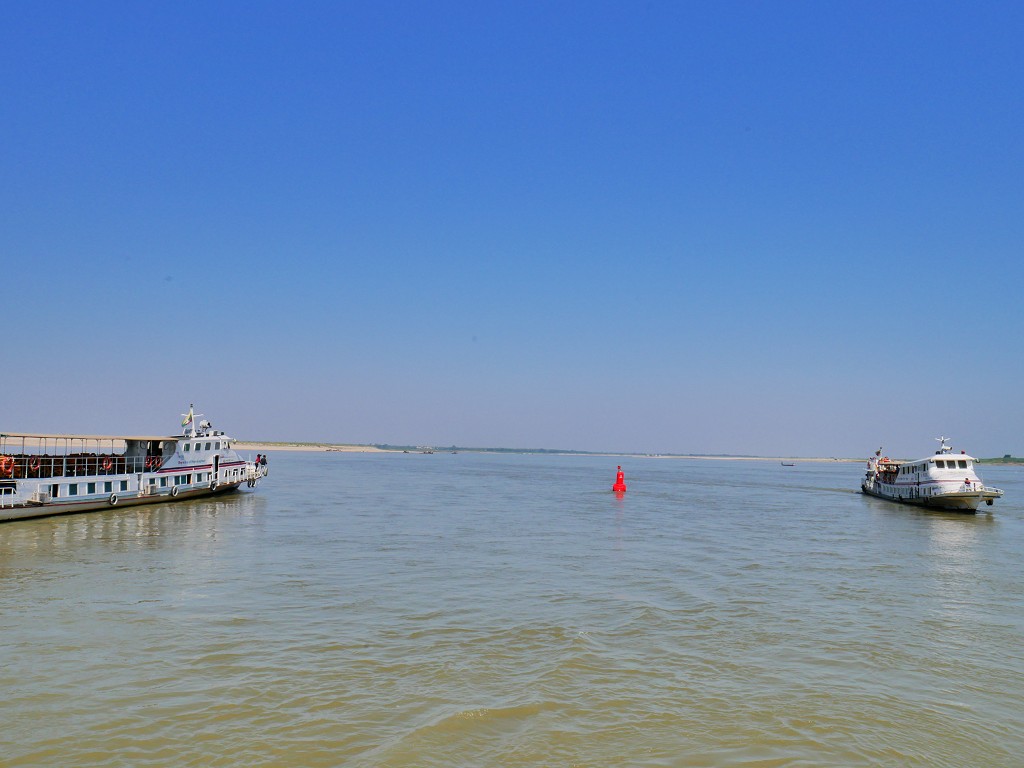 A bit later, a huge ship from Sanctuary cruises travels upstream and is quite terrifying.
A little after 11:00, it's time for lunch. We eat stir-fried noodles and rice, which I try to keep vegetarian without being too picky. There's this condiment with garlic and green chilies which I'm in denial about; it's probably with fish sauce. We pass by the Mandalay Semeikhon Port, which is supposed to help Mandalay's port handle the increasing amounts of cargo on the Irrawaddy river.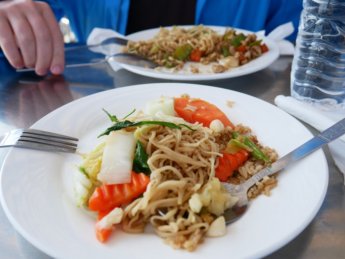 The Stop at Yandabo
At 12:10, we arrive in Yandabo. This is where the peace treaty of the First – out of three – Anglo-Burmese War was signed in 1826, after which the British colonized the first regions of the Burmese Empire.
We all disembark with the help of planks, poles, and steady hands, just like we did in Mingun. We're not the only cruise ship moored at this village. It's a short walk through the village's skinny unpaved roads. We pass a gathering of people near a temple. Stacked in pyramid shapes are the signs of what this tour is about: we're here to learn about the clay pots that the people of Yandabo make.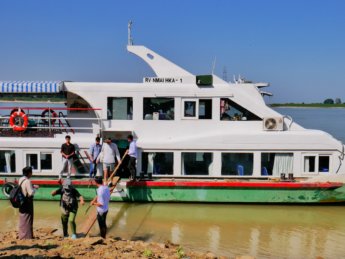 At Buddhist temples, gas stations, and completely random places in Myanmar, you'll find clay pots with cups. They're for hospitality and karmic kindness to help passersby quench their thirst. For one hour, our group watches one woman flex her pottery skills while another woman operates the turning mechanism with her leg. Once the pot is shaped, it has to dry for a bit. The lady grabs a pre-dried pot to shape and pattern it further. The end result is a rather large pot that probably still needs to be baked. I don't know how it gets the reddish color seen on other pots.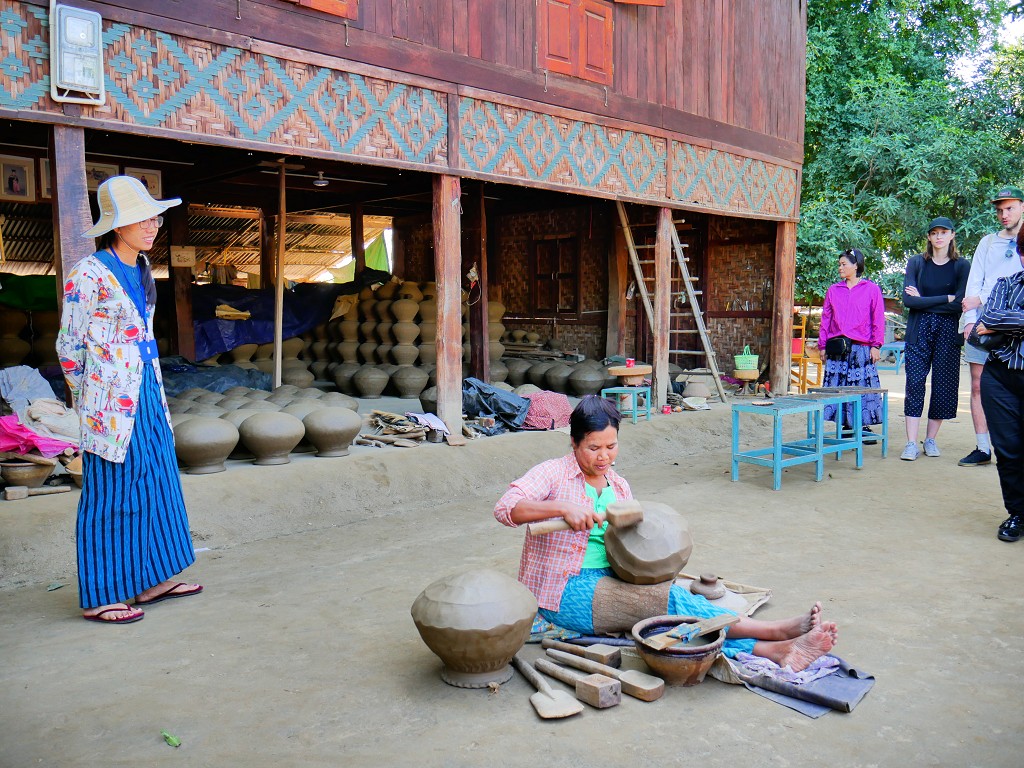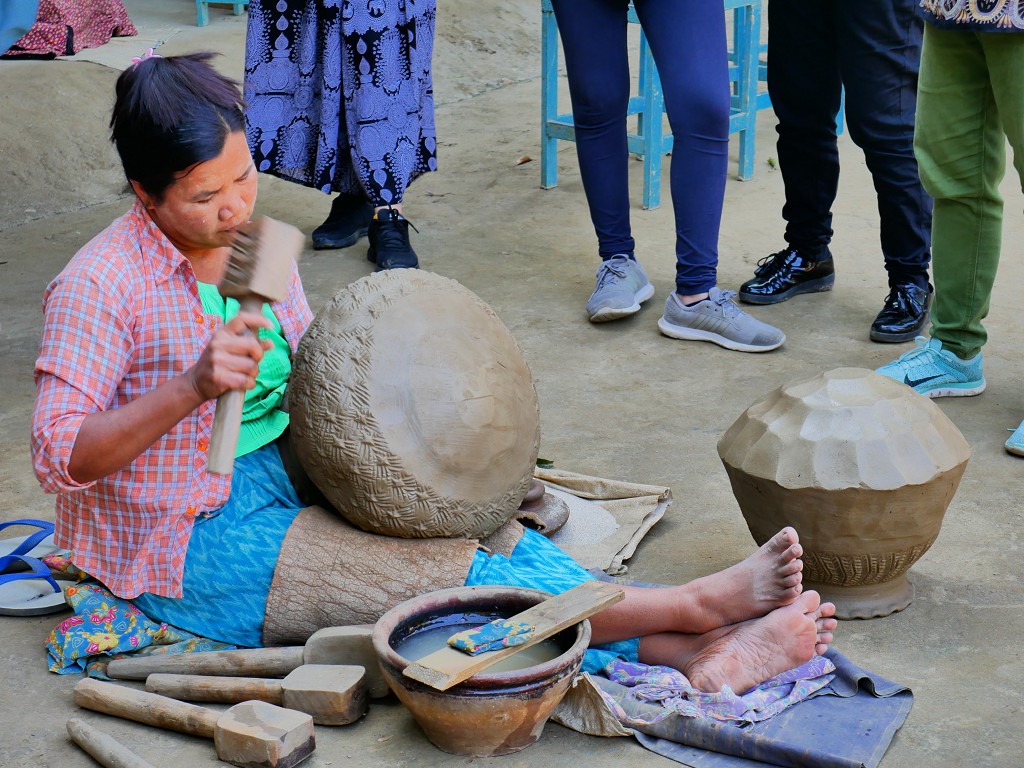 We're encouraged to buy a little clay souvenir, stare at or photograph the red chilies drying in the sun, and walk around freely among the stacks of pots before we head back to the boat. On the return, we encounter a large group of mourning people headed towards a funeral at the temple we'd seen earlier. We're back at the boat at 13:00.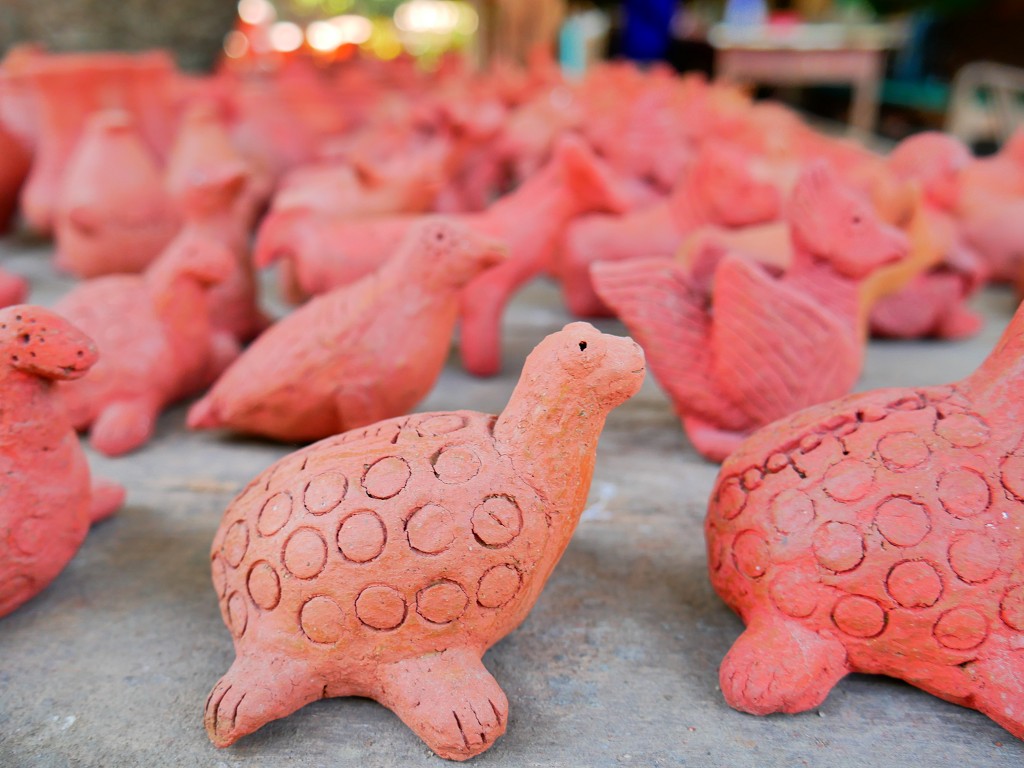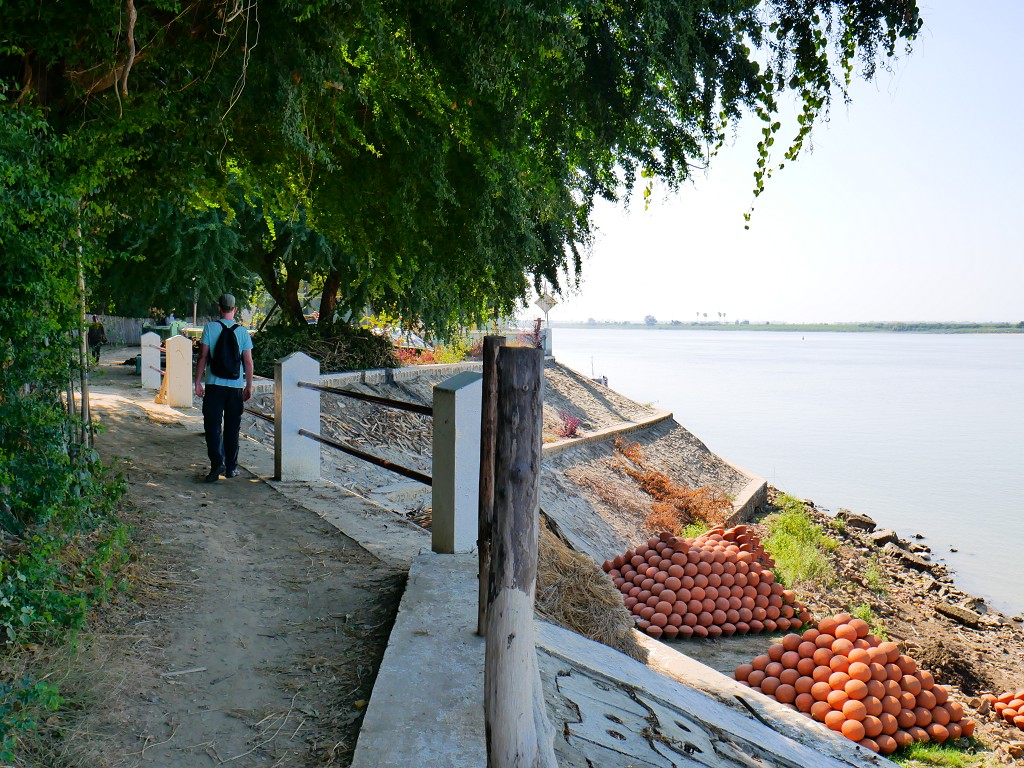 Choosing My Myanma Name
Back on board, I'm not so sure what to do anymore. I suggest Jonas we share a beer from the buffet and enjoy the upper deck a bit more. It cost us 2.500 MMK for one bottle, which was the same for a bottled beer in a fancy rooftop bar in Mandalay. We pick a nice shadowy table until the boat turns and the shadow decreases. It's a little after 14:00. I snap some photos of the cargo barges with pusher boats that share our journey under the scorching sun.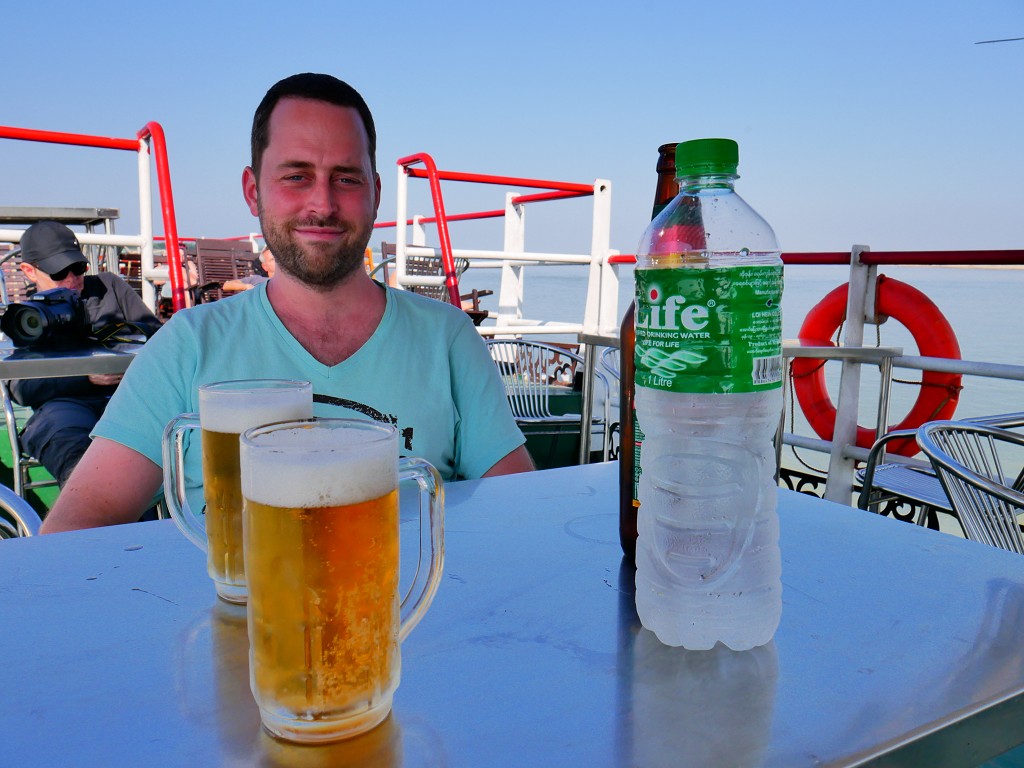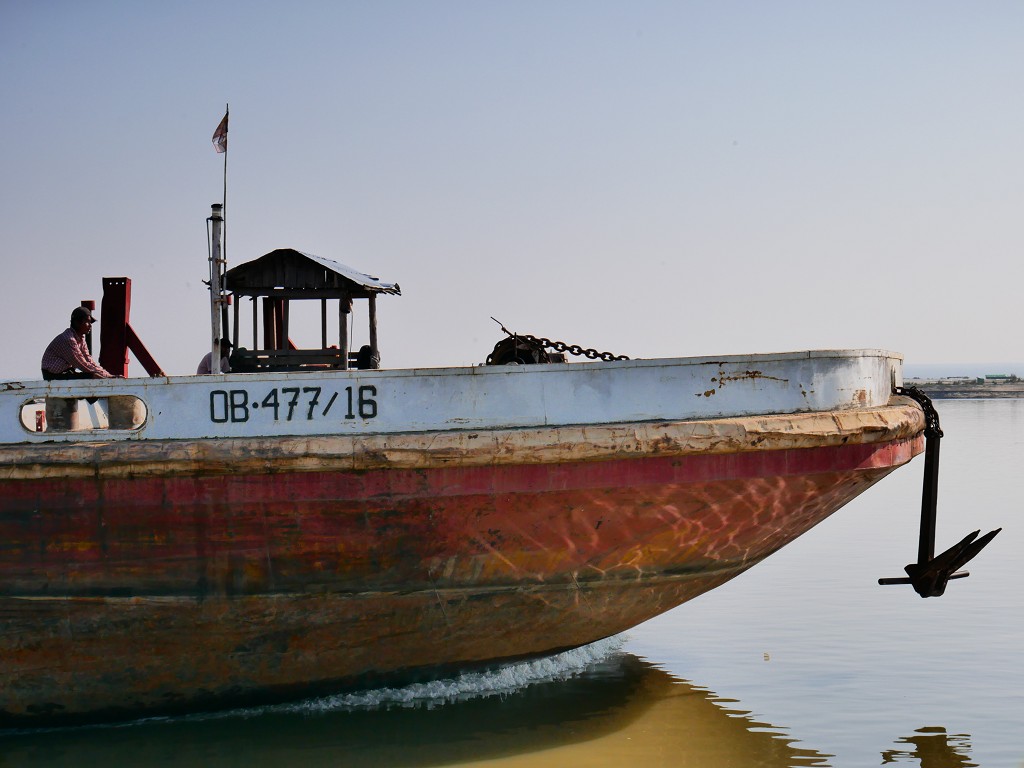 We pass the confluence of the Irrawaddy river and the Chindwin (ချင်းတွင်း) river. It's not a clear confluence like the ones we know from the Danube; it looks more like a braided river. As the river twines, so does our captain. I add some photos and videos to my Instagram stories about the trip. We've had internet reception almost everywhere on the river. There are so many telecom towers dotting the landscape, which simply didn't exist in Myanmar just ten years ago. With good reception comes a low phone battery, so we go to our seats to charge our phones.
We return an hour later for tea, coffee, and another Myanma sweet snack (mont – မုန့်). This time, it's some fried dough rings (mont let kauk – မုန့်လက်ကောက်) with sweet sticky syrup for dipping.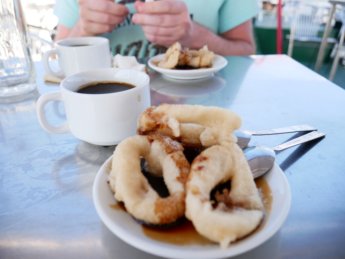 After tea time, I chat with our tour guide. Her name is Nî Nî and she informs me that she was born on a Thursday. I'm not sure what to do with this information. Then she asks on what day I was born and I have to check on a calendar. "A Wednesday," I say. "At what time?" she inquires. "Eh, at three in the morning." She starts writing down a few letters ( L (လ), W (ဝ) Y (ယ), R (ရ), and a few naming options based on those letters. I randomly choose Yî Yî Win, of which the last word translates to 'bright'.
Only after heavy Googling, I find out that this is part of Myanma astrology and folklore traditions. It's a deep dive, but very interesting to read about. Since Wednesday is split up in a morning and afternoon, the week actually has eight days. The day you were born apparently decides much of your personality. And being a Wednesday morning person makes me "short-tempered, but soon calm again" and represented by a tusked elephant. If that sounds like not a great compliment, I'll take Wednesday morning traits over Monday ("jealous" + tiger) or Sunday ("miserly" + mythical bird) any day of the week. At the pagodas, you can make offerings/donations at your respective day of the week.
Nî Nî wants to add me on Facebook and keep chatting in English. She tells me she's a student nearby Mandalay and her hometown is further north in Myanmar. We add each other on Facebook for if we need help with an e-bike rental in Bagan or with anything else in Myanmar. (Much later in the trip, I receive her help with some translations and tips with Myanma script.)
Drinking Parties at the Pakkoku Bridge
After checking out the (excessive amount of) food we received from our hotel, we go back upstairs after 16:00 to share another cold beer on this hot day.
A few tables over, the hetero Russian couple arrives with a bottle of vodka. They have their own private tour guide who is a Myanma guy who's fluent in Russian. Then the scattered groups of Chinese tourists grab a few tables and also order cold beers to pour in glasses. Over the next fifteen minutes, the atmosphere becomes merrier. The German-speaking lesbian couple with the biggest camera of us all sits down at the table behind us with a sensible bottle of water. They ask us if we're Danish, which is a fair enough assumption based on our germanic-sounding cant. We tell them we're Dutch and German and chat a little with them. They're also from the Köln area in Germany.
In the distance, the majestic Pakkoku rail and road bridge which opened in 2012. At 3.4 kilometers in length, it's the longest bridge in Myanmar. Once we're past it and look back at it, we see that the moon has risen above the metal contraption that spans the Irrawaddy river. I'm getting a bit tired and hope we'll arrive soon.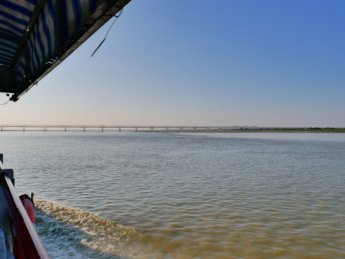 The older straight Chinese couple at the table across the aisle is having a great time until her beer bottle falls down the table and shatters the pieces and the wet contents over her handbag and shoes. The lady is in shock and doesn't really know what to do, so I start picking up the pieces around her so she can move safely. The boat crew is alerted and comes over with a dustpan to clean it up, profusely apologizing to the husband who rages about the boat's vibrations. He buys a new beer for her.
Ten minutes later, we're about to go down again to the lower deck when the exact same thing happens again to the same people.
Downstairs, the doors of the boat have been open pretty much the whole day. It's deliciously not childproof. We take some photos with the lowering sun and check the map if we're about to arrive. We decide to pack up a little so that our departure from the boat will be smooth.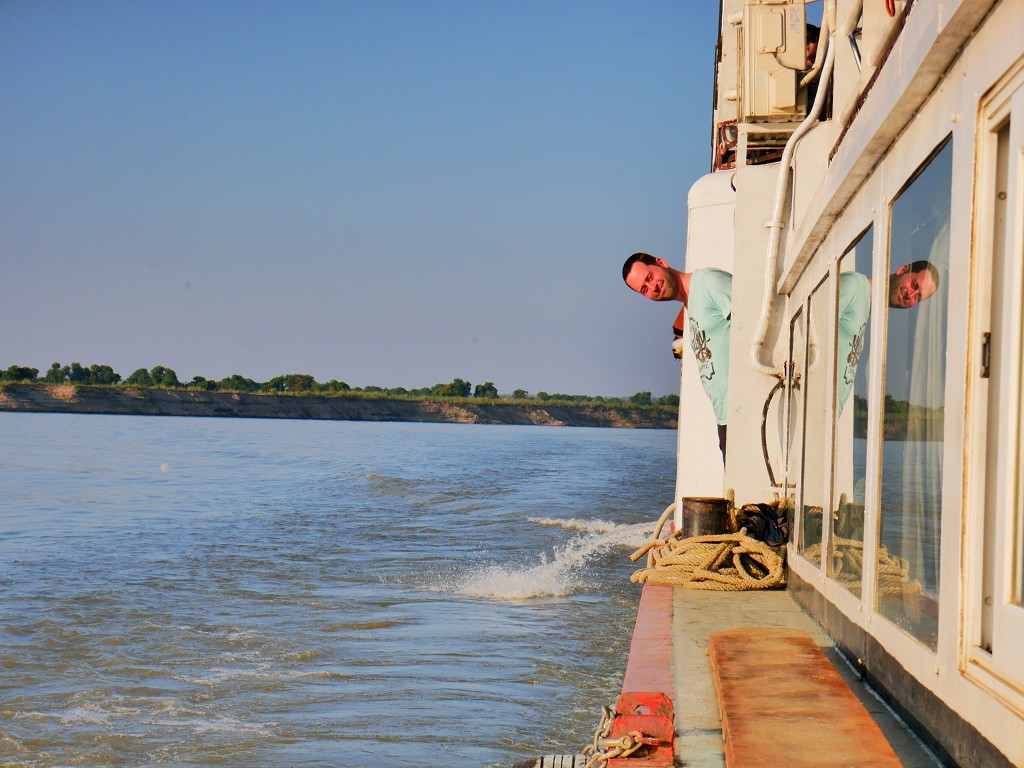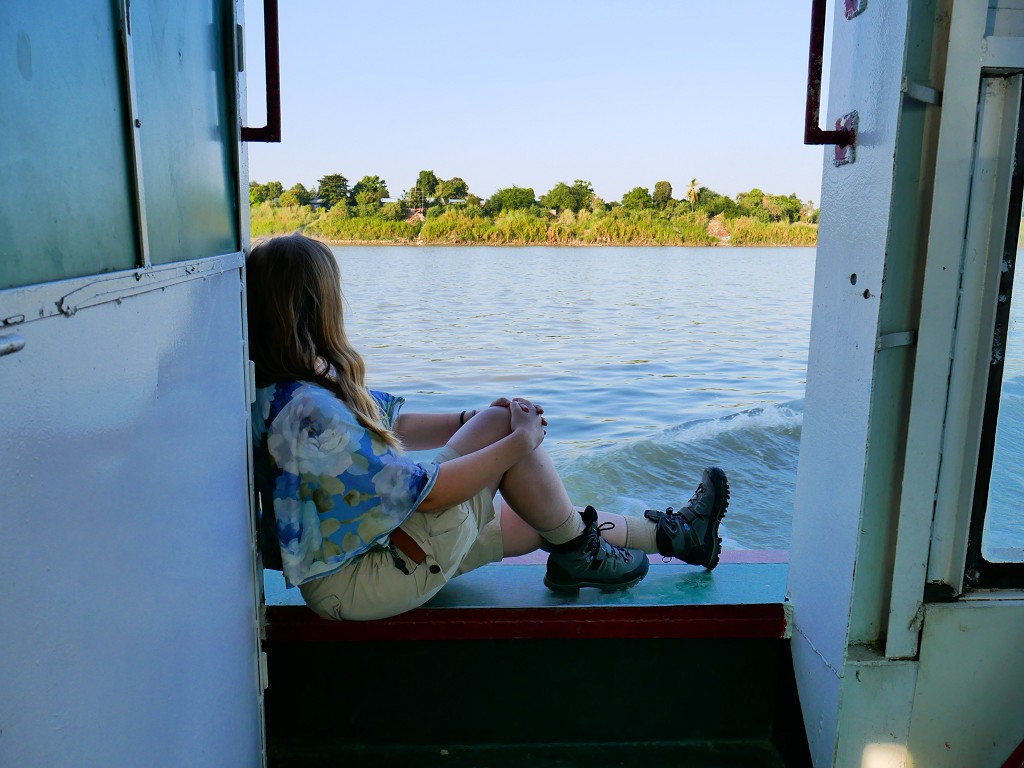 Arriving in Nyaung-U/Old Bagan
A little after 17:00, we pass the first shore-side pagodas of Nyaung-U. There are several small cruise ships like ours moored. The sun is setting and it lights everything in a warm glow.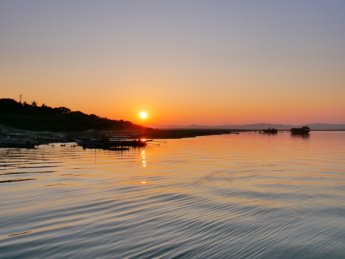 We're approaching our jetty, but a tiny fishing boat has big engine troubles and lies in our path. We swerve around it while also dodging shallow patches of the Irrawaddy river in our final approach. Our captain parallel-parks us next to some other cruise ships. At 17:30, we arrived at the Nyaung-U jetty a few kilometers from Old Bagan.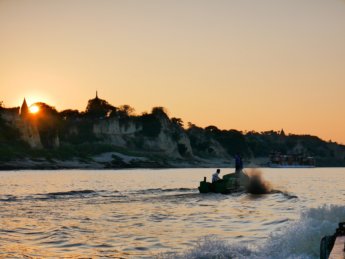 Disembarking takes quite a while. On the shore, there's a mass of rickshaws, tuk-tuks, and taxis waiting for our business. Jonas and I discussed beforehand what a fair price would be for a taxi ride to our hotel. We derive a price of 2.000 to 4.000 MMK from our experiences in Mandalay.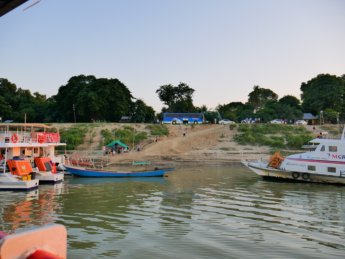 I'm not fond of this hustling and hard-selling attitude anywhere in the world. One taxi driver quotes us a price of 5.000 MMK per person for the two kilometers to our hotel. We say we'd pay 5.000 MMK in total for that short stint. The taxi driver follows us around while we look for the office to pay our tourist tax for Bagan until he eventually relents. Another guy overheard our negotiation and says he'll bring us to our hotel for 5.000 MMK.
We get in, drive 100 meters to the ticket office, then Jonas leaves the car as he buys the two Bagan Archaeological Zone tickets. I wait in the car. Jonas returns with two receipts with QR codes and a lighter wallet. The price was 25.000 MMK per person.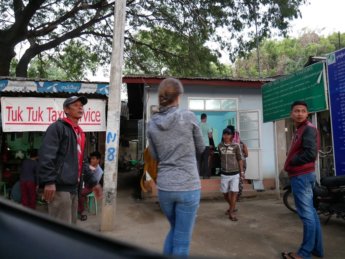 We arrive at Hotel Thumbula in Nyaung-U at 18:00.
Map of the Irrawaddy River Cruise
How We Booked the Irrawaddy River Cruise
For the first-ever time in our travel history, we booked something through TripAdvisor.
Thank You for Reading! Save Post for Later?