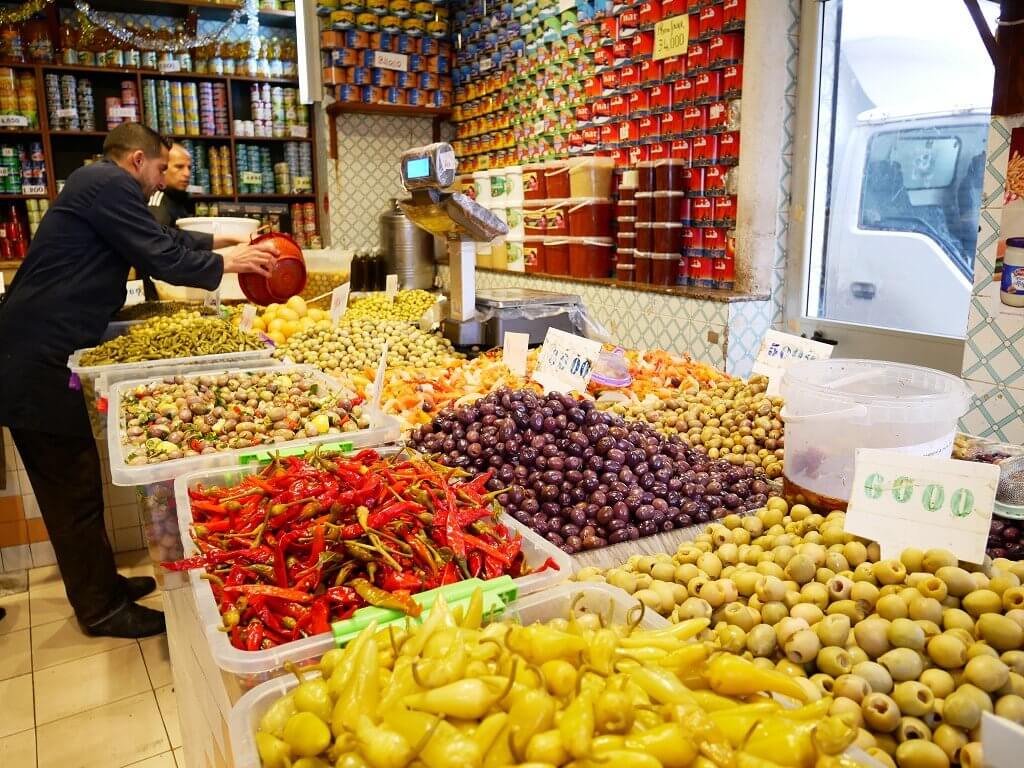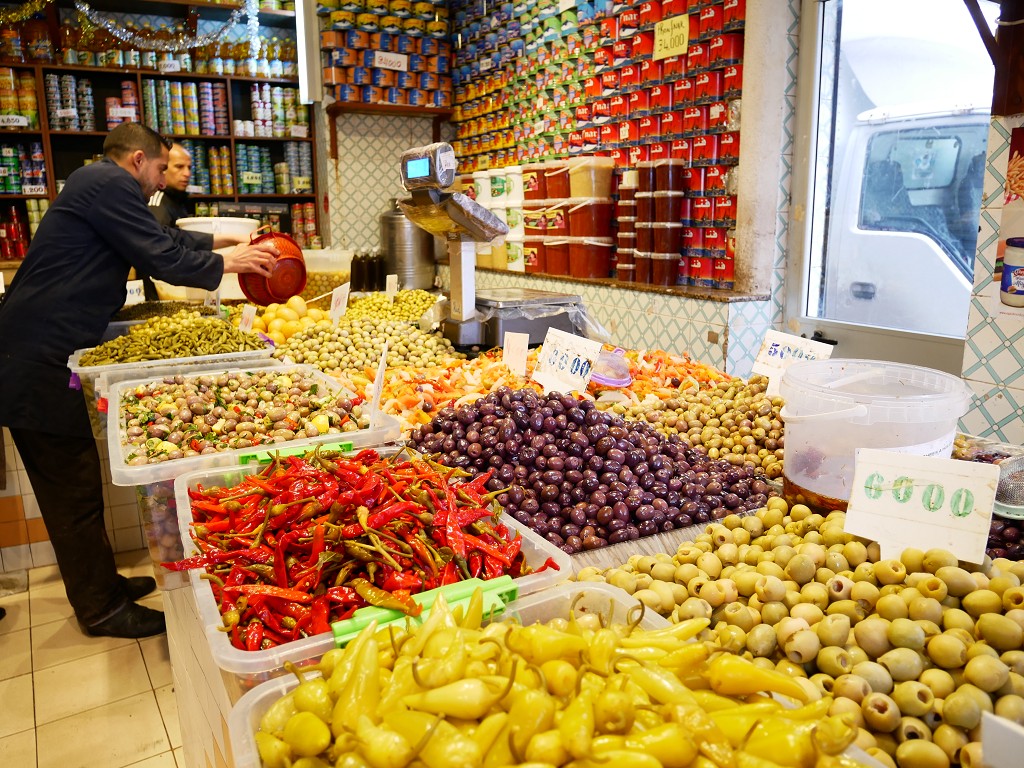 Our trip to Tunis, Tunisia happened between Sunday the 11th and Sunday the 18th of February, 2018. Sadly, I was taking a gap year from travel to finish university but still managed to do a few trips here and there. Those trips were proper vacations. 
One Week at University
After my two-year trip through South America, I returned to Maastricht University in the Netherlands in January 2018. I had to prepare to go back to university after a hiatus of four years, and I did so reluctantly; the only reason I was back here was to graduate and get rid of my student debt.
My semester would start on the 5th of February, but one week later, it was Carnaval. That's a very big event in the yearly calendar and my university closed for the week. Depending on the type of person you are, that's a fantastic time to be in the south of the Netherlands or a terrible one. You can guess which team I'm on.
Cabin feverishly, I needed to use that week to depart from the Netherlands. I found a reasonable flight that departed from Brussels Airport (BRU) that departed and returned from Tunis in Tunisia on a Sunday with Tunisair. I got Jonas on board of my plan, and we booked the flight a few weeks in advance.
We knew very little about Tunisia and had very few expectations. Jonas had previously been to Morocco (Tangiers) and Egypt (somewhere in Sinai) and I'd only been to Morocco (Marrakech), so we thought it would be very similar. In 2015, I'd just arrived in quasi-neighboring country Malta when the Sousse attacks happened which killed 39 people, most of them European tourists. This and a previous attack at the Bardo museum effectively stifled Tunisia's tourist industry for a couple of years.
I only spent one miserable week at university readjusting to the Liberal Arts attitude and being the oldest person in the room.
Day 1: Arriving in Tunis
Sunday the 11th of February
After a long day with trains and the flight, we arrived in Tunis—Tunisia's capital city. Despite us traveling with hand luggage only, we weren't out of the airport very fast because there was a bottleneck at immigration. I was happy with the new passport stamp, but it also felt strange; the stamp would let me stay in Tunisia for 90 days, but I would only use a sad seven days of those. I hoped my trip here would be worth the hassle of flying out here.
Once we'd left the airport at 16:00, we realized it wasn't much warmer here than in Maastricht. It had just rained and we walked towards the taxi stand, which divided the cars into 'to anywhere in the whole country' and 'within Tunis'. While Tunisia is the smallest country in North Africa, I'd hate to think someone would try to take a taxi from Tunis to Tataouine or Borj el-Khadra, more than 900 kilometers away.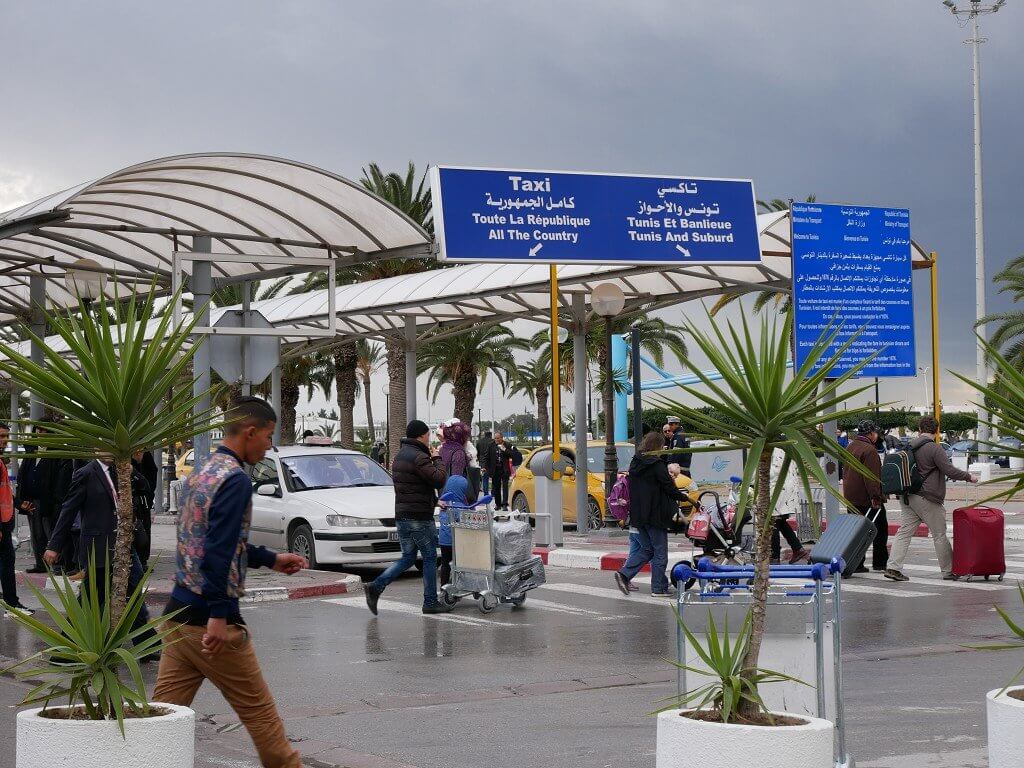 Aware of the hustling nature of taxi drivers, we got into a taxi and asked the driver to turn on the meter. After driving for a few meters, he protested and gave us a high price, which we protested. So we got out and picked a different taxi. This wasn't going very smoothly. With the second taxi, we agreed on a reasonable price. Then we finally drove off towards our Airbnb room near the historic gate Bab el Bhar.
From there, it was a short walk to our apartment, where a lady helped us check into our small but comfy room. We had a shared kitchen and bathroom, but there were no other guests at our time of arrival. We unpacked a few things, freshened up, and then left our room to explore the Medinah of Tunis just a few streets away.
Walking Around the Medinah of Tunis
It felt great to be traveling again, even though it was just a short escape. The Medinah was a bit slippery from the rain. The sun was almost setting, so we didn't want to linger very long.
While wandering through the spiraling alleys, we did come across the tower of the Al-Zaytuna mosque already. I'd just made the investment into a more serious camera a week earlier, so I was eager to try it out. So these pictures of Tunisia are some of the first-ever with this camera.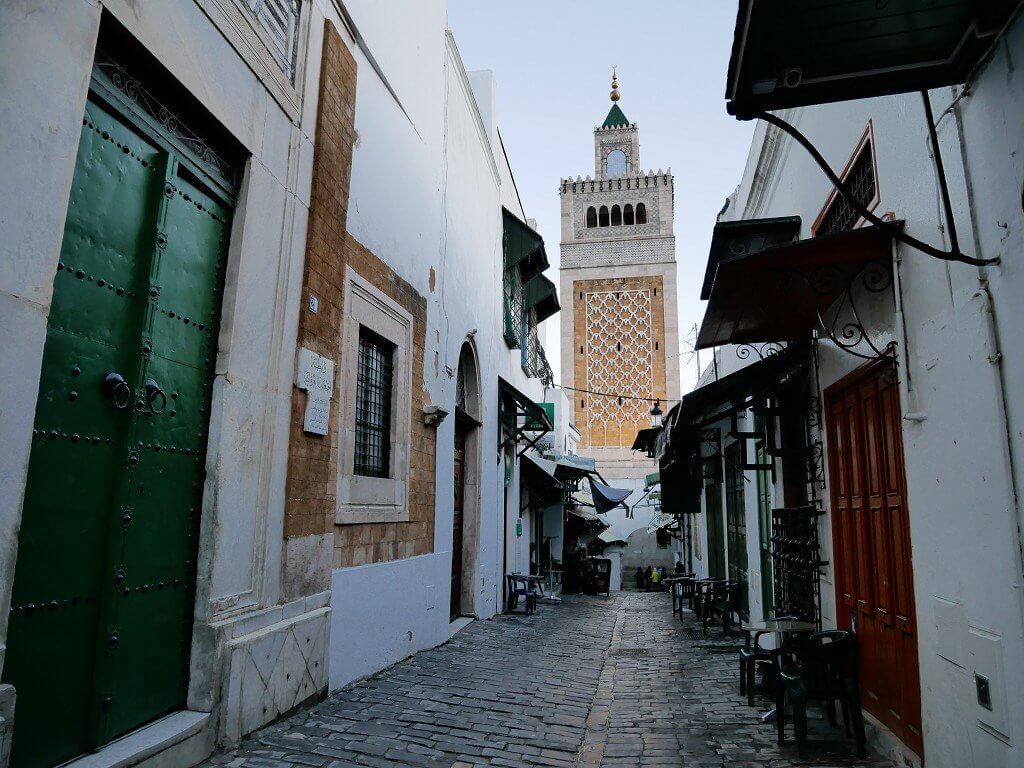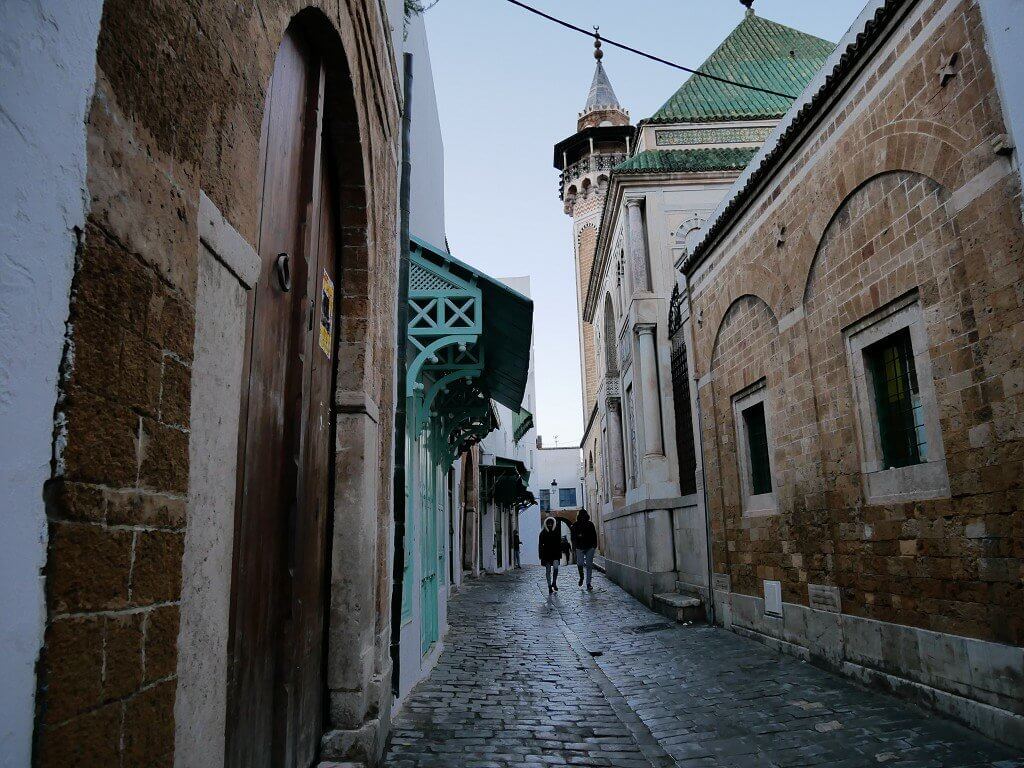 Once it got dark, we used my offline map to navigate back to the Bab el Bhar. It was so quiet in the Medinah – very different from the one in Marrakech that I remember. Most businesses were closed and there were many trash bags lying around. There were only a few people around, but quite some cats. None of it felt very dodgy, unlike my memories from that Moroccan tourist trap. But it's too early to tell if we like it here in Tunisia
We returned to our accommodations to dress a little more warmly. It was strange to travel with this little luggage. Jonas had still brought over his Macbook, in case there was something urgent to fix.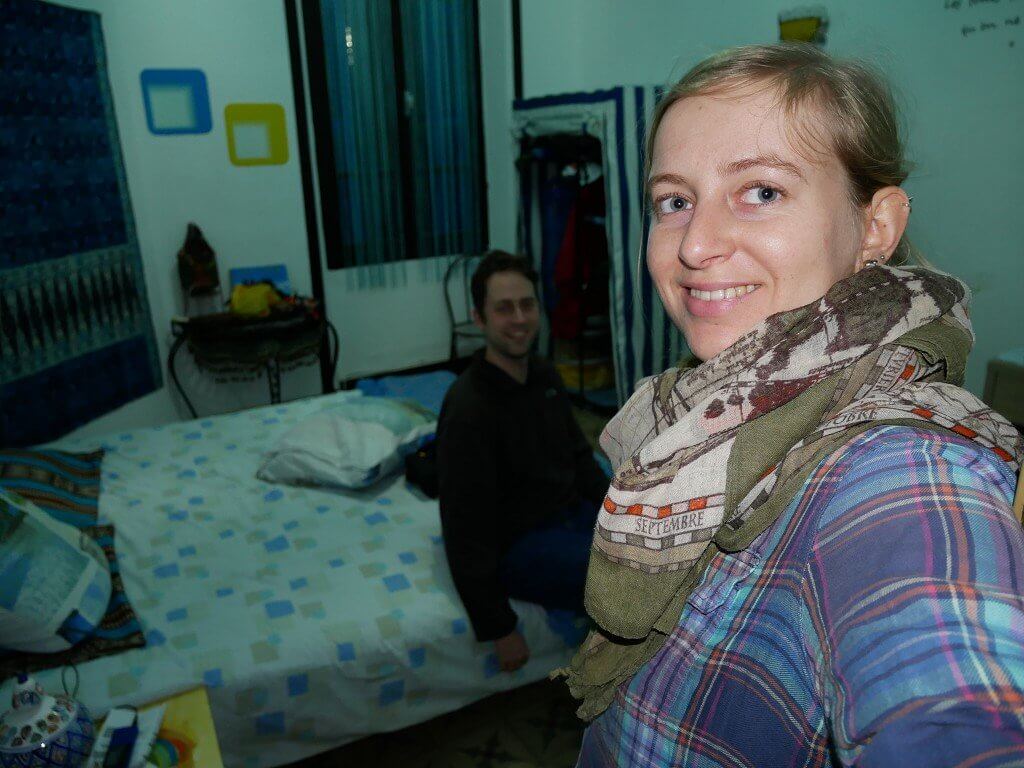 I had downloaded some of my reading for Public Policy Evaluation for the next week at university. After just one week, that course had already proven itself to be tough as hell, so I had taken some worries with me across the Mediterranean Sea. Failing this year entails having to pay the Dutch government some €20.000 for no degree. Even worse: it meant not traveling seriously for many years to come. In just one week, I remembered again what that uni stress felt like.
Eating Ojja for the First Time
As the Medinah wasn't easy to navigate and didn't have a lot of open businesses, we decided to look around the gate for our dinner. I knew that we had to find a place that served ojja. I'd looked at the Wikipedia of Tunisian cuisine before we left the Netherlands. I'd made a paper list with all the non-fish dishes that I wanted to try in Tunisia. Ojja was on the top of that list.
We didn't even make it to the gate when we spotted a lively restaurant with semi-outdoor seating. As it was February, everyone still had their coats on. I stared at the menu looking for ojja, but the Arab script threw me off. An enthusiastic guy pointed to a table in the back where we could sit and gestured to come in while speaking French. I guess by far most tourists in Tunisia are from France.
The guy came over and asked what we wanted to eat.
"Ojja?"
He understood it.
"Avec merguez?"
I already knew merguez is a Tunisia-specific sausage. My prior research was paying off already.
"Oui, s'il vous plaît."
Not much later, this amazing bowl arrived with a basket of baguette on the side. Ojja tasted every bit as amazing as I'd imagined from the Wikipedia description. No, better; the eggs were poached, and not scrambled as the wiki said. The egg yolk was runny and I had bountiful baguette to mop it up.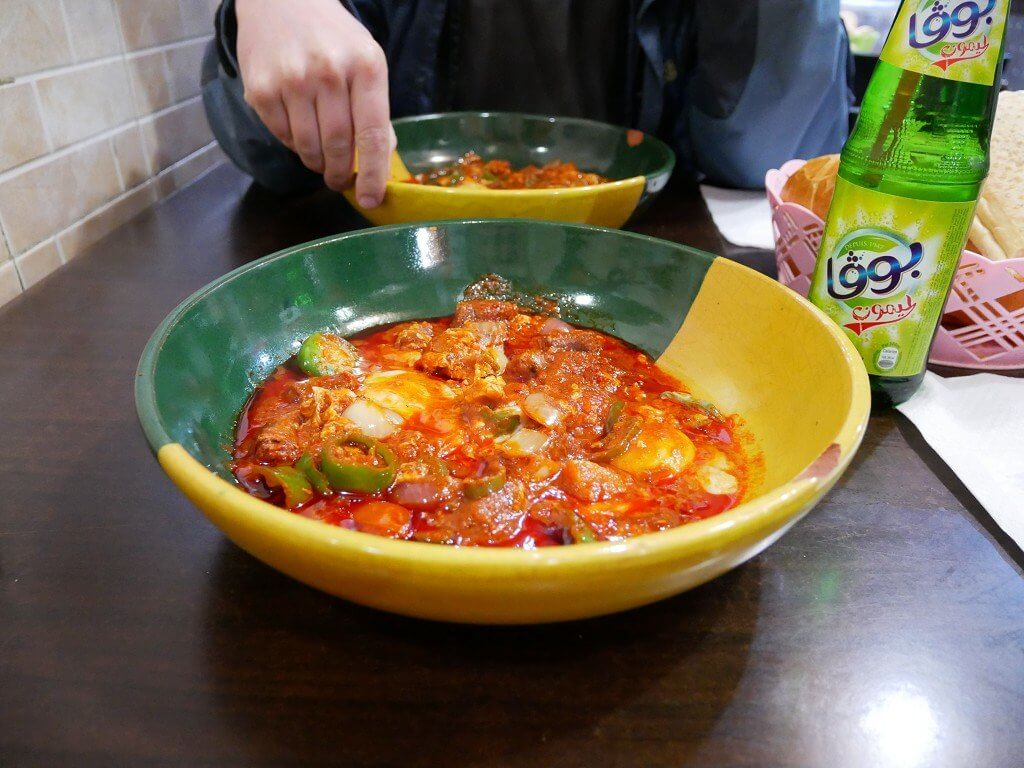 It was really, really spicy, but that's where the breadbasket came to the rescue. The baguette was a proper French baguette, with that distinct flavor coming from fermentation. I even got a local soft drink on the side called Boga to wash it all down. Somehow every foreign soft drink that doesn't have a specific fruit flavor tastes like Inca Kola to me.
When the bill came, we noticed it was very, very cheap. That first dining experience was already such a good one!
Day 2: Exploring Tunis
The next day, we left the apartment early to get some breakfast. The trash that had been ubiquitous the previous evening was gone. But the people were there! It was so busy on the street, which had turned into a spontaneous market.
The interior of the café looked very Italian; order your coffee and bread at the counter, then slorp and monch it all standing. Jonas loves this kind of thing.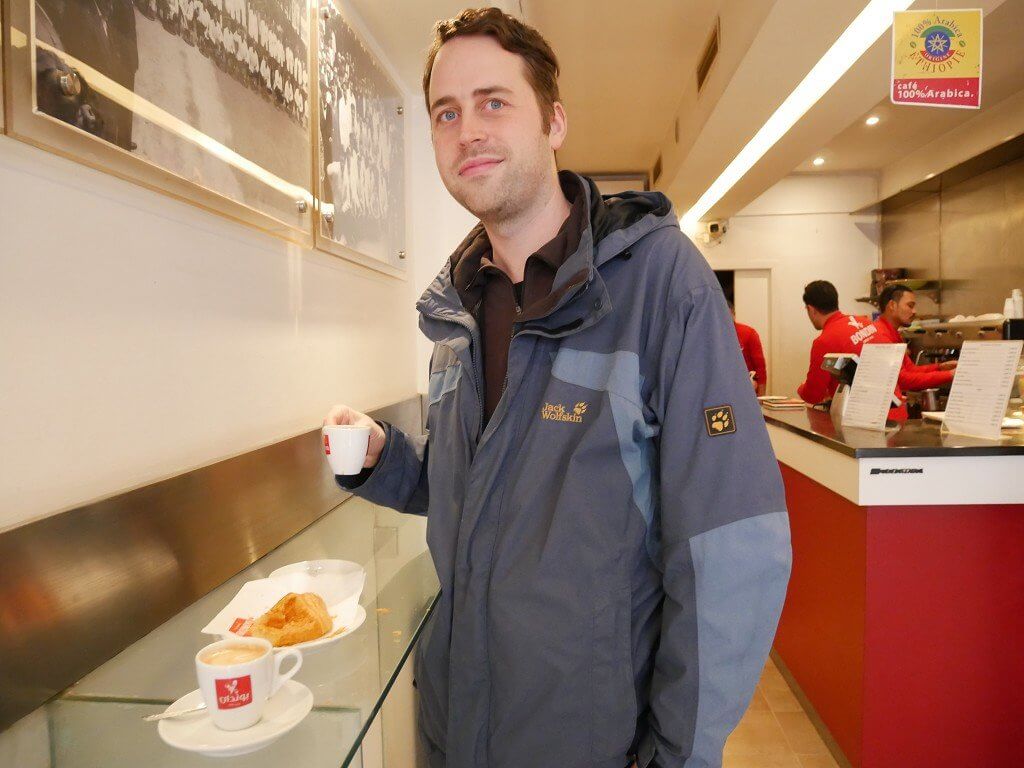 The pastries were really, really good. I love a plain, buttery croissant. But Jonas often goes for the pain au chocolat. The French influences are very strong in the breakfast scene in Tunisia. And again, this endeavor was really, really cheap; we paid about €1.70 for both of us. Amazing!
Tunisia's colonial times only came to an end in 1956 after 75 years of French rule. Before that, the Ottomans exerted their influence. But especially the French exploited Tunisian resources and deeply affected Tunisian culture, language, and cuisine today. French persists today as the language of administration. Decolonization is a long process and isn't finished at independence.
Jonas and I both learned French in school, though his French is much better. We do have to admit that the omnipresence of French is very… convenient for us; I only know about eight words in Arabic and exactly zero in Amazigh. Most signs are bilingual Arabic-French, so while foreign, we never feel really lost.
A Walk through the Center of Tunis
After our coffee, we wanted to see the city center of Tunis. We walked along the Avenue Habib Bourguiba – named after Tunisia's first president – to the southern section of Lake Tunis. The avenue is full of hotels, entertainment businesses, and landmarks. It's busy, but not at all with tourists. At major intersections, such as the clock tower roundabout, we had some trouble crossing the streets. Across the many streets, I spotted my first brutalist love affair of Tunis: the Hôtel du Lac.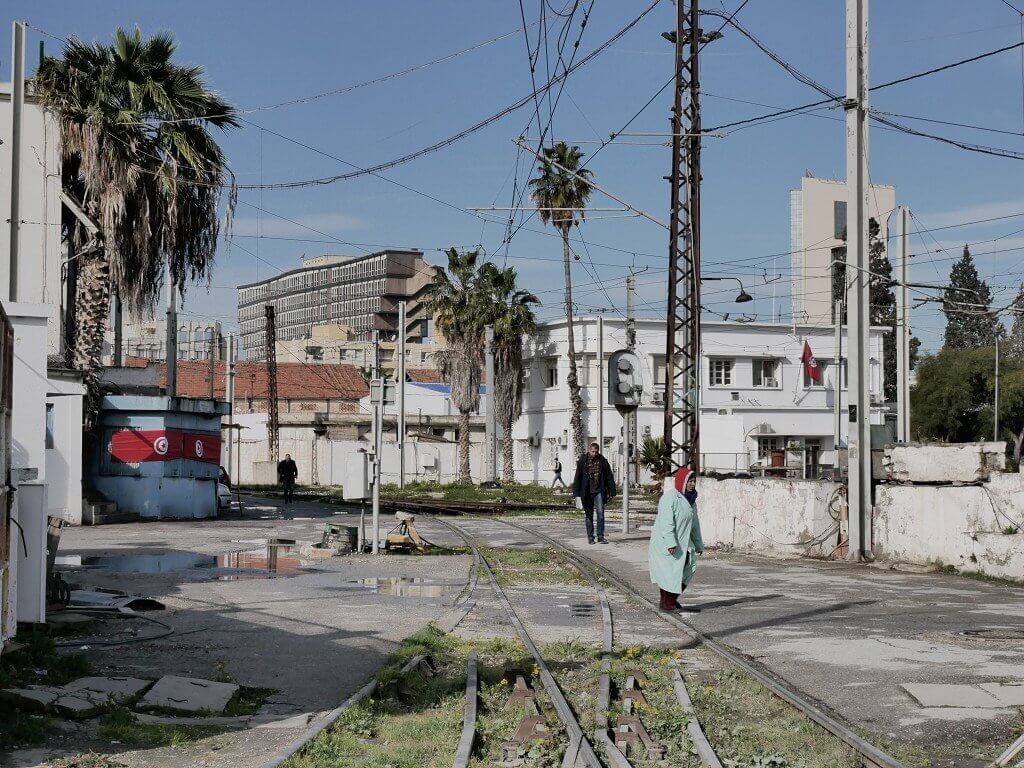 But we were going towards the waterfront. By the southern part of Lake Tunis, we encounter quite an abandoned building and some undeveloped land. It does appear that the country has seen better days. There's a beautiful mountain range with what appears to be twin peaks in the distance, which I identified as inside Boukornine National Park. I'm hoping to still do a bit of hiking in Tunisia before the week is over.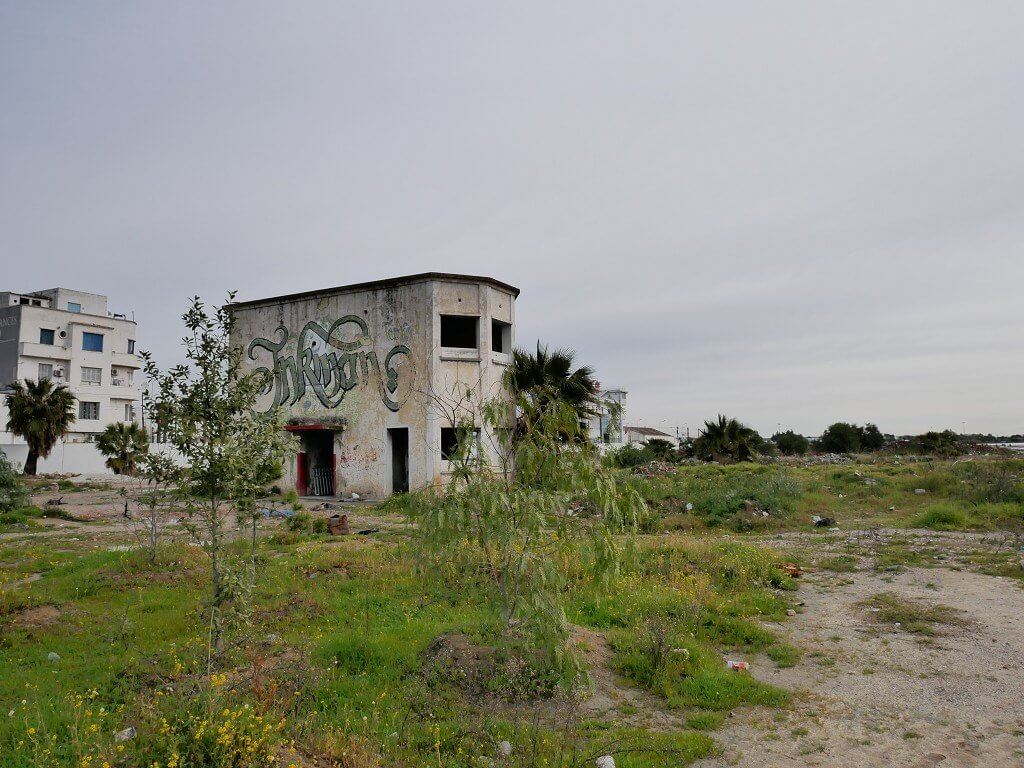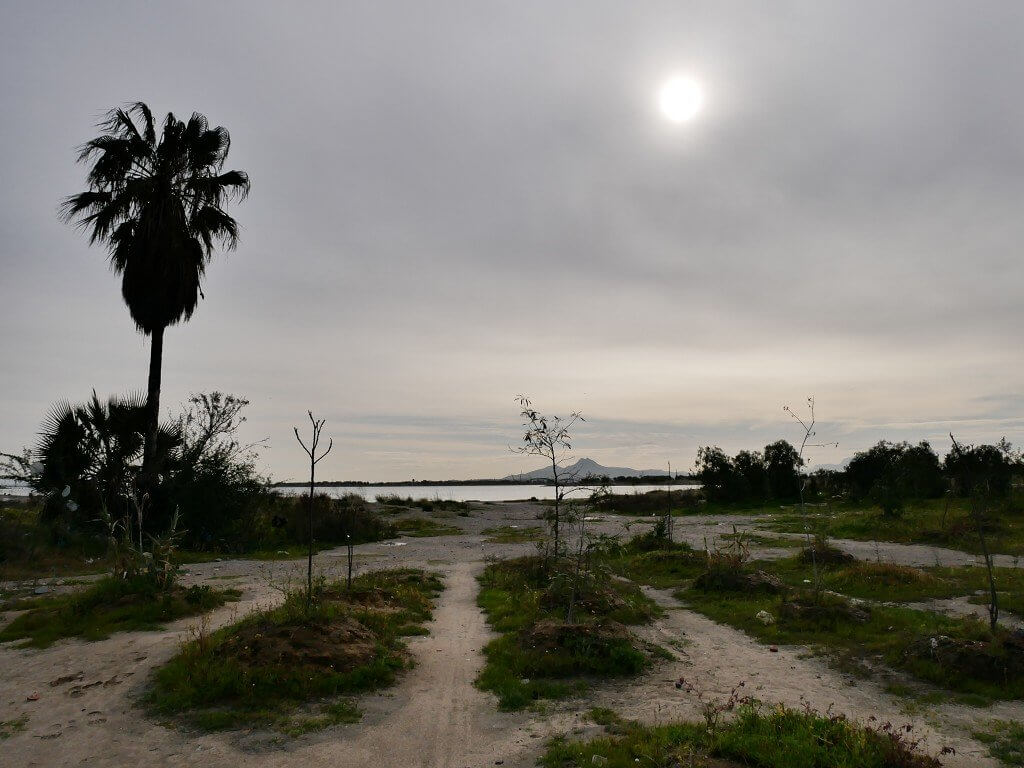 Having seen what we wanted to see here, we return to our Airbnb by wandering through the lesser-known streets south of the Avenue Habib Bourguiba. We walk back via the Place de Barcelone near the Tunis train station and have another coffee at one of the Prince cafés.
To be continued…