All this happened on the 2nd of November, 2017. We rented a kayak and paddled to Crab Cay from the island of Old Providence. This is part of the Archipelago of San Andrés, Providencia, and Santa Catalina. This is where I did my first successful and enjoyable snorkeling session. 
Renting a Kayak on Providencia
We asked the owner of our guesthouse (Posada Sunrise View) Keoma how to go to Crab Cay (Spanish: Cayo Cangrejo). She told us where to catch the little motorboats, but also told us of the option to rent a kayak. Jonas and I had paddled in Guatapé recently and it had been a success. Now, the Caribbean Sea isn't the same as paddling on an artificial lake, but it should be an interesting experience. After paddling Guatapé, I'd told Jonas of my dream to kayak down the entire Danube River. He liked the idea but also acknowledged that we needed more experience. So that's what we sought after.
We took a motorbike taxi (moto-taxi) to the area nearby hotel Deep Blue. It's not a very long ride from our guesthouse. That's good because being squished between the driver and Jonas isn't very comfortable.
At the hotel's pier, you can rent a kayak for a reasonable 60.000 COP. We informed the rental guy that we wanted to go to Crab Cay with the kayak and then kayak some more in the direction of the Three Brothers. He told us to stay within the orange buoys.
Paddling to Crab Cay on the Caribbean Sea
With our backpack, dry bag, and waterproof action cam, we paddled to Crab Cay within Mourning Tree Bay. The sea wasn't rough, but occasionally we'd hit the waves in a way that a splash or spray would hit us in the face. We had to coordinate a little to get into the same paddling rhythm. I thought of naming our beautiful red plastic kayak, but it's also a little silly because it's a rental and not our own.
Once we approached the beautiful little rock of Crab Cay, the sea became more shallow and more bright. I guess it's the sand on the ocean floor that makes it this beautiful turquoise. If you're going to Old Providence, you'll hear the phrase "sea of the seven colors" (mar de los siete colores) ad nauseam. I don't know if it's my eyeballs, but I've counted a maximum of five different shades of blue from The Peak of Old Providence. From the kayak, you can see a maximum of three colors because you're too close to it.
A motorboat overtook us from the main island to Crab Cay. The waves weren't that bad. We were approaching the landing of Crab Cay and someone pointed us to the correct landing spot. We paddled between the anchored motorboats to the wooden pier and landed with a loud boink. The step from the kayak to the pier was quite high, so we needed a hand to get out of the boat. The guy that helped us out also helped us moor our kayak.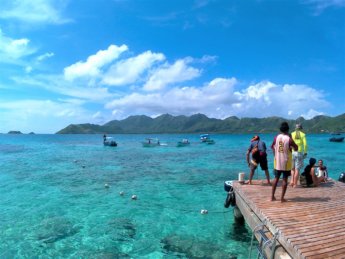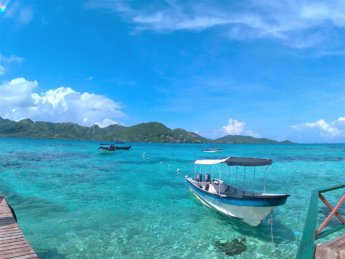 Hiking on Crab Cay in McBean Lagoon National Natural Park
On Crab Cay, we first had to buy a ticket for the national park this is part of. Though most of it is attached to the main island east of the airport strip, Crab Cay is part of the Old Providence McBean Lagoon National Natural Park (Parque Nacional Natural Old Providence McBean Lagoon). Quite a mouthful. Crab Cay is volcanic in origin and stands out like the last bit of resistance against the eroding waves and wind and rain.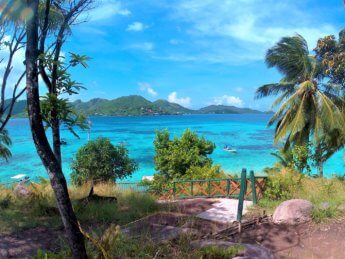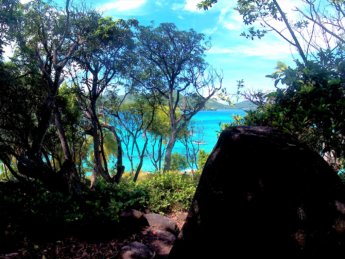 Though you can't really hike much on Crab Cay because it's so small, there is a little trail to the top of the island. The top is a rock that's good for panorama photos. It requires a bit of climbing and I was very happy to wear my water shoes with a tick, grippy sole. I'd bought those in San Andrés by recommendation of the locals, because of the spikey sea urchins in the waters. From the top, you can see a rock that sticks out above the water that I call 'Lonesome Rock' and in the distance, you can see the Three Brothers.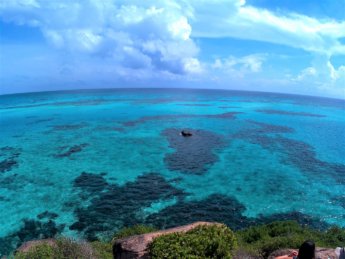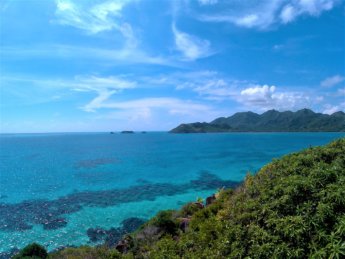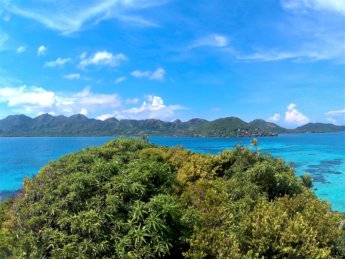 We took a lot of photos and then let other people go up the peak. There was quite a queue suddenly.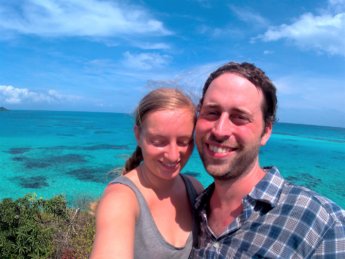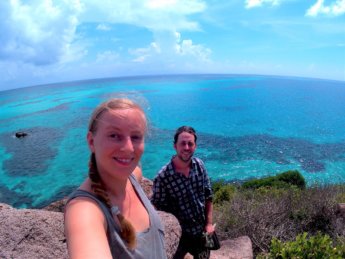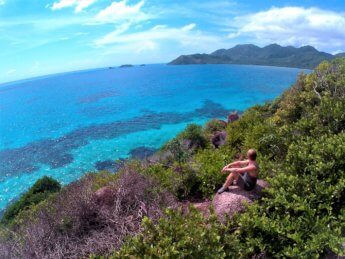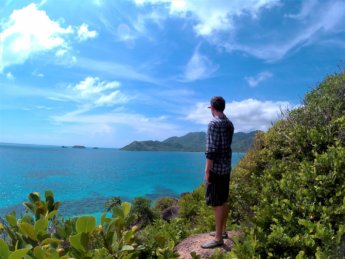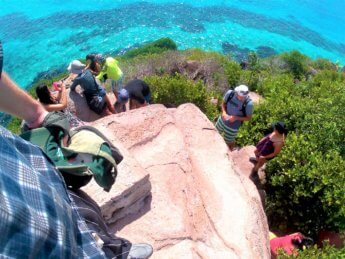 Snorkeling Around Crab Cay + Swimming to Lonesome Rock
In general, the island was quite busy with people chilling on the pier with a cold-ish drink in their hand, tanning in the sun. We reapplied sunscreen and picked up some pricey drinks as well. Once we had absorbed the sunscreen, it was time to snorkel.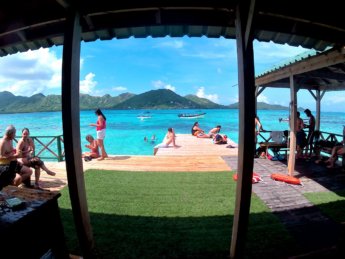 We left our backpack with our dry shirts on land and only took my little action cam in its waterproof case and our snorkels. We hopped off the pier into the mellow waters. I was very happy to wear my water shoes with thick soles because I don't like touching the floor with my bare feet when swimming. I don't know why I hadn't thought of simply wearing water shoes before. They made me feel invincible and safe from spikey sea urchins.
Jonas has successfully snorkeled before, so he showed me how to put on the snorkel without fogging up the goggles. My prior snorkeling experience in Belize had been so-so because the fish there were too big for my comfort. I'd borrowed the snorkel from our guesthouse and they were the best. They had a great fit and the pipe didn't fill up with water all the time. I could see tiny, colorful fish on the reefs and they weren't terrifying. This was actually a fantastic experience. Jonas did most of the filming of the fishies with the action cam.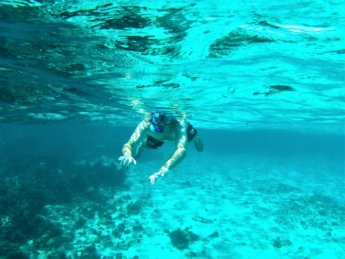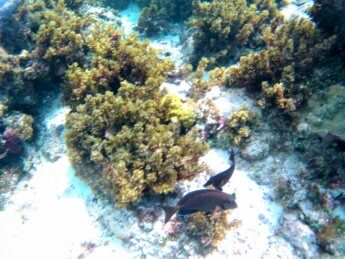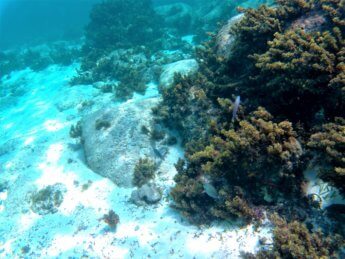 There were fewer people and more fish away from the pier. We kind of decided to swim around the entire island while snorkeling. From the top of Crab Cay, we'd seen the lonesome rock toward the east. We'd seen other people climb onto that rock before, which gave us proof of concept. It wasn't exhausting to swim there. But to climb onto the rock was a little tricky because there were several small crabs using the rock as a hold. I dislike fish, but I absolutely can't deal with crabs. Jonas helped me onto the dry parts of the lonesome rock that was crab-free. Then we took a shitload of photos.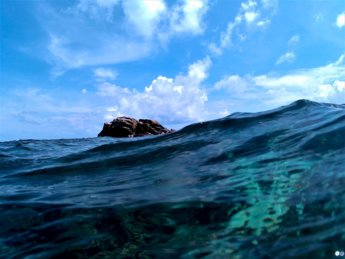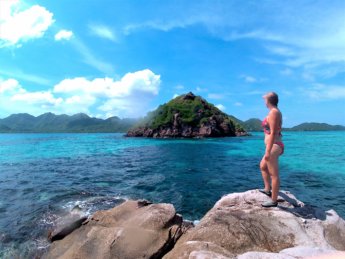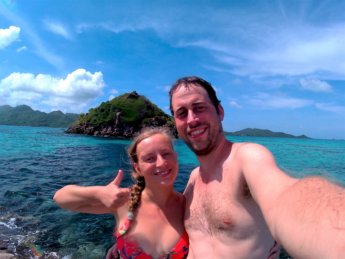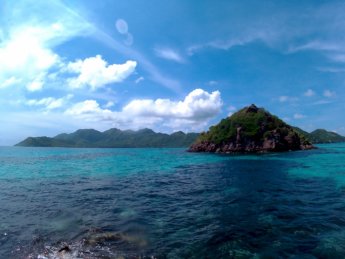 Afterward, we swam back to Crab Cay the long way around to pick up our backpack and kayak. Now it was time to kayak to the Three Brothers toward the south.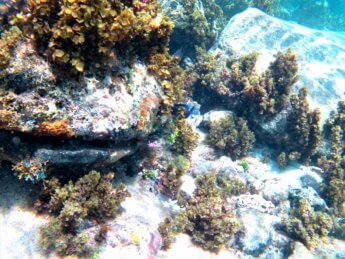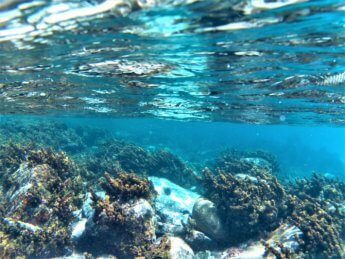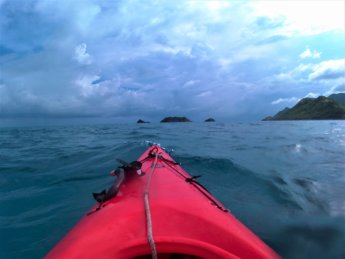 Kayaking to the Three Brothers
At the southern terminus of the national park were the three rocky islets. Some of them are bigger than Crab Cay. The paddling from the kayak rental to Crab Cay was only about 800 meters distance. But to the Three Brothers, it's about 2.2 kilometers. We tried to see the orange or red buoys, but couldn't really see anything. The sea was a bit rougher and toward the east, you could see waves crash on the outer reefs of Old Providence. Sometimes, the water would be a little more shallow again and show a patch of light blue with dark blotches of plants on a tiny reef. My biggest fear was that the wind would change and drag us out to sea. I'm not sure how much the tides play a role here.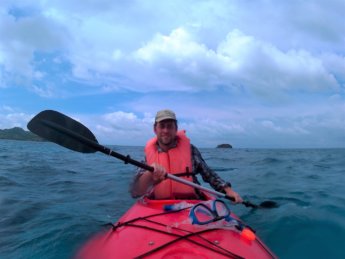 We arrived at the Three Brothers. A gazillion birds circled the islands and left that distinct bird smell. From left to right, there's the smallest one, the biggest one, and the medium one. We'd arrived at the biggest one, which had the biggest potential for making a successful landing. But there was a sign on the island that said "NO ENTRY". Okay, that's also fine. Nevertheless, it was a cool place to paddle to and gave Jonas and me the opportunity to explore our comfort and capabilities with this kayak.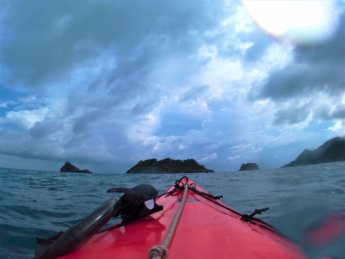 We later asked our host Keoma about the Three Brothers. She said that the Three Brothers are a protected breeding ground for the birds. Going there is not really allowed, not even by quietly approaching in a kayak. Oops. Crab Cay also used to be the home of many birds, but that stopped being the case when it became a must-do tourist thing. Keoma also said that perhaps if you ask nicely at some office, you might get a permit to land at the Three Brothers. But it just smells like bird shit so unless you're a scientist, better just leave them alone.
Kayaking Back in the Rain Past a Shipwreck
The clouds looked very angry, so after shortly checking out Medium Brother and its small sea cave, we returned to the main island of Old Providence. I had this idea to paddle to our guesthouse from here, which isn't far away, but Jonas asked what would we do that for and that was a good point.
We had to paddle out of Smith Bay past the Iron Wood Hill peninsula back to Mourning Tree Bay. This area is east of the Aeropuerto El Embrujo runway and features several small lagoons with mangroves. Judging by the roots of the trees, I assumed we were paddling in low tide now. But what the hell do I know.
What we did have a good vista of was Split Hill across the Mourning Tree Bay. If you'd look at this hill, you'd also name it this way. It's exactly what it sounds like: a hill with a chasm in it. Keoma told us that this is not a natural feature made by lightning or such, but a deliberate plan to blow it up by the white colonizers during the pirate days. They thought there was gold in this un-split hill, so they asked Captain Henry Morgan for oodles of dynamite and blew it up, creating the split. Needless to say, they didn't find gold. The island of Santa Catalina – now connected to Old Providence by a bridge – used to be a peninsula of Old Providence. Same story: white people and dynamite.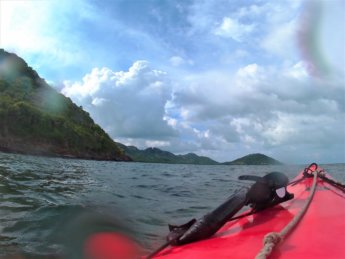 The rain arrived and in it, we saw an orange buoy. We paddled toward it just to check it out. Paddling in the rain wasn't super annoying with our hats on to keep the water from entering our eyes directly. Still, it wasn't pleasant.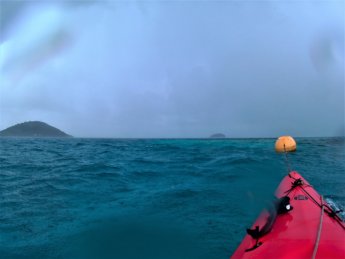 I had this idea to paddle close to the land to see if we could enter the small lagoon that showed a little passage to the sea on my OSMand+ map. If it was wide enough, we could paddle in there. But in the real world, I didn't see a passage at all. In part because of the heavy rains.
Across the Mourning Tree Bay, we arrived back at the little peninsula where we rented the kayak from. There was this old motorboat that had crashed on the rocks decaying in the water. It looked very cool and we approached it a little to do some urban exploring from the comfort of our kayak. Then we paddled onward to a little pier that was completely quiet. I made a mental note of it to return to it later. Then we paddled back to our rental and said goodbye to our kayak. Would Bert have been a good name?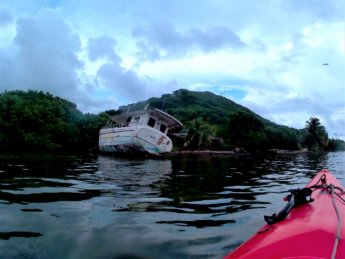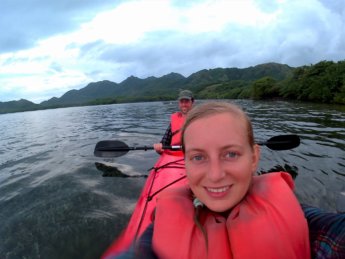 Aftermath
After handing over the kayak, we had trouble catching a moto-taxi or a hitch back. So we walked to that little pier nearby and snorkeled a little bit more. There the fishies were a little less shy and the sea was very calm.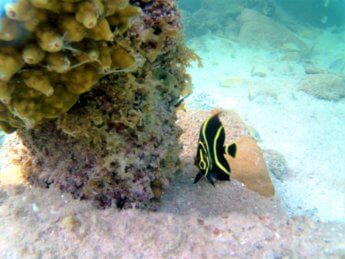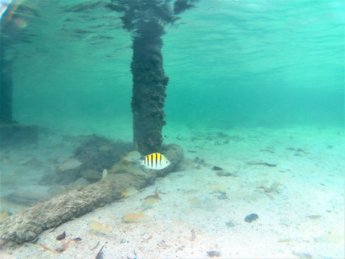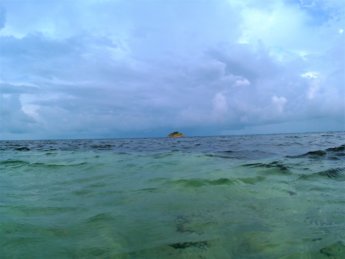 Once we were back at the main road, we caught a moto-taxi back to our guesthouse.
After this kayaking experience, I knew that Jonas and I would be a good enough team to kayak the Danube river together. We eventually kayaked the Danube halfway (Donaueschingen to Mohács) in 2019.
Prices + Map of Crab Cay
Renting the kayak cost us 60.000 COP (€17) and we paddled for about 6 kilometers during three hours or so. I think we rented it at hotel Deep Blue, but I'm not sure anymore. Entry to Cayo Cangrejo/Crab Cay national park 34.000 (€9.60). The drinks were 21.000 COP (€6) and they were a bit of a luxury. Moto-taxi to and from the pier cost us 18.000 COP (€5.10). That's for a total of 133.000 COP or €37. Note: these prices are all from 2017.
Things to pack: sunscreen, cape hats, a long-sleeved shirt, water shoes with a thick sole, snorkels, a dry bag, and a waterproof phone case. Bring your own water and snacks to save money. Check out the map on Open Street Maps to see more detailed information that Google gives.
The following map is the route we took to and from Crab Cay. You can press the star to save the map to your Google account and use the menu to make points of interest appear/disappear. Click the map icon in the bottom corner to switch from satellite view to Google maps view. The little islands and rocks aren't visible on the regular Google map, which is why I changed the view to satellite. Using this on mobile internet will cost you more data.
Thanks for reading! Feel free to share or save for later