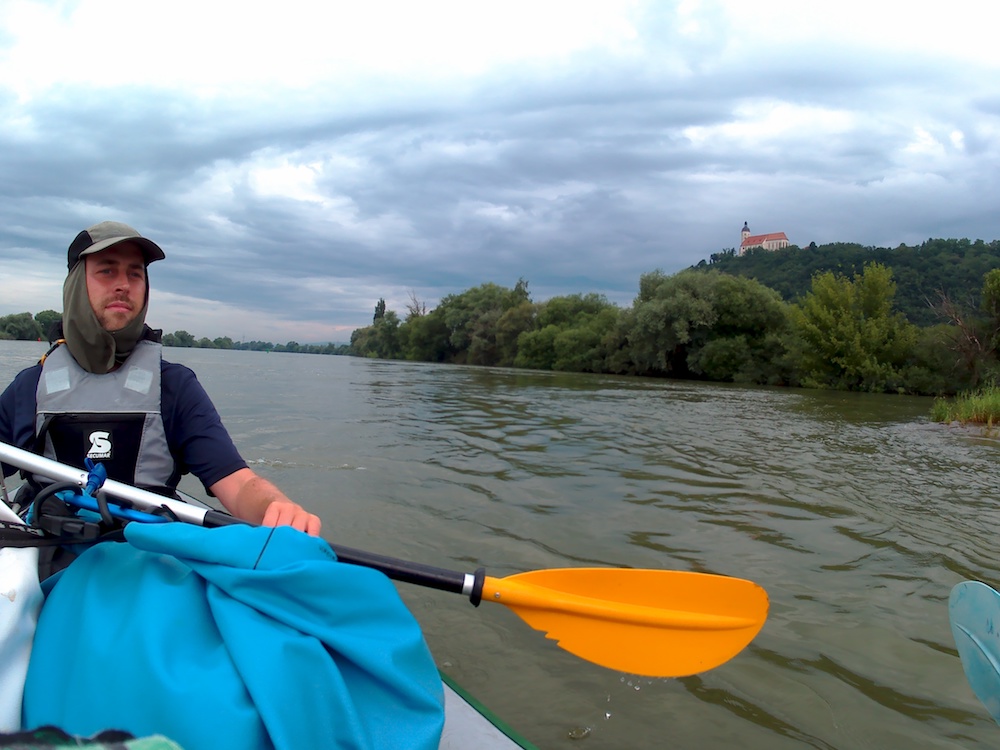 On the 23rd of June, 2019, Jonas and I paddled Zucchini from Straubing to Deggendorf. This was a distance of about 35 kilometers. These are the events of that day.
Our Stay in Straubing
We stayed in an Airbnb room-in-a-house for four nights in Straubing. Our host was a very friendly man who left us a plate of cherries and berries in the kitchen each morning. The internet was super fast and the room really great. Jonas and I previously had not such a great experience with renting a room in a house, but in Germany, we've never regretted it.
Upon learning I'm Dutch, our host enlightened us that Straubing used to be part of Holland. Uhm… what?
Back in the 14th and 15th centuries, Bavaria-Straubing was a duchy and Holland was a county. The same nobility owned both parts but nothing in between. They had a residence city in The Hague and one here in Straubing. I included a map to show how wack it looks and here's a link to the German article that explains it better. It's hard to understand exactly what in the incest blue-blood hemophilia Salic-law male-preference primogeniture dynastic hell is going on here. Anyway, my main point is that back in the day, a long, long time before the Rhine-Main-Danube canal was built, Holland an der Donau (Holland at the Danube) existed. And that makes me feel a little giddy.
The day before our departure, our host offered to drive us to our launch spot. The previous days, we'd checked out many potential launch spots both in the city and far away from the center of Straubing. We concluded that we had to walk at least one kilometer to arrive at a good spot and then still get eaten alive by the many mosquitoes. A fresh splash of thunderstorm rain replenished our river for the night before departure. We definitely appreciate a ride to lessen the suffering.
Leaving Straubing for Deggendorf
At 8:05 we put our stuff into the car to drive to the launch spot at the Turkish-German football club at the Donausportszentrum Peterswöhrd. Our host talks about how he got into Airbnb after his friend in Munich said it was a great way to make use of a house that's too big post-divorce. Sure, renting out a room or two would work in Big City Munich, but in unknown Straubing?
Anyway, he made his house guest-ready and put up on the site. He's very happy with the various guests he's hosted with pleasure. We're the first paddlers he's had over. At the parking lot, we say goodbye and wish each other the best. He recommends us the restaurant we're planning to land at in Deggendorf, says it's a good one. Sometimes it's sad you can't give more than 5 stars for a host who's gone above and beyond.
We arrive at our launch site at 8:20 and start doing our thing. There are – as predicted – a gazillion mosquitoes. We already put on mosquito repellent before we went here, but it does absolutely nothing. We're under attack. I decide the best course of action is just to install the fin, pump up the boat, strap everything in, and leave as soon as possible. We're paddling by 8:40, which meant we did the whole routine in just 20 minutes.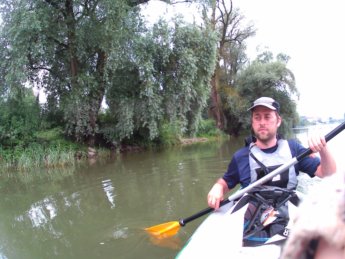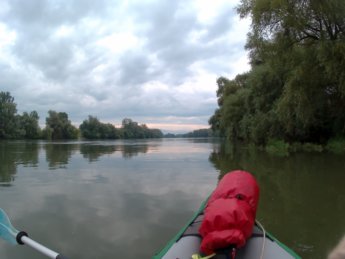 A few mosquitoes hitch our boat for the first few hundred meters, but I manage to slap them away while paddling aggressively to gain speed. They can't really sit down on you when there's wind, which is why sleeping with a fan on usually also helps against being bitten. A motorboat pops up behind us, but they're not making any waves. At the confluence of the Danube (us) and the Old Danube (the big ships and the lock), they turn left and we turn right. The skies are cloudy as predicted, which is an advantage when starting a long journey like today's later than sunrise.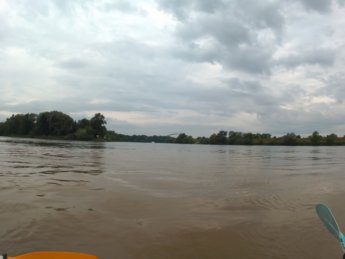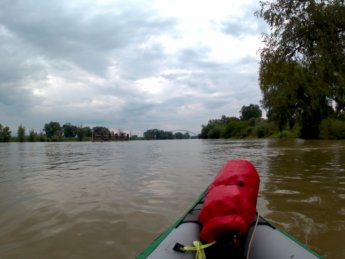 Church on a Hill
There's a fairly nice current here. I'm itchy as hell but also excited to paddle another 35 kilometers or so to Deggendorf. The river starts out curvy, and we switch sides a couple of times to be out of the way of the wide turns the ships take. One ship that puts out black smoke into the beautiful morning sky travels upstream. There's a funny structure in the water that looks like a parking overflow area for big ships who are waiting to pass through the upstream lock of Straubing. Next up we pass the port of Straubing, which doesn't show any signs of activity.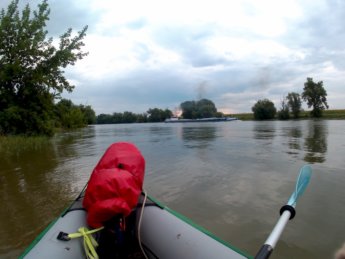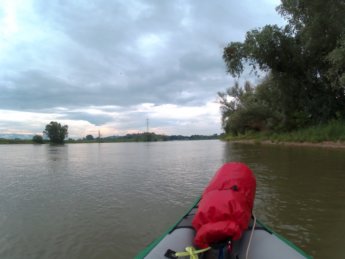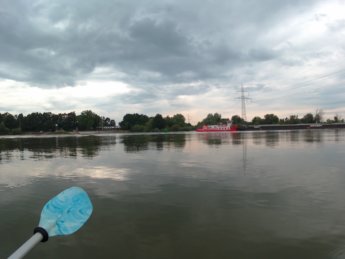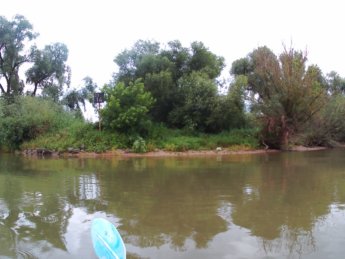 Up ahead in the distance, we spot a beautiful monastery or some sort of religious building on an isolated hill. I look on my map to identify the landmark. The building we spotted is the pilgrimage church Sankt Maria Himmelfahrt, which is next to a Franciscan monastery on a mountain called Bogenberg. It looks very pretty. We pass under the train bridge before the hill at 10:15 and I spot a kingfisher bird for the first time in my life. Jonas missed the blue and orange fellah. We pass under the monastery and get overtaken by a cruise ship.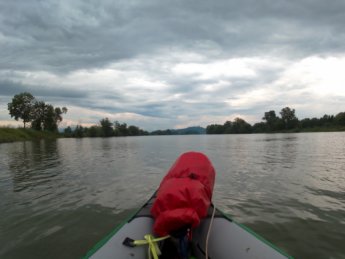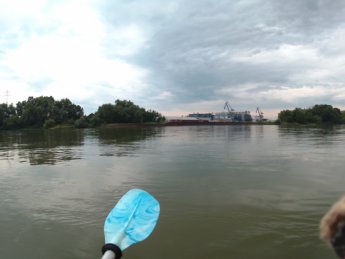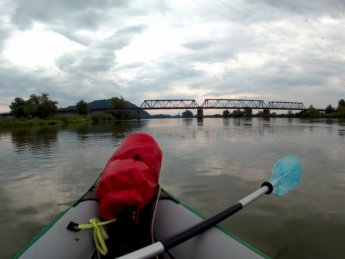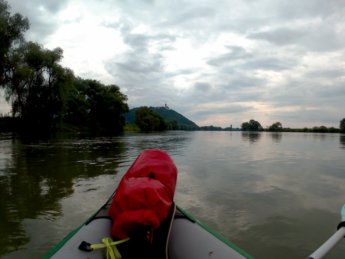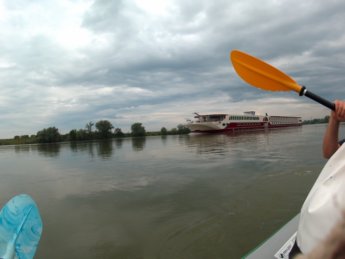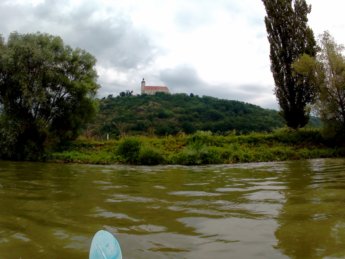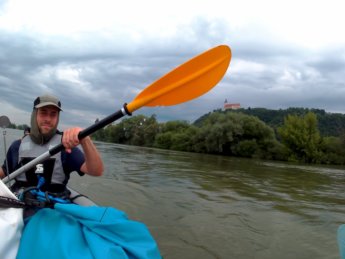 There's a tiny military area next to the Bogenberg, but there are signs warning us not to land there. We make a stop at kilometer marker 2308 (which has stairs) to get out of the boat for 10 minutes. That marker is supposed to be one-third of the way today. It's only 11:00 and the cool shadow makes it feel like it's a lot earlier.
Back in the boat, we paddle on to a town called Pfelling. First, we pass by a weird campervan campsite featuring nothing less than a fucking Confederate Flag. We casually paddle faster. Four speedboats race up the river, followed by a large ship. Then there's a restaurant there that I marked in case we got hungry, but we don't seem to need it. One day… one day we will eat lunch somewhere next to the river, drink a beer, and look at our from the shore canoe that's moored in the shadow of a willow knowing we have all the time in the world to still arrive at our destination later.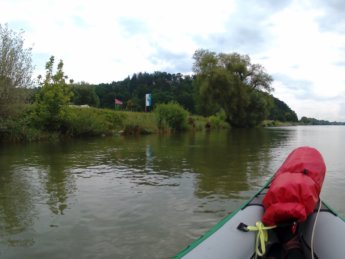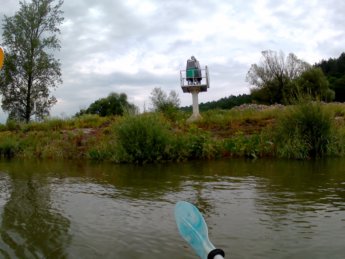 Guacamole of the North
We continue paddling on the left side of the shore. There are new kinds of bushes and wildflowers in bloom. The air is fragrant and reminds me of the perfumes I smelled on people including my teenage self in the mid-2000's. It's something of a crossover between expensive toilet cleaner and fancy women's clothing store. I sneeze.
Jonas eats the first sandwich while I continue paddling. The day before, we'd prepared a gigantic stack of sandwiches of German bread – the densest known element in the universe – with hummus and cheese, or Obazda with cheese. Obazda is the Guacamole of the North; you mash up a soft cheese like Camembert with butter (the avocado), then add paprika powder (the jalapeño), chives (the cilantro), beer (the lime juice), salt, and pepper. I rest my case.
We had, as some might say, too much cheese. That didn't stop us from adding all the cheese to the four closed sandwiches. The end result was a towering stack of four unique sandwiches. We cut the stack in half so we could each enjoy every sandwich in person without the other person munching it all. The whole bag weighed about one kilogram. I stored it in the boat's 'fridge', which is the pointy hole in the bow that stays cool due to the cold river water and permanent shadow there.
New Fuckery
We just passed the 2300 marker when all of a sudden we see a horizon on the water and the sound of falling water. It's too late.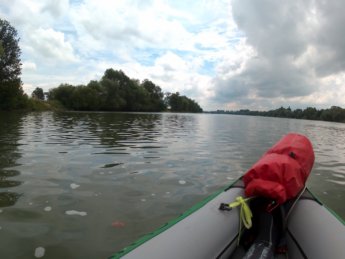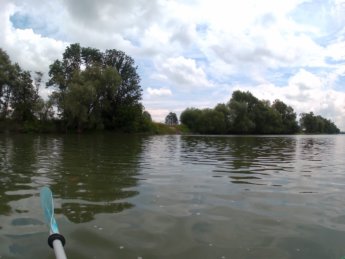 We slide through the standing wave before the edge. I see the rocks that comprise this edge slightly under the waterline. Then we scrape the edge with our fin. Chaos ensues; the powerful current is confused about what to do, so it creates a reverse current and wild eddies that spin our boat out of our bearing. What the fuck was that?
But we don't have time to think about it, because the next one appears in 200 meters. We try paddling around that one and find the path of least resistance. No scraping, this time. Some 200 meters later, there's again one of such obstacles. A pattern!
I look on my map and see what these things are. They're on my map, and I thought when I did research they were little piers or something of a very long marina. Turns out these things are underwater obstacles, probably to slow down the speed of the river and protect it from eroding itself away into a grand canyon or something. My map tells me this won't end anytime soon. Here's a video that shows how shallow it gets.
We move more toward the green buoys that mark the end of our free lane and the beginning of the statistically more dangerous shipping lane. These shallow obstacles are right at the edge. With each speed bump, we learn to read them better. The sound of dropping water means 'AVOID' and the ones that just form a horizontal 'dent' in the water are deep enough to pass over with our fin.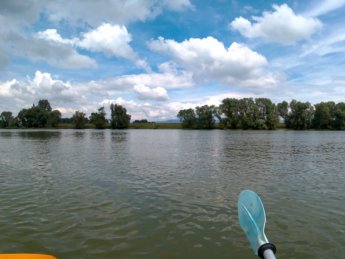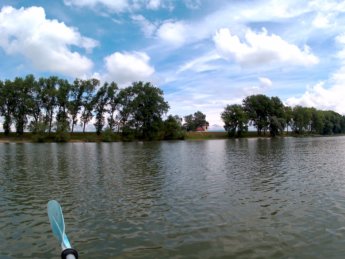 A sign indicates we're approaching the ferry at a village called Mariaposching. This is our first proper free-moving ferry that's not connected to a cable. When we get there, it's just leaving the right-hand shore and crossing over to the left. It makes a 180-degree spin, even though the ship looks symmetrical and seems like it wouldn't need to turn around to unload its cars and bicyclists.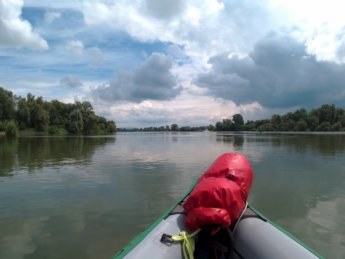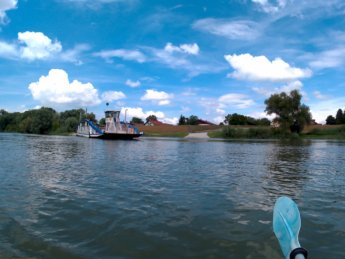 Then the spin continues. The ferryman intentionally turns his boat around another time. Then another time. We're approaching the ferry and try to slow down our own speed to let the guy pass. I try making eye contact with the ferryman, but he seems to be too much into his carrousel ride side gig. People on the ferry don't look worried about the boat making these motions. The coast is technically clear from big ships that he could pick up with radar, but that doesn't really mean the coast is clear-clear.
He's about to dock and we feel confident passing him, as long as we do it quickly. We pick up our stroke speed and pass that madman and his easily-entertained goons and their shitty antics as fast as we can. My middle name is 'Killjoy' and I am certainly not amused. Fuckery. Pure fuckery.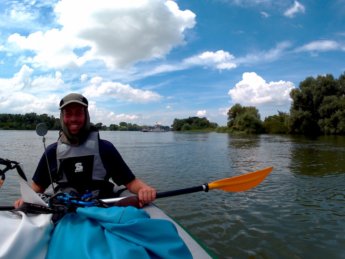 It's 13:10 and the sun has come out from behind the clouds. A guy in a green kayak calmly overtakes us.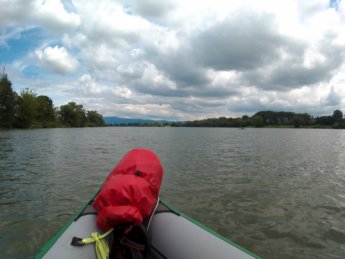 Reading the River and Blowing the Whistle
Jonas doesn't have these underwater obstacles on his *cough*inferior*cough* Maps.me offline map. He can't help it; the good people of Open Street Maps haven't made a proper app for Apple. Only Android has this great OSMand+ LIVE map that apparently really does tell me everything. So it's on me to announce when another rock zone starts.
We're sticking to the left side until we arrive in Deggendorf since there are no more tight turns and our exit is on the left anyway. A sign announces the start of a wakeboarding zone. We're getting really close to Deggendorf now.
There's a big highway bridge at a town called Metten, with a river island underneath. Jonas suggests we cross over to the right-hand side to pass on the other side of the island, but my map tells me there are underwater obstacles near there and the passageway is blocked. It's hard to explain when he can't extract the same information on the map.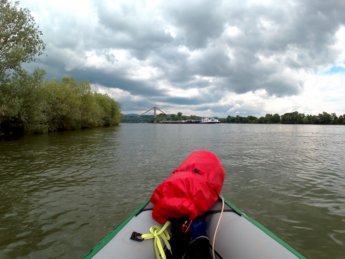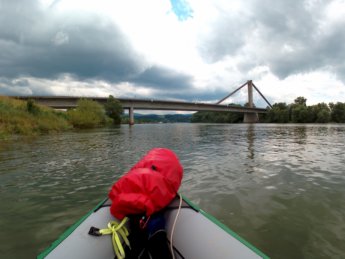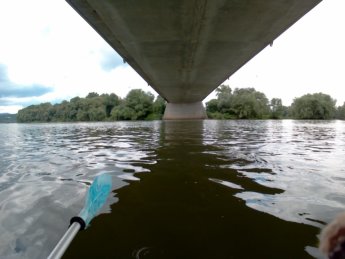 Sure enough, after we pass under the bridge, a speedboat with a wakeboarder appear. Some other motorboat dragging an inflatable seat with mother and goblin passes by soon after. Of course, both scream unnecessarily. Both boats turn around and create another layer of their wake for us to deal with. But the boat with the generations returns with two young women on the floating thing now. They're approaching us while we're about to pass the Motorboat club Deggendorf, which spawns these.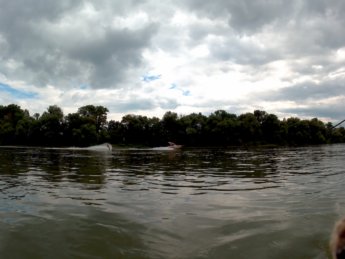 I grab my whistle in anticipation. I'm trying to make eye contact with the driver, but I'm not sure if he has seen us. They're approaching closer and closer and they're not slowing down. I'm not waiting for Jonas' OK to blow the whistle really loudly to put an end to this insecurity. The boat stops. Then speeds up again right at us. Toxic masculinity aboard.
I'm very much on edge now, trying to get ourselves out of this situation while also getting ready to smack a fucker in the face with my paddle. The motorboat is now sideways to us and we can look the people in the eyes. Some eyes look tipsy. The driver's eyes look maleficent. The guy does one of these quick and sharp upward head nods of feral nature. Jonas defuses the situation by saying in his voice-of-reason voice "Langsam". We paddle on past a sort of water ambulance. It takes a while for me to get rid of the tenseness in my body and the hypervigilance in my mind.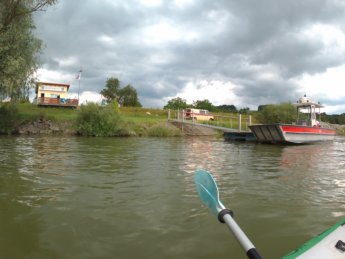 Arriving in Deggendorf
The left shore of Metten/Deggendorf turns into a very nice recreational area full of trees on pebbled beaches. It rains for a few seconds but does not persist. All of the trees have a waterline of about 40 centimeters above the current water level. The result of speedboat wake, I'm sure.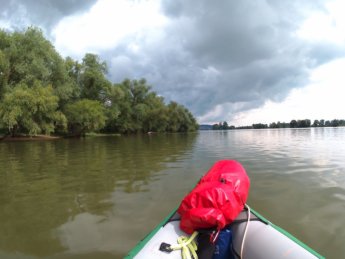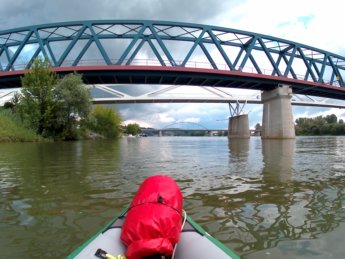 Many people enjoy a picnic with friends or family or a bike ride on the levee. Ill-planned, we make a quick stop in a hard-to-reach area before paddling the final three kilometers. We couldn't anymore. The sign goes 2287, 2286, 2285. We a beach bar whose seats are all occupied. Children follow their parents' examples by trying to skip some stones over the water. Some of them politely halt their activity when we paddle by.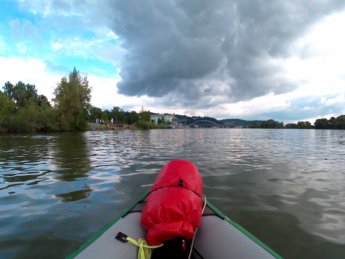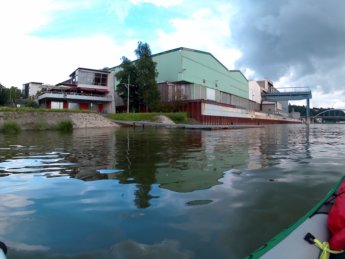 We pass under the last highway bridge and find our docking spot after a docking spot for big boats. It's exactly as Jonas' research had indicated; a flat, low-lying pier suspended from the shore, similar to the one we'd seen in Neuburg an der Donau. We turn our boat against the current and calmly land at the pier. Jonas gets out first. We high-five, kiss, and get the luggage and then the boat out of the water. It's 15:50. The restaurant Laurin is upstairs of a building that clearly says it's the rowing club of Deggendorf. Hence the fantastic pier.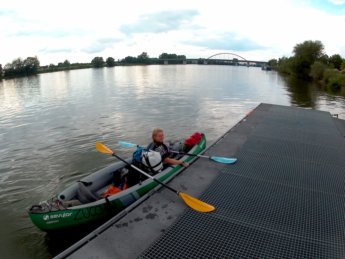 It starts to rain very dramatically. We hide under the roof with all our stuff. Then we dry our feet, put on our shoes, and by the time we've reorganized our stuff, the rain stops. We deflate the boat a little to put it to dry in the sunshine while we go upstairs with all our luggage to drink a beer with some pizza and gnocchi. This is pretty excellent.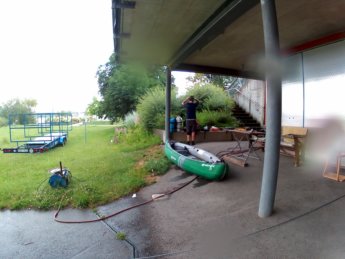 After food and packing up, we walk the 350 meters to the NH Parkhotel Deggendorf. The room is nice, but not nice-nice. This hotel was our third choice of accommodations after an Airbnb that didn't respond and a different hotel a little more downstream. After a shower, we feel ready to relax in the crazy white sheets. Tomorrow we work.
Feel Free to Share this Story on Social Media!