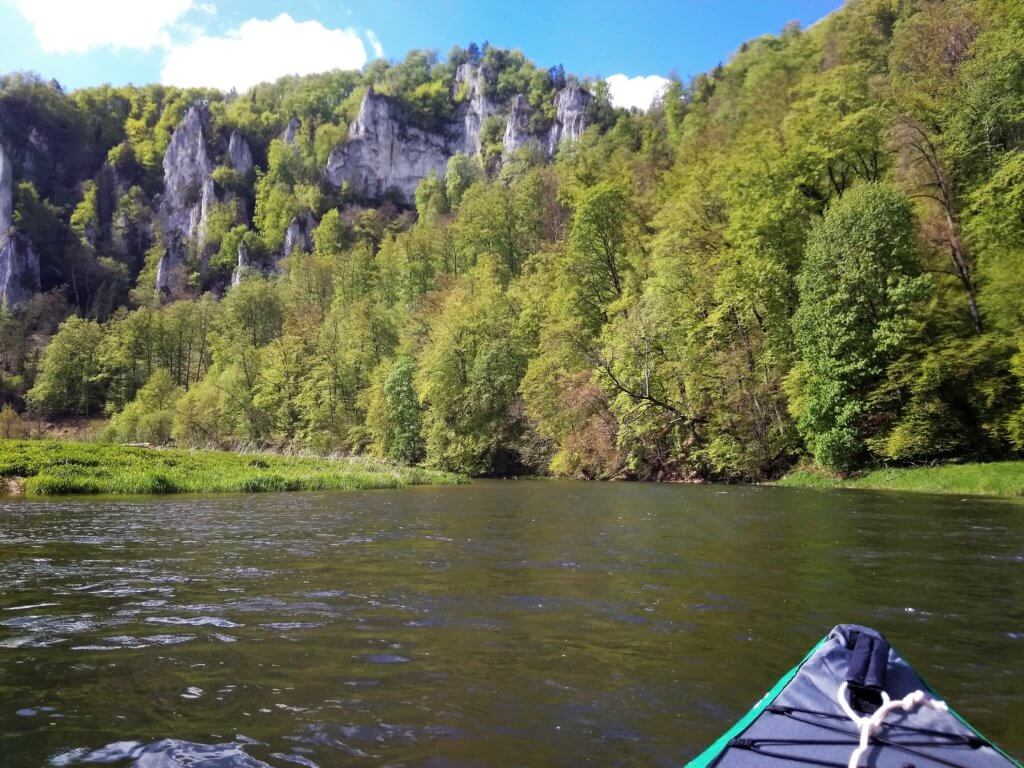 This article is about our paddle day from Hausen im Tal to Sigmaringen on the Danube river on Monday 13th of May, 2019. We're trying to paddle this 2850 kilometer long European river. If you're wondering what this article series is about, read the article about Donaueschingen, the source of the Danube. To see previous entries, visit paddle Day 1, Day 2, or Day 3. We're still quite early in this trip!
If you want to kayak here yourself, click here to get all the necessary information and steps to get your own permit.
The Forbidden Stretch
Between Mühlheim and Hausen im Tal (28.9 kilometers), it's forbidden to paddle on the Danube river. It's a protected natural area. That was unfortunate for our plans, but obviously, we don't want to disturb nature in favor of our stubbornness and risk getting fined. It's also bird breeding season right now, so it's necessary to be quiet while we float past nests and younglings.
So on Sunday the 12th of May, we took the train from Mühlheim to Beuron and a bus from Beuron to Hausen im Tal and checked ourselves into the Gasthof Steinhaus for one night. The trip there through the valley was incredibly beautiful and I would have loved to paddle it instead of sitting on a stinky train with dirty windows.
The forbidden stretch remains forever elusive…
At least by boat. You're welcome to explore the area on foot or by bicycle.
Our First Permit
But our troubles didn't end there. The next stretch from Hausen im Tal to Sigmaringen (22 kilometers) requires a permit. Once again, it's a protected natural area, but the local kayak club has successfully lobbied for their presence on the young Danube.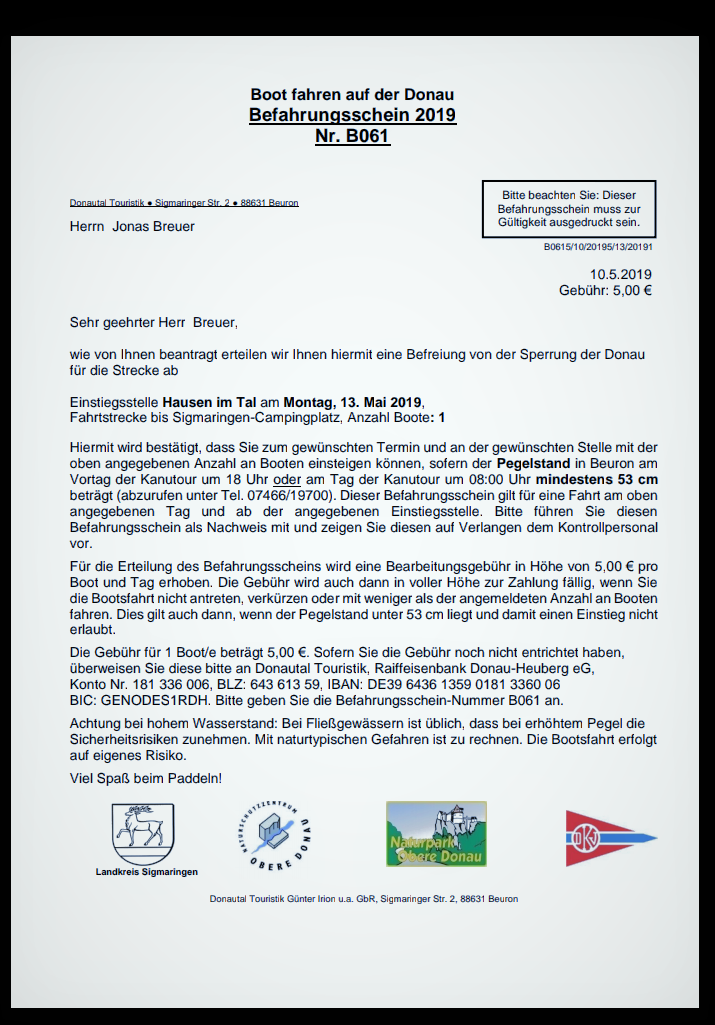 Jonas figured this all out by reading all the German-language resources that exist on the internet in 2019. Absolutely none of it is in English and I would have probably just paddled on both these (semi-)forbidden stretches if it wasn't for him. He got an email address and arranged the permit (Befahrungsschein) online a few days in advance. Jonas truly is the bureaucrat whisperer. The permit cost us €5 and is only valid for the day you sign up to paddle the river, so no takesies backsies or bait-and-switch.
Once we arrived in Hausen im Tal, we also walked to the Donautal Turistik office (and restaurant!) to ask whether we could print the permit there. That office is where the permits supposedly originate, so it's also possible to get it there in person if they're open. Besides running a successful café popular with hikers, paddlers, and dog people, they also have mini-golf, blunt archery range, and… a kayak rental. We asked a guy whether it's necessary to print out the permit, but he assured us they also accept the digital PDF version. That's great news.
Now the last caveat with this permit is that the minimum water levels (Pegelstand) required is 53 centimeters. I'm not sure which monitoring station counts, but the one in Sigmaringen said 83 at our time, and the one in Beuron (much before Hausen im Tal) was at 95 on our paddle day. Plenty of water!
After our visit to Donautal Turistik, we hike a bit around the Danube. We stake out our official launch spot ('Donaubrücke Nord') as mentioned in the guidelines of the permit. Those are about 700 meters upstream from where we're staying. We spot a few nice stairs into the water at the municipal campground in Hausen im Tal. They're the same design as the steps of our official launch spot, so we wonder why we're allowed to launch our boat there but not at the more conveniently located campground.
When we're back in Hausen im Tal, we walk past the campground to speak to the manager. We ask him if it might be possible to launch our boat from those steps instead of the official spot at the bridge. He basically tells us that he personally doesn't care and won't call the cops on us if we launch from his campground, but also doesn't condone it.
To me it's obvious to launch our boat from the campground; it's only 100 meters walking and it's more downstream. I hate backtracking. We'll be tired before we get to the other spot. I can't understand the exact motivations why it's allowed in one place, but not the other that looks exactly the same. Jonas votes in favor of abiding the official guidelines and launching from the Donaubrücke Nord, based on that there probably is a good reason for these rules, and we just don't know yet why. I guess we are upstanding citizens after all.
The Long Paddle Day (Monday 13th of May)
We wake up in the Gasthof Steinhaus and get dressed in our battle gear. Today will be the longest paddle distance yet. We bring some of our luggage downstairs and head for the breakfast room. The breakfast is included and only starts at 8:00, so I'm ready to kick down the door in case it's locked. This proves to be unnecessary.
I can't wait to paddle, but I struggle between thinking "Breakfast is a waste of time" and "Breakfast plays an essential role in our success today". While I'm contemplating whether breakfast is lawful good or lawful evil, Jonas is already chomping on his first sandwich. I overestimate my appetite by a full sandwich and decide to wrap it for the road. This is anarchy.
We brush our teeth and bring down the last luggage. Now we walk.
The First Soul
We walked the 700 meters back upstream after breakfast in the guesthouse. It's 8:50 and I knew the walk would take us about 10 minutes. It still felt a little silly to walk all the way back, only to paddle it down and wave at Hausen im Tal one more time. The morning wind gave us a push upstream, which meant that it would hold us back when paddling downstream. At least it's still sunny.
At our spot were some men in reflecting clothes installing or cleaning something. We greeted them, they greeted back, and we walked to the shore. There were two options: use the muddy incline into the water or use the clean steps. We chose the steps.
By now, preparing to paddle is a smooth operation. We inflate the kayak, one of us measures the pressure, Jonas does the seats, I pack up the CabinMAX, we change our shoes, I install the hydration bladders and our personal dry bags.
A woman dressed in red and navy blue with a red kayak shows up. Finally, another paddler! We greet one another and start a conversation. She's from Gutenstein, about 15 kilometers downstream, and she kayaks this stretch a lot. She tells us she sometimes checks the permit, and casually asks us if we have one. Jonas tells her about our trip and assures her that we did everything according to the rules. Since she's the first soul we've seen on this river, Jonas asks her questions about the next stretch.
The 22 kilometers between Hausen im Tal and Sigmaringen is a protected natural area. We received a list with specific entry and exit points for our kayak. Jonas asks the woman why that's the case. She answers us that usually, you need a car to bring and retrieve a kayak from the water, as it's a big plastic kayak like hers that comes on wheels. To minimize the damage done by vehicles, they limited the number of entry and exit points to protect the birds and the embankment of the Danube. This makes a lot of sense, but not for us since we're always on foot!
I look at the kind of gear she has. It's mostly pretty similar to our stuff, but a lot less. She's wearing boots instead of water shoes. Her waterproof phone case also has an arm strap. Her life jacket doesn't have a cool pocket like ours. But she has a spray skirt to attach to the boat – something I know Jonas is a little jealous of.
By the time we're ending the conversation, she's already in the water with her boat. We're still finishing the last steps of our entry routine. She wishes us good luck on our trip to Budapest and off she goes. Perhaps we'll see her again on the market in Sigmaringen on Tuesday.
Leaving Hausen im Tal
We're finally ready to leave. It's 9:40 and it only took us 40 minutes to prepare everything, even while enjoying a friendly chat. The boat is partially in the water and the luggage is strapped in. I get in first and Jonas second. We push ourselves away from the shore and directly pass under the middle section of the bridge. It's about five or six kilometers till the first river dam. We have three or four of those portages on our program today, depending on whether we can use the kayak slide on the last one.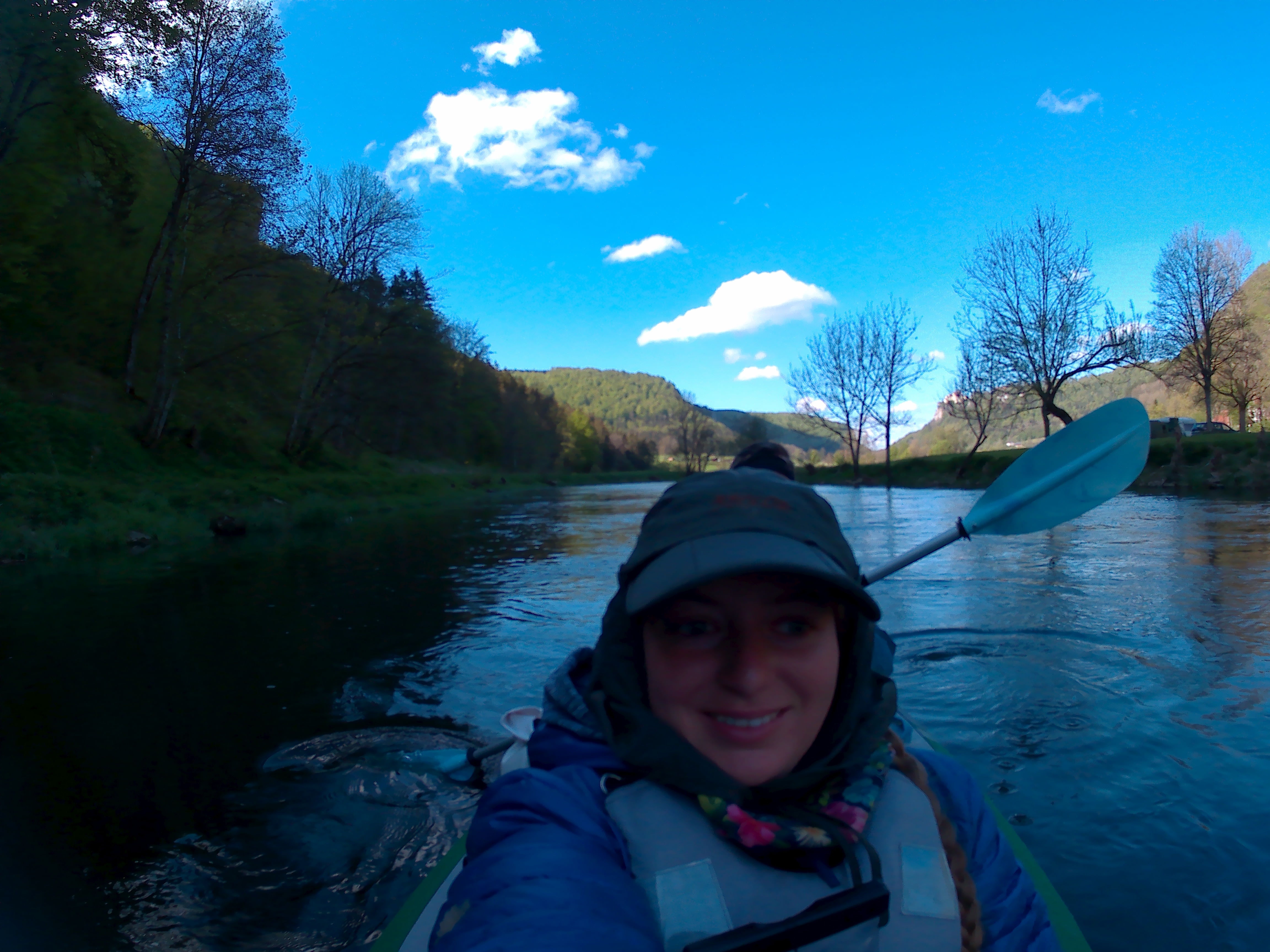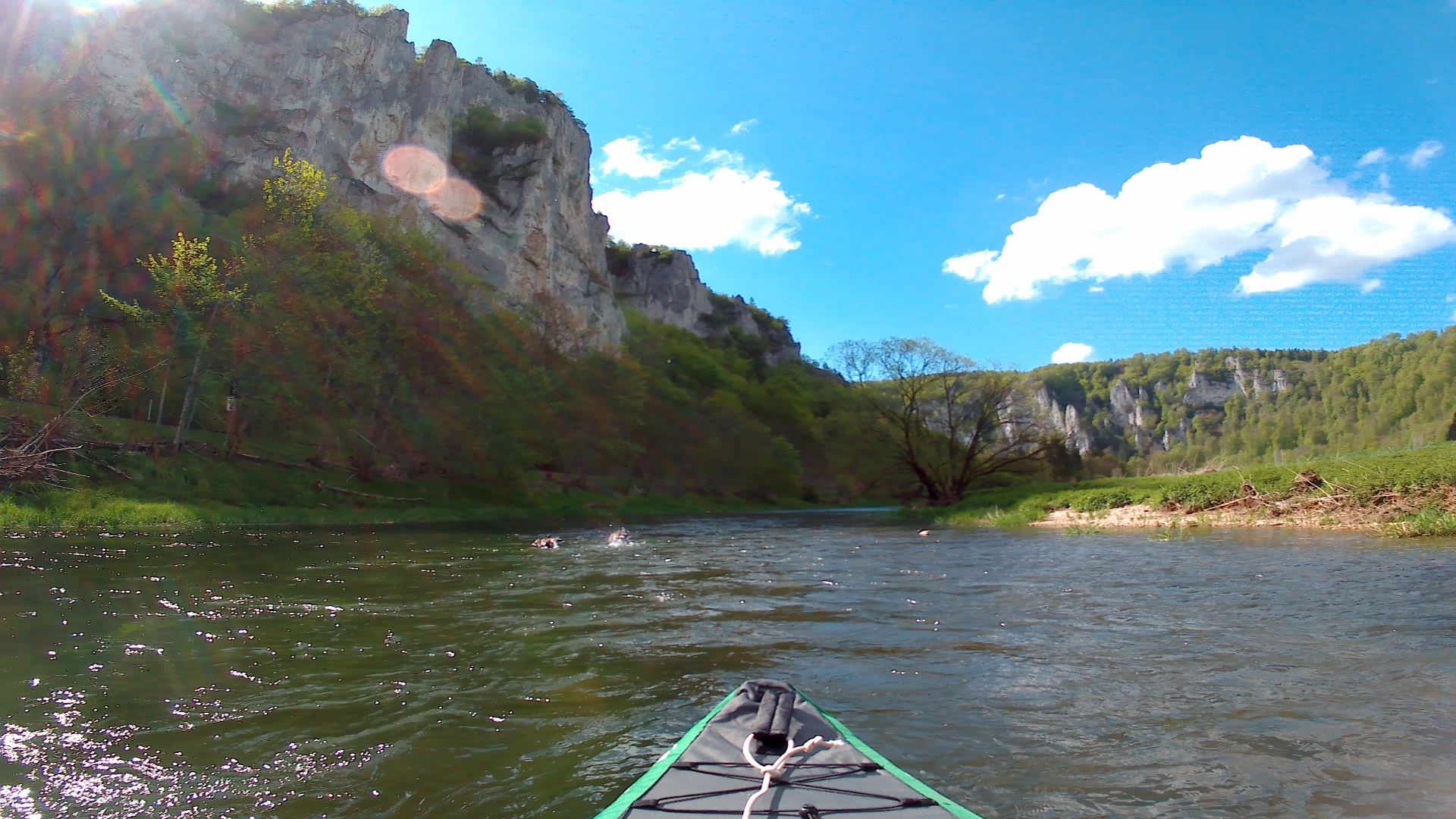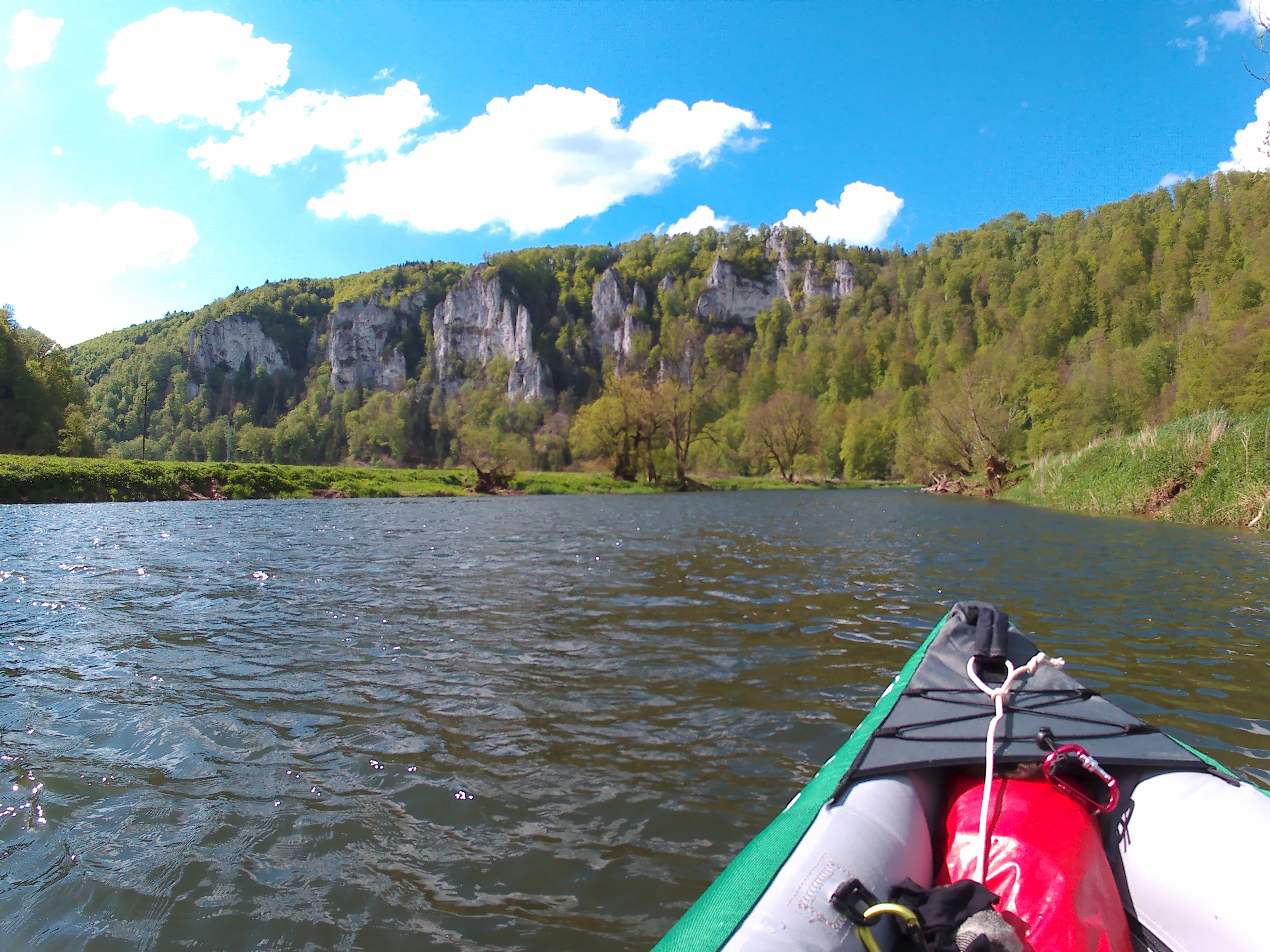 The wind is strong. At times, it feels like we're falling still in the water, despite the pushy currents. We pass by our hotel and the launch spot at the camping that would have made our lives so much easier. The golden retriever (or a blonde labrador?) stands on the shoreline and gazes at us as we paddle on. That dog looks bamboozled as heck.
We paddle quite hard against the wind. Without a fin, the boat easily turns sideways whenever it catches the wind. We're constantly correcting our course. Our arms already feel tired. But it's gorgeous out here. We're paddling through a proper canyon and the cliffs catch the sunlight beautifully.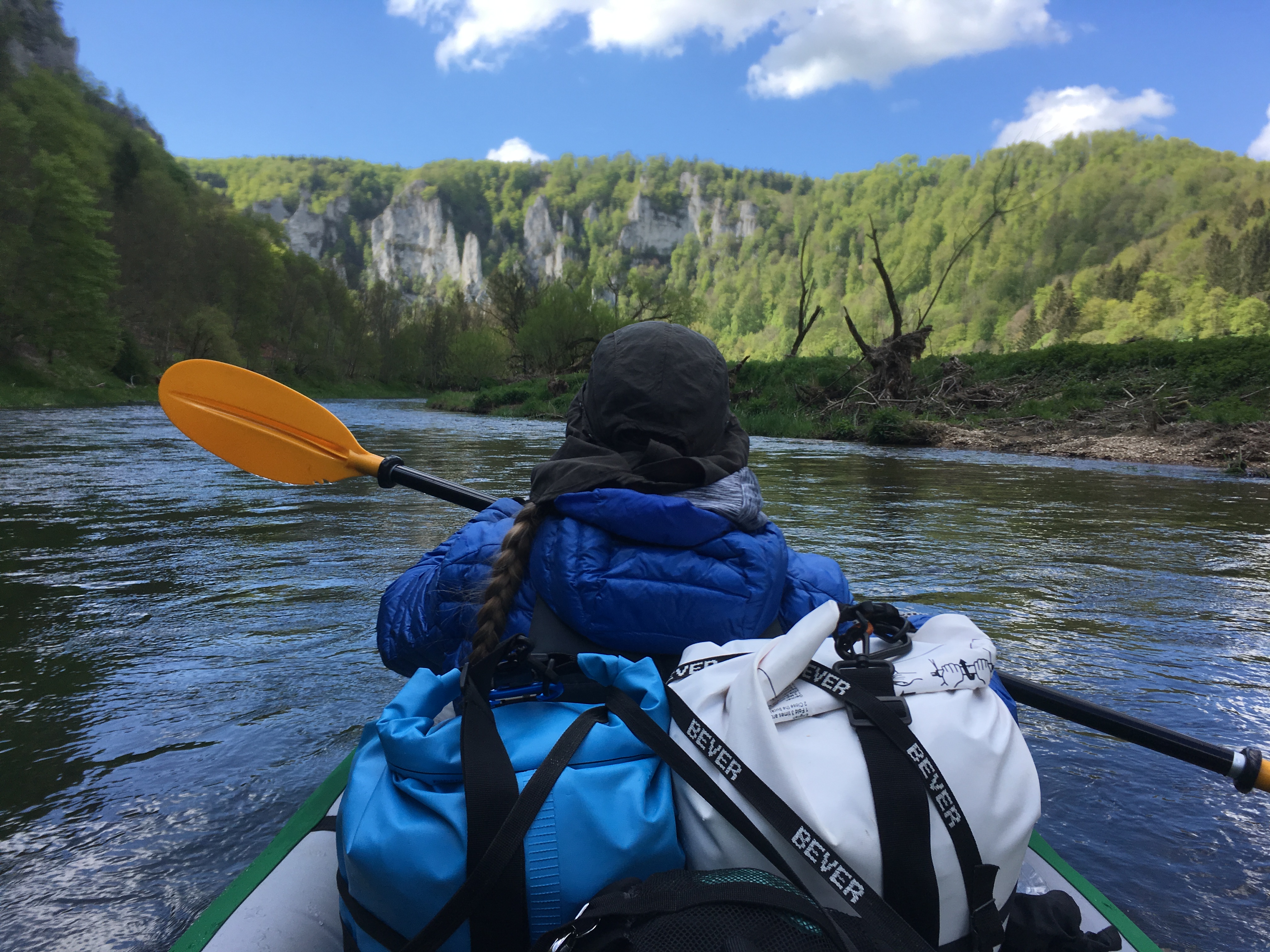 I'm expecting to get the wind from the back at the first tight river bend, but the wind still comes from the font. I realize that it's that same canyon that channels the wind to always come from the front today. This is how it will be the whole day. The whole 22 kilometers. Shit.
The First Wehr
We're at the first Wehr called 'Neumühle' at 11:10, only 1.5 hours after we started. That's not bad. But we're a bit confused about where to get out; on the map it says there's a path right after the bridge, but our feelings say that's too damn close to the edge of the dam. All we know for sure is that we need to get out on the right side. We chicken out and take an earlier landing spot. When portaging our boat past the other spot, we see it would have been much easier from there. Next time we'll trust the map.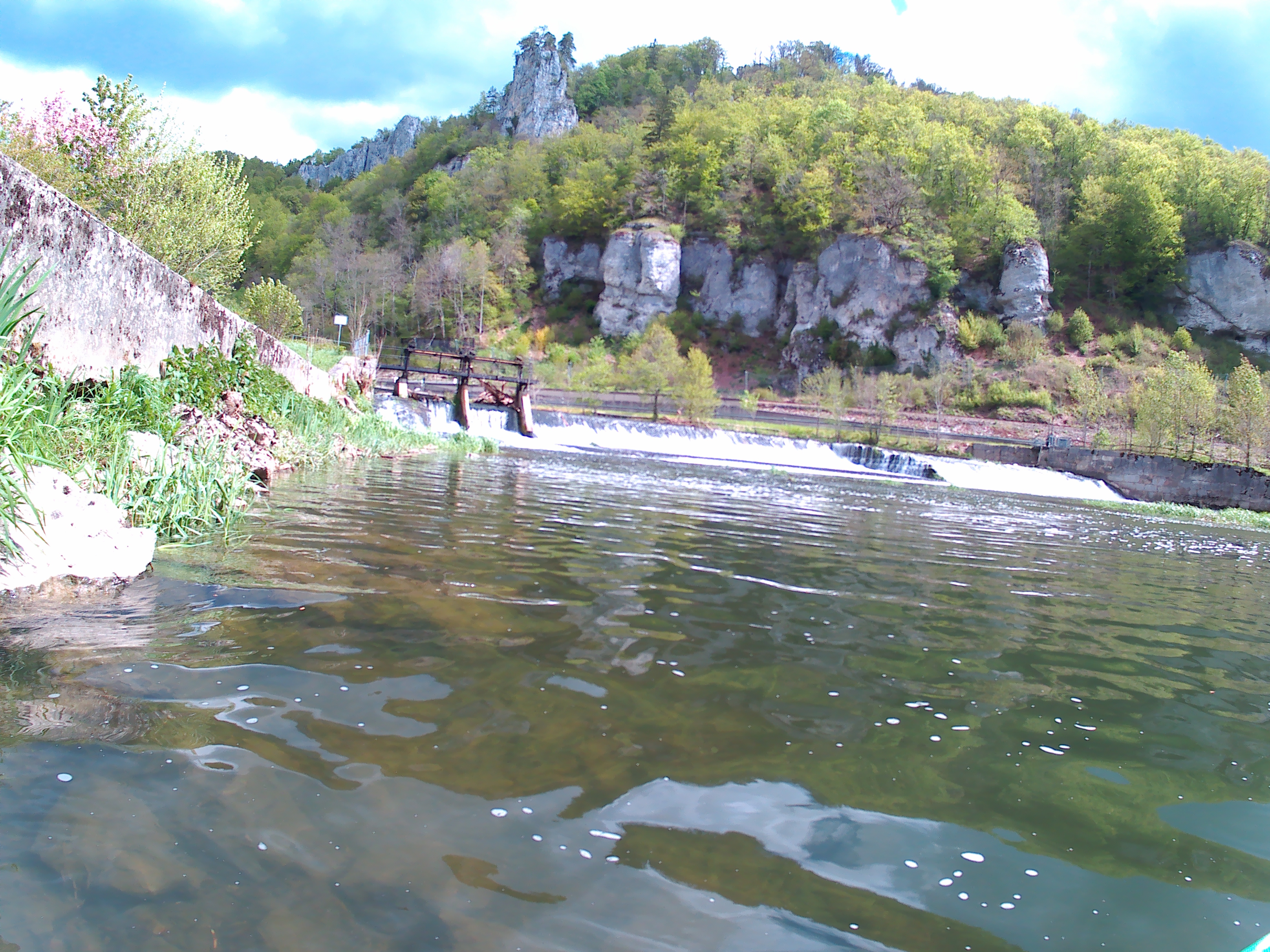 We accomplish the portage in only 10 minutes. On the other side, there's a man in special pants knee-deep in the water. He's fishing for something. He moves waist-deep into the water so we can pass behind him. Fishermen kind of weird me out.
We're paddling again and making swift progress. The left-hand shore is actually a river island all the way until Thiergarten. I chat with Jonas and do some mental calculations. He says our average speed is about 3 kilometers per hour, including time wasted on land. That means we're looking at about 7.5 hours of paddling today.
The sun disappears behind the clouds and suddenly I'm cold. I change my gloves from the fingerless ones to the winter gloves. Suddenly, something snaps in my right biceps. I'm not sure if it's painful, but I let out a scream. The sensation goes away quite quickly and I continue paddling on the other side, just to be sure.
This day, the wind is sometimes so strong that I do the paddling on both sides. The advantage is that we keep moving forward quite strongly, but the disadvantage is that I'm making the boat quite wet. Every time the wind subsides, we take a little break and just enjoy the flow of the river carrying us on. I'm confident we'll still arrive in Sigmaringen today, but I'm also expecting pain tomorrow.
The Second and Third Dams
We pass Gutshof Käppeler at 11:50, only half an hour after completing the first dam. We're actually already one-third of the way, but I undersell it to Jonas as one quarter. We pass an official exit of the river with kayaks on the shore. Soon after follows a sign asking us paddlers to be quiet on the river for the breeding birds, so we stop talking. Next up is the Wehr in Gutenstein, which was the kayak lady's destination for today. There's another dam soon after that in Dietfurt. For both of these, we need to get out on the left side.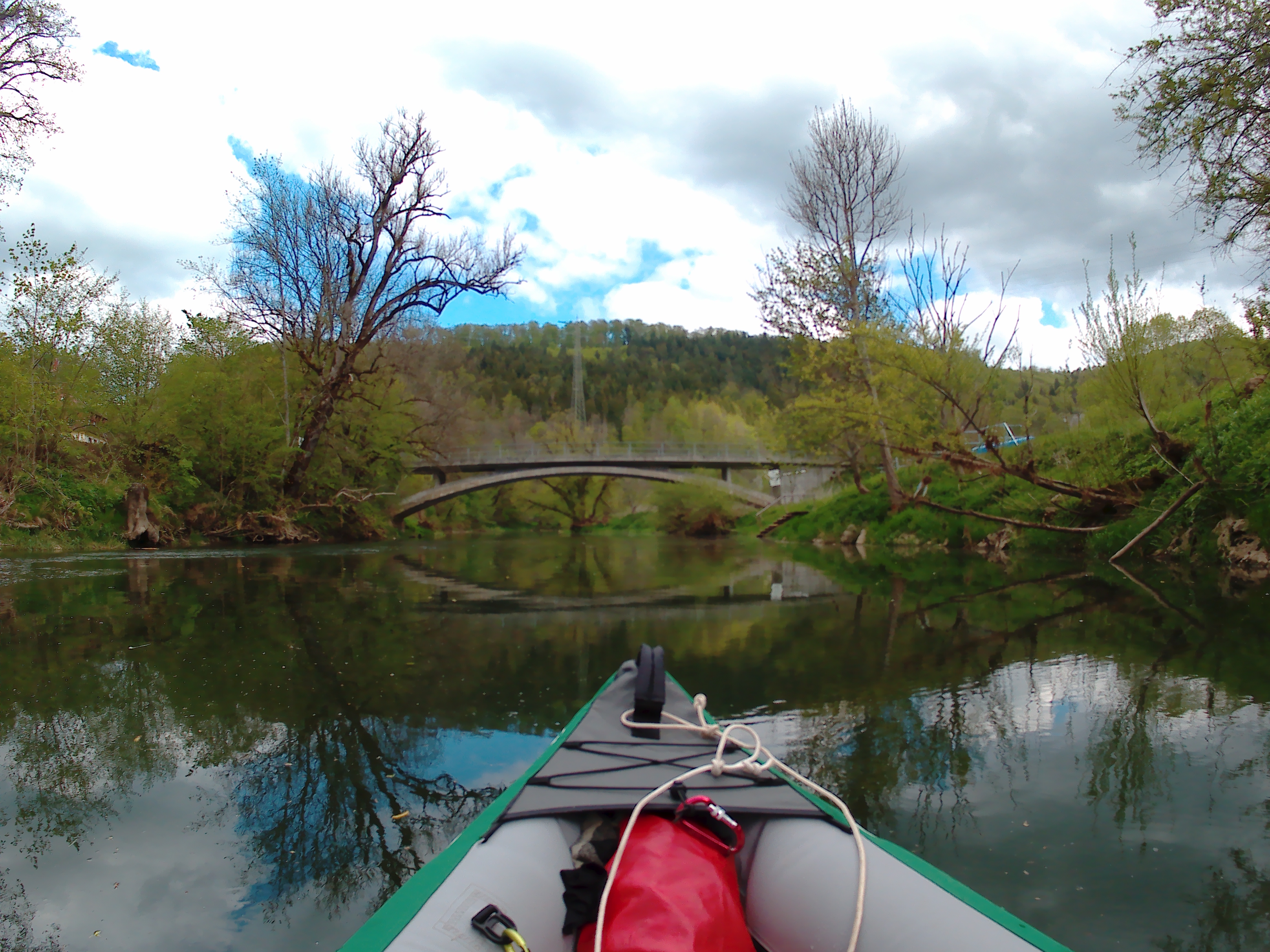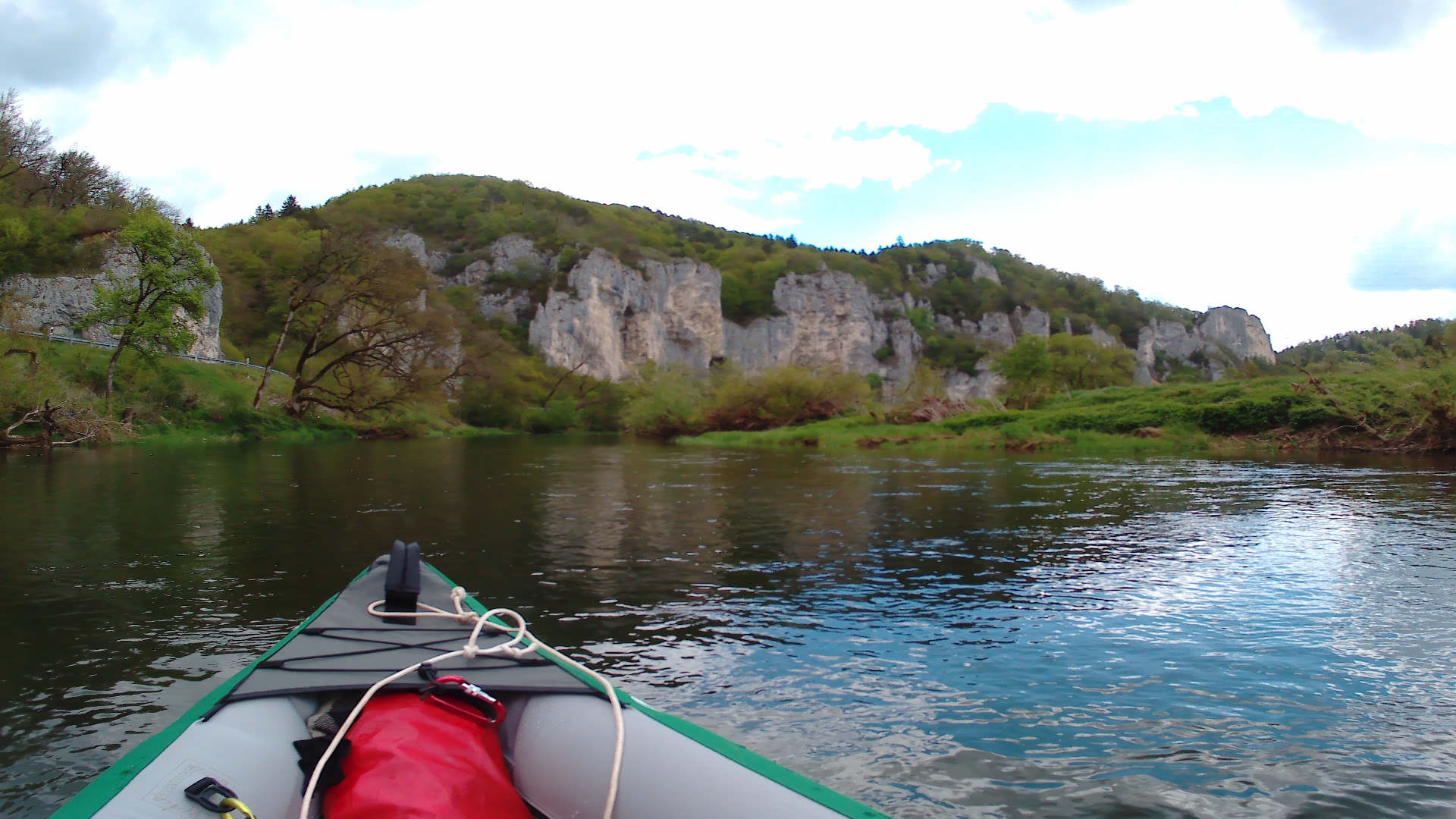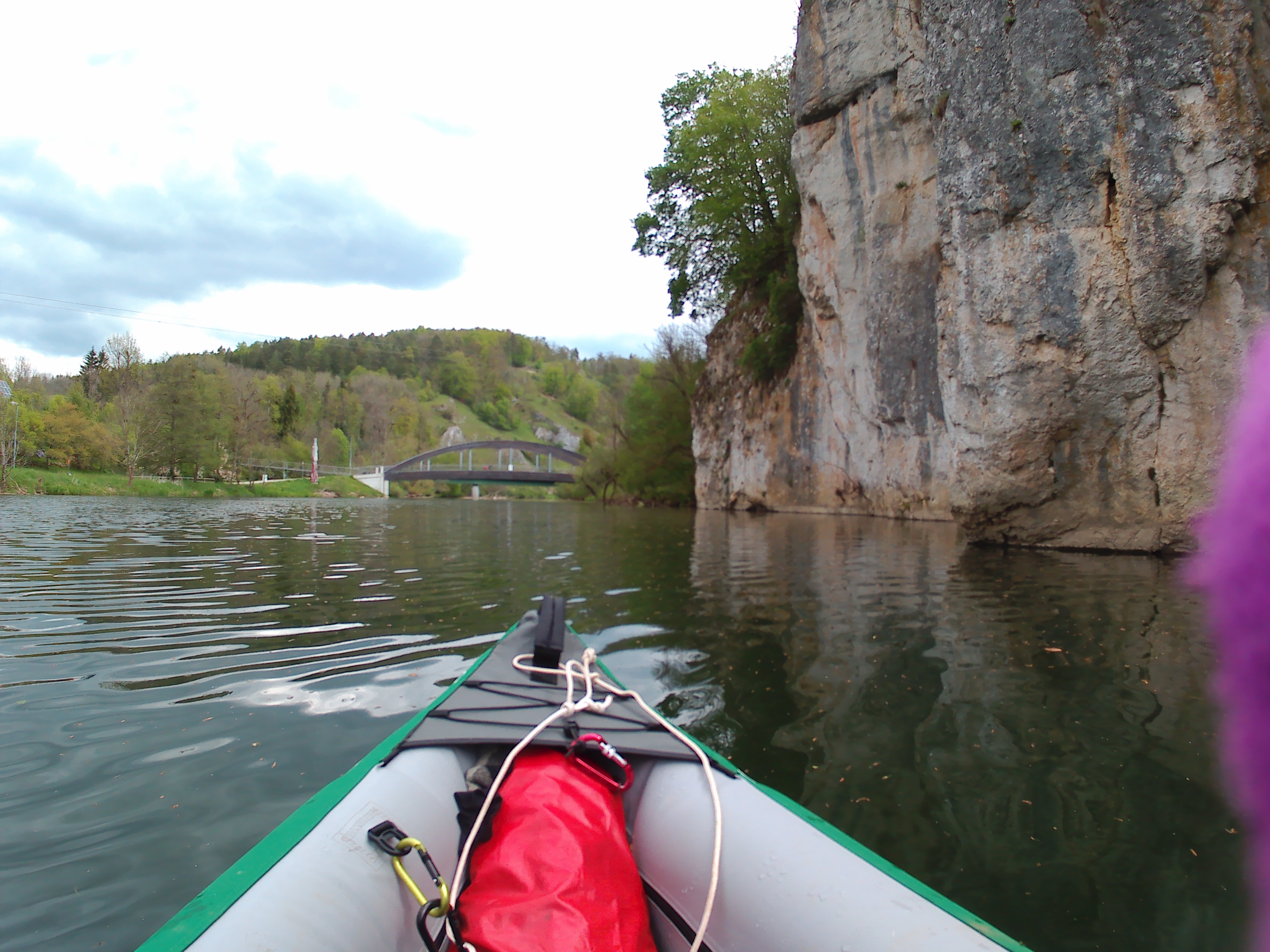 The dam in Gutenstein has its exit spot only eight meters from the edge of the dam. When we approach, I'm very scared of dropping off the edge; from the low angle of the kayak, it's impossible to see the drop until it's too late. The sound of falling water increases, and so does my panic. We paddle to the right side of the shore to try to see around the corner. There it is!
The landing spot looks very decent and the pull of the current isn't too strong. We paddle back to the left side of the river and land smoothly before the drop. I try to get the boat parallel to the shore so Jonas can get out without getting his feet wet, but it's slightly too long. I notice that I actually haven't gotten my feet wet today. Maybe that's why I'm not so cold in the shadow and in the strong wind.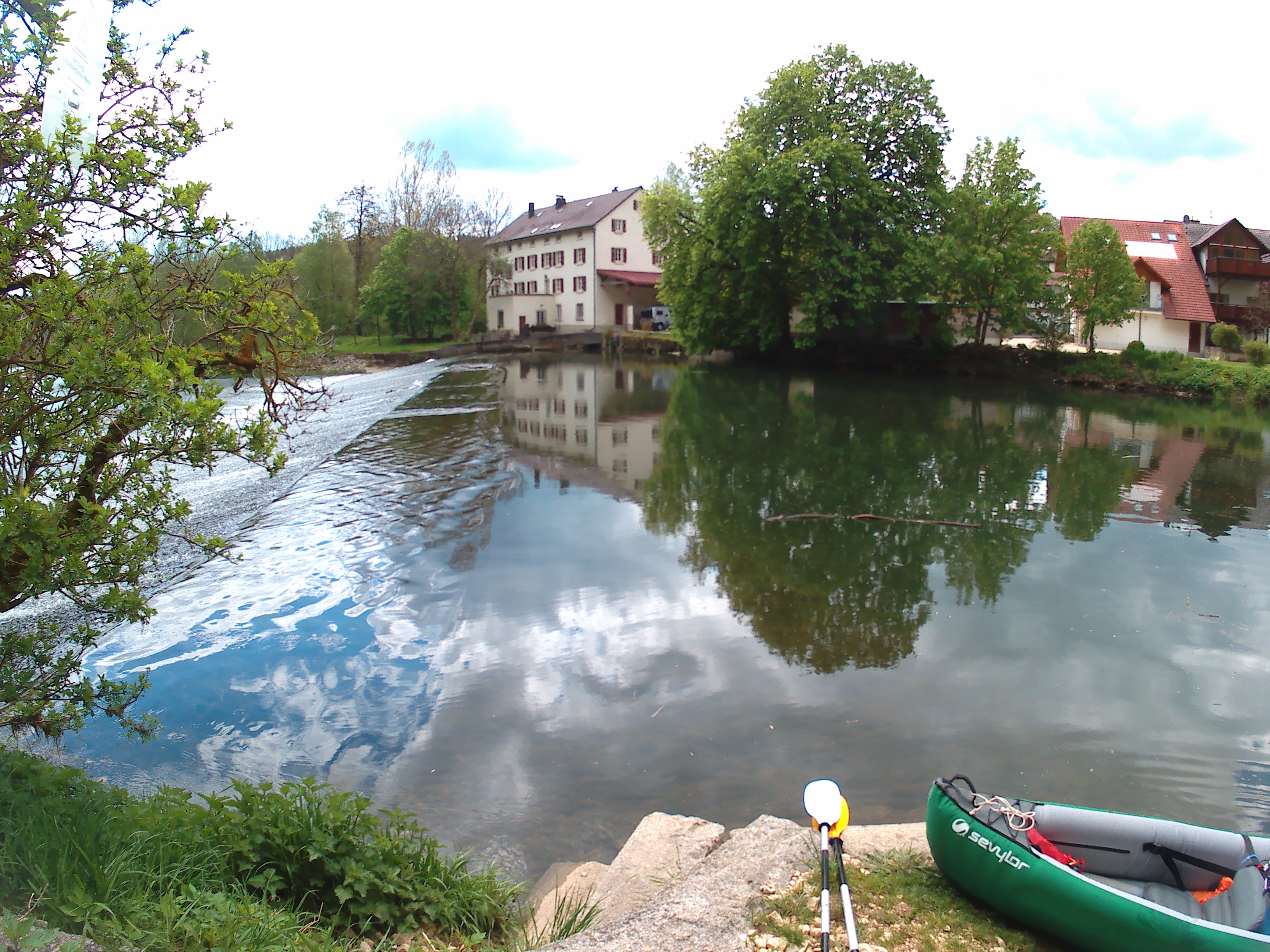 We move the boat over the narrow path to the other side. Jonas doesn't really see how one could roll their plastic kayak on a kayak trolley through here. It just seems too narrow. We take a break before putting the boat back in and paddling on at 12:55.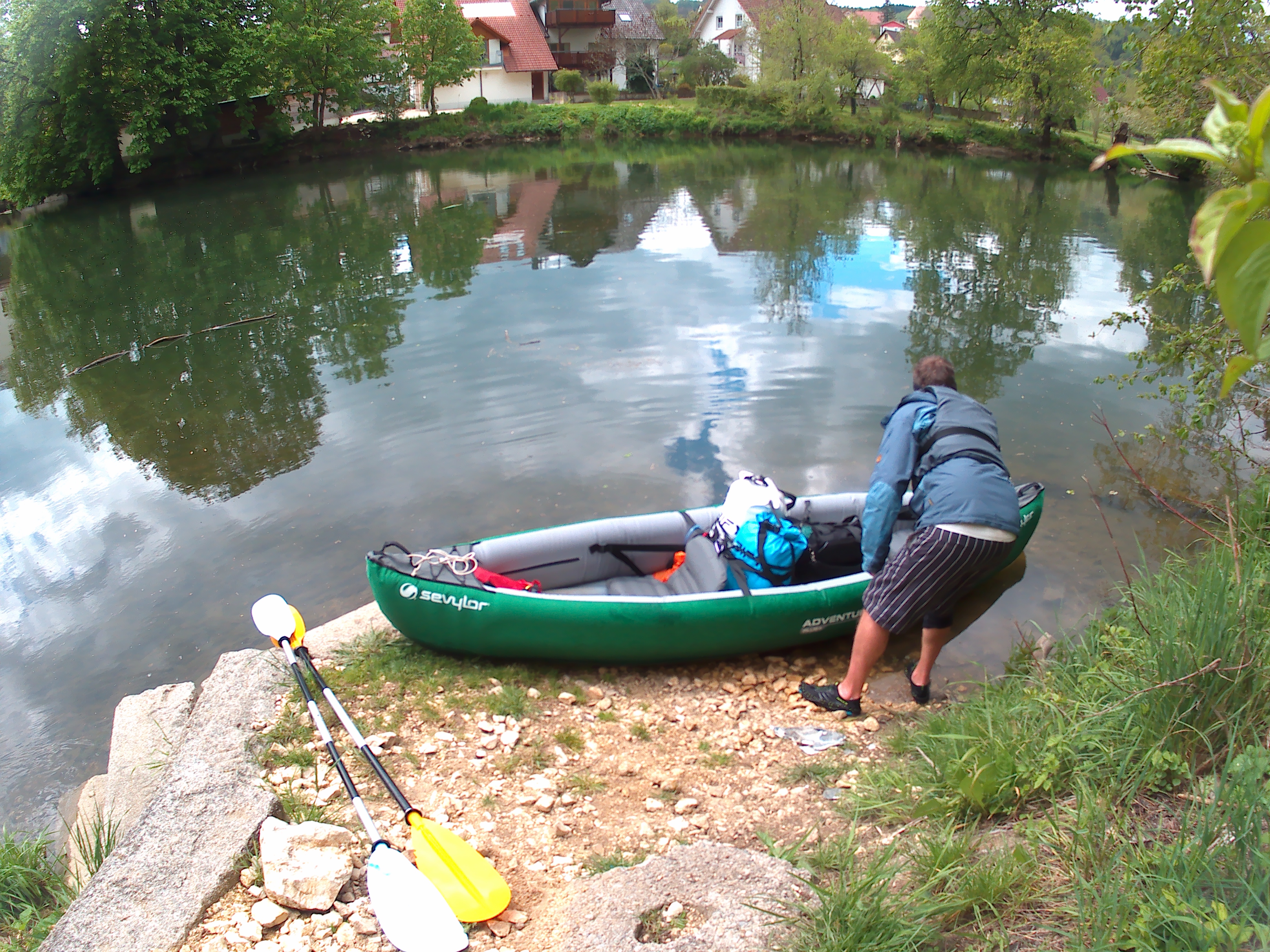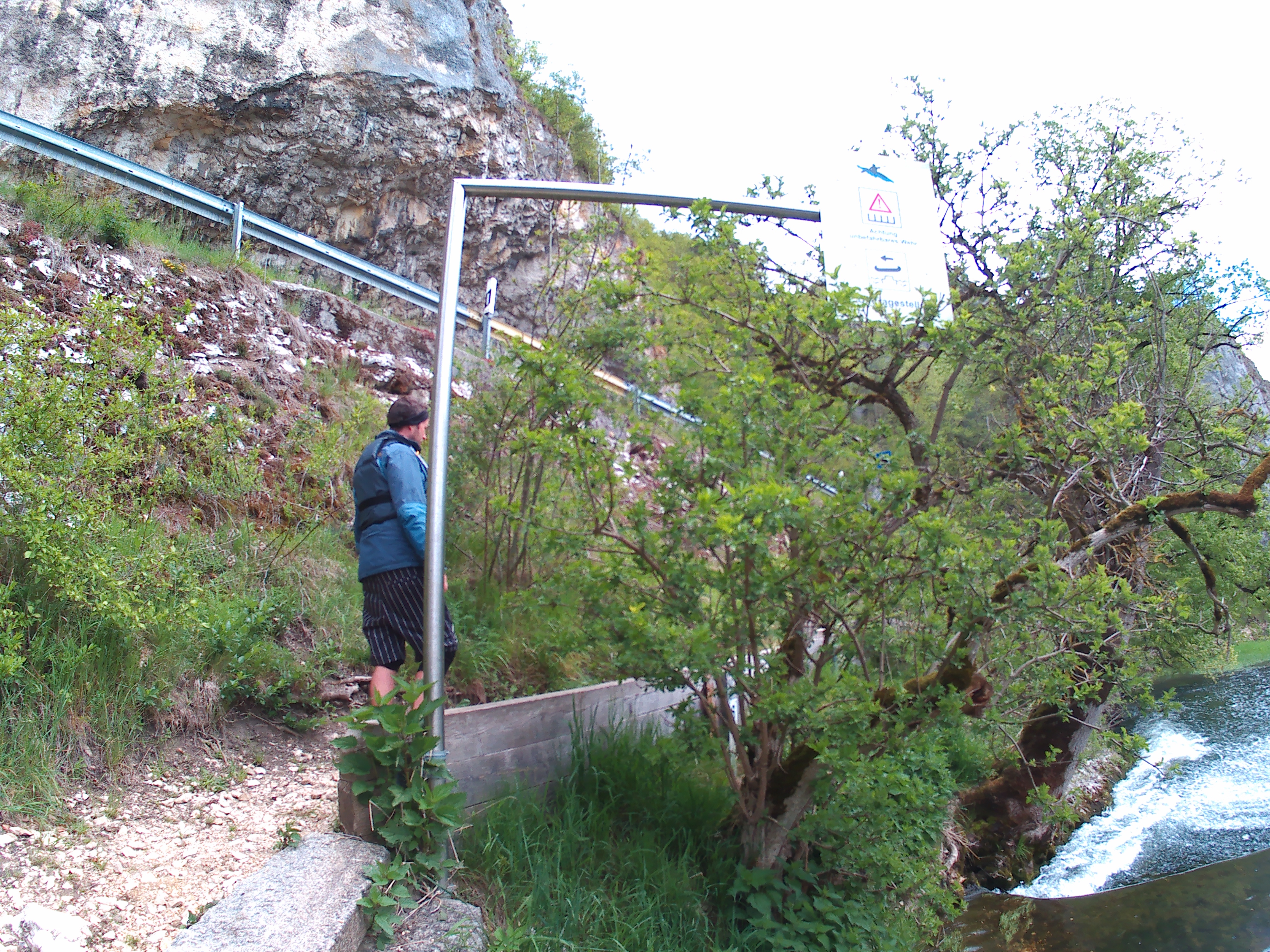 The next bendy stretch comes past a few youth campgrounds, presumably for school trips. I reminisce that time at the start of the second year of high school (we were 13 or 14 years old) and went on a 'survival' trip to the Belgian Ardennes for five days. We were at a similar camp and had to do all sorts of activities from spelunking to zip-lining and building a raft to go down a cold river. I had fully expected to hate it and be bullied the whole time, but surprisingly found it very enjoyable.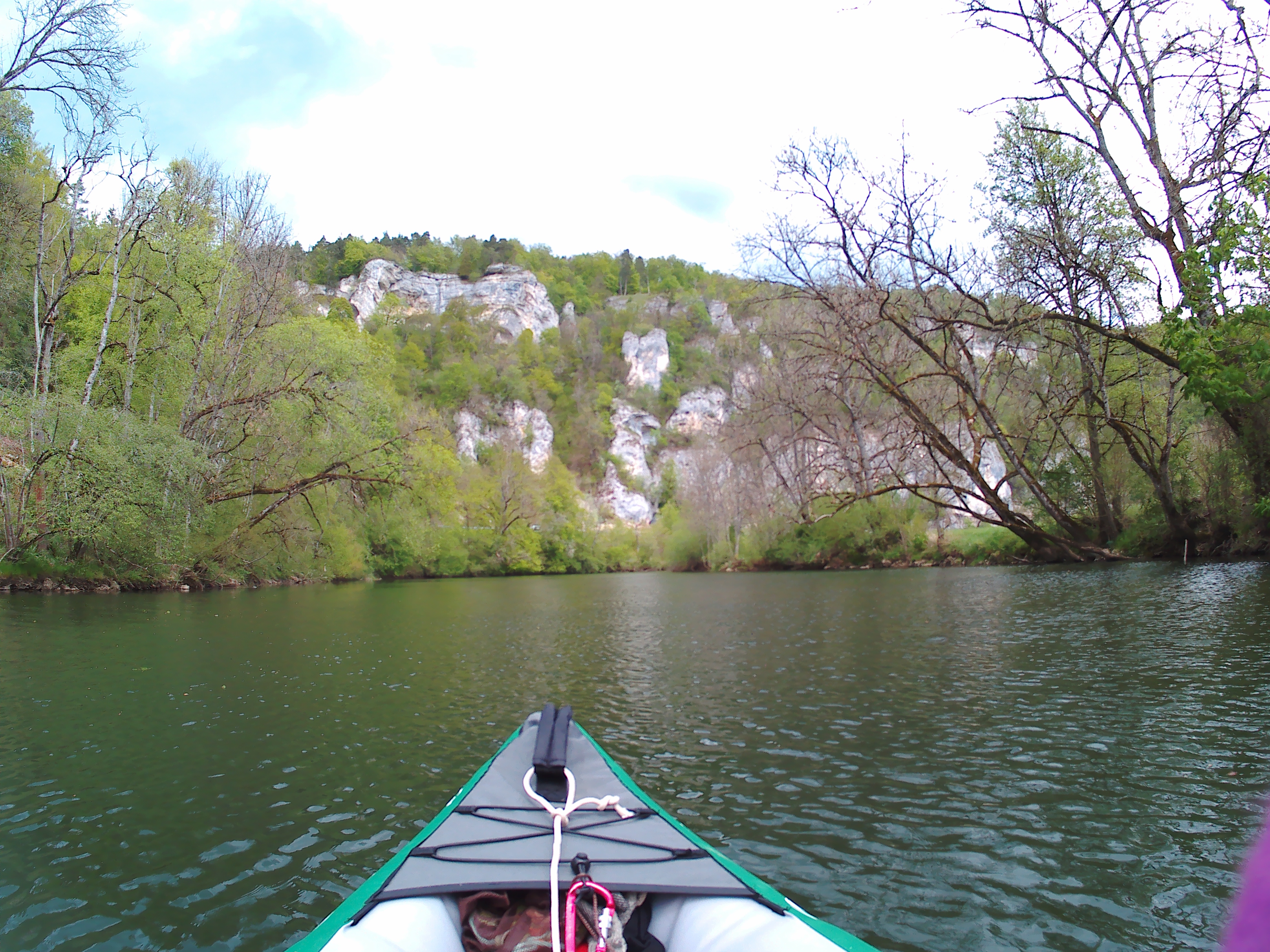 I take the initiative to start eating our snacks and the single cheese sandwich. I'm sharing with Jonas that despite the wind, I'm truly enjoying myself today. Just like all the other paddle days. He tells me that he's having a hard time enjoying it. I'm not really sure how to respond, so I ask him why he thinks that's the case. Jonas says it's because he's very focused on arriving, and not much on the journey itself.
We're at the third dam at 13:45. There's a cool-looking tower on a rock right behind the dam. This is the 'Ruine Dietfurt' on my map. We get out on the left side. I help Jonas get onto the shore and he stays dry this time. I hope his feet warm up. We complete the portage very quickly and enter the last stretch before Sigmaringen. The next and final dam is in a satellite village called Laiz right before Sigmaringen. My battery is low, so I turn off my phone screen and let Jonas do the navigating until our arrival.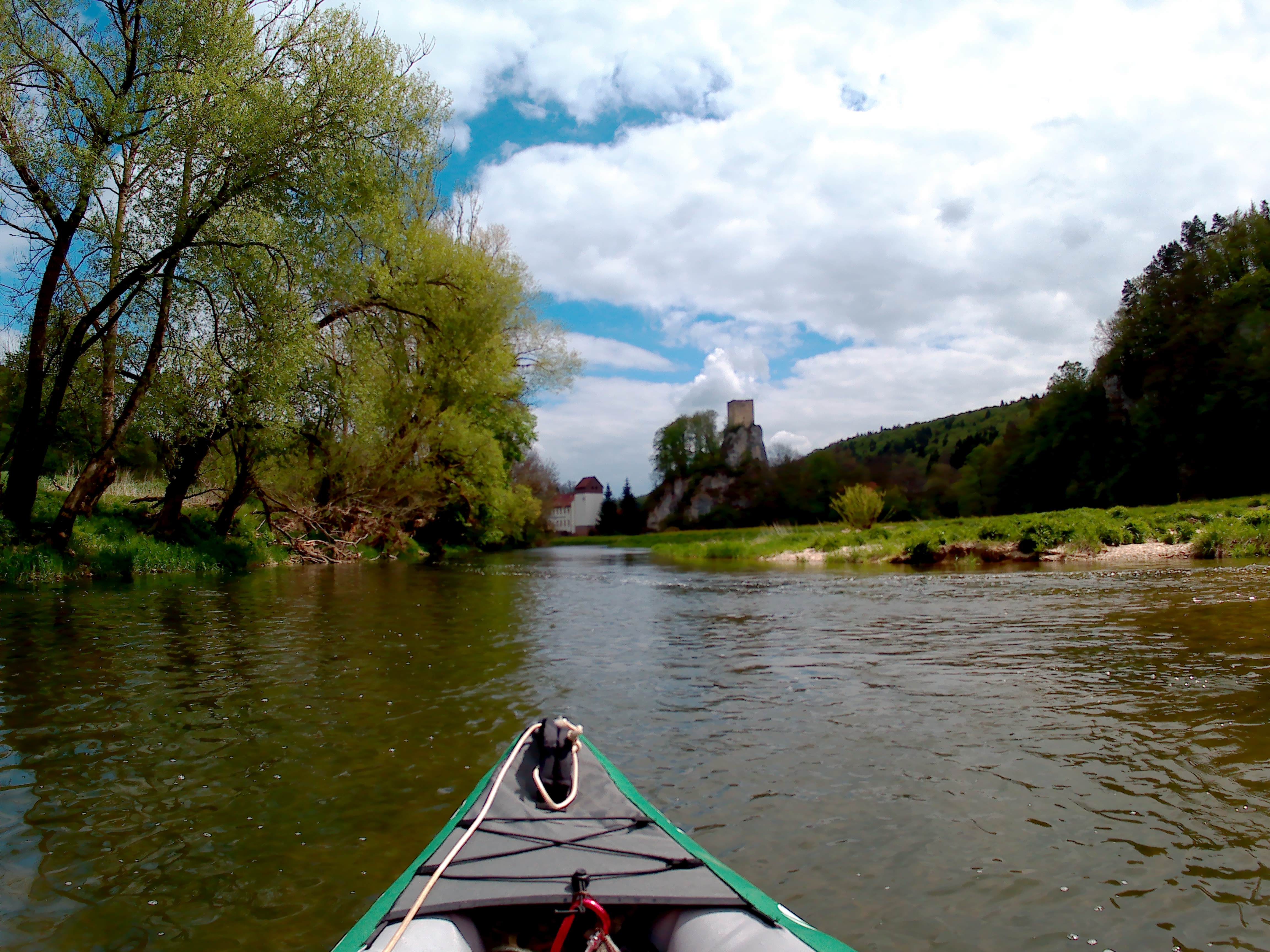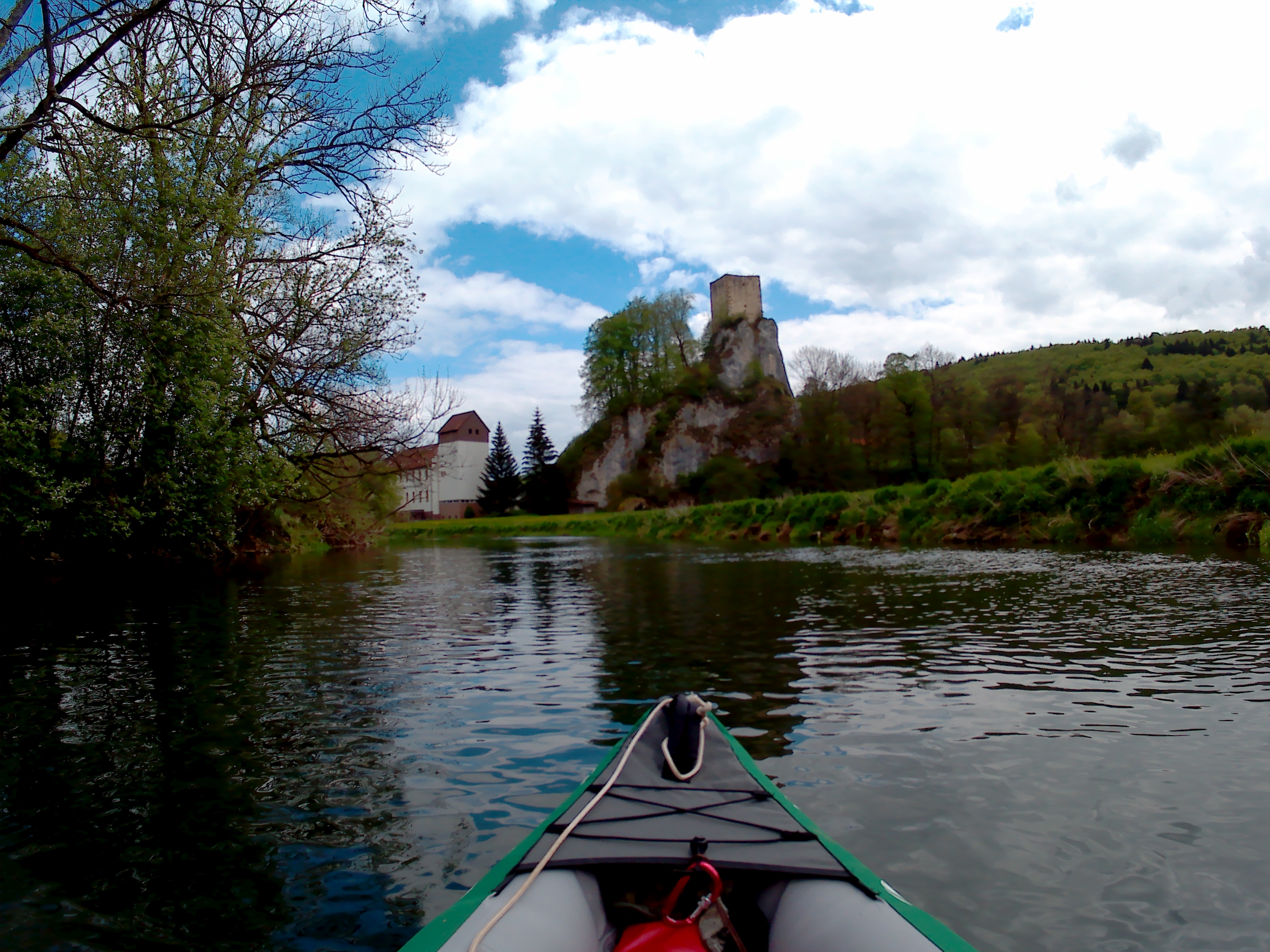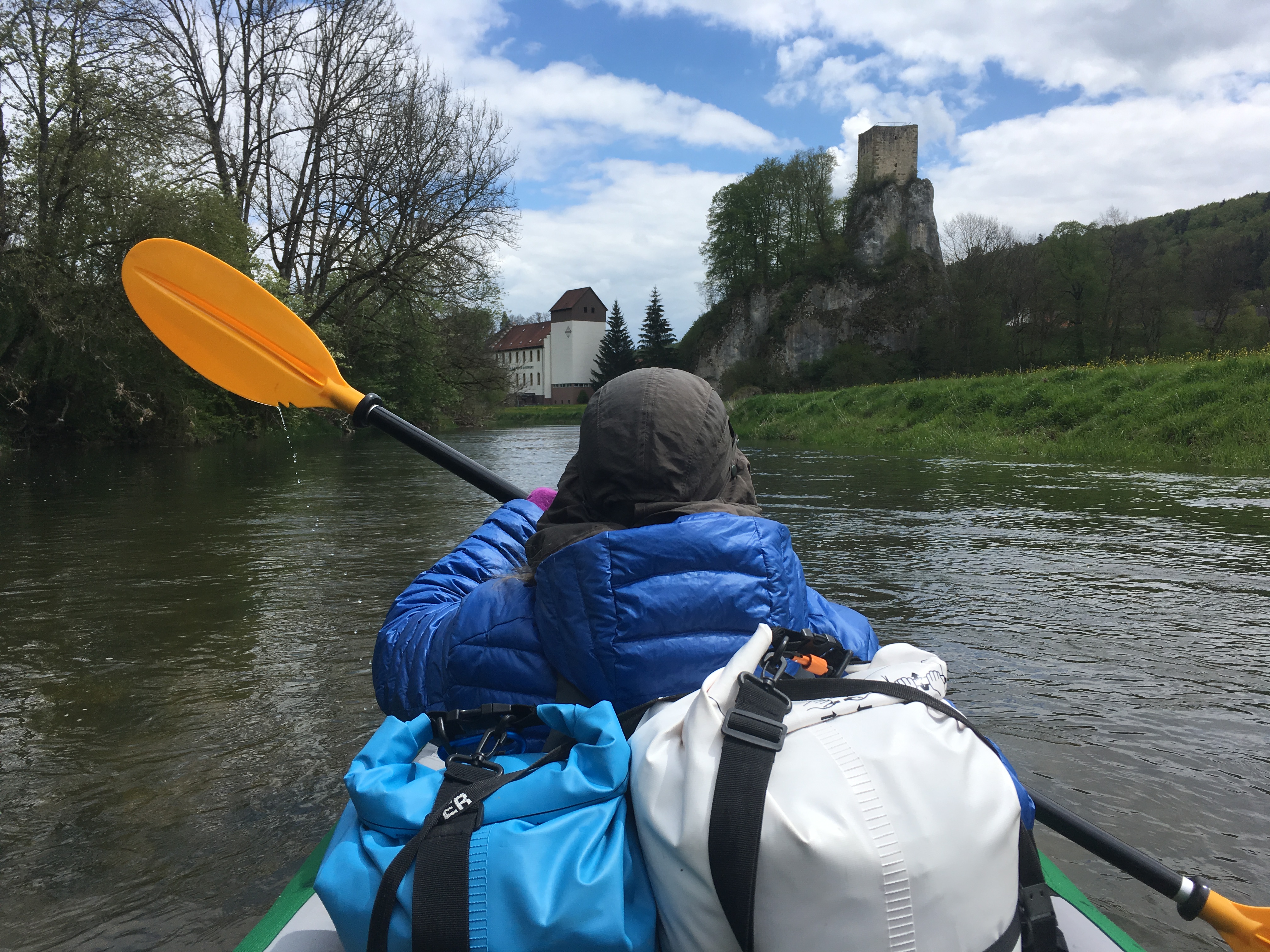 The Most Beautiful Stretch
After the Schmeie river enters the Danube near a town called Inzigkofen lies a beautiful bend surrounded by cliffs. It seems pretty accessible for hikers, as we see quite many people on the shore, on the edges of cliffs, on Mostar-like stony bridges, and on a hanging cable bridge above us.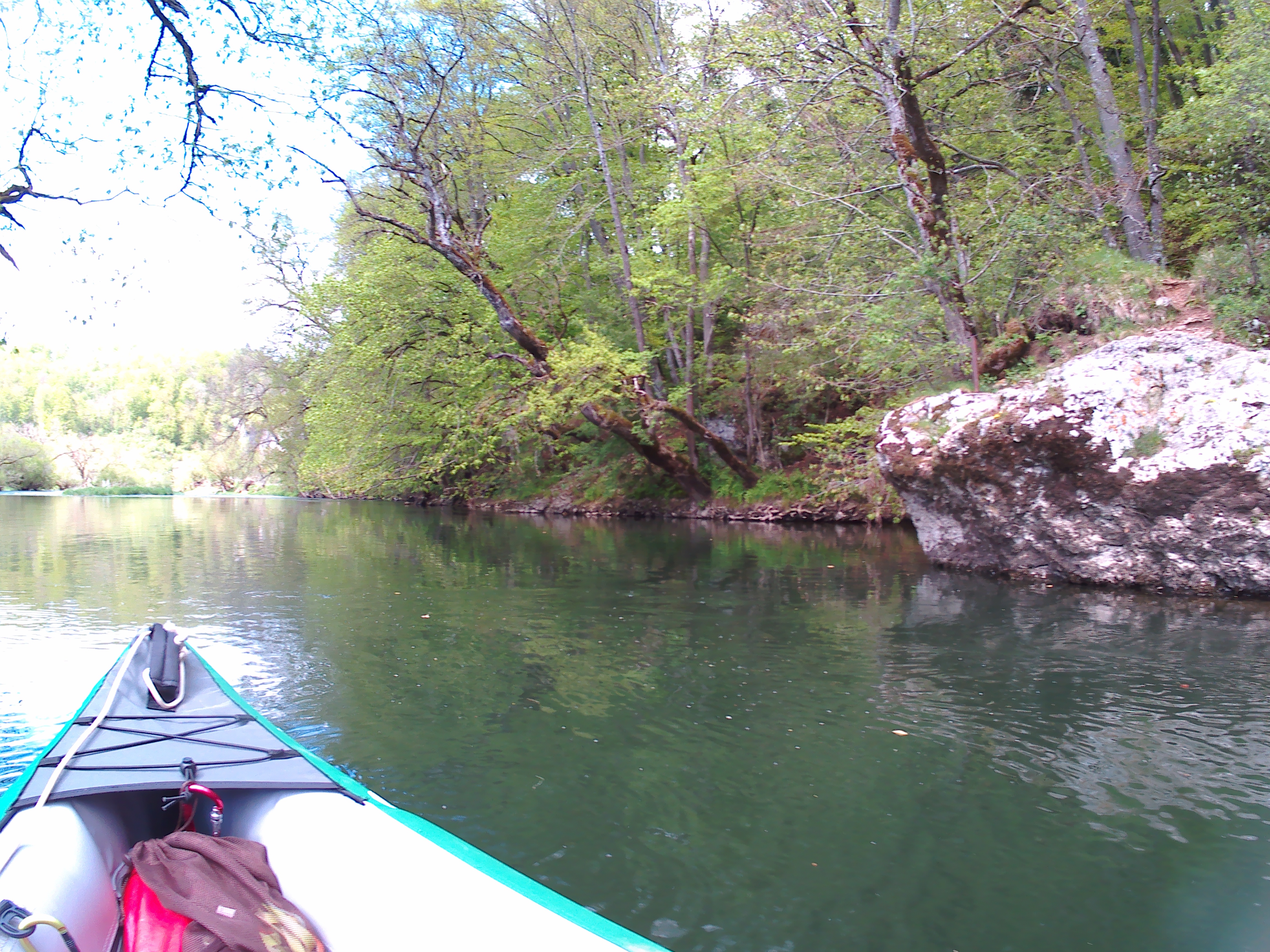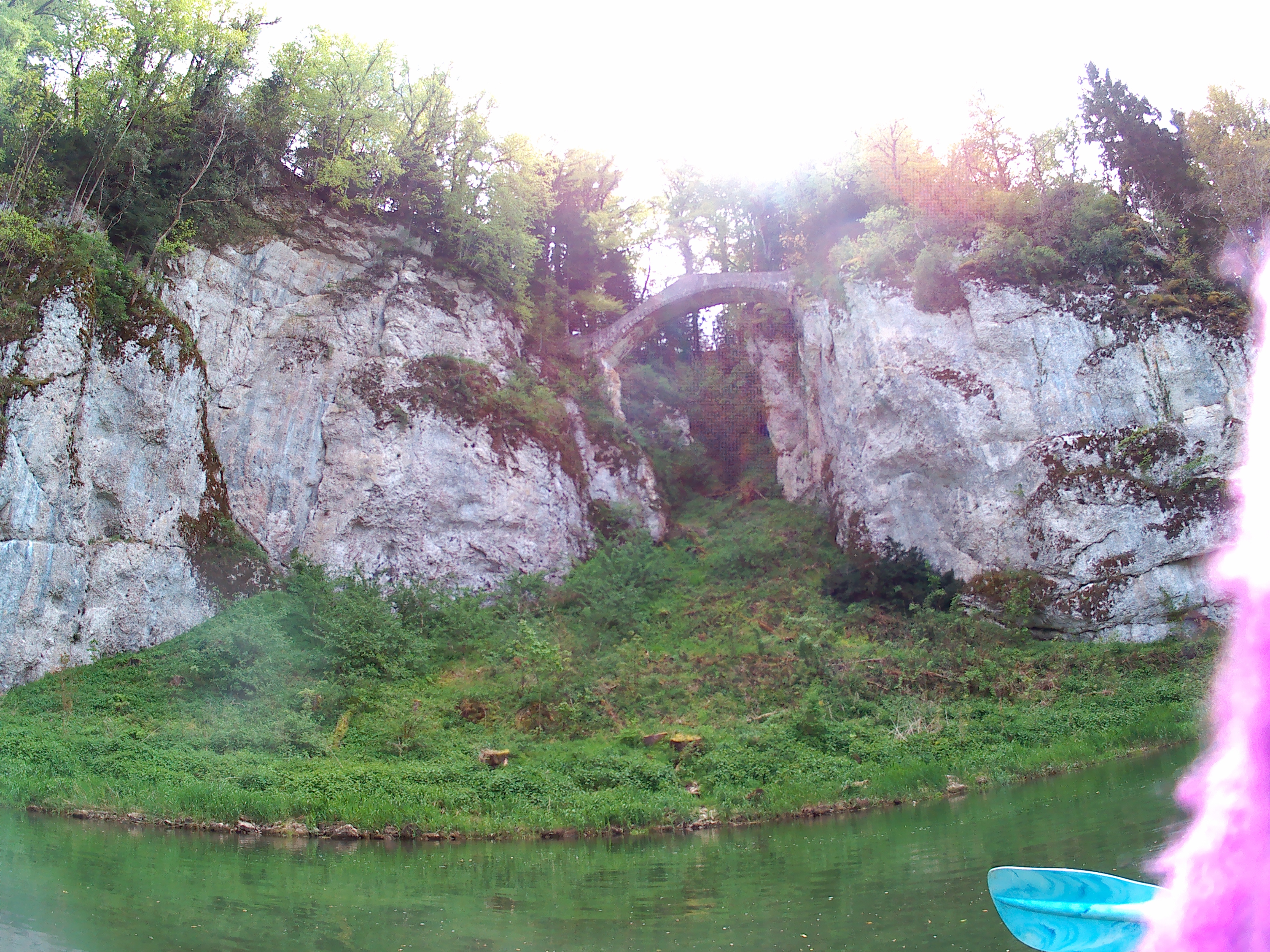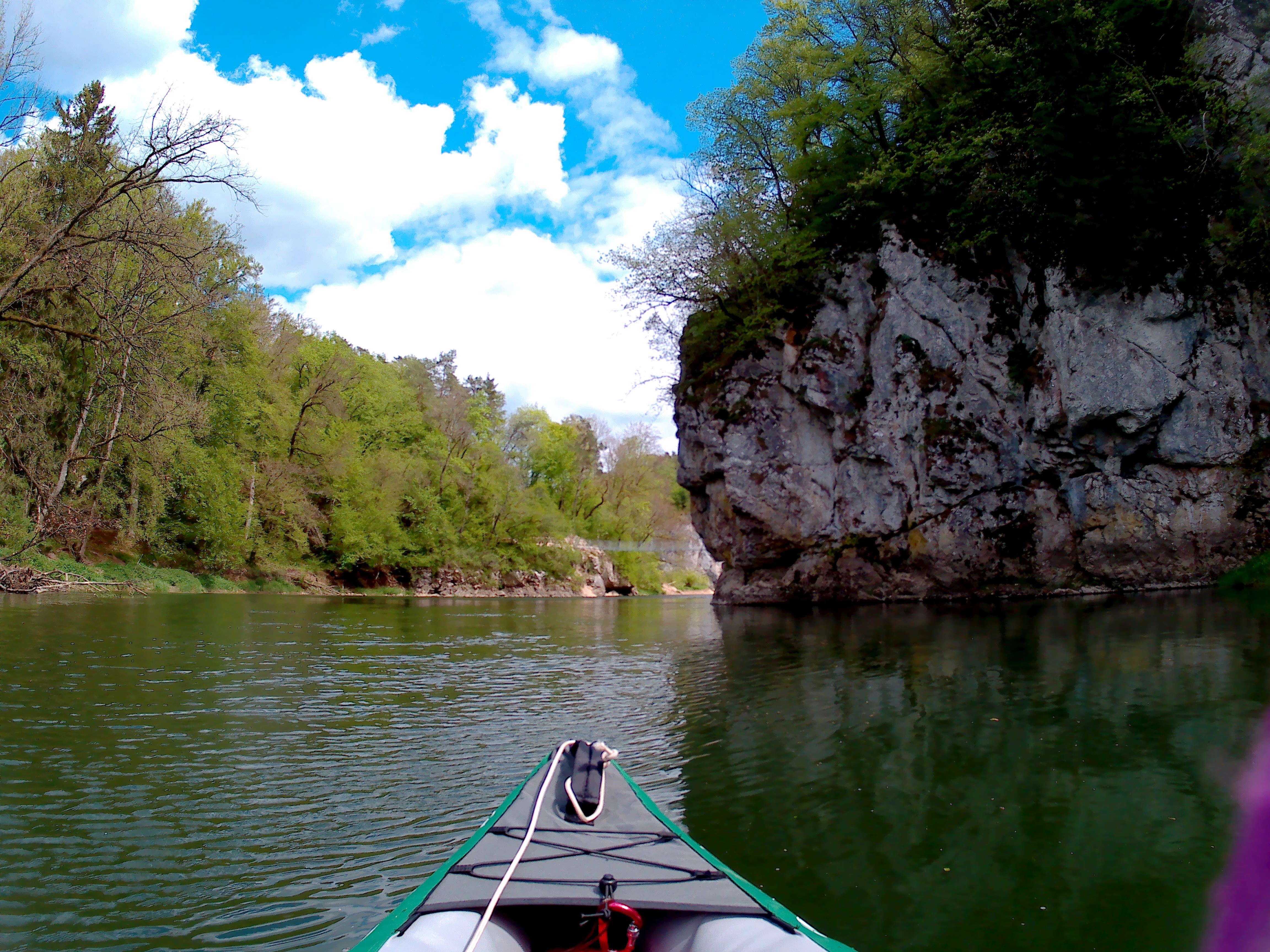 Two women cross over the metal suspension bridge, then walk back onto it to have a chat with us. We greet them and Jonas answers their questions about where we started, until where we're going, and if it isn't too cold to be doing this. Jonas tells them we're going to Budapest, and we're fine. Our voices echo on the bare rock until the wind picks up again and carries them away. After that interaction, we realize that what we're doing is quite special to most people. More special than anticipated.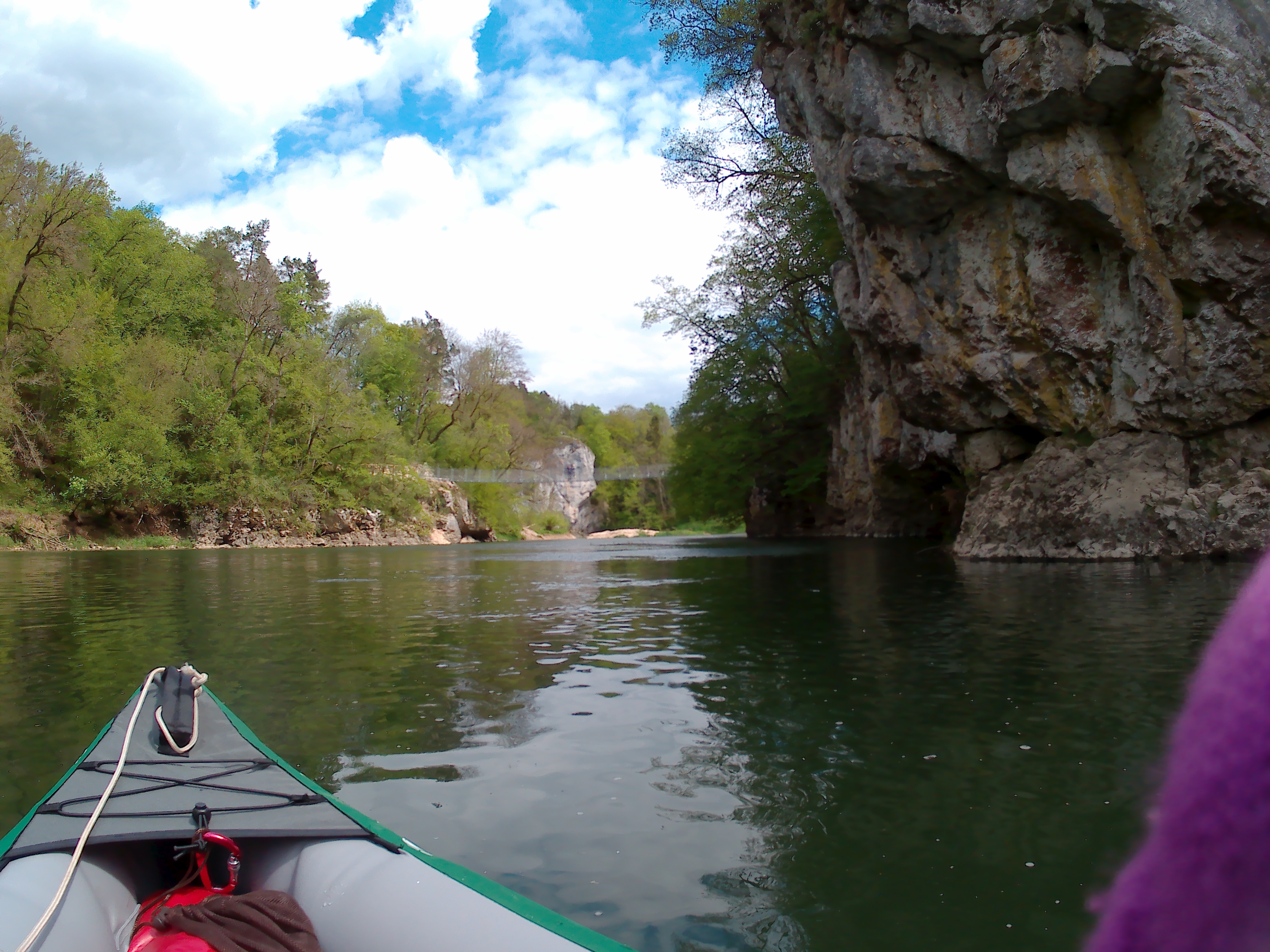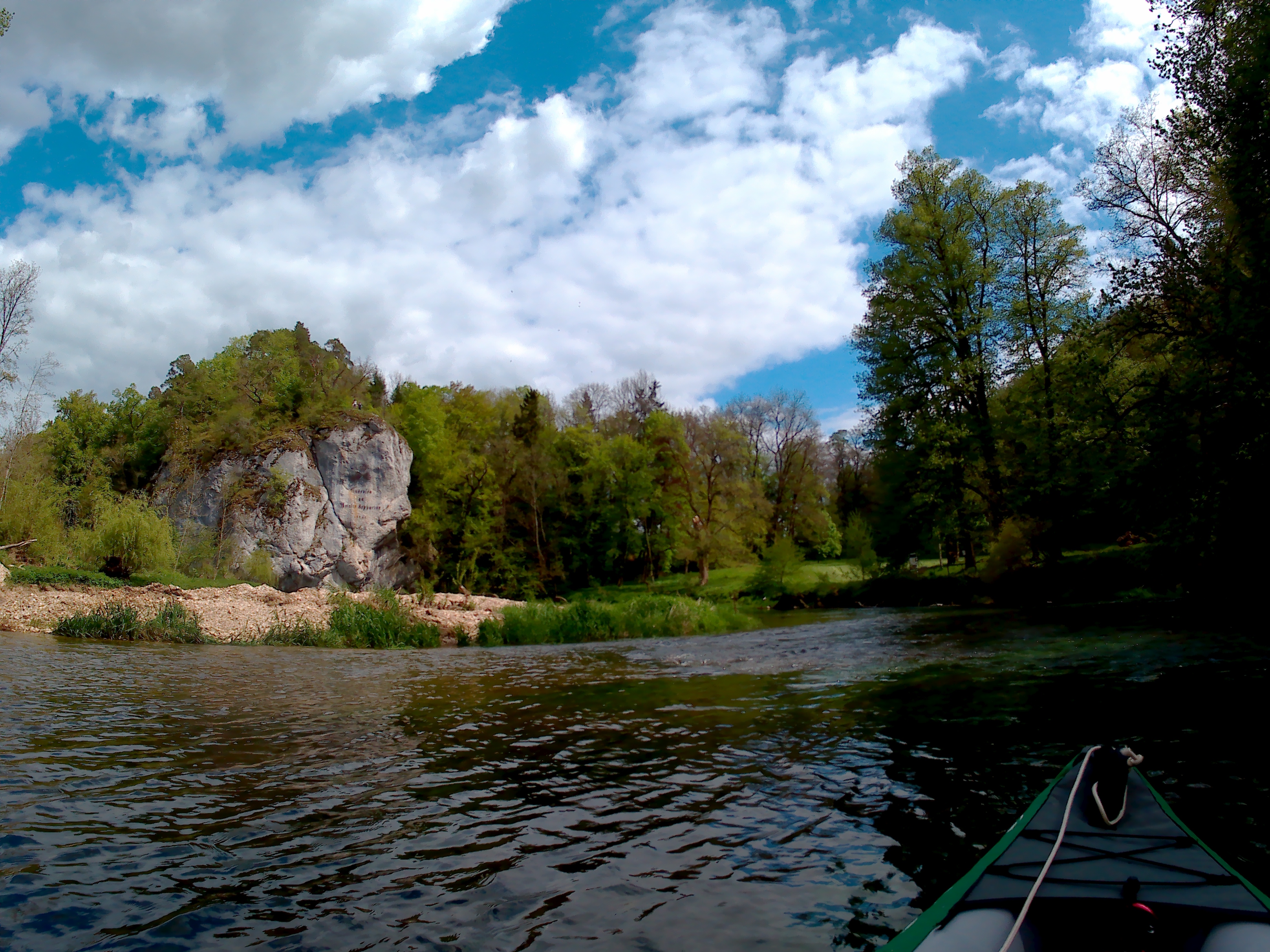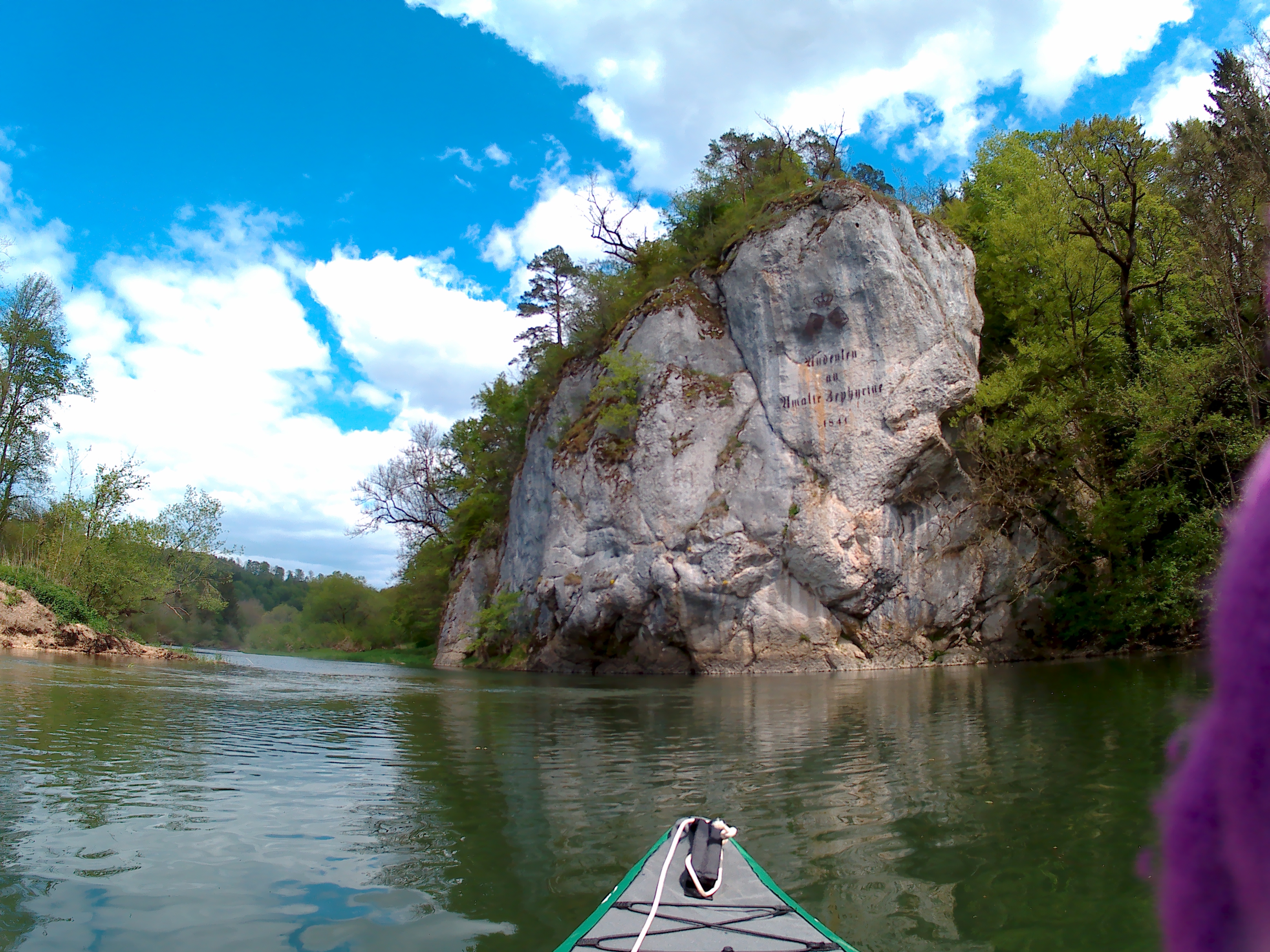 The wind blows us off-course and we're left correcting our bearing quite a bit. We pass under a rock with an engraving saying 'Amalienfelsen'. I ask Jonas where we are and hope we might do a day trip here from Sigmaringen. We're really not that far anymore.
Right after that beautiful area comes a slightly canalized bit. The cliffs are gone and the wind is full-frontal. I paddle rhythmically on both sides but Jonas asks me to please stop it. I'm making him quite wet. The church tower of Laiz appears and we're now only one bridge away from the fourth dam.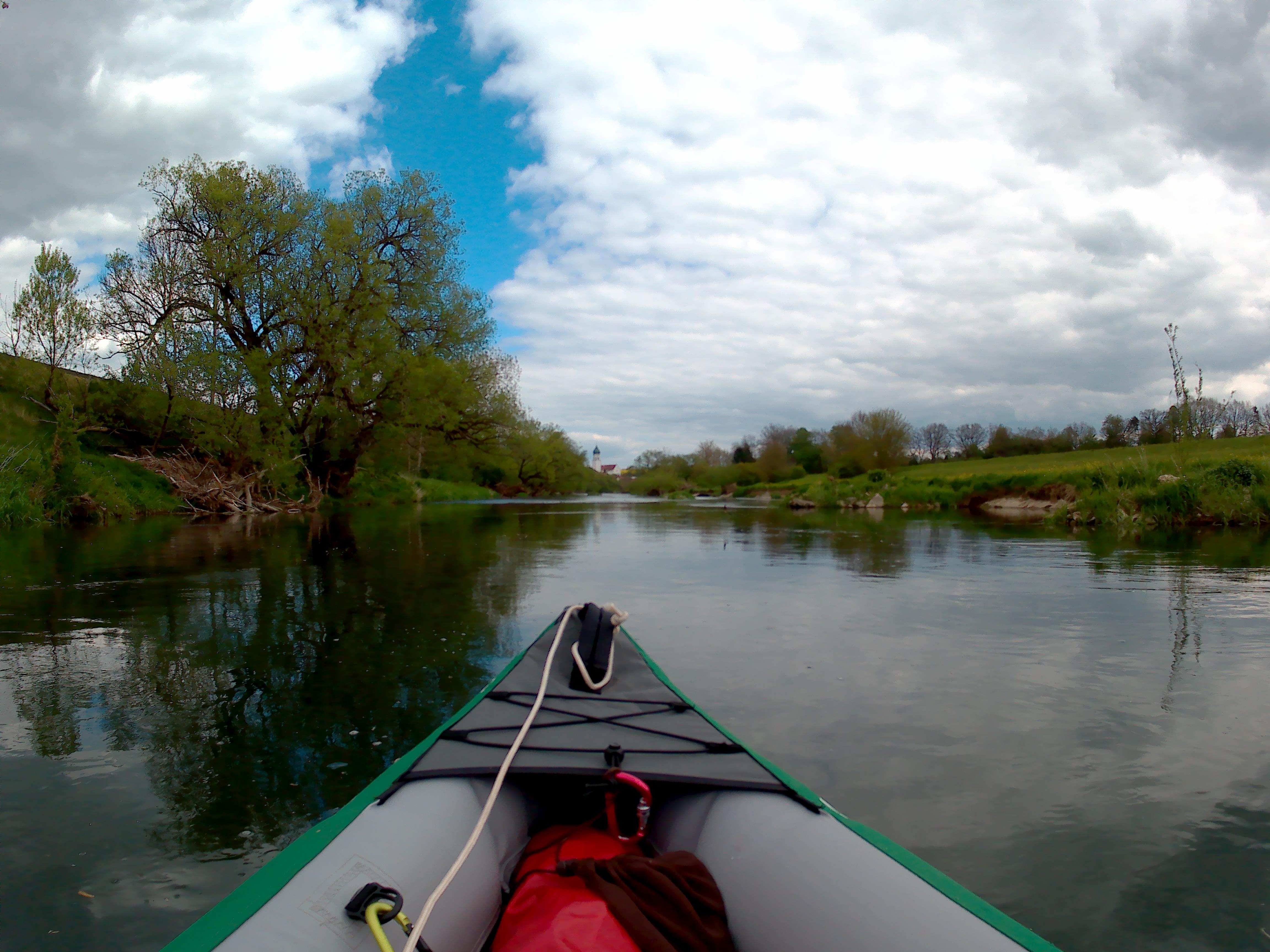 The Kayak Slide in Laiz
The fourth and final dam before Sigmaringen has a special feature: a kayak slide. I'd never done such a thing on my trip on the Dordogne river. Jonas had never done that before either, but he trusts the system because he read about it on the internet… Yeah.
I'm frankly quite scared. Not because of the rollercoaster-like experience; I'm afraid for our inflatable boat. What if it scratches the floor of the slide and punctures the boat? Going down the slide is a no-brainer in a plastic (rental) kayak… but in our own precious inflatable one?
There are many warning signs on the shore and on the last bridge. Go to the right. Get out of your boat on the right or go down the slide on the right. It's making me nervous. The level of infrastructure for paddlers here is amazing though; a guardrail exactly at our height, explicit signs telling us what to do, and stairs to still get out if you're chickening out.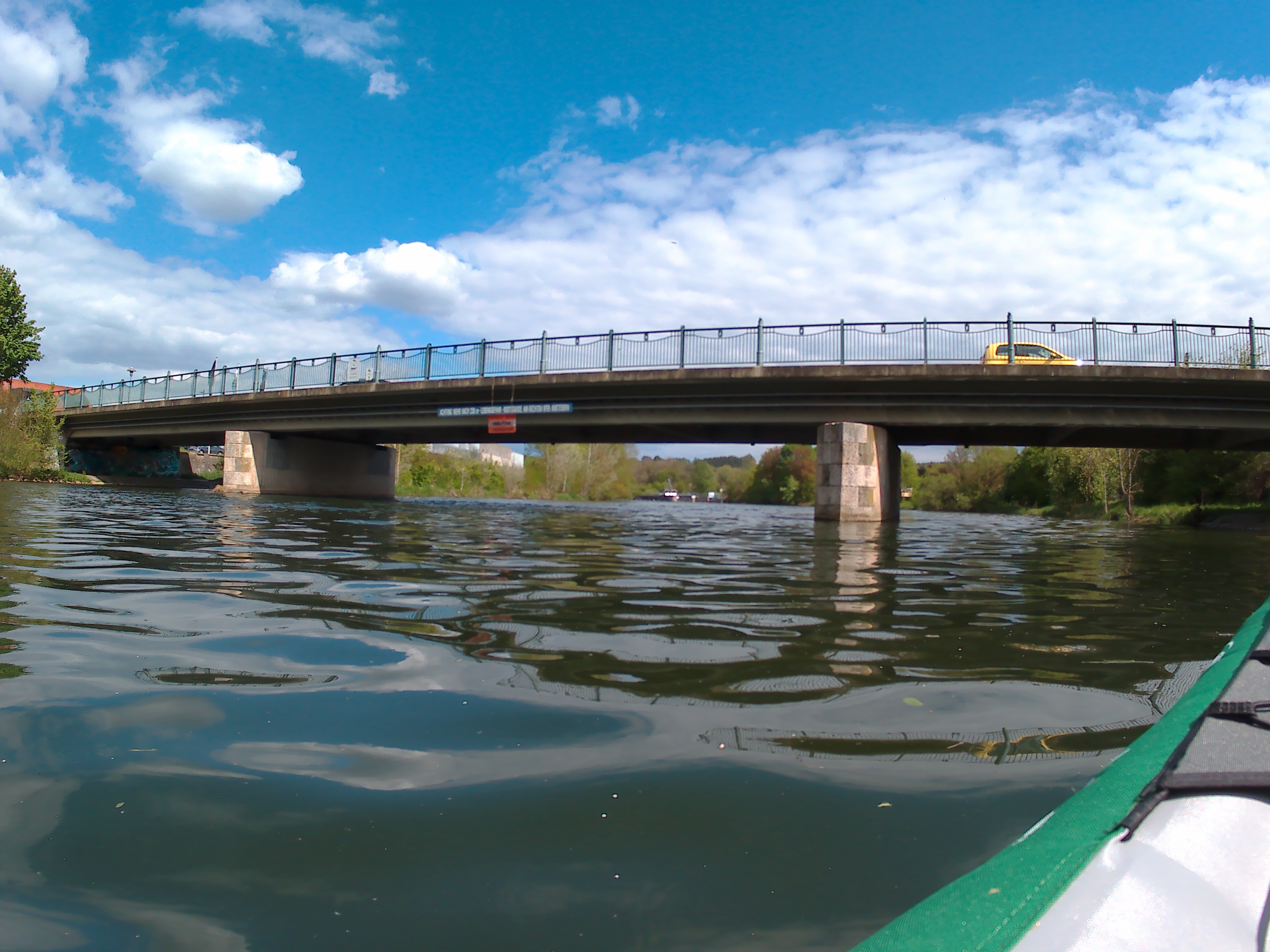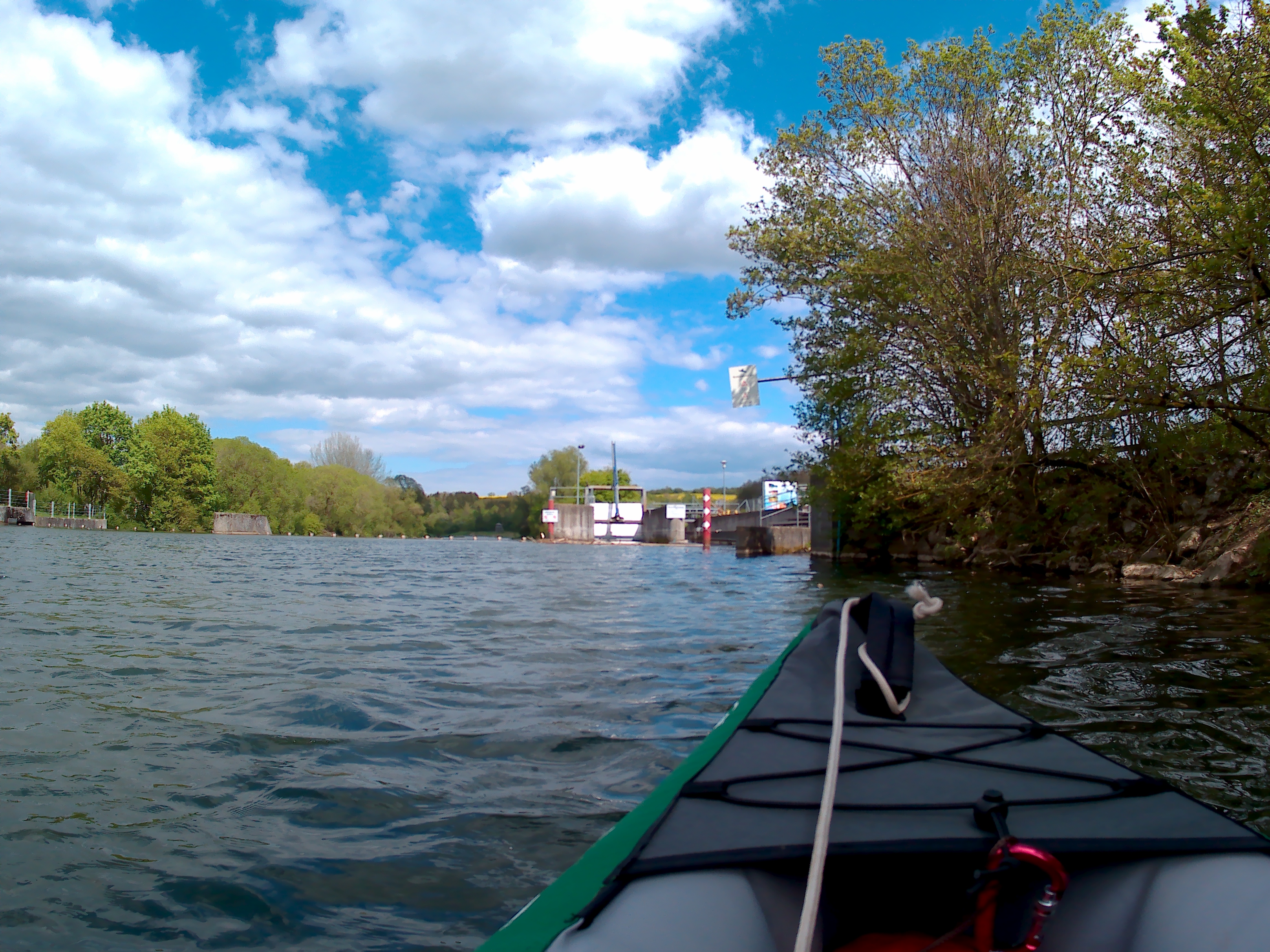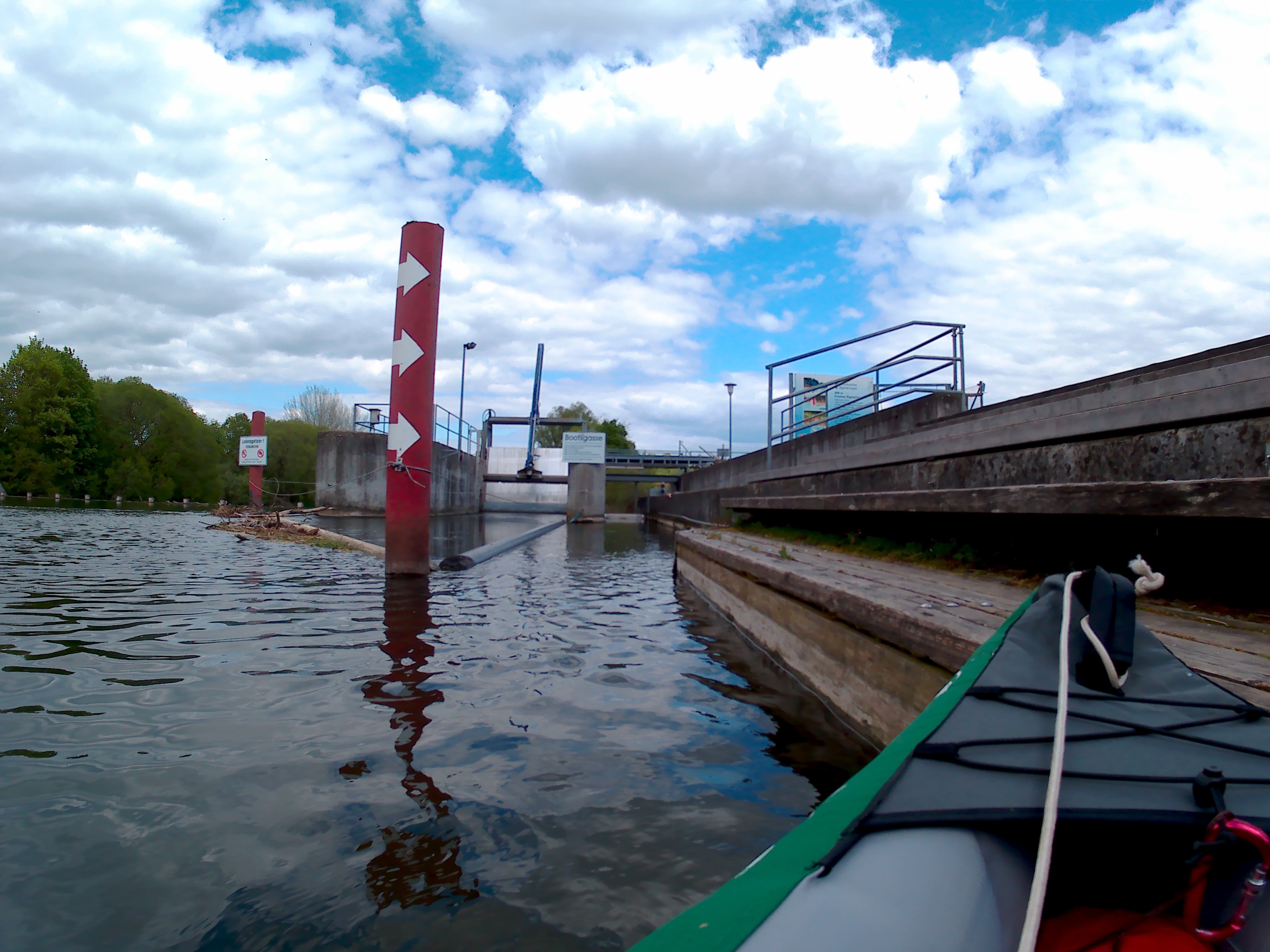 And I'm about to chicken out.
I ask Jonas to hold onto the rail so that I can get out and check the danger up ahead. He agrees and I climb out of the boat and up the stairs. I look over the fish highway and into our slide. It looks… okay. The little edge that blocked the view just exposes a lazy slope and a long way down. I ask Jonas again about the dangers to our boat and he says it will be fine. So we go.
I reenter the boat and we move forward until Jonas can press the big red button. Our paddles have to be inside the boat. We have to wait for the light to get green before we can go down the slide. The thing blocking the water goes down and we're being pulled in. I put down my camera and squeeze my hands against the concrete walls expecting Jonas to tell me we have been greenlit sooner rather than later. But it takes a long time.
I don't feel like I can hold us much longer and yell at Jonas asking if he's doing anything to help us stay put, but I can't hear his answers. The water flow has been increasing and increasing and I'm not exactly sure from where. But the water is eventually deep enough to carry us across the concrete slabs without touching them from the bottom. Jonas shouts "It's green!"
Whoosh! We let go and slide down at a very entertaining speed. Our boat only scratches the sides a little bit and by the time we reenter the river and slow down, we know we're still afloat. Perhaps it's me that's easily entertained, but that was quite cool. And also way more efficient than carrying the boat and luggage across. Let's do this again sometime.
Now we grab our paddles again and continue the last bit before we get out of the boat for a one-week stay in Sigmaringen. It's 15:35, will we make it before 4 'o clock?
Arrival in Sigmaringen
We paddle the last bits into Sigmaringen center. We can already see the big highway bridge and hear its traffic. The wind throws a last-minute fit to slow us down completely. Looking at the surface of the water, it looks like we're paddling upstream instead of downstream. Our arms are tired but we know it's not far now.
After the highway bridge, I spot the suspended cable bridge. That's our signal to get out at the designated landing spot as dictated by the permit. On the left side, we glimpse the spot. It's a nice ramp into the water, good enough for parallel parking. But first, we have to get past a few swans. They're polite and let us through while we increase our stroke pace to land. It feels so good.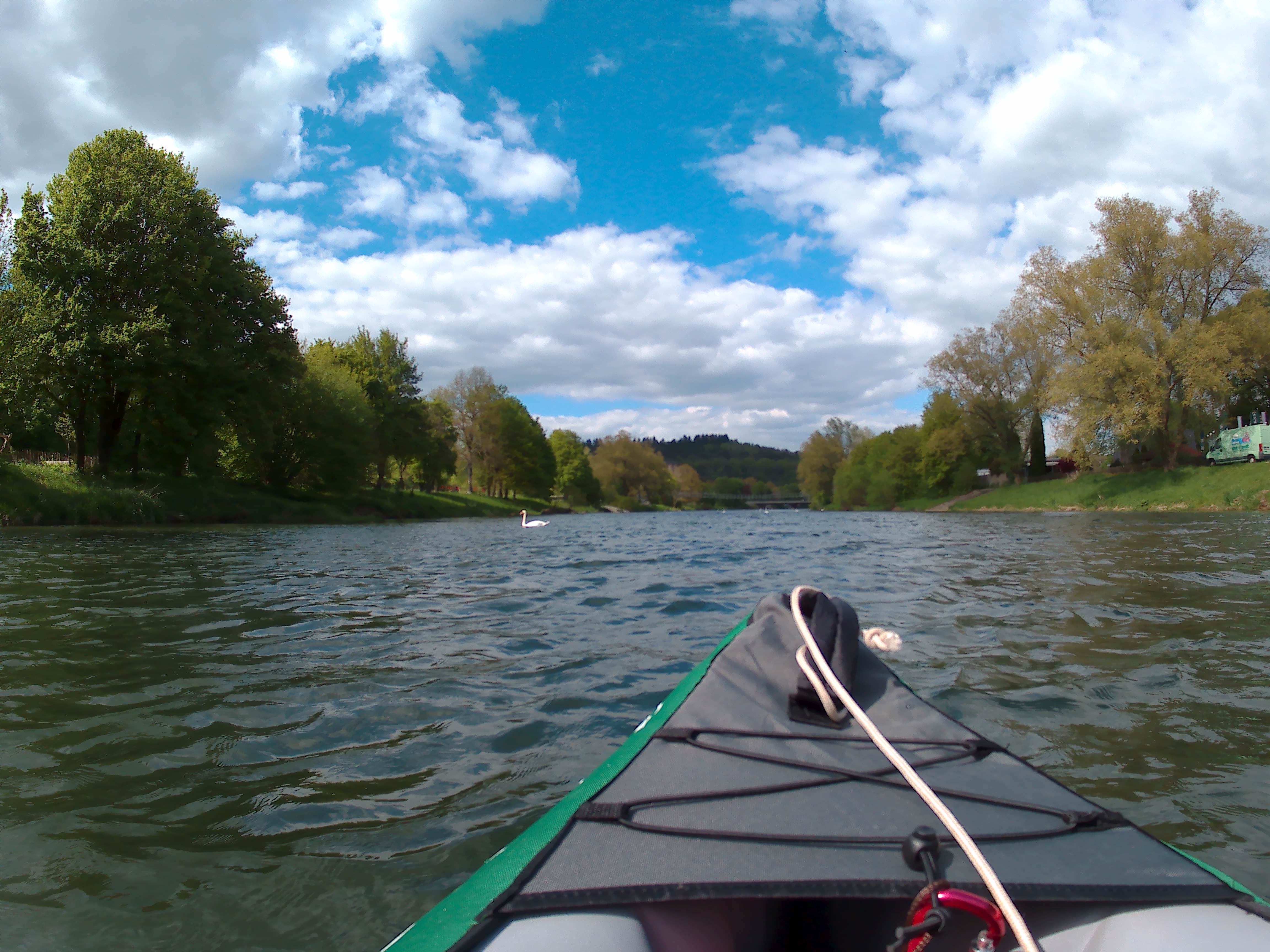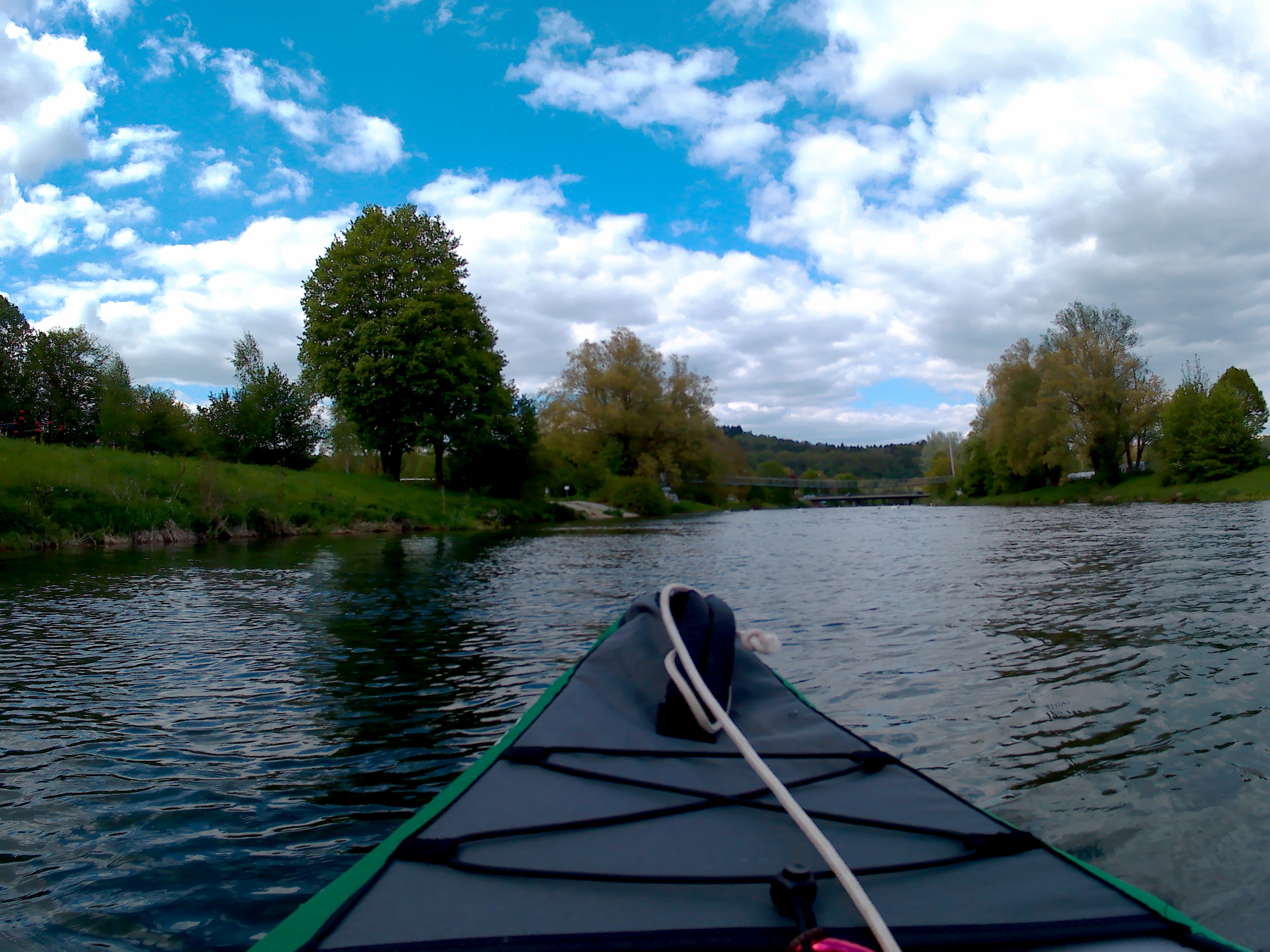 At a few minutes to four 'o clock, we're out of the boat and onto the land. That was our longest distance yet. 22 kilometers! We high-five and get our stuff on land. There is still a bit of sunshine left in the day, so we flip the boat in an attempt to dry it in the sun. We use the seats as cushions on the land and sit down to eat a snack. We're not supposed to check into our apartment until 18:00. What now?
We casually take over one hour to dry and pack our things. I'm legitimately hungry but there is no shop nearby. Our landing spot is next to some city park for joggers and a playground for overgrown kids. There are some young teenagers nearby in a skatepark.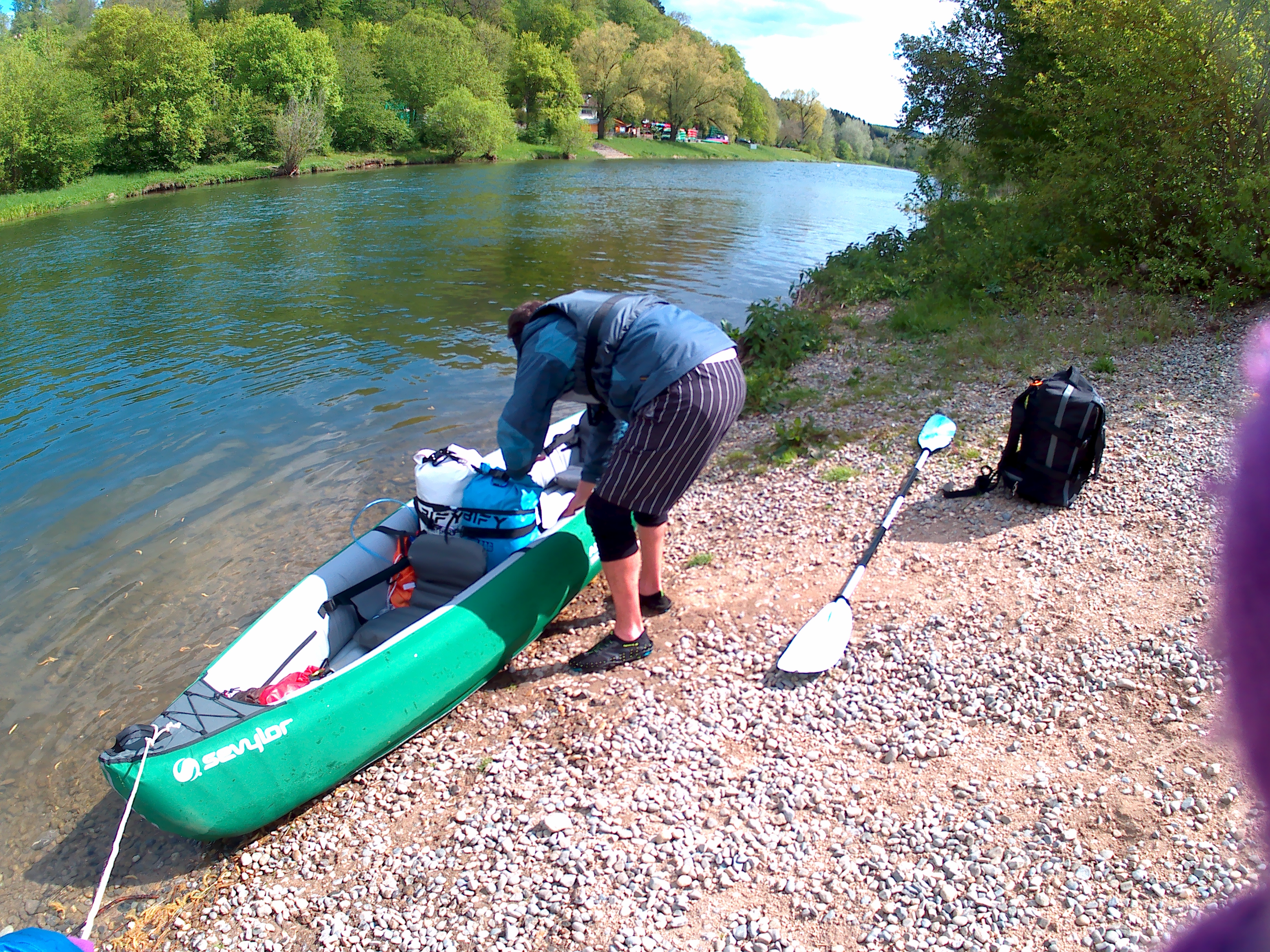 A lady walks up to us and asks us about what we're doing. Jonas tells her we're paddling to Budapest and we're staying in Sigmaringen for a week to work. Her eyes light up in amazement and she asks a bunch of more questions before asking whether we keep a blog about our trip. I do keep a blog on our trip. Jonas warns her it's in English. She still wants to hear it, so he tries to verbally convey "mind of a hitchhiker". Yes, the name doesn't make sense when you're not doing a hitchhiking trip. She nods and says she'll write it down, then wishes us a good trip and walks away.
It's a 17:15 and we've packed up our semi-dry kayak into the duffle bag. We're ready to walk to Aldi, which is about 600 meters from here. Right next to our landing spot is the actual landing spot for kayaks. We totally missed it. There are bars to dry your kayak on upside down and everything looks a lot more professional.
At Aldi, it's my task to wait outside with all our stuff while Jonas buys groceries for our first nights in the apartment. Since it's almost two kilometers away and goes uphill, we've decided to take a taxi there. But if we're paying a lot for a ride up the hill anyway, we might as well bring our groceries with. Once Jonas is out, he decides to give the landlord a call before we get a taxi. The landlord offers to pick us up, which is the best news for us.
An older man drives his silver-grey car up the Aldi parking lot. He parks the car and walks towards us speaking a lot of words with Jonas. Once we brought all our stuff to the car, I introduce myself. A slightly longer than necessary handshake follows with the addendum that my German is shit. Then we puzzle our luggage into the car. I'm looking forward to staying in Sigmaringen for a week.
Share this Adventure on Social Media!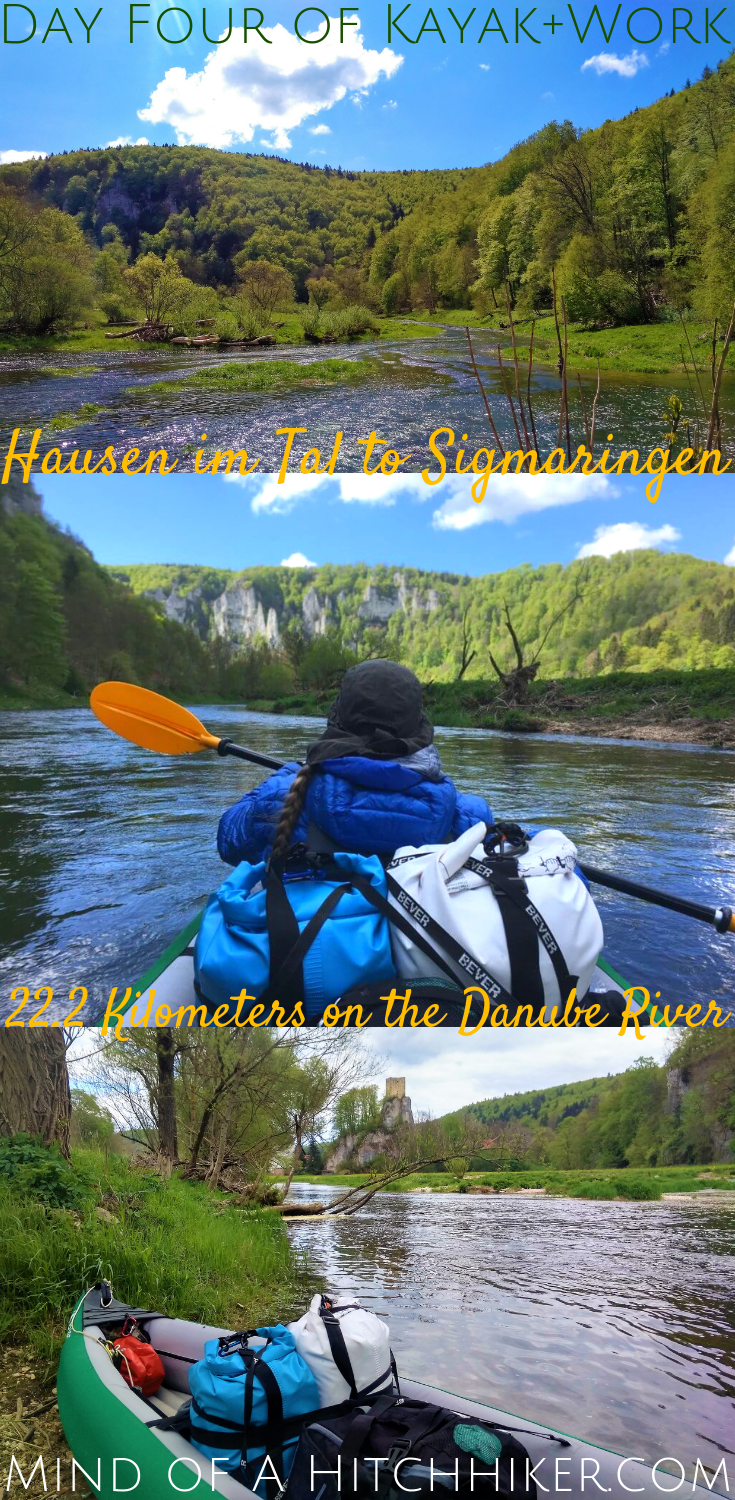 How to get a permit for the Hausen im Tal – Sigmaringen stretch of the Danube
Contact the good people of Donautal Turistik via their website: donautal-turistik.de.You can contact them by email (info@donautal-turistik.de) and telephone (+49(0)7466-1525). You can ask them to send the permit to your email address. Costs: €5 per boat per day.