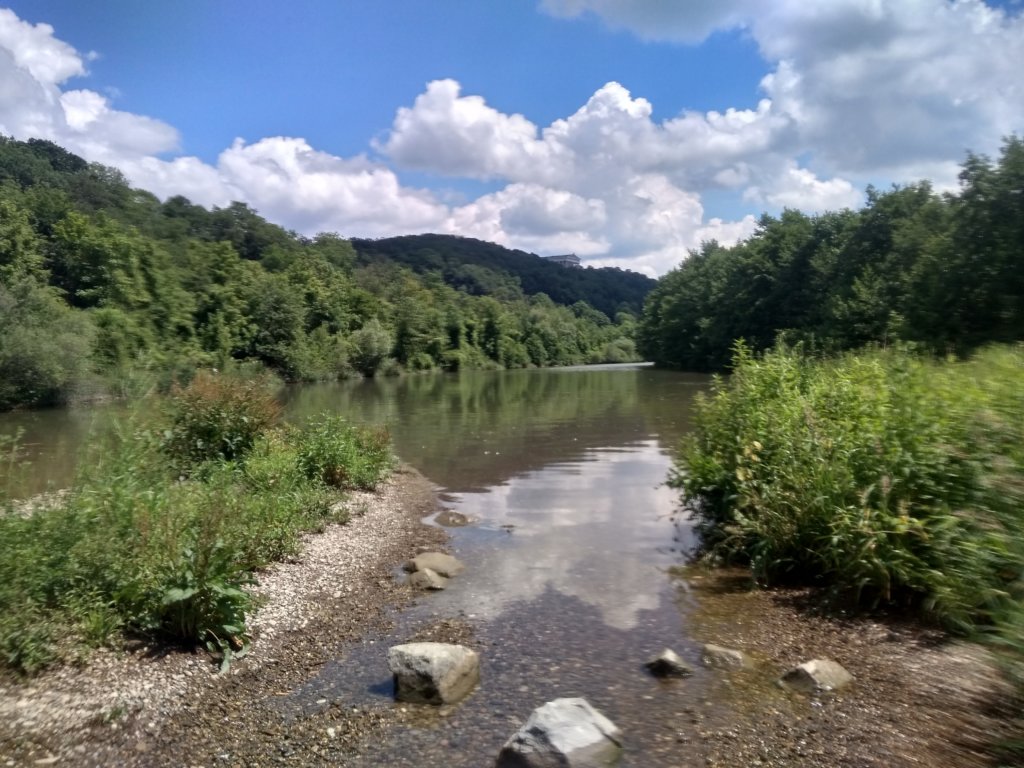 The events described here happened on Monday the 17th of June, 2019. Jonas and I paddled our inflatable canoe named Zucchini down the Danube from Regensburg to Friesheim, a distance of 19.2 kilometers. We finally passed the northernmost bend in the Danube in Regensburg, so from now on we'll generally head east-southeast. The pictures might look a little more shabby than usual because my other camera malfunctioned.
Four Nights in Regensburg
We had booked 3 nights at our Airbnb in Regensburg, but we extended with one more night after checking out the room. Technically, we were staying outside of Regensburg proper. We received bikes, but I'm absolutely terrified of riding one. So only Jonas cycled to Regensburg to buy some groceries. What definitely didn't help me get over my fear of the bike was that Jonas came back terrified of his.
Apparently, we had two roommates with whom we shared the kitchen and the bathroom. We met a young woman living there right after we'd arrived, but she mysteriously disappeared on Thursday and only returned on Sunday evening. A young guy rented the other room, and he only showed up late on Sunday. Probably some #livingfortheweekend stuff.
We just worked from our apartment. Of course, we visited Regensburg city center once (with the city bus) to see what it's like. Unfortunately, we chose a sunny Saturday to do so, which resulted in a great deficit of chill in me and general tiredness in Jonas. To make things worse, there was an oldtimer car show going on right at the big cathedral in the city center. Every walkable centimeter at the busy plaza was occupied by either a (beautifully nostalgic) clown car, someone too distracted to be handling melting ice cream in a cone, or a stroller.
Jonas felt much better after the illness that stranded us in a dark hotel room in Kelheim, minus a mysterious episode of sickness on Sunday. What definitely didn't help was finding a young (not yet inflated) tick crawling over my thumb after coming back from a nice hike in our neighborhood of Niederwinzer. Prolonged illness due to a tick bite is probably one of my worst and most likely to happen fears at this moment, and Jonas' symptoms have put that option quite closely on the table.
Leaving Regensburg for Friesheim (Monday 17th of June)
After an early morning coffee, we were ready to leave our Airbnb. We'd decided to hike back to the same spot we'd used for exiting in Regensburg to get back into the river. It wasn't a fantastic spot with stairs and shit, but it sufficed last time. In the early morning at 9:00, it was already quite sunny. Our unpacking spot was also in the sunshine. After inflating the boat a little bit, Jonas remarked: "You know what we forgot?" Shit. The fin. Oh well, we'll try another day.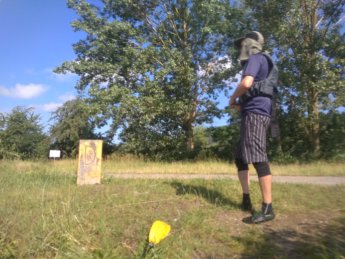 We managed to put everything together and leave by 9:30. The river before the dam in Regensburg was smooth as a mirror. Jonas said it looked as if we were the first ones today to disturb the water. We directly crossed to the right-hand shore to prepare for the first big challenge of the day. Jonas already had his boat mirror installed, though he's begun to stop believing in its potential.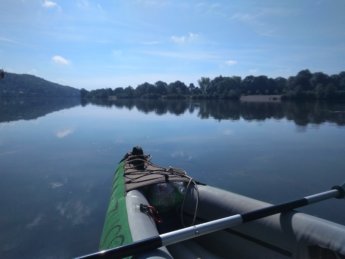 The right-hand shore is the fun shore. It has a tiny city beach that we'd seen people bathe at from our room across the river. In the early morning, there were no bathers yet, but there were the dog people and their furbabies. Some were brave enough to go for a swim, while other dogs just put their paws in the cool water.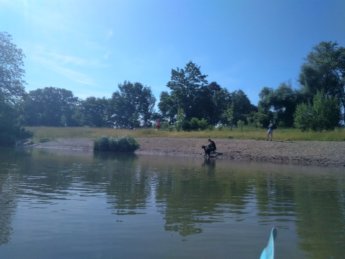 Next, we passed the Regensburger Kanuclub (canoe club). One fabulous set of stairs had a bright-yellow kayak perched on the lowest step. No paddler in sight. This meant we were quite close to the dam. The signs indicated the same. We duck under the big Pfaffensteiner bridge and move all the way to the right. Slightly more to the left is the entrance to the motorboat lock. We have something better: a Borstenpass!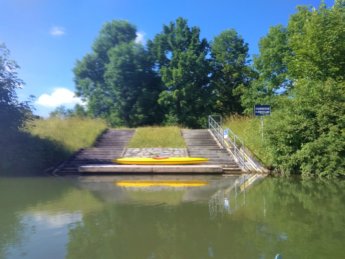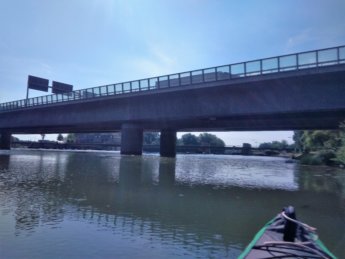 The Borstenpass of Regensburg
We used one Borstenpass ('bristle pass') before on the way from Kelheim to Regensburg. That was a lot of fun, but we still wanted to check it out from the comfort of the concrete pier before committing to it. I checked it out alone and then got into the boat with the green light. It looked exactly the same as the previous one.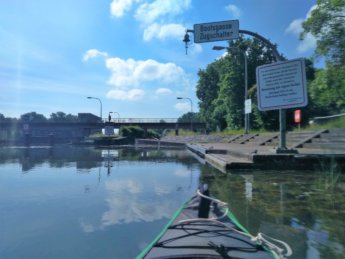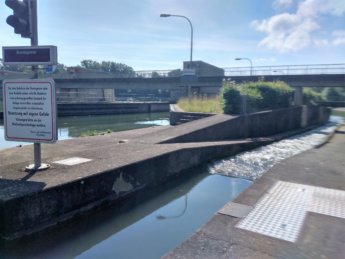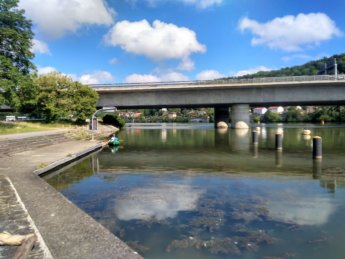 This time, I really wanted to film it. The night before, I noticed my tiny action cam didn't work anymore. I thought it might be because it's been in the sunshine so much. Maybe I accidentally fried it that way. So today, I had to use my phone camera to capture everything. I put the phone on recording and slid it vertically in the pocket of my life vest. The camera still peered above the edge. Now I was ready.
We paddle off and into the special kayak slide. After the initial getting stuck on the edge, we push to gain momentum by helping with the paddles. It's exactly the same as last time except even smoother, probably. It doesn't take much time to get through it. After counting the number of dams we had to portage around for the map, it's really nice to have an obstacle that's not completely an obstacle.
Down the dam, we're in a little back current. It rained on Sunday, so the river got a little bit of replenishment to throw off the edge of the dam. Now we're up for what's probably the biggest challenge of today: paddling through crazy boat traffic Regensburg unscathed. I grab my whistle to check if I can reach it quickly.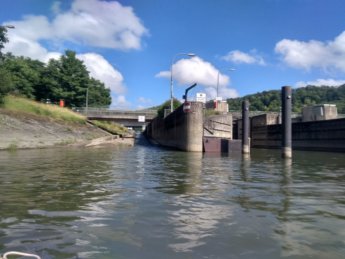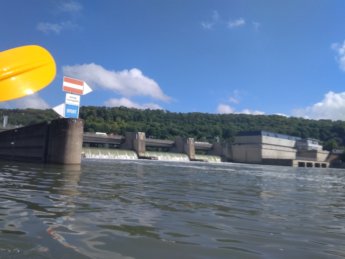 The Stone Bridge of Regensburg
We're paddling on the right-hand side of the river. It's 10 'o clock. On the left, there are three small marinas in a row for the tiny little motorboats we often fear. There's a sign saying it's prohibited to make unnecessary waves, but I feel like motorboat owners aren't sending us their best people. Our Saturday in Regensburg was filled with images of horror as tiny motorboats raced through the city's waterway flanked by very large cruise ships that sometimes spontaneously started moving. It was a terrifying sight.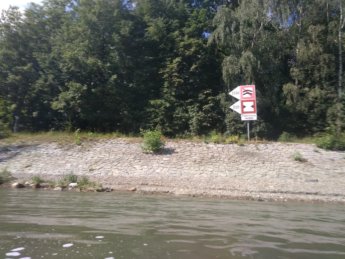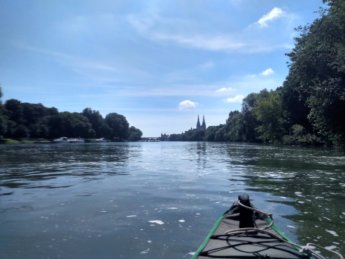 That's why we decided to do our best to leave early. And on a Monday. A distance of about 19 kilometers isn't per se the big challenge – prompting us to leave later – but the prospect of sharing the river with big boats with tourists photographing our every blunder or speedboat people operating their mean machines with a blood alcohol level close to the limit made us decide that an early departure is for the best. And it was.
One guy in the marina turned on the engine of his little speedboat, but it was firmly tied to the shore and nowhere near ready to leave. We still need to keep an eye on what's going on behind us. We approach the first pedestrian/cyclists bridge and quickly decide to go under the middle section. The current is quite strong and we need to make decisions rather quickly.
Soon after, we need to choose an arch of the Steinerne Brücke (stone bridge) to pass under. There are five to choose from. Generally speaking, we want to stick to the right shore as much as possible, and not switch too much to save energy and to give off a clear signal to other boats where we're going. The one on the far right is only for upcoming travel, the one to the left of that one bidirectional, and the other three are not to be used by motorboats. The one on the far left kind of leads directly into a tight space that might be hard to navigate.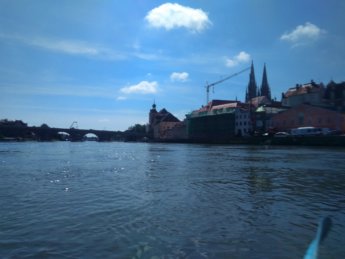 We choose the middle one and don't regret it; there's a swift and twirly current right after the bridge's sharp-shaped starlings that carry the piers. The coast is completely clear. After a short deliberation, we choose to directly return to the right-hand shore to pass under the next foot and bus bridge. We stick to the right side until the bitter end.
We pass the big "Kristallkönigin" boat, which we'd witnessed that Saturday before was a ground zero for a large number of well-dressed bougie people who don't know the difference between disposable income and disposing of one's income. Today, from our line of sight, we can read that it's apparently a cruise ship "exclusively made" with Swarovski shiny objects. How unnecessarily and irresponsibly decadent. I blame it on nineties' nostalgia of excess.
I hear an engine sound and then see sputtering water. It's the smaller cruise ship/glorified floating restaurant named "Brückmädl" that we'd seen sailing backward and forwards at least five times on our lazy Saturday in the city. Of course, that's the first one to cause early morning mayhem. But it looks like it's still tied to the shore. We increase our paddle speed and try to make eye contact with the people on board there. Someone's vacuuming. Someone else is making a phone call in the restaurant. We've barely passed the ship when it's suddenly loose and doing some weird turning. This seems excessive.
Past the River Island
We continue our powerful strokes on the right-hand shore under two bridges and past a literal gazillion long cruise ships. They're ridiculous. Some of the big ones have entire balconies at river level with proper garden furniture. As someone who has accidentally been on a few seafaring cruise ships, I really don't get the river ones. They're so ridiculously long. It doesn't even make sense; it's not like the river is a straight line from now on, it's still very twisty! A boat this long needs to make a ridiculously wide turn and still needs to keep space for another similarly-sized ship to pass at the same time. It's a literal recipe for disaster.
Some of the ships are also sputtering water like they're about to leave. We know we're probably safer in our boat in the water with our life vests and alertness than a drunk student of Regensburg University strolling past the shore of the Danube late at night after heartbreak. Still, we're at water level and these ships tower above us with their threatening auras. I wonder how terrifying they are when we encounter them out of nowhere on the river.
We can see the river island on our left-hand side thinning out. At 10:20, we're about to rejoin forces with the north arm of the Danube and its fresh supply of water from the river Regen. The island point of the river is called the "Lazarettspitze" and looks like a very nice place to have a chill. A few hundred meters after the confluence, we look back to see if there are any ships upcoming. The next few kilometers it will be beneficial to stick to the left-hand shore. The coast is suspiciously clear, so we start the crossing.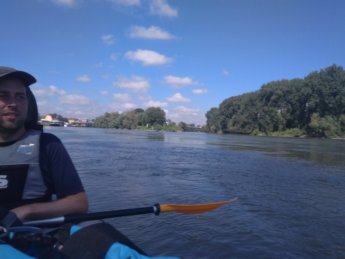 The right-hand shore features the Castrol boat gas station. Two big boats are moored there. After that, there's a large train bridge followed by a highway bridge. That's also where the big ports (Hafens) of Regensburg joins from the right-hand shore, which might get tricky if a boat decides to leave the Westhafen or the Ölhafen.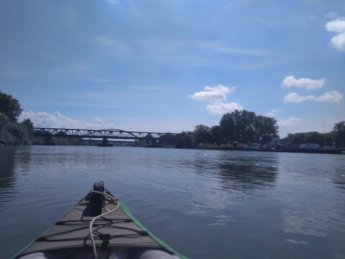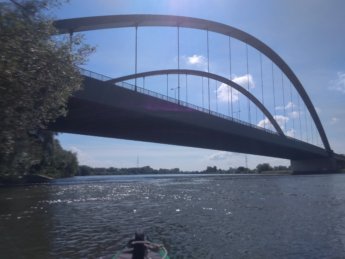 There's a sign here we've seen before, with arrows circling in different directions. Jonas doesn't have it on his list of important signs. There are some weird currents, so we think it might mean "weird currents" – which I'm not even sure affects big engine ships as it affects us. After we pass that zone, we see a cruise ship (probably the darned Brückmädl) come up from behind at 10:45. They turn around exactly in that zone and travel up the north arm. Maybe the sign just means "boats turning area".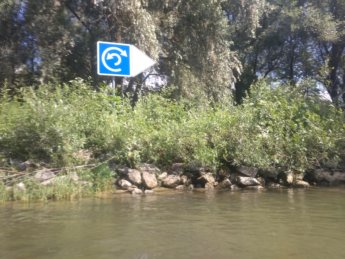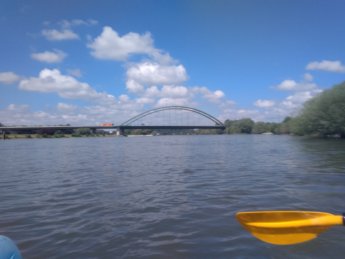 Jonas eats a sandwich when something interrupts us. A familiar-looking boat sails up the river. It's the big green boat from the Dutch "cycling cruises" that we've encountered before on the stretch between Kelheim and Regensburg. One more ship comes up from the back. It's a large wooden boat. They continue in our direction instead of turning. It's another kind of tour boat, and they're flying the Austrian flag on the stern. Their waves are OK. Note to self that the big ship traffic really seems to pick up after 11:00, especially when two boats pass us around the same time.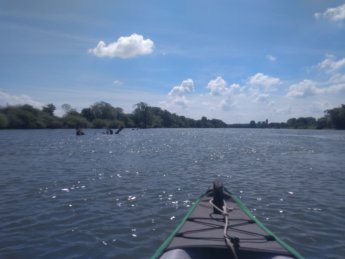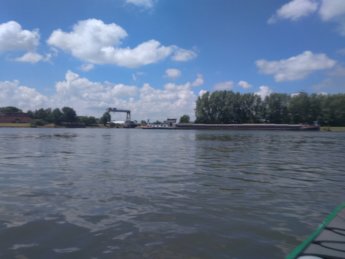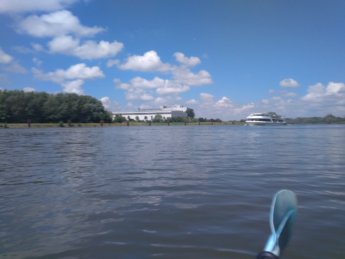 The Little Backwater Shortcut
Another advantage of sticking to the left is that we encounter a little 'backwater' separated from the main river by an overgrown area of riprap rocks. What's behind there is a beautiful calm bird area in a relatively sharp left turn. So it's both a more sheltered area and a slight shortcut!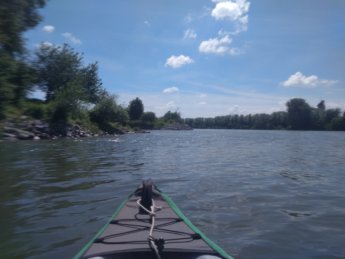 There are three little islands in the backwater. One is flat, easy to land on, and not too overgrown. All the birds leave our side of the island when we arrive. We take a little break from 11:30 to 11:40. It's very nice and quiet here.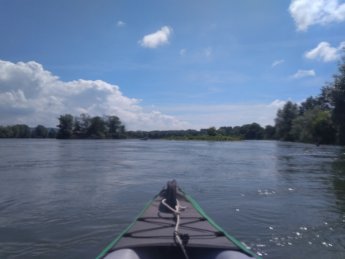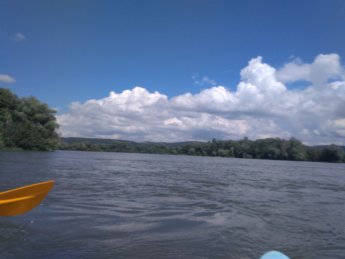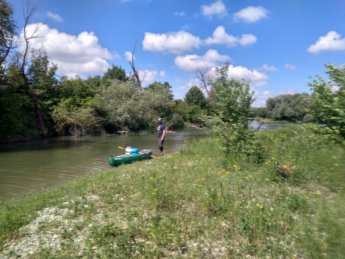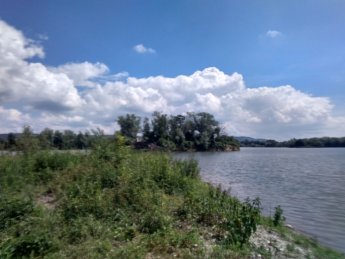 We keep paddling through the little peaceful zone with quite a strong headwind. There's a little marina in the backwater for small sailing boats (it appears), but no one else is out and about on the water. We see some people on the shore walking their dogs or fishing, but that's it. Once we're around the turn, we see the Walhalla building carved into a beautiful green hillside. It's such a strange building. One cruise ship leaves the attraction while we're in the sheltered area.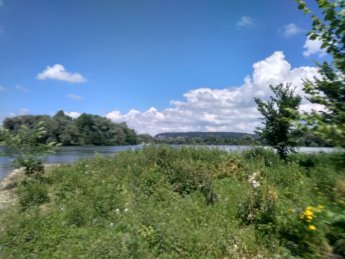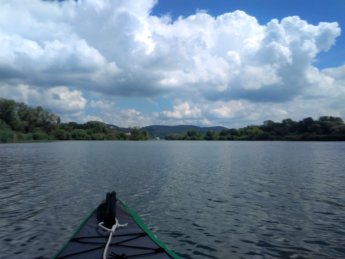 The Walhalla is a hall of fame dedicated to Germanophone people who did a thing. The building itself is a weird sort of Parthenon/Acropolis but with all the pieces intact and very well-maintained, unlike the Greek counterpart. It opened in 1842. I'd say its immaculateness (from the distance) and my prior knowledge that it's a room full of white marble faces of dead people contributed a bit to its eeriness and grotesqueness. I imagine it would function well as a movie set.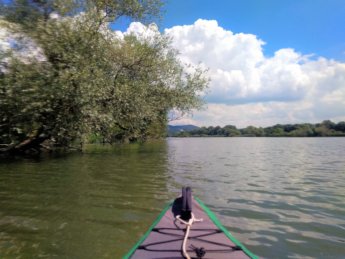 This, plus the fact that it's a major tourist trap and the reason why there are so many oversized cruise ships destroying the embankment with their boat wake makes me feel ambivalent towards this building.
The Big-Ass Cruise Ship
We're sticking to the left side of the shore as we exit the sheltered backwater. We spot a big ass cruise ship coming up from behind headed to the Walhalla at a great speed. Its bow is making quite a lot of waves, and we see that the waves its causing are not to be underestimated.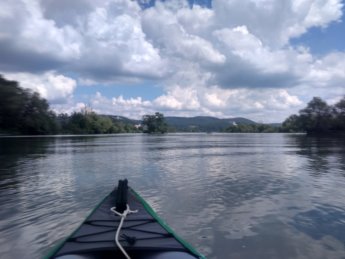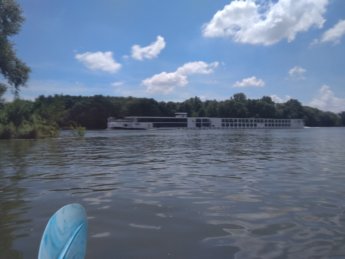 We duck behind a little island with a few trees. My theory was that in the wave shadow of the island, the impact would be less. I'm trying to film it. Then we see that the ship's motions drag away the water around our little island. It even sounds like the suck of a draining sink. It's like how the sea retreats for a tsunami (or a smaller wave), only to return the water with full force. At least half a meter of water disappears and then comes back with a giant wave followed by a few smaller ones.
That's not all, really. The waves bounce back on the shore and slam into the island from that side. We're floating just fine, but the cruise ship disturbed the entire calmness of the river. This doesn't recover for a good two minutes. We paddle on towards the Walhalla.
We see that cruise ship maneuvering under a bridge and eventually docking at the Walhalla. If it's letting people out, that means that the boat will stay put for quite a while. But Jonas really needs a break right now, and we want to eat more from our delicious stack of cheese sandwiches. We land at a funky barbeque spot (with lots of trash) and chill there between12:35 and 13:10. It's a funny little island connected to the mainland through a little ford from where we can see the Walhalla but not the cruise ship.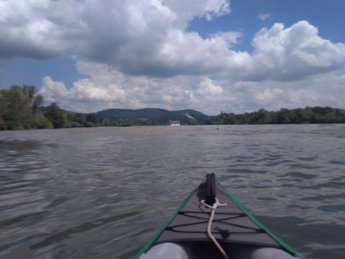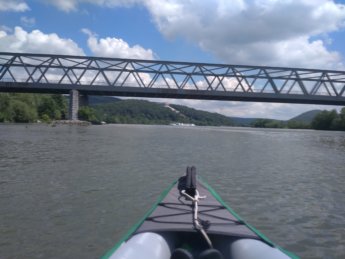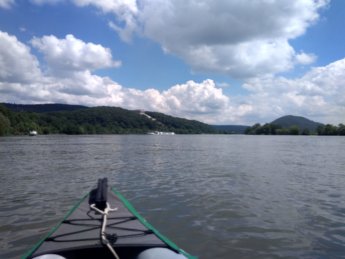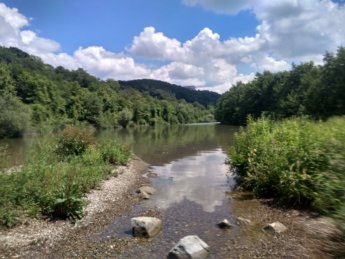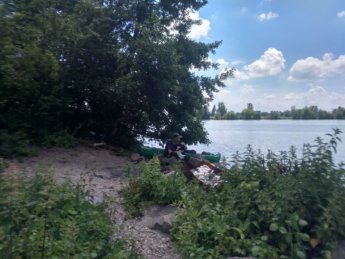 Passing the Walhalla Docks
We depart refreshed with food, water, and stretching our legs on the land and a new thick layer of sunscreen. I put on my sweater to protect my arms against the high sun. We make our feet wet with the cool river water, which stays nicely in our neoprene socks. We're ready to go.
We know the boat might actually leave at any time, and we want to avoid being next to or close to it when that happens. Post lunch, we have a quick energy burst to accomplish just that. Synched, we paddle past that bastard boat and past the Walhalla on to our destination of the day: Friesheim.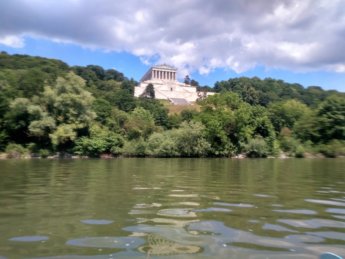 It makes sense for us to cross the river again since our exit is on the other side and it might be harder to see traffic from there. On our map, there are three structures on the right embankment in the water that shelter the inner water from the (today nonexistent) current of the Danube. They look like harbors to me, so I'm hesitant to cross just yet.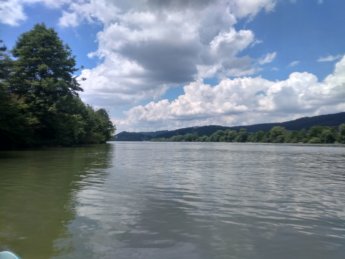 We pass the first one, which definitely doesn't look like a harbor. It turns out we misread the map on these things and apparently didn't scan them closer on Google Earth. There are also some swans on the river that fly up when a police boat races upstream. Swans are a sign for nearby stagnant and/or shallow water. We look into the shelter and see no signs of a harbor, so we cross the river one final time.
The Home Stretch to Friesheim
We're calmly paddling in the shadow of the trees on the second shelter's embankment. What a difference the shadow makes in our experience of today's unexpected heat is pretty amazing. We hear birds chirping and the headwind rustles the leaves of those well-watered trees.
Suddenly, we hear some loud sounds like we disturbed a rather large creature. We look right and see the most enormous beaver we've ever seen panic at our presence and inelegantly sploosh its roundness into the water. Giant Beaver ducks under our boat and gives me a slight heart attack. It's 13:45 and we have another 3.5 kilometers to go.
We see a church tower and I'm thinking it might be Friesheim. There's a left-turning bend before and that bend is home to the village of Demling. As we slowly progress, I see that the nearby church tower must be Demling and not Friesheim. Too bad. But the church tower of Friesheim soon appears, and also a tiny motorboat whose windshield reflects the sunlight in morse code into our eyeballs. My retinas hurt.
The coast is clear, so we decide to veer more to the middle of the river to shortcut the river slightly. We have slightly more than two kilometers to go and the river has become quite calm since we passed the Walhalla docks.
But of course, one last giant boat ruins our homestretch by coming out of nowhere from the opposite direction. We have to put in quite a bit of energy to paddle out of the way. These long cargo boats are not very flexible in their maneuvering and have to always take the long route through a bend to fit and avoid the shallow areas. And they turn. Soooo. Slowly.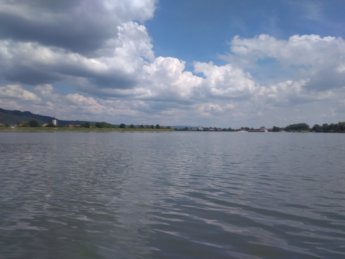 It's coming straight at us for a good five minutes before it turns away from collision course with us. A small speedboat pops up behind us and this fast and maneuverable boat first goes in our direction, then changes its mind and moves over to the left shore in a few seconds of decision making and an even shorter commitment time.
We're pretty done for today. There is no current in the river here. The wind is still pushing us back the minute we stop paddling. It's hard to keep the boat straight. Today was supposed to be the easy day since our next stretch from Friesheim to Straubing will be pretty brutal distance-wise. I pick up a floating plastic bottle as a little paddle karma before we land at the stairs behind the church. We arrive at 14:40, which isn't actually a bad time at all. But why are we so tired?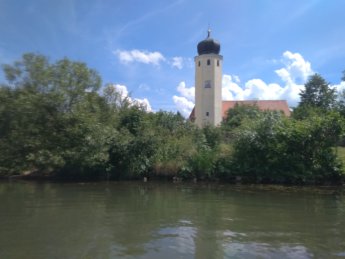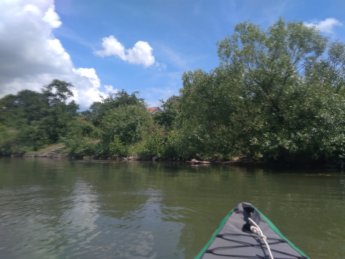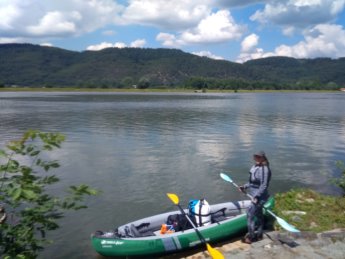 Finishing Up Our Boat Naming
On land, we have a nice spot in the shadow for us and our sun-sensitive stuff. We deflate the boat slightly, but not so much that I can't write on it with my markers. I sit down on the inflated kayak seat to finish that job.
We nearly finished our water bladders, which is a first. Those used to be 1.5 liters per person, which turns out to be not enough for a trip like this on such a sunny day. Granted, the forecast told us there would be clouds providing a pleasant and cool shadow over us.
While I'm vandalizing our boat, a police helicopter flies over. Soon after, a boat with a policeman with binoculars staring at our shore passes at high speed. That one causes some shitty waves. Out of curiosity, Jonas Googles the local news to see if there's some high-speed chase going on or some other exciting stuff. All he finds is that the night before, a young woman drunkenly fell into the Danube in Regensburg city center the night before between shore and moored cruise ship. She hit her head but managed to save herself.
There's a little plaque at our exit spot. I try reading it. It says something about a person who fell off the Steine Brücke in Regensburg and whose body washed up on the shore here. Very sad. It seems to be very common all of a sudden that this river claims lives of unsuspecting city dwellers.
I finished the lettering on the boat. Now also the hind port-side of our boat boasts the beautiful name 'Zucchini' for all boat bureaucrats to see. Jonas writes my name and an address inside the boat. I guess that makes me the owner of the boat. We're now 100% up to date with the legal requirements to paddle this river. Now the boat can dry upside down. For like the third time that day, the wooden ship with the Austrian flag on the back passes by upstream.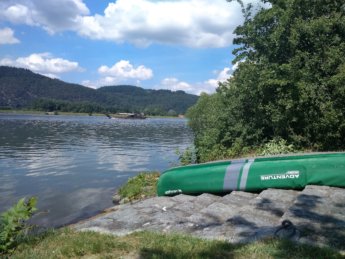 Arrival in Rita's Unterschlupf
We pack everything up and prepare to hike 200 meters through Friesheim to our 'hideout' (Unterschlupf) for two nights. It's not hard to find Rita's hideout in Friesheim. It's a very small village with only a few businesses that boast a sign. One of them is the butcher's shop (Metzgerei) Reichl, which already closed for the day.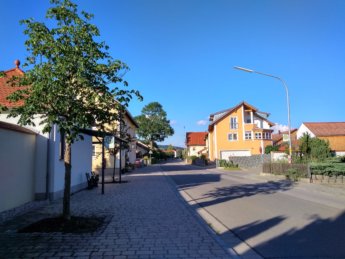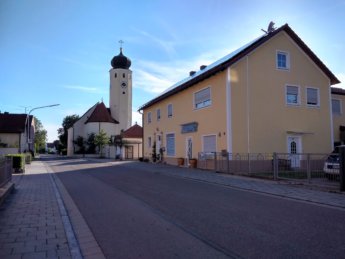 Rita welcomes us and shows us the way upstairs to the rental rooms. The facilities are shared, but they're quite cheap (€20 per person per night) for the region. We first nap, because it felt like the most urgent thing to do. We reasoned we'd go out again later to visit the local beer garden. And if that one is closed, there is another restaurant in this village and another one in the village next door one kilometer away. That seemed like plenty of backups.
We walk up around German dinner time and prepare to leave. I'm quite hungry after such a day. We walk to the Haus der Vereine (clubhouse of clubs), but it looks dead. We find one man on the premises who tells us it's only rarely open for the public, and certainly not today. He and a friend advised us on where to find food in these regions. He asked us whether we were here by bike or by car, so by canoe/on foot was kind of a difficult answer. There was a lot of misunderstanding, but the conclusion was that we could either hitchhike or walk four kilometers for a warm meal two hours before sunset or eat the rations we have left. We ended up going back to our accommodation with an empty stomach.
I was very hangry. I wasn't looking forward to preparing a liter of soup with added tiny pasta and the rest of our sandwiches. That's all we had available. Yes, we'd survive, but what about tomorrow? It looked more and more like Friesheim was a mistake.
The reason we chose Friesheim was that there's not really anything between Regensburg and Straubing. The TID doesn't even stop between Regensburg and Straubing; they just paddle the whole 55 kilometers. That's… pretty brutal.
Google showed us one other place between Regensburg and Straubing: Kiefenholz at 25 kilometers. This would be a more even split of 55 kilometers. We called the business there that might or might not be a shelter for the night, but they were only a beer garden and a restaurant. Staying in Friesheim wasn't exactly our first choice, also because it is only 19 kilometers out of the 55 to Straubing. This leaves us with 36 kilometers for one day to Straubing… with two dams in between. Maybe we played ourselves!
Jonas' said we'd be able to get food from the butcher in the morning. It said somewhere that they also prepare sandwiches. The thing is, I've been leaning more and more towards vegetarianism over the last six months. A butcher's shop isn't exactly the most wholesome place to get food for me.
Eventually, we settled my hunger with that soup and those cheese sandwiches we'd already been munching on all day. Jonas arranged with our hosts that we could give them a shopping list of items we'd need from the supermarket to get the next day. That's incredibly nice of them and a real saving move. I fixed my camera and we watched one episode of the Brazilian show "3%" and Jonas went to bed while I wanted to write through the night.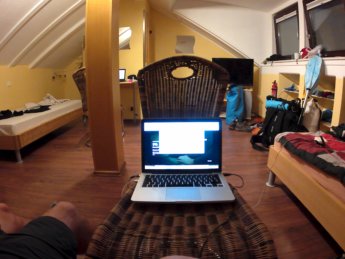 A Shipping Accident
The next day in Friesheim, we first get some sandwiches at the butcher's shop. Jonas gets his super meaty Leberkäse sandwich and I get one vegetarian and one not so vegetarian sandwich. A very friendly lady helps us out and all in all, it's an excellent experience. The butcher's shop has kind of taken over the tasks of other specialty shops that a village like this should have; they also sell loaves of bread, eggs, condiments, and other basic cooking supplies. It's all not that bad once you tune out the sound of one of those big knives hacking into a carcass.
When we return to our room, the husband of our host offers us a ride to the supermarket. We get our shopping list back and get all the stuff we fancy in under one hour. Oh, how fucked people are when they don't have a car when living in these villages. Especially since the bus only runs once an hour and only until 18:00.
When the husband picks us up again at the Aldi in Barbing, he talks to us about the shipping accident that just happened a few days ago. We don't really follow the news, especially not the various local news sources. However, we did check the local news just the day before. Anyway, apparently, a rather large ship crashed into the lock of Riedenburg and fucked up all big ship traffic on the Danube upstream from Regensburg. Apparently, that's the reason why all the cruise ship captains moored their machines in the city center; they couldn't run their usual route to probably Kelheim and Weltenburg.
I can't say I'm surprised that someone crashed their clown cruiser into a lock.
Please Share This Article With Your People!