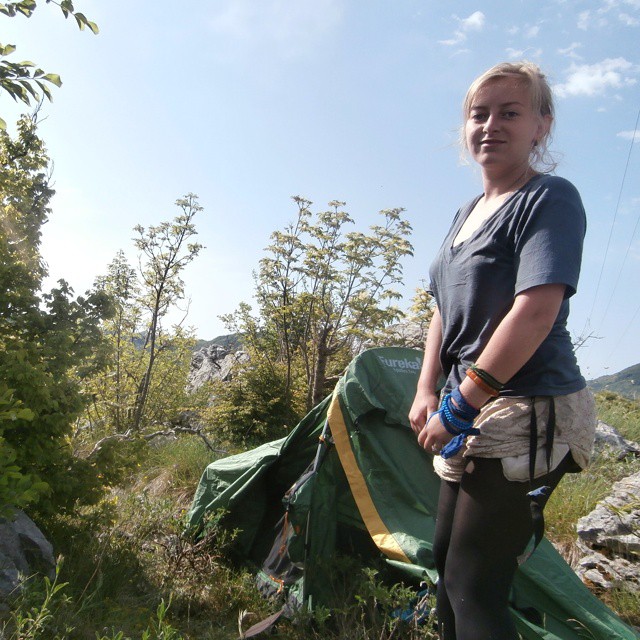 Here on the rocky outskirts of Cetinje on the M2.3, it was time to pitch my new tent for the first time! Though not the greatest spot out in the semi-wild for freecamping (it's a bit rocky), she's been a champ. The Eureka! one-person tent looks a bit sad because I took this picture when I already pulled out a few stakes. My bad. But at least she's been inaugurated at last.
As I was hitchhiking down this road to the coast and darkness fell, I felt the urge to get out of the car and freecamp.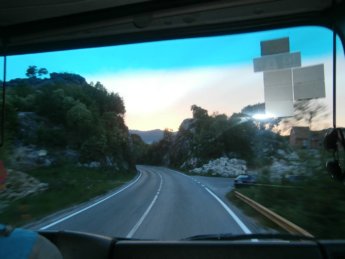 Once I spotted a good place, I asked my driver to stop, thanked him, and walked off into the night surrounding Cetinje. The night was crickets with only the sounds of cars from the road downhill. The spot was private enough for me to have some me-time and catch some sleep to start relatively fresh. Another day of hitchhiking ahead, with probably a few creeps in the forecast.
Only in the daylight, I could really see what kind of spot I'd chosen to pitch my tent nearby Cetinje. I'd noticed the night before that I couldn't drive in all the stakes as deep into the ground as I'd have liked. It's very rocky, but in the end, it worked.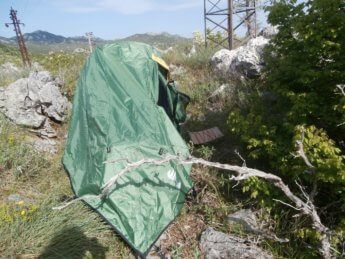 Memories of Montenegro
My second time in Montenegro has been nothing like the first time back in autumn 2013. That's such a long time ago and way before my first blogging ventures. I was still in university and had one week off to travel. I'd booked a flight to Podgorica (the capital of Montenegro) and a return ticket from Pula in Croatia. The plan was to hitchhike along the coast northward via Sarajevo in Bosnia and Herzegovina.
Back then, I hadn't hitchhiked so much in Montenegro on land and basically only traveled from Podgorica to Budva. In Budva, I spent the day at the beach with beer and cigarettes and the desire to drop out of university.
When at sunset I left the beach and wanted to look for a hostel, I encountered two men and their motor yacht. I guess I stared at their boat, because next thing I know, one guy asks me if I want to join. I ask if they can drop me off on Sveti Nikola Island some two kilometers away. They agree, but can't find the pier in the duskiness. I asked them where they were going.
"Istanbul"
And so I joined them for two nights from Budva to Corfu and from Corfu to Athens. Since I wasn't in the ledger, they worried about taking me all the way to Istanbul. So I got out inside EU territory.