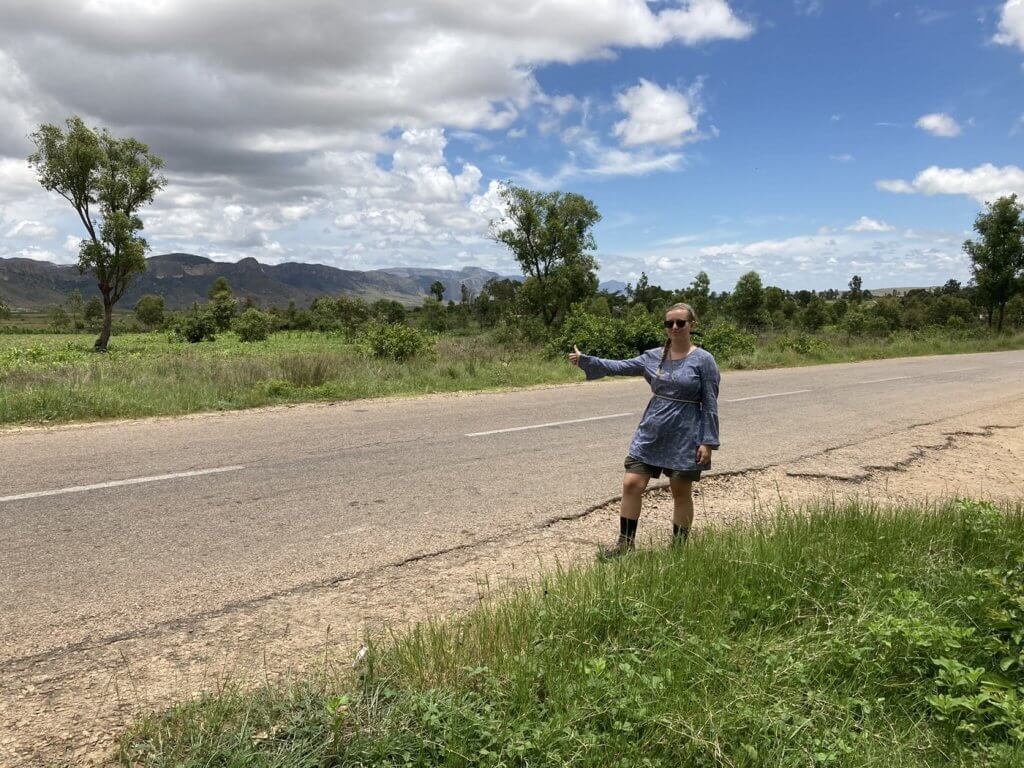 This happened on the 29th of December, 2022. Jonas and I did our first cursory hitchhiking in Madagascar session. Since it was so spontaneous and unplanned, the featured photo of this article was taken on the 2nd of January, 2023 while waiting for our cotisse from Ranohira to Ambalavao and does not represent the text below.
Tired As Fuck
After eating lunch and asking the Isalo National Park office about tours, I was quite exhausted. We'd traveled from Toliara at sea level to Ranohira at 1000 meters by cotisse. Though we had expected lower temperatures at this altitude if anything it was hotter in Ranohira than in Toliara. At least the latter had a surprisingly cool breeze coming from the Strait of Mozambique.
And now we still had to walk back to the H1 Hotel. A little over two kilometers. I wasn't in the best of moods; my Airtel SIM card was giving me trouble. We had just spent 20 minutes at a shop trying to fix it, but despite us throwing money at the problem, the internet was only dripping through unreliably.
So I was tired from walking, the heat, and Things That Shouldn't Be A Problem. One way to clear up the brain fog and exhaustion would be hitchhiking.
Speed Bump Hitchhiking in Madagascar
But most traffic in Malagasy villages consists of fellow pedestrians and the occasional cyclist. Perhaps we should have tried to find a bike rental in Ranohira.
We were walking a few meters behind a speed bump when I saw a promising vehicle coming from town. If you've met speed bumps in Madagascar, you know that vehicles have to come down to a crawling pace to pass them without damage.
I asked Jonas if he had any objections to me raising my thumb, and he said no. It was only a little over a kilometer to go to our hotel, but my math said it was worth it.
Past the speedbump, I raised my thumb for the approaching 4×4 while Jonas just turned around to show his face. I saw many smiling faces behind the windscreen and surely, they stopped. The window rolled down and a door flew open to reveal many Malagasy people and one French white guy. It was a total of four adults and at least three children divided over three layers of car. This is going to be a puzzle.
We told them we're only going for a very short distance and if it's a big problem. Jonas said it's only 600 meters. But the people in the middle layer scooted over. The lady in that row joked "That will be €40", which is categorically unfunny if you know anything about transportation in Madagascar. Jonas and I squished in there.
We drove off and they asked where we were from. We said Germany and the Netherlands, which was a big topic for the duration of the two-minute ride. They told the children in the booth that I'm from the Netherlands, but the significance of that never became clear to me. I asked them if they were going to Toliara and they confirmed this. It's still a pretty long way from here.
It was all smiles and fun till Jonas spotted the sign of our H1 Hotel. He tried to get the message to the driver, who was surprised we had already arrived. We thanked them a lot for the very short ride and wished them a good trip to Toliara.
All of that in perfect English. I think we may have finally met the Malagasy middle class?
We walked back to the hotel and I was feeling much better. No headache, good spirits. Yes, it was a ridiculously short ride, but it counts: it was spontaneous and with strangers. And though this isn't a requirement, it was incredibly useful.