Events described in this article happened on Sunday the 23rd of February, 2020. Jonas and I departed the islands of Koh Lanta Yai and Koh Lanta Noi to hitchhike across the Thai mainland to Hat Yai. Our drivers were on vacation themselves and took us to a cave system called 'Tham Le Khao Kop' in Trang Province. 
Preparing to Leave Koh Lanta for Hat Yai
After Ao Nang, we had taken a boat across the Andaman Sea for 53 kilometers. We landed at the Saladan Pier in Koh Lanta, where our arranged transport brought us to a southern resort near Kantian. That was a pretty remote place on the island, though still very touristy. We spent 10 days there and then plotted our return to the mainland. As our 30-day stamp in Thailand was running low, the next plan was getting to Malaysia. To get to Malaysia, we had two options:
Take a boat to Koh Lipe island in Thailand. Spend a few days there, then take a boat to Langkawi island in Malaysia. Then take another boat from Langkawi to either Kuala Perlis, Kuala Kedah, or George Town in Penang.


Pros

: boats are nice, we delegate our transport, and see some more islands.


Cons

: boats are pricey, we're not in control, and spend time with lots of vomiting tourists.
Get back to the Thai mainland in Krabi province and hitchhike to Hat Yai. After a couple of days in Hat Yai, hitchhike to Malaysia. Enter Malaysia either via the Sadao land border crossing or via the Tak Bai river border near Kota Bharu.


Pros

: cheap, fast, efficient. We're quite in control, we meet locals, and see the less-touristy parts of Thailand. Besides, there's a beauty in hitchhiking all the way to Singapore.


Cons

: requires more organization and thinking ahead. The border crossings might be more sketchy.
The boat trip from Ao Nang to Koh Lanta would decide whether we'd take the expensive boat route or the hitchhiking route. We thought it would depend on the choppiness of the waters and if the boats incentivize its passengers to get nauseous…
But in the end, we decided to go for option two and hitchhike it because the population on those boats is 100% made up of tourists and their misbehaving children. And it wouldn't be one of those boats; it would be three of those in a never-ending shitshow of queuing behind people who can't even lift the amount of luggage they packed for their nine-day vacation.
So I spent several hours making hitchhiking signs from Hat Yai (หาดใหญ่) to Singapore. I was really getting into the mood of hitchhiking all the way to Asia's southern end.
And then… a modifier happened…
An Invitation to Crew a Yacht from Malaysia to Australia
A guy named Gary who was tasked to sail a yacht from Langkawi in Malaysia to Fremantle (near Perth) in Australia contacted me via my Crewbay profile. He had checked out my and Jonas' Crewbay profile, in which we state our approximate travel plans for the coming months. We were already one or two days travel away from Langkawi and our travel plans in Asia also include a side-trip to Australia. This journey would probably be more than 2500 nautical miles via the Strait of Malacca, the Indian Ocean, and Christmas Island. An oceanic journey of four weeks with a highly-experienced captain.
But after long discussions with Jonas, we decided not to do it. 😭😭😭
Why? Because Jonas thought the four-week journey would be too long for a first-time crewing opportunity. And because Jonas had taken on more client work for the coming months. And because we already planned our travels a bit further into the future, with booked flights and accommodation. The sunken cost fallacy can still be a hard one to resist with added reasons why not to take on a great adventure.
Attention all sailors! We're still very willing to crew yachts. We want to build up to doing several weeks at sea. So if you're looking for crew, you can absolutely contact us to help you sail your vessel.
The Ride to the Ferry off Koh Lanta
To get off Koh Lanta was another bit of drama. We'd stayed in the relatively calm south end of Koh Lanta Yai island. But to get from there to the car ferry that takes you off the island, you need to cover about 28 kilometers. And after the ferry, it's still another 28 kilometers to the main road Thailand Route 4 (aka Phet Kasem Road and Asian Highway 2 (AH2)).
Even though I'd hitchhiked a short ride on Koh Lanta by myself after our scooter had a flat tire, we knew that proper 'moving hitchhiking' would be either not very easy or plain inefficient. The Koh Lanta ferry to the mainland sees peak traffic in the mornings and afternoons. Trying to hitchhike from our remote resort would be a waste of time and energy. So we asked our hotel to arrange a taxi for 8:00 on Sunday. For an extortionate ฿800, we'd get to the ferry. We agreed to that.
As promised, the taxi was there at 8:00. We handed over the key and rode away from Phuchawee Resort Koh Lanta. We saw our favorite restaurants like 15 Minutes one last time. Then we drove past early morning joggers and scooter commuters in direction north. We passed the area around Saladan Pier one last time, which didn't look that terrible now that there was no departing or incoming boats. For the first and last time, we drove over the glorious bridge that connects Koh Lanta Yai with Koh Lanta Noi (Saphan Siri Koh Lanta – สะพานสิริลันตา). We arrived at the Khlong Mak Pier at 8:40.
The Ferry to the Thai Mainland
At the ferry, we got our backpacks out of the trunk and paid the driver. Jonas had some trouble finding the ticket booth to get us onto the boat. I witnessed the busy traffic arriving and departing from many long ferries in this small strait between the Koh Lantas and the mainland of Thailand. It's just 1.5 kilometers across by boat and during the morning rush hour, the demand is high.
Jonas returns with tickets in his hand, which another guy immediately rips up. He tells me that the guy at the ticket office would simply not believe that we didn't at least have a scooter. Being an ignoble foot passenger is apparently an unfamiliar concept. It cost ฿20 per person. The captain sounds the horn of the ferry and we run onto the boat before it departs.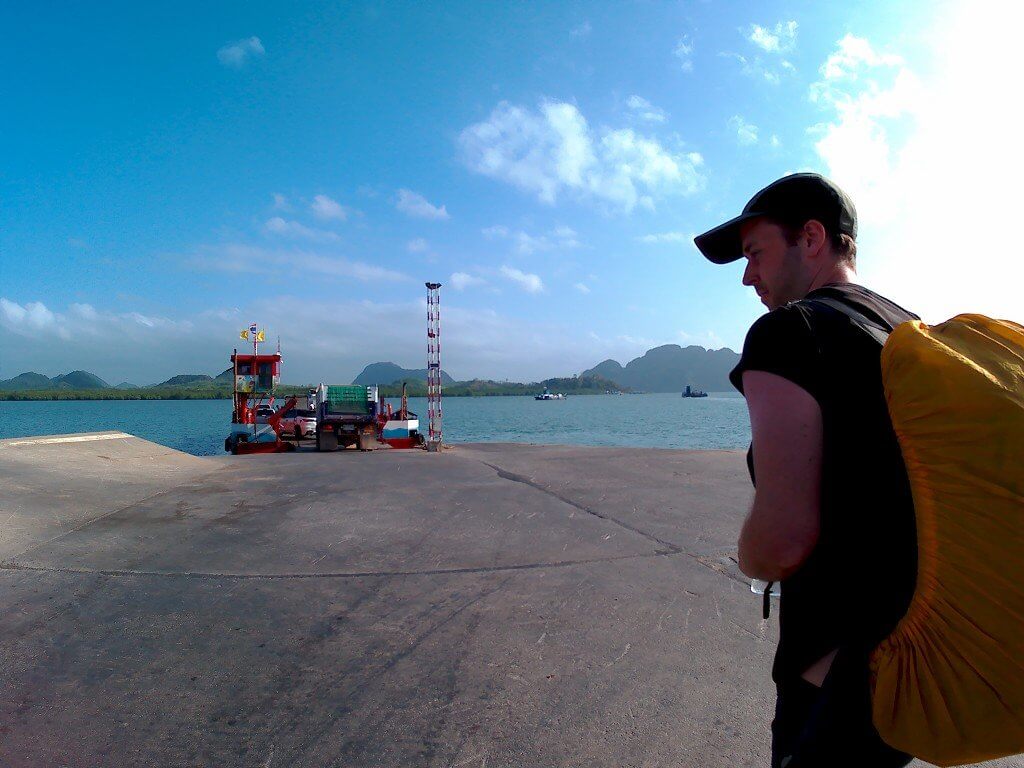 Now the thing about car ferries is that they're usually excellent places to find a ride. I'd told Jonas all about the wonders of finding the next hitch on a ferry, but that presumes the ability to walk around on the ferry. This one was parked pretty tightly and most vehicles were songthaews, private taxis, or small city trucks with little space. There were only a few private cars. Jonas shows the Hat Yai sign to one man with a private car who squats down outside his vehicle to light up his cigarette away from the wind. He smiles and shakes his head. We try to make contact with a few other vehicles, but it's all just a bit difficult. So we decide to give it a try once we land.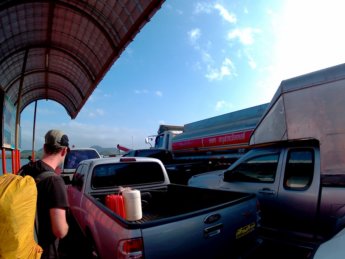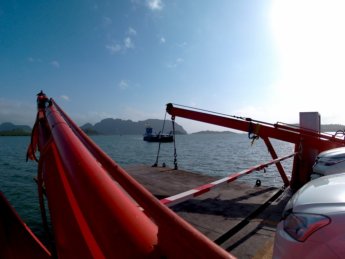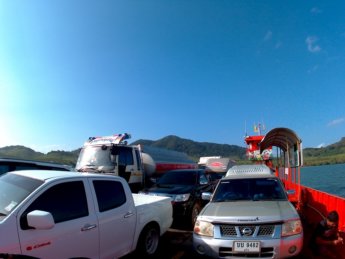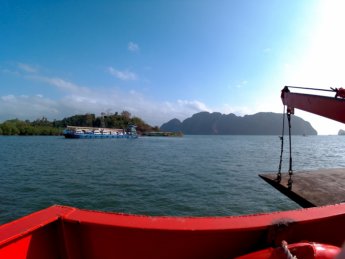 At 8:55, we land on the other side. We're the first people off the boat and try to find a driver with the traffic from our boat and another one. But it dries up very quickly, so we wait in the shadow of a building and put our backpacks down. Jonas applies sunscreen to his bare parts. I see a woman who is presumably from Myanmar sweeping the area around the ferry landing. She's wearing two symmetrical squares of thanakha on her cheeks – something I haven't seen since we arrived in Ranong.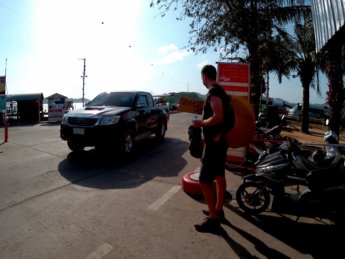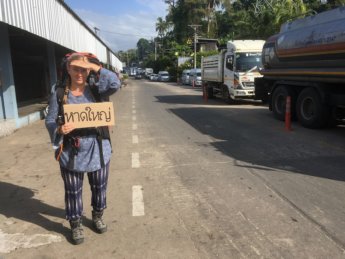 After Jonas is ready to endure UV rays, we pick up our backpacks and walk a bit up the road. Jonas picks a spot in a little bit of shadow. The next wave of cars comes from a ferry. No one stops and I'm getting nervous about this. I have a bad feeling about this, but there are some cute cats around to distract me from the worries I have.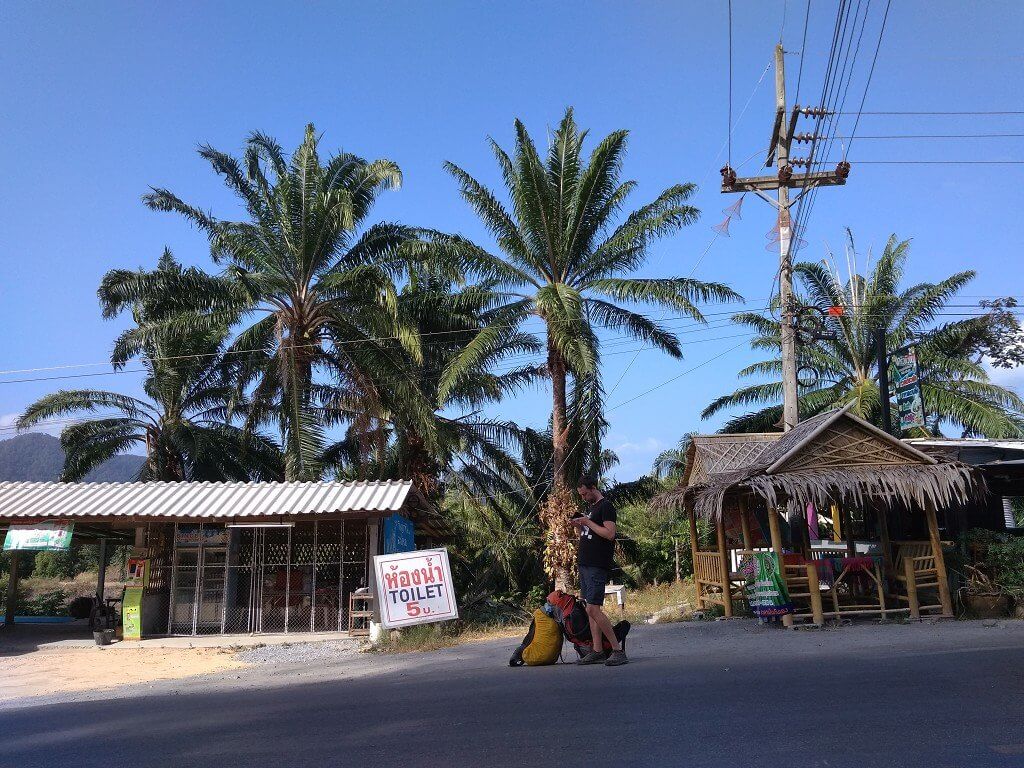 The traffic dies down completely. The morning rush seems over and we're really far from the main road. I cross the road to a tsunami hazard zone pole. It has the markings of where the water reached during the Tsunami from 2004.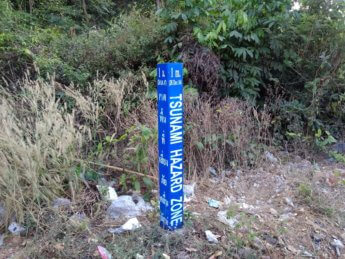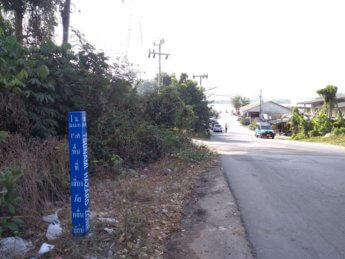 Picked Up!
The next wave of traffic comes from the pier. I cross the road back to Jonas' side and hold up the sign. Again, most of the vehicles are public transport. We also try to stop the tiny trucks in the hope of arriving at the main road. Then a small passenger vehicle slows down and stops. The traffic behind them also slows down, so I indicate with my hand that there's a nice spot to stop their car behind us. They drive there and stop their car.
They get out of their car but seem to head for the shop next to us. We're not sure if they actually stopped for us, but we did communicate with them about a good place to stop. But then they talk to Jonas and start moving stuff from their backseat into the trunk. They gesture to put our backpacks in the trunk too and we do so.
"Where are you going?" I ask.
"Hat Yai." the woman responds.
Oh, this is great! A direct ride!
Jonas makes sure nothing from my backpack sticks out of the trunk and closes it. We all get into the car and drive off at 9:25.
A Detour to Tham Le Khao Kop Cave
Their names are Saay and Raph and they've been on vacation in Koh Lanta. Hat Yai is their hometown and they're driving back now. We share our names and our nationalities.
We drive in direction of the main road past mangroves, small towns, cows in Hiluxes, and little mosques. Buddhist temples have almost completely disappeared once we entered southern Thailand. But there's still a small shiny Buddha statue sticking to the dashboard in front of us.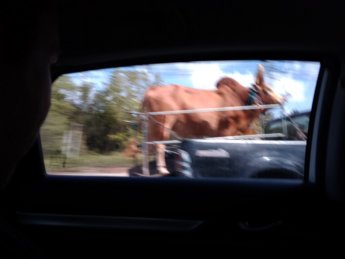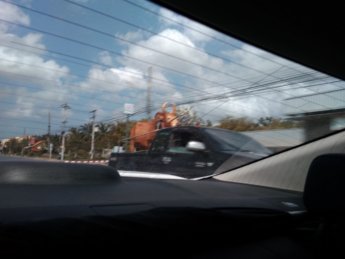 Saay turns around and asks if we want to go to a cave. It's not clear to us if that's something they wanted to do anyway or if they just came up with this. We say yes to find out later. I launch OSMand+ to see which cave we could be going to. I highlight all the caves in the area. There's one nearby cave we already passed called Tham Ruesi. Then there's one exactly en route called Khao Kop cave.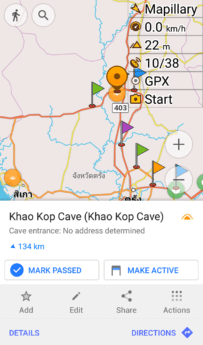 I say "Khao Kop" out loud and apparently hit the pronunciation spot-on because Raph picks it up and Saay turns her head and says "Yes, Khao Kop!" To clarify, Thai has a (slightly) more widely accepted romanization system than Myanma. In Myanmar, we often had to try out three different pronunciations of the same romanized word to get it right and it often wasn't intuitive. Thai, on the other hand, seems to require only a few pointers to get right.
We take a right turn off the Thailand Route 4 near Huay Yot. At 10:30, we arrive at the entrance to the attraction. There are many big tour buses parked outside. Even though I did a quick Google search on the Khao Kop cave, I'm still not sure what to expect. I guess we just walk to a big cave, take some photos, do the ECHO ᴇᴄʜᴏ ᵉᶜʰᵒ and move on with our lives. I do know not a lot of foreigners seem to go here. We can probably walk around in the cave and then continue to Hat Yai. Saay says she's very excited to visit the Tham Le Khao Kop (ถ้ำเลเขากอบ) cave. Her face says this is something she's been looking forward to this for a long time.
A Boat Tour of the Tham Le Khao Kop Cave
At the Khao Kop cave, we need to cross a small river to enter. There's a ticket booth at a small boat pier where we need to wait a little while for an appropriate boat. The people at the ticket booth are giving each other tiny Thai massages, with the whole elbow and such. Thai massages always look amazing and torturous at the very same time.
The price is ฿400 for the whole trip. There's a sign explicitly saying what the prices are for each boatman (there are two) and how they should conduct themselves during the tour of the Khao Kop cave.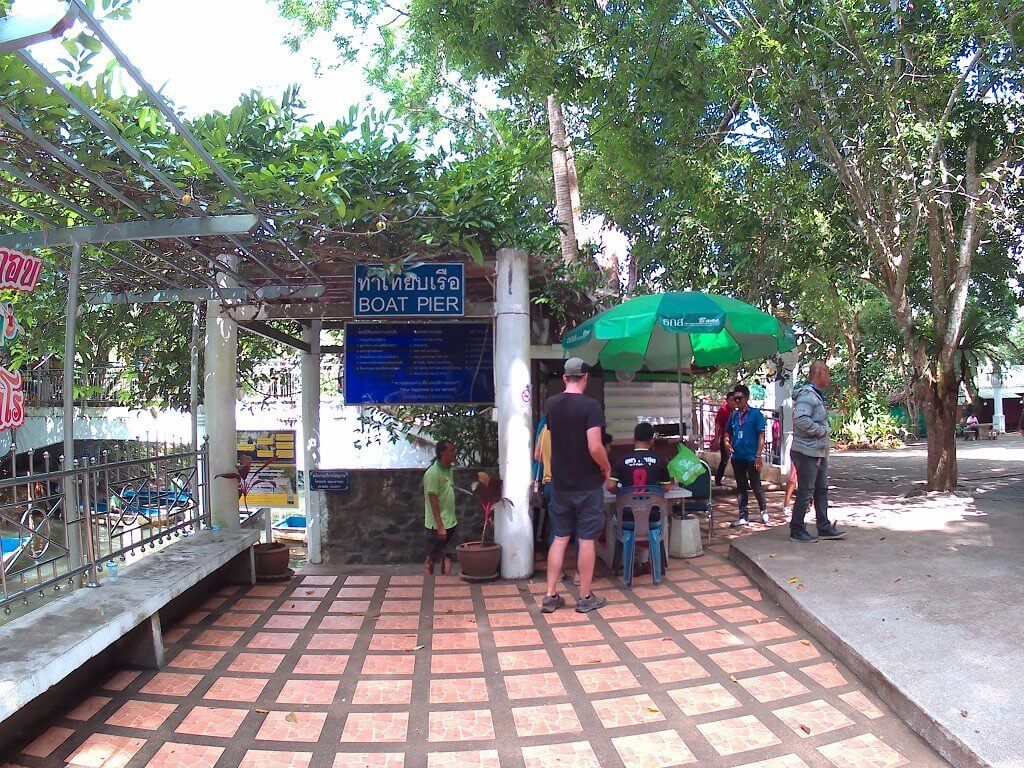 The boats look rather rickety and unmaintained. One of the boatsmen steps a little too confidently from one boat to the next and partially dunks himself into the water. Everyone laughs, but I'm thinking I should have brought a dry bag for my phone. I wonder if the boats are really necessary to get to the cave, but we've accepted the invitation, so we'll do whatever our drivers do.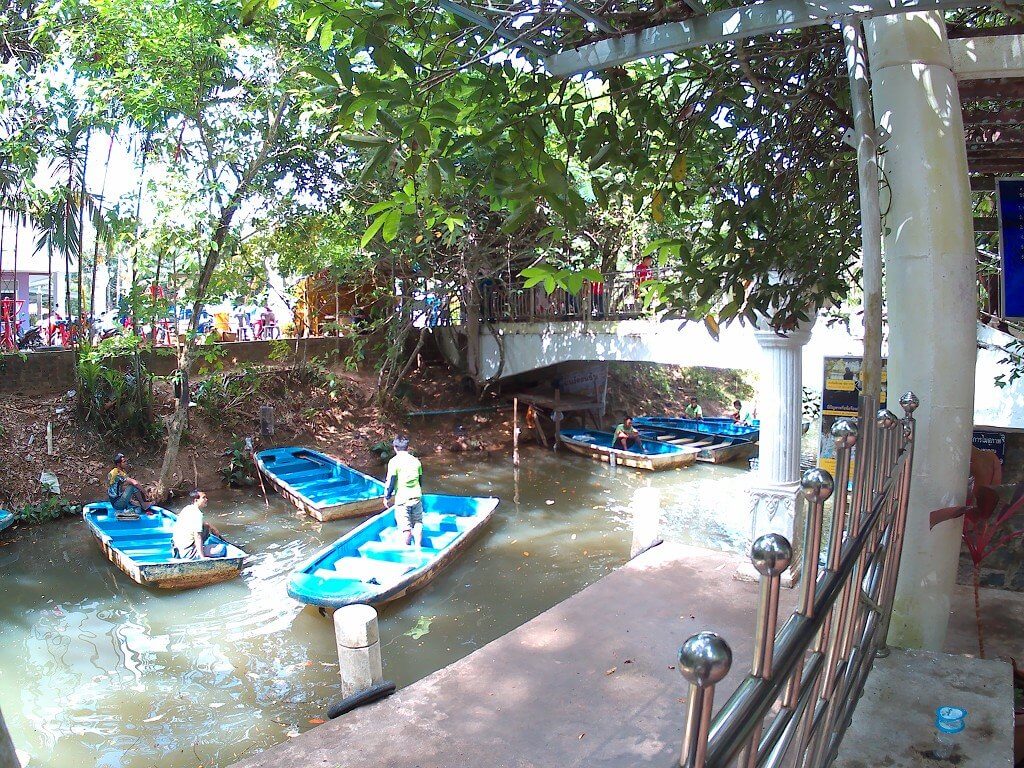 A few other groups go into their boats before it's our turn. Sometimes they're a group of six into the tiny boat with two boatsmen paddling for them. That's eight people in total in these really lightweight fiber reinforced plastic boats. Without people, they stick out about 30 centimeters above the water. With people in it, it's less than 10 centimeters to the water's edge. One bad move or balancing error and it looks like the boat will fill itself with water. Jonas and I are no strangers to getting into wobbly boats safely, but I'm worried for Saay and Raph who might not be so used to this.
And once it's our turn, our drivers get into the boat. Jonas and I get into the front and our drivers in the back. The two boatsmen start paddling like there's no tomorrow. It's quite pleasant, going through the shallow waters. It makes me miss our dear boat Zucchini, which we haven't paddled since Slovakia.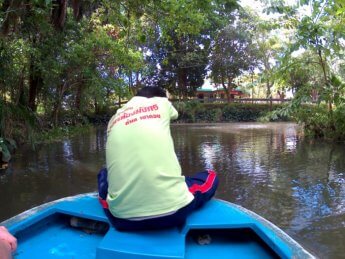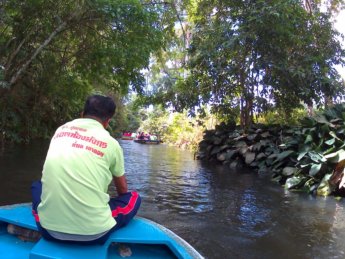 There seems to be some competition between the boatsmen duos. We overtake a slower boat and another boat that's even faster overtakes us. Then at the cliff-faced entrance to the Khao Kop cave, we have to queue a bit. All of us have to lean a bit back to enter the cave. Saay is very excited.
Once in the cave, short people like I can basically sit up. It takes some time for our eyes to adapt, which goes quickly because someone actually installed lights in some areas. Our tour guides paddle quite a bit through the cave to eventually queue at a landing spot for our little boats. We all get out safely with the help of our boatsmen and the willpower not to get our phones wet.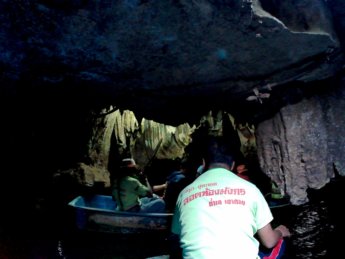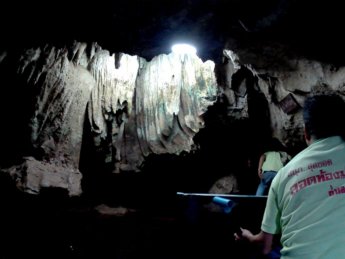 The boatsman who paddles at the stern doubles as the tour guide. He's mostly focused on sharing information with Saay and Raph. At the first stalactite, he tells us "Don't touch." Of course, we won't touch the speleothems. We're not children.
At one big formation, everyone takes a photo. So our tour guide takes photos of and for our drivers and then also for us. Once all four of us are in the picture, Saay and Raph also want a picture with us. The tour guide is juggling all our phones and knows all the settings, whichever model he gets handed.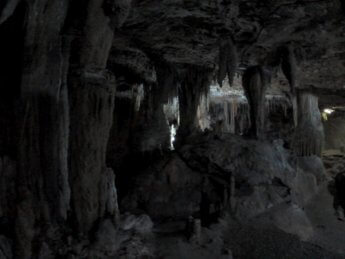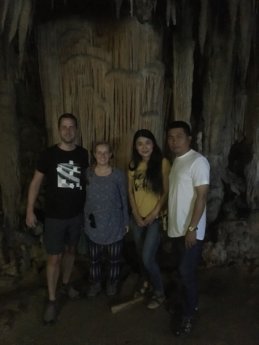 We continue walking through the cave and hear the echoing of water again. It turns out that our front boatsman paddled onward through some part of the cave to pick us up on the other end. That's unexpected! Well, I guess this tour won't be a backtracking tour. We need to queue for the other boat to leave and then get in again. We paddle on.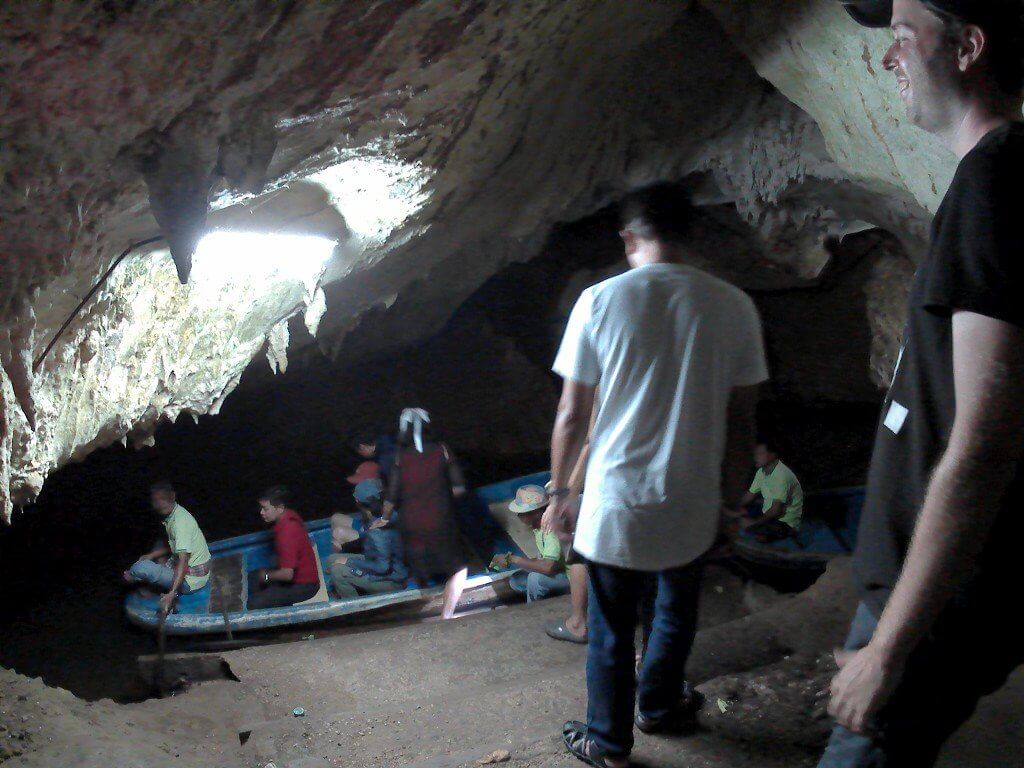 I thought we'd see the end of the tunnel rather soon, but we continue deeper into the cave. It's very disorienting and GPS won't work here under this giant rock. There's another boat landing for what I guess is the second stop of the tour. I thought it might be bad value for money, but it's getting better by the minute. (Of course, it helps massively that we're traveling with locals who won't be overcharged.)
We get out of the boat and our tour guide follows. Our shoes get a little wet, but that's it. We follow a little path that we're encouraged to stay on.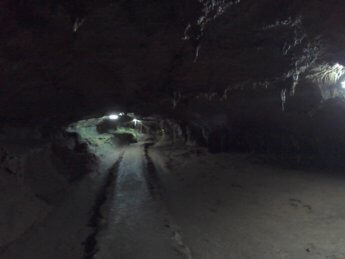 The cave formations are even more beautiful here. It's very pointy and I'm quite enjoying the desensitizing nature of the Khao Kop cave. There's even a little Buddhist shrine where our tour guide and drivers make a short prayer stop.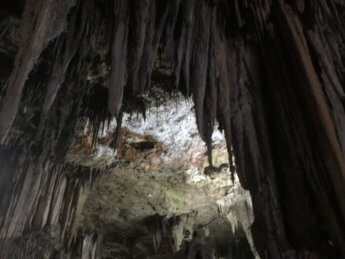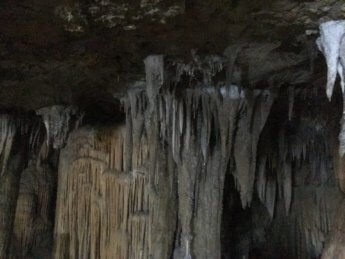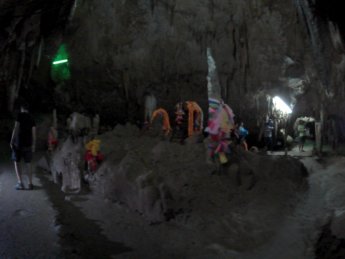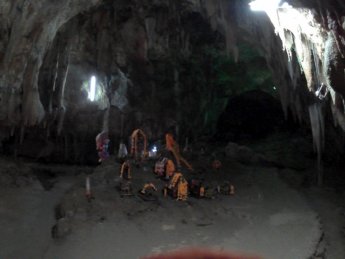 Then there are two formations that I understand are a big deal. One is shaped like the legs of an elephant. It brings good luck to squat and then crouch-walk your head between the legs and circle through. Our drivers go first, then Jonas, then I. I feel rather blessed. The elephant legs are a dead end and we need to turn around.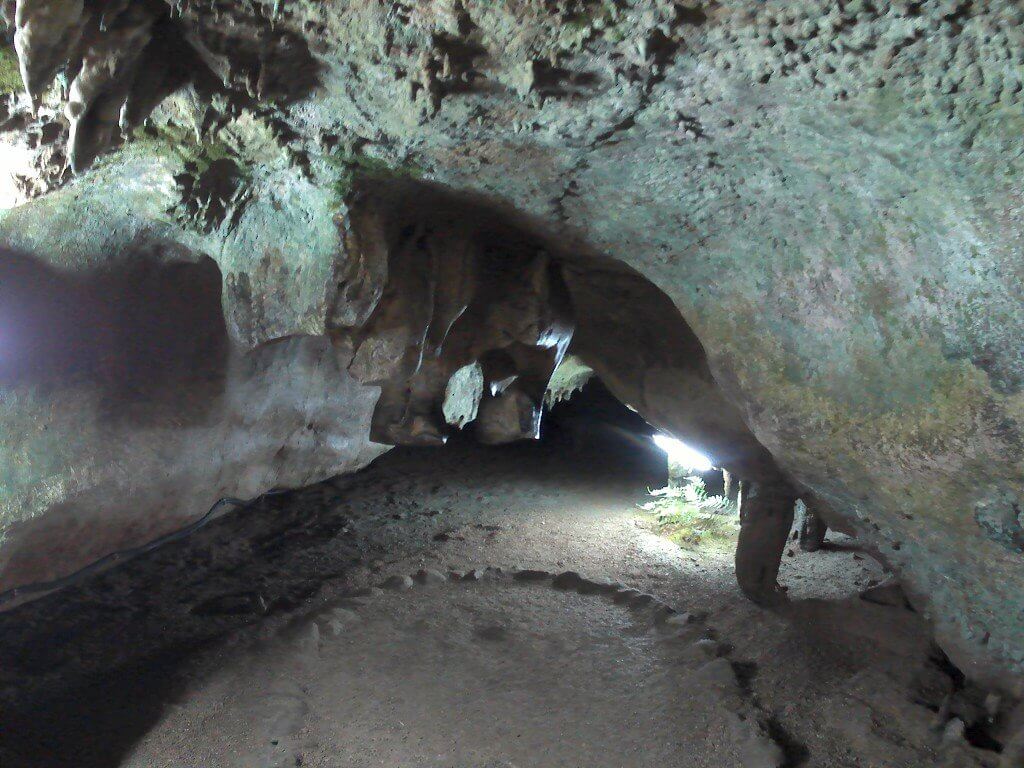 Jonas needs to bend for most parts of the cave, while I can still walk up most of the time. There are many very short stalactites here which look gnarly to hit your head on. That's another good reminder to bend deeper and not touch the formations. Sometimes, a little drip of water falls down. Our breaths condense in the cave and the whole cool moistness in it creates a rather funny climate. There are also signs to tell people not to smoke inside the cave. Can you imagine the forever stuck smell of cigarette smoke inside such a cave? That's probably also the reason why there was no burning incense at the shrine.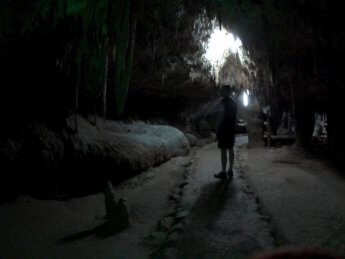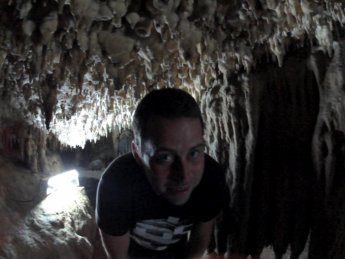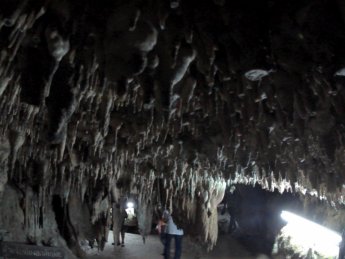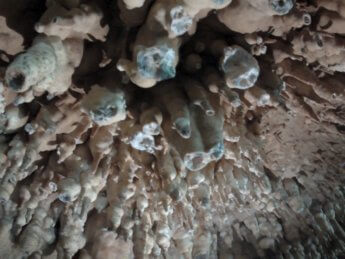 At the second dead end, there's another lucky formation. This time it looks like a sort of curtain, but no one translated the word curtain for me so it's just a guess that this is what they call it in Thai. To get lucky, you have to walk through the big hole and then squeeze yourself through the tiny gap in the curtain. We do so and also take another (group/couple) photo at the curtain.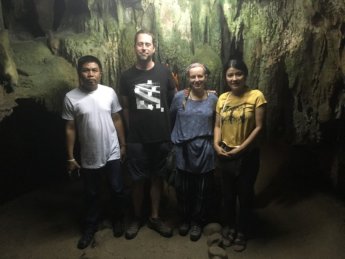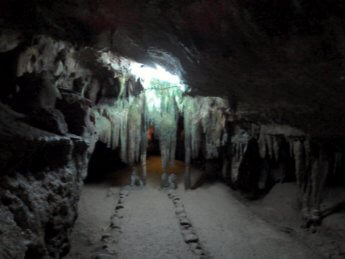 After that, we return to the same landing spot we'd last seen our boat at. Great tour of the Khao Kop cave! That was quite a lot of fun. Now we're probably taking the same route back out the cave.
…right?
Tham Le Khao Kop's Real Unique Selling Point
What happened next in the Khao Kop cave is hard to describe… I recommend watching the latter part of the YouTube video to get the whole picture.
We'd just seen the boat before leave and everyone (all six passengers) lay completely horizontal. Instead of sitting upright in the boat, we were told to take our shoes off, which we do, but also wonder why exactly. Then our front boatsman asks us to lie flat, maintain a small gap between Jonas and me as well, and relax.
…okay?
Our boatsmen paddle away in a direction we haven't been before. The ceiling gets closer and closer to us and our front paddle man leans forward to continue paddling. This guy's flexibility is amazing.
The legs of Saay are to my right and Raph's legs are to Jonas' left. It's like a little jigsaw puzzle, but I have no idea how one would do this with two extra passengers. The ceiling gets lower and lower to our faces and I get into 'surrender to it' mode. Saay and Raph are constantly talking to the guy in the back and they seem to be pleased.
Eventually, the front boatsman puts away his paddle and lies on his back just like us between Jonas and me. With his hands, he does a salamander dance motion to keep us moving. I can't look backward and see how the rear boatsman fits in this equation. That will forever remain a mystery to me. But the man in the back is the one that shines a large flashlight to the guy in the front, who is the one navigating through this… gap? The front boatsman uses his hands to push our lightweight boat down and keep us moving forward. It's like crawling, but on the ceiling.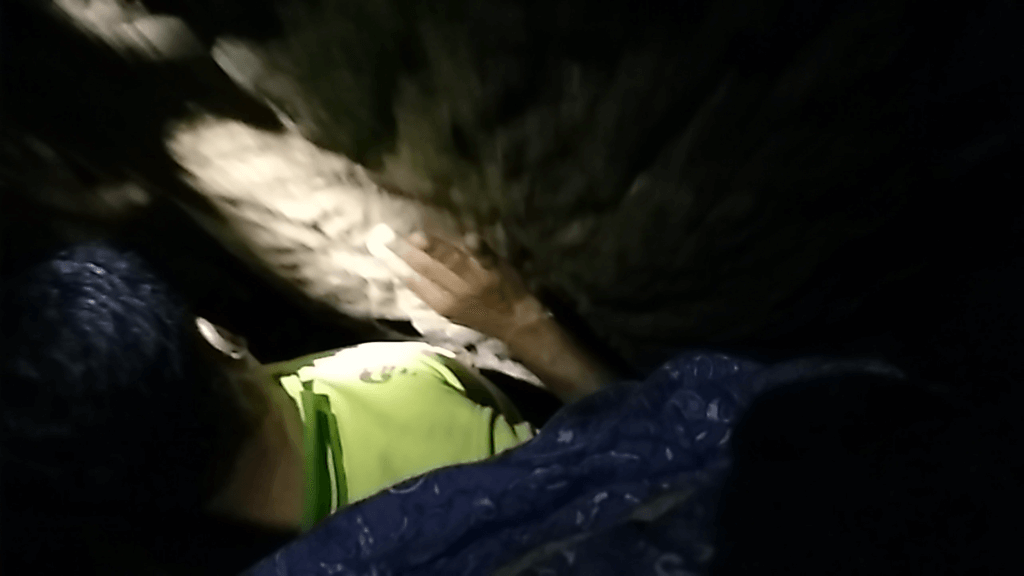 Whenever you think the ceiling of the cave doesn't go lower towards your face, it does.
We're all still laughing, but this is… tight.
I remember that sometimes Jonas experiences a mild form of claustrophobia, so now I'm getting worried on his behalf. I calmly ask him how he's doing, but he says he's doing okay. It definitely helps that there are many joyous sounds coming from the hind part of the boat. I'm sure it will be over soon.
The ceiling gets lower and lower and sometimes we have to first go into one direction, then stick our boat a little backward and sideways to continue down this route. It's then that we bang our boat against the walls, which explains why the boats look like they look.
Speaking of this route… who the heck came up with this? We've seen some elderly Thai ladies in the other boats… are they also doing this?
"People would not be having it in Europe," Jonas says. "Yeah, there's no way this would be a thing in our countries without first signing a bunch of waivers," I respond. We're still laughing, but also touching each other in this floating multi-player coffin. It's been… 15 minutes now since we took our shoes off. How much longer?
Think happy thoughts.
Filming parts of it actually helps me a bit. But sometimes, the ceiling gets so low that I have to put my phone away and turn my head sideways. Us long noses. Our boatsmen have started speaking English to us too now that we're in this position. Even though we're not panicking, they tell us to relax and that they're looking out for us. It sometimes looks like we'll touch the ceiling with our chests, but they just push the boat deeper into the water to maneuver us underneath it.
It's… quite a feat!
After almost half an hour of this, there's a feeling of exasperation in the air. When the ceiling gets just a bit higher, our front boatman gets up, bends forward, and starts paddling once again. There's a shimmer of light at the end of the Khao Kop cave…
We're out of the Khao Kop cave… phew!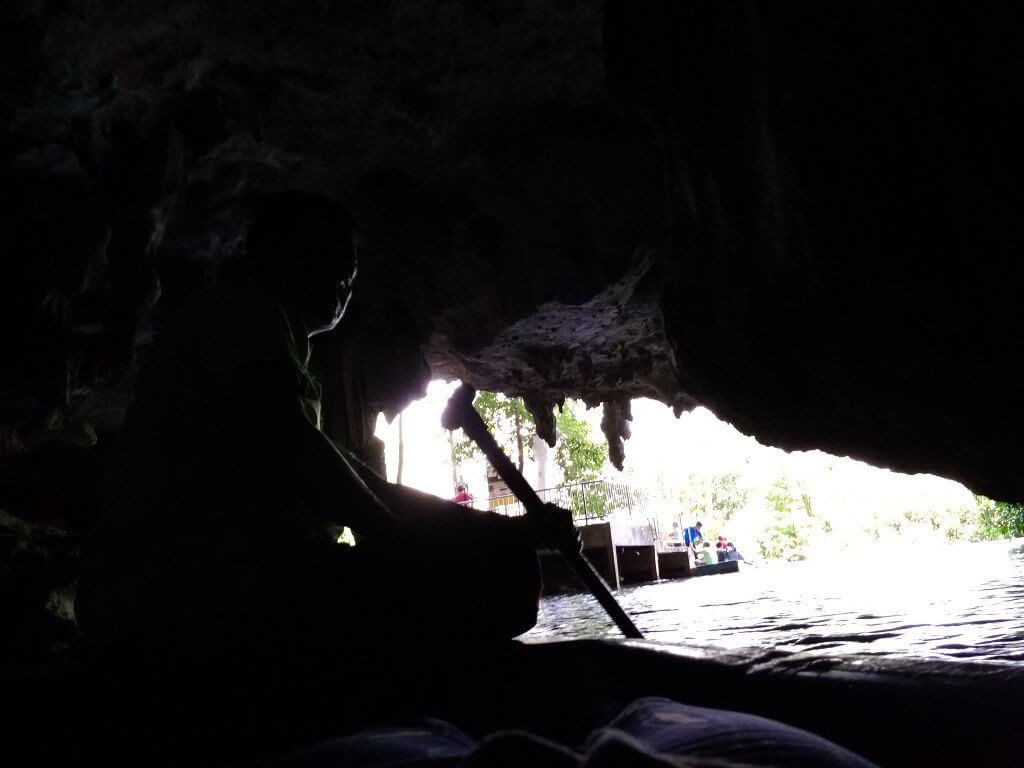 I guess that answers the question whether we're claustrophobic or not.
We land at the jetty we started from. It was a round trip with no backtracking. I'm trying to get my clunky boots back on my feet, but our guys want to pick up the next customers. So I get out of the boat without tying one shoelace.
At the exit, Raph reads the history of the Khao Kop cave intently. Apparently it's seawater? We're quite far away from the sea, but okay. I need to visit the bathroom after all this excitement. When I get out, we're ready to continue the drive to Hat Yai.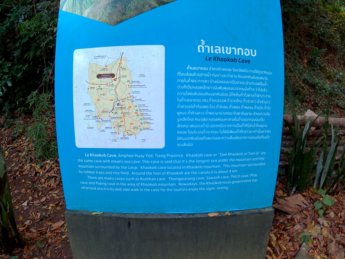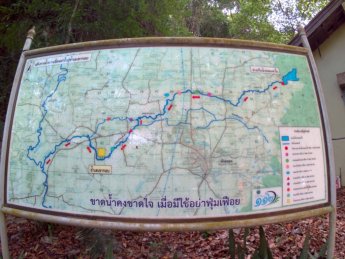 I'm still shaky from the Khao Kop cave.
Continuing the Drive to Hat Yai
After all that excitement, we get back to the car. It's only then that I notice that my wallet also got a bit wet. I hope my passport is okay. I can't really deal with this right now.
We drive off in direction Hat Yai. After about 15 minutes, I tell Jonas I'm slowly coming down from the excitement high. He feels like "Did that even happen?"
"At least that answers the question of whether we're claustrophobic."
We drive around Trang city via the bypass. At 12:10 we make a lunch stop. Saay points us to the food court and the restaurant in the back. We think they're first going to the restroom and will join us later, but they don't. We eat a quick plate of rice with a non-spicy topping and a cup of pandan tea.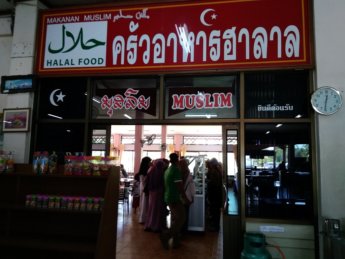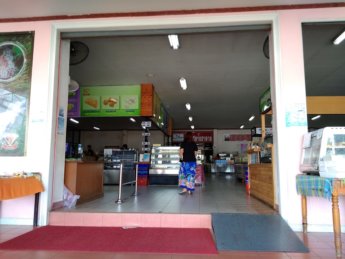 There's a kind of market attached to the building with some cakes. Jonas has a sudden sweet tooth and gets some sample cake. He then gets a different, much larger cake in a purple shade which he intends to share with our drivers. But it's a bit too difficult to eat and is actually a caramelized onion cake.
We drive off at 12:45 and climb a bit to cross over to the other side of the Malay Peninsula. At the mountain pass, we drive past a rest stop area called the Andaman Gateway, where lots of other driving parties make a stop. Then we cross into the province of Phatthalung from Trang. It's not that far anymore to Hat Yai, especially because the road here is just a breeze. Every now and then, a long-distance motorcyclist proves that point.
Arriving in Hat Yai
Our entire journey has been accompanied by the tunes of Carabao: Thailand's most legendary rock band that has been producing music for nearly 40 years. I Shazam a few songs to confirm my suspicions that it's this band. Carabao is also the name of the Thai energy drink that made the kid vomit on the way to Yangon. To have an energy drink named after a band, you must be really damn popular. I spend part of the ride reading up on the group's accomplishments on Wikipedia and the phleng phuea chiwit genre. I'm not really capable of defining what it is, but I think these two songs from the bands Carabao and Caravan might be representative:
We make two more short stops after the junction at Phatthalung to get some gas and make a bathroom break. I already showed Saay where our hotel is in Hat Yai, and she confirms it with me again once we enter the city.
"It's nearby our house," she says and insists they'll drop us off there when we suggest we can take a grab. So we drive through the outskirts of Hat Yai to approach our neighborhood from the south side. We drive across a small canal multiple times to get to our place. Saay and Raph know how to use GPS navigation to get there. Once we're in our street, we pass a restaurant familiar to them.
"They have good Som Tam there," Saay says.
At PM Residence, we get out of the car and thank our drivers. They drive off to their home. What a great hitch!
It's 14:40.
At the hotel, a white man in the lobby tries to read the Thai side of my hitchhiking sign. He mouths something which could be Hat Yai and I'm impressed. We check into our very pleasant room and unpack.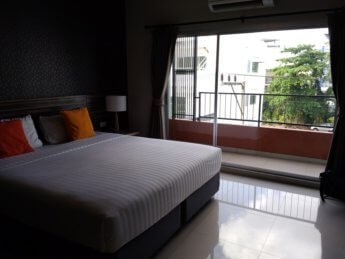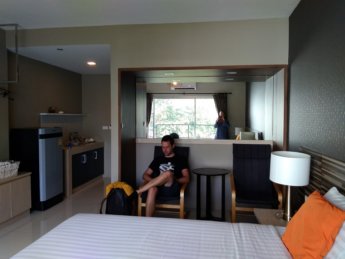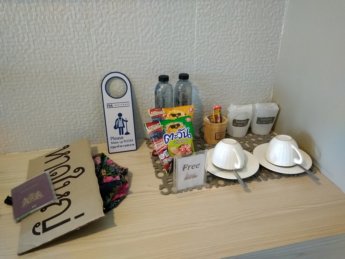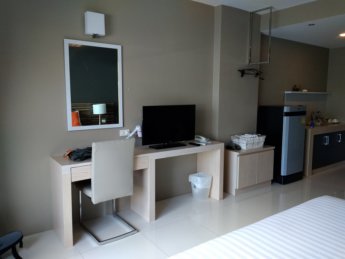 Hitchhiking Map
Thanks for Stopping By!