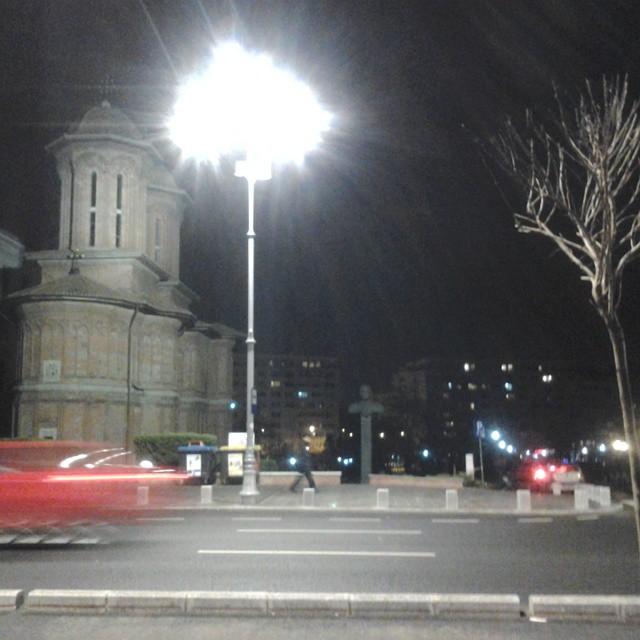 I arrived in Romania's capital Bucharest yesterday, after joining a tedious train ride from Belgrade on an invitation. It was for a telecom conference or something like that. If I'd had more time, I'd have hitchhiked it, but I chose the lazy way and sat on the night train. At least the company was good, which is the most important thing.
First Impressions
After checking in at the local Raddison Blu, we went to some fancy tower to have drinks with my buddy's colleagues. We had a vista over the city, which might have been prettier had spring been on its way; it was kind of dreary. I needed to wear neat clothes for it, and ooh boy, that was uncomfortable. I'm not sure if I can mingle among the business types anymore—at least not how I used to back at university. Can I do conversations? Yes, absolutely. But I fare better among a crowd if I don't try to blend in. It just doesn't work when you wear neat clothes and someone asks "So what do you do?" and the answer is "hitchhiking."
But thank Jebus I wasn't part of the actual conference, which was in the Raddison Blu. This led me to spend some time in the smoking allowed (!) hotel room in utter satisfaction, simply dicking around on my guitar.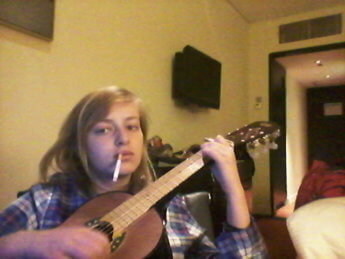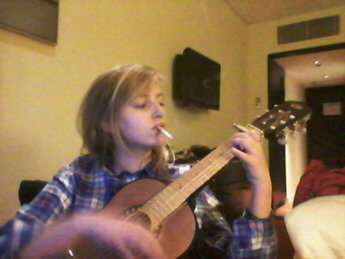 So I had lots of free time to walk around Bucharest alone. Wandering aimlessly is one of my favorite things. Day or night, I kept coming past this brick church called the Kretzulescu Church. That's where I learned that Bucharest experiences (heavy) earthquakes from time to time.
The anticipated highlight of this visit to Bucharest was visiting its Palace of the Parliament—the heaviest building in the world. It's huge, yes, but it's also surprisingly… proportionate? I took some photos with it, but you can't tell how big it is when you capture the whole building. Details like the humongous distance I'm standing away from it to capture it are secondary.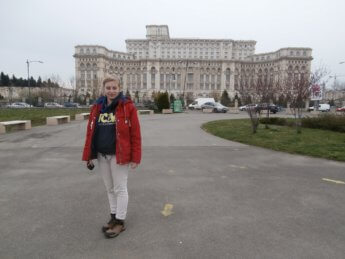 I don't know, I guess I expected something more grotesque. Many people told me that Bucharest isn't a nice city. I didn't dislike it, but I also can't tell you something that's particularly likable about it. The lack of visitors is definitely likable, in my opinion.
Switching Accommodations in Bucharest
After the end of the conference, my temporary travel buddy headed to Istanbul. Via a university-era friend, I found a host to stay a day longer in Bucharest and have a more local experience than a universal one-traveler-fits-all hotel. So I traveled off to a neighborhood with the prefab housing blocks (Romanian: blocuri) that shape much of Eastern Europe's cityscapes.
The host wasn't in Romania, but via a friend, she'd asked her mother if she'd be okay with hosting me. So it was just me, an older Romanian lady with delicious cookies, and her dog. This experience was a relief and her mother such a hospitable person. There wasn't much verbal communication, as expected. But this worked just mighty fine.
I'd shared my idea of hitchhiking (to) the Transfăgărășan Highway with my absent host, even though I knew it was closed. She approved of my idea to travel to Sibiu and encouraged me to include Timișoara in my itinerary back to Belgrade.
Crisa was extremely cool, epitomized in her introduction to VSCO, which I first thought was her blog name. It's supposedly better than Instagram. I can see why.
Night walk in #Bucharest #Romania #nofilter