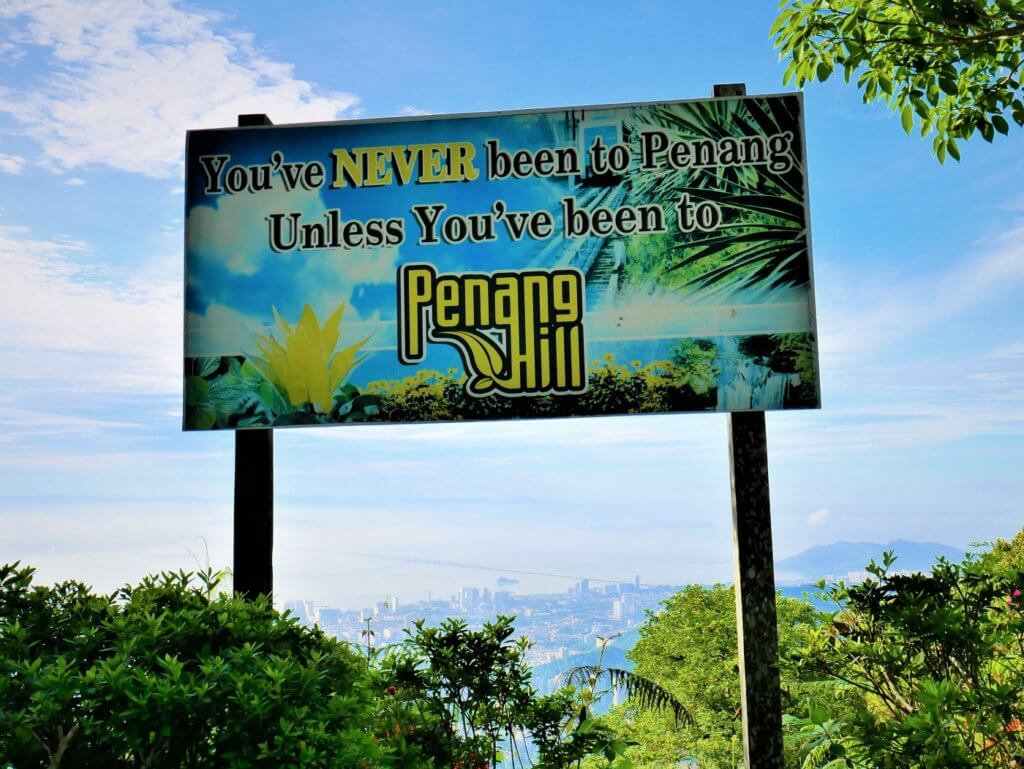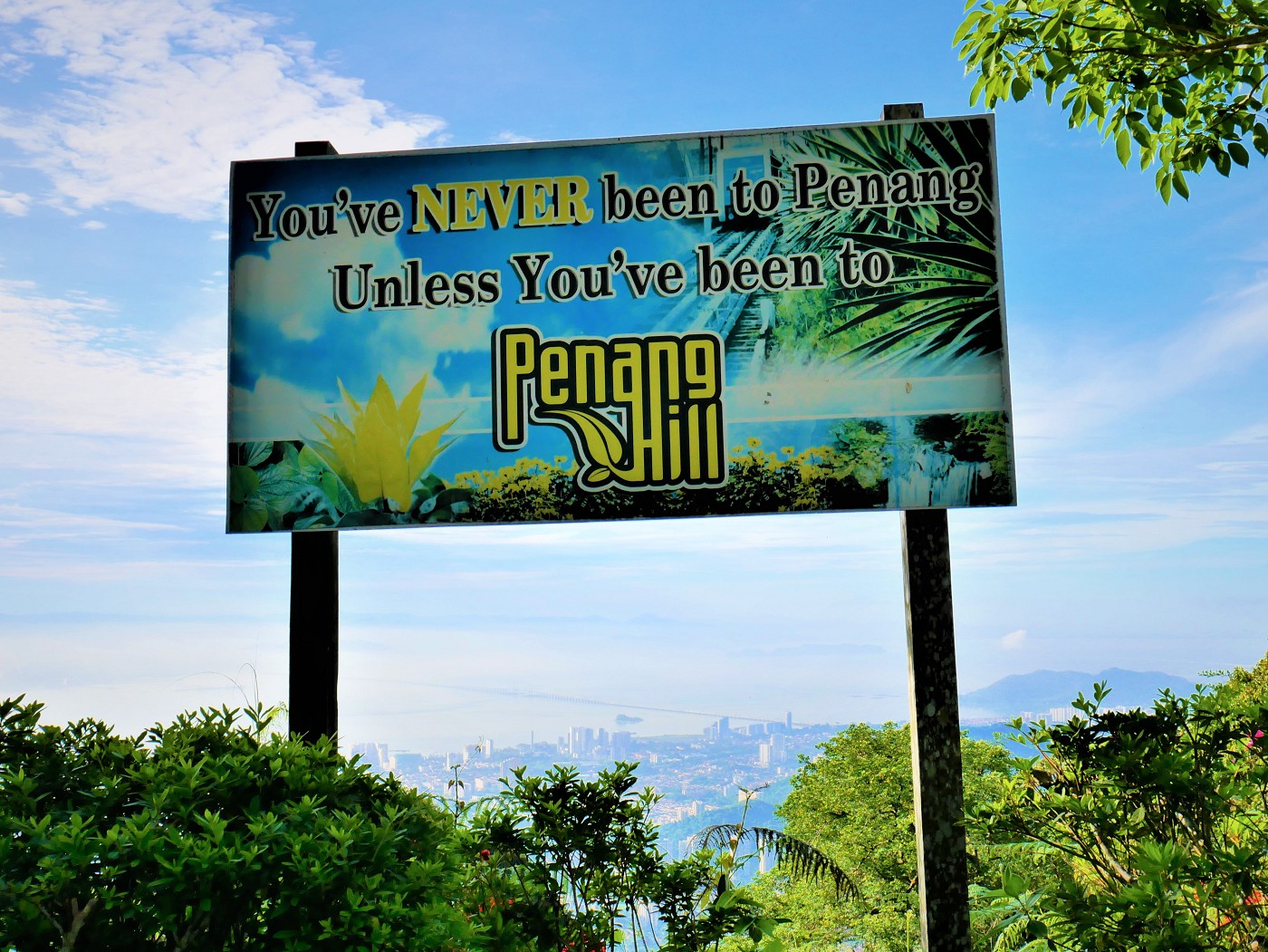 Events in this story happened on Tuesday the 9th of June 2020. It was the last day of the Malaysian government's Conditional Movement Control Order (CMCO). You can read more about our experiences of the coronavirus pandemic in Penang in the dedicated diary. We took the funicular up Penang Hill and then hiked it down to the botanic gardens. Click here to skip to the Penang Hill Tips + Map.
Preparations
I can't even remember the last nature hike we went on. I think it might have been in Kota Bharu before we came to Penang. We'd been less than two weeks in Penang when the Movement Control Order (MCO) started. Since then, it's been 83 days of mostly staying inside during the MCO and CMCO.
On the 6th of June, Penang Hill and its funicular would open again to the public. We waited for the weekend and the public holiday to pass before trying it ourselves. Grab had a discount code to drive to Penang Hill we could use to the entrance of the funicular and/or the Heritage Trail that runs parallel. The Facebook page of Penang Hill told us it would only go up once an hour, starting at 7:00. At the start of the RMCO the next day, service would resume normally with a train every 15 minutes. We discussed whether we'd be there at 8:00 or at 9:00. Jonas didn't believe I could get up at 6:15 to make it to the 8:00 one.
We bought some snacks, ordered some Subway sandwiches, filled up the hydration bladder from our kayaking gear, packed sunscreen plus a sarong in case we wanted to visit a temple. And hats, of course. Jonas got cash to pay for the funicular (RM15 per person, one way) and we discussed which matching facemasks we'd wear. The washable ones win. It's been a long time since we prepared our day bags like this.
The next morning, Jonas woke me up at 6:15, which worked to his surprise. I took a shower, put on clothes, brushed teeth, and got into a Grab to the funicular. The discount code worked and we arrived there at 7:30.
Arriving at the Funicular's Lower Station
There was nobody. No queue. Just a few bored people waiting at the registration table. There were marks on the floor to indicate the social distance we should keep in case there actually were people. One person measured our temperature, then we had to scan the QR code and sign in. My phone threw a fit, so Jonas finished my signup. We didn't get a dollop of disinfectant gel.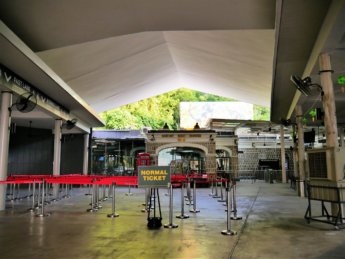 After getting in, we got our RM30 worth of one-way tickets up the funicular. We had some time to walk around before we had to go up, so we walked around the lower station a bit.
When we returned to the platform level, a helpful and curious guy approached us and asked if we're residents or tourists. I guess if you're a resident expat it wouldn't be your first visit to Penang Hill. We went with tourists and he asked us if we had any questions. He gave us a paper map of Penang Hill and, on request, told us a bit about the open hiking trails. We asked about the Moongate Trail(s) specifically, since the website didn't mention it was open. He said "Officially, it's not open. But the truth is that The Moongate Trail was never closed. They can't close it. It has too many exits."
Had we been a bit more daring/irreverent, it seems we could have gone hiking much earlier during the CMCO.
Penang Hill Funicular Ride
A few minutes before 8:00, we walked through the tunnel that leads to the funicular. By the looks of it, they really built it for a huge capacity of people; the walls of the tunnel are full of infotainment for people with bored kids queueing forever to get crammed into the little train. We get to the turnstile where we have to scan our ticket while someone says "faster!" to us. It's confusing because there's no one in our 'slow lane' and everyone else ends up on a different platform of the funicular.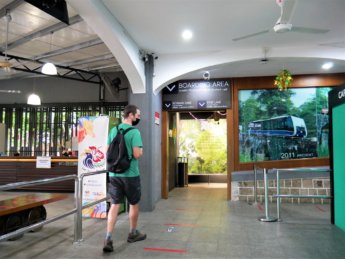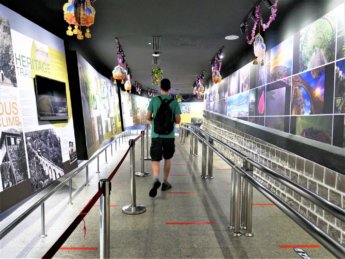 When at the train, it's a little difficult to find a spot because of the social distancing red tape that limits where we can sit or stand. We find two spots in the lowest part of the coach. A few more people get in and the doors close at 8:00. Did we almost just miss the train?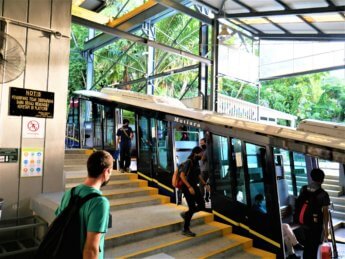 The ride itself wasn't very interesting from where I sat; I couldn't really see anything in any direction, and it felt weird to ask to switch with one of the standing people with the new rules. One guy wore a jacket saying "ministry of health" and I didn't want a lecture about social distancing. All other passengers I could see were employees of one of the (many) attractions on Penang Hill. That's why they entered via a different lane than us tourists.
From a technical point of view, this funicular ride is quite interesting though. There are two passing loops and in total there are eight stations, although we only shortly stopped at the middle station. At one point, we even passed one of the old red-white train cars permanently parked on a sidetrack. Apparently, there used to be two funicular tracks where passengers had to switch in the middle before the 2010 overhaul that turned it into a super train.
An Empty Penang Hill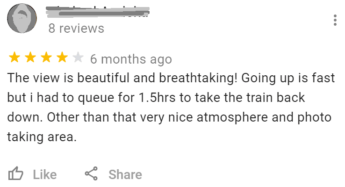 Everyone disembarked at the upper station at 8:15. It wasn't an insignificant amount of people on the train, but I can't imagine how cramped it would be on a normal Saturday during tourist season.
We snapped some pictures of the tracks and waited for the train to leave again. This gave us a pretty good view of the Upper Station and the tracks. Fortunately, it turns out that the renovated Penang Hill funicular is wheelchair friendly.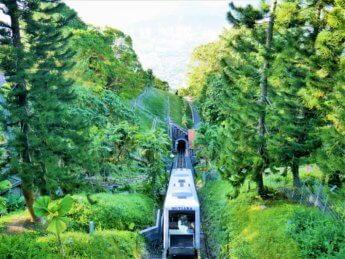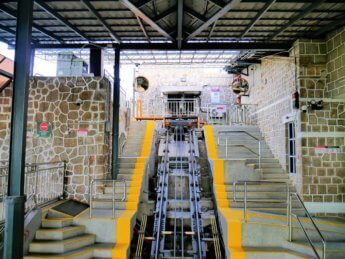 Then we walked to the Sky Walk observation deck. The view was very good, albeit a bit hazy. We could even see the other bridge to the mainland further south. Orienting by the Komtar tower, we could also find our own building Tropicana 218.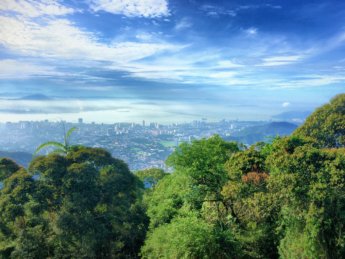 We loitered around long enough for Jonas to want a hat and soon sunscreen (smart) and for the next funicular to arrive. It's pretty cool you can actually see the driver's funky operations panel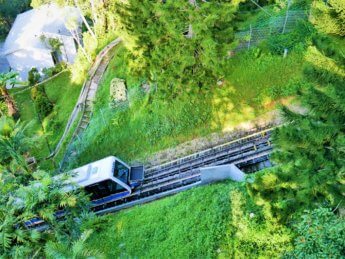 The walk to our next stop took us past a faded sign saying "You've NEVER been to Penang Unless You've been to PenangHill", which I found needlessly aggressive and inducing FOMO to the wrong people: we're already here.
Our next stop was one of the two supposedly highest points of Penang State; the 833m Penang Hill that's close to the Curtis Crest Tree Top Walk and the Langur Way Canopy Walk. The other – supposedly higher – peak is Western Hill, which our map says is also 833m. We'll save that one for a return trip later during the RMCO.
We encountered some runners early in the morning who seemed quite happy and surprised to see us; we're probably the first western tourists they've seen since the start of the MCO. All the other people we encountered on the way to the peak were employees. They were mostly gardeners and construction workers who fixed a small landslide among other things. The peak itself was nothing to write home about; part of it was inaccessible to visitors and had warning signs. So we walked back down past the plant nursery and the closed canopy walk tourist attractions. Since there aren't any visitors, it doesn't make sense to reopen these as of now.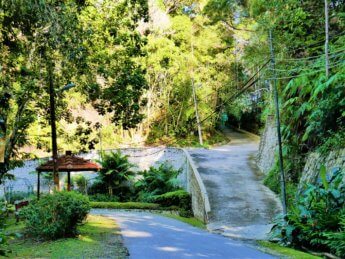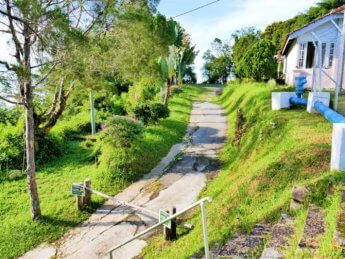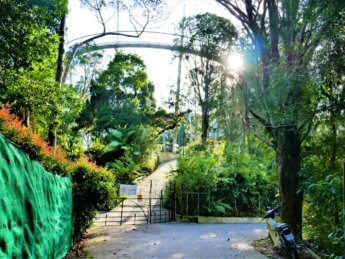 By now, we did find out the hard way that we'd forgotten to bring mosquito spray.
Trying to Hike Down
We walked back to the touristy hub of Penang Hill to find the little shortcut to the Jeep Track on our OSMand+ map. We couldn't find it. There was one road that we thought could be it. It was jam-packed with little golf carts that you could normally rent with a driver for RM30. We decided to squeeze between the golf carts looking for the trail. A man in a little workshop saw us and Jonas asked him if the trail continued here. There was indeed one little trail that led to the lower Jeep Track, but it was so overgrown we decided to find another way. The golf cart repairman was surprised to see us, so he introduced himself as a Bangladeshi and asked where we were from and how long we'd been here.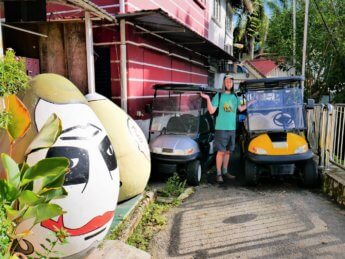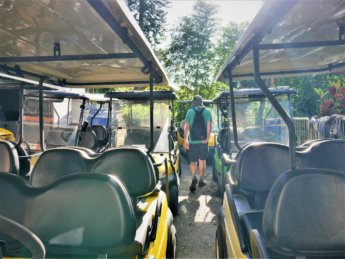 This whole lifting of restrictions and people like this man going back to work is such a mood booster for everyone.
We said goodbye and walked back to the funicular station to find another side trail that would lead to the Jeep Track. This was also a lie. The paper map wasn't much more useful in this regard than our offline maps. We decided to walk away from all the strange fair attractions on Strawberry Hill, such as an earthquake and typhoon simulator. Weird.
We eventually walked past The Habitat to get to the Jeep Track and began walking the asphalted road down. The plan was to walk on this paved road until the start of the Moongate Trail. There was also a side track to the abandoned Crag Hotel, but we'll leave that for another time.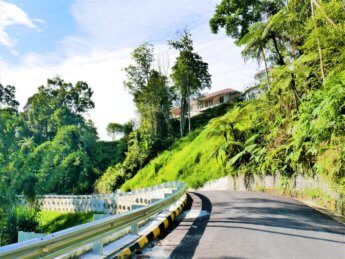 Strolling Down the Jeep Track to the Moongate Trail
'Jeep Track' is kind of an exaggeration; it's steep, but you don't need big tires or 4WD to get up Penang Hill. There wasn't much traffic, but it was still important to remain cautious about the many motorbikes and Hiluxes.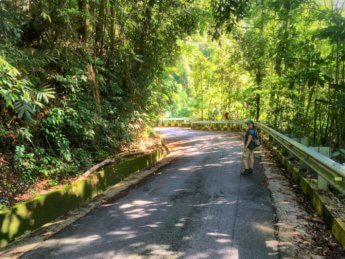 Having not done a hike in… nearly three months, just walking down the paved road was already quite tough. I'd noticed before this hike that my toes seemed longer than usual. This is probably because I haven't worn closed shoes (or any shoes) during the MCO. Now I felt my toes squeeze to the front of my boots. Shoes not fitting anymore might be an under-examined side-effect of lockdown. I soon felt a little blister developing on my right pinky toe.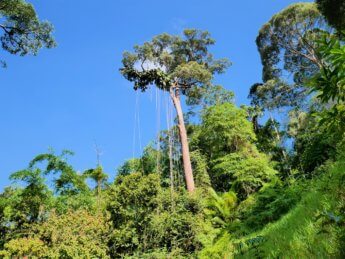 Despite the pavedness of this road, there were plenty of interesting critters to encounter. It started with one huge millipede at the peak, followed by several huge and colorful butterflies. Then there were ants so big Bear Grylls would call it a buffet. One time, Jonas walked ahead of me when I saw him nearly miss a stick. But the stick was a tiny, tiny snake. The poor danger noodle was so startled that it just sat there completely still for a few minutes, looking at us like "How fucking dare you?"—the Karen of snakes.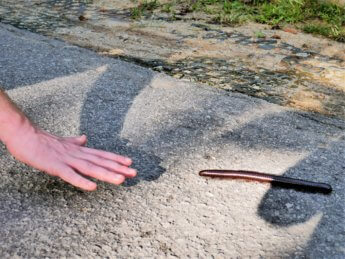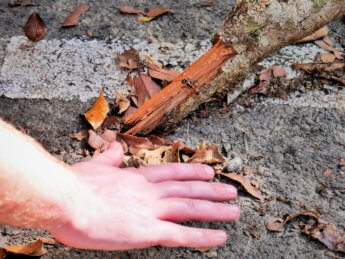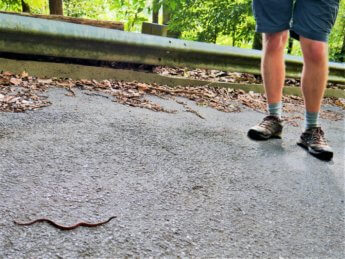 Nature isn't healing anymore.
Sometimes, there were little resting areas at the hairpin turns. We ate a few snacks and then continued until we hit the entrance to the Moongate Trail. Jonas wanted to visit the toilet there, but then we heard an angry hiss from above. A monkey didn't agree with our presence and I got really shit scared. Jonas calmed me down while my legs were shaking. I waited outside the toilet building while Jonas went about his business. The monkey roamed the ground, picked up some fruit to chew on, then climbed back up the tree.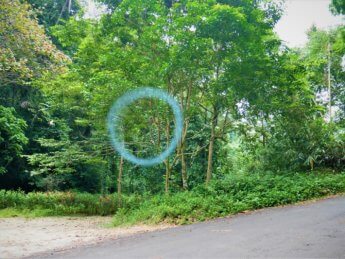 There was a sink and a sign imploring visitors to wash their hands, but no faucet or water connection. I guess this would really have to change before the big numbers of visitors return to Penang Hill.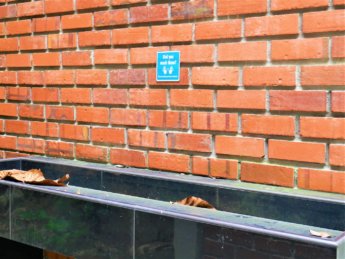 We discussed whether we could do the Moongate Trail. It looked a little too wild for now. We got a little closer to look at it while keeping an eye on the monkey when Jonas noticed he stood in an ant trail, who rapidly climbed up his shoe and leg. Eh, let's wait another week or two for other hikers to reestablish dominance.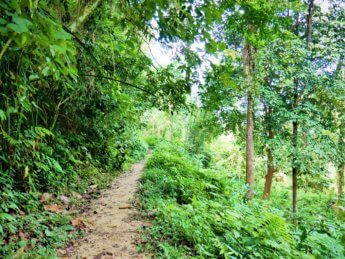 Maybe we glamorized nature a bit too much in lockdown.
A Different Trail
We continued down the Jeep Track until the next rest point. We ate another small snack there before going down trail 46 to the Botanic Gardens. The first stretch went over a ridge and was relatively flat. There was a building where quite some people were hanging out and working out. It seemed like a nice place with a nice crowd.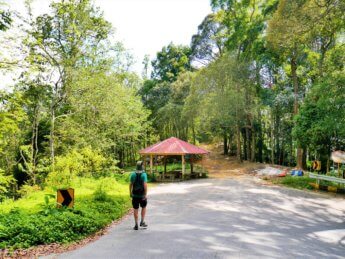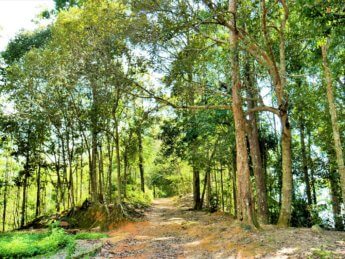 We continued down the path with a group of young fit guys behind us. Based on our map, our plan was to cross over the river to the other side and then go down the mountain bike and waterfall trails until we're in the Botanic Gardens. Hopefully, we'd catch a glimpse of the waterfall.
The trail took a right and we went down some stairs. We heard the waterfall, so we continued and followed the sound until a sign told us that "trespassers will be prosecuted". But it was to our left, and not to our right. I guess we missed our exit to cross to the other side. Neither of us had the energy to go back up and find the other trail, so we decided to continue down the stairs.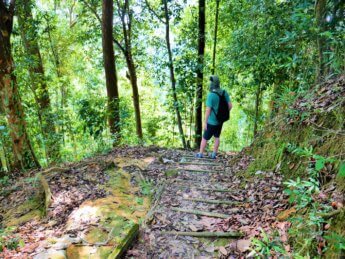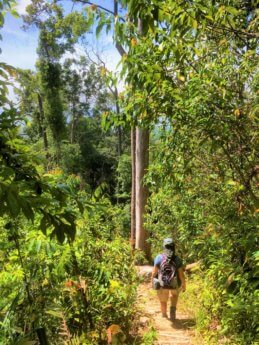 The stairs just wouldn't end. My legs started to cramp up from the constant down stepping. It was a great trail, but my feet were just finished. I had to sit down several times just to give those underused muscles some time to deal with the lactic acidosis. This is when I realize a beach hike would have been more appropriate for a first outing post lockdown. Jonas seems to fare better with the stairs than I do, though the downhill walk made his legs shimmy.
Meanwhile, a few sporty folks are going up the steps. They leave behind a cloud of mosquito repellent scent. Smart of them.
At last, we see the asphalted road below in the Botanic Gardens. There's one last caveat: we need to climb or jump down over a very deep ditch for heavy rains. I'm defeated enough to just sit down on the edge and let gravity do the work. I'm not risking my kneecaps here for a jump.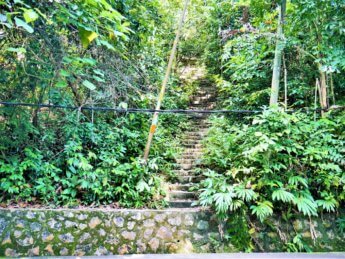 Getting Back Home
After the hike, we take a break on a bridge in the Botanic Gardens. All the benches have one side taped off so only one person can sit there. The benches are also too far away from the road to be worth the detour. It's still 1.1 kilometers to the exit of the park. Jesus.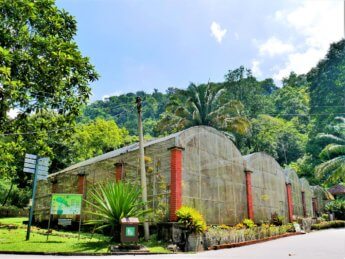 My legs are officially destroyed and I'm already walking funny. Now we still have to walk all the way to where a Grab can pick us up. We'll have to visit the Botanic Gardens another time as well because I'm not walking a detour to see a plant up close. Not today. I just appreciate the squirrels and the trees from a distance.
Near the exit, there are a few trees by the name of 'cannonball tree', which is a very apt name. I've seen pictures online of what it looks like in bloom (answer: spectacular), but couldn't find an answer to the question when the cannonball tree blooms in Malaysia. If you know the answer, please leave a comment!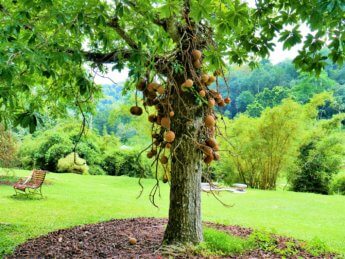 We arrive at the entrance at 12:30. There's a lively restaurant where we can perhaps get a cold drink. Jonas turns around to stop me from walking closer because there's a monkey I haven't spotted yet. We stand still, look at the monkey, then look around. Everywhere you look there are monkeys. One hops on a table to snatch food after the patrons have left. I guess I don't want to sit down here. Or anywhere.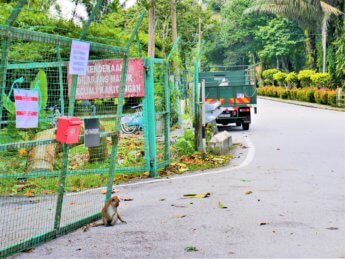 We call a Grab and wait for it to arrive while keeping an eye on the fifty or so monkeys roaming the parking lot. I put everything on my body that swings or could be grabbed away in my backpack—a lesson I learned from visiting the Apenheul in the Netherlands as a high school pupil. I also tell Jonas to put his phone leash around his wrist. It would suck really bad if one of these primates would now walk off with it.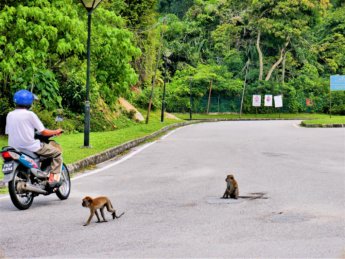 Our Grab driver pulls up some ten minutes later to bring us back to Tropicana 218. She gets us back to our home past a part of town we've never been to. It's the area around Gurney Plaza and Paragon Mall, where most of our favorite Penang restaurants are located.
When we get out of the car, a man whom I've seen before at our building is very surprised to see us. He welcomingly asks where we came from and how long we've been in Malaysia. We understand that he thinks we're tourists who just arrived, so it hurts a little bit to disappoint him and say we've been here, in this exact building, for three months. He understands and we smile as we shuffle to the elevators.
Once back up, we immediately shower. After the shower, it's time to assess the damage to our bodies. My pinky toe has an enormous blister and all my toes look shorter; they're their usual crumpled self again. My foot soles even look bruised. Then there are the fresh mosquito bites, for which I have a useless cooling cream. And lastly, my legs are already sore. Didn't even wait for the next day.
Hiking: will there be a next time?
The Aftermath
In the next two three four days, we couldn't walk. Each day got a little better, but oh my, the pain was so severe. Next time we'll go to the damn beach instead.
Penang Hill Tips + Map
Check before you go on Penang Hill's website or Facebook page for up-to-date information
The price for a return ticket with Penang Hill funicular is exactly double of the one-way ticket, so there's no financial penalty for choosing to go down by funicular too
During our first visit, all the attractions on the hill were still closed from the Coronavirus lockdown. Check on their websites or Facebook pages if they're open again
Penang Botanic Gardens: entry is free of charge
Bring some small bills in case you want to get a coconut or meal somewhere
Bring enough water, sunscreen, hats, and snacks
Use an offline map app like OSMand+ (Android or Apple) to find the right trail. There wasn't always mobile reception in the mountains
If you're going there by Grab, check if there's a discount code for driving to Penang Hill lower station
Beware of non-human animals
If you're not used to hiking in the mountains anymore, maybe the beach is a better start
Here's a map of our endeavors. In the end, we walked and hiked about 7.5 kilometers.
Thanks for Reading!