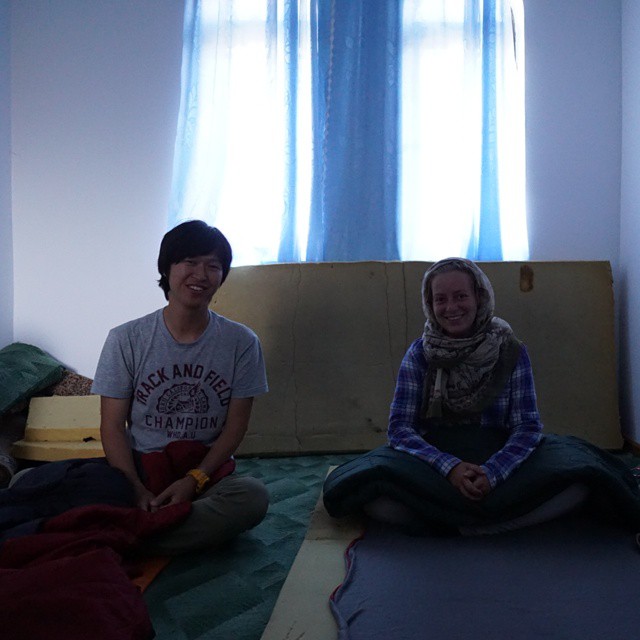 Yes, we woke up in an Albanian mosque today in Leskovik. And yes we slept in the same room even though we're not married (and not planning to, for those who care). The Imam and some other congregants offered it to us like that.
Last night, we were planning to go freecamping – like I've done before in Albania –in Leshovik until the torrential rain washed everything away. A little wet and a little chaotic, Dongbum and I walked through Leshovik at night looking for an alternative stay. When we came across the mosque, we thought why not? So we knocked. Soon after, the Imam came out who called a neighbor. Within fifteen minutes we had a place to roll out our sleeping bags on a comfy mosque-provided mattress. So soft.
That can't. We all shook hands, too, which I didn't do with devout men in Iran. And though none of the people involved asked me to wear a hijab, I did so anyway; I think it's the respectful thing to do. My Muslimah friend from Tiranë also only wears a hijab when going to the mosque, so that's the knowledge that informed my decision.
A traveler friend of mine told me beforehand that the way people practice (Sunni) Islam in Albania is a bit different than in other countries. Supposedly because of communism. And Albania and Kosovo are physically separated from the nearest Muslim-majority neighbor (Turkey) by some Christian-majority countries.
Did you know that mosques almost always have extra rooms (usually gender-separated) for those in need of a place to stay? I don't recommend anyone to overuse this kind of hospitality, though. As I said: we were planning (and hoping) to go camping. But it's a good thing to keep this option in mind if you have nowhere to sleep and you're not an islamophobe.
We took this photo together after clearing away our mattresses before we departed in the morning. Now we are in Përmet relaxing a bit before deciding what's gonna happen tonight! Let's hope the weather will be better.
#hitchhiking #muslimhospitality #beatseverything #bewelcome #friendly #blessed #Shqipëri #Shqip (at Leskovik, Korçë, Albania)