On the 25th of February, 2021, Jonas and I traveled from Sharjah City to Manama in the United Arab Emirates. Manama is an exclave of the Emirate of Ajman. To travel there, we needed to take a bus from Sharjah's bus station to Masafi and disembark halfway. We also visited the town of Al Dhaid in the Emirate of Sharjah.
Doing the Research on Manama
During our stay in Sharjah, we visited the Al Jubail bus terminal to figure out how to travel to Umm Al Quwain. During this exploratory trip, we also learned that this is where bus 116 from Sharjah to Al Dhaid, Masafi, Khor Fakkan, Dibba Al Hisn departs from. Bus 611 travels a similar route but ends up in Fujairah and Kalba instead. A few days later, we visited the 'mainland' part of Ajman in the form of a day trip from Sharjah, which was very enjoyable.
At the same time, I was building a map of the United Arab Emirates and the borders between the emirates. These borders are a topographic reality, but there is no real-world mention when you're crossing into a new emirate. One of the places that stood out the most to me was the exclave of (Al) Manama—not to be confused with the capital of Bahrain of the same name. Exclaves and enclaves have always fascinated me – especially the big national ones such as Musandam, Oecusse, Kaliningrad, Ceuta, Melilla, Cabinda, Nakhchivan, and yes, Baarle-Nassau and Baarle-Hertog – but I don't think I've ever visited one. And though Manama doesn't require me to show papers or take any special measures, I wanted to go.
I also wanted to escape the coastal regions of the UAE and see some inland stuff. Jonas was up for this plan, so the idea was to take the bus to Al Dhaid and then maybe take a taxi or minivan or something to Manama from there and then a taxi back to Al Dhaid. We'd only visit Manama if the price was right. This is quite a hassle. But we also had no idea how public transport works outside the UAE's big cities.
Sharjah to Al Dhaid/Masafi by Bus
We packed our two day bags with bottles of water, hats, and sunscreen. Then we went downstairs at 8:50 to grab a taxi (AED 13.50) to the Al Jubail bus station in Sharjah. Before you can enter the bus terminal, you have to walk through this body temperature scanner we know from airports. We learned that you buy the tickets to places other than Dubai on the bus and not at an office.
There was a misunderstanding between Jonas and me: based on an answer we received last time we were at the bus station, I thought the bus to Al Dhaid departed every 30 minutes. Jonas understood that it left every hour on the half-hour. He was right and the bus would depart at 9:30; I'd assumed we had barely missed the 9:00 bus, but it doesn't exist.
At the bus station, I saw that the bus also goes to Masafi, so I thought I might as well ask the bus driver to drop us off at the exit to Manama if he would be so accommodating. He said he'd drop us off at the U-turn, from where we could take a taxi. No problem. From there, it's only a 4.4-kilometer journey to the 'Red Fort' in Manama.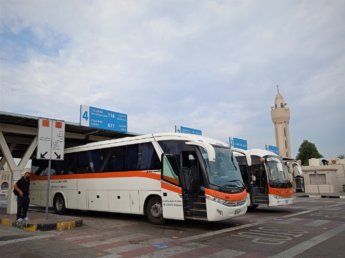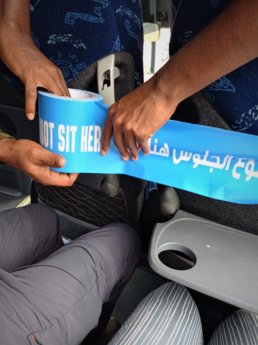 The bus journey was very exciting somehow. Just being in motion on a longer distance than a taxi ride felt very good. Once we drove out of the city, we saw the sandiness of this country. Though there were many fenced-off parcels, there were still quite some camels wandering the patches of land between. The bus made a quick stop at Sharjah International airport, where there were loads of people waiting outside on the grass. We also noticed that today was very cloudy, which is very pleasant in such a hot country.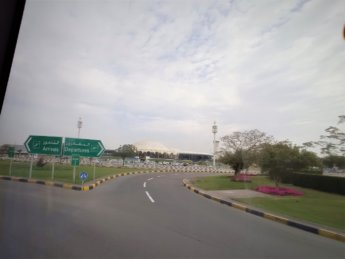 We drove through Al Dhaid and marked where we stopped to find the bus terminal on our way back later today. Signs pointed toward the exit for the nearest camel racing track. Then we drove on toward Masafi. Though I didn't know this beforehand, this road is actually part of Fujairah. In fact, the bus dropped us off in a village named Thoban (or Thouban or Thawban) in Fujairah. I'd fully expected to visit Umm Al Quwain before Fujairah, but the borders here are so strange that we went to Fujairah first.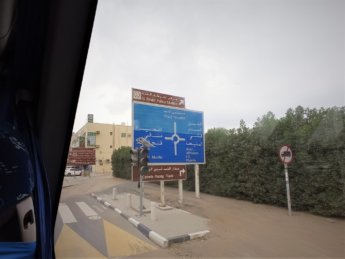 Thoban to Manama by Spontaneous Taxi
From Thoban, I suggested standing at the road to Manama and stop a taxi from there. Jonas suggested walking around on our side of the road looking for a taxi, which we did first. But there were no taxis, at least, not in the usual sense. It was raining very mildly with that non-threatening rain that evaporates the second it hits your skin. But I had a feeling that the longer we walked around this crossing looking clueless, the sooner someone with a car would approach us. And yes, within five minutes, a guy in a small car honked and drove towards us. He rolled his window down and asked if we needed a taxi.
"Yes, we want to go to Manama," I said.
"Where in Manama?"
"The Red Fort?"
"Hmm… show me the location." I showed him on my phone. "Okay."
"How much?"
"20 Dirham."
Even though this isn't particularly cheap for 4.4 kilometers, it's also not a price to negotiate for. So we got in – me in the backseat – and Jonas put his phone in the holder of the man's car and turned on navigation. He moved his briefcase and prayer rug out of the way for me and we zoomed off to Manama in this spontaneous taxi. It almost felt like hitchhiking, although it's clearly transactional. The man's name is Isa and he's originally from Sudan. We drove past the Manama Fort Museum and continued to follow the navigation until the Red Fort.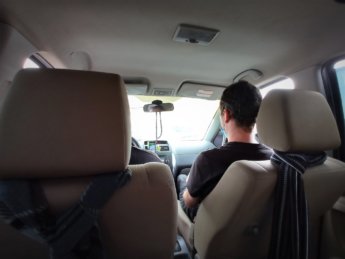 "I have never been here before," Isa said. He then offered to Jonas to save his phone number if we need another ride. Jonas would have asked the same if he hadn't offered it first, so they exchanged numbers. We said that we'd need a ride to Al Dhaid later and he said that would be 30 Dirham. Manama to Al Dhaid is a good 19 kilometers, so the price for this short stretch was clearly the tourist price. We thanked him for the ride and got out.
Manama's Red Fort
The Red Fort has some old military vehicles parked outside its gate. We entered, expecting there to be a ticket office or anyone. But there was absolutely no soul around this… weird building.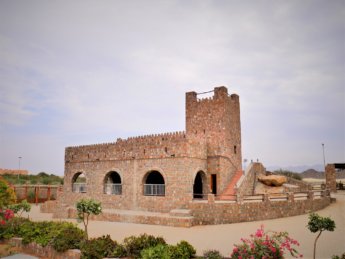 The exterior of the fort is made of reddish-brown rocks and the stuff in between the bricks is good ol' concrete. But the concrete layers in between are very thick and have an odd-looking finish. A brutalist restoration? The whole building looks very, very new, like the project of a nouveau riche who had always dreamt of living in a castle. Granted, we had not looked up anything about this building before we decided this is the place we must visit in Manama. No prior research whatsoever.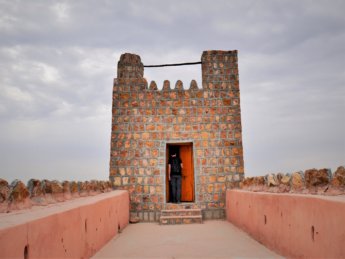 The gardens inside and outside the fort are really lush and beautiful. The trees inside all have plenty of water, so we know some human was here not too long ago. But we're completely alone although we heard human activity beyond the wall. We climbed higher onto the structure till we saw that it's right next to a military base with lots of men doing drills and other army stuff. I was a little spooked because I'm walking around with my camera snapping pictures of this strange fort and having cameras around military bases is a big no-no.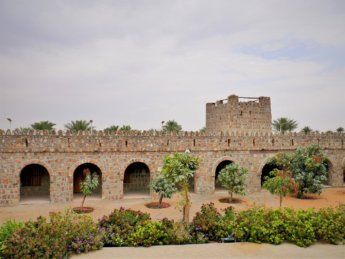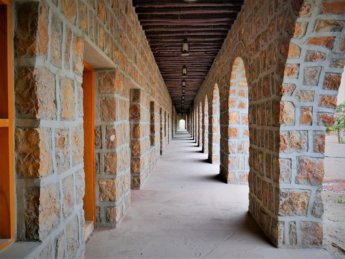 It was fun to walk around, but also quite odd when the stairs that lead to the upper tower had a broken finish that revealed the metal underneath. We walked around some more hoping to see a sign that would explain what it is we're standing on, but there was nothing like that. Right outside the fort are a couple of small and large cages with some kind of antelope, a spiky type of goat, a dazzle of zebras, and a bunch of albinistic donkeys. Jonas tried to feed some of the grass to the zebras but they were utterly terrified of him.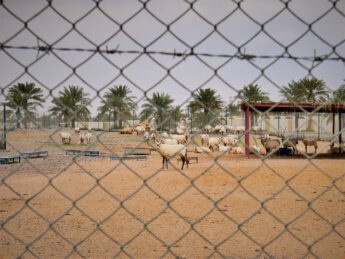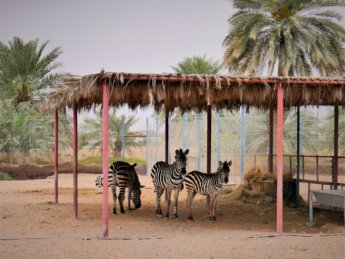 Because this building left us so puzzled, I decided to dig deeper into its – presumably very short – history. The fort was built during the rule of Sheikh Humaid bin Abdulaziz Al Nuaimi between 1910 and 1928. Not too old. In 1986 it was both restored and expanded. Hmmmm… I found pictures from 2015 where the building has a reddish-sandy color from the outside and is completely smooth. Around 2016, the fort was up for renovation again and that's when they built a layer of reinforced red bricks and concrete on the outside. Here's a picture of that latest reconstruction that shows both the new and the old layer of Manama's Red Fort.
It's wild and I can totally recommend a visit.
Manama's White Fort
From the Red Fort, we said goodbye to the donkeys and walked to the White Fort that houses Manama's Museum about 1.3 kilometers away. It started raining a little heavier, but it would still not look convincing in pictures. Behind us were the sharp ridges of the Hajar mountains, looking like a lot of fun. Nearer by are a lot of weird sharp hills that sometimes look very manmade.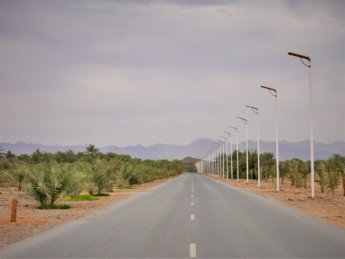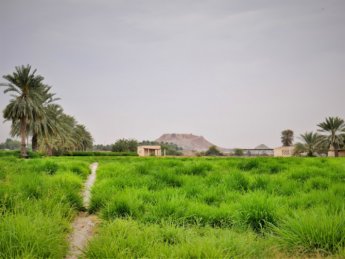 We walked past many date palms with flowers, not fruit. A caretaker had strung up the flowers in a bundle for some reason. I looked up when date season is in the UAE, but it's in May and later during the year. We'll need to leave before May, so 🙁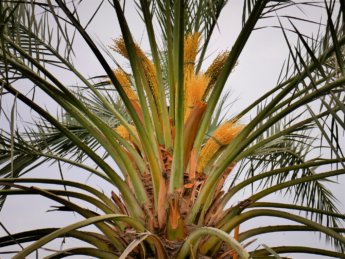 A police car drove by and ignored us. We still don't know if our visit to the Red Fort was a welcome one.
The White Fort was a similar experience: we arrived at the main gate and saw that the door was unlocked. Not a soul wandered the street even though we're now more in the center of Manama. So we entered the fort grounds and saw that it was also dead. As anticipated, the museum itself was closed because of covid. Not that Jonas felt he was ready for another museum.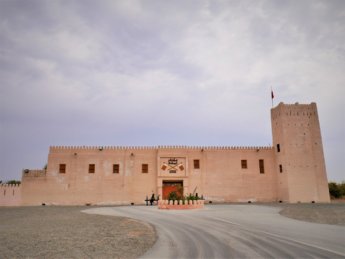 Inside the walls are also a stage for events, stalls for selling souvenirs to visitors, and public toilets. Only the toilets interested us and we found out exactly how abandoned this place was since a bird flew out of a stall and almost into my face. There were the humble beginnings of a swallow's nest in another stall. Jonas had a similar experience in the men's. This is also where a swarm of mosquitoes dined on my ankles.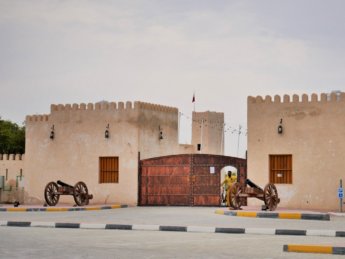 Manama's Claim to Fame: Stamps? Stamps.
We left the fort and walked 300 meters to the post office. We have no business at the post office, but we thought we might see some evidence of the stamp scam that took place in the 1960s when stamp collecting was all the rage and the UAE was still going by the name 'the Trucial States'. Britain dropped its responsibilities of the postal system, so an American entrepreneur stepped in and told the Ajman government, in my original take on history: "GET RICH QUICK!! make 🤑🤑💰💲💸 with STAMPS"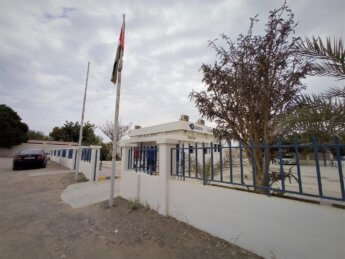 To make pokémon stamp collectors go wild, this adventure capitalist made limited edition stamps from Manama, Ajman that had nothing to do with the emirate, just to make money. And they did make money, for a while. In fact, it was Ajman's main source of income during that decade, until the stamps had been printed so often and were so widespread that they lost their collector's value completely.
Though I know nothing about stamps, I doubt that they were even printed inside the emirate. Since it's a devout Muslim place, locally-made art avoids human-shaped depictions and prefers geometry. And these stamps… I mean, look, they even have bare titties aka 'classical art' on them. I don't think that these designs – nor any clothed human depictions – would sit well with the local population in the 60s. Or today for that matter.
Intro to Philately: Let's hear it from Carl Wright
After sharing my Ajman post on Twitter, I received a response from Carl Wright, who runs the running blog called The Old Fellow Goes Running. Besides doing sports, caring about the environment, and doing churchy things, Carl also collects stamps.
You are very welcome, Iris. Thank you for your kind response. Yes, I have Manama stamps. So big and colourful. This must be be such an fascinating area. 🇦🇪

— Carl Wright (@canuckcarl) March 2, 2021

So I decided to ask him if he could share pictures of the Manama stamps for this article, and it turned into a little collab. From my tone in the previous paragraphs, you might have caught that stamp collecting – for which the fancy word is philately – isn't a thing I understand. I've had many collections during my youth, but stamps? Never.
Carl responded with kindness to my email – in which I included the paragraphs above I'd already written – and shared some of his Manama (Ajman) stamps and even a few Sharjah ones. I'm abridging the email:
"In all honesty I know very little about the Trucial states from a philatelic standpoint. I had no idea that Manama was that 1st post office that marked the beginning of a flood of what stamp collectors call "sand dune issues". After I got your email I googled a bit myself, and I found a Wikipedia article and another website.

Because there are so many stamp issues from all the philatelic agencies around the world, most collectors pick a specialty. I collect Canada (my home country) and New Zealand (my wife's home country). Occasionally I will buy a world collection, if there is something in there that I need. And I will resell, or if the stamps are cheap I will donate to the stamp club for the youth table.

I only currently have this set of 6 Manama. They are of paintings […] found in the Alte Pinakothek art museum in Munich, Germany. I have also included a photo of 40 stamps from Sharjah and Dependencies, all issued May 20, 1972, and all on a Disney theme. […] I literally know nothing about these issues. Gives an idea though of how the market was flooded. These stamps in my possession are CTO (cancelled to order), which means they never went through the mail system. Sometimes collectors call these issues "stamp wallpaper" regarding the stamp issues having no philatelic or monetary value.

And I am wearing a toque, as I have really bad "covid hair"…lol."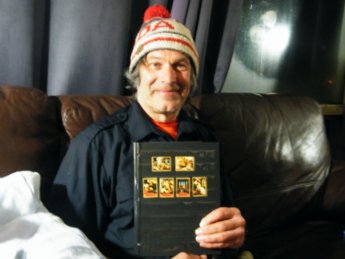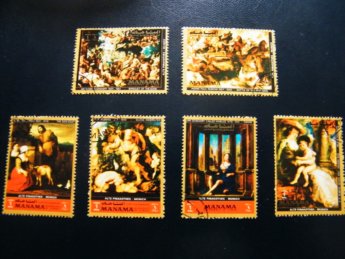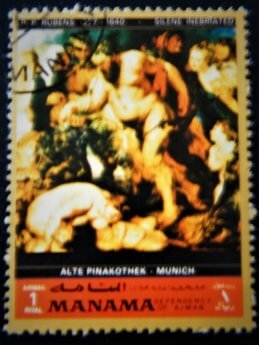 Even if they're worthless to collectors I think they're really cool. Look at them. Carl's collection has Manama stamps that are literally… Rubenesque. And then these Sharjah ones below go in the polar opposite direction: Tom & Jerry, Mickey Mouse, and Snow White.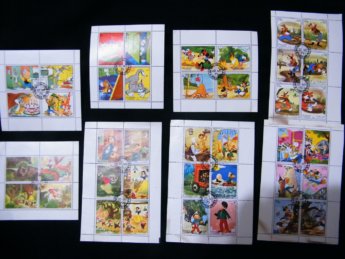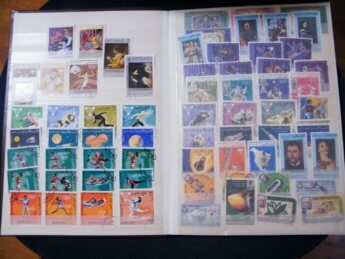 Thank you Carl for sharing these photos and this short intro to philately! These stamps are a wild ride.
Biryani Lunch in Manama
We left the fort and spotted that one tower housed a cafeteria. We were hungry, but we kept our options open. The central roundabout in Manama has a few restaurants and many shops. Most shops are tailors for your next kandura, laundries to wash the whites, movie rentals, car mechanics, something I've never heard of called a 'typing center', the odd restaurant, and one bakery. After considering our options, we went for the restaurant next to the bakery.
We sat down and asked for a menu. No menu. He listed a couple of things and I thought I heard the word 'hummus' among them. Jonas asked for falafel, which was a clear no. The hummus also wasn't real. Just biryani, chicken biryani. I thought I could eat some of the rice underneath the chicken while Jonas eats the bird. This is a fine arrangement for me. It's a good thing the food came with side tzatziki and spicy sauce to make things a little more interesting for me.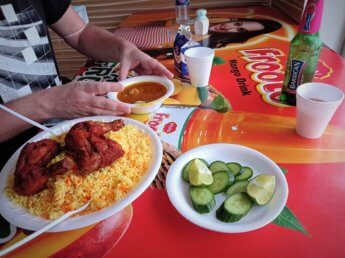 Manama to Al Dhaid—The Smaller Road
After the food, we gave Isa a call and told him we were at the restaurant called 'Thuban' at the roundabout next to the fort museum of Manama. Unfortunately, miscommunication happened and he drove to the Red Fort first. We met again in front of the 'White Fort'. From there, we drove out of Manama in the direction of Al Dhaid as discussed.
We had a little bit more of a conversation with Isa, although not as much as if we'd actually been hitchhiking. I asked if he lived in Manama, and he said he lived in Thoban next door. Only then I connected the dots that the roadside town where he picked us up is called Thoban, that the restaurant on the roundabout to Thoban in Manama is called Thoban, and that Thoban is actually in Fujairah and not Sharjah, making Fujairah our fourth emirate we set foot in. I suddenly felt very lucid.
He drove through a part of Manama exclave called Al Naseem, which was the route I'd hoped we'd take from here. There was a brand new high school that stood out in all its shininess. Someone on Google gives it a one-star rating. Next, we drove past the entrance of the Nature Reserve of Al Naseem, in the words of Isa: "It's a museum, but not a museum." Then we drove past the Hassa Buweid Tower, which we only saw from afar. Isa asked if we wanted to make a stop there, but I didn't think it was necessary.
Windows open, wind in our faces, we drove on to Al Dhaid. Jonas put in the location of the next sight ('Heritage Fort') we wanted to see in his navigation and squeezed his small iPhone in the holder. The roads quickly changed from dusty sunbaked asphalt to shiny new highway and back to dust again. A bit of rain hitting our windshield didn't wash away anything.
In Al Dhaid back in the emirate of Sharjah, we drove to the next historical site. We drove through a bit of a fancy neighborhood with high walls around villas when we came to our destination. We all had to laugh at the underwhelming state of the site we'd found. A dilapidated tower loomed behind a high fence with trash around. Not exactly #VisitSharjah, I suppose. But this was our destination, so we thanked Isa for the rides and paid him the other AED 30 as discussed. He said we should give his phone number to anyone who wants to visit Manama or Al Dhaid, so here you go dear readers: 056 102 4006 (call it from your local UAE number).
Then we said goodbye. Small talk felt goooood.
Al Dhaid on Foot
First, we circumambulated this Heritage Fort, which someone with dubious credentials calls 'Al Tunaji Fort' in a review on Google Maps. There's not much left of it and, again, there seems to be a misunderstanding whether it should be renovated or reconstructed—or if it simply needs more concrete. The fence around the historical site and the "no trespassing" sign protect the tower pretty well from non-archaeologists, but I'm not sure if those are the people to worry about.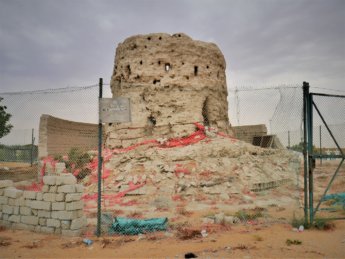 Since there was nothing to see, we decided to head for the center of Al Dhaid, centered around two roundabouts. We encountered a small cafeteria where we sat down for a masala chai. The owner seemed very happy with some foot traffic and we had a friendly chat. Business has been bad and lots of staff and friends have returned to India. After telling where we're from, he wonders if there are any Indians in Germany. We say there are and he asks if we can help him get a job in Germany, which he laughs off almost immediately with a 'haha, just kidding, unless?' attitude. On a different note, we don't even know how to get a job in Germany.
Al Dhaid Fort
Some other customers come to the cafeteria. We decide to not visit the Al Dhaid Fort – which is probably closed anyway – because we're tired. We finish our chai and Jonas goes to pay the guy, who first refuses payment. Jonas insists to pay the AED 2 for the two teas; the man had said that business was bad.
Then we walk past the fish market of Al Dhaid and the fruits and veggie market. We shortly consider buying new dates at the veggie market, but eventually stop ourselves since we're leaving for Umm Al Quwain in a few days. Isa had said that the bus stop to Sharjah is at the Etisalat shop on the roundabout. But when we arrive at the roundabout, there is no Etisalat shop. Jonas asks a guy at the big mosque where the buses to Sharjah go, and he says we have to walk to the next roundabout, which is where the Al Dhaid Fort is at. We might as well visit it from the outside. On the way, we pass another tower similar to the heritage fort, also in a poor condition.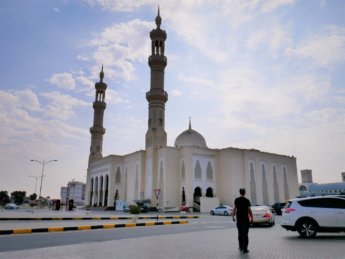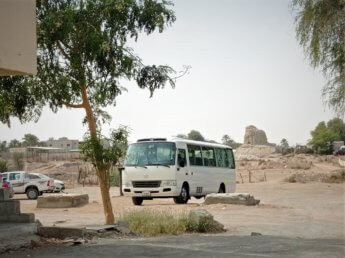 The clouds we had at the start of the day are now gone and we walk from shadow to shadow. Al Dhaid Fort appears to our right and we walk toward it, seeing that it's under restoration and not open for visits as expected. It's a pretty fort if you think away all the scaffolding.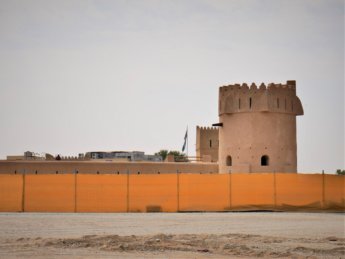 At this roundabout, there's an Etisalat shop and a bus shelter that doesn't provide any shadow on the benches underneath because it's winter and the sun hangs low in the sky. We don't see where a bus would stop because there's a load of taxis parked at this bus stop. Inevitably, a group of taxi drivers approaches us and tells us that they don't drive to Dubai unless we pay a lot. We say that's great because we're going to Sharjah, not Dubai. That changes the equation in a drastic way because these aren't your regular run-off-the-mill taxis; these are shared taxis.
It costs only AED 20 per person to ride in one of these to Sharjah. That's only AED 2 or 3 more expensive than taking the bus. We're willing to come, but only if the taxi leaves immediately and we don't have to wait for more passengers. Waiting for the aluguers in Cabo Verde to finally leave has scarred us for life. But these shared taxis aren't Hiace minivans, but more like soccer mom vehicles, so it doesn't take long to fill one up, especially during a pandemic. The driver says we'll leave immediately because with us two, the car will be full.
We arrive at the taxi and there are indeed six people in total, including us and the driver. All are wearing masks, yet it feels a little weird to ride with so many people in close quarters. But most of the ride is eerily quiet, making the single cough or throat scrape here or there stand out. We're back in Sharjah within 45 minutes. A large sticker in the window tells you exactly how much it costs when riding in a shared taxi from Al Dhaid to a dozen logical destinations. That's very organized.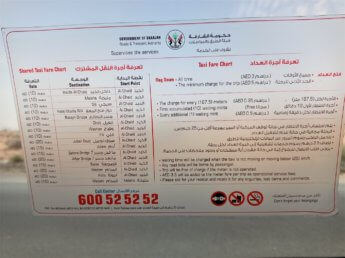 We get out of the vehicle before its final destination at the Al Jubail Bus Terminal and take another city taxi to our hotel. It's 15:15 when we arrive back at Spark Hotel.
We had a lot of fun.
Maps of Manama and Al Dhaid
Here is the map I made of my trip to Manama with all the routes and places of interest we dropped by. You can 'star' this map to save it to your own collection of maps and use it in the real world. Use the menu button on the left to make POIs and routes appear or disappear. Another map I can recommend is this adorable map of Manama.
How Much Did We Spend?
Without rounding up or 'tipping', we paid the following:
Taxi to bus terminal: AED 13.50
Bus to Masafi: AED 44
First ride with Isa: AED 20
Lunch including drinks: AED 21
Second ride with Isa: AED 30
Two chai masala: AED 2
Shared taxi to Sharjah: AED 40
Taxi within Sharjah to home: AED 13.50
Total: AED 184. Not great, not terrible. Transport was the lion's share of costs, which we could have saved on if hitchhiking was allowed.
Good Intel? Consider Buying me a Karak!
Bitcoin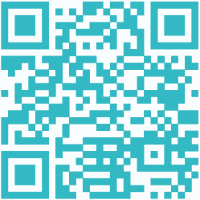 bc1q9a6w08a4gkx4gdvnh7w2vlkfzx4tlwfpfe6jm6
Open in wallet