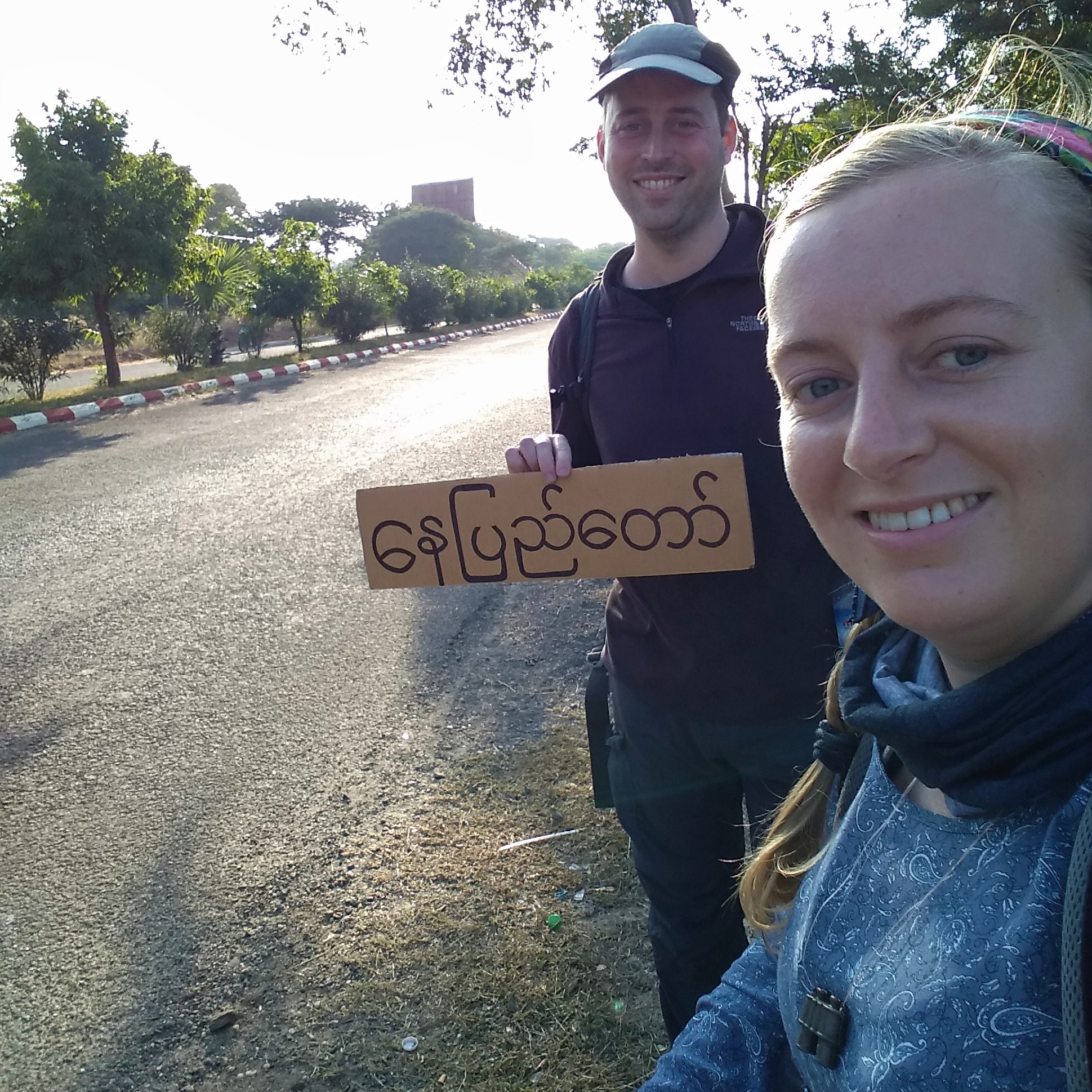 This happened on the 10th of January, 2020. Jonas and I hitchhiked from Nyaung-U – the town near the famous ruins of Old Bagan – to Myanmar's new capital city Naypyitaw. This was our first attempt at hitchhiking in Myanmar. We covered 260 kilometers by hitchhiking. Here you can find a price comparison of our hitchhiking journey versus taking the bus and here's the map of our route and points of interest.
Preparations to Hitchhike in Myanmar
I'd been preparing for hitchhiking in Myanmar for literal weeks. Back when Jonas and I were in Chiang Mai, Thailand, I made the first hitchhiking sign for Yangon (ရန်ကုန်မြို့ – Yangon Mhyut or simply ရန်ကုန် – Yangon). I was recovering from surgery, so making hitchhiking signs is a very good low-energy and movement activity.
That was my first time attempting to write with Myanmar's beautiful abugida and I got really excited about the upcoming trip after healing. The evening before departing Chiang Mai, I made three additional signs for hitchhiking in Myanmar: Myeik (မြိတ်), Dawei (ထားဝယ်), and Naypyitaw (နေပြည်တော်). These cover almost all the places we want to visit on our highly-planned itinerary.
We already knew before applying for the e-visa that we'd only get 28 days in the country. Considering Myanmar's size, this is not a lot of time. So we pre-planned almost the entire itinerary before arrival. It's not as spontaneous as I'd like, but without planning so much we'd probably end up overstaying our visa by accident.
The night before our first hitchhiking trip in Myanmar, we did a lot of research on other people's experiences hitchhiking. Additionally, we tried to find out how long the bus takes, how much it costs, and how often it goes as a backup. There wasn't a whole lot out there. We analyzed the map to find a suitable waiting spot and set an alarm for 6:45 the next morning.
Wake Up (Dis)Service
It was our third night in Hotel Thumbula. We woke up before the alarm went off and stayed in bed a little while longer. Then the room's phone rang.
Jonas picked up and had an awkward conversation of saying "Hello? Hello?" back and forth until they hung up. Five minutes later, the receptionist knocked on our door. Jonas got dressed and spoke with her.
"Your bus to Mandalay is here."
"We're not going to Mandalay."
"Hmm?"
"We're not going to Mandalay," Jonas repeats.
"Hmm," she said and left.
Five minutes later she came back with a note saying: "Have you not booked a ticket to Mandalay?" with the flyer from the bus in her hand to refresh his memory.
Jonas again told her "Nooo… we're not going to Mandalay. It must be someone else."
"Not bus to Mandalay?"
"Nooo," getting tired of this now. "We're going to Naypyitaw. Not Mandalay."
"Oh," she said. Then she left.
Rise and Shine
It was still a few minutes until our alarm went off, but by now we were both wide awake. I also got dressed and we walked upstairs to the breakfast rooftop. That's when we saw our first (and last) balloon over Old Bagan. The sun peeked a bit above the horizon.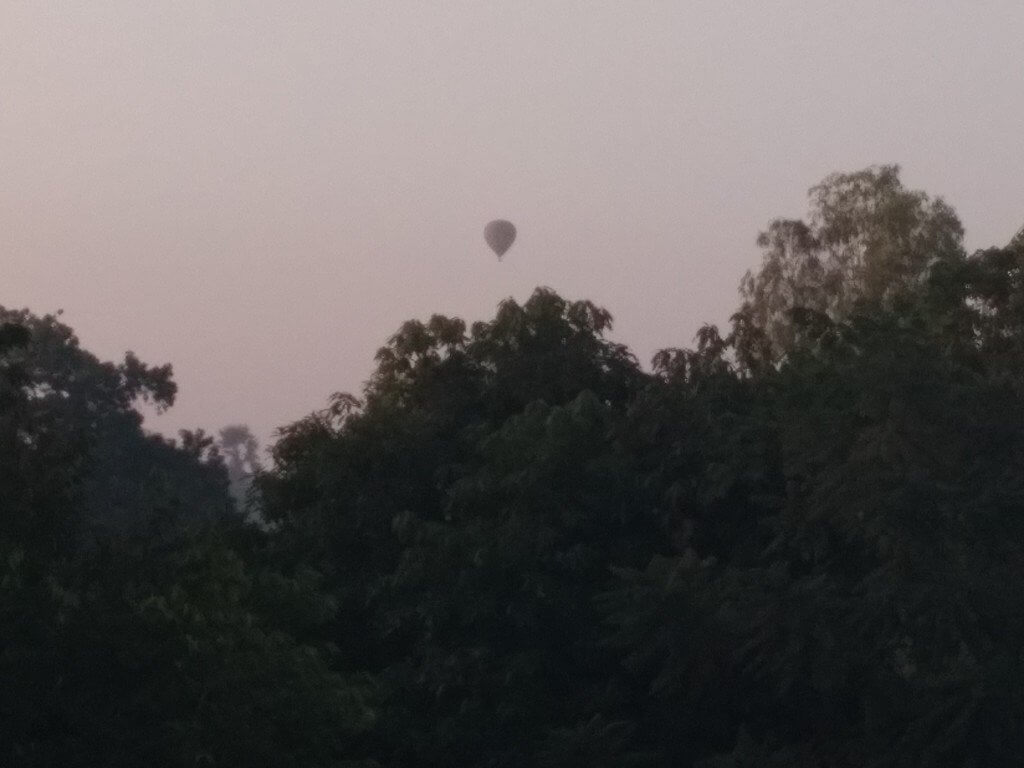 The kind breakfast people already looked fresh in their thanakha. Some men finished up their morning cigarettes. We got our usual coffee, water, fried noodles, and Myanmar-style falafel. The breakfast lady later spontaneously delivered us three amazingly fried eggs. Unfortunately, we couldn't finish all that food this early in the day.
We finished up the packing, left our room, and arranged a tuk-tuk ride with our receptionist lady. Toward the train station, but not at the train station. We knew we had to tell the driver again anyway once we got to our spot. Off we went through the city gate and beyond what we knew from our electric motorscooter trip through Old Bagan and Nyaung-U.
Also read: taking the train from Yangon to Mawlamyine
I held on tightly to my meticulously crafted hitchhiking sign.
Hitchhiking Spot #1 at Bagan Railway Station
The tuk-tuk driver first slowed down to drop us off at the bus station. We told him we're going a bit further, so he continued on. Dropping us off beside the road just across from the train station was a little confusing, but he complied with our strange request. Jonas paid the 7.000 MMK and said goodbye, but the driver hesitated. He handed me a small bottle of water and when I said we had water, he shook his head and waved his hands to tell us to really keep it. It was 8:30 and still fairly cool.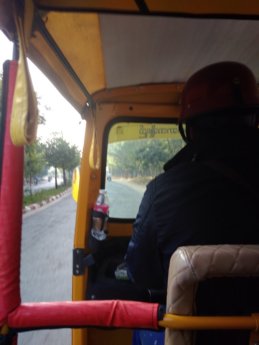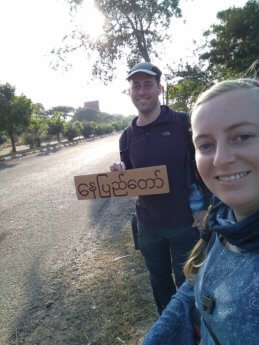 The hitchhiking spot really wasn't bad, in theory. There was a wide shoulder for cars to stop in, a good line of sight, and some shadow from a tree for us. The road here consisted of two parallel lanes, separated from the other direction by a tree-lined road verge. A small pack of dogs stared at us from some business down the road. One growled, but they eventually decided we were neither a threat nor a source of food.
There wasn't a lot of traffic. What passed us were mostly motorbikes, big buses, taxis, and small minivans for local transport. There was a variety of colorful license plates that hypothetically told us what kind of vehicle it is. Red license plates are taxis. Then we saw yellow, white, and blue, too. We had no idea what the latter meant.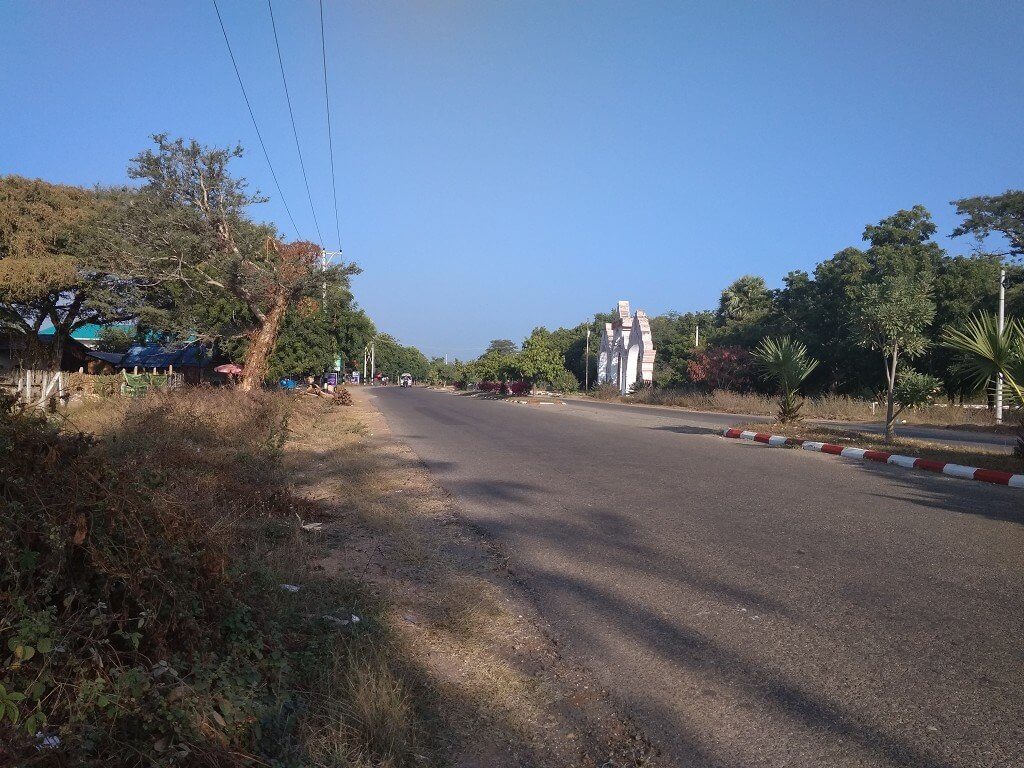 First, we focused our efforts on fancy-looking cars without red license plates. We held up the sign and did the 'pet the dog' motion to stop a car. Most people looked like they'd read and understood the sign (yay!), but no one stopped. One time, a minivan stopped, but we couldn't really tell where he was going or if he wanted money, so we thanked him for the offer and waved him goodbye.
Two curious women walked toward us to have a chat. They read our sign out loud and confirmed that the T in Naypyitaw is more like a D. They point towards the bus station, but we motion that we're getting to Naypyitaw step by step. By now, I'm doing the research into the following words and phrases:
"Meiktila" (မိတ္ထီလာ – pronounced more as Meythilah) the name of a good target city for switching rides. I double-checked the spelling via Wikipedia so I'm confident the Myanmar writing says what I intend it to say.
"For free?" (အလကား? – alakaah?) Reverse translated: "Free?"
"Free of charge" (အခမဲ့ဖြစ်သည် – ahkhamay hpithee) Reverse translated: "Free"
"Gas station" (ဓာတ်ဆီဆိုင် – dhatseetsayne) Reverse translated: "Gas station"
"Tollbooth" (သေဆုံးသူတဲ – thaysonthu tay) Reverse translated: "Tent of the Dead"
"Hitchhiking" (ကားလမ်း – kaahlem) Reverse translated: "Road:" or "Motorway:"
"Are you going to Meiktila?" (မင်းမိတ္ထီလာကိုသွားမှာလား။ – may Maythilahko thahmey?) Reverse translated: "Will you go to Meiktila?"
"Are you going to Naypyitaw?" (နေပြည်တော်ကိုသွားမလား – Naypyitawko dhor melahr?) Reverse translated: "Will you go to Nay Pyi Taw?"
I starred all of them in the Google Translate app to have them semi-handy when I'll need them.
After a while, we broadened our filter to more vehicles, including the local ones that carry boxes, agricultural goods, or bags of cement. Heck, I'd even like a ride with one of those vehicles with their engines on the front splayed out for the whole world to see. Jonas and I discussed getting another tuk-tuk ride to the toll booth 4.6 kilometers down the road. We decided to do that if things didn't change soon.
A small truck with three guys in it made eye contact and turned around 300 meters down the road where the verge ended and the road became just two lanes. At the same time, a minivan that would surely be paid stopped. We tried talking to them about going to Meiktila. The other vehicle with the three guys pulled up behind the minivan, but I didn't want to leave Jonas hanging in there lost in translation. First, the driver said hop in, but then someone in the car repeated Meiktila to him, after which he gestured that the next minivan behind him would go to Meiktila. The other vehicle had driven off by now.
We had waited there for 50 minutes. Cars had an opportunity to escape our gaze because it was two lanes. The fast cars were in the faraway lane. Time for a tuk-tuk to a better place.
Hitchhiking Spot #2 at the Toll Booth
We found a tuk-tuk driver who probably had other plans, but was happy to drive us to the toll booth for 5.000 MMK. This would have been a preventable expenditure had we just gone to the toll booth to start with, but you live and you learn. But it's nice to be in the position to hitchhike because you primarily enjoy hitchhiking; saving money is kind of an afterthought.
The tuk-tuk driver confidently squeezed his vehicle past the beam gate to drop us off on the side of people who paid their toll. We got out of the vehicle, gave him the money and waved him goodbye.
Toll booths force cars to stop completely, so standing right behind them gives people a very good chance to take a good long look at us and our sign before they decide whether they can/want to take us.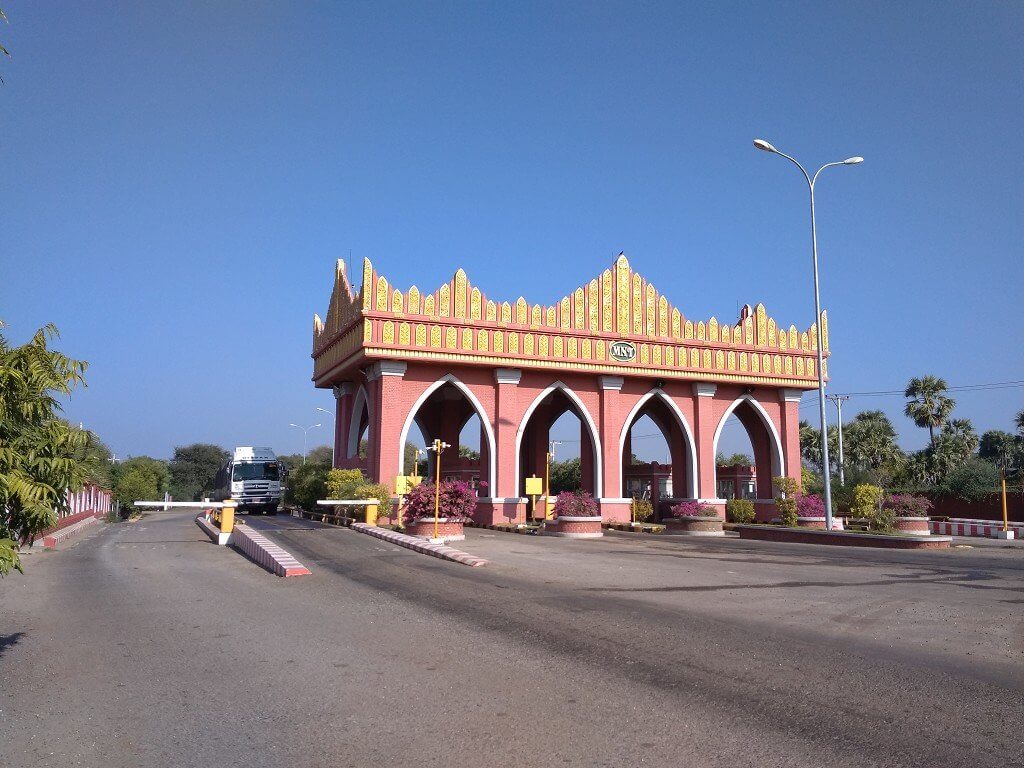 It also gives us more time to read their license plates. The plates in Myanmar tell the city of registration of the vehicle. YGN stands for Yangon, MDY is for Mandalay, BGO is for Bago, and Naypyitaw..? We hadn't seen any license plates with a letter combo that could stand for Naypyitaw, yet. But I'm sure we'll recognize it when we spot one.
We took up a spot after the payment terminal between the two driving directions beside another green road verge. It was 9:30 and the sun is gaining full power. We had to watch both lanes of traffic to not step onto the road, but we had a prime view of the drivers. There were four lanes at the toll booth: the one we took with the tuk-tuk that's free, one that is for trucks and also seems to be a weighing station, another that's for cars but is closed, and then the one closest to us that has private cars and is open. It really doesn't get better than this.
All people react to our sign. Many people twist-shake their hand to indicate "no" while smiling. A lot of cars are full of people – which is a good thing, of course. After ten minutes of waiting, a very large Hilux with three guys in it makes eye contact and points to the right that they're going to pull over. We grab our backpacks and cross the road to meet them. The young guys speak a bit of English and they tell us that they're going to Yangon, as their YGN license plate says.
We put our backpacks in the trunk, which has a cage with sun protection built around it and a thin mattress in it. Jonas hops in first, and I quickly tell him to take his shoes off on the mattress. I had a feeling about this, and the guys approve and confirm that if you're sitting on the mattress, you indeed need to take your shoes off, you freak. Stumbling with untied shoes, I also hop in and take them hiking boots off. I really bought the wrong kind of hiking boots for Asia; you have to take your shoes off everywhere and mine take an awkwardly long time to take off.
The guy closes the trunk and asks if we're OK. We say everything is perfect and he tells us to relax and go to sleep. Oh, and if we need something, we just need to knock on the window so they can stop. We drive off. This is happening!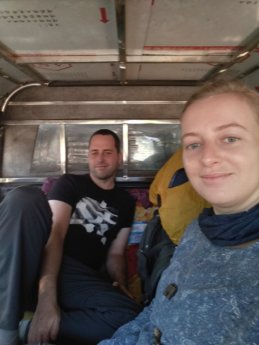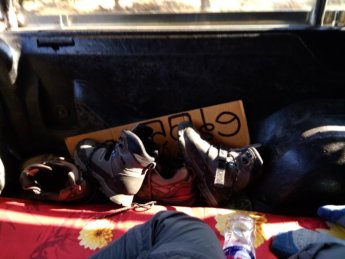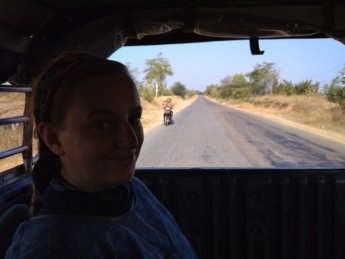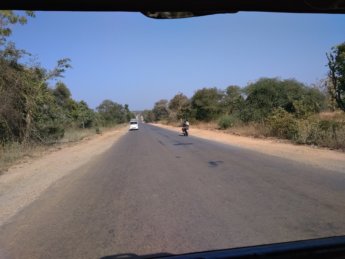 Driving Off to Kyaukpadaung
We make two short stops at some roadside shops right after departing the toll gate. The guys get a big amount of water, pop soda, snacks, candy, and a few handicrafts for their people back home. I wonder what kind of trip they'd gone on, but we're in the trunk and not really in a position to ask questions. They ask if we also want to get out and get some stuff, but we decline the offer. We've got plenty of water to survive the journey, thanks to the first tuk-tuk driver. They show us how to close the sides of the pickup cage tent if we want even more protection, but we like to keep it open. The road is a little bumpy, but we're quite comfortable in our cozy pickup truck. The truck produces quite a lot of soot, so we put on our facemasks.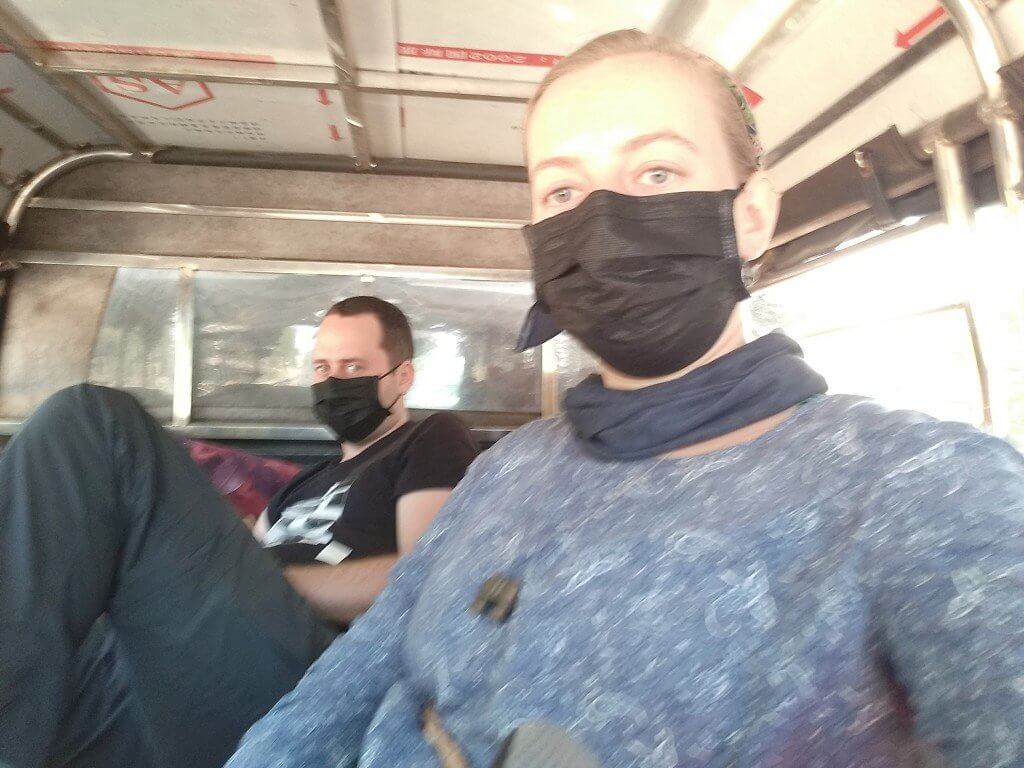 Next, we drive the first big distance to a town called Kyaukpadaung (ကျောက်ပန်းတောင်း) and come past its small fire station. That's the big town we were worried about getting stuck in if we couldn't get a ride to Meiktila or Naypyitaw. We make another stop there at a shop near a busy junction. Lots of people stare curiously at us sitting in the trunk and not a fancy air-conditioned minivan. A young woman from the shop approaches us and points to a bag of chips she's selling. We greet her with Mingalaba and follow up with djaaysubaa while shaking our head in "No". She nods her head and smiles in "OK". That worked pretty well!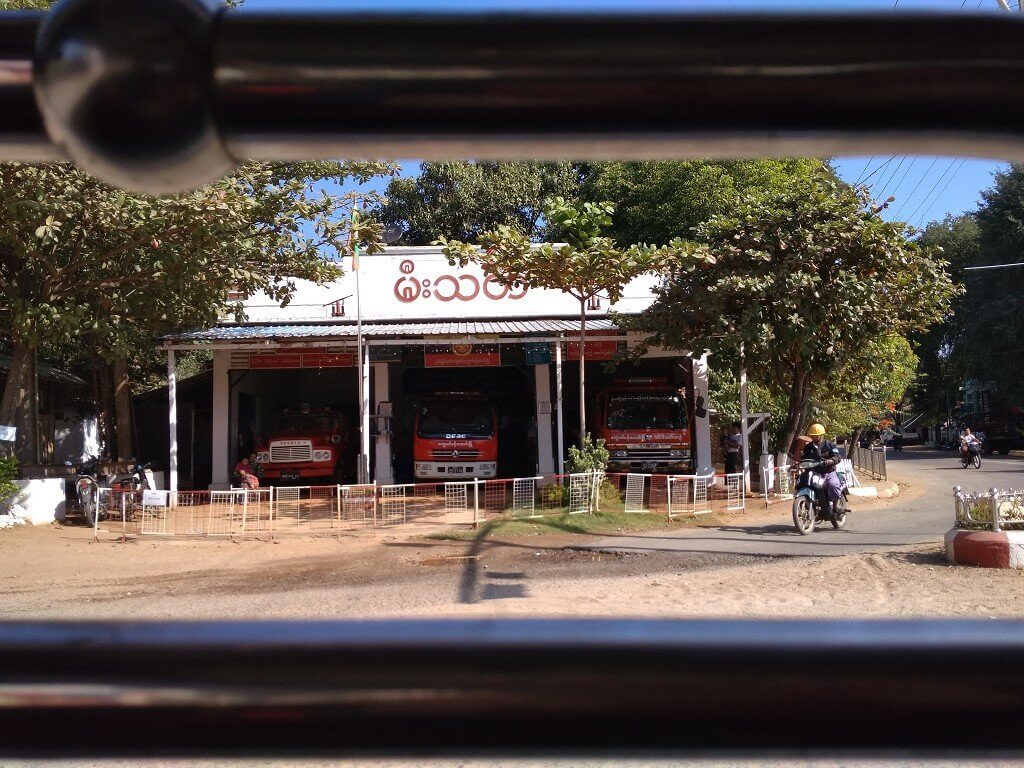 We're getting ready to leave, and one of the drivers puts a bag of sweet potato chips through the cage to give it to us. We say we don't want any, but he insists on it. So we accept the sweet potato chips (actually my favorite) and thank him.
We drive off through town and take a bit of a detour around the city center. At some point, the guys get a little lost and drive directly on the road to Mount Popa – a popular pilgrimage site and hiking destination on an extinct volcano. I would have loved to go there, but we had already booked our stay in Naypyitaw a couple of weeks prior. They notice their navigation error and turn around to get back on the road to Meiktila and the Yangon-Mandalay Expressway.
Views of Myanmar's Countryside
The next stretch of the journey takes us through a very pleasant landscape with Mount Popa besides or behind us. The road winds up and down only slightly and doesn't trigger any motion sickness in Jonas. There are telephone towers every couple of kilometers. When looking out the back, we nearly always see a telephone tower somewhere, much like how in Old Bagan you can see the spire or finial of a temple in any direction you look. Only every now and then there's still a golden-spiked pagoda.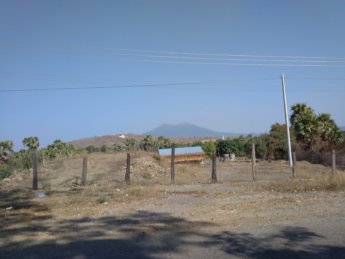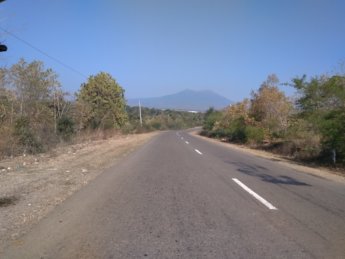 Phone coverage in Myanmar is still fairly new. I spoke to someone who visited the country ten years ago, who told me that there was no mobile reception and no ATMs anywhere in the country. That's… very different from today.
There was only one government-owned telecommunications provider named MPT. Their monopoly led to extremely high prices. In 2013, this monopoly disappeared and competitors entered the market. The prices dropped drastically and the percentage of the population that had access increased from 10% before liberalization to more than 50% in 2015. For us, the SIM cards and data packages are really, really cheap, but for locals, they aren't.
While Jonas mostly naps, I spent some time in the trunk scrolling on my phone with near-constant internet coverage. I know the areas between Mandalay and Bagan (which we did by river) and Bagan and Naypyitaw are still quite populated, but I'm nothing but impressed by the super-fast development in Myanmar. Basically everything we read about the mobile situation in Myanmar was outdated by the time we got here.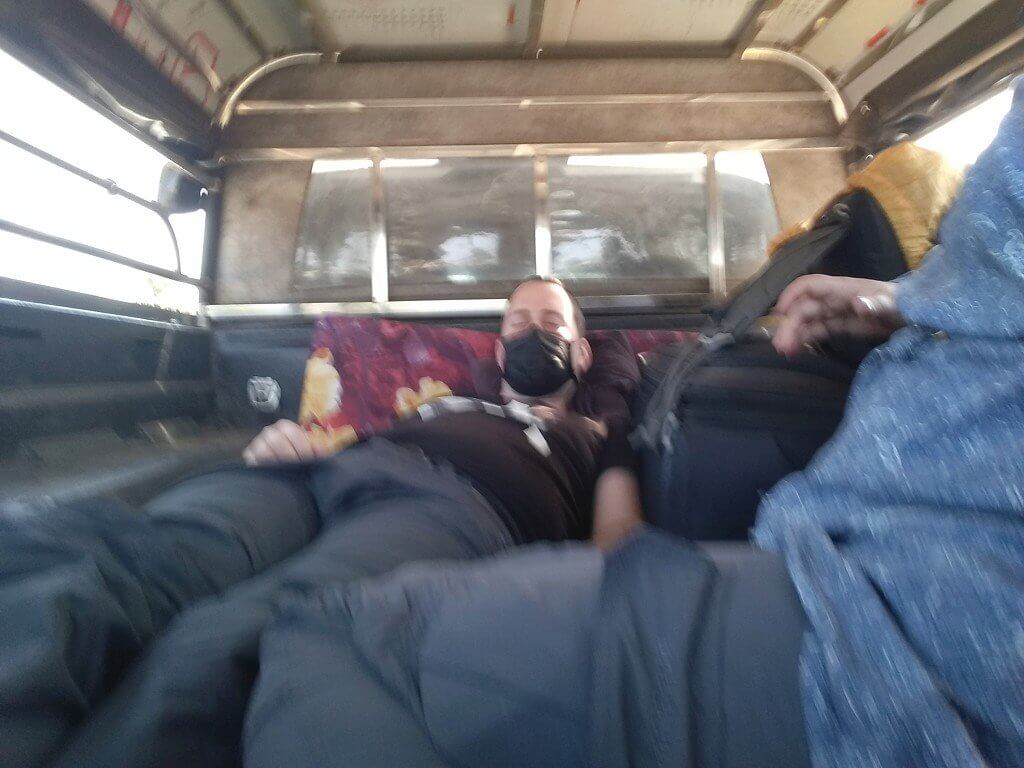 We're one of the faster vehicles on the road. Facing out the back, we're constantly overtaking motorbike drivers who are simultaneously having a phone call. They often put their vizors over their faces when our vehicle passes. Our driver beeps a lot to make sure everyone knows we're coming. The houses next to the road are mostly made of weaved bamboo. The closer we get to the highway, the more we see small concrete houses—some of them still wet and under construction. After the second toll booth on this road, we hear the horn of a train and I look out the window to see the slow-moving train blocking the tracks. Myanmar's government is still expanding the railroad tracks in every direction.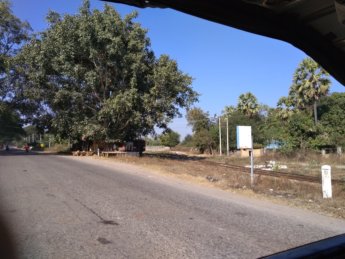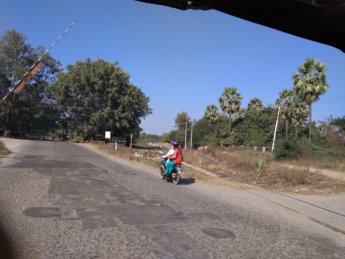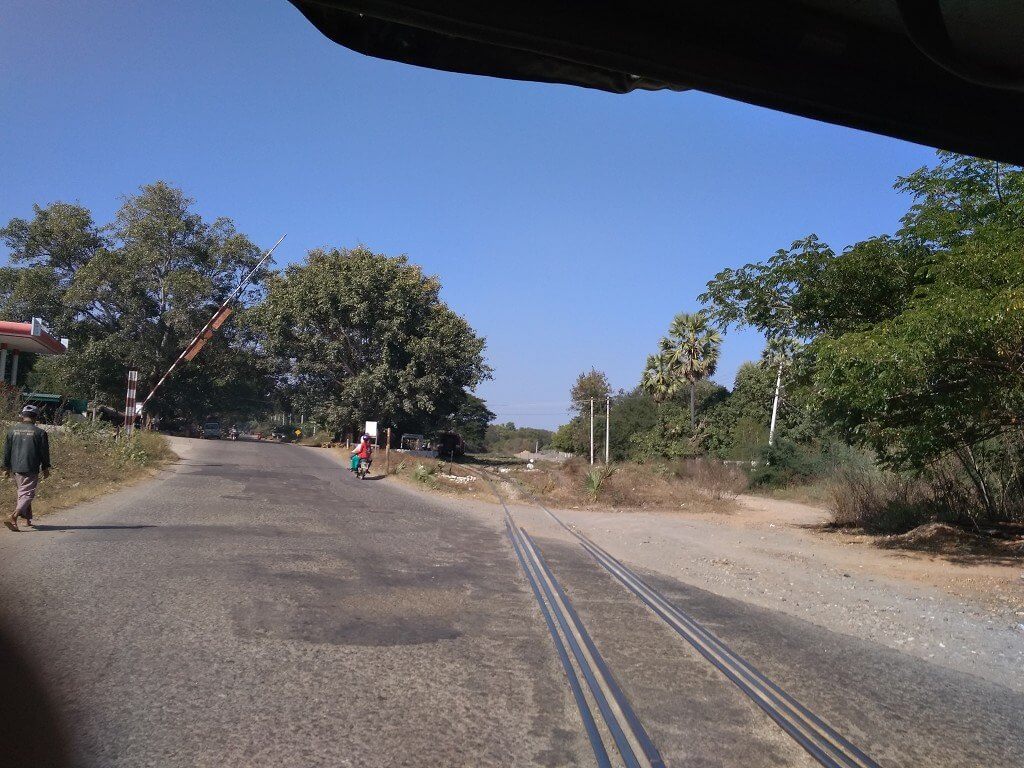 Things here are really moving faster than imaginable, but they aren't moving symmetrically. It reminds me of the motto of the brand Myanmar Lager Beer: "Brimming with optimism."
We drive off the main road and I'm thinking we're stopping, but we apparently need to take an alternate road over a temporary bridge. On the other bridge, there are many construction workers doing their thing. The river is currently dry, but I can see how this bridge needs to be in perfect working order before the next monsoon coming May.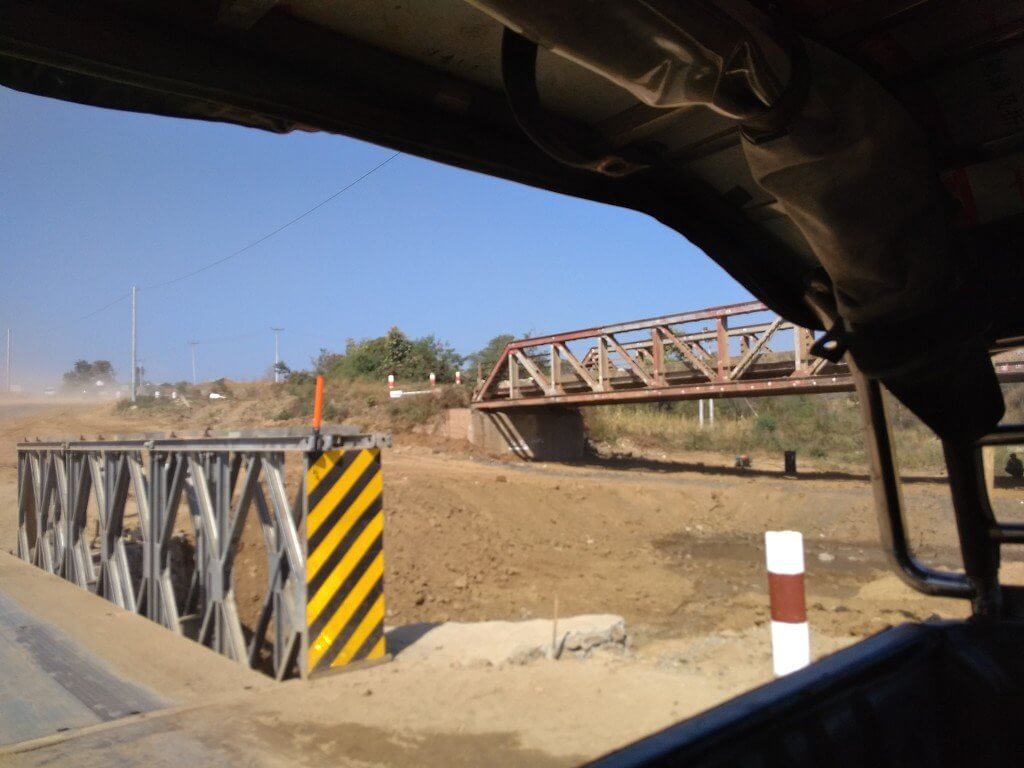 We're pretty sure the guys aren't expecting money, but we aren't completely sure. So Jonas makes a little calculation with my data from the Wiki page of the expressway how much would be appropriate to offer for gas and toll costs. He calculates that 15.000 MMK seems appropriate.
It's a little after 11:00 when we overtake an older white couple on bikes going uphill. The black soot from our vehicle sputters in their faces. I mentally apologize for the lack of a filter on this huge vehicle. I respect the cycling community a lot, but I… can't understand it. It's so much more dangerous than hitchhiking. And people always look miserable while doing it until they arrived somewhere. I'd really love to do a long-distance cycling trip one day too, but where? Certainly not here. Oh, and certainly not uphill.
Feel Express
I really need to pee by now, but we're getting very close to the junction of this road with the Yangon-Mandalay Expressway that it's better to wait. We pass a second hydroelectric dam system as we approach Meiktila and I'm confident the guys will want to stop at a highway service station.
We drive onto the concrete on-ramp of the highway and pull into the toll booth. Then our driver directly pulls off the highway at the first rest area. There are a few restaurants and a market along with a gas station. We park in front of a restaurant called Feel Express that I'd spotted on the map weeks before this trip.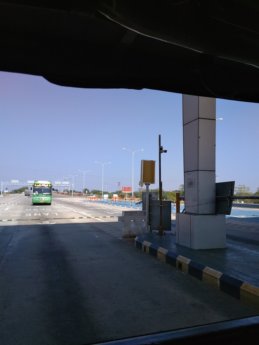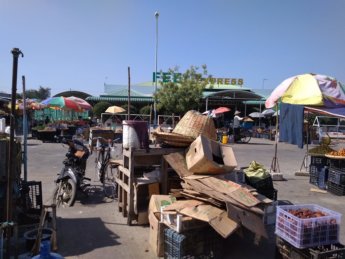 The main guy opens the trunk and we put on our shoes. He says they'll take a break for 30 minutes and asks if one of us wants to stay with the car. We will take turns. Now I dash to the bathroom to relieve myself. The best news is that this relatively fancy stop has seat toilets on offer. What a blessing!
I see in the mirror that my face is very dirty; I guess that the soot has also backfired onto us. For the next five minutes, I stand there at the sink, the soap, and the mirror returning my face to normal cleanliness with a few bystanders staring. Wearing the face mask is totally justified.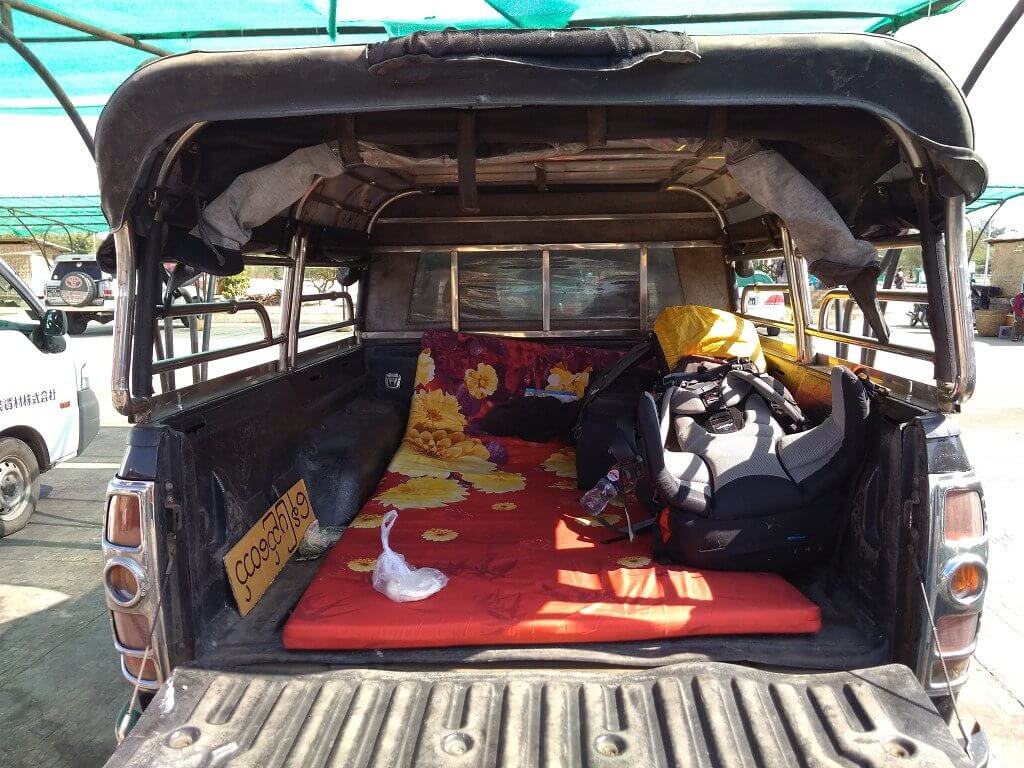 Jonas goes next and I wait beside the car. A lady who operates a kind of whiskey stand signals that she has goods to me, but damn, it's too early for that. Jonas returns and is looking for food. I tell him to go out and find some for himself. He returns with some fried noodles for himself and a thick flatbread for me. I thank him and grab the bread. "You got me a cheese?" I say. "No, it's bread. Very expensive bread for €0.90. Eat it."
I open up the plastic bag and squeeze the non-bread bread that's absolutely not reacting to pressure like a bread. I take a small bite and tell him it's cheese and that's probably why it was so expensive. Jonas also takes a bite and accepts that the bread is not bread, but cheese indeed. I thank him for the cheese and put the cheese away because I'm not feeling like eating a whole-ass cheese in the parking lot. It's also a little sketchy that the cheese resembled room temperature enough to make Jonas think it's bread. Perhaps in Naypyitaw, we shall eat it the cheese with a toilet nearby.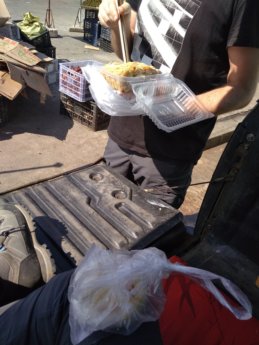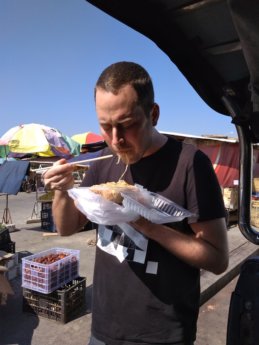 Hitchhiking the Yangon-Mandalay Expressway to Naypyitaw
Our drivers return and Jonas gobbles down the last of his noodles. One of the guys tells him to slow down and that he can take his time. We haven't really had much of a chance to chat with our drivers, but they've been really concerned with our wellbeing out in the back. We take off our shoes again and drive off toward Naypyitaw and Yangon. Their journey today is more than 600 kilometers and ours only 260. But the existence of the highway does cut down the driving time by a lot. We hop in the cargo bed and take our shoes off. The guy closes the trunk and we drive off to the big cities in the south.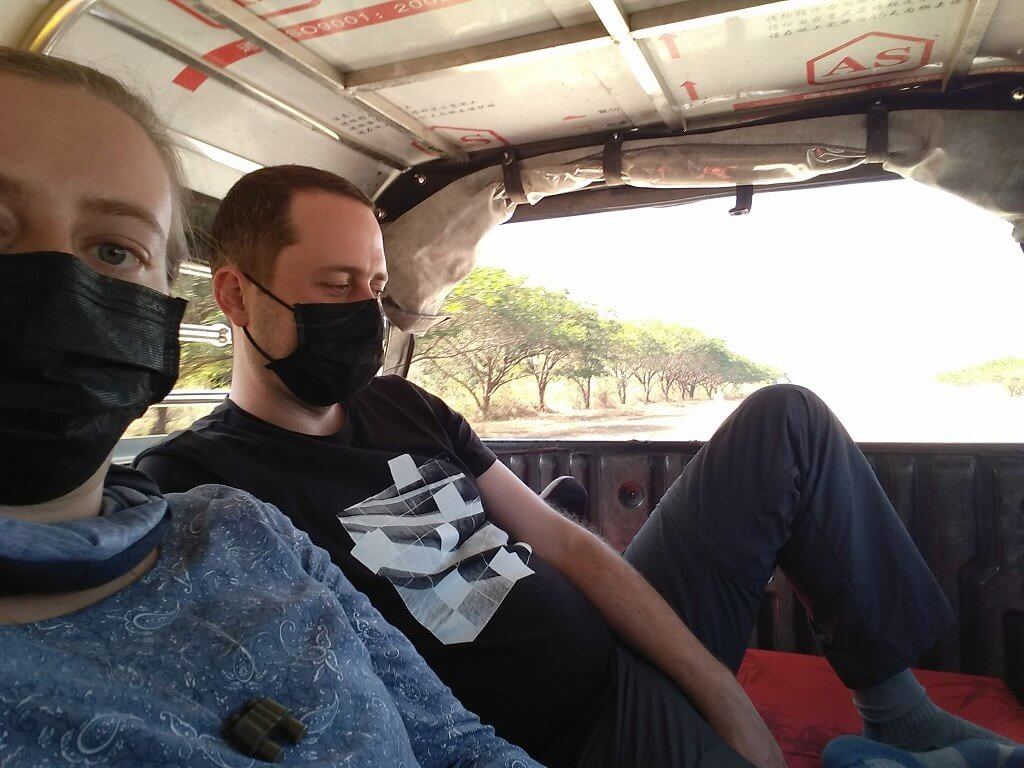 The Yangon-Mandalay Expressway is again one of those controversial projects in Myanmar. The 587 kilometers of concrete road apparently doesn't meet international standards, especially the ones concerning safety. It's even been dubbed "death highway" due to the high number of lethal motor vehicle accidents. Yikes.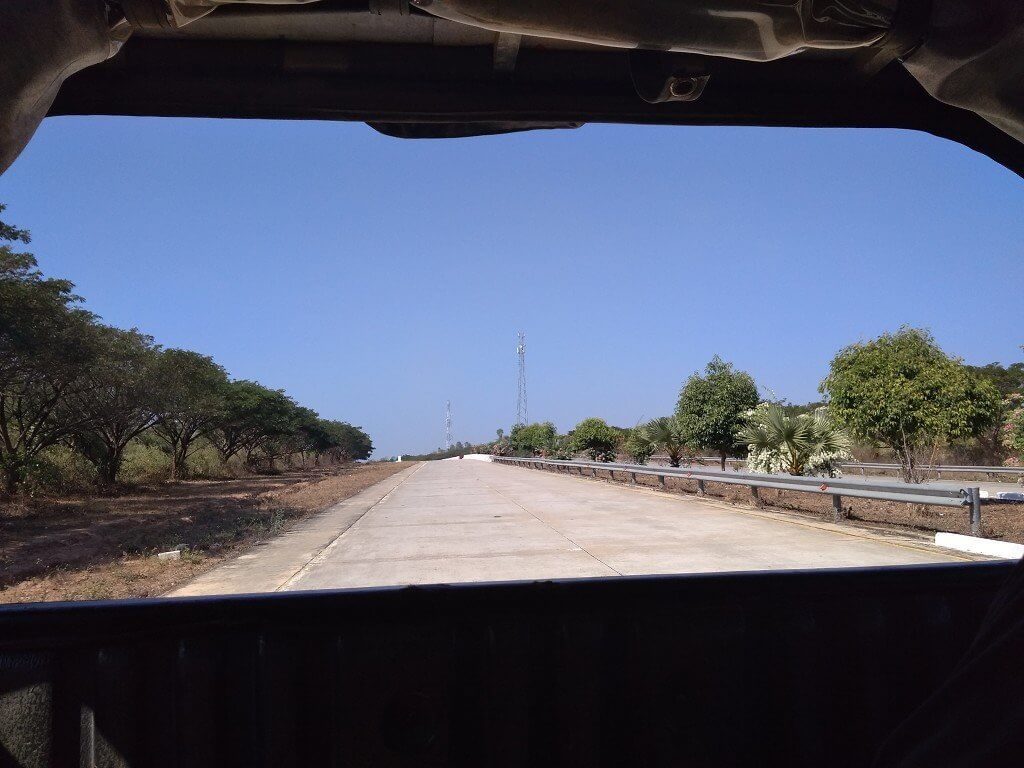 This time I take a nap on the mattress while Jonas sits up. I charge my phone on the power bank as well. We cover an enormous distance in very little time. By the time I awake, we're already really close to Naypyitaw. It's time to pack up our stuff so we can exit the vehicle gracefully when we stop. We haven't discussed with the drivers where we will stop, but I suspect we do it either at our highway exit to Naypyitaw, at the toll booth, or at the rest area behind the toll booth. These three places are all within 500 meters of each other.
They stop their car at the highway off-ramp. There's so much space on this highway that it's really no problem to stop here in the daytime to let some hitchhikers out. The guys help us and our stuff out of the trunk. The guy points to the loop down and the direction of Naypyitaw and asks if we've been there before. We say no, but we have a map so we will find our way. He suggests we can take a motorbike taxi from here to the city. He asks, "Where are you from? Britain?" and we say we're from Holland and Germany. He smiles.
Jonas offers them 15.000 MMK for gas and toll. The three guys all don't want it and tell Jonas to keep it. This confirms it was a real hitch. We thank them for the ride and their hospitality and repack some of the empty water bottles in my backpack while they get back in the car.
One guy sees we're dealing with water and gets out of the car and gives us a bottle of water. We show our full bottle of water, but he insists we take it: "No, keep it. We have so much." We thank them again and wish them a pleasant journey to Yangon.
The Last Stretch to Naypyitaw Hotel Zone
We prepare to walk down the loop with our backpacks in the scorching sun. I changed my headband for my cape hat and I'm looking forward to the shadow under the highway bridge. I point out the miles and furlong signs on the highway to Jonas. We talk about what to do next.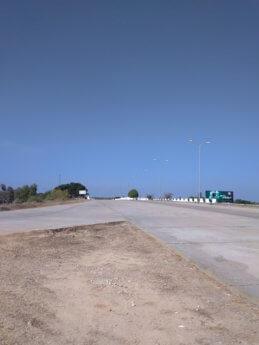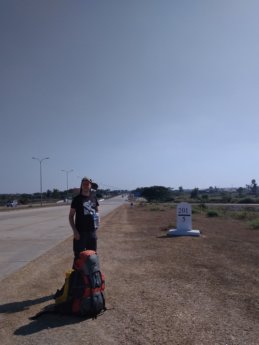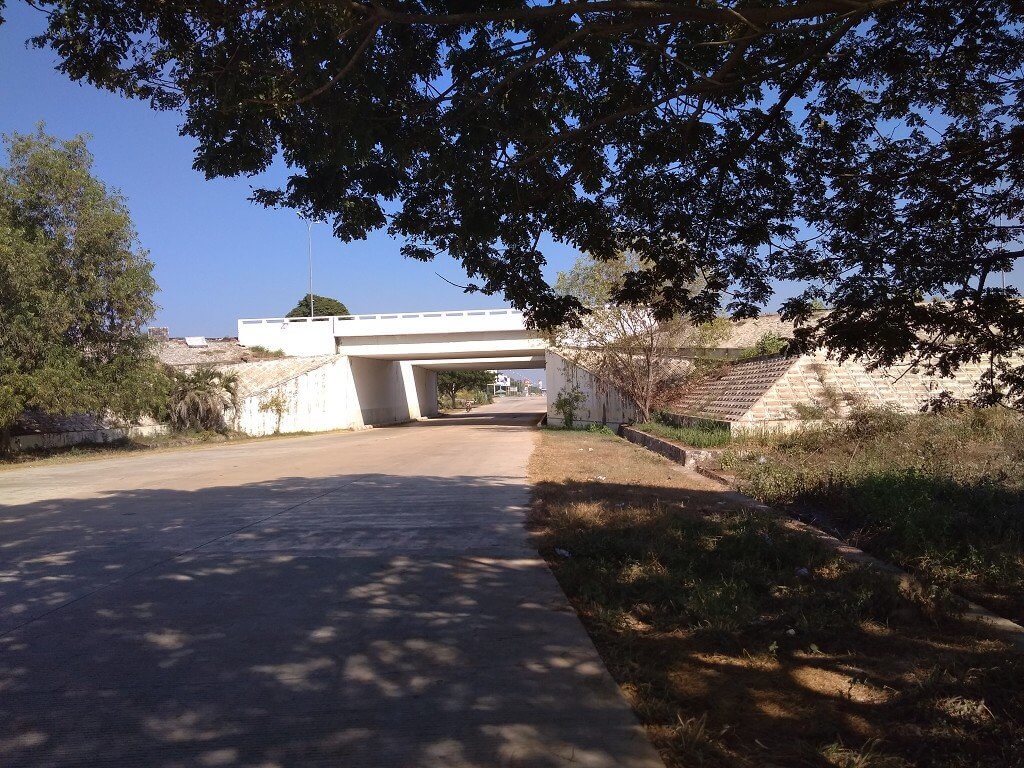 "I'm very happy we hitchhiked," I say. "We can take a taxi for the last 12 kilometers if you want, or try to hitchhike it from that checkpoint.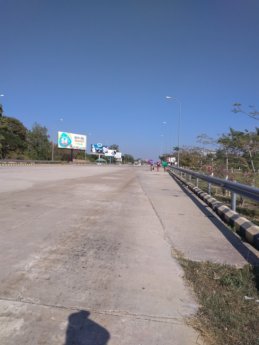 There's a checkpoint in the distance where cars have to stop before they enter Naypyitaw. We walk there behind some local women carrying umbrellas and say hi to the man in uniform. There's some shadow, so we drop our backpacks and think. There's a touring bus down the road with engine problems. A lot of people are gathering behind the vehicle to see if they have any success in fixing the issue. The people there see us and smile.
We try to get a hitch with the slowed-down cars at the checkpoint. Showing them our signs saying "နေပြည်တော်" (Naypyitaw) is a bit obvious now. They smile, but most of the cars are full. After five minutes, the checkpoint official comes to us and asks us if we're going to Naypyitaw. We say yes and then he left.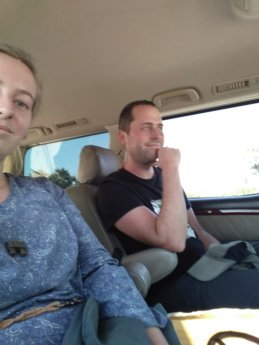 The troubled bus seemed to have been fixed and the bus driver approaches us. "I would take you, but the bus is full," he says. "I'm sorry." We tell him it's no problem and not to worry. Then a taxi pulls up. The bus driver helps us talk to the taxi driver about going to the Hotel Zone in Naypyitaw and Jonas accepts the expected price of 10.000 MMK. We put our backpacks in the trunk, wave the bus driver goodbye, and get into the leather-seated, fancy-ass station wagon of Indian manufacturing
We check into the hotel room at 14:30 and urgently need to take a shower. I'm very happy.
Comparison of Hitchhiking vs. Public Transport
Door-to-door time of our trip: from 8:00 till 14:30 = 6 and a half hours, including a half-hour stop at the highway rest stop.
Door-to-door hypothetical time of taking the bus: 20 minutes tuk-tuk ride to the bus station, 6-hour bus ride (probably without stop), 20 minutes in a tuk-tuk/taxi from the bus station to the hotel = 6 hours and 40 minutes travel time.
Price of our trip:
7.000 MMK first tuk-tuk ride
5.000 MMK second tuk-tuk ride
10.000 MMK for the taxi ride to the hotel
= total of 23.000 MMK
Price comparison with the bus:
Tuk-tuk ride to the bus station: 7.000 MMK
Bus ticket per person: 17.600 MMK (so for the two of us that would have been 35.200 MMK)
Tuk-tuk/taxi ride from Naypyitaw bus station to the hotel zone: no clue, but probably from 3.000 for a tuk-tuk and going up to 15.000 for a taxi.
= total of 45.200 MMK minimum expenditure. But more likely 50.200 MMK.
There's supposedly also a train from Bagan to Naypyitaw that leaves once a day. It goes to either the station named Lewe (9 hours 27 minutes) or Pyinmana (9 hours 55 minutes) and costs between 10.000 MMK and 18.000 MMK per person according to Rome2Rio, though I believe the price is actually much lower. But let's say two tickets cost 28.000 MMK. You'd still have to add taxi/tuk-tuk costs to and from the train stations, which could easily rack up 7.000 MMK in Bagan and 15.000 in Naypyitaw, putting the estimate at 50.000 MMK for a very long train journey. It's still quite a mystery train as I couldn't find a departure time or any tangible proof this train even exists.
Video
Hitchhiking to Naypyitaw Map
Informative Read? Please Share it!