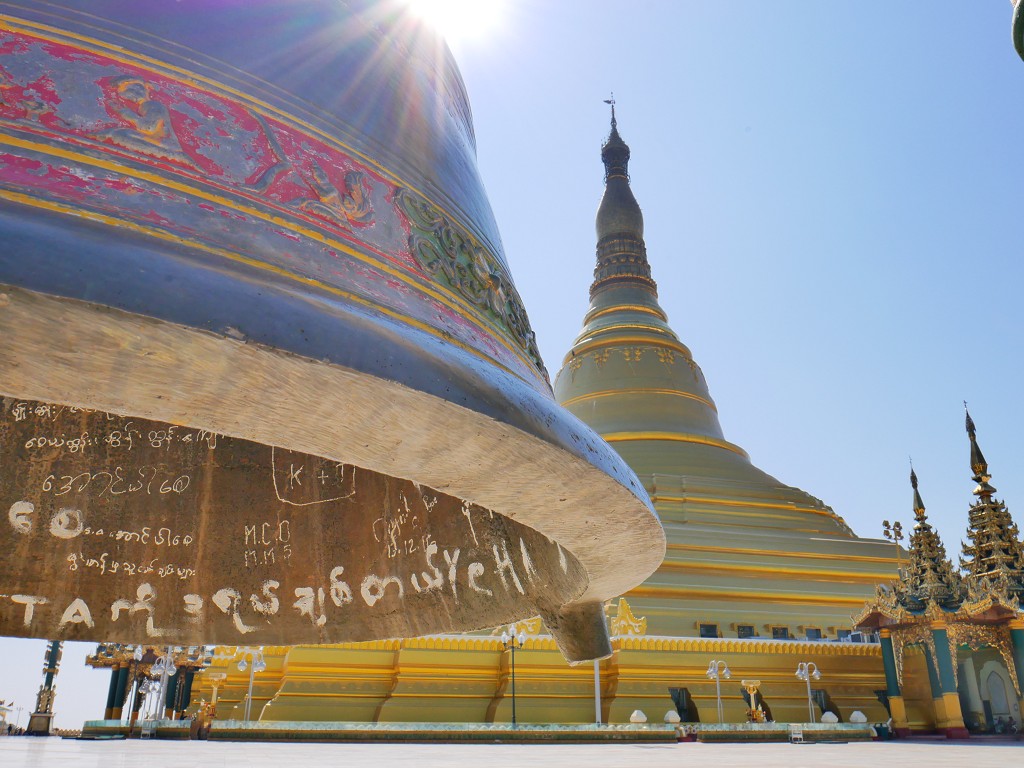 We were in Naypyitaw from the 10th till the 14th of January 2020. We worked from our hotel, took a taxi, and rented a motorbike for one day of exploration.
A Brief History of Naypyitaw – a Planned City
What would you do if you could design a city from scratch?
You'd try to make it as perfect as possible, obviously. You'd try to think of everything. As someone who likes to play videogames with city planning features, I like to get things right for the sake of my sims.
Back in 2002, the military government of Myanmar had it with its densely populated capital city Yangon. Secretly, they decided to use an empty area between Yangon and Mandalay to build Naypyitaw from scratch. In 2006, they inaugurated the planned city and moved the official capital from Yangon to Naypyitaw. But the city wasn't really finished yet after four years; they continued building.
In 2011, after elections, the military government was dissolved and Myanmar opened up ever so slightly. The regime change came with a lot of reforms, including those that make Myanmar easier to visit for foreigners. In 2012, they 'finished' building Naypyitaw—though as a visitor I must say that construction keeps going on well into January 2020.
The new government basically inherited a very large city that nobody really lived in. They stuck to the decisions made by the previous government, which still wields a lot of (military) power from behind the curtains. State counsellor Daw Aung San Suu Kyi encouraged foreign countries to move or open up their embassies in Naypyitaw in 2018. (Read on to see how that is going.)
Nay Pyi Taw translates to "the abode of kings" and I must say… they're not wrong.
Day 1: Orienting Ourselves
Friday the 10th of January.
Naypyitaw's Hotel Zone
As a foreign visitor, you'll be required to pick one of the ~27 hotels in the designated Hotel Zone of Naypyitaw. There's a variety of prices and facilities, but they all start at about €30 per night. We booked one at the Vegas Hotel for four nights.
There is so much capacity for guests at the hotels in Naypyitaw, but almost no visitors. This is because the city has organized several big-deal events in the past, such as the 2013 Southeast Asian Games, the 24th and the 25th ASEAN summits in 2014, and various business conferences. As long as you don't visit Naypyitaw during a major event, chances are you'll be the only guest in a hotel.
You won't need to wait in line at the breakfast buffets, where the staff often outnumbers the guests. You'll encounter amiable staff that's just craving something to do to fight the boredom. So don't fear that you're bothering them; they'll likely be happy something stimulating is finally happening.
One way that showed us that Naypyitaw is an optimistic city was at our hotel. Prominently perched between the reception and the elevators was a scale model of what the Vegas Hotel will eventually become, provided that the investments continue.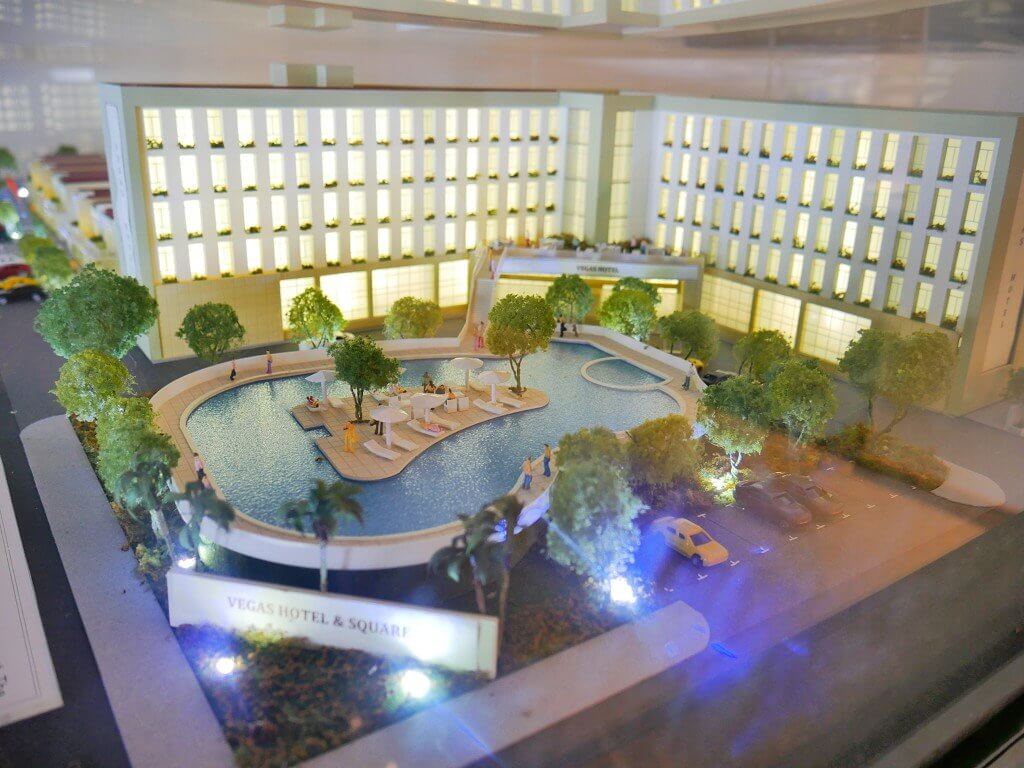 The 'square' outside the hotel will become a pool area connected by stairs from the large balcony. Behind the hotel (southwestward), they'll open up a vibrant night market with all of Myanmar's street food delicacies, but a sanitized version, evidently. There are little model puppets, tiny humans that are enjoying the shit out of the Vegas Hotel and by extension Naypyitaw.
As of now, the night market is a mostly plot of land occasionally grazed by long-horned cows. A few bunkhouses for the hotel staff bleach in the burning sun. And the Vegas Square is a well-maintained lawn overshadowed by a large telecom tower. Myanmar might brim with optimism, but this might just be a pipe dream.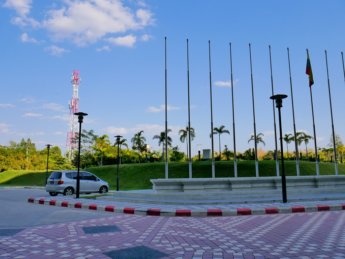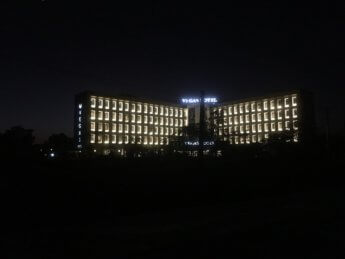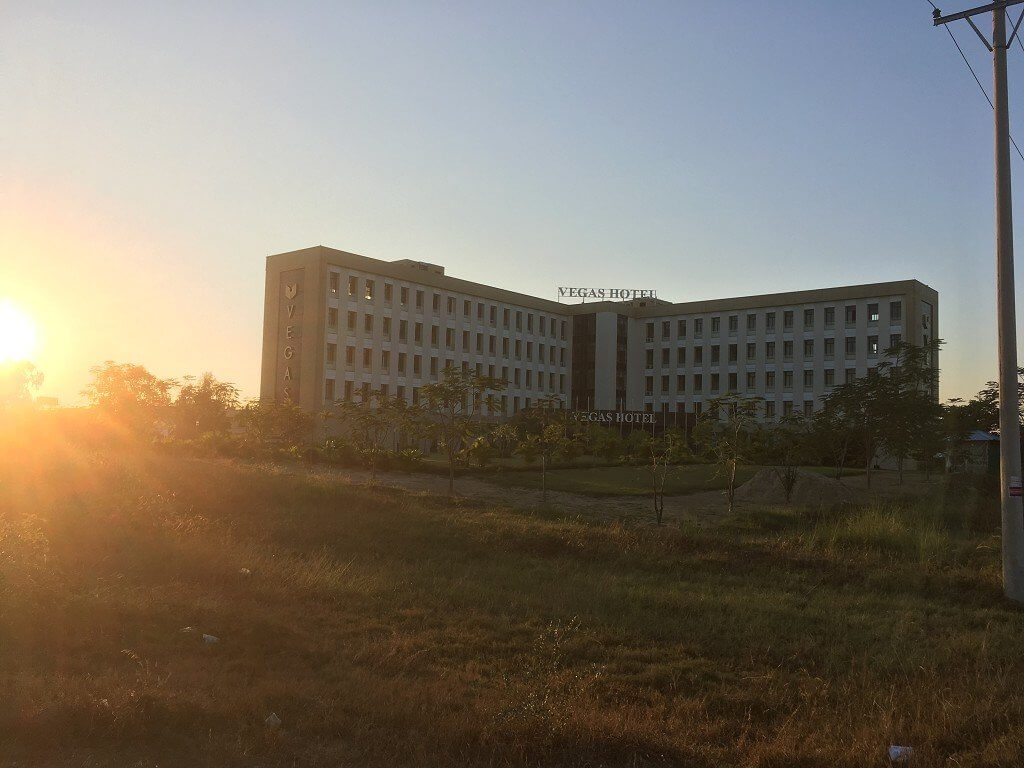 A Lesson in Walkability
After hitchhiking from Nyaung-U (Old Bagan) to Naypyitaw, we checked into our room at the Vegas Hotel. When we went out to eat, we already noticed the incredible missed opportunity by the urban planners: there are no sidewalks and no street lights.
Our 500-meter walk from the hotel to 'The Rich Dining Restaurant' took us on a stumbling hike through stabby bushes and rival packs of dogs. Luckily, the food was so delectable that we'd forgotten the pain of the journey to get there through the ill-defined desire paths.
The return trip through the darkness by torchlight was even more momentous; the sounds of barking, breaking, and the subsequent smack of metal and plastic on the concrete road, human groans, and canine yelps told us there had just been a crash. We hurried across the road and used our flashlights to stop traffic around the two young guys who were in pain but doing okay.
Mysteriously, we were not even the first ones to arrive at the scene—an old man in longyi appeared out of nowhere after we crossed the road. We waved at traffic with our flashlights, and another motorcyclist stopped and parked his bike in a way that lit up the scene for all traffic to come. The old man and the motorcyclist helped them up, and Jonas asked if they were okay. One of the casualties shook Jonas' hand before driving off into the darkness again with his moaning buddy.
I heard a dog cry in the distance.
Back at the hotel, we prepared to make a visit to the other parts of Naypyitaw. This short hike apprised us that it was going to be pretty difficult to navigate this city without a vehicle.
Day 2: Searching for Life
Saturday the 11th of January.
Naypyitaw City Hall
The next day after working for a half-day, Jonas and I went downstairs to ask the receptionists to arrange a taxi for us. They were happy to do so and asked us where we wanted to go. All while pointing at the map, I said to City Hall, and then to the Thapyagone night market. She quoted a price of 8.000 MMK.
Our taxi came and we drove to City Hall without a problem. I knew that taking photos of buildings here would be suspicious at best and criminal at worst. When we arrived, there were three guards relaxing in the shadow and I knew it would probably be a no. I took a photo outside the gate, painted in the Myanma tricolor before closing the door.
The uniformed men were very happy to see us, but also wary about the purpose of our visit. I asked if we can go in and approach the building, which was a solid 700 meters away from us. (I should have brought glasses.) That would be a no since we were there outside of operating hours. I made the shape of a roof with my hands and said I liked it, and if I could at least take a photo from here. That was okay and I thanked the guy with a chayzubaa.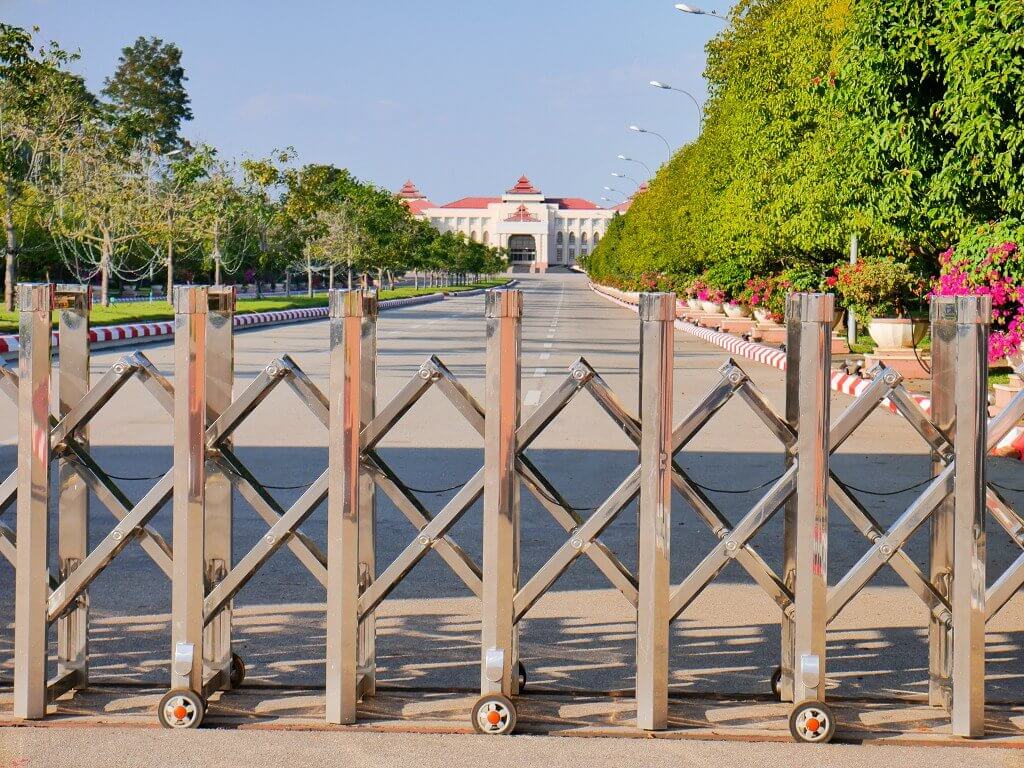 The guys were impressed with our knowledge of the Myanma language and asked if we knew more. So we said mingalaba. The enthusiasm increased and they started rattling off in Myanma. We exchanged some awkward "Haaa… no, we don't speak more Myanma," and then thanked them again and said bye. We got back into the taxi and continued on.
Eating at Thapyagone Night Market
Our taxi driver dropped us off at Thapyagone Night Market. We paid him and thanked him for the ride, then he left.
It was still the middle of the day, but there was a small market thing going on. There were many stalls selling mostly clothes outside the market building and lots of tiny shops inside the odd-shaped building. Comparing the real world to any map application is incredibly disorienting; almost none of it adds up.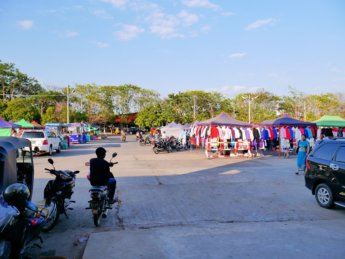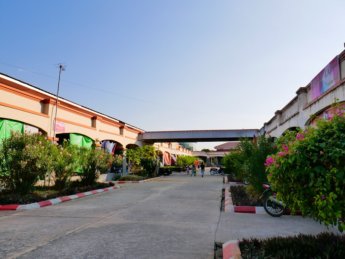 Our reason for going to the general area around Thapyagone market was that Google Maps showed the largest density of restaurants in that area. On the ground, there were still very few people out in the real world. The number of faces didn't match the sheer size of the place. Unlike older articles I'd read about Naypyitaw that describe the city as a "ghost town", it's not void of people. There are just too few.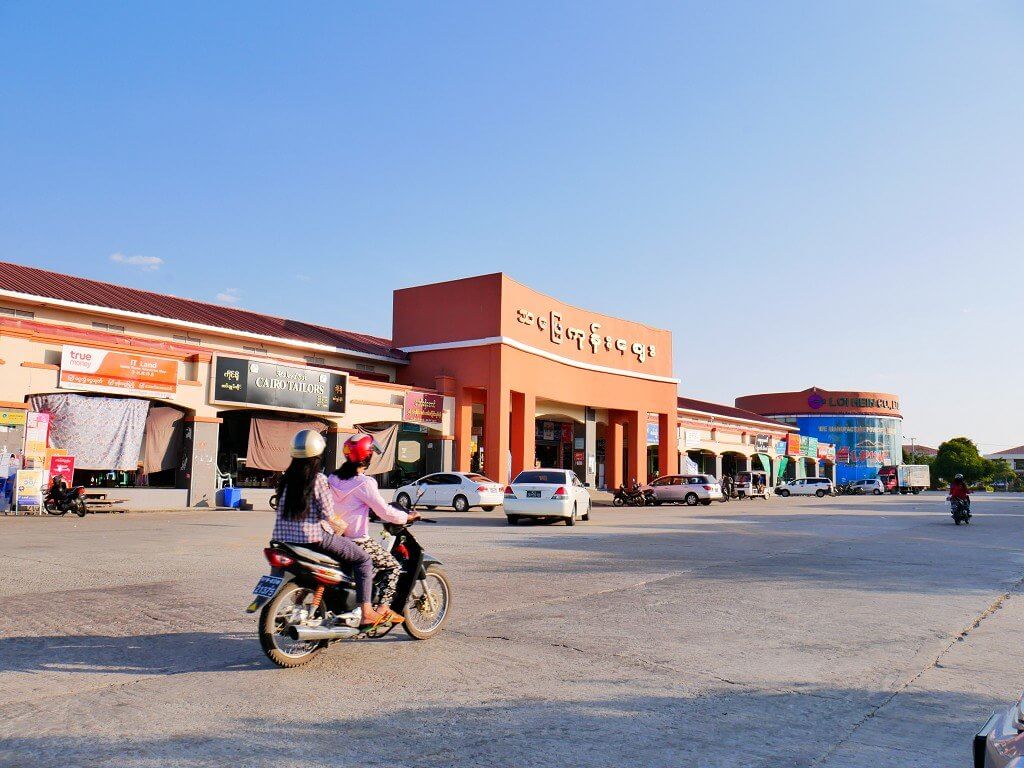 Anyway, the point of visiting the market was to find a shop to buy ourselves some bottled water for back at the hotel. But we didn't want to lug around all that, so we first went to the promising restaurant hotspot on the map.
Again, walking around was just a struggle to find a path that made sense. There are these wide concrete-paved empty spaces, a speedbump here and there, followed by a completely unwalkable stretch that's blocked by a wide flood canal. Someone who walks here a lot has apparently had it because they put a wooden plank over the canal to cross the abyss. Once again: pedestrians overcoming the limitations given by urban planners.
Once we arrived at the restaurant area, there are a few more souls. We first make a stop at Excellent Tea House to get Jonas some Shan noodles (meeshay) and for me an egg and cheese roti with condensed milk. There's free tea on the table. We still don't really have a clue how to order the right quantity of food in Myanmar, but we're learning a lot from each iteration. After the noodle and pancake, we're not full yet. I crave a beer, so we decide to patronize another business here that does beer and beer snacks.
Having walked counterclockwise, we arrive at a business called 'Top Mountain Flower Beer Station'. It's Chinese-owned and we sit down to get some Myanmar beers with free dried peas to snack on. Jonas decides it's time for more food, so we order something again. The food is alright, but not as good as we had at The Rich Dining Restaurant mentioned previously, so we don't think we'll go out of our way to eat here again.
We return to Thapyagone market around sunset. Despite all its flaws, this area is still the most sensibly-planned area of Naypyitaw we've seen so far. There are shophouses and people that live above the shops. There's a community among the working-class humans that are trying to make a living from this top-down approach to urbanization and society.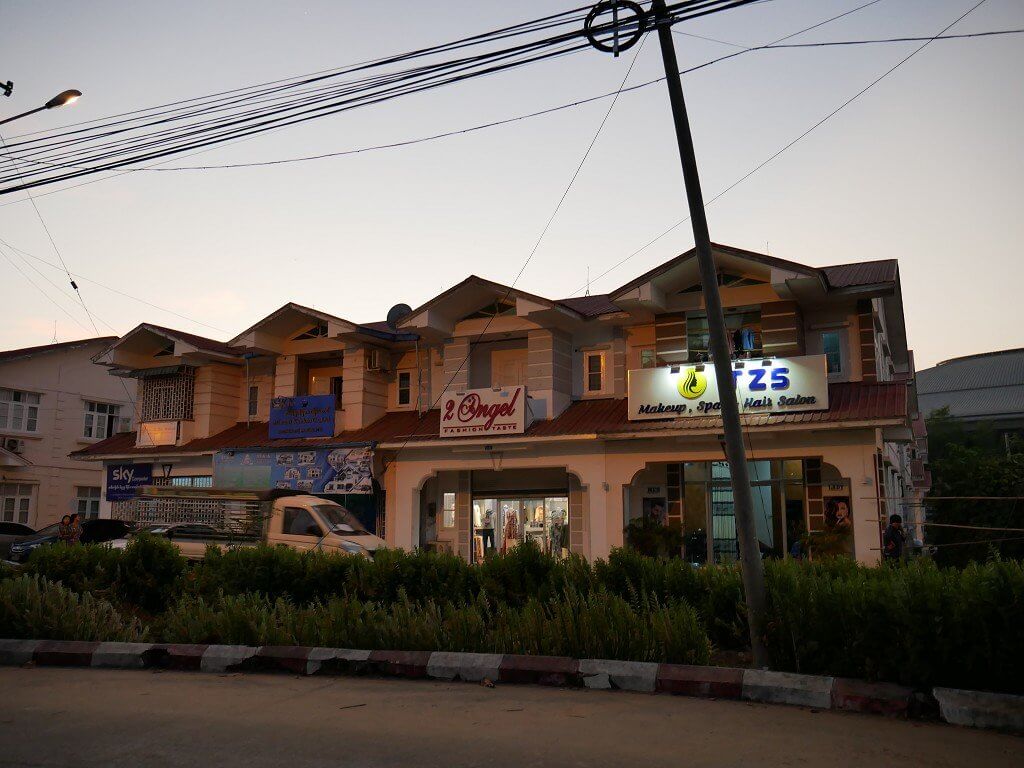 Now that it's not so hot, there are more people around. We visit several shops to get water and some snacks and then go to the tuk-tuk station. The young guy is happy to have a customer. We help him find our hotel on Google Maps and he effortlessly navigates us back to the Vegas Hotel for 3.000 MMK.
Day 3: Working from the Vegas Hotel
Sunday the 12th of January.
We literally just ate breakfast at the hotel, worked online, and then went out to eat at The Rich Dining Restaurant once again to live like kings. But we did preplan a bit what to do on Day 4.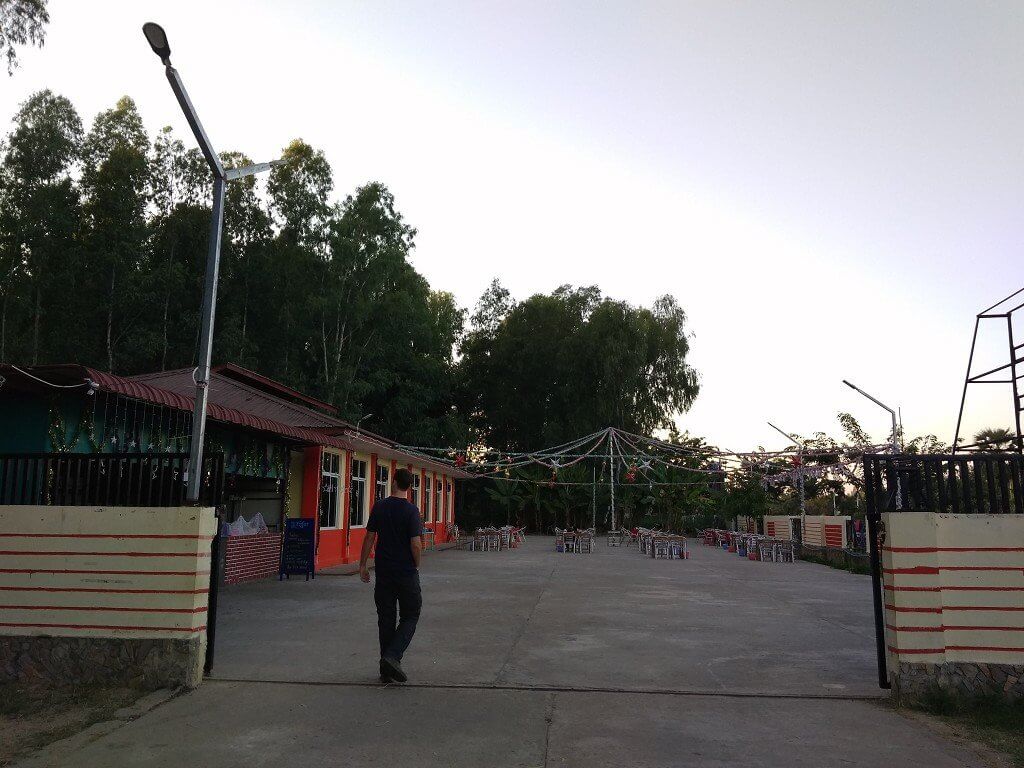 Day 4: Renting a Motorbike and Driving it About
Monday the 13th of January.
Our Semi-Automatic Motorbike on Empty Streets
Jonas asked after breakfast if the receptionists could arrange a motorbike for us. They told him that the motorbike would be semi-automatic. This gave me the slight heebie-jeebies, but Jonas was confident in his ability to drive that. Nonetheless, he did Google the theory behind semi-automatic motorbikes before we got our vehicle.
When we got it, Jonas drove around a bit to get a feel for the machine before I hopped on the back. Our first stop of the day was the Uppatasanti Pagoda. This pagoda is the absolute highlight of Naypyitaw and was almost 15 kilometers away from the hotel zone.
Jonas listened to the GPS in his earpiece to guide him there. The roads were wide and only sparsely occupied by traffic. Blog posts from a few years earlier described driving around town as being the only ones on the road. Our experience tells us that Naypyitaw isn't that much of a ghost town anymore, and might actually be a city that's gaining momentum. Though it should be noted that it's going at a slow pace.
The roads are in a quite excellent condition, mostly. With the lack of serious traffic, this makes Naypyitaw the ideal training ground for practicing motorcyclists. Jonas got his motorbike license in Colombia back in 2017. He learned to drive completely manual motorbikes there, but ever since, he'd only driven completely automatic motorbikes (motor scooters) in various places around the world.
We drive past barren greenfield land when I see the Uppatasanti Pagoda in the distance. I ask if we can stop to take a picture from the distance.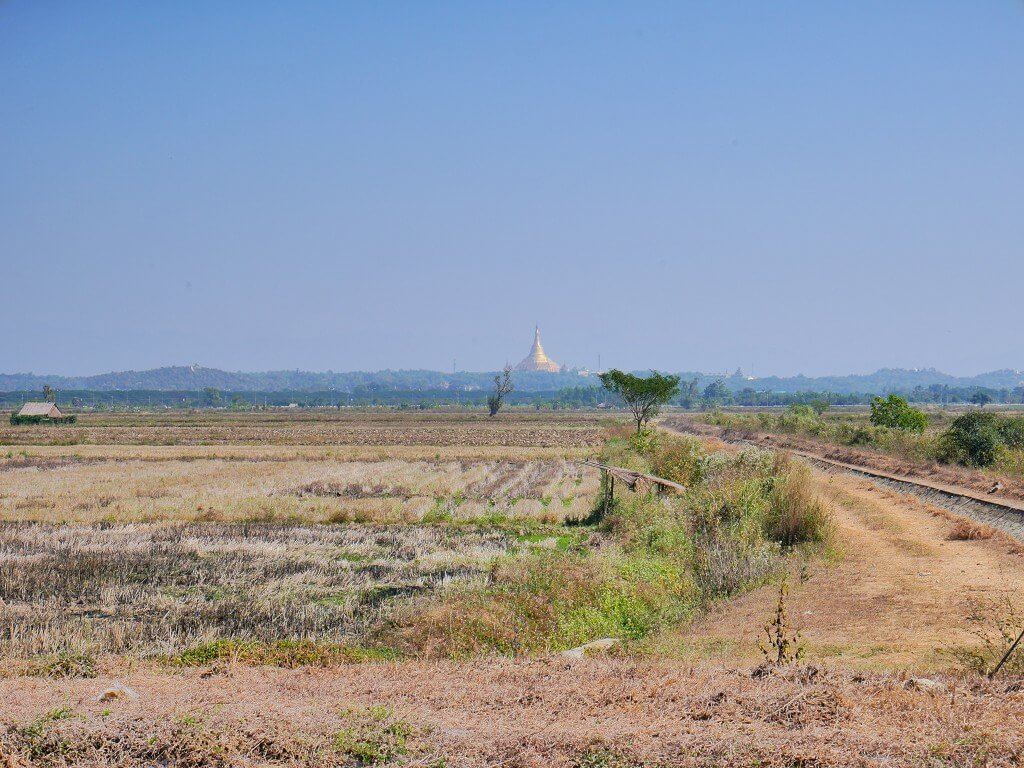 We drive on and encounter the Yarza Thingaha Roundabout (from Hell) for the first time. We go from four lanes on our road to five lanes on the roundabout. Jonas GPS malfunctions, so we drive more than a full circle on that roundabout only to end up on the Yaza Htarni Road towards the Uppatasanti Pagoda.
From the back of the moving motorcycle, I try to count the lanes on this wide road. From the right, we mostly drive in the second lane. That's because people have decided that with this much space, the slowest lane is basically a roadside parking lot. It's eight (8) lanes on our side, separated from the opposite traffic by a very landscaped verge. We share this road with motorbikes, horsecarts, and maintenance trucks alike.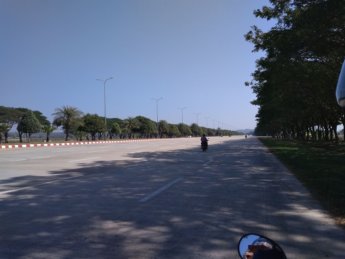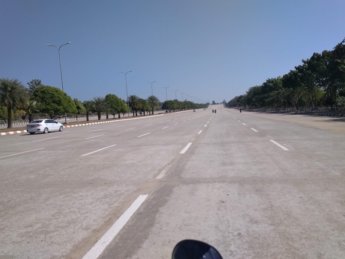 After a few kilometers, we cross all the lanes to take a left at Uppatasanti Pagoda. Finally!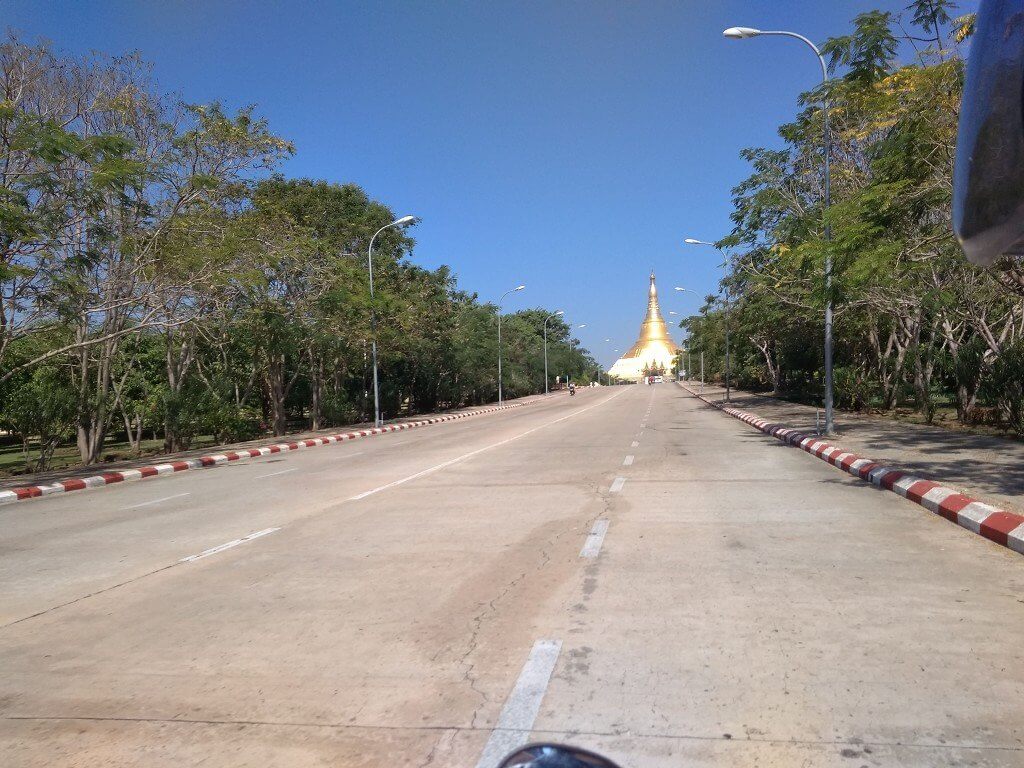 Uppatasanti Pagoda
We drive to the pagoda past a few checkpoints that wave us through. We want to park our motorbike somewhere near one of the elevator towers, but as we drive around the pagoda counterclockwise, every viable parking spot seems to have a guy that waves us on to find a parking spot elsewhere. In the end, we actually surrounded most of the pagoda until we found a parking spot. There was just one person there who didn't wear a uniform.
Once off the bike, that man got up to tell us something. Jonas assumes it's about the motorbike, but I notice the man takes offense at my outfit, which clearly shows off the lascivious shape of my… knees‽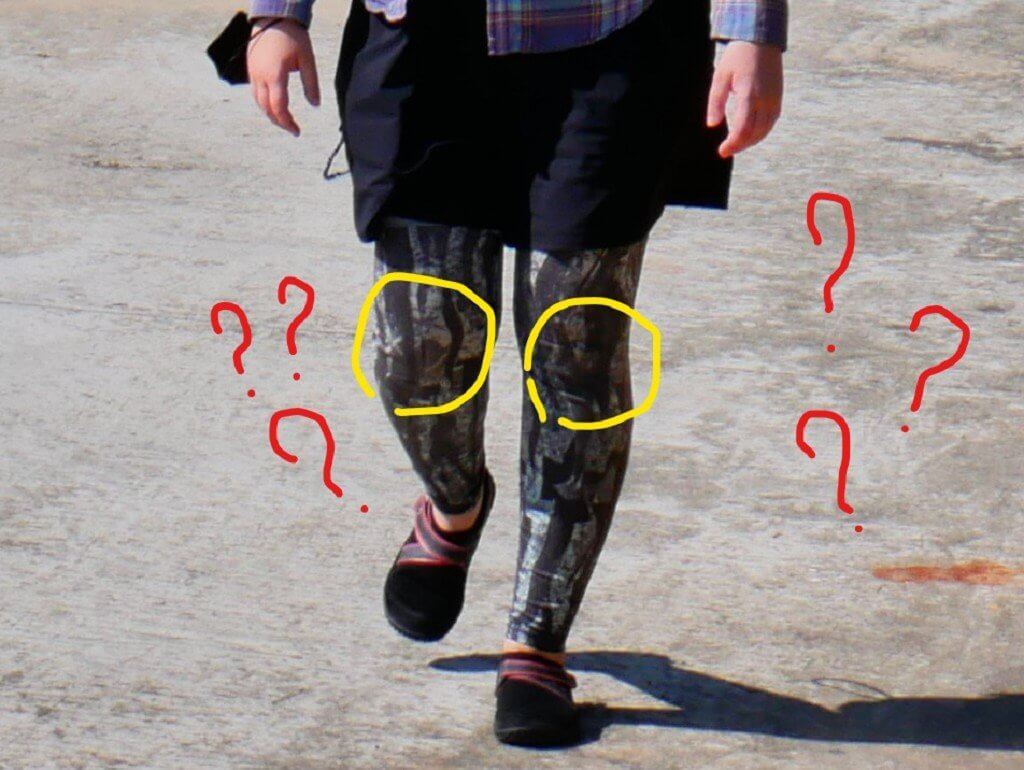 We're not at temple grounds yet, so the dress code for pagodas doesn't really apply to the parking lot, methinks. For the sake of not causing a scandal, I grab my sarong from my backpack one minute earlier than anticipated and wrap it around my waist, veiling those knee bulges from the man's eyes. He's relieved that I know how to dress modestly for a temple. You're welcome, random man.
At the elevator, we take off our shoes in front of a guard. I immediately step into a fucking half-dead hornet and get stung in the toe.
Oof. Owie. Ouch.
The guard pities me and points me to a chair inside the elevator building. I sit down and assess the damage, while our shoes get an upgrade into a VIP storage room for shoes. We get into the elevator and go to the pagoda deck. Which is…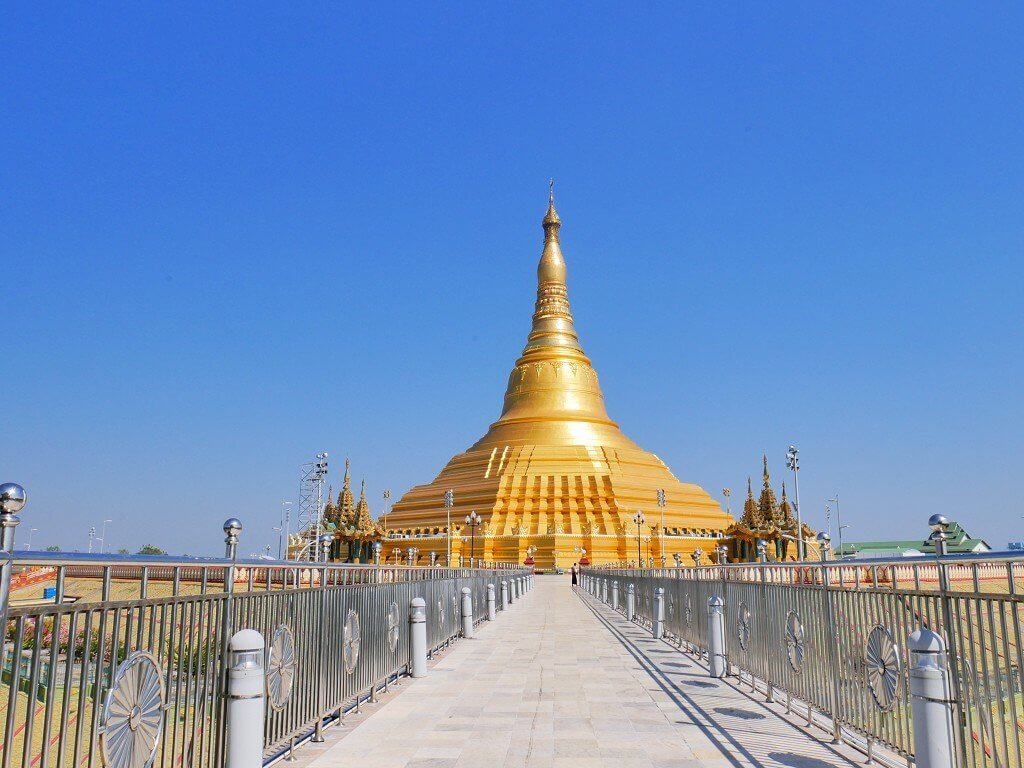 Wow.
We begin walking around the pagoda counterclockwise and while being wowed by all the shiny gold I half-step into a (dead?) beetle. Do you know a half-step? Like you step into something but notice something is off, so you only half-crushed it with your foot sole? Anyway, the beetle made a loud C R O N C H sound. I'm pretty sure that killing a creature on Buddhist temple grounds is pretty bad for the cycle of reincarnation, even if it was not my intention.
We continue walking and also circumambulate once in the interior of the pagoda. I didn't know this during my visit, but being allowed inside a pagoda (especially as a non-Buddhist) is actually pretty rare. If you want to see the relic-bearing center of a pagoda once, you must visit Uppasanti Pagoda on your trip to Myanmar. Note: women may enter the interior, but they can't access the platform in the deep center of the pagoda, which is reserved for men.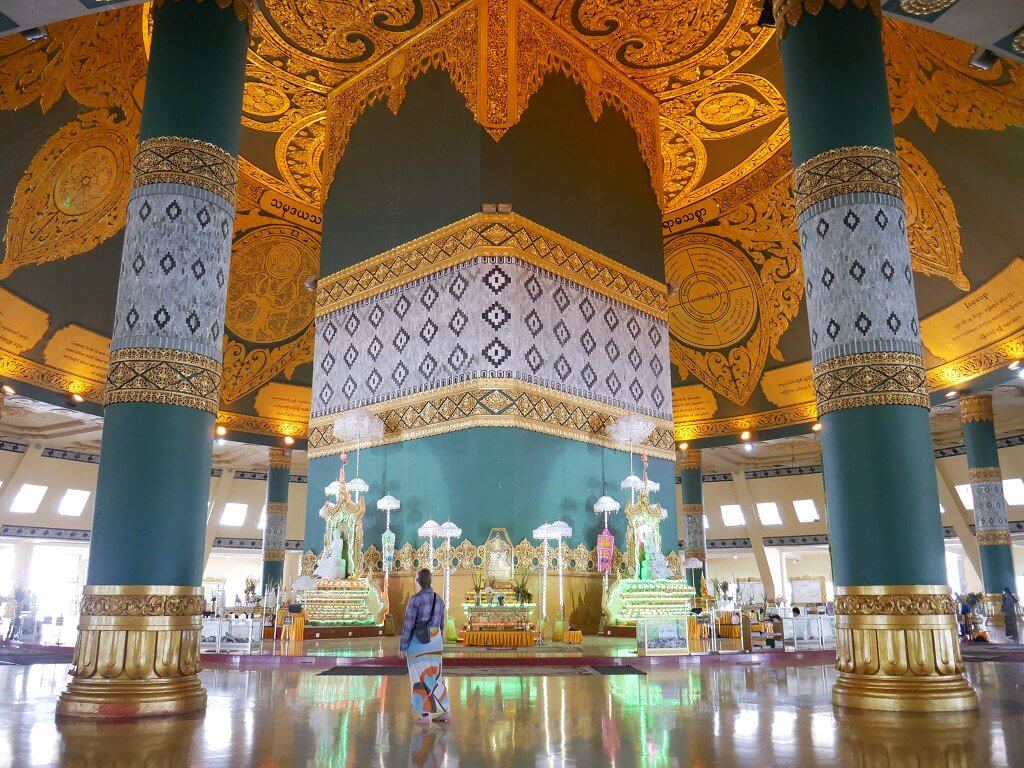 In the southeast corner of the plaza is the tagundaing, a type of flagstaff/victory column with statues on it. Here, pictured with the pagoda's hti, or golden umbrella with bells.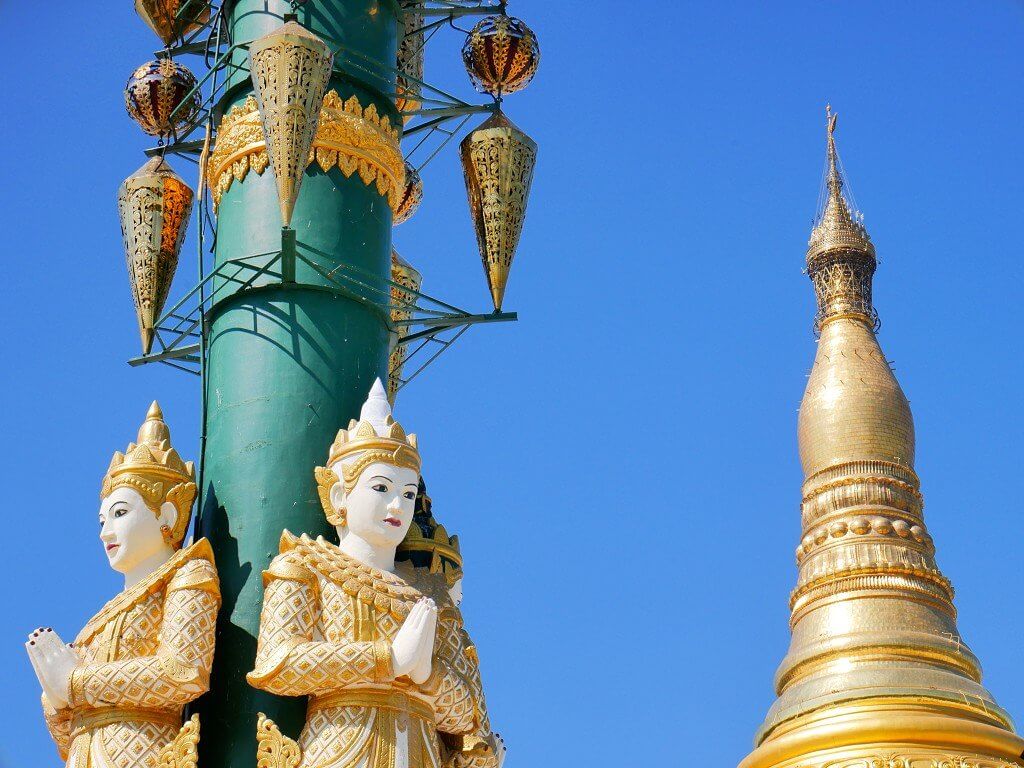 And then there's also the big prominent temple bell on the northeast side, which you may ring.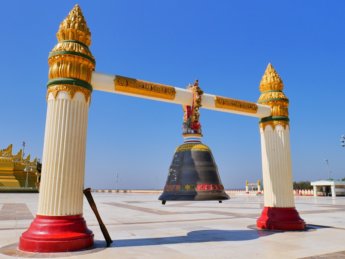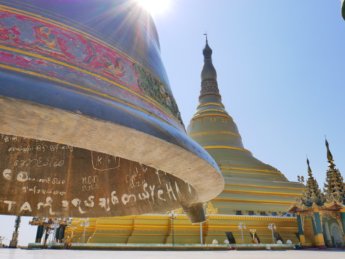 Like the rest of Naypyitaw, it was very quiet and uncrowded at Uppatasanti pagoda.
This article is to be continued…
Thanks for Reading!