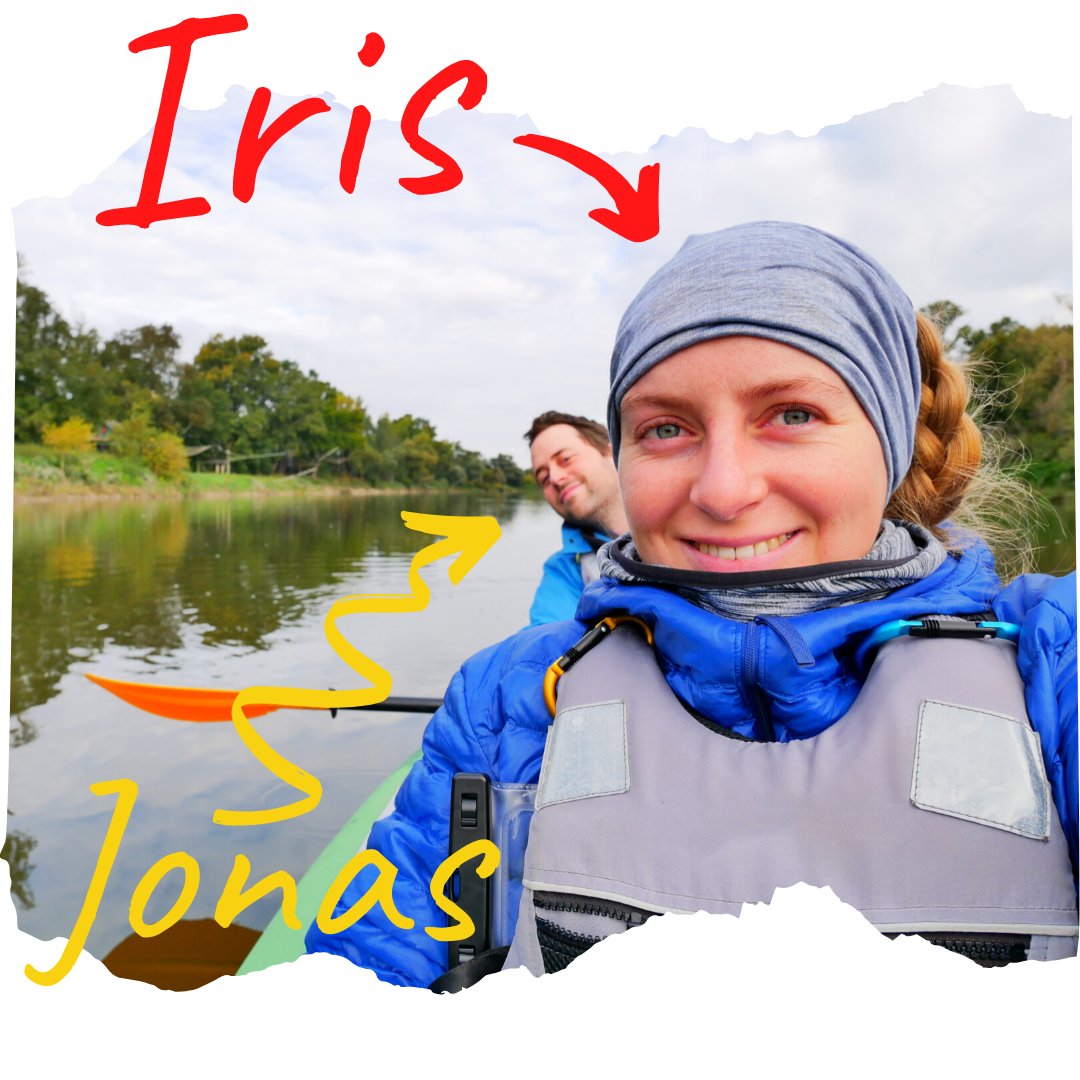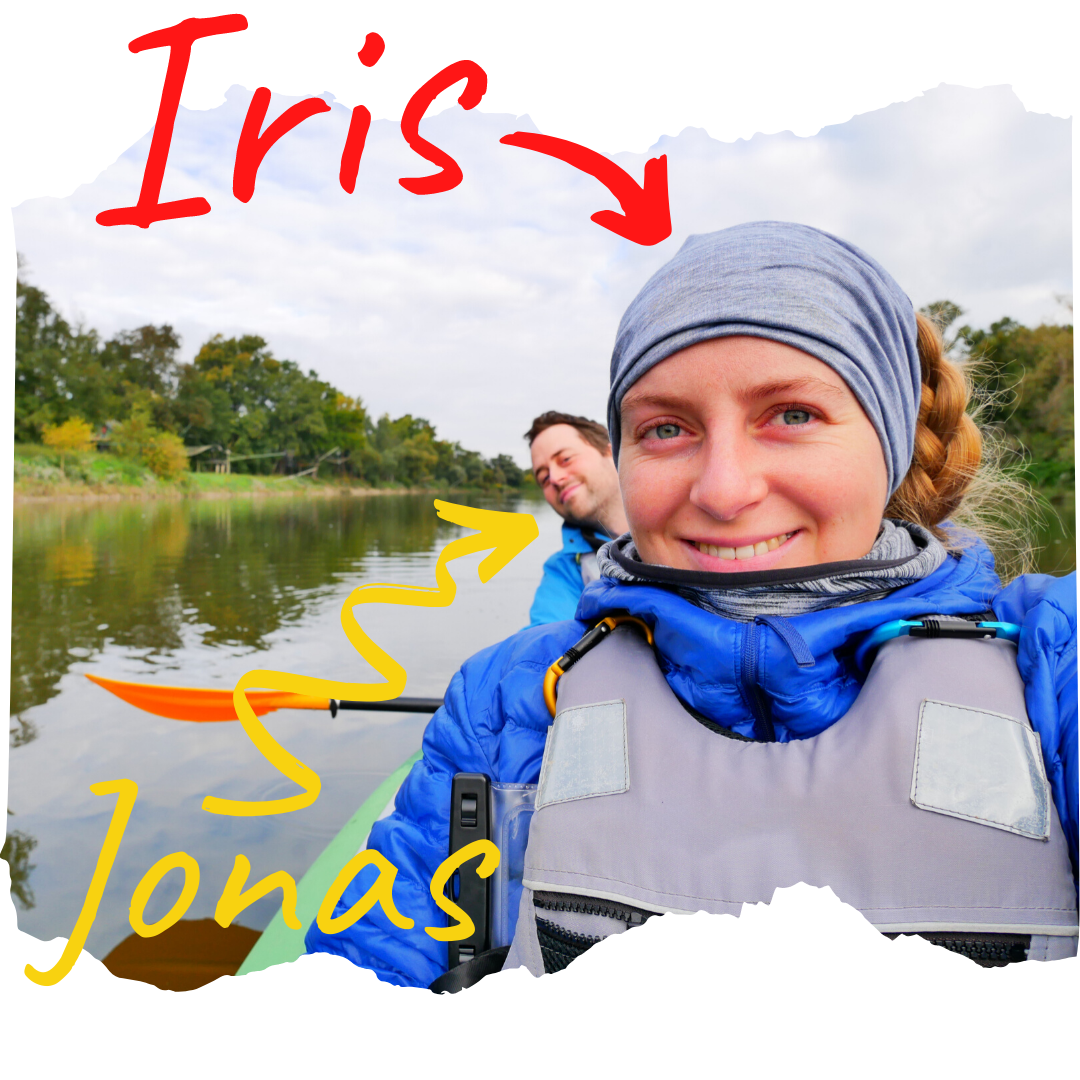 Hello! I'm Iris, the person behind Mind of a Hitchhiker. This is the page where you can get to know me a little.
My full name is Iris Tamara Veldwijk. If I've hitchhiked with you, you may know me as Iris Campobarrios, Тамара Ветер в Поле, 이리스. You can call me Iris.
I travel on a passport from the Netherlands and have been traveling (nearly) non-stop since November 2013. Before traveling, I was a university student. Other things I enjoy besides hitchhiking are playing guitar, reading Wikipedia, practicing yoga, unlearning harmful ways of thinking, hiking, learning languages, photography, studying maps, swimming, intersectional feminism, eating savory foods, and befriending other people's pets. There are also many things I don't enjoy, which I also write about. My pronouns are whatever you want them to be, though I mostly go by she/her.
This little space of the internet is where I write about my lived experiences as a traveler. As you might have guessed, Mind of a Hitchhiker is mostly about hitchhiking. Over the years, I've also ventured into writing about freecamping, couchsurfing, dumpster diving, sailboat crewing, digital nomading, long-distance kayaking, anything outdoors, and lots of generic travel blog topics such as country itineraries. With some of these activities, I'm no longer much involved, but I remain supportive of the people that pursue them. My main topic for the last [DateCounter startDate="2014-01-18″ endDate="now" format="Years"] years has remained hitchhiking.
Further Info About Iris / Mind of a Hitchhiker
Click the + symbols to make hidden text appear. You can also check out my FAQ page or submit an Ask Me Anything.
A brief history of my travels (2010–2020)

 Full-time university student who didn't travel much.

Exchange student in Denmark, where I learned about hitchhiking, dumpster diving, and couchsurfing for the first time in September at age 21.

 Full-time student who traveled a lot and skipped many classes. Started hitchhiking solo in Scandinavia, the Balkans, Southern Europe. I did a very big hitchhiking trip during the summer holidays that introduced me to freecamping.

Silently dropped out of university at age 22 to travel solo full-time. Hitchhiked around the UK. Didn't take the return flight to Europe from the USA and then headed to the Mexican border.

Hitchhiked solo in Central America for six months. Started a Tumblr blog and Facebook page called "Escapist". Hitchhiked solo to the Caucasus, Iran, Turkey, and Cyprus for the other six months.
Hitchhiked solo through many countries in Europe. Got the domain name "Mind of a Hitchhiker" for my Tumblr to change my blog name. Hitchhiked a sailing boat and a plane. Met Jonas for the first time. He moved my blog to WordPress so I could start blogging seriously. I joined him on a repositioning cruise to South America.
 Hitchhiked around South America for two years, often solo, sometimes with Jonas. Together we started Digital Nomads Guides.

Returned to university at age 26 to finish my degree and become debt-free. I got even more serious about the blog.

Now debt-free, Jonas and I traveled to Cabo Verde and Portugal before starting our Kayak+Work paddling trip down the Danube river from Germany to Austria, Slovakia, and Hungary. As intended, we came halfway. Then we traveled to China and Thailand, without camping gear.

We hitchhiked together in Myanmar, Thailand, and Malaysia until the coronavirus outbreak brought the world to a halt. We sheltered in Penang, Malaysia. I'm 28 years old.
Why is it called "Mind of a Hitchhiker"?
Back in 2014 when I started sharing about my travels, my Tumblr and Facebook page names were "Escapist". Since I had now become comfortable in having dropped out of university, I wasn't really escaping anymore. So it was time for a name change.
When I wanted to buy a domain name, some ideas were "HitchWithIris.com" to "FreeRideIris.com" and "TravelByThumb.com".
I wanted something that wouldn't directly imply my gender at people. Something that clearly stated that the main topic is hitchhiking and that there might be some deep stuff to read, as I tried in my early blogging days. With the help of some friends and plentiful alcohol in Belgrade (Serbia), I settled on Mind of a Hitchhiker.
First I changed my Tumblr domain to mindofahitchhiker.tumblr.com. Unskilled at the internet, I painstakingly tried to make the Tumblr just MindOfaHitchhiker.com and apply the theme. Once I had succeeded, I kept blogging on the Tumblr user interface. Back in the day, you couldn't rename a Facebook page, so I had to start a new one from scratch.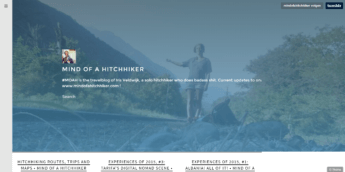 When I met Jonas, he offered to move my blog from Tumblr to WordPress. He said it was much better. During our time together in Tarifa (Spain), he taught me the ropes before I left for Portugal.
It's Mind of a hitchhiker, not the hitchhiker. I'm one of many hitchhikers around the world. This blog is mostly about what has been going on in my mind, but I've never intended this blog to only be for me. I also welcome other hitchhikers and nomadic adventurers to share what's on their minds.
So even though Mind of a Hitchhiker is mostly my project, I'd like to share it with you.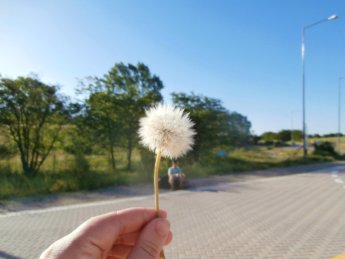 Which people run this website?
I run this website virtually alone (for now). I'm the one who writes all the articles, makes the maps, takes the photos, edits the videos, formats the posts, publishes them, and shares them on social media. It's a lot of work and I do this full-time. It's my job.
So there's no Virtual Assistant (VA) to take care of some things for me. I don't have a big team to create amazing content for me while I'm just the face of the blog.
My partner Jonas Breuer is a full-time freelance web developer. He helps me with website maintenance, proofreading articles, bouncing ideas, advanced code, and figuring out what the hell "12:37 AM" means. We often work side-by-side from dingy hotel rooms to comfy Airbnbs; he'll do some client work and I'll write about my hitchhiking experiences.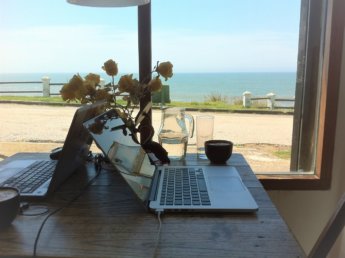 How do you monetize this site? Where are the ads?
I run this website mostly on donations by the readers. If I've written a wildly useful article, I'll sometimes include the information for people to donate an amount they like or think it was worth.
Hah, some people might find it silly that I'm not running any ads on this website. But I really don't like ads myself, so I'm trying to keep us both happy.
The only thing I advertise on this site is the books from Digital Nomads Guides. Those guidebooks are written by Jonas, me, and a handful of other authors. These make me some money but have mostly been a great experience to learn from. 
There are also affiliate links on this website. Since the idea of you buying physical things that may clutter your life doesn't bring me any joy, I only include links to products that are honest recommendations. I hope you won't buy new objects when you already have an object that fulfills the task. My tip is always to first ask for the item in your circle to borrow or buy. There's nothing better than to bring a tried and tested object on another adventure. You could put the money you saved to fulfill a dream instead.
You can read more on the support page.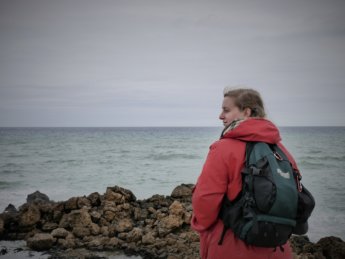 How to use this website?
You already figured out the 'accordion' feature with the + and – that make this text appear and collapse.
Though the design of this website is mobile-friendly ('responsive'), I still think it's best enjoyed on a computer screen.
My website has many cool features to make my stories rich in information. One thing you'll find a lot on these pages is the binocular symbol. If you're on a computer, you can hover over the binoculars with your mouse to see additional text. If you're on a smartphone, you can tap and hold the binoculars to open the text.
Next up is the search bar on the top right of the page on a computer and on top of each page on your smartphone. You can type any word in the search bar and you'll find each article in which it is mentioned. This can be anything from "Austria" to "kayaking" or "bread". 
Any time you want to return to the homepage, click on the logo on top of the page.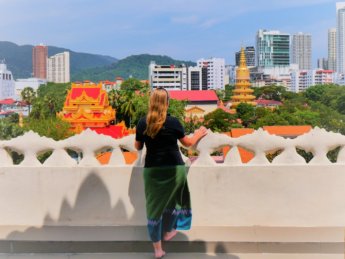 How did you and Jonas meet?
Ye asked, so ye shall receive this whole-ass blog post inside a blog post:
In mid-2015, my tablet broke on the Rock of Gibraltar. I'd done most of my blogging on my tablet at that time and I depended on it for navigating while hitchhiking. I had no smartphone to find my way back to my Couchsurfing host's address in La Linea across the border in Spain.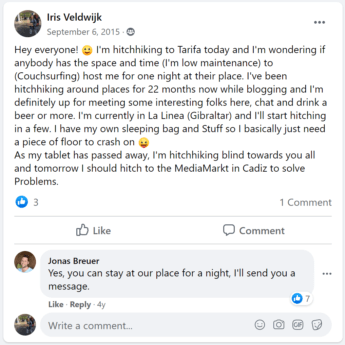 In September 2015, I hitchhiked from a Spanish village just outside of Gibraltar to Tarifa, the southernmost point in Europe. I'd arranged a piece of floor to crash on via the Facebook group Tarifa Digital Nomads.
My host was Jonas, who was sharing an Airbnb at that time with a fellow digital nomad from Germany. We first visited the southernmost point of Europe together before meeting his flatmate, who I thought was definitely his girlfriend, but perhaps not for much longer because there wasn't much affection between them and he was looking funny at me. (It took me a long time to crack this code.)

I intended to stay for one night in Tarifa before moving on to Sevilla to buy a new tablet at the Media Markt there. Instead, Jonas and I fell in love over a game of durak. I didn't leave Tarifa for about two weeks. I found a lot of excuses not to continue my trip through Andalucía and on to Portugal. Besides falling in love, we also worked a bit and Jonas introduced me to the concept of digital nomadism. He liked my budding travel blog and said it had potential.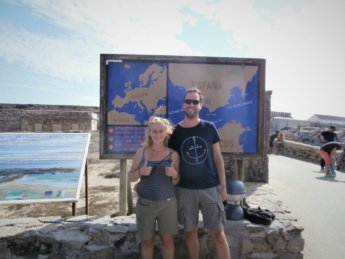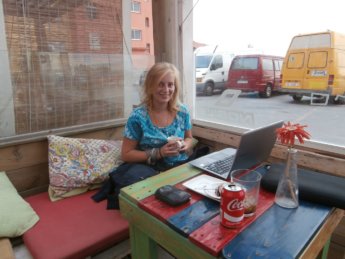 Then it was time to leave. Our travel plans weren't compatible, so I hitchhiked away to Portugal and he stayed in Tarifa for a longer time until his flight from Málaga to Berlin. He had mentioned something-something about a cruise to South America, while my rough sketch was to travel coastally to Andorra, Jersey, and Guernsey.
Such are the ways of travel. But also: catch rides, not feelings.
Jonas and I kept in touch. After hitchhiking for multiple days with a British guy named Charlie who had rented a car without a plan. I got myself a new tablet in Sevilla. We continued our drive towards where I was headed. After the rollercoaster I'd experienced in Tarifa, I wanted to completely dodge the potential of getting flirted with. So I preemptively told my driver I was a raging lesbian, which was an unnecessary lie and I'm sorry. My feelings confused my mind.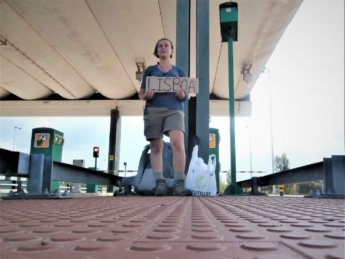 After saying goodbye to Charlie, I was hitchhiking shorter rides again. I used my new tablet to connect to the internet and do some small blogging things. From a roadside pub headed south to Sagres, I chatted with Jonas via messenger and Skype. I truly enjoyed his company from afar.
When I saw that my Norwegian friend John was in Cascais, I turned 180° and hitchhiked to Portugal's capital city Lisbon. Meanwhile, Jonas had floated the idea to divert his flight and fly from Lisbon to Berlin in order to meet me. I didn't think he'd do it, so I told him to do it.
Once in Lisbon, I made my way over to Cascais to meet up with John. We got day drunk and I told him all about Jonas. I poured out my heart and lamented the whole falling in love issue at hand. It may seem silly now, but I was trying to stay single for five years. In September 2015, I was three years in. Just like my smoking habit, I wasn't about to quit. John semi-seriously said that it might be true love and that
John left Portugal and I found out that a classmate from high school was doing her semester abroad in Lisbon. She hosted me at her student house for a few nights, until Jonas came. I was supposed to meet him one morning, but I chickened out and left him stranded. That evening, I initiated another meet with Jonas and put on a full-face of make-up borrowed from my host to look different. Coupled with Dutch courage, I packed my shit and went to the rendezvous.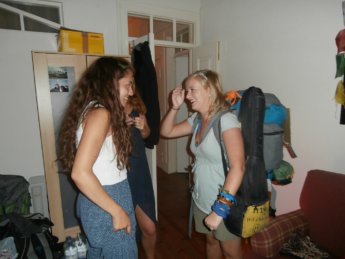 At the Praça Luís de Camões, I almost couldn't find Jonas in the darkness. When a tall figure approached me I knew it was him. We greeted each other with a kiss and enjoyed that evening before walking to the Miradouro de Santa Catarina. Finally, I joined him on the ferry across the Tejo river in Montijo, where he had rented an Airbnb for the week. The next days, we did some typical touristy and fun things in Lisbon like visiting the Christo Rei statue and smoking shisha. Over the cloying fumes of the latter, I confessed my love to Jonas, which he reciprocated.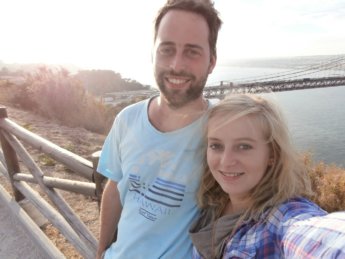 Nearing the end of Jonas' stay in Lisbon, we took a motor scooter day trip to Cabo da Roca—the westernmost point of Europe. In a café there, we discussed the big question: what do?
He had to go to Berlin the next day. I wanted to hitchhike to the top of the Serra da Estrela. I also really didn't want to fly. Did I want to give a relationship a chance? Yes.
So I said that I'd come with to Berlin as long as we'd be on the same flight. So Jonas immediately booked a ticket from his phone while I deleted Tinder from my tablet. We were both overjoyed with this decision to be together.
A few hours later, we'd dropped off our scooter in Cascais and were on the light rail back to Lisbon. Then Jonas got the message that my flight ticket got canceled. Jonas spent the whole evening waiting for someone else to cancel and then rebook my ticket. I thought it was futile and had given up on joining him, but he persisted.
Some gracious person canceled and Jonas got me a seat. We wouldn't sit next to each other, but we'd be together. Then we had to pack, make our way across the river, smoke one last shisha, and then take Uber to the airport. Anticlimactically, Lisbon Airport's second terminal was closed this early in the morning.
In the next weeks, we got to know each other even more. Then we had to decide whether we wanted to continue this beyond Europe. Jonas was going onto the Nomad Cruise from Gran Canaria (Spain) to Brazil. So I joined that cheap repositioning cruise.
We traveled from Germany to the Netherlands and met each other's parents in a hurry. In my hometown, we hitchhiked from the train station to my mom's home. That was Jonas' very first hitch.
The end of the beginning.
You're Dutch. Why don't you write in Dutch?
The greatest way for you to not be reading my blog right now is to write in Dutch. Writing in Dutch is a rather joyless experience for me. After probably ten years of not having written anything longer than an email in Dutch, I'd probably embarrass myself.
Now we're touching on the topic of nationality, I have to mention that lying back and thinking of the Netherlands leaves me cold. I'd much rather think of a different place. There are people in that country I love, but not the country. I despise nationalism and displays thereof.
I enjoy having a strong passport, but I'm not going to be proud of a document I pay for that I don't even possess. If statelessness was a viable option I'd take it.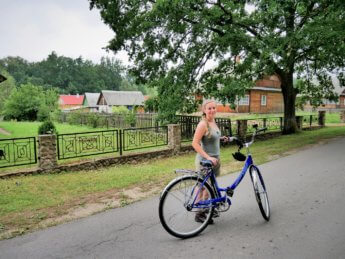 Why are there binoculars in your logo and everywhere on this website?
I've had this necklace with binoculars pendant since early 2012 or something. I bought it in Madrid. The chain broke and I replaced it with a length of fishing line. It used to be gold-colored, but now it just looks nasty. The mean people at airports have been trying to steal this from me.
I also used to travel with real bulky binoculars. I like them as a symbol. It kind of implies 'remoteness' and 'taking a closer view', which I do in my horribly detailed long-ass blog posts.
Here's the necklace back in March 2012 and then in September 2019.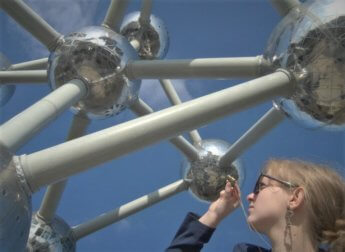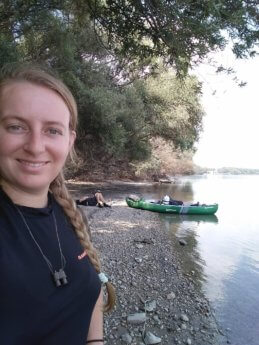 How can I support Iris / Mind of a Hitchhiker?
I'm glad you asked!
For now, you can support my blog by donating a little via PayPal or Bitcoin. I might include more payment options later.
Bitcoin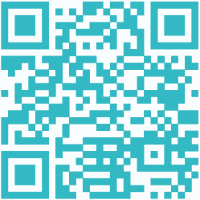 bc1q9a6w08a4gkx4gdvnh7w2vlkfzx4tlwfpfe6jm6
Open in wallet
Thanks for Stopping By! Enjoy the Stories 🙂