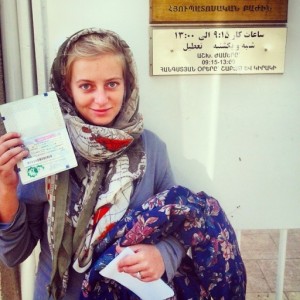 Hello! I'm a hitchhiker and my name is Iris Veldwijk . My passport is from the Netherlands, but you can rarely find me in the arbitrary country where I was born. Usually you can find me somewhere next to the road, smiling, with my thumb out, trying to flag you down and take me somewhere cool – if you have a vehicle. At other times, you can see me sleeping with my head on a table inside a petrol station or pitching my tent somewhere probably illegal. I do this because I enjoy doing this, not because I have to. On my website Mind of a Hitchhiker I write about the way my (solo) travel works, which also involves lots of couchsurfing, freecamping, busking (guitar) and occasionally "dumpster diving" everywhere I go. Welcome to No-Budget Travel. It's very different from low-budget travelling! I hitchhike everywhere I have friends and if I don't have friends somewhere, I'll make new friends on the go. Planning is not really my thing and for 50% of questions my answer is "I don't know". Not because I'm reluctant to answer questions, but because I really don't know and I'm comfortable with not knowing things. Sometimes that's very liberating. Discomfort is my comfort and the term "comfort zone" is one I don't understand.
I don't enjoy talking about the numbers, but since so many people are asking for them: I've been to 63 countries so far, hitchhiked in nearly all of them (there was a time before hitchhiking when I also traveled) and did so mostly alone. Some of the most exciting countries I've hitchhiked in are Mexico, Ukraine and Iran. Mentioning those countries makes some people really nervous, but I like to challenge the myths we've created about these places. While traveling full-time, I'm also writing a book about hitchhiking through Iran. You can read more about that project here.
Feminism is why I can do what I do and I'm a super serious feminist at heart, but it's tough and tiring to fight the patriarchy every fucking day. Therefore I sometimes hide from society in my little tent to reset my "bullshit-tolerance" button. The next day I'm ready again for the "real world" – a world that desperately needs a change. I used to be a student at an international university in the Netherlands. I hated it so much I quit in November 2013, but technically I'm merely on "pause". If any immigration officer asks what I do, I'm still a student. I just don't know what to answer and these people make me very nervous.
Also, I can knit, touch my nose with my tongue and sleep for 24 hours straight. My favorite car is the Lada Niva, an indestructible piece of Soviet shit. I have a driver's license and I'm quite the badass driver, but as a hitchhiker I'm perpetually stuck in the passenger seat! One day a driver will ask me to take the wheel. One day…
I also speak five languages (Dutch, English, Spanish, German and French) and I'm trying to learn Russian, Turkish and Arabic too. Dutch schools are really into teaching languages as the Dutch language itself doesn't have a whole lot speakers, so we kind of have to learn other languages for survival. I'm really happy I paid attention in school, as I reap the benefits of language learning now.
As a blogger I'm part of the "Solo Female Travel" subgroup and it's really awesome to be part of such a badass community. However, I'm not always doing everything alone! I often join forces with other hitchhikers (male/female/other) for a day or a few weeks and I've managed to find love on the road. Crap, that sounded cheesy as fuck! Traveling alone doesn't imply loneliness – something I never am as long as there is WiFi. I'm always super happy to enjoy chat and a beer or coffee with anyone, anywhere on this little planet of ours. Conversation with strangers is the key to writing the stories on this website.
Enjoy my blog! You're always welcome to comment on posts and ask a question in my FAQ!