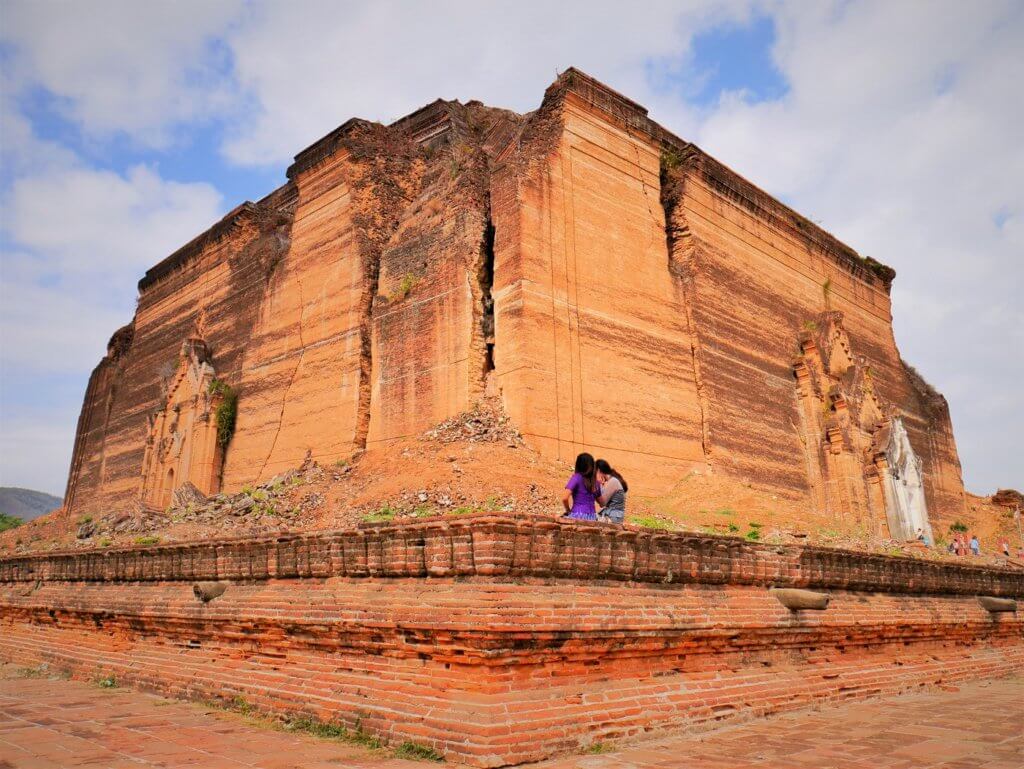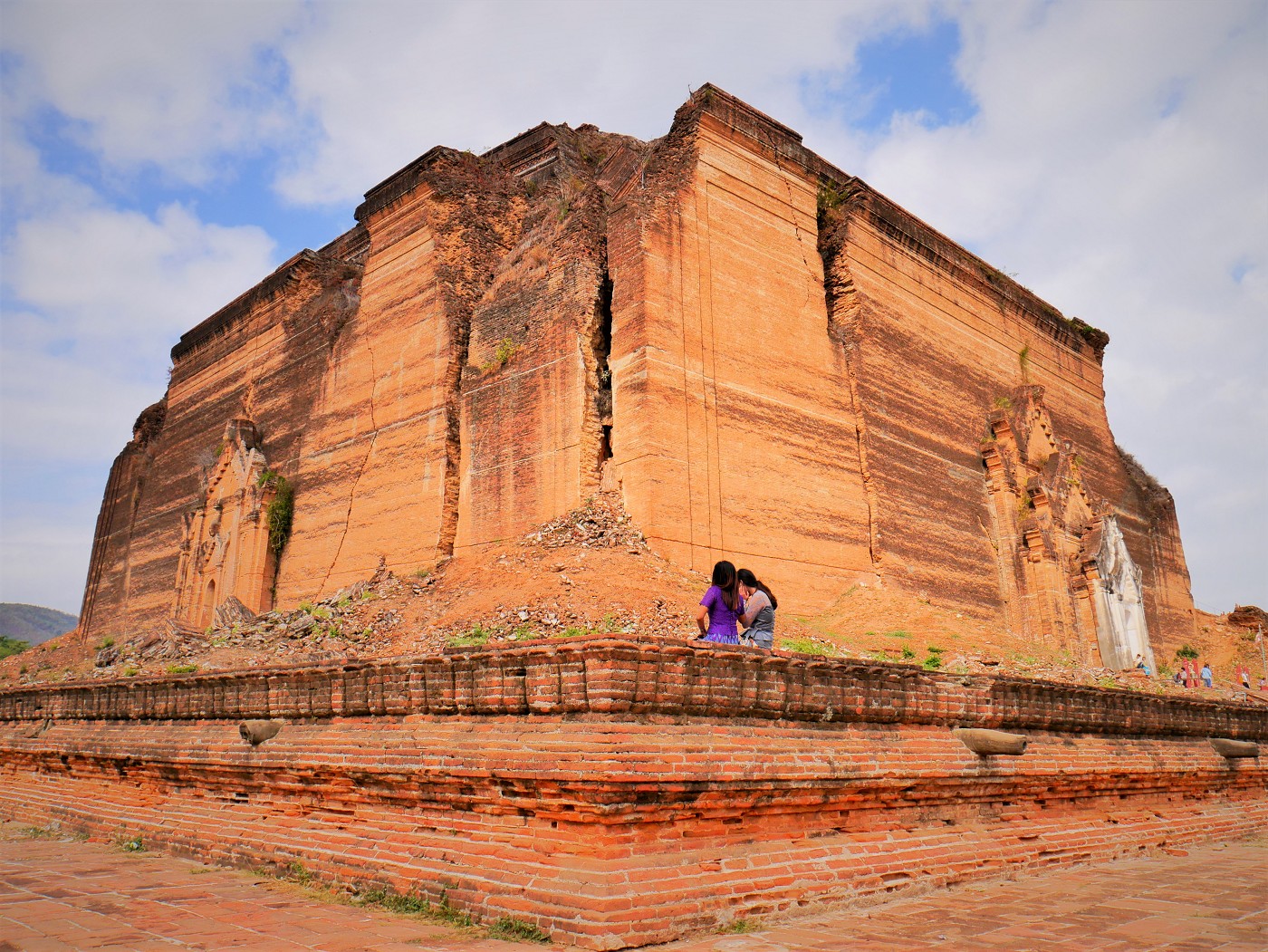 This article sums up our four-week journey through Myanmar in Southeast Asia. As we'd bought a Myanma e-visa before we left, we maxed out our 28 days. We traveled in the month of January (dry season) from the 3rd till the 31st. Though we mostly traveled by hitchhiking, we also took one cruise and one train to spice things up. We always planned and booked one week in advance. You may steal this Myanmar itinerary!
Day 1: Arriving in Mandalay from Chiang Mai
Friday the 3rd of January, 2020
We entered Myanmar after a short flight from Chiang Mai (Thailand) across the Daen Lao Range and the Dawna Hills. We flew a boutique airline called Bangkok Airways, which basically means you get an actual cup of coffee with an actual spoon rather than plastic. Both airports were full of Buddhist monks in orange and red. They seem well-traveled.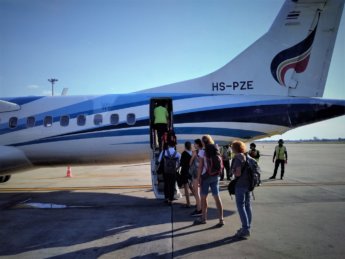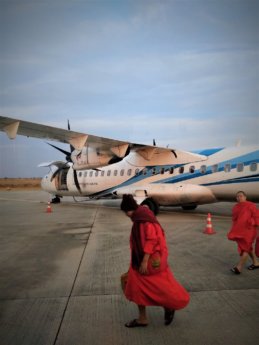 Upon arrival, we showed the paper with our e-visas to immigration and got stamped in. To our surprise, the first day of arrival didn't count as one day on our visa; the stamp said we had to leave by the 31st of January. In practice, this means we will have 29 days in Myanmar instead of 28.
Once I'd retrieved my luggage, we got money out of the ATM and got a taxi at one of those airport offices I usually ignore. A guy walked us to a licensed taxi outside underneath a dusky sky. If our flight had arrived two hours earlier, I would have tried to hitchhike to Mandalay straight away.
I saw the first men in tartan-patterned longyi, although I didn't know the name for this garment yet. For 15.000 MMK, our driver drove us to the Royal Yadarnabon Hotel. The welcome was very nice and we received refreshments immediately. We checked into our small room that we'd booked for four nights. Then we went out to get SIM cards.
Once we had those, Jonas was famished and we found some food at a lonesome streetside stall. The lady hated to see Jonas struggle with the noodles, so she grabbed the bowl back and mixed the ingredients thoroughly before trusting Jonas to finish the job. Then we returned to the hotel, did some research for the next day, and fell asleep.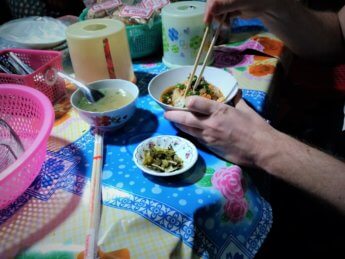 Day 2–4: Mandalay
Saturday the 4th till Monday the 6th of January, 2020
During our three full days in Mandalay, we visited some of the main attractions as well as one thing that's not at all an attraction.
We went up Mandalay Hill on our first day. The Grab tuk-tuk dropped us off at the foot of the hill, where we had to surrender our shoes. Barefoot, we walked up the stairs. There's a roof in case of rain and to protect worshippers from the sun. To our surprise, the stairs weren't particularly clean and this exercise was three steps below learning to walk barefoot in a forest. Along the way, there were shops and restaurants.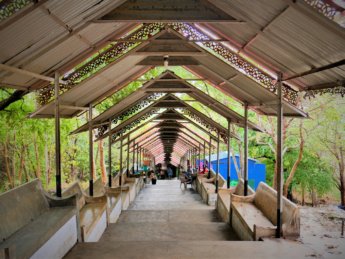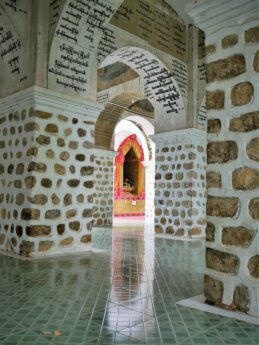 At the summit, we noticed we really chose the hardest way to get here. There's also a paved road to the car park near the summit, where tour buses drain into the elevators to get to the pagoda's platform. When taking a Grab, this didn't seem like an option. The views were really nice and the pagoda very shiny. There were various temple cats as well, which I always find a plus. This is where the first people asked if they could take a photo with us. We generally say yes to these requests, so some people in Myanmar have a random photo of themselves with us. I always wonder what people do with them.
We walked down from the summit back to our shoes.
The next day, we visited the U-Bein bridge, which was not super touristy and absolutely worth the long Grab ride. I love how absolutely child-unfriendly this bridge is. We watched people fish from the old wooden pillars from the coziness of our rain jackets. Mandalay was markedly colder than Chiang Mai. I kind of liked it.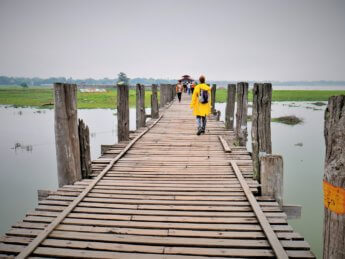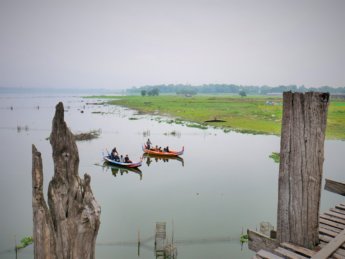 After the bridge, we visited Mandalay's abandoned airport in the middle of the city. Some urban exploring on the side. After a quick trip to the hotel, we took a Grab tuk-tuk to the riverfront viewpoint to try to see the sun setting over the hills beyond the Irrawaddy river. It wasn't the greatest spot for this purpose.
Urban Exploring at Mandalay's Abandoned Airport (Chanmyathazi)
On the last day in Mandalay, we took a day trip to Mingun (see featured photo). This was by far the most touristy place we'd been to thus far. It was nice, but also a little hard to enjoy. This is also where we learned that most pagoda areas are a bit rough on the feet if you're not used to this. We kept imagining how thick our callouses would be by the end of this.
To end things nicely, we went to a rooftop bar to drink a beer with views of the old city and Mandalay Hill in the backdrop.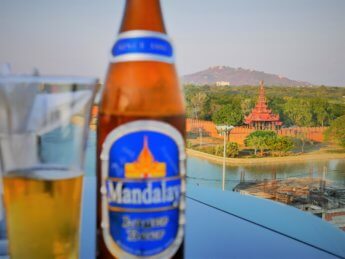 Day 5: Down the Irrawaddy River to Old Bagan
Tuesday  the 7th of January, 2020
From a different jetty than the one to Mingun, we took a proper tiny cruise ship downstream to the old pagoda city of Bagan. There, we checked into Hotel Thumbula.
Cruising Down the Irrawaddy River from Mandalay to Nyaung-U (Old Bagan)
Day 6+7: Old Bagan and Nyaung-U
Wednesday the 8th and Thursday the 9th of January, 2020
If there's any place in Myanmar that has been written about extensively, it's Bagan. But what most people neglected to say is that the famous "e-Bikes" you can rent there aren't e-Bikes at all, but electric scooters. Trust me, I grew up in the Netherlands. That ain't no bicycle.
If it were a bicycle, I might have gotten one of my own. But with scooters, Jonas is the competent driver. So I hopped on the back of this electric marvel from China and we had a great time cruising down the dusty roads. Their top speed was 40 km/h.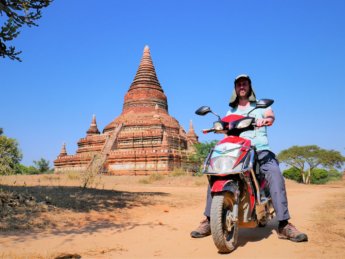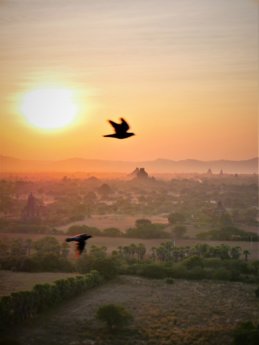 Maybe one day I'll contribute to the many writings about Bagan and the young (probably temporary) monk who was totally hitting on me when Jonas wasn't nearby. All I have to say is that it's worth the pricey tourist tax and it's probably the best major touristy site I've been to in recent years. But do yourself a favor and book enough nights to visit all parts in peace.
My personal highlight of Bagan was visiting the Shwezigon Pagoda in Nyaung-U, which is also featured in Age of Empires II as the Wonder of the Burmese civilization.
Day 8: Hitchhiking from Nyaung-U to Naypyitaw
Friday the 10th of January, 2020
For our very first hitch in Myanmar and even in Southeast Asia, come read about our journey from Nyaung-U to Myanmar's brand-new capital Naypyitaw. We stayed at Vegas Hotel.
Day 9–11: Naypyitaw
Saturday the 11th till Monday the 13th of January, 2020
In Myanmar's brand-new capital, we mostly rested and worked from our hotel. One day, we rented a motorbike and did a big tour of the city and all its attractions. Most people skip it, but I found it very worthy of a stopover.
Naypyitaw: A Surreal Planned City for Lovers of Motorcycles, Concrete, and Serenity
Day 12: Hitchhiking from Naypyitaw to Yangon
Tuesday the 14th of January, 2020
On this day, we hitchhiked from the new capital to the old one. Yangon is by most metrics still the acting capital of Myanmar. The highway between them is as strange as the urban planning of both cities. Once we arrived, we found our Airbnb and checked in.
Day 13–16: Yangon
Wednesday the 15th till Saturday the 18th of January, 2020
During our four full days in Yangon, we enjoyed some of the amenities of living in a big city. We booked an Airbnb – which is technically not allowed in Myanmar – with a washing machine and ordered food via Grab. Nice.
For tourism, we visited the Martyr's Mausoleum, which commemorates the assassination of several independence leaders when the country was still called Burma. After that, we walked to the Shwedagon Pagoda, which is a spectacular place. White people often write about how they had deep conversations with Buddhist monks there. Two monks approached us to talk, which was all pleasant and fine until they wanted money for something. Then we made our way to the People's Park, which was incredibly difficult to enter and exit. It was alright.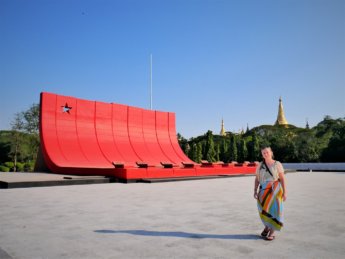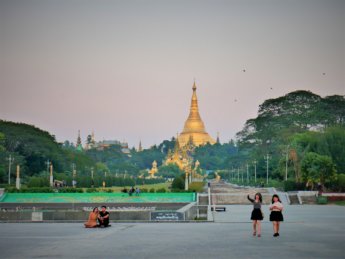 At home, we contemplated riding the Yangon Circular Railway but eventually thought that sounds a bit forced. Lots of people ride it with the intention of interacting with locals. By hitchhiking, we get plenty of that action. Moreover, we would travel by train from Yangon to the next city in Mawlamyine, which meant we'd sit on a train for long enough a few days later.
The next day, we got the train ticket, which was quite easy. After that, we got fancy coffee at a fancy coffee shop and walked to Maha Bandula Park near the Sule Pagoda. We didn't visit the Sule Pagoda but enjoyed its aesthetic from the elevated footbridge. On our final day, we visited the Karaweik royal barge at the Kandawgyi Lake. This was very nice and impressive to see.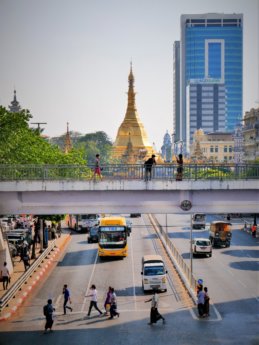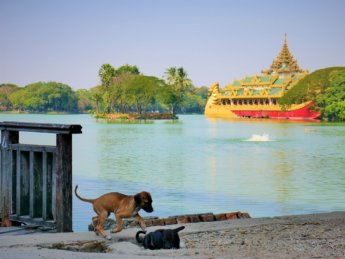 But in the end… Yangon irritated us. Tuk-tuks and motorbikes are forbidden in the city for some poor reason. Then there's the heartbreaking consequence that Grab delivery people in Yangon have to go by bicycle across the city. (Yes, we tipped well.) It's hard to get around on foot or by Grab car. And Yangon is where the bulk of the tourists are. In hindsight, we regret staying this long in Yangon and not using those days for the more pleasant places, such as… Dawei.
Day 17: By Train from Yangon to Mawlamyine
Sunday the 19th of January, 2020 
Because hitchhiking out of a giant city like Yangon is incredibly tough, we decided to cover the distance to Mawlamyine by train. First class, nonetheless!
In Mawlamyine, we stayed at the Thanlwin Seesar Motel.
Day 18: A Day in Mawlamyine
Monday the 20th of January, 2020
During our one day in Mawlamyine, we visited the highlights such as Shampoo Island and the Kyeik Tha Lan Pagoda.
Wandering around Shampoo Island (Gaung Say Kyun), Mawlamyine
Day 19: Hitchhiking from Mawlamyine to Dawei
Tuesday the 21st of January, 2020
After hitchhiking from Mawlamyine, we arrived in Dawei and checked into Hotel Best House.
Day 20+21: Dawei
Wednesday the 22nd and Thursday the 23rd of January, 2020
Dawei was absolutely amazing. On both days, we rented a scooter. One day we drove into the mountains and the other day we adventured across the Dawei Peninsula. This included a stopover at Maungmagan beach and Myaw Yit Pagoda.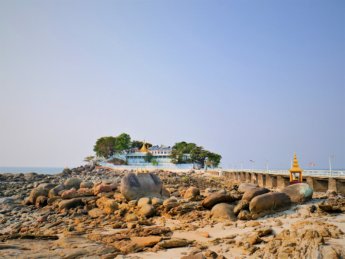 Day 22: Hitchhiking from Dawei to Myeik
Friday, the 24th of January, 2020
We had an absolute blast hitchhiking to Myeik. Our drivers dropped us off at our hotel named the Regent Hotel.
Dawei to Myeik by Thumb – Hitchhiking Myanmar's National Highway 8
Day 23–25: Myeik
Saturday the 25th till Monday the 27th of January, 2020
We needed some downtime. Even though there are things to do nearby Myeik, there isn't a whole lot to do in the city. Most of the stuff is sailing in the Mergui archipelago and other things that are a bit beyond our range as non-yacht owners. Our hotel was very comfy, so we worked and swam in the pool. We also ordered room service for the very first time. I have never seen a country with such great value for money.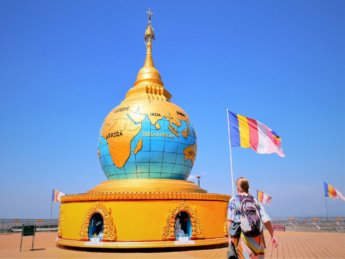 On Sunday, we rented a very shiny scooter to check out our hitchhiking spot for when we'd leave and to explore a bit. We also went up the Thein Daw Gyi Pagoda for sunset.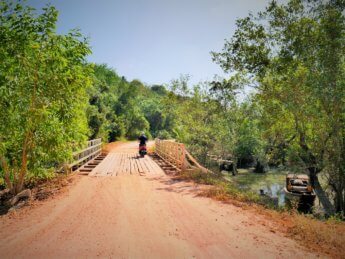 Day 26+27: Myeik→ Bokpyin→ Kawthaung
Tuesday the 28th and Wednesday the 29th of January, 2020
Our final hitchhiking stretch was too long to do in one day, so we included an overnight stop in Bokpyin in our Myanmar itinerary. After the whole ordeal, I think we're quite the experts on hitchhiking in Myanmar.
In Bokpyin, we stayed at Mg (Maung) Lay Guest House, which is pretty much the only hotel that can register foreigners. In Kawthaung, we booked two nights at Penguin Hotel.
Myeik→ Bokpyin→ Kawthaung: Hitchhiking Two Consecutive Days in Myanmar
Day 28: Kawthaung
Thursday the 30th of January, 2020
We rented a scooter yet again and traveled to Palautonetone Beach on Pulo island. We also stood on the southernmost point of mainland Myanmar in Victoria Point.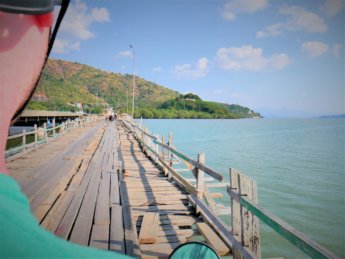 Kawthaung was the worst value for money in all of Myanmar and reminded more of Thailand. That's for a good reason: it's the place where tourists who love Phuket and other southern Thailand destinations go to do a visa run. It was also the only place in Myanmar that was a bit dodgy near the port.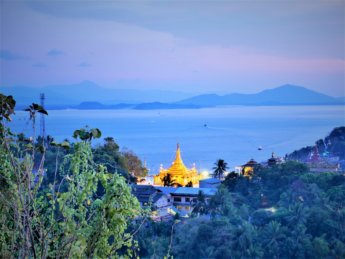 Day 29: Leaving Myanmar for Thailand, Again
Friday the 31st of January, 2020
Since our visa was up, it was time to leave Myanmar and return to Thailand. At Kawthaung, there is an immigration office to stamp out and then take a boat across to Ranong in Thailand. Stamping out wasn't as easy as stamping in, because it coincided with their lunch break.
We still had some Thai Baht left to pay for a longtail boat. People were quite pushy, and I'd love to see this border to grow and maybe develop an official ferry service so we wouldn't have to deal with the touts.
Kawthaung to Ranong: Crossing from Myanmar to Thailand by Longtail Boat
This 28-Day Myanmar Itinerary on a Map
Cost of This 28-Day Myanmar Itinerary
We spent €1399 for the whole 28 days in Myanmar. That's keeping both Jonas and I housed, fed, and happy. The breakdown:
e-Visas: €84
Accommodation: €676
Food: €288
Transport: €173
Entry fees, SIM cards, data, fake onward tickets, ATM fees, toilet fees: €78
Tours and beer: €100
Note that we didn't include the price for the flight to Mandalay in here. This is the most variable cost and chances are you won't use the same route or the same carrier.