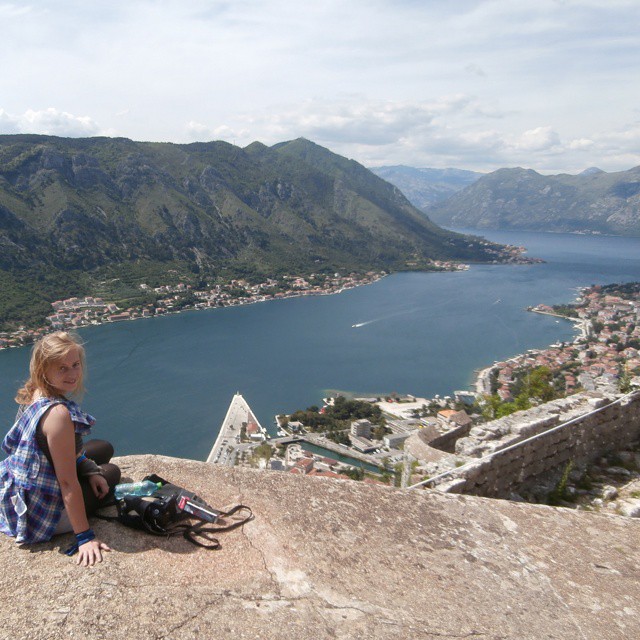 View from the Castle Of San Giovanni overlooking the Bay of Kotor in Montenegro! Quite a climb but totally worth it. As per someone from the hostel who showed me the way, if you enter from the old town you have to pay €3 to climb it, but there's a (secret!) entrance all the way on the northside (to the right in this picture) out of the Old Town. That's where there are no people asking for money and the hike is actually much nicer.
I didn't like that the Bay of Kotor is already so touristy—even though it wasn't that crowded during my visit. There are literal cruise ships entering the bay and that's a pity. Everything is paid extra; a fee here and a fee there. The most annoying fee is the tourist tax per night at the hostel. Instead of just calculating the tourist tax into the price, they ask for it extra. I find that disingenuous, the same with the sporadic place in Armenia that required a 'mandatory tip'—like no you silly, the definition of a tip is that it's voluntary and extra.
At the hostel, I met a Korean hitchhiker, which is a first for me. His name is Dongbum Kim (or Kim Dongbum?) and he also runs a blog. We took a photo together with our hitchhiking signs and then he got out a printer (?!) of his backpack to directly print it and give it to me. That's so sweet and also so extra!
Today I'll head deeper into the mountains towards Nikšić (where the beer Nikšićko is named after). Maybe I'll go camp at the Tara Canyon – the second-largest canyon in the world after the Grand Canyon – if the weather allows for it.
Hitchhiking can be tough in Crna Gora, so I have no clue if this plan is actually gonna work. Fingers crossed!
(at Fortress of Kotor)