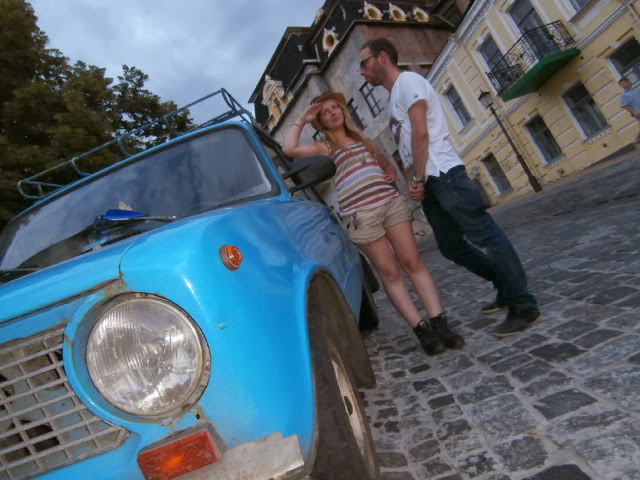 After a nightly train ride from Lviv, I arrived in Kyiv (Київ) in the early morning. I looked up a hostel near the train station on Hostelworld aptly named 'Kiev Central Station Hostel'. It was a short stroll indeed. I asked for a bed in a dorm, dropped my stuff, and connected with a few people. I asked the hostel staff for tips on how to get to Babyn Yar (Бабин яр) with public transport. Because the bus sounded too complicated, I opted for the metro. That walk took me past Kyiv's Golden Gate (Золоті ворота) to go to the metro station of the same name.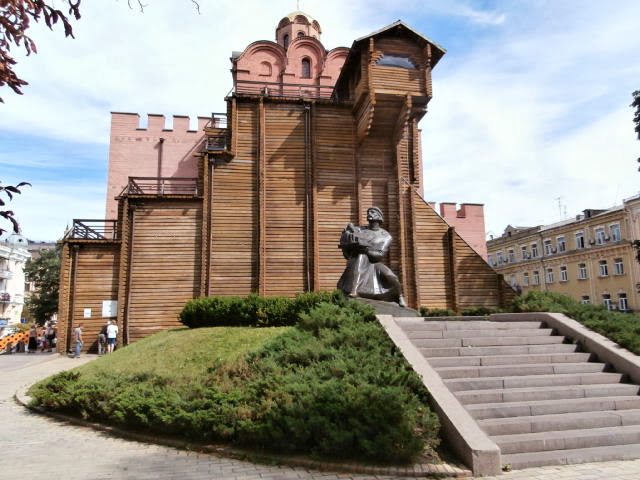 The sheer escalator ride down made me super dizzy. The orientation is strange because you have the urge to lean forward. It goes under an angle of 45° but… forever. It just doesn't seem to end. Somewhere in the middle is a terrifying stretch where you can't look back up and see the exit, and if you look downward, there's no end. At least that's what it feels like. Once on the platform, I quickly recovered. Elsewhere in Kyiv, the deepest metro station in the world Arsenalna (Арсенальна) brings you 105.5 meters closer to Hades.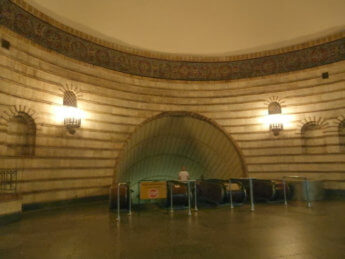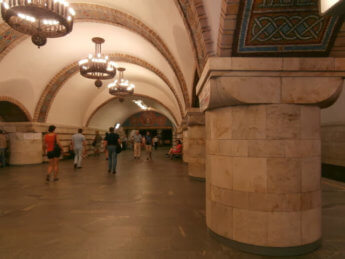 My sister had told me about the massacre that the Nazis perpetrated to the Jews at Babyn Yar in 1941. She'd read about it in a book and it came up after my visit to Auschwitz in Poland a few weeks earlier. Even though this particular atrocity wasn't mentioned in the high school history material, it was one of the largest single-event massacres during the Holocaust. At this mass grave, 33,771 people died over the course of two days. Before the Soviets came to Kyiv in 1944, the Nazis tried to cover up their crimes.
Today, there are monuments over Babyn Yar.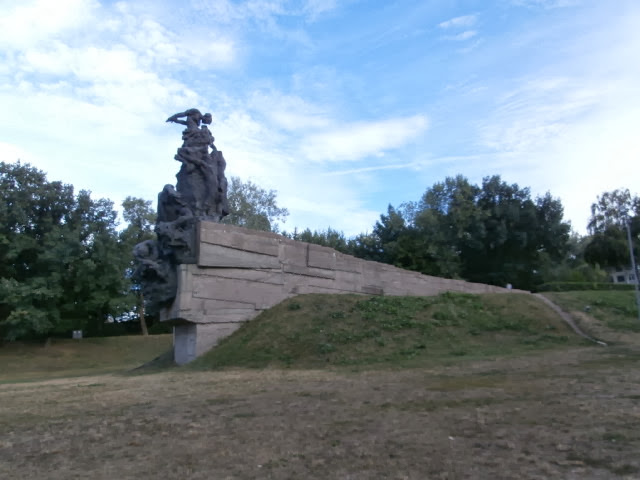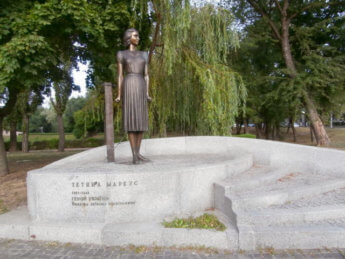 You may think it's odd to go to such a dark place on one's birthday. I also didn't know what would hit me. It was strange to see that on such a hot summer day, it's just a site for Kyivans to have a picnic, play, and pick flowers in the leveled ravine.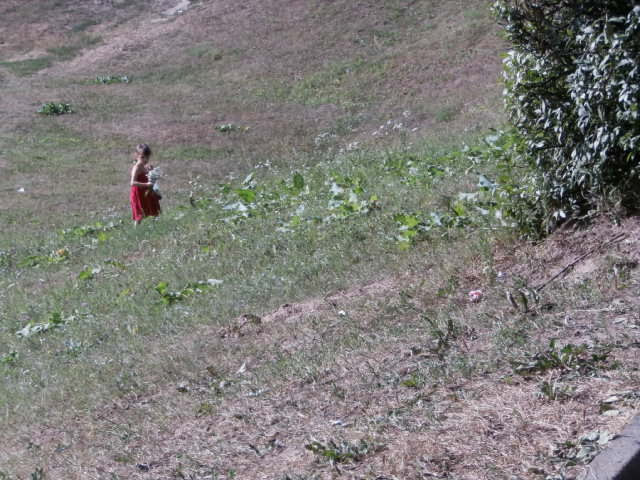 I returned to the hostel by hopping onto a bus that would head for the train station. That was a lot less of a hassle than the metro.
Back at the hostel, I loudly announced it was my birthday and asked what place would be good for a party. One particular pub , Палата №6, had something special. It was just a short walk away, yet I could have never found it by myself. Many of the hostel occupants followed the lead of one of the hostel's employees down to the basement bar.
After some starter drinks, it was time to see what the birthday special was about. I had to wear some kind of overalls and got a super heavy army helmet on my head. The bartender started prepping drinks, smashed them on the helmet, and made me chug them. A liquor drenched napkin was put on the helmet and set on fire. I had to chug another drink, got (gently) hit on the head by a fire extinguisher, got served a shot—all while the backpackers whooped and the booze master blew on his whistle. I meant what I said: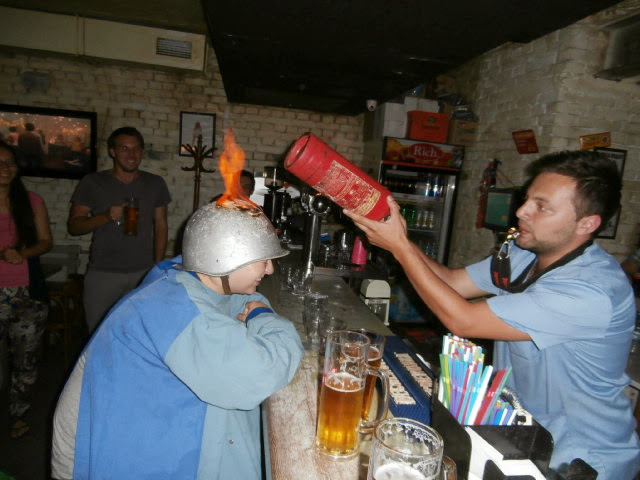 After the final gulp, the barkeep snuffed out my head flame and happy birthday or something and finished the rite. Only in Ukraine. Only in your 20s. I don't think I lost more brain cells than a normal evening out. And as a connoisseur of initiation rituals, I must say this was pretty memorable irrespective of the amount of liquor gulped down.
Edited to add: I returned to Kyiv, Ukraine in 2021 to celebrate my 30th birthday and I revisited the pub. You can see the 'helmet' ritual in video format there