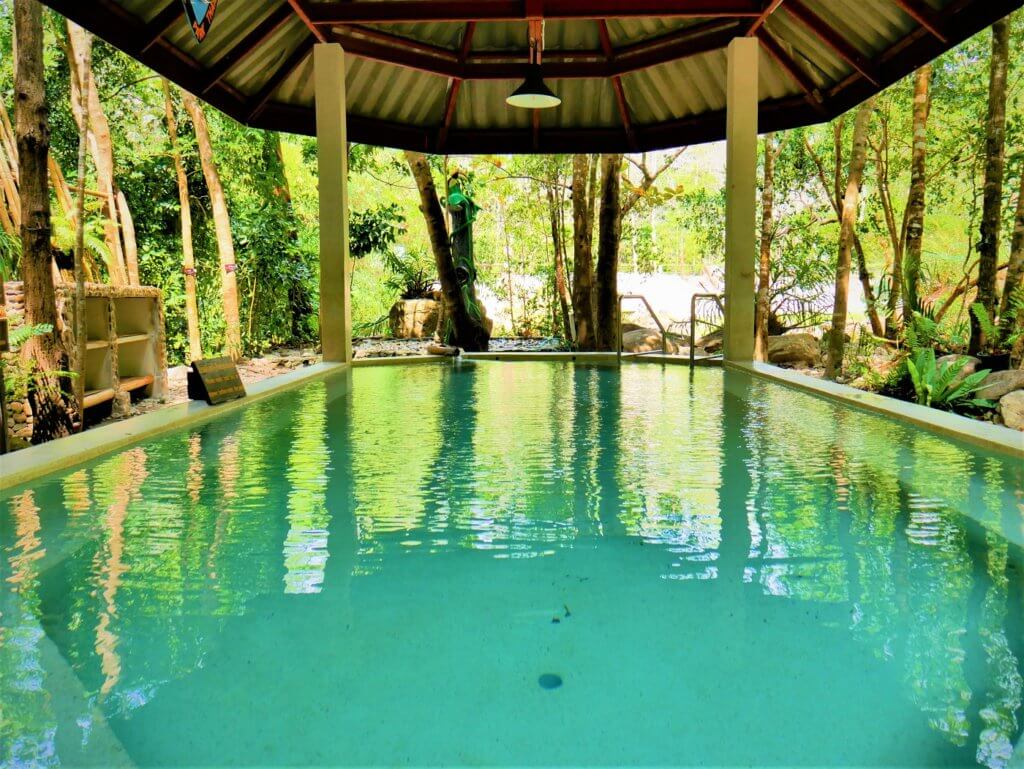 After some intense traveling in Myanmar, we were mostly in Ranong to relax and work. Our place at Savika's Guesthouse was an excellent base to explore the region from. On the 3rd of February, 2020, we rented a scooter from our own guest house. Very convenient! Make sure to also check out the map of our route at the bottom of this article.
PornRang Hotsprings
First, we drove out of Ranong southward to the PornRang Hot Springs. I was already wearing my bikini underneath my clothes to make swimming easy. This was Jonas' first time driving a scooter in Thailand outside of Chiang Mai. Although driving a scooter in Ranong was less stressful than in Chiang Mai, it wasn't as relaxed as in Myanmar. Sharing the road with huge Hiluxes just will simply never be a pleasant experience.
At the hot springs, there was a ticket booth. They said we could pay entry for both the hot springs and the Ngao Namtok waterfalls in one ticket, which we did. Then we drove to the parking lot past a restaurant and wandered around the hot springs, looking for a good bath. First, we encountered a pool with hot water and four dozen eggs in it steaming away. In Chiang Mai, I'd read everything about Japanese onsens, including about the onsen tamago—egg cooked by the temperatures of a hot spring. I'm intrigued.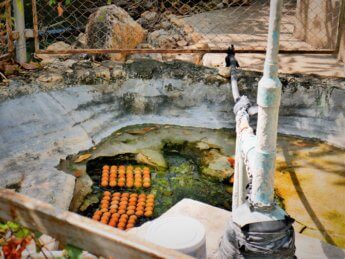 We chose a bath that looked clean, had a decent temperature, and was close to the showers. A passive-aggressive sign tells you how to bathe. It's clear that these rules are completely imported from Japan. We took a shower and carefully hopped into the 41°C hot spring. Ahh, that was very nice.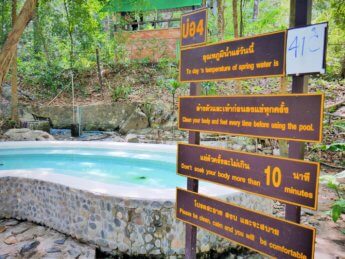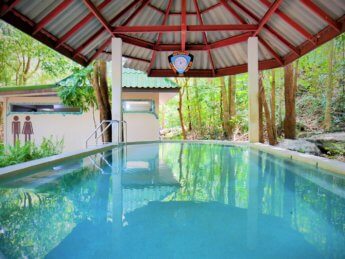 A few soaks later, some Dutch people showed up who read the sign, discussed it, and then hopped into the pool without showering. I know this is relatively normal in the west, but the more I think about it, the more it disgusts me. Also: the audacity?!
PornRang Resort + Restaurant
Nevertheless, we had a good bathing time. Once we were done with this pool, we visited the river that runs between the baths. There's a weir to make a little swimming pool of cooler temperatures with little fishies in it that like to nibble on the dead skin of your feet. Most of them are very tiny and non-threatening. But then there are a few bigger fish that when they approach your feet you're like nope! Jonas hates the idea of anything or anyone touching his feet, let alone chomp on them.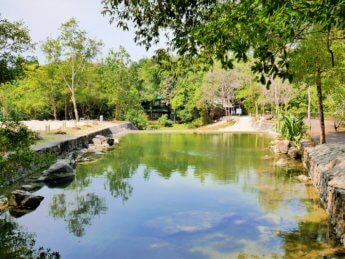 We went into one more hot spring before drying off one final time and heading for the restaurant with a tiny resort. It's a really beautiful area in the forest with small streams and big rocks around. At the restaurant, we ordered a hot spring-boiled egg and some stuff wrapped in banana leaves. It was okay. If I didn't know it came from a hot spring I'd have guessed that the egg is just undercooked.
Namtok Ngao National Park
After lunch, we drove down the hill and back onto Highway 4 (Phet Kasem Road) southward. At the Namtok Ngao park entrance, we gave our tickets from the hot springs. The trail to the waterfalls was quite accessible even for people who have difficulties walking. The trees next to the path have signs mentioning what species they are. Some of them are some kind of cinnamon trees (yum!). At the end of the trail, we reached the waterfall, though there was merely a trickle because it's the dry season.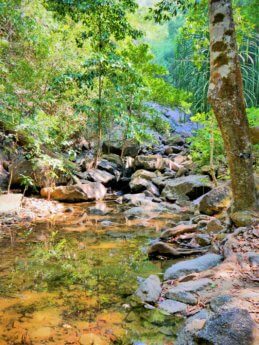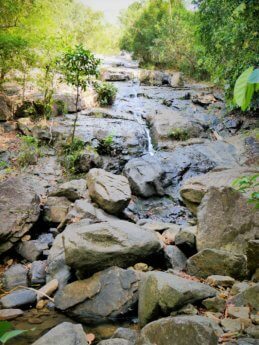 Tip: the views of this waterfall are better from far away on the main road, where you can see how tall it truly is. Here's an example on Google Streetview.
Mu Ko Ranong National Park
We continued on to the Mu Ko Ranong National Park. We heard there are nice mangroves there. The best thing about going there was exiting the main road and continuing down smaller local roads and reducing our pace. We even stopped to buy some roti, which we chomped down upon arrival after driving past the many mangroves. Their roots were dry, so I'm assuming it was low tide.
There wasn't per se a whole lot to see. Just boats and fishermen doing their thing.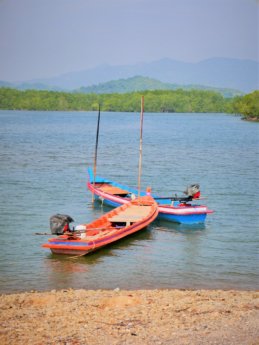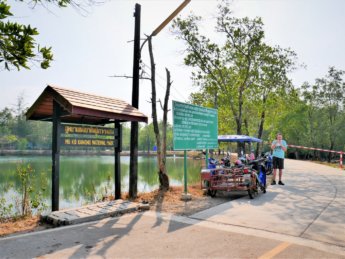 So we continued our drive. The road past the Ranong Mangrove Forest Research Center was the most pleasant stretch of winding forest road. After that, there are a couple of fish farms and then it's time to hit the main road again to go to Ranong Canyon.
Ranong Canyon
The drive to Ranong Canyon is quite scenic, though Jonas didn't like the big Hilux traffic going the same route. First, we drove past the Raksa Warin hot spring. Since it's quite a lot closer to Ranong city, it was also busier in the afternoon. We didn't consider also soaking here because once a day is enough.
Ranong Canyon is mostly a small lake surrounded by some groovy peaks. The main activity here is to have a picnic, relax, and feed the fish.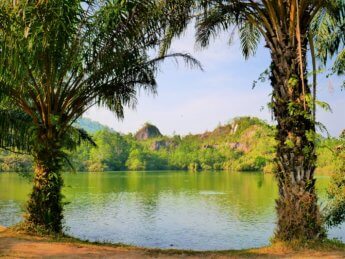 It was shocking how many fish there were. We simply sat down by the water and suddenly the fish swam to us assuming we'd feed them. I'd say this lake definitely sustains more fish because of human intervention than the lake can offer by itself. Like a trained dog, the fish would react to you pretending to throw something. What will happen when one day all the people will stop feeding them? Fish cannibalism? Absolute madness this lake.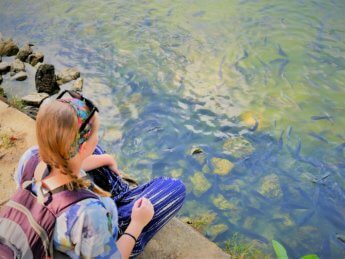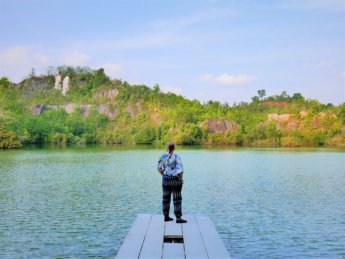 There are two jetties in so-so condition. One has a gazebo but part of it has fallen in the water. After about half an hour, we decided to continue driving around this inland area.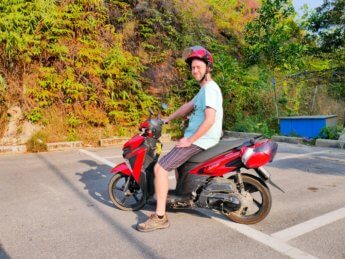 Hat Som Paen Dam—the Reservoir
One of the features that stood out to me on the map was the artificial lake. I'm not sure what the exact romanization is for its name as I've found multiple, but on my map down below I refer to it as the Hat Som Paen dam. The drive over the dam was really cool, though we had to hop on quickly and drive off because there were some dogs around that barked at us. Down below the dam, you can see the huge spillover system with a little trickle of water in the red soil.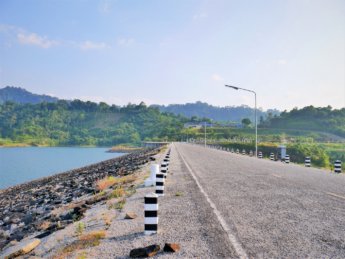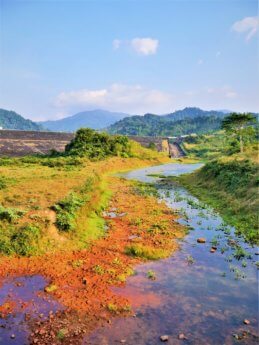 After the dam, it was time to return to Ranong. We drove through the village of Hat Som Paen past the temple and made a short stop at the Raksa Warin hot springs to see what the fuss is all about. From there, we ducked under the big road and drove back to Savika's Guesthouse to hand back the scooter.
Prices
Scooter rental: ฿250
Fuel: ฿50
National parks: ฿200 (2 people)
Route Map of Ranong Scooter Trip