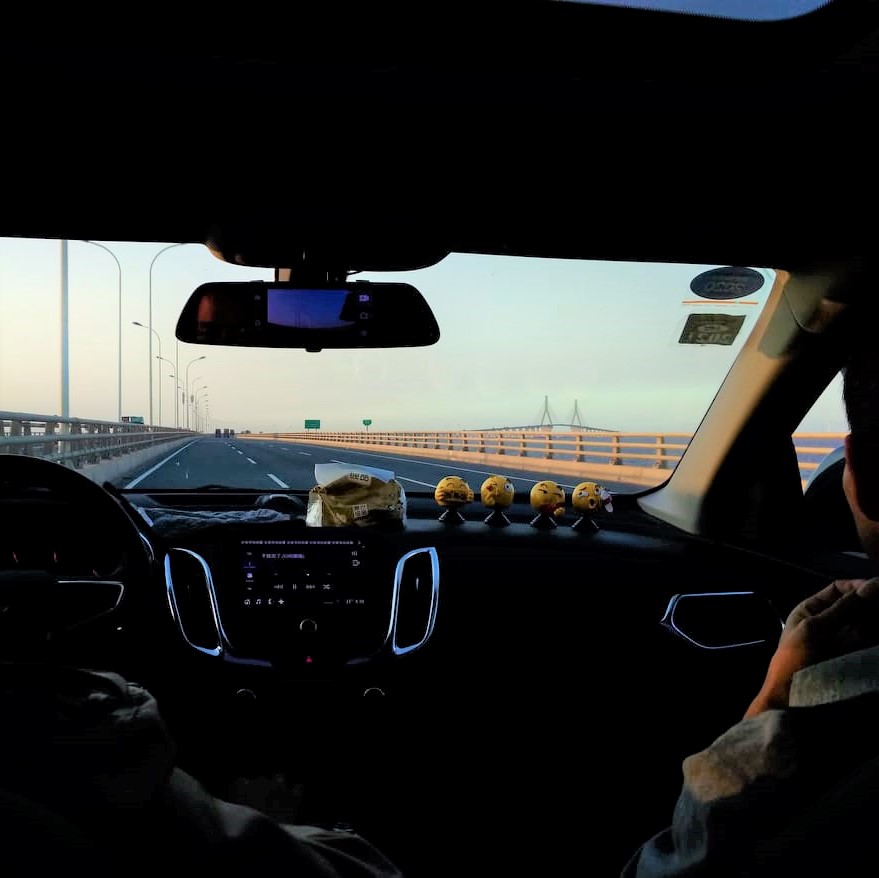 These events happened on Sunday the 3rd of November, 2019. We'd taken the bus from Dishui Lake (Dīshuǐ hú: 滴水湖) in Shanghai Municipality (Shànghǎi shì: 上海市) to Yangshan Island  (Yáng shān: 洋山) in Zhejiang province (Zhèjiāng shěng: 浙江省) via the Donghai Bridge (Dōnghǎi Dàqiáo: 東海大橋). After sightseeing at one of the scenic areas, we wanted to hitchhike back the same way to Shanghai. Click here to read about our full 144-hour Shanghai itinerary. Here are all the apps you need before you travel to China.
Contemplating Hitchhiking in Yangshan
We'd spent a little over an hour hiking around the beautiful rocky area at Xiaoyang Mountain (Xiǎo yáng shān: 小洋山). And though the lowering sun cast an incredible light over the rocks, the temple, and the Donghai Bridge, I knew we had to leave soon.
I'd first thought of hitchhiking onto the Donghai Bridge by walking back through the tunnel and standing at the entry ramp. Without cardboard, how would we communicate that we're hitchhiking to Shanghai?
I looked down the hill back at the parking lot at the entrance of the park. There are plenty of cars owned by private citizens and a few tour buses. Would it be possible to just… ask people if we could tag along?
My last hitch was more than six months ago in Cabo Verde. Though it wasn't a reliable method of transportation, I could communicate with people. I didn't have that skill over here and Jonas had never hitchhiked before in China.
I asked Jonas whether it would be a good idea to try asking people in the parking lot. He immediately responded with an enthusiastic "That's a great plan!" – which caught me a bit by surprise.
"But… do you know how to ask people?"
"That's something we can figure out.
We decided we'd seen what we wanted to see in the Yangshan scenic area. For a bit, Jonas and I tried to find the other exit of the park. But that one didn't lead back to the parking lot, so we backtracked our way to past the temple once more to the main entrance.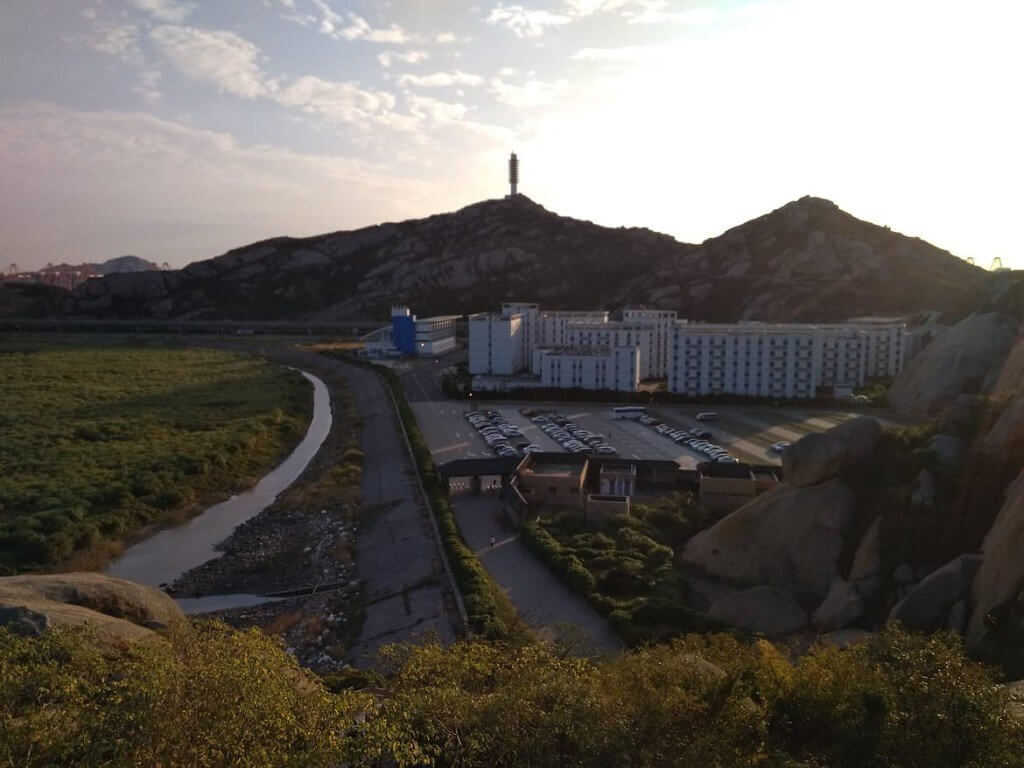 Finding a Ride back to Shanghai Province
The stress of imminent nightfall made me very dizzy while walking down the stairs. It's so many damn steps and not a good place to be in a hurry. By the time we were back at the flatness of the reclaimed land of Yangshan Island, Jonas had already gotten his phone out to translate some key phrases.
We exited the park and now we had to mentally switch from sightseeing to hitchhiking mode. I wanted to take a photo of us together in the parking lot trying to find a ride with something to indicate that we're in China in the background, but Jonas had already found some people to ask if they could take us.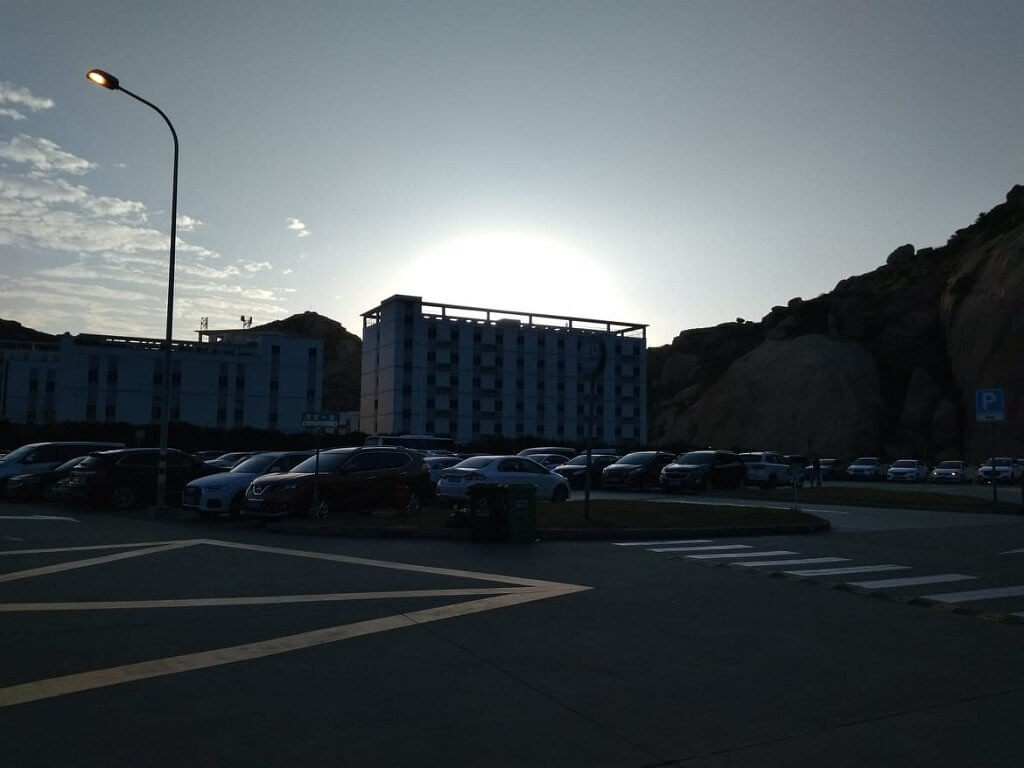 They were two young men and one woman walking back to a nice car with high clearance – a model that wasn't familiar to me but also didn't look particularly strange. That's kind of how I've experienced the highly-developed Shanghai part of China these last few days: not as foreign as expected, yet a whole new world. Kind of like an alternate reality with its own specific merits and its own specific fuckery.
Jonas asks me if we should ask them. "Go for it!" I say, and he actually does. The driver is already in the car and the two other people are about to sit down and drive off as well, so we increase our pace.
Without looking if their license plate features the abbreviation for Shanghai (沪), we approach the vehicle. The driver rolls down the window after Jonas greets them. He asks "Nǐ yào shànghǎile ma?" and they respond affirmatively. Jonas asks if we can drive with them and they agree without hesitation.
We're discussing where they can drop us off, and Jonas asks for at the Shanghai metro/subway (Dìtiě: 地铁). We don't immediately understand the suggested metro stop, but eventually get that they'd like to drop us off at Dishui Lake station (Dīshuǐ hú zhàn: 滴水湖站), which is where we'd already been that day.
The driver gets out again and moves a few items around before getting back to his seat. The driver's male friend sits next to him in the passenger seat and we get into the back with the woman. We drive off in the direction of Shanghai through the tunnel.
This is awesome!
Not only are we hitchhiking in freaking China, but we also hitched a ride with the very first people we approached.
Crossing Donghai Bridge by Hitchhiking
So far, all I've done is stand there and smile casually while Jonas handled the conversation. I look at him with immense gratitude.
I'm in the middle seat in the back squeezed between Jonas and the young woman whose name I'd like to ask, but can't. My phone battery is low and I'm a bit sweaty from walking down the mountain so quickly. The windows of the car are already open and I wonder if that's because of us. The driver rolls open the roof window too as we're driving onto the bridge. I snap a few pictures of the bridge and hope to maybe get a selfie with our drivers before they drop us off.
Driving over the Donghai Bridge in a car is much more pleasant than by bus. The roof window is also very cool when we drive under the very impressive cable-stayed section of the bridge. That's the part where very large container ships can pass under.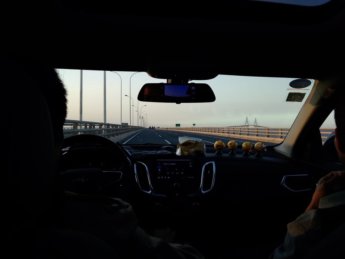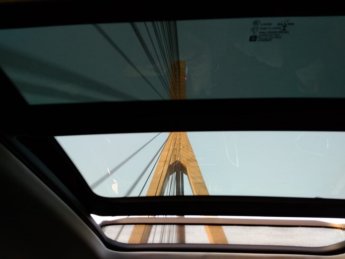 I guess it's time to tell you some more about this bridge and why I'm so excited about it:
I love impressive 'Masterpieces of Engineering' – especially if they're hitchable like the Millau Viaduct in France or the Donghai Bridge. With a length of 32.5 kilometers, this bridge definitely qualifies as a masterpiece of engineering. Dōng Hǎi means "East China Sea" in Chinese. This is a marginal sea that's part of the Pacific Ocean. The bridge opened in late 2005. Most of it is built on pillars that are not too high off the seafloor. But then there are a few stretches where a cable-stayed bridge lifts the road high enough for large ships to pass under.
The reason for building this bridge was that the coast of Shanghai is sometimes too shallow for large container ships to dock at. By building Yangshan (Deepwater) Port on a few of the Shengsi Islands (Shèngsì lièdǎo: 嵊泗列島), the Port of Shanghai can handle the world's largest container ships. The Donghai Bridge simply connects this port with the mainland.
The Donghai Bridge also crosses the border between Shanghai Municipality and Zhejiang Province. On the 144-hour visa that we received at Shanghai Pudong International Airport (PVG), this is one of the two other provinces we're allowed to visit on this visa. The other province is Jiangsu (Jiāngsū: 江苏).
Outside the left window, we see the setting sun paint the sky a hazy purple and orange over the wind farms and the moored ships. Gawd, I've missed this.
A Conversation by App
Literally all of us are quietly doing things on our phone. In an attempt to break the silence, I ask Jonas how to say "What's your name?" in Chinese, but it's a bit too tricky to just parrot it from Jonas to my left to the young woman on my right.
Back in late 2009, Jonas studied in Qingdao – a coastal city 720 kilometers north of Shanghai – for one semester. That's where he picked up his basics in Chinese. So far, we've only used transactional words and phrases that he learned 10 years ago. But now, we had more use for introductory vocabulary.
Back then, there was no Google Translate app with pre-downloaded language packages to use in offline situations like ours now. Jonas wondered out loud many times in the last three days how he did it back then and he still doesn't know.
Jonas shows me on his phone the phrase to ask for someone's name "Nǐ jiào shénme míngzì?" (你叫什么名字?), but I want to try it in a different way. I grab my phone to write "My name is Iris flower. What's your name?" and show it to her. She reads it out loud and nods that she understood. Then she shares this information with the two men in the front. She writes her name on her phone, but she does it in Chinese characters and not Pinyin, so I can't read it.
She gets out her phone to add me on WeChat, but we don't have mobile internet and the app can't load my QR code. I try to give her my WeChat ID – which is a combination of random letters and numbers – but it's too long to copy it without mistake. I ask for her WeChat, but I can't save the QR code for when I have internet. Eventually, I snap a picture of her QR code for later scanning. Perhaps that's when I'll figure out her name.
I introduce Jonas via offline Google Translate and that we're from the Netherlands (Hélán: 荷兰) and Germany (Déguó: 德国). Mentioning Germany especially sparked some kind of familiarity or approval in the guys. We don't really have a method of catching her name now and silence falls. I decided to ask her some more random questions to perhaps get to know them a little better. So I write in the app "Are you from Shanghai Province?" and she indicates that she is, but the guys are from something with Jia—…? I didn't catch it, but since virtually the only other province of China I know is Jiangsu, I ask if that's the one. All three laugh hysterically at the idea that they'd be from Jiangsu.
So I open my map app and press random provinces not too far away until I hit one called Jiangxi (Jiāngxī: 江西). Already embarrassed by the thought of trying to pronounce Jiangxi, I show my neighbor the province on the map and she nods that that's the right one and clears up with the two men that we've corrected our hilarious mistake. Jokingly, Jonas says to me: "Jiāngxī versus Jiāngsū, how could we possibly mix that up?!"
Arriving Back at Dishui Lake
We drive off the bridge and approach the toll booth plaza. There's no need to pay toll again as the Donghai Bridge is the only way on or off the islands with a car – barring paying for a ferry. We just have to come to a halt in front of a few cameras before we can continue driving on the mainland. By now my mystery neighbor is using my downloaded Pinyin keyboard to write in Google Translate on my phone. She types in "你们来这里是旅游吗" which offline Google Translate turns into "Are you coming here?"
I ask Jonas what she could mean, and we write to her that we're on holiday for five days, which we, unfortunately, find very short. I ask her whether they're driving back to 'Jianxi' province tonight, but she types in my suspicion that they work and live in Shanghai, but are originally from said Jiangxi province.
We're rolling off the highway into the area near Dishui Lake. I'd like to chat some more now that we have a method of having a two-way conversation with the Pinyin keyboard, but we're about to arrive at the metro station. I'm thinking about writing this article later about this experience. A selfie of all of us would be a really good addition. I get my brand new selfie stick ready when the driver sharply turns his car around to drop us off.
Though Jonas knew of my intentions to ask for a selfie, he gets out of the car immediately. He thanks the drivers. I'm sitting there holding my selfie stick in my hand like a dick, not knowing how to proceed from here. I also get out of the car and say "Thank you! Xiè…xiè..!" and awkwardly close the door.
"Why did you get out? I wanted to ask for a photo."
"You didn't take a selfie?"
"Yeah, I kind of needed your help in there…"
We walk into the subway station.
The Metro Ride back to Jiangning Road
We'd already done the trip between Dishui Lake station and Jiangning Road station (Jiāngníng lù zhàn: 江宁路站) that morning. Dishui Lake is one of the farthest stops from the center of Shanghai. We needed more than one and a half hours to complete this journey to our apartment. It includes a switch from Line 16 to Line 13 at Middle Huaxia Road station (Huáxià zhōnglù zhàn: 华夏中路站).
During our long commute, we discussed the ride. I kept praising him for reaching beyond halfway to help me experience hitchhiking in China. Jonas' vocabulary in Chinese is now fully back in his prefrontal cortex; hitchhiking has a way to activate once familiar knowledge and put your brain into full access mode working at 100% capacity
This hitchhiking experience is something I craved intensely without really knowing whether it would even be possible to squeeze in that experience in just five days in such a huge city with fantastic yet intimidating infrastructure. As opposed to this morning's commute, I'm now wide awake and feel fan-fucking-tastic.
What puts a slight damper on my mood is my next thought. I asked Jonas whether the only reason why we were picked up without so much as a discussion among the people of the car was that we're white or foreign, to which he responded that it definitely helped.
I think back about the time in 2015 when a Canadian-Chinese hitchhiker invited me to join his hitchhiking trip around China. His reasons for seeking out a partner and not winging it solo were "If I go by myself they just think Oh, homeless local" and "If you're a white foreigner then you get rides easily simply to practice English with."
Once we're home and back online, I scan the saved QR code to add my driver lady on WeChat. I write to her that we're the foreigners from the car and thank her for the ride. She adds me almost instantly with 你好 followed by a mysterious "Courtesy". I can now translate her screen name, which reads phonetically becomes Yíshì Gǎn and translates to 'instrumental sense'…
It's probably just an anonymous screen name.
Enjoyed this Article? Feel Free to Share!