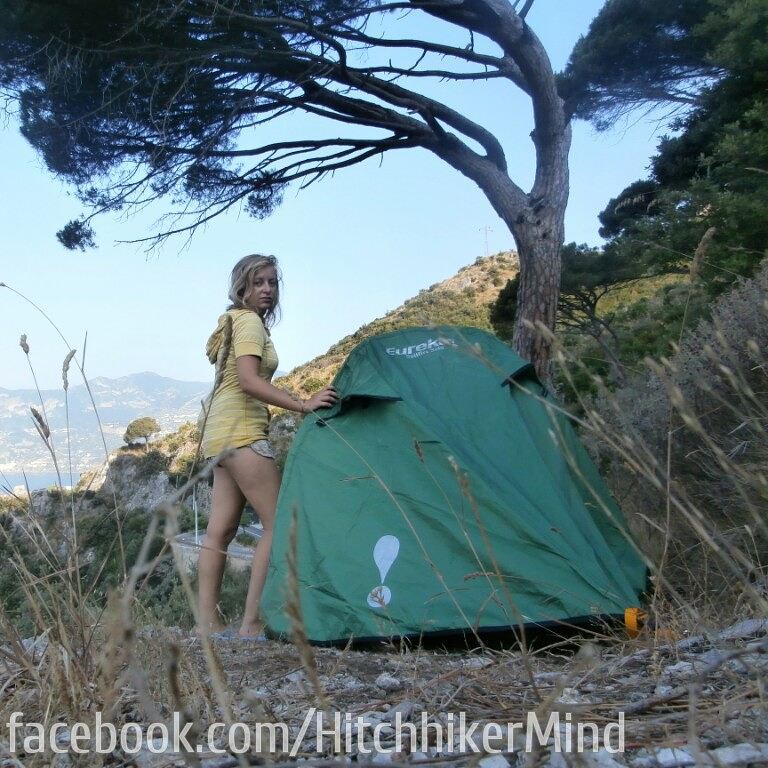 Those were a good 860 kilometers hitchhiking from my freecamping spot at the Amalfi Coast to Savona. Here you can see where I freecamped along the Amalfi Coast. The road here is so beautiful. If I had the necessary money and the courage to drive a motorbike or scooter on the Amalfi Coast, that would probably be the best way to enjoy it. You can see the bendy tree, and if you turn around you'll see the hill with the transmission tower.
A Fast Hitchhiking Day to Savona
Savona is all the way in the north. That's where I'm staying now. Even though this Italian adventure will be short, it's so much better than I'd anticipated.
I didn't intend to go speed hitchhiking this far; I only expected to arrive from Napoli to Florence and call it a day. Then this awesome truck driver from Morocco took me all the way from Rome to Liguria. That was nice because besides practicing my French, I was able to catch some zzz's and calmly appreciate the changing landscapes. People rap the Amalfi Coast all the time, so I didn't realize how incredibly beautiful the northwestern coast of Italy is.
I don't know why hitchhiking in Italy has such a bad reputation. I've encountered quite some police on the service stations on the highway. HitchWiki says it's illegal to do autostop on the highway and those hitchhikers will be fined at minimum €21. Drivers supposedly receive even larger fines. But all that the police did was buy me an espresso and serrano and mozzarella sandwiches… which were delicious. Though this is in no way an endorsement of the police.
In Savona, I'm spontaneous couchsurfing with a guy from Albania. I even took a shower and washed my clothes! I'm clean, happy, well-rested and I spoke my eight words of Albanian that I learned earlier this year. What else does a hitchhiker want?
#Napoli #Firenze #Italia #buonasera #Roma #Carabinieri #autostrada #nonstopautostop #Sqipëri #Italia #Agadir #France #Monaco #ttot #travel #adventuretravel #adventuretime (at via Amalfi at the Costiera Amalfitana)