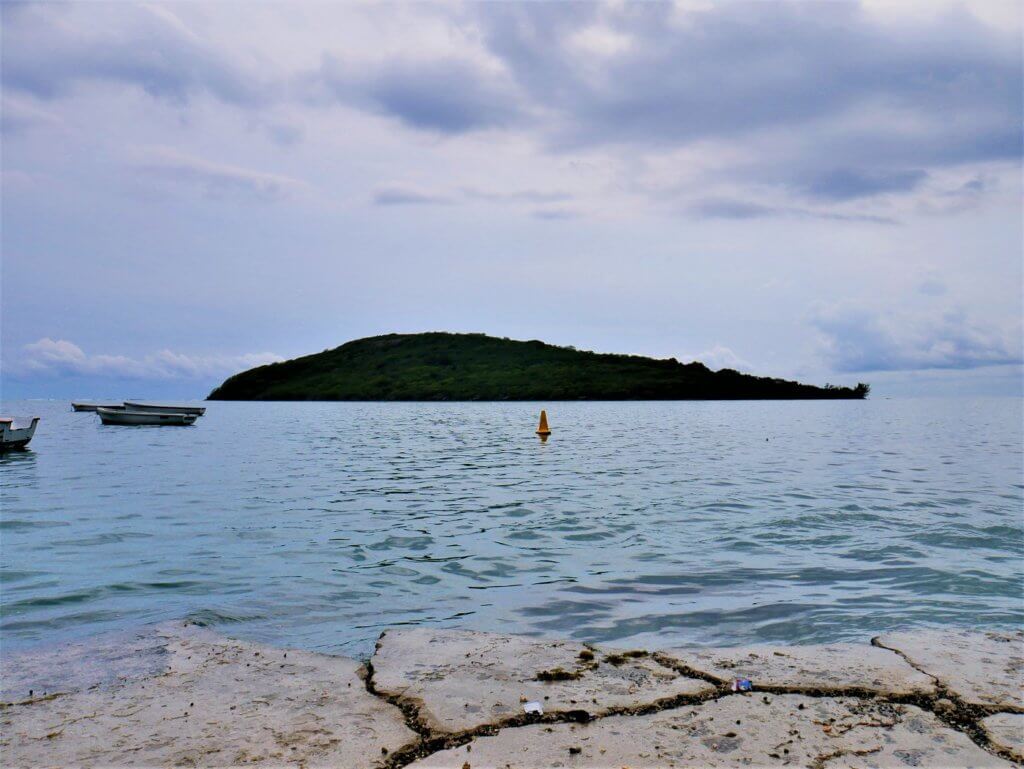 We did this trip to Îlot Fourneau on the 6th of January, 2022.
The Idea + Attempt #1
When we moved from Souillac to La Gaulette by taxi, we drove past Le Morne Village. We both saw the small islet called Îlot Fourneau off the coast. I want to visit as many islets in Mauritius as possible; they are the best kind of day trips. So when we settled into our home in La Gaulette, I did some digging into going there. I found a blog post about walking to the islet in shallow waters at low tide and then walking around the island's rocky shore.
Though a cool experience in itself, Jonas and I had already done a low tide crossing once in Colombia from San Andrés island to Rocky Cay. As the tall one, he had the responsibility of carrying our backpack with a dry bag with his phone inside above his head. I thought he had fond memories of that, but years later he admits that was very stressful. So he'd rather go to Îlot Fourneau by fisherman's boat, rented kayak, or not at all.
We tried going there on Wednesday the 5th of January, but the first week of January in Mauritius is the absolute worst. Our main issue was that we went out after work without having eaten at home. We ignored the massive pot of tabbouleh in our fridge in favor of walking to town to eat some mine frite veg before catching a bus or hitchhiking to Le Morne Village to visit Îlot Fourneau. But most restaurants were closed, didn't have vegetarian food, or had a massive queue and no spot in the shadow to wait. I got a minor heatstroke from this experience and we had to return home as we were both exhausted and risking sunburn.
New rule: don't leave home without having eaten in towns where the food supply is unreliable. Unless we have a scooter. This scooter rental saga quickly became our main headache in La Gaulette.
We tried again the next day.
Hitchhiking to Le Morne Village
After lunch at home and a chat with our fellow digital nomad neighbor, we reapplied sunscreen and packed our bags. We walked from our suburban home downhill to the bus stop. It was about 13:00 and the hottest part of the day. We would either hitchhike or take the bus to Le Morne Village—whichever comes first.
There were two people at the bus stop, so we decided to hitchhike 30 meters downstream from the bus stop to not confuse drivers. If the bus would show up, we could still run those 30 meters and catch it.
I lifted my thumb when the first car sped past us and they didn't stop. But the second car slowed down for us and the driver rolled down the window. I asked if he's going to Le Morne Village in my best French, but he said English or French and we decided to switch to English. He said he's not going to Le Morne, but will drive in that general direction. I asked if it would be okay to drop us off at the crossing and he said yes, get in. This is our third hitch in Mauritius and so far it's always been quite easy.
Jonas sat in the passenger seat while I sat in the back. I asked his name and he said "Suvrat, but that's difficult for you, right?" Jonas asked to repeat it and I think we were close to getting it right. He lives in Souillac, which so far has been our favorite place in Mauritius. Jonas tells that we stayed there for one week and loved it. I chimed in and said something about the Italian ice cream shop and pizzeria in Souillac.
I'm thinking that if he lives in Souillac, he's probably driving past Le Morne Village where we need to get out. I try asking if he's going to Souillac now and try to convey that we don't need to get out at the crossing to Le Morne peninsula in that case. It's more than a little confusing because Le Morne can refer to any of several places.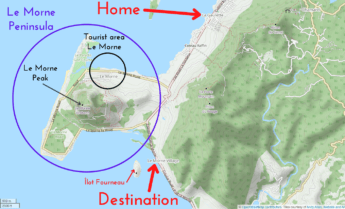 At the crossing, we slow down and Jonas manages to say we're going to the other Le Morne. We drive over the cool zig-zag road and through the beautiful forest onwards. The skies look threatening and Suvrat says there will probably be rain. That's not a problem for our trip since we have dry bags and waterproof phone cases. But perhaps walking uphill will become impossible.
Once we're in the right Le Morne Village, we spot the jetty. We stop before the speedbump and thank Suvrat while getting out of the car. It's a tall pickup truck and I misjudged the depth to the sidewalk and almost fell out. He drove on to Souillac and we crossed the road to walk to the jetty.
Fishing Boat to Îlot Fourneau
At the jetty, there were three men near a tiny fishing boat hauling a bucket with two large fish. They seemed done for the day. We hopped off the jetty and Jonas asked the guy who looked like the owner in French if he could bring us to Îlot Fourneau. Though it was a bit hard to understand the answer, he affirmed. Jonas asked for how much, and he said Rs. 700. Not cheap, but it's a return price and we'd really rather not get stuck on the island. We asked to stay on the island for 2 or 2.5 hours and he agreed.
We changed our shoes into water shoes to hop into the boat while the man was prepping his boat for the short journey across the lagoon. Once he was ready, we hopped in and he pushed the boat away and turned on the engine. The section next to the jetty is quite deep, but once you head towards the island, the water gets very shallow. Yes, we could have walked this like the people in the picture below. But it would be much more stressful with my big camera and other sensitive things.
Our captain told us he has a toothache, which is why he's speaking funny. Both our French isn't up to speed and this man is probably speaking his unadulterated Kreol Morisyen – or a Frenchified version – but the both of us listening in means we catch 90%. He asks if we need a guide to hike up Le Morne mountain during our vacation, but I  said we'll probably not hike it. He was headed for the beach when he asked, wait, is this where you want to be dropped off on the island? And I said yes, la plazh is good. He beached the boat and we discussed the pickup time once again. It was now 13:35, so let's make it 15:30 or a little later? He agreed to a time between 15:30 and 16:00. We'll pay after the return trip.
We hopped out of the boat into the shallow water and walked to the sandy beach. There was a German couple with a baby, a sort of half kayak that's inflatable, and a drone. Never seen such a thing before. There was also a Mauritian couple having a picnic elsewhere and an older Mauritian woman having a nap under the shadow of a tree.
The area looked like it had seen better days; stacked beach chairs, chained pedal boats, a forgotten grill, and various other items and structures looked undermaintained. I'd seen pictures online of people having a blast on Îlot Fourneau before covid hit and it looks a lot more operational.
Hiking to the Peak
We sat down on a patch of grass and used a sarong to dry off our feet to get back into our hiking shoes. I told Jonas again that there's no official trail mapped to the peak, but that I was sure we'd find a way. The island is rather tiny and we probably wouldn't be the first to attempt this. I pointed at a gap in the dense trees behind us and guessed that's where the trail begins. The idea was to hike to the peak, then make our way down to the shore, switch shoes again and then walk in the waterline at the falling tide back to the beach. Would two hours be enough for that? We'll see.
At 13:44, we had our hiking boots on and headed into the forest. First, we came across a patch of dumped trash that smelled badly. We had taken our masks off a bit too soon for this. Beyond that, it was a very dense forest, but I could still see something of a trail. I took off my mask and ate spiderwebs. I did my method of putting an arm forward to touch the spiderwebs with my arm first instead of my face. But the interpretive trail led uphill and directly southward, so that's good.
Loads of growth low to the ground scratched our legs. It wasn't too spikey and scratchy, which is why we didn't turn around right there. But still, perhaps it would have been a good idea to wear long pants on this hike.
We also encountered many geckos of various sizes and colors that got a little spooked from our presence. At one point, I grabbed a skinny tree and noticed a 20-centimeter long lizard making a dash for it down the tree, jumping off before she'd touch my hand, and racing across the forest floor to safety.
It was quite difficult for Jonas to follow because he's taller. He had to crawl quite low beneath the branches and then he'd get stuck with his backpack. A couple of days ago on a hike to some waterfalls in Souillac, he hit his head pretty hard on a tree branch that I'd passed under without crouching. I'm sure he hadn't forgotten this incident.
We passed a heap of stones that I marked on my map. I showed Jonas our progress and it was… not something to get enthusiastic about. We'd been hiking for 10 minutes and our GPS location had barely moved. It be like that sometimes. I said that we could return any time if this proves to be a futile exploit. What's at the peak anyway? I said, uhh, nice views? A feeling of accomplishment and determination? I made a note on my map as a breadcrumb and we continued walking.
The forest became less dense for a moment and there were these huge (sort of?) aloe plants much taller than us and probably much less juicy than aloe vera. Therefore, the trail became vague till we stumbled upon a T crossing. We were under full attack by mosquitoes. Jonas grabbed the mosquito repellent from my backpack and we started to cover our bare arms and legs. I inhaled some of the nasty mist and entered a coughing fit.
Jonas suggested we'd take a right at the T, lose a bit of elevation, but continue the clear path. This turned out to be a good choice as that skinny tunnel in the trees led uphill again soon enough. There were some steep sections where we had to use our hands and the generous amount of skinny trees. Once we were on a flatter section again, I looked on the map. It's 14:03 and we're halfway!
We slurped some water to replenish what we'd sweated out. Jonas' skepticism was replaced with enthusiasm and we continued the hike in a straightforward manner to the peak. The canopy thinned out and we felt the sunshine. One last heap of stones to climb marked the bare peak of the island. And wow, the views!
We had a good view of Le Morne inselberg and its peninsula. The lagoon surrounding this section of the island was also visible.
On the east side, we could see the jetty we'd come from in Le Morne Village. The fishermen that depart from this jetty had dug out a deeper section for their boats to get in and out of the lagoon.
And then there were the seaplanes occasionally flying over. We both agreed this was definitely worth it.
An Alternative Route Down?
After enjoying the peak and this small accomplishment, we decided to look for a path down. Jonas had already wandered into the grassy field south of the peak. There were spikey plants and wobbly stones there that weren't that fun. He found something that led downward via the western part of the island, which we knew was a very steep way down. I said we either go down straight southward or on the gentler eastern side. But we didn't find a hole back into the canopy in these directions.
We looked at the time, 14:22. Our priority was to still have enough time at the beach to swim and wash off. I had some nasty black smudges on my arm from god knows what. It wouldn't rub off. And down by the beach, there were no mosquitoes—so washing off the repellent wasn't a bad idea.
The advantage of returning the way we came was twofold: it would be a lot faster and I'd have the opportunity to GPX this trail and upload it on OpenStreetMaps for others. If we'd still try to find a way down to the coast and then walk through the water, it would take much more time before we're back at the beach. We might not even make it on time and miss our ride. Then we'd have to wait till the tide had fallen as much as possible before we'd do the lagoon walk like in the map at the top of this page.
Did you hike down from the peak and continued via the shoreline? Let the other readers know about your experiences in the comments!
We chose to descend the same way. I turned on GPX tracking and led the route back down the way we came. I barely had to look on the map for my breadcrumbs, because I would either recognize the route, a tree, a rock, or a snail shell, or I'd notice this was correct because I didn't walk face-first into any spiderwebs.
Only at one section, I lost the trail and made a few circles till I decided to just bushwhack my body through some dense vegetation back to the trail. Not my finest moment, but we got back on track.
We made it from the grassy field beyond the peak, back over the peak, and finally back to the beach in 24 minutes at 14:48.
Swimming at Îlot Fourneau
At the beach, we switched back into water shoes and ran into the water. It was very shallow and getting more shallow by the minute with the falling tide. It was a bit difficult to find a spot deep enough to have a proper swim without being dragged out by the currents that flow around Îlot Fourneau. I washed off most of the black smudge of my arm and the accumulation of sweat and mosquito repellent.
The shallow sections had little holes in the seafloor, which means like worms or shit, so I really needed to find a place deep enough for me to swim comfortably and not constantly think about sea worms that might touch me while I try to float. Jonas didn't have these mental blocks and floated peacefully and with a smile on his face.
I decided to walk a bit around the island in both directions. The eastern side of the island was relatively flat but had a strong current, whereas the western side was very peaceful but had sharp cliffs. It's a good thing we didn't try to come back from the peak via the western side because this would have backfired so much. It was also possible to see the (well-worn) trail on the eastern side that leads to the mainland; a stripe of bright sand leads straight to the village.
On the western side, I also saw the German guy in his half-kayak fishing in the lagoon. So that's what it's for!
I returned to the beach where Jonas was sitting on his sarong. I washed off once more and joined him. The grass was very prickly even through his sarong, and with two sarongs it was just a small improvement. We laid there and forgot covid existed until it was 15:35. I walked to the eastern side of the beach to see if our favorite fisherman was coming. Not at all. I returned to the sarong.
By 16:00, we got a little worried when our ride was still not here. I walked back out into the water to see if there was any activity on the horizon. Still nothing. Jonas walks to the shore 10 minutes later and waves to the shore without effect.
I returned to Jonas and said that we might have to prepare for the eventuality that we have to walk back through the water to the mainland. That would make this trip a very cheap one, but I wasn't looking forward to it. On the other hand, the tide is falling, which works in our favor.
The German couple and baby were preparing to leave. The mother and child sat atop the half-kayak while the guy pulled them on a leash through the water to the other side. Also the Mauritian couple were ready to leave, and I thought perhaps they came here with the same fisherman as we did and had discussed a different pickup time. That would be one explanation why he's late.
Return by Boat
The German couple isn't using the fine trail to the mainland and wanders rather aimlessly across the lagoon. Then I hear a motorboat starting up on the mainland. Our guy is coming to get us!
Jonas finishes packing and hands me one of the backpacks. The fisherman beaches his boat and we get in. Then the Mauritian couple shows up and asks the fisherman for a ride. They get in and we're ready to go. The engine protests the suggestion of starting up and we got a little worried that we'll still have to walk across the lagoon after all. Then it finally the engine starts. I guess with enough of these trips, he can afford a new outboard motor soon.
The Mauritian couple have an unimpeded conversation with the fisherman as we cross the lagoon in a slow vibration. I only pick up that they're from Surinam, which is one of our favorite towns in Mauritius. We had a brief conversation about how nice it is that today wasn't that hot.
On the other side, we pay the fisherman the promised Rs. 700 and the other couple pays Rs. 600—which is fine. It might have been cheaper for them if we weren't around, but I think the lowest price would be Rs. 500 and nothing less.
Back on the jetty, we take some more photos before we walk to a restaurant Jonas saw before for some takeaway riz frite veg and roti veg. We'll eat that at home. Then we walk to the bus stop and catch a bus back to La Gaulette.
What a great little day trip.
A couple of days later, we drove around Le Morne peninsula and had a cool new view of 'our' little island again. This time you can see the cliff: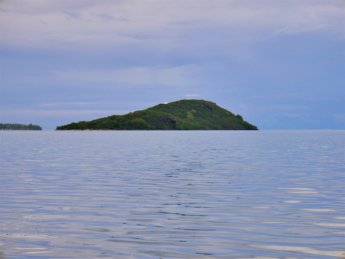 Map of Îlot Fourneau + Packing List
Water shoes (there might be sea urchins)
Dry bag
Waterproof phone case
Mobile phone (with Mauritian SIM card—the whole island has reception. Call 999 or 114 for emergency medical assistance)
Hiking boots
Cape hat
Sunscreen
Mosquito repellent
1.5 liters of water per person, more if you're staying longer than 2.5 hours
Emergency snack (such as trailmix)
Swimwear
Optional: long pants (against scratchy plants)
Small backpack to carry all this
Face mask for on the boat and the mainland
Cash money
Helpful post? Consider buying me a coconut!
Bitcoin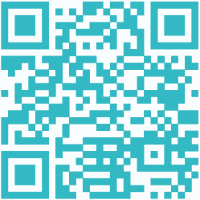 bc1q9a6w08a4gkx4gdvnh7w2vlkfzx4tlwfpfe6jm6
Open in wallet
Save or share with friends? I'd love that!