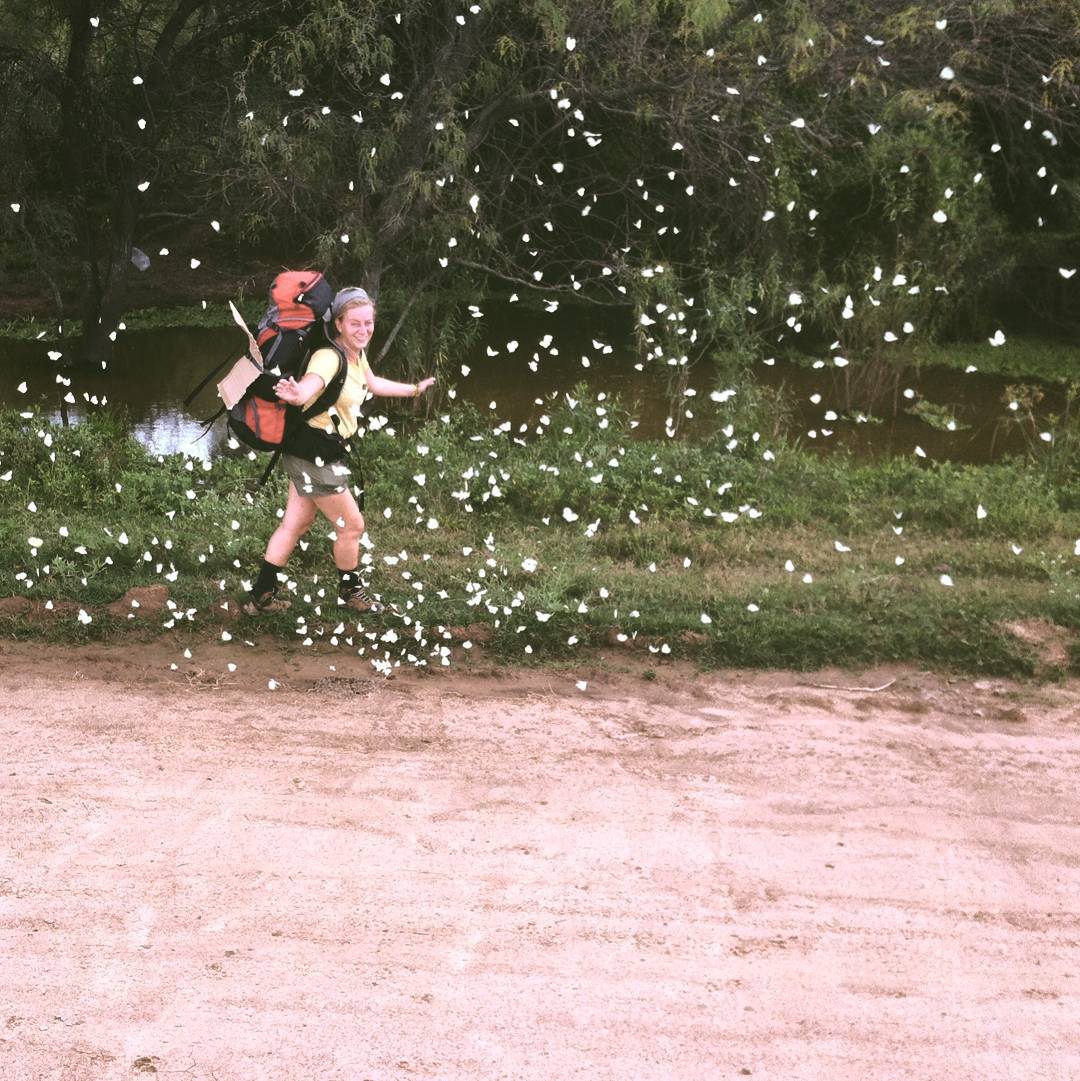 I've arrived in Bolivia! Here I was taking a *butterfly break with the backpack, a great shot Jonas took. We were hitchhiking toward the Bolivian border through Paraguay's Gran Chaco region—a rough diamond. If you tell Google Maps to drive from Asunción to Bolivia, it tells you to drive through Argentina instead. It's a clear warning of what this road would be like. Truly, this was one of the most difficult roads I've ever hitchhiked in terms of traffic, road quality, temperature, and water availability. It took four days!
On the bright side, it's the mating season or something of these butterflies and there are billions of them everywhere. They gather in the tire-track puddles of water to slurp. So you can take photos like these and cheer yourself up while one car passes every half hour.
The slowness of our progress did result in something nasty, bureaucratically speaking; there was a two-day difference between my Paraguayan exit stamp and my entrance to Bolivia. That obviously provoked some questions from Bolivian immigration. So I just said I missed the bus two days in a row… which worked! But the border guard also crumpled my immigration form because he didn't like my handwriting. Man, these Bolivian border guards don't fuck around.
Villa Montes is the first Bolivian town of relevant size, some 100 kilometers away from the border. It's my base for scrubbing off that collected dirt and dust to continue hitchhiking towards the Andes mountain range. So far I've seen plenty of places selling coca leaves and people taking siestas because it's just too damn hot. I'll be doing the same until nightfall makes hunting for Bolivian delicacies doable. AdioZzzz
*No butterflies were harmed in the making of this photo. They had plenty of time to fly away. When driving in a car, we'd hit many of them because it was a literal swarm of them. That was unavoidable, unfortunately.