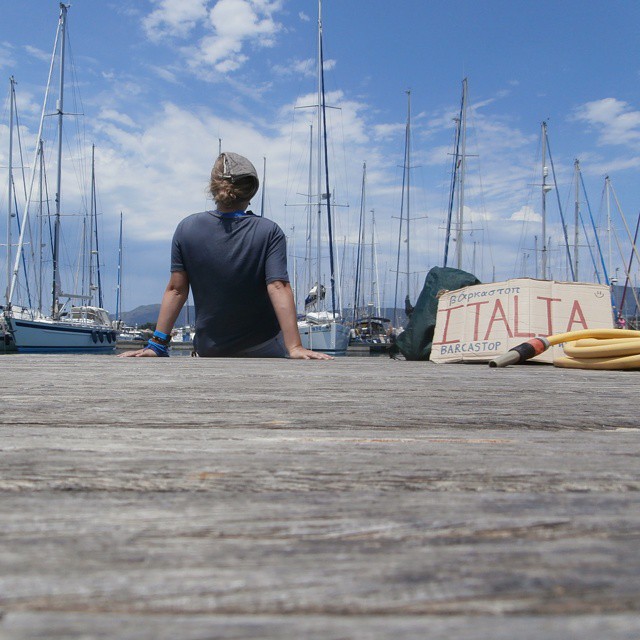 Dockwalking: many people do it in a more advanced way than I do in order to go boat hitchhiking. They print out copies of their CV, wow! I just carry a hitchhiking sign with my destination and my not-so-secret weapon: a smile. And patience… for the love of God, you need a lot of patience. [update 2020: I have embraced technology. I have a very nice profile on CrewBay and Find a Crew profile now. If you're a boat owner, make sure to star my profile!]
But I keep singing:
I'm sittin' on the dock of the bay
watching the tide roll away
Oh, I'm just sittin' on the dock of the bay
wasting time to find a boathitch to Italy!
Nothing yesterday, nothing today, but patience is key when dockwalking! About 70% of people in the marina in Gouvia know me by now through a hardcore networking act.
Every day there is at least one boat going to Italy. Today's boat didn't have enough space (for real, they weren't making excuses) and was going to Dubrovnik first, which is a detour. Yesterday's boat had a huge language barrier and I'm still not sure whether they've set sail to my destination.
I am lucky to have such a nice host on Corfu since it was my first night of proper sleep in a while! The weather is changing tonight and the seas are going to be more rough, but I'm quite positive about my chances—though the feeling of silliness doesn't go away. Many people are sympathetic to my cause and that's all I need really.
Perhaps one day I'll properly write a 'How to hitchhike a boat' or 'Dockwalking 101' guide that's useful. For now, I'm just gathering experience. Hopefully a positive experience. Man, I crave the sea!
#OtisRedding #Greece #Hellas #barcastop #hitchhiking #boats #yachting #noferrynocry #implausible #mission #personalgrexit #getlucky #whataview #Italia #Brindisi #Bari #anywhere #Malta #Kerkyra
(at Gouvia Marina Corfu)