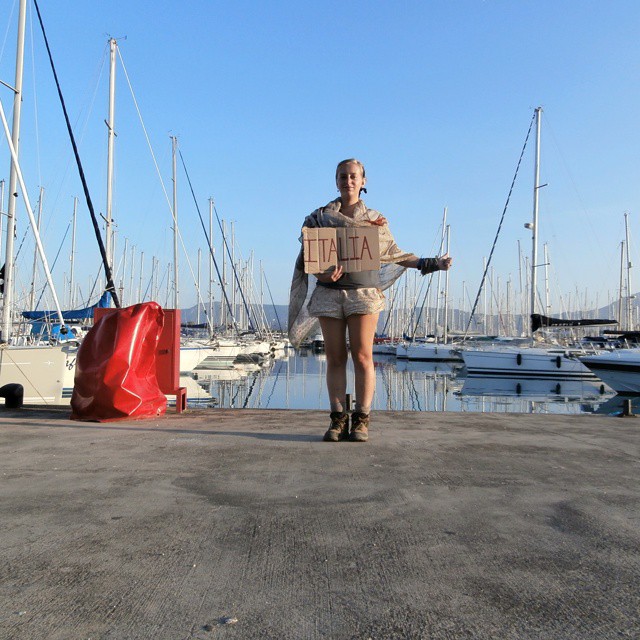 Good morning from the island of Corfu! Yes, that is correct, I managed to hitch to an island. This wasn't super intentional… but cool! I'm now at the huge marina of Gouvia on the Greek island of Corfu and it's super early. Why am I here so early? Because a kind soul allowed me to sleep on the deck of her husband's boat. Once the people wake up I'm going to try hitchhiking a boat. My approach? By walking around with this hitchhiking saying 'Italy' to try and find a sailing/motor yacht to cross the Ionian Sea.
Do I feel silly for trying this? Radically silly. But I might get lucky if the port authority doesn't kick me out.
I've actually been at this marina before in 2013 before I had a blog. That happened when I hitched a private boat for the first time by accident. In the Montenegrin port town of Budva, one Turkish and one Croatian man offered me a boat ride. They asked me where I wanted to go, so I pointed at the island in the bay called Sveti Nikola Island. But because we couldn't land there, they asked if I'd be cool with getting dropped off in Greece. All night, we zoomed past the entire Albanian coast on the way to Greece. The next morning I woke up in this harbor in Corfu (with a hangover) and I continued sailing with these guys to Athens, where I got off.
Amazing things can be possible, but if not, I'm taking (and paying for…) the midnight ferry to Bari, Italy. Then, I'll be licking my wounds. There's a ferry from here to Italy only twice a week. Freecamping in Corfu is near impossible; the police will fine you €150 when caught. Camping and hotel owners could get a fine of €5000 if they don't register me. It's so touristy here that hospitality = money, not a warm welcome.
Have you tried hitchhiking a boat? Do you have any tips for me? I've heard asking around the docks is called 'dockwalking'. Not dogwalking.
#Kerkyra #getlucky #Greece #Hellas #personalgrexit #grexit #boathitching #feelingsilly #Italia #Brindisi #Puglia #Igoumenitsa #marinaGouvia #GouviaMarina #IonianSea #sailing #yachts #CrnaGora #Turkey #Croatia #Hrvatska #Athina #ferry #bewelcome (at Gouvia Marina Corfu)