You might have heard of some people who have visited all 195 countries on earth. Whoa! How do they do that? Isn't this hugely expensive? Could a person like you or me visit all countries?
Possibly, yeah, but if you think money is the greatest obstacle to visiting all of the world's countries, you're wrong. It's actually the passport you hold – if you can afford one, to begin with.
Out of curiosity, I tried to calculate how many people cannot visit one or more of the world's 195 countries. If one country doesn't let you in based on your nationality, the dream to visit all countries ends very abruptly. It's a punishment for something a human had no power over: their nationality. Here's the harsh reality, based on the data of WorldOMeters, quick Google results, and a good dose of Wikipedia:
There are about 7.500.000.000 people in the world right now, from now on: 7.5 billion.
There are 1.39 billion citizens of China, who cannot visit at least Nicaragua. These two countries have no diplomatic connection, because – in very simple terms – Nicaragua recognizes Taiwan (Republic of China) and China (People's Republic of China) doesn't like that. Boom. 18.5% of the world's population cannot visit all countries on earth. Part of this number 1.39 billion are Taiwanese (Republic of China) citizens, who cannot enter Georgia (the country, not the state) under any circumstances. What this means for citizens of Hong Kong and Macau (about 8 million people) is unknown.
There are about 25.4 million citizens in North Korea who can't really go travel unless they're competing athletes and the like.
There are 8.3 million citizens of Israel, who cannot visit a whole bunch of countries, mostly in the Muslim world. Admission is completely refused.
In return, 34.2 million Afghan, 1.4 million Bahraini, 95.2 million Egyptian*, 263.5 million Indonesian, 80.9 million Iranian, 38.7 million Iraqi, 7.9 million Jordanian*, 4.1 million Kuwaiti, 6 million Lebanese, 4.6 million Libyan, 31.2 million Malaysian, 4.3 million Mauritanian, 35.2 million Moroccan*, 4.7 million Omani, 196.7 million Pakistani, 2.3 million Qatari, 32.7 million Saudi, 11.4 million Somali, 42.2 million Sudanese, 18.9 million Syrian, 11.5 million Tunisian, 9.4 million Emirati and 28.1 million Yemeni citizens can't go to Israel unless the Israeli government approves of a visit on a case-by-case basis. That's 965.1 million people, or 12.9% of the world's total population, who can't visit all countries on earth. Ouch!
*Edited to add: Of these nationalities, I've received information that they actually ARE allowed to visit Israel under a regular visa application. If you have knowledge of this, please edit the Wikipedia article accordingly to fit the current policies.
To wrap up: We started with 7.5 billion people in the world and now we have 5.1 billion people left to travel to all countries on earth. So far, we've managed to find 2.39 billion people, or 31.9% of earth's population, who can't visit all countries.
It doesn't end here:
The 191.8 million citizens of Nigeria can't enter Bahrain.
All 164.8 million Bangladeshi citizens would have their passports seen as "invalid" when traveling to Israel.
South Korea's government is so busy nannying its citizens, that as of 2014, all 50.7 million South Korean citizens can't enter Libya, Syria, Iraq, Yemen, Somalia, and Afghanistan.
Ethiopia's 104.3 million citizens can't enter Kuwait, because of a bad stereotype.
The 3 million citizens of Armenia can't visit Azerbaijan, but somehow Azerbaijani citizens can still enter Armenia. Their beef is historical.
Guinean citizens, all 13.3 million of them, can't travel to Bahrain, Mauritius, Mongolia, and Papua New Guinea. Perhaps the last one is because of a name infringement issue?
The 6.7 million Sierra Leonean citizens can't visit Bahrain, Mauritius, or Mongolia either.
Then there are 4.9 million people in the State of Palestine who will have their admission refused to Lebanon and Madagascar.
There are 4.7 million inhabitants of Liberia that can't visit Bahrain and Mongolia.
Lastly, as a place that is de facto an independent nation, Kosovo's 1.9 million inhabitants will be refused entry to Cuba, Armenia, the Bahamas, Cambodia, China, the Democratic Republic of the Congo, Ecuador, Georgia, Iraq, Lebanon, Morocco, Philippines, Serbia, Seychelles, South Africa, Spain, Sudan, and Vietnam. Many UN member states don't recognize it as a legal travel document.
Now the total number of people who can't enter one or more countries adds up to 2.934.900.000 people or 39.1% of people on earth.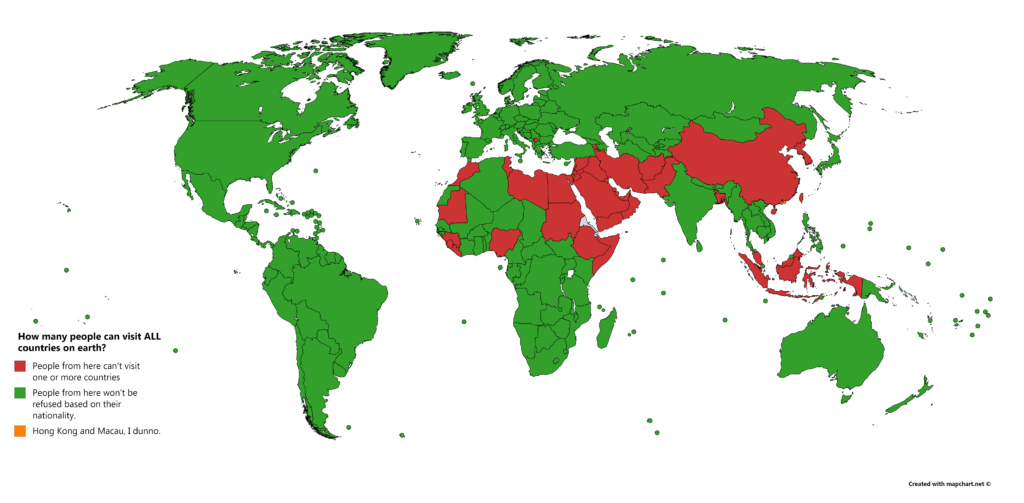 So what?
That's a shit ton of people!
(and that should make you a little mad if you care about others)
This article is about showing how hard it can be to travel with certain nationalities and how arbitrary some foreign policies are. This is about all the people who could own an ordinary passport – as opposed to a diplomatic one – and assumes no one has dual citizenship. It assumes everyone can afford to purchase a passport, which can cost up to US$800 . Some people are discriminated against in their own country and are refused a passport by their own government. Some people need permission from a family member to obtain a passport. The problems run much deeper.
Not having your nationality banned from entering a country is of course no guarantee they will let you in. If you need a visa, you could be rejected for said visa by a random bureaucrat at any point in the application process. You can also be barred from entering an airplane because some bigot in a uniform has a bad day. At land (and sea) borders, one might be told to turn around by the immigration officer, just because they can.
This still doesn't mean it gets to be easier for some of the other nationalities. India, with 1.34 billion people (17.9% of the world's population) doesn't have any of its passport holders banned by any country. Indians 'only' have to fill in 50+ forms for more than 100 countries, show their income tax over the last three years, and have a minimum of €10.000 (US$11.000) in savings for their visa applications. Traveling all countries on earth is definitely a financial burden only affordable to wealthy Indians. Opposite of that is yours truly, who only needed a visa once so far. That's privilege.
Why are you so focused on visiting ALL countries? Isn't that *shudder* country counting? 
It's just one way to show the inequality of passports. There are many people who wish to travel a lot and going by the total number of countries is just one way of setting a goal. You do you. Count those countries if you like! None of us is going to be the first person to visit all countries on earth anymore , but many of us can still be the ~*first*~ person of our own country to do it. That might be a motivation for some. Knowing that certain nationalities will never have an individual achieve this under the current system is really sad. There are many people who follow the philosophy of "if you can dream it, you can do it" and I'd like to show people this isn't always the case. Nearly 3 billion humans have a nationality that kills that dream.
Disclaimer:
The data comes from the linked Wikipedia articles in April 2017. If any information regarding which nationality can/cannot visit which country is incorrect/absent, please edit it on Wikipedia and inform me by email or in the comment section. This article is about complete countries and doesn't include information about special regions that ban certain nationalities, so always check it yourself before you go!
Interesting much? Pin or share me please! 😀