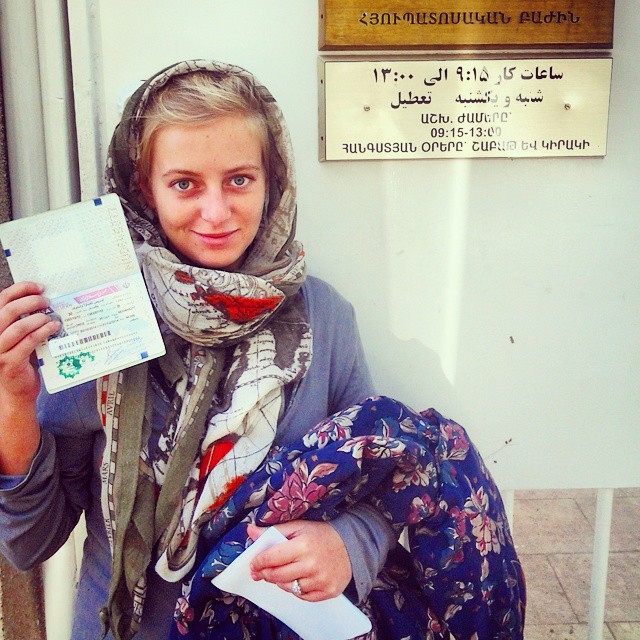 NOTE: If you want to use this picture of me preciously holding my first visa for an article about getting an Iranian visa and such, read my page about using my content first.
Wanted: a visa to Iran
YESSSS! I just picked up my very first visa. If you're new here: I've been trying to obtain an Iranian visa for months now, first starting at the Iranian embassy in Tbilisi. I just walked in and asked, but they couldn't really help me. I went to bureaucratic hell and back and considered hitchhiking to the Iranian consulate in Trabzon in Turkey. Someone said they'd had success there. Someone discouraged me from trying at the Iranian consulate in Batumi. Eventually, after someone stole my backpack in Anaklia, I decided to take the easy way out. In a hostel in Zugdidi, I found an online visa agency.
Finally, the waiting is over and I can go and hitchhike to Tehran and such. It still cost me an arm and a leg on top of the first costs to arrange it through a visa agency. Now let's hope the immigration officers at the Meghri border let me in with this full-page visa.
I now see the advantage of just paying someone to do the job, though I wouldn't want to pay this much again since it affects my budget. Clearly, next time I should just have my documents together and do it myself. But that will be a different country probably, so there might be new obstacles and challenges.
How to get an Iranian visa? The process for the Iranian Embassy in Yerevan
Applying online
I just went to the trusted IranianVisa.com website and filled in an application form for the Iranian visa. Someone had recommended me this website. I paid €20 through PayPal. You can choose at which embassy or consulate you wish to pick up your Iranian visa. Try to not make any mistakes and reread it 20 times before you send it. The visa agency sent me a confirmation email with an authorization code. I forgot how much time had passed.
Now I could travel to the Iranian embassy in Yerevan to pick up my visa. They also provided a list of things I needed to show at the Iranian embassy in Yerevan. This includes health insurance that covers Iran. I printed out my entire Dutch healthcare policy at a print shop in Yerevan. There are many copy shops in Yerevan, including a Xerox some 1.1 kilometers away from the embassy.
I also took some pass photos in Tbilisi, Georgia. I took one version of me without wearing hijab and one with so that the embassy people could choose.
My experience at the Iranian embassy in Yerevan
Note that you should dress like you're already in Iran at the embassy. Women should wear hijab. Or like the Japanese woman who got her visa on the same day, wear a hoodie over your hair. I also tried to arrange my Iranian visa with mostly the female staff. 
This is the address plus opening times of the Iranian embassy in Yerevan, in English and in Armenian if you're going there by taxi:
1 Budaghyan St, Yerevan 0014, Armenia
1 Բուդաղյան փողոց, Երևան 0014
Opening times: Monday till Saturday from 9:00 till 18:00. Sunday closed.
It's first necessary to visit the embassy to show your authorization code and get the Iranian visa process started. I found the people that worked there quite kind and they had a machine to pick a number for a specific request. If you're early, you can talk to someone there to hand over your documents and pass photo (they chose the one wear I'm wearing hijab), then receive their payment request, which you'll have to pay at an Iranian bank in Yerevan called Mellat Bank. That's a 4.6-kilometer hike, one-way, so it's best to use public transport or a taxi. This is the address plus opening times of the Mellat Bank in Yerevan, in English and in Armenian if you're going there by taxi:
5 Tumanyan St, Yerevan 0001, Armenia
5 Թումանյան փողոց, Երևան 0001
Opening times: Monday till Friday from 9:30 till 16:30. Closed on Saturdays and Sundays.
At the Mellat Bank, you'll receive proof of payment after you transferred your €75 to them. Hold on to this for dear life, because after this, you'll get your Iranian visa rather quickly. If it's too late to return to the embassy, you can come back the next day as I did.
Iranian visa success!
Back at the embassy, I handed over my proof of payment. Then I waited along with the other travelers until my number got called. I received my passport with the Iranian visa and a short explanation that I should use it within 30 days or 90 days (I don't remember exactly). Whatever, this didn't matter. Because I had my IRANIAN VISA!
Outside the embassy, my temporary visa buddy Vaidas took this photo for me and I did the same for him. One of the happiest days of my life!
Found this article useful or entertaining? Consider buying me a faloodeh!
Bitcoin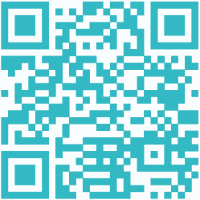 bc1q9a6w08a4gkx4gdvnh7w2vlkfzx4tlwfpfe6jm6
Open in wallet
Save this post for later? Share it or save it to Pinterest!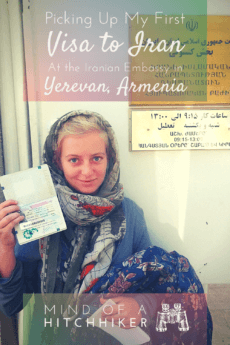 (Originally published on 2 Oct 2014 @12:06): #Visa to #Iran ready! Time to move! #hitchhiking #Teheran #broke (at Komitas Ave)