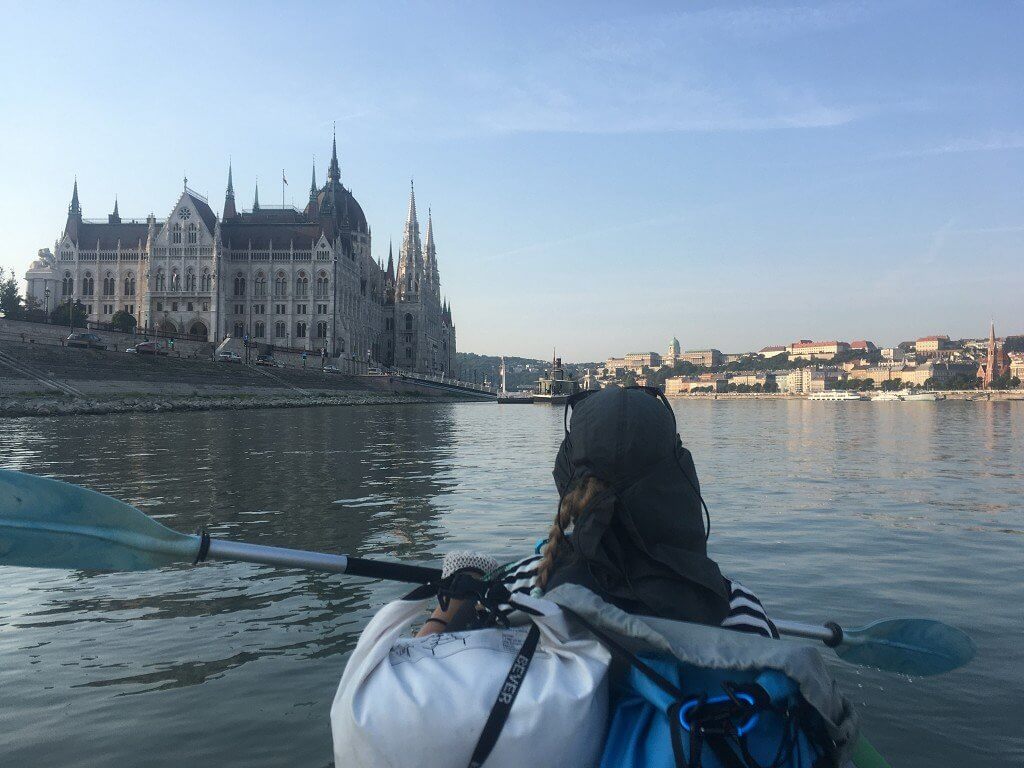 Events narrated in this story happened on Friday the 30th of August, 2019. We started the kayak journey beyond Budapest. Originally, we planned to stop in Budapest, but we felt like we could paddle a bit further. The small village of Ercsi was our first stop after Budapest.
One Week in Budapest
Our stay in Budapest was nice, but I didn't accomplish as much as I'd hoped. We did a small bit of sightseeing, despite the lack of considerations for pedestrians in their urban planning. Jonas did some maintenance tasks like changing his laptop battery at an Apple repair shop. One day we went scouting a reentry point into the Danube in front of parliament. Another spot we considered was the reef/rock near Gellért hill, but the Hungarian parliament building was much more accessible from our Airbnb on the Pest side of Budapest.
I didn't get much done on the writing front, but we did book our entire last leg of the paddle trip the whole 200 kilometers until Mohács. If you've noticed, I've been adding a lot of details in these articles about what time we started, at what time we took breaks, how long portaging took, when we answered nature's call, etcetera. Well, we finally put all those data points in a spreadsheet to see how we've progressed since day 1:Donaueschingen to Geisingen. So here it is!
I also learned that the Danube in Budapest is about 96 meters above sea level. We started in Donaueschingen at 686 meters above sea level, which means we've already descended 590 meters throughout just 1044.6 kilometers. Then I found this graph that makes me worry quite a bit about continuing this trip in 2021:
Not only does this graph tell me that the good ole days of rapid descends are over, but also that the mysterious Hungarian Gate is probably in humble Gönyű and not at Devín as I'd deduced before. Geographers, historians, and whomever… can you please tell me where the heck the Hungarian Gate is? I accept all forms of GPS coordinates including the fuck, marry, kill format of what3words. Please help me solve the mystery!
Leaving Budapest for Ercsi
We got up very early at around 6:00. Jonas microwaved the already prepared coffee and I finished packing up. The idea behind getting up this early was to A) start paddling before the ferries start operating at 8:00, B) beat the city car traffic and C) beat the heat, as it was predicted to hit 33°C that day.
We got a Bolt taxi to Olimpia Park and arrived there at 7:15. From there, we took the stairs down to the embankment road and crossed it to get to our stairs. These stairs are part of the embankment and often people drink there at night, so there's lots of broken glass around. Also, the municipality doesn't seem to clean the spot very often – perhaps they're waiting for the water levels to rise so the river takes the trash downstream. Some people use the place to walk their dog in the morning, so while pumping up Zucchini, we were barked at.
Despite all its flaws, the launch spot isn't all that bad. Considering we're entering one of the busiest stretches of the Danube from inside the city center of a major capital, it wasn't that tough. And the backdrop with the Hungarian parliament is legitimately quite cool.
Taking care not to inflate our boat in the glass or the trash, we managed to take good care of our boat by putting it into the grass. But by disturbing the grass, I got a tiny fly inside my nose. My instinct was to pick it out of my nose and to show it to Jonas – he sometimes doesn't believe something until there's proof – and he responded pretty well considering the gross thing I put him through.
We put Zucchini into the water over the riprap, loaded the boat up, and got in. We paddled away and in front of parliament at 7:45. Without asking, Jonas took a very nice photo of me. I also snapped a few of him.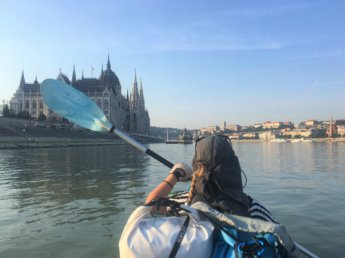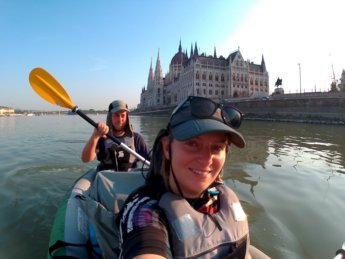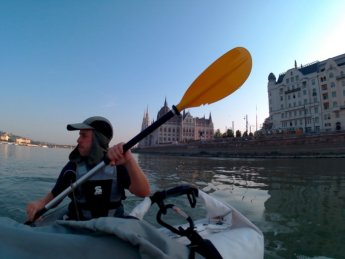 A Recent Fatal Cruise Ship Accident: the Hableány
As Budapest is the biggest city on the Danube River, we were very nervous about this day. There's so much traffic on this 4.4-kilometer stretch between the Árpád Bridge (Árpád híd) and the Rákóczi Bridge (Rákóczi híd).
What didn't help was the accident earlier in 2019 on the 29th of May in the evening darkness. One of those grotesque Viking cruise ships rammed the small cruise ship 'Hableány' near the Margaret Bridge (Margit híd). Search, rescue, and salvage operations were hindered by the high water levels common to the Danube in spring. All 27 fatalities were South Korean tourists and Hungarian crew from the smaller ship Hableány.
Five days after the accident, a body was found 110 kilometers downstream from the collision site at a small town called Harta. One of our pre-booked stops is in Harta. In later days, they found more bodies at the towns of Adony, Kulcs, Százhalombatta, and our destination of the day: Ercsi. They only managed to salvage the boat 12 days after the accident with a crane ship named the 'Clark Ádám' that we've seen building the New Danube Bridge between Komárno and Komárom. There were seven survivors. One passenger is still missing.
Back when that happened, we were still paddling in Germany on the young Danube. But the news was so big and international, that my mom shared their concerns about our trip with us concerning this accident. We were still about 800 kilometers upstream of Budapest. Our main concern back then was whether we'd continue the trip or not when the big boats entered the Danube at Kelheim.
Paddling Through the Center of Budapest
With all this in mind, we were very vigilant for the time of day. Besides a cruise ship making a 180° turn, there wasn't much going on. Some cruise ships had their engines on, but that was it mostly. A few early risers from the cruise ships filmed us or waved at us from their balconies. We got to enjoy some of the other sights of Budapest, like the Széchenyi Chain Bridge (Széchenyi lánchíd), Buda Castle (Budavári Palota), Gellért Hill (Gellérthegy), the University of Technology and Economics,  and the House of Unicum.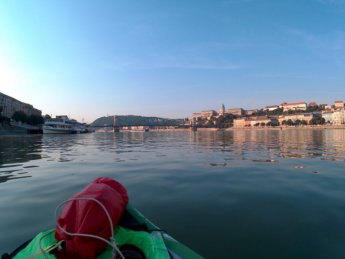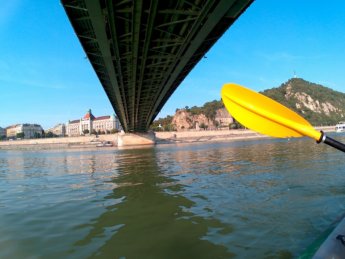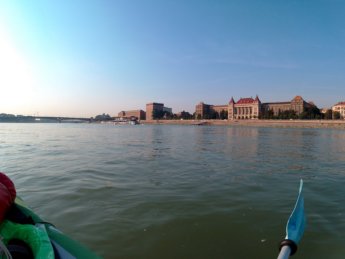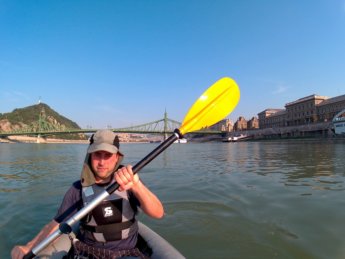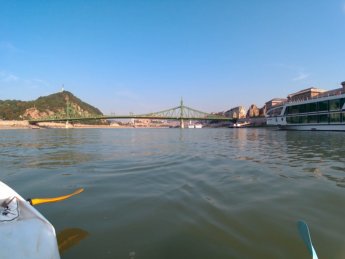 A bit after 8:00, we encountered our first and last ferry at the stop 'Müpa – Nemzeti Színház H'. We made sure the captain saw us and negotiated right-of-way. Nobody got hurt and we didn't break a sweat.
But I'm very, very happy that we're not paddling through the center of Budapest as the very first thing when we continue this trip in 2021.
Csepel Island and Budapest's Harbor
We left the busy center of Budapest after paddling under the Rákóczi Bridge. The Danube split up once again to form the largest river island of Hungary: Csepel Island. The branch of the Danube we're not taking is called the Ráckevei Danube. Jonas needed to go, so we had a small break on the shore of Csepel Island near a spot where they're planning yet another bridge across the Danube .I'd eaten a cereal bar, which made me feel very bad as my stomach protested that kind of food.
We continued paddling and saw a bunch of moored barges at the port of Budapest on the left. We were also on the left, so we had very little visibility. After consultation with Jonas, we decided to cross the river to the right-hand side to avoid close encounters with cargo ships. This is corroborated by Flusswandern's advice on this stretch. It was 9:00 when we were parallel to the port.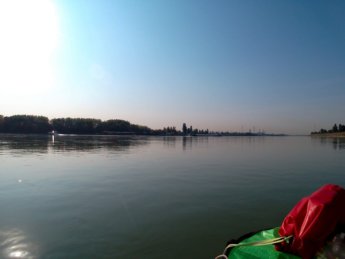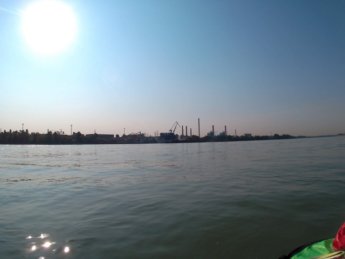 I noticed the smells had changed. Something in the air reminded me of Serbia. We're not yet going to Serbia this year, but we're getting real close as we paddle to the border near Mohács. This is the great leap southward, as the Danube travels about 280 kilometers directly southward between Visegrád in Hungary and Vukovar in Croatia. It dawns on me that it's day 43 and we're officially in the last phase of our kayak trip for this year. Extending it again after Mohács is not an option even though we have nothing booked back to Budapest or Bratislava… yet.
We switch back to the left-hand side at 9:15 and enjoy a bit of receding morning shadow on the east side. By now I'm in a lot of pain and feeling rather pithless. I'm dizzy and have trouble maintaining a good paddle rhythm. We soldier on.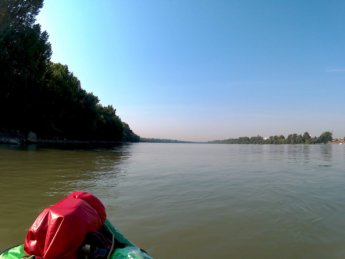 Lakihegy Tower and the Highway Bridge
The Danube slowly turns rightward until the trees make way for a vista of the Deák Ferenc Bridge. That highway bridge is part of the ring road of Budapest and also kind of marks the end of the city of Budapest. Far away in the distance, we can see a very tall tower. Later I find out that it's the Lakihegy Tower, which is Hungary's tallest structure at 314 meters . It's a guyed radio mast that can serve the whole country. It's out of use by now but hasn't been torn down because people objected. Now it's 'a protected industrial monument' – which I love. Unfortunately didn't take a photo, though I did unintentionally capture a vague hint of it with my crappy action cam.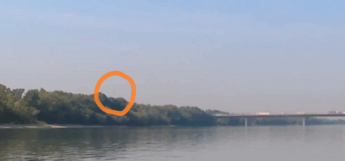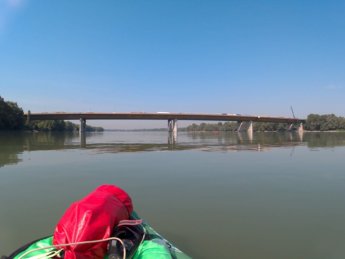 After making some progress, I had started to feel better. We took another break on the left-hand side after the highway bridge at 10:40, ate a sandwich and reapplied sunscreen.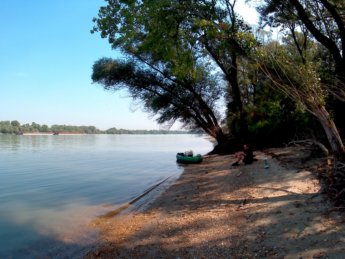 I noticed many bugs have started to surrender to the sweet release of death. We've paddled past lots of flying insects including wasps who were there lying in the water – still alive – leggies up and incessantly grasping for something to hold onto. Besides Serbia, I can also smell the trees letting go of their leaves – though everything is still very green. It's a process.
Százhalombatta's Ferry and the Industrial Zone
We're paddling on through a left bend. There are some small noisy airplanes in the air that come and go to the nearby airfield on our left. It's 11:50 and I'm thinking about us leaving Europe for Asia soon. Right now I can't quite imagine doing anything else but paddling this long-ass river.
Some industrial towers from the Dunamenti power plant appear. They must be part of the industrial area of Százhalombatta. We encounter our first cruise ship south of Budapest. It's one from Nicko Cruises, which are the biggest eyesores on the river right after the terrible A-Rosa ships. The right-hand shore becomes a bit cliff-sided for a bit. Then we encounter the ferry between Százhalombatta and Tököl on Csepel Island at 12:20.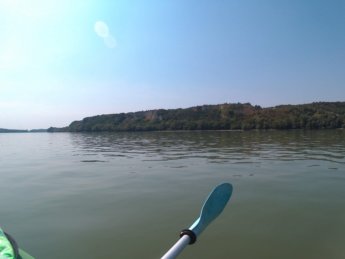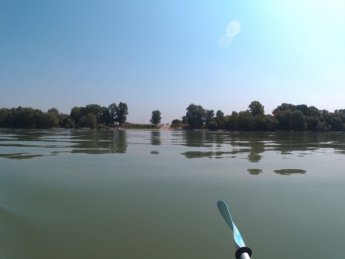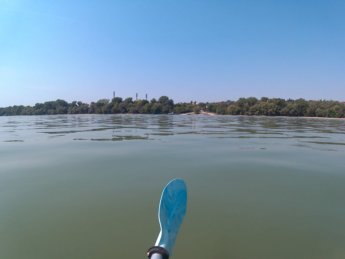 Some powerlines cross the Danube south of Százhalombatta before the big industrial terrain. They hung very slack and looked like they were too close to the water for the ships to pass. But we just wouldn't get closer to the slack powerlines, which means they were much further away (and hung much higher above the water) than we thought. It took us 30 minutes to paddle there from the ferry crossing.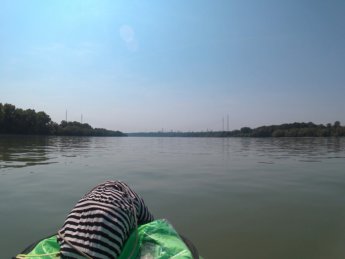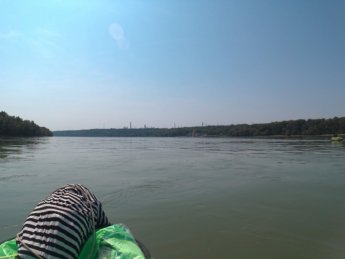 After paddling under the powerlines, we cross to the right-hand side. The air stinks a bit. We see even more towers and a gas flare above one of them. Jonas calls for another break, which we do. He takes a little nap on the shore, while I find out what kind of industry is behind us. It's called Dunai Finomító, which translates to 'Danube Refinery'. It's operated by MOL (a Hungarian petroleum company) and probably Hungary's biggest company. Their industrial area in Százhalombatta is over 6.6km², which is huge. Very tragic for the planet.
We paddle on to Ercsi after 40 minutes of relaxation.
Arriving in Ercsi
Refreshed from our break, the last four kilometers to Ercsi fly by. There are a few speedbumps (sills) in the water on our side, but they're mostly above the water. The water levels of the Danube are really low by now. If there's no weather change soon, the ships might actually have to stop operating for a bit because it's too shallow.
We see the ferry of Ercsi, which seems quite busy crossing back and forth to Szigetújfalu. I want to land at the slipway and then quickly move out of the way for the ferry, but Jonas wants to use some sand-colored beach because it has some shadow. I concede.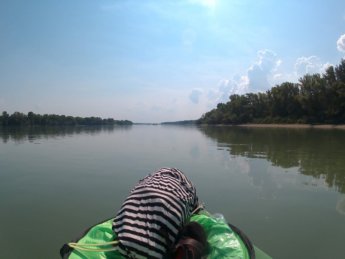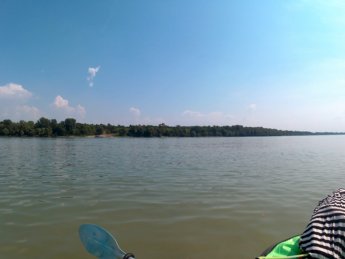 But it's yellow mud instead of sand. We both sink deep with our feet in the sludge and get our shoes dirty. This irritates me quite a bit. We sit on the exposed riprap for the time being while our boat dries upside down. Zucchini now also has yellow mud all over it, which irks me.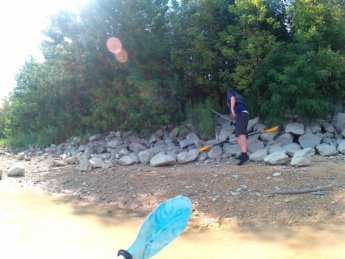 After the boat dried, Jonas wants to pack it up on the nearby stony beach, but I want to do it on the asphalt or the grass. Eventually, we carry Zucchini to a grassy place south of the ferry of Ercsi. Once we packed the boat up, we start the tough hike to our Airbnb, which is up the hill.
Once we arrive at the little summer house, we're both exhausted. Our Airbnb is owned by some Dutch people, which they made clear with their choices of interior decorations. I put my muddy shoes outside in the sun to dry. We both take a shower and then buy some food at the local grocery store. We stayed three nights in Ercsi.
Good Read? Share it if you Feel Groovy!