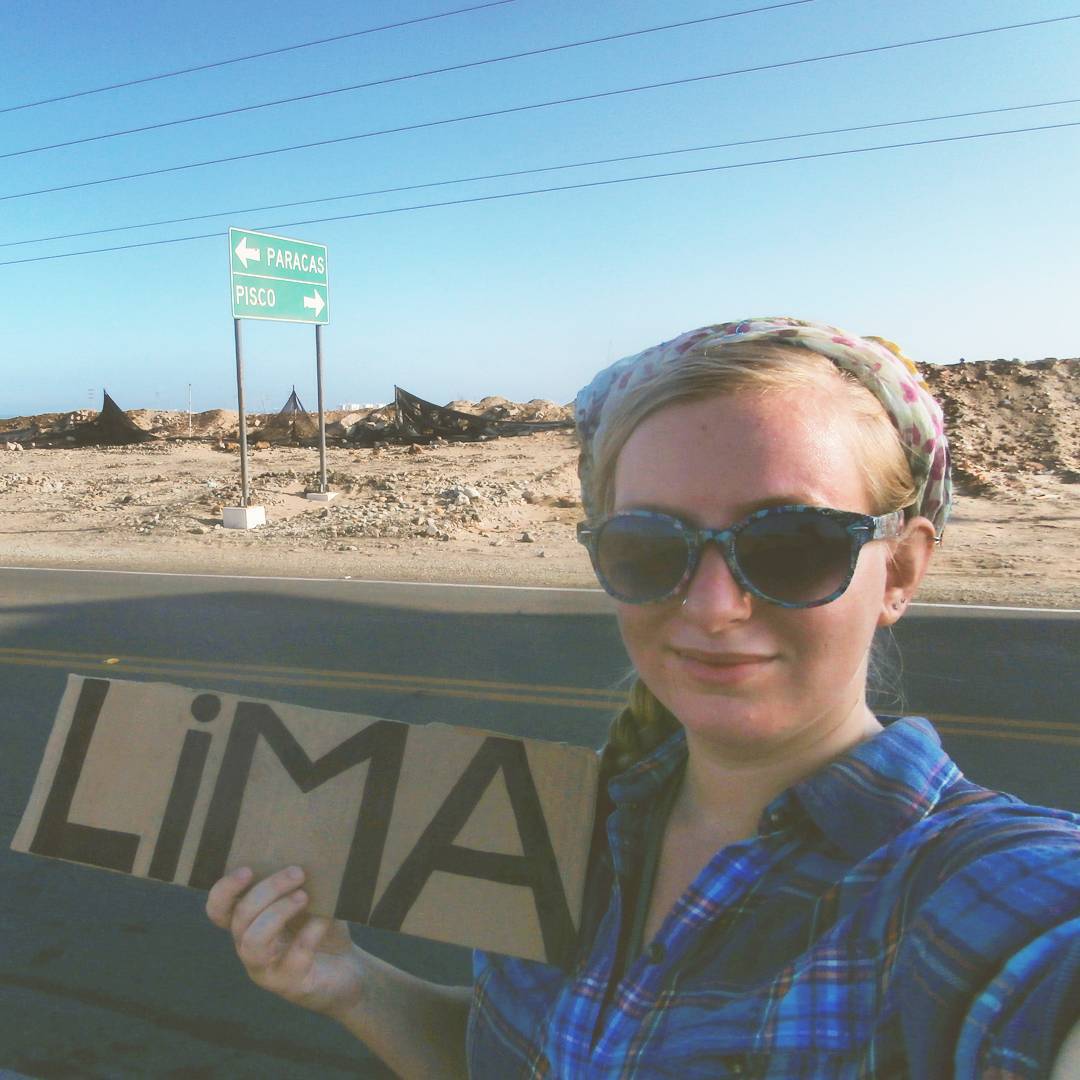 A Natural Disaster
Always wanted to drink soda first thing in the morning? Before breakfast?
I never had that ambition, but here I am in Lima – the capital of Perú – and there's no running water. Nothing from the tap and all bottled water in units of less than 20 liters is sold out. This is supposedly everywhere in the city. For reference, Lima is a place beside the Pacific Ocean that hosts almost 9 million people.
I first heard the news about the floods in a hostel in Paracas, a small beach town with a rad bird reserve and dry ass peninsula near Ica. Some guests freaked out because their bus had been canceled. I offered some people a nice "Ica" hitchhiking sign, but there were no takers. I tried finding some information about where these floods happened and where the roads would be closed. The hostel owner was a little vague, the internet was inconclusive: nobody really knew anything besides this being the worst flood in 25 years and people had died. That's when I first heard the word "Huaico".
The Road to Lima
The next day I got up early to hitch to Lima, a voyage of 260 kilometers from Paracas with – finally – an actual stretch of a two-lane highway. I estimated it would take me about five hours to get there. The morning news on the roads was that they were open till Lima. Travel north or inland from there and you're gonna have troubles. I started my short hike towards the crossing between Paracas, Pisco and the Panamerican Highway.
I waited in the generous shadow of an overhead welcome sign to Paracas. It was the same place as where I entered Paracas just a few days before. If there's anything peculiar about hitchhiking in Perú, it is that no one wants you to do it. A bunch of taxis beeped to indicate their vacancy or rolled up next to me with a window rolled down to shout words I had no intention of hearing.
After half an hour of waiting at the spot a truck – the first truck – pulled over. The man opened the door and I knew from the look on his face this was going to be an unpleasant conversation. Just 12 kilometers till the Panamericana, then switch rides, I thought. I doubt his name was really Carlos as he took too long to answer this basic question, but what I don't question are his harmful mind and bad intentions. He's from Trujillo north of Lima, has a wife and kids and had no issue with verbalizing the things he was imagining with me. Twenty minutes later, when he turned left near Pisco, I told him I wouldn't ride with him any further and climbed down the truck the second he pulled over. No handshake for dirtbags.
Hiking Out
I started my hike out of a little town called Villa Tupac Amaru that was next to the crossing. A rabid dog chased after me and almost bit me. It was bloody hot and I was not having it. I finally made it to a Primax gas station where suddenly a tiny black (non-taxi) car made a U-turn and a guy spoke English from his window. "Where are you going?" he asked, "Lima" I responded, "Me too let's go" and that was that. Backpack in the trunk, guitar with me in the front, we drove off towards the flood zones and the capital.
He introduced himself as Jaime/James when he put the asparagus from his farm on the back seat. He told me he has a son who hitchhiked from Peru to Cuba via Ecuador, Colombia, Panama, and Costa Rica and felt compelled to pick me up. This is a nice thing to hear as a hitchhiker; it's a basis of understanding of why I'm here. His 25-year-old son would return from his three-month trip that evening by plane. The other reason to pick me up was "because of your blue eyes", which is less nice to hear, but a common theme in Central and the northern part of South America.
Driving with Jaime was very comfortable and speedy. We switched over to Spanish rather soon to talk about the damage by the "huaicos". That turned out to be the Quechua word for "mudslide". The damaged zone only started when we passed the toll booth onto the highway. One lane was occasionally blocked and there were several stretches with teams of orange-clothed men cleaning up the mud. The closer we got to Lima, the worse we saw. There were drowned pastures and washed-out crops, a few small structures were in a place they weren't meant to be. The worst part was that this area wasn't the worst part.
Dropped Off in Lima
If I wanted to stop to take some pictures? Not really, thanks. So we drove on to Lima, where we got stuck in a traffic jam behind an accident and discussed my drop off. We chose a university where there would be city transport options. From there I had to make it to a neighborhood called Barranco. We really connected over the few hours of driving along Jaime's weekly commute to and from his side-investment asparagus farm.
When I got to Barranco I first went to a café to use the WiFi and orient myself. This – rather rich – part of Lima looked mighty fine. I was pleased to be out of the troubled zones; disaster tourism isn't really my thing. A guy came to take my order. "Un capuchino, por favor", but there wasn't any, but I could have a gaseosa (soda). OK, then a beer, and the WiFi password, please.
While I connected to the internet and got my notifications at the speed of light, I noticed my sticky hands. I went up to the bathroom but was stopped by the waiter. "There's no water," he told me, barring my way. "Not for washing hands either?" already knowing the answer from his facial expression. Negative nod. Alright, travel-sized hand sanitizer it is.
I knew I should have taken a shower before I left Paracas…
Want to know more about the Paracas region and peninsula? Charlotte Graham from My Wild Day wrote a piece on her first ever hitchhiking experience, which she did here in Perú! Besides catching rides, she also took some amazing photos of the nature and wildlife on the peninsula.
Now what do I do?
I'm going to stay for a while in Lima to write another Digital Nomads Guide. Hopefully, I will find the time, peace, occasional shower, and fast enough internet to upload some vlogs and stories of the last months on the road.
Enjoyed this story? Share it! Or pin this image 😀