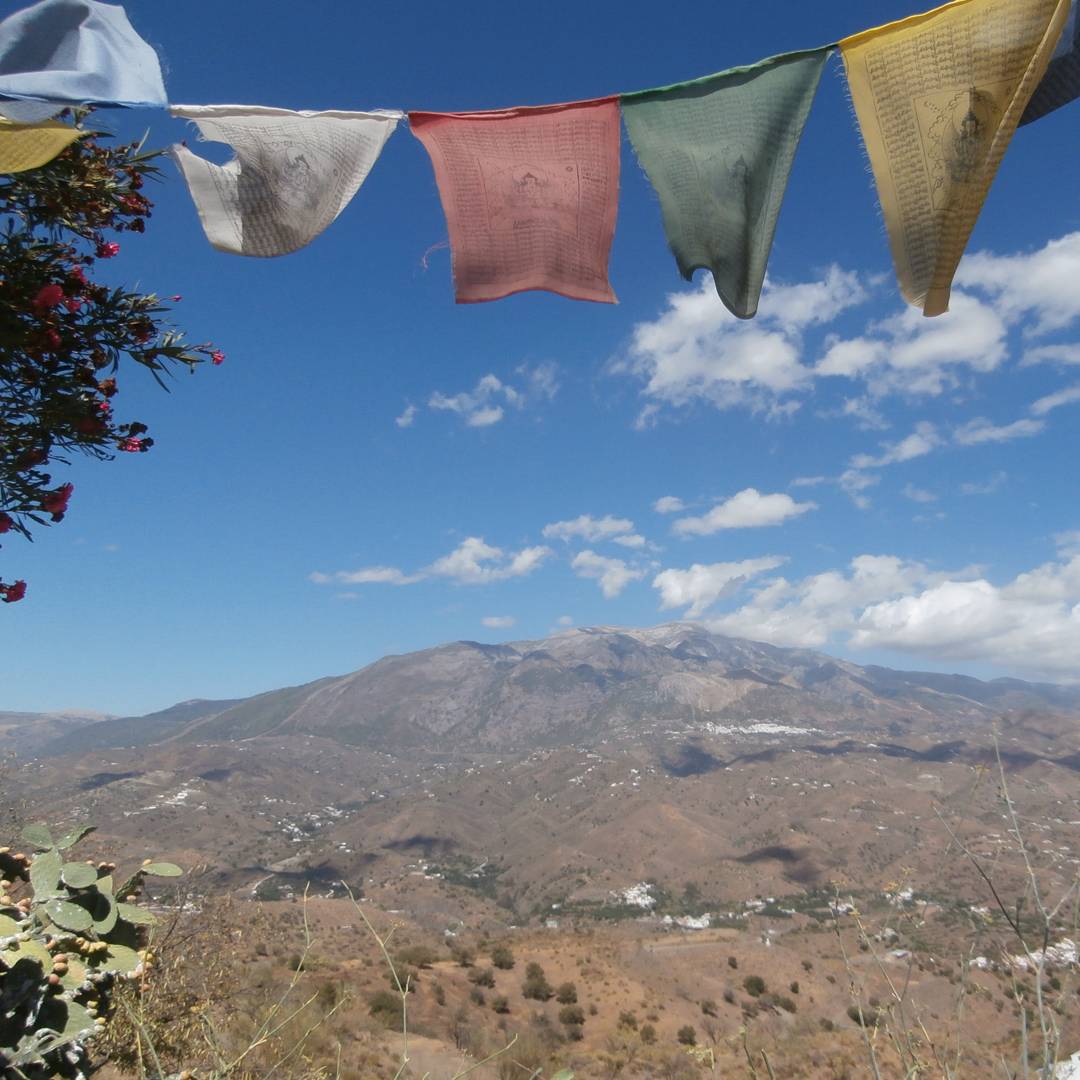 Oh my, this mountain vista from the stupa of the Karma Guen Buddhist center in Vélez-Málaga is stunning! Yes, I didn't spontaneously leave Spain for Nepal or Tibet, although I'm hoping to visit in the future. I visited this Buddhist retreat center in Andalucía with my sort of spontaneous Couchsurfing guest from Russia. Lots of the people at Karma Guen are actually Russian, so we received a tour of the place in Russian and English from one of the people that's involved there. The whole demographics of this center was very international.
We got our blessing at the main hall with the Buddha statue by crawling underneath it. I know very little about Buddhism, but it was a nice introduction from the friendly people that meditate, worship, and retreat there. Unfortunately, many things she tried to explain went way over my head. Something about different streams and ideas within Buddhism. I suppose every belief system has people who disagree on things. I was only here for a short tour, so I can't tell what exactly their methods and belief systems are.
What I did understand was that this meditation center is already quite old and rooted in the south of Spain. I think it's quite cool that some people started this here. An old church is the expected and a stupa the unanticipated. Perhaps one day I'll manage to actually meditate; it's always included in yoga classes, but I never managed to get into it. Maybe I'm too jumpy to get into my mind and make it relax. But I'd love to learn how to do it so I can get through the dreadfulness of hitchhiking in Spain without losing my mind.
Soon I'll travel away from this area of Spain towards Gibraltar and so on. I'm hoping that this break nearby Vélez-Málaga has recharged me enough to make my way to Portugal. If I'm really going to hitchhike the edges of Europe, I'll have to reenter Spain from Portugal though. But perhaps hitchhiking here has just been a bad dream.
(at Karma Kagyue Diamond Way Buddhist Retreat Center "Karma Guen")