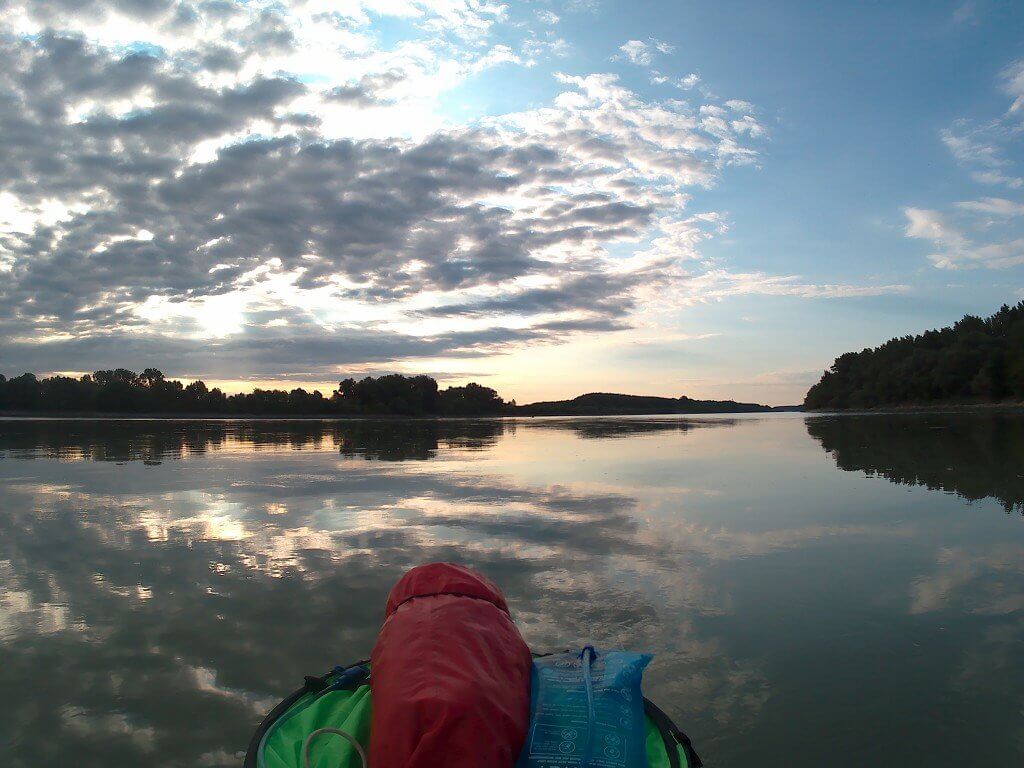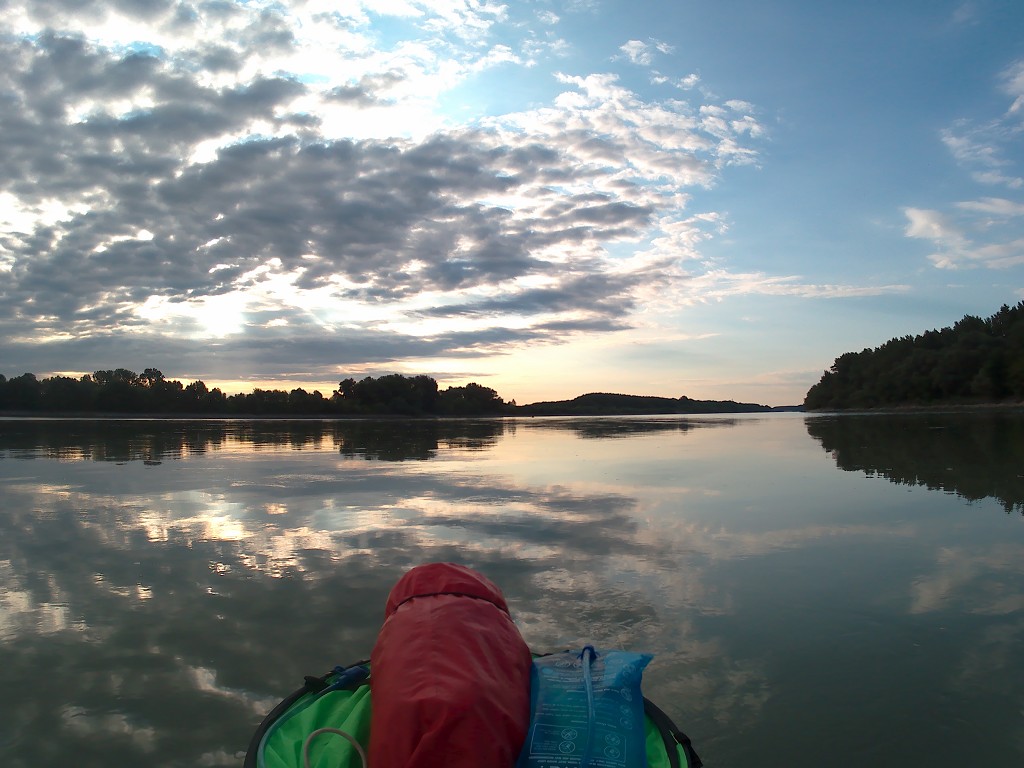 Events in this story took place on Sunday the 11th of August, 2019. We paddled from a Protected Landscape Area called the Danube Floodplains in Slovakia to Gönyű, our first town in Hungary. In the Danube Floodplains, we'd freecamped for the first time on this trip. The total distance we paddled to Gönyű was 26.6 kilometers.
Waking Up at Our Freecamping Site
My alarm rang at 5:00, a few minutes before dawn. Slowly, we awoke and wrangled ourselves out of our sleeping bags. The storm had stopped a few hours earlier and we finally reached a deep state of sleep. I slept, but I didn't feel rested. This was much tougher than anticipated.
I stare at the orange outer layer of our tent. It has gathered a bit of moist from our breaths. A dozen mosquitoes danced on the inside mesh of our tent. There's still a stain from the one we'd managed to squash the night before. I wonder if that's Jonas' blood or mine. I try to kill a few more before opening the vent of my air mattress. No more dicking around; it's time to pack.
Packing Up Our Camping Gear
Jonas was the first one out of the tent. There were more bitey enemies on the outside – his bravery is commendable. The sun rose at 5:37 on our side of the river. It lit up the opposite shore in a very magical way. I'd argued the night before to pack everything as quickly as we could just to get back to paddling. Repacking the dry bags could be a later problem. I told Jonas we could stick the tent under the elastic straps behind his seat.
I took down the tent and Jonas reinflated Zucchini. I'm under attack from the mosquitoes and no amount of repellent can keep them away from me. Together we folded up the slightly wet tent. We pack everything in Zucchini that we can reasonably lift down the riprap from our steep shore. The boat goes in and I hand the heavy stuff while Jonas puts it in the boat and straps it in. I have some wet clothes from our swimming adventure the previous day that will need to dry while we're paddling. Jonas gets into the boat, I check the campsite one last time for forgotten items, and then I also climb down to our boat and get in. We directly gather speed in the strong current.
It's 6:30 and that's definitely a record – we'll probably never beat it. I snap some pictures of our campsite and the sunrise while we're floating backward. Today we're going to Gönyű, which is our first Hungarian town in the Slovak-Hungarian border region along the Danube.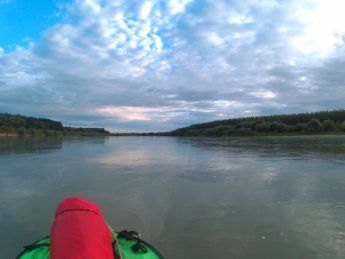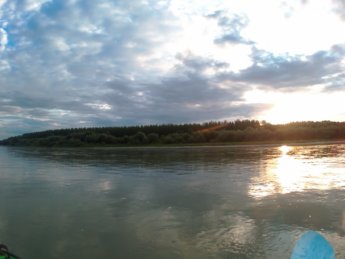 Paddling Out of the Danube Floodplains
It's so quiet. The morning sounds of the river and its inhabitants made me feel very welcome as a guest merely passing through. The falling water of a weir covers the sound of birds for a minute. We spotted many tents on the Hungarian and Slovak shorelines with fishing equipment perched at the waterline. We were probably the earliest people up. I'm trying to get into a paddling rhythm as to not fall asleep. Zucchini is an inflatable canoe, so it's like working out from a very comfortable and squishy couch.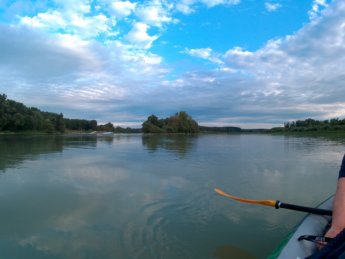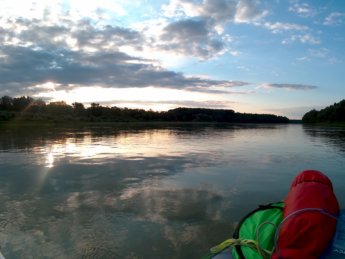 There are little sidearms of the floodplain with paths over them that might or might not be passable on foot. It's a meandering mess that's hard to read on the map and in the real world. Slowly, we make progress through our river while I'm fighting my desire to just fall asleep and let the current do the job. I hope Jonas doesn't notice it, because it might be bad for morale if one of us can't keep up the strength. It's not like today we have an insignificant distance to cover ahead of us.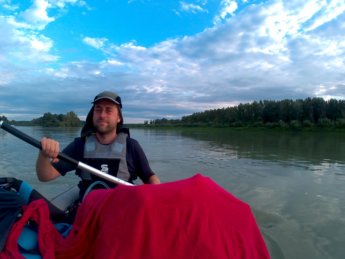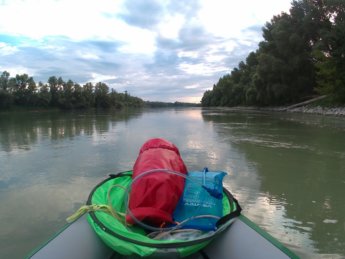 The sun breaks through the clouds in beautiful sunbeams. As we paddle on, we're slowly turning left and more eastward. As my heavy eyelids start to close, I see movement. My subconscious picks it up and I open my eyes to only see that it's already gone. "Was that a cargo ship?" I ask Jonas. "Yes." Apparently, there was only a short window from our perspective to see the main river. The next ten minutes we paddled on expectantly.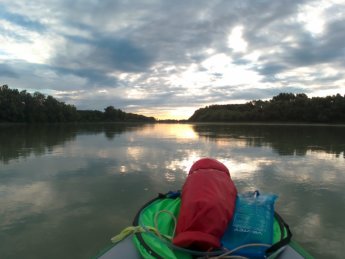 The god rays increased. We could see the confluence of our river with the main Danube again. The lack of big ships on the river is pleasant, but also a bit lonesome in a funny way. No, I didn't miss the cruise ships. But the cargo ships are kind of fine. Jonas notices some disturbance in the water that could indicate a speedbump, so we veer more to the center of the river to join the confluence.
Looking left-right-left, we see that the coast is clear for us to enter the main river again. We paddle in, then I look back over my shoulder. I see the big Gabčíkovo Dam. Though it's 8.3 kilometers away from us, we can see it very clearly. The left-hand shore features the hard-to-reach town of Sap. It's 7:15 when we're paddling downstream back in our familiarly wide Danube.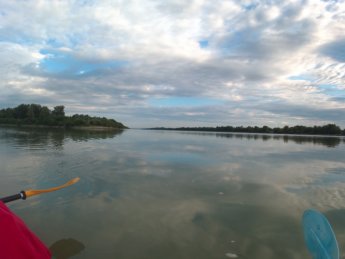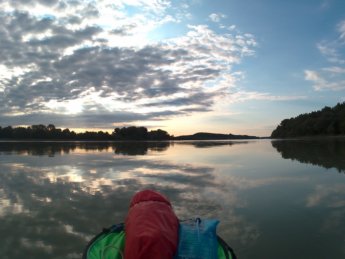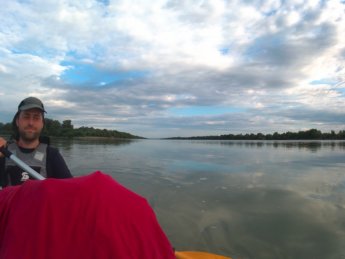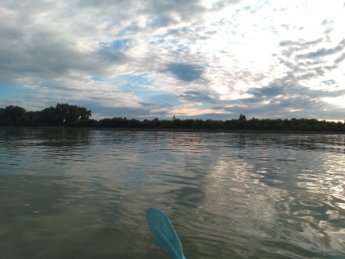 Dormant Paddlers
The flow coming from the Gabčíkovo Dam isn't much. The hot summer has drained the reserves of the river that desperately wishes for replenishment. I still wonder whether we'll ever get to see the river at non-navigable low levels. Perhaps a drought would do that, which would have many more consequences I can't fully comprehend.
On the Hungarian shore, we see the familiar-looking canoes of the armada that blocked us from leaving Café Kompa the previous day. Most of them are still asleep. Some of them are doing their morning rituals or wandering about looking for some privacy to – presumably – urinate. Camping in a group can be tough like that.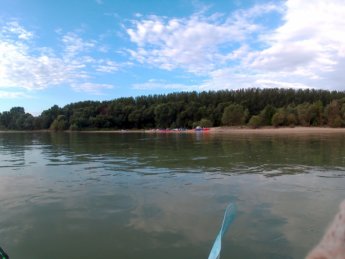 Another arm from the Danube Floodplains joins the main Danube via the drop of a weir. Despite my sleepiness, us being back in 'main traffic' keeps me alert. That, and the many numbers of speedbumps left and right of us in the river. We stick to the shipping lane to avoid incidents, like scratching over one of them.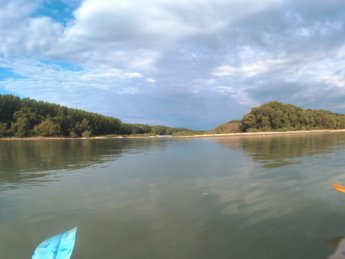 The softer beaches of both shores are still full of tents and small boats. At 8:00, we pass under the first international bridge between Slovakia and Hungary: Road E575 with a nameless bridge. The map reveals old remnants of immigrations and customs infrastructure for those who wanted to cross between the two countries. Back in May 2004, both countries joined the European Union at the same time. On the Slovak side, they've turned one of the old customs offices into a club.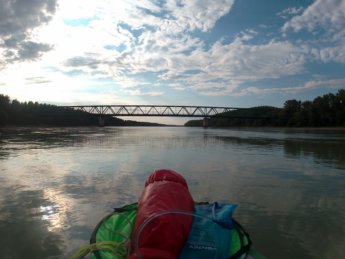 After that bridge, we encounter the first cruise ship that's traveling in direction of Bratislava. Again, on the right-hand shore, we see a familiar-looking kayak: the wooden boat of the old pantless guy we saw at the Café Kompa the previous day. This time, it looks like he has plenty of space for his precious kayak.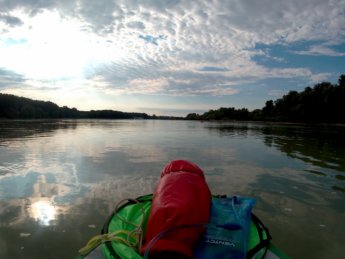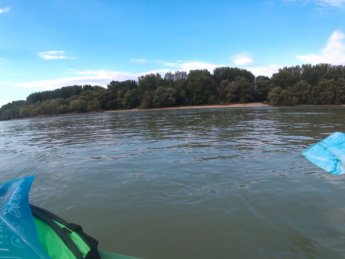 The Breakfast of Champions
As the sun climbs the sky, we're slowly forming an appetite. The night before, we'd not eaten anything anymore. We still had plenty of water to prepare one of our dehydrated macaroni and cheese dishes. All we had to do is find a decent beach.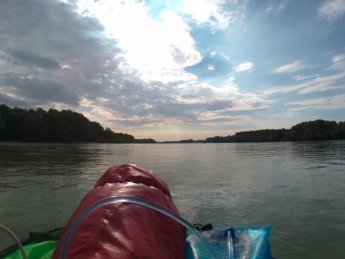 Many of the good landing spots between the speedbumps were occupied by people. We were scanning both the Slovak and the Hungarian shores. I asked Jonas what our requirements were. I would have preferred the Hungarian shore. Our southeast bearing made it in such a way that the Hungarian shore had most of the dimmed sunshine. More sunshine usually means fewer mosquitoes – and I was itchy as heck. Jonas preferred the shadowy Slovak side for the reason of not needing to apply more sunscreen.
We turned left and found a beautiful stony beach on a peninsula in Slovakia. There were some other people on the beach, too, but we could pick a spot further downstream. We got out and Jonas started preparing the cooking stove. We've not used the cooking stove yet in the context of actually paddling. Only twice before we used the stove: once when we were on a campsite in Au an der Donau to grill our sandwiches and another time when we stayed in Haslau to test out a similar meal. During the cooking session in Haslau, we found out that this type of meal really fits our needs while traveling by boat.
We used one liter of our drinking water to moisten the two packages of desiccated pasta and turned on the fire. Jonas stirred the pot while I walked around the peninsula we'd chosen as our restaurant. There was a little oxbow lake on the other side and a very long and thin pebble beach. When I returned, the pasta was already al dente and the sauce came together nicely. The pot was very full and my mouth watered over the thought of slurping up that goo. I got out the spices and peeled some black garlic that we'd bought in Bratislava to fancify the dish.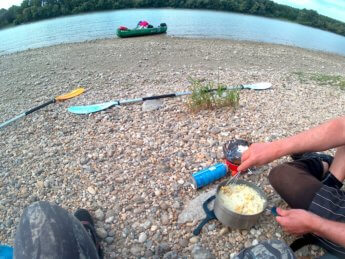 It was very good. And it was a lot of food. The package said it was for two people, and we had used two packages. Jonas said it was one of those dishes that it's good for 2 people who are both not extremely hungry, or good for one person with a raging appetite. We did have a raging appetite, but that didn't mean that those final bites weren't pushing it.
I checked my clothes that were drying on the dry bags all day. They were completely dry already despite the cloudiness. I washed our dirty dishes in the river, Jonas packed them up, and we were off again to Gönyű at 10 in the morning. Earliest lunch ever.
Cholera Island and the Speedbumps
The thin pebbly peninsula from our chow-down spot thins out and doesn't seem to end. Its shallowness is a warning for us not to paddle too closely. The shores on both sides become a bit higher and sandier, like dunes. On top of them, there are dense woods. A tailwind picks up and we get to use the kayak sail for a bit. We're not far anymore from Gönyű.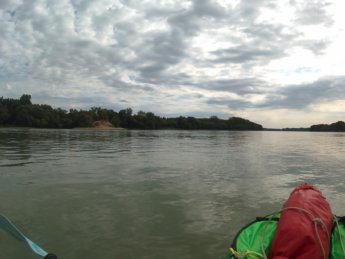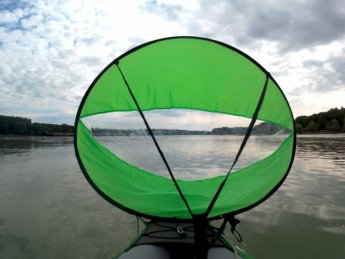 We pass a few speedbumps in the river and a few river islands of which one side is completely blocked by said sills. At first, it looks like a good idea to skirt the island on the non-shipping lane side, but random speedbumps or even weirs ruin the party.
One such river island is named Kolera-sziget in Hungarian. I'm pretty sure kolera is the disease cholera, which makes me wonder what this island's history is. While I could only find one Wikipedia page in Swedish and in Cebuano with the exact same information, it didn't pertain any clue to the etymology.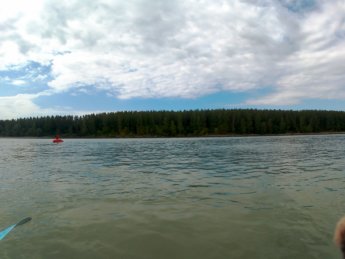 What I did learn is that not only is cholera bacterial and waterborne, but also has a dark history in Hungary. In 1831, the second cholera pandemic reached Hungary and caused about 100.000 deaths. In 1866, Hungary also experienced the fourth cholera pandemic, which took 30.000 lives. And this forested island is in the middle of a historical water source of major importance. The area near the island and the village of Vének on Little Rye Island were very prone to flooding before the embankment was raised. Experiencing disastrous floods on a regular basis is probably very conducive to the spread of cholera.
Arriving in Gönyű: A Fire and The Moson-Danube
The Moson-Danube was about to rejoin us, but then something strange caught our eyes: a smoking building. We looked at it perplexed. I was pretty sure the building was on fire, but there were no sirens, no sounds of shouting humans, or anything like that. The building is some kind of steel factory and is probably part of the port of Gönyű. I'm still unsure of what we witnessed.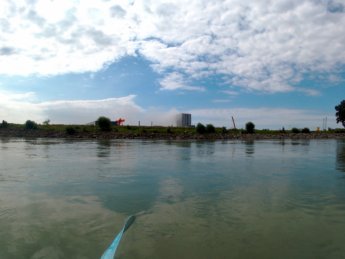 On our right, the Moson-Danube rejoined the main Danube again. This confluence forms the end of Little Rye Island, which I learned is the biggest (river) island of Hungary.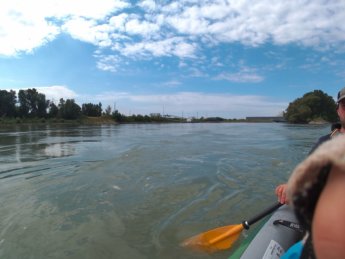 We paddled toward another large river island that was not on my offline OSMand+ map. Strangely enough, Jonas had it on Google Maps. He said we probably couldn't pass it on the city side. Once we rounded the island we saw from the downstream side that we could probably have paddled through it. It's very strange for the map to be so outdated on OSMand+. This is what it looks like on both maps and satellite. Perhaps I should fix it myself: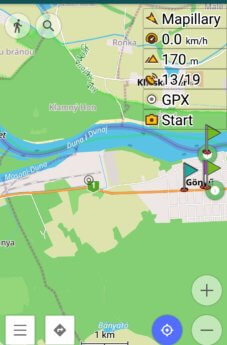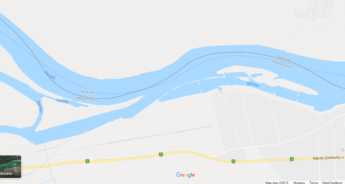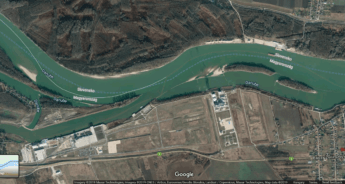 Next to the river island, there were many strong and weird currents. We followed the shipping lane pretty closely until the water calmed down. Then we approached the shore and used GPS to find our predetermined exit spot of the day. The exit was a concrete slipway near a boatyard on land with some shadow from a tree. Like we've done a hundred times before, we swished our boat around and landed against the current.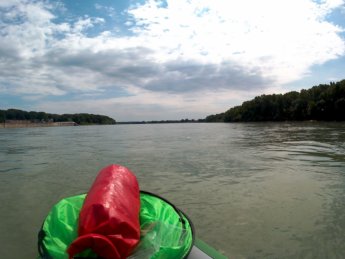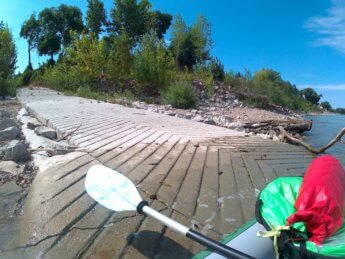 After drying the boat, relaxing, and eating some more we packed up the boat and started our hike. We were very curious about our first Hungarian village.
Checking in to Business Hotel Leier in Gönyű
The hike through town was pretty long and tough in the burning sun. Gönyű's streets were quiet with lots of fences around houses and a sidewalk close to them. It was quiet until we startled the first dog. Jumpy me gets frightened, Jonas calms me down to continue walking. One dog barks, the others start barking. I'm very scared one of them found a way to exit their garden.
We arrive at Business Hotel Leier. It's a very large building compared to the often ground-floor houses on our walk. I sit outside with our luggage while Jonas goes to find someone and acquires the key. He comes to pick me up and guides me to our room for the coming three nights. It's a small room with a very platonic bed situation, but it's cool and clean and all we care about is who showers first. And there's a fridge in the room.
In the evening, we hit up the town to pizzeria Fehér Holló. That's when I remember how intimidating a language Hungarian truly is. I have to translate everything from the menu to find something I'd eat.
Back at the hotel, I enjoy being out of the wild again. We start a new Netflix binge of Criminal Minds and enjoy the fact we're not sharing our separate beds with any mosquitoes tonight. I analyze the damage the mosquitoes and scratchy plants have done on my skin. It's not good. One particular spot on my ankle oozes some gunk. Tomorrow we'll dry the tent and repack the white dry bag. Jonas really hopes we won't have to open the dry bag with the camping stuff again on this trip.
Feel Free to Share this Post with Your Friends!