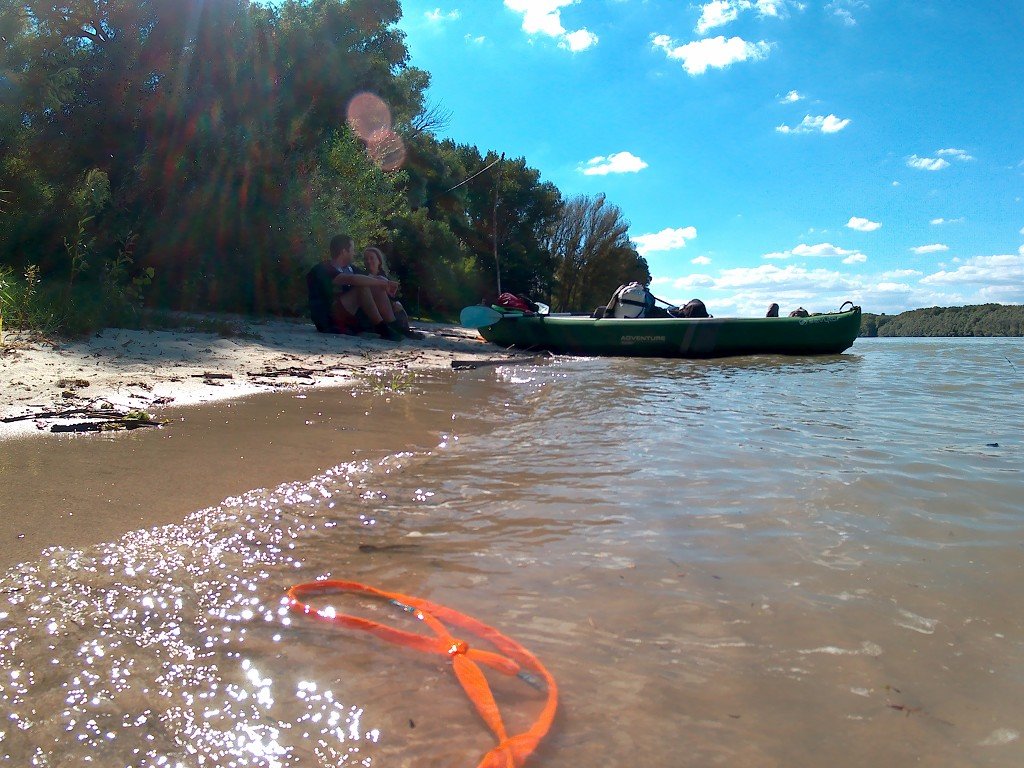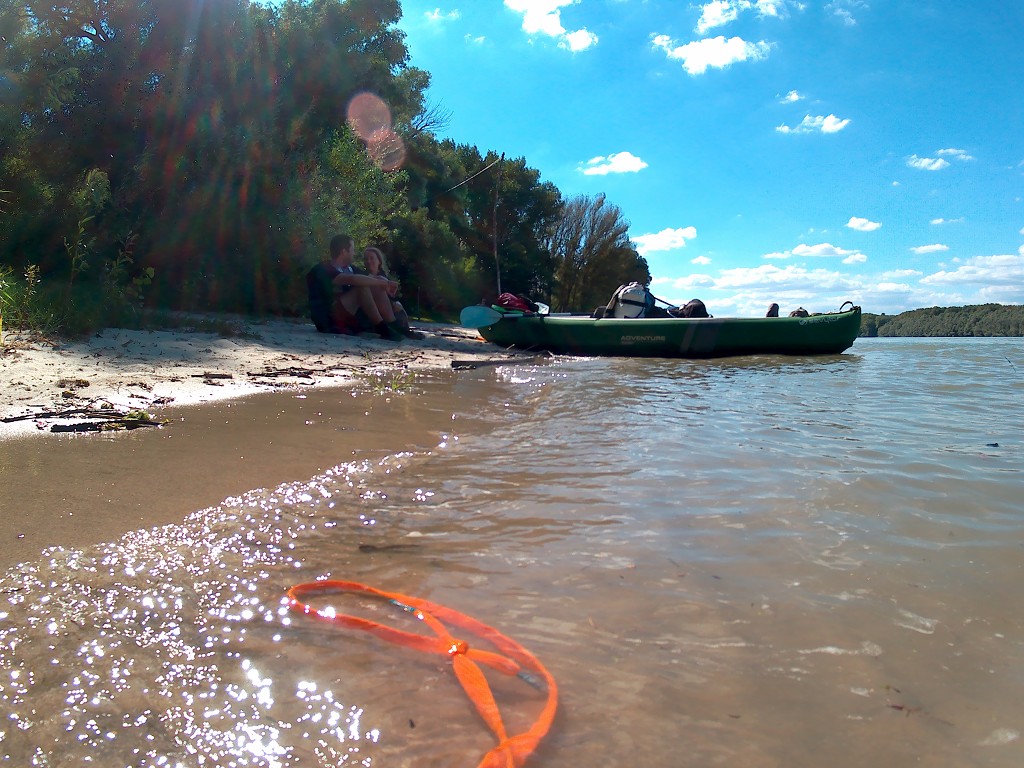 The events in this story happened on Friday the 13th of September, 2019. We paddled our inflatable canoe Zucchini from Baja to Mohács on the Hungarian Danube. This was our 49th day paddling down the Danube and our final destination for 2019. In 2021 we intend to paddle from Mohács to the Black Sea.
Our Stay in Baja
Baja was indeed a very pleasant and stunning town. We cooked wholesome food for ourselves again, ate out, and walked around the center. We liked it so much that we're considering going back to Baja when we continue our kayak trip.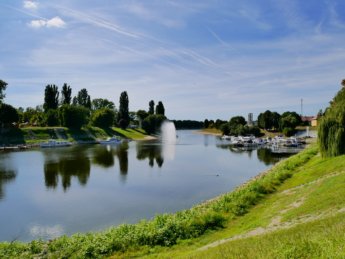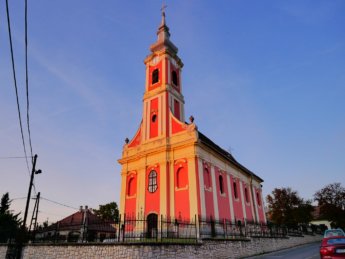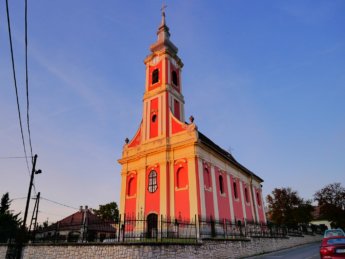 There are a couple of river islands nearby town within hiking distance. One hike took us around Petőfi Island and to the tower of the eco-park on Nagy-Pandúr Island.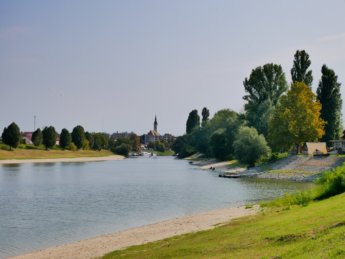 On that island, we came across a man who was welding up some new buoys for the river. So that answers the question "Where do buoys come from?" He had green and red paints to mark them for their use and probably stuff to scrub the guano off the old ones. There were small buoys with one floating tube or big ones with two of them. There were the 3D triangular spikes to top them off and make them more visible. I think about buoy man a lot.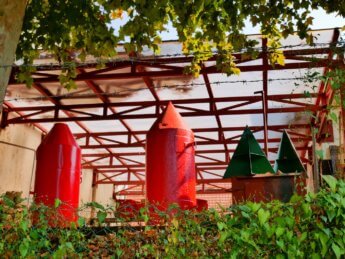 On the way back, we made a stop at a restaurant on Petőfi Island. Jonas got very close to ordering the famous Hungarian Fisherman's Soup (halászlé) – probably the spiciest native European dish – but then didn't because I won't help him eat it. Apparently, there are three major versions of the dish: the Danube version, the Tisza version, and Lake Balaton's version. The Tisza is another one of Hungary's rivers (which drains into the Danube in Serbia). There's some rivalry over which recipe is better, of course…
Jonas regrets not eating this soup, but seeing grown men wear bibs and then hasafasha their way through the bowl because it's both spicy hot and temperature hot with a lot of bread and water was kind of… off-putting. Especially the Baja recipe is famous, so I think he does regret it. On the other hand, he'll get another chance at eating this in 1.5 years when we return to Mohács. Which brings us to our departure from Baja.
The night before paddling, I spent a lot of time uploading photos and videos to clear the SD card of my little action cam. None of this ever goes without trouble, so it appears that all the photos of day 47 and 48 from that camera never reached the cloud to my great disappointment.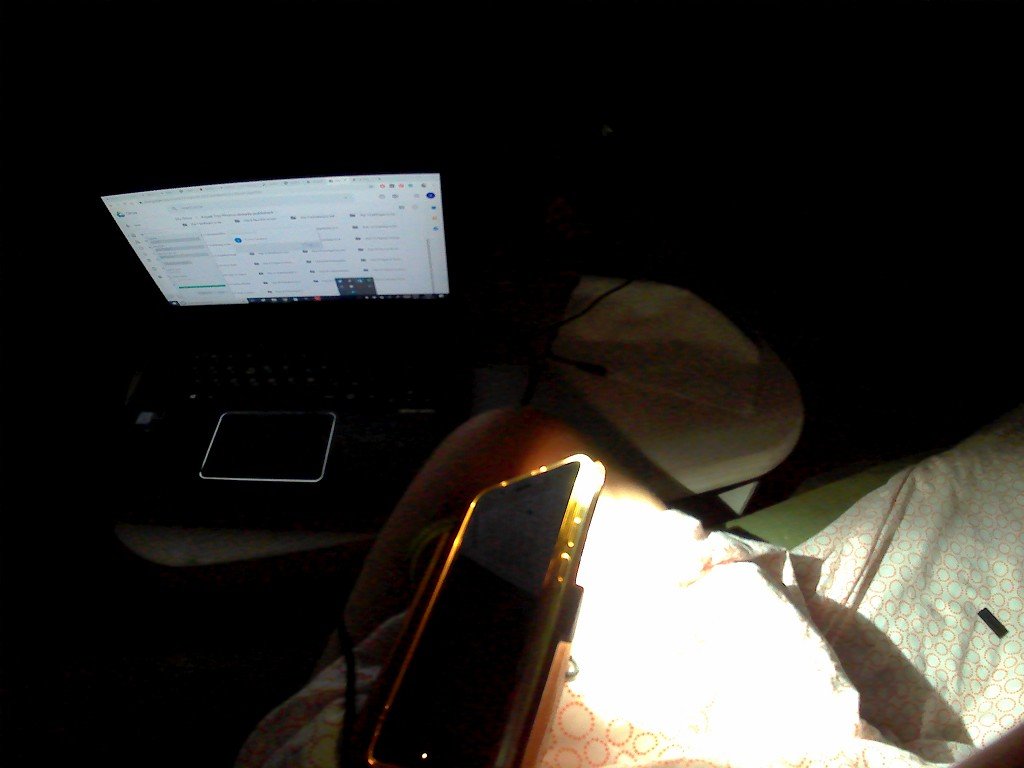 Leaving Baja for Mohács: Again the Sugovica
We picked a different launch spot than our site of arrival. The beach in Baja isn't far from our house either and definitely easier for getting in. As this is our last day, I'm feeling a little weird about it. I take a few photos of the process and then we're off paddling back to the Danube from the Sugovica at 9:11.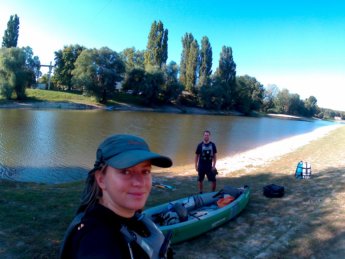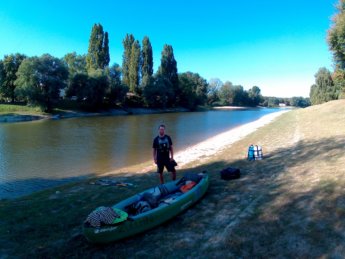 It's sunny and already 23°C and we're surrounded by ducks. An old man and a young girl are feeding the duckies together, unintentionally emboldening the birds. We have a slight headwind, which always seems to hold true for this stretch of river. Towards the confluence with the Danube, a small fishing boat overtakes us from the back with five life-sized men and their luggage in it. They're all sitting surprisingly still for how closely packed they are. The little motorboat lies deep in the water and the engine struggles with hauling all the weight. I wonder if they'll take on water once they're on the rowdier Danube.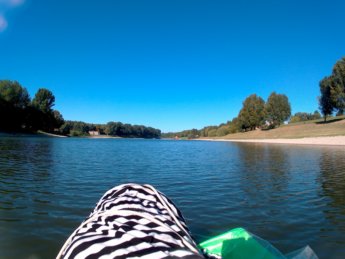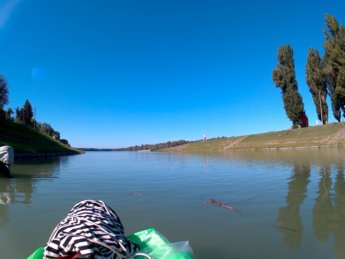 We're out of the Sugovica river by 9:34 and their boat is already a smudge on my retinas. We take a left and the flow of the Danube embraces our boat. There's some shadow to our left, which we don't utilize much. The wind carries the smell of campfire to my nostrils.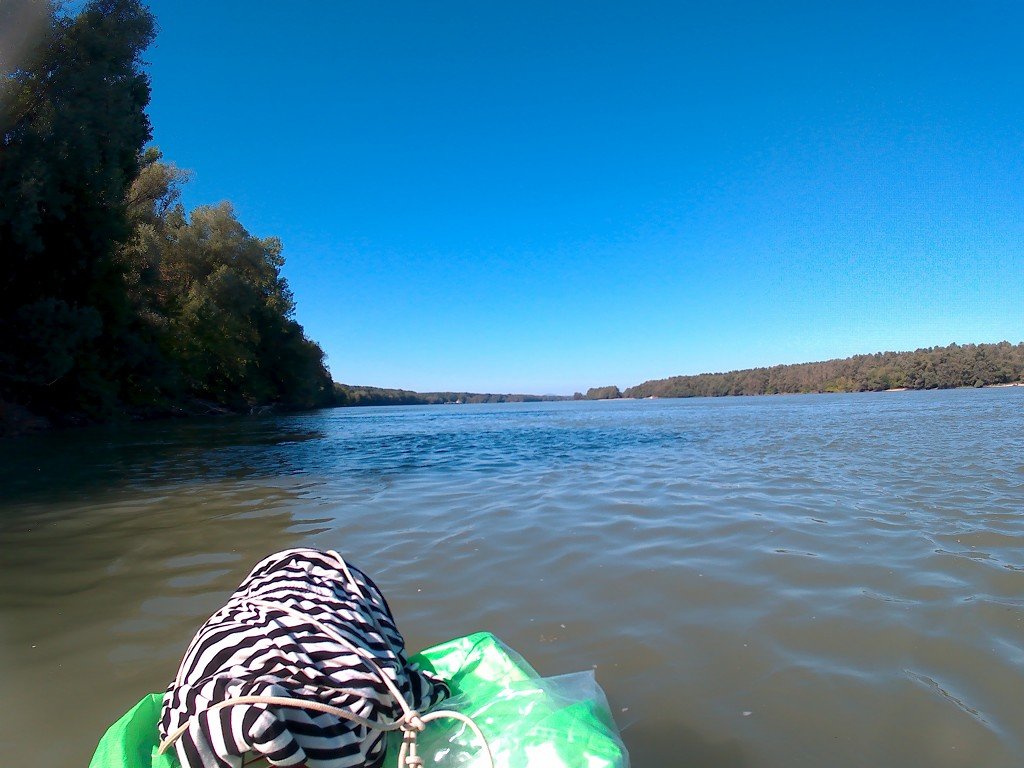 This is it. The last day on the Danube for a vaguely defined time. Everything feels so familiar though I've never been here before. I feel pressure to maximize my enjoyment today, but I know that's not a feeling that can be forced. Truth be told, I feel ambivalent about finishing in Mohács—but I know it doesn't make sense to paddle any further.
Large River Islands
The pain in my left arm returns sporadically even when I'm not and have not been exerting myself too much. Some cargo ship travels upstream pushing four barges in a two-by-two formation. I remember that at some point – probably in 2021 – it will go up to a maximum of nine barges per pusher boat.
We paddle quite a distance next to Nagy-Pandúr-sziget. At some point, the alternative exit of the Sugovica has to join us from the left. We considered paddling that stretch – which comes past a town called Szeremle and is technically a shorter distance – but there's a weir at the end of it, and we're really done with weirs. The current is also probably not so strong in that stretch.

Some man-made sills appear on our left as we turn directly westward. There are a bunch of river islands in anticipation of the upcoming sharp southward turn, but again it's not a good idea to shortcut any of them due to sills or weirs. We take a break on the corner of the bend near Kádár Island from 10:50 till 11:00.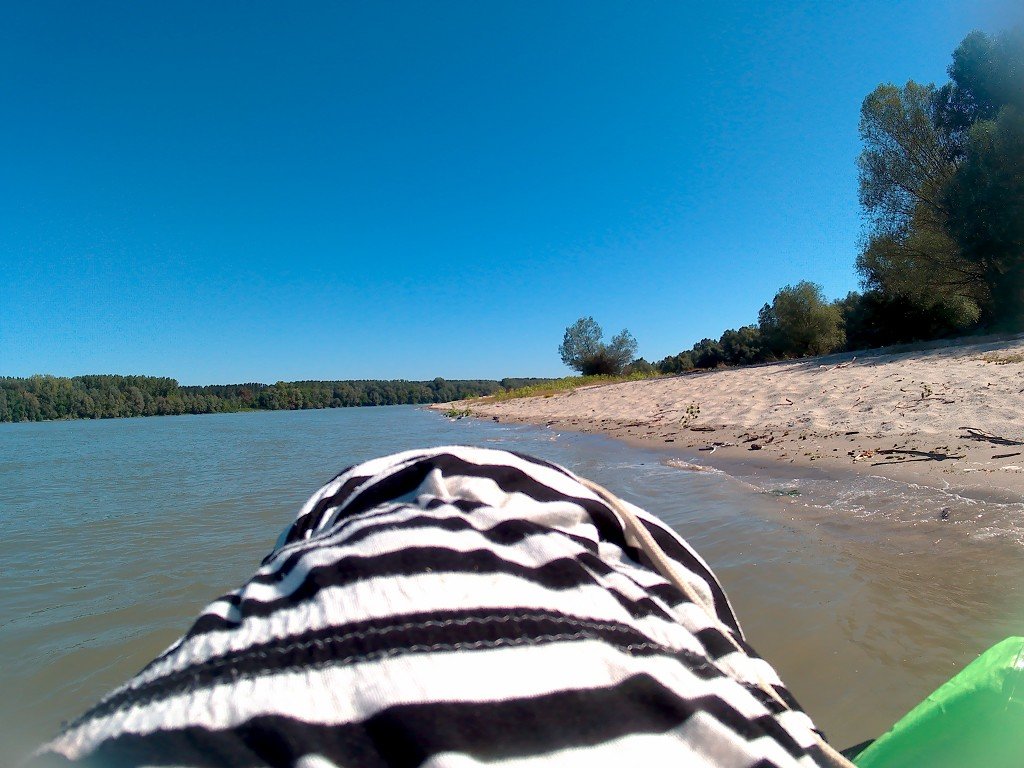 We continue paddling south. After the other end of the Sugovica rejoins and the Nagy-Pandúr island ceases, the embankment changes. To our left are tall poplar trees precariously perched on a small sandy cliff. There's no human-placed riprap to stop floods and repeated wave action from eating away at the foundation of these trees. Some trees lie miserably and fallen over in the water, waiting for decay to set in or the next flood season to carry it away. That's similar to how I felt at university.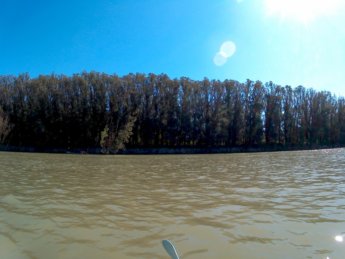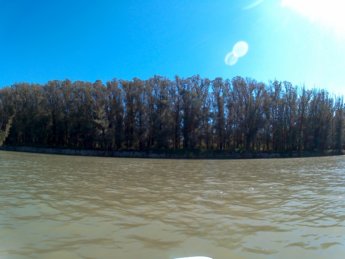 Sailing to Dunaszekcső
With the sun in the south, it's nice to keep my hat and sunglasses on. The river is quite wide and we're near its center, but the voices coming from the shores sound as clear as if the people and their dogs were near to us. It's noon and we're catching a tailwind. I put up some music to chew to and then launch the kayak sail.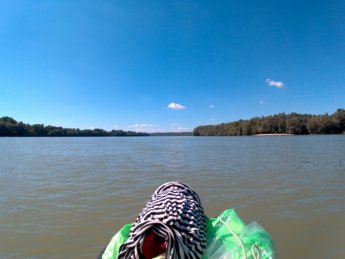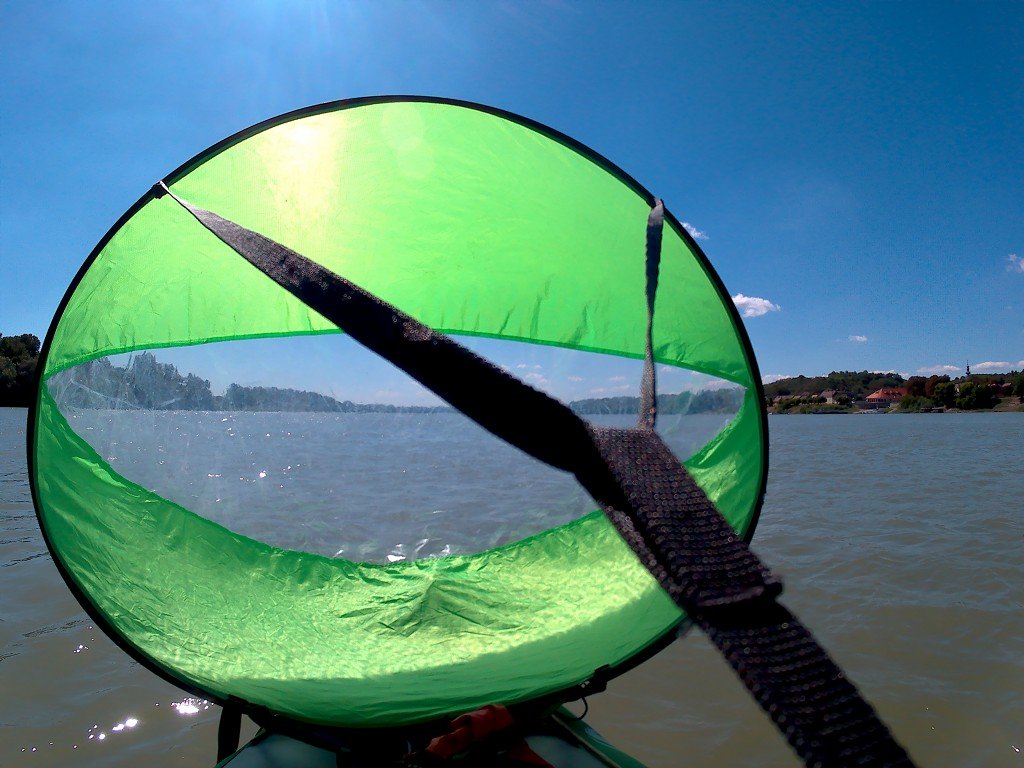 There's a moment of uncertainty whether the wind will die down at the right bend before Dunaszekcső, but it holds through the turn and the counter turn southward again. We see the cliff of castle hill (vár-hegy) and the first structures of Dunaszekcső on the right-hand shore. The wind picks up again and we're whooshing past the car ferry that connects Dunaszekcső with Dunafalva. This is the last riverside town before Mohács.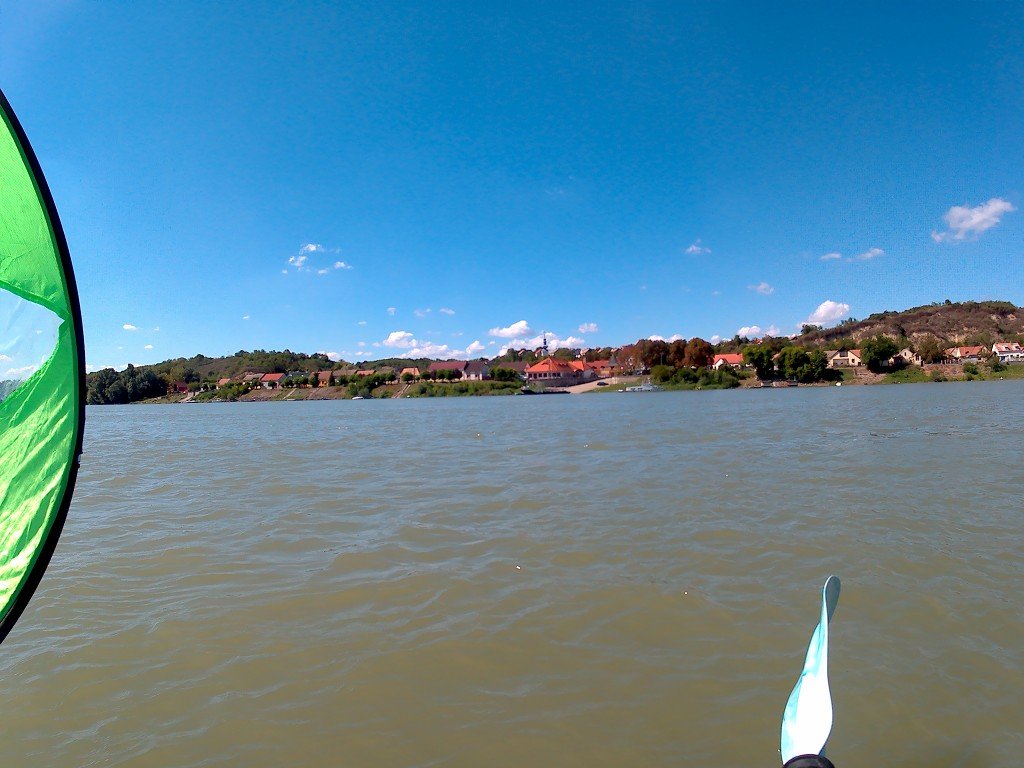 After the town, the wind picks up even more. It's strange how a distance of more than 30 kilometers used to be such a major event, but now it's just another day on the river. I hope we'll quickly get in shape again in 2021 to cover similar distances each day. We'll need to get used to longer distances because there will be more stretches void of civilization between here and the Danube delta.
The wind dies down again after 30 minutes of sailing near the hidden town of Bár. We make our second pause of the day on the left-hand shore between 13:35 and 14:05. It's a very pleasant sandy beach with some shadow. I take some more photos of us and our setup from angles I hadn't tried before for fear of losing or damaging the camera. It's astonishing how comfortable we've become without ever really abandoning our safety principles, like wearing a life jacket on the water.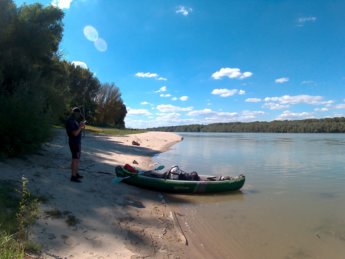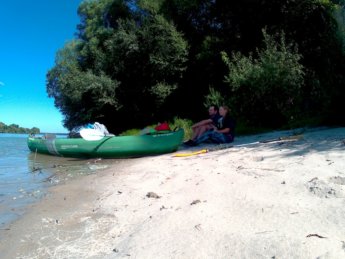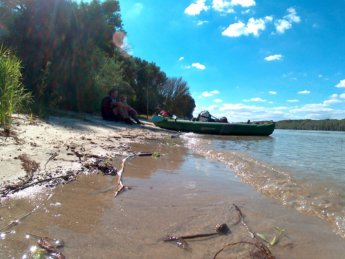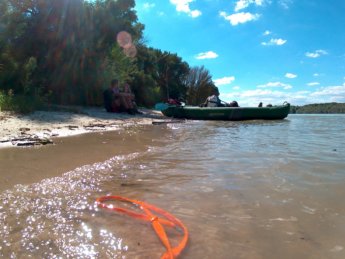 Spotting Mohács' Industrial Zone
We see the first signs of Mohács when we continue paddling. There are some houses on the right-hand shore that mark the city limits of Mohács. Then the residential area changes into an industrial zone. Some powerlines span the width of the Danube to mark the change in purpose. This looks like part of the port of Mohács, with many train lines ending here at the shore. We turn leftward.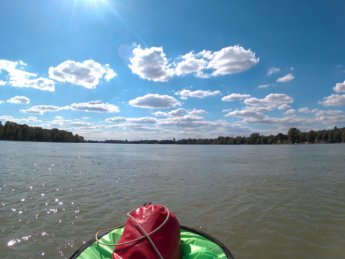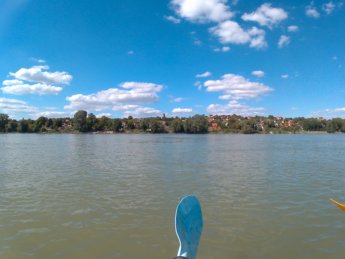 After the first powerlines, we start to cross to the right-hand shore.  We maintain a healthy distance from the industrial and port area on that side. At the next power lines, we paddle in the shadow of a huge industrial complex with its own dedicated train lines. A little further is the actual train station of Mohács, after which we pass some official-looking buildings for port authority and border crossing issues.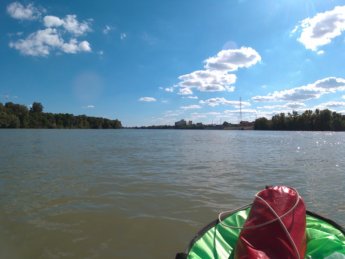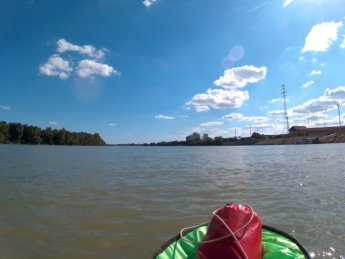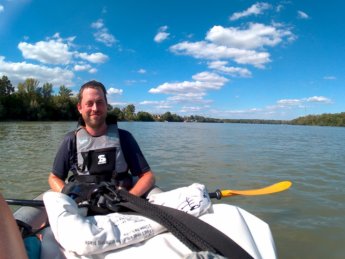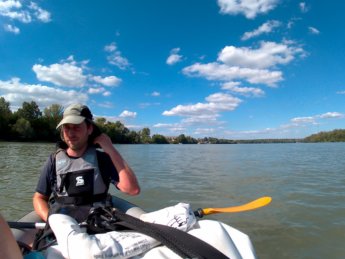 A young woman overtakes us rapidly rowing downstream. We haven't seen many rowing people anymore ever since we left Germany and Austria. At the same time, the number of fishing people increased dramatically (it's probably the fish soup). We see more people on the other side of the river rowing the same loop. There's a (presumably) retired car ferry moored on the shore and behind it, we see the church of Mohács.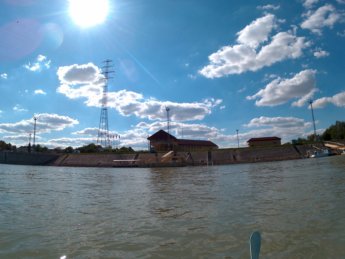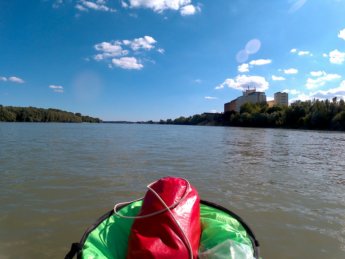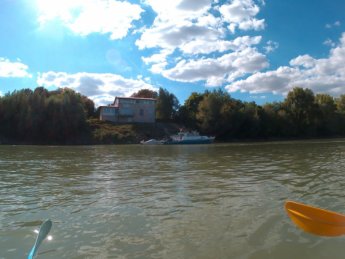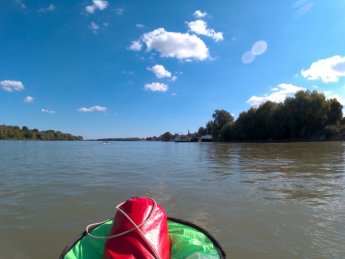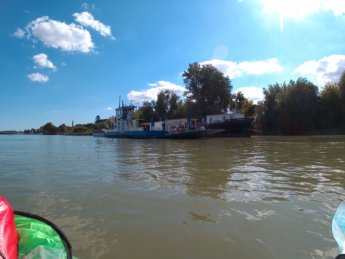 Arriving in Mohács
The last stretch of 2019. The source of the rowing boat is a kind of canoe rental or rowing club. Unfortunately, this beautiful landing spot is too far away from our apartment. We paddle slowly through town reveling in this fantastic moment on this beautiful day. We pass a boat restaurant, some moored motorboats, and a few decaying buildings.

Mohács' ferry is a very, very large ship good for transporting several large trucks and many passenger vehicles. This is the last chance to cross the Danube within Hungarian territory without owning your own boat. It's on our side of the river and ready to leave, so we stall. To our right is one of the landing spots for cruise ships with a sign saying 'Welcome to Mohács' with the Hungarian, Serbian, and Croatian flags flying.
When the ferry's chimney spits out some smoke, we know it's best to wait. It gets unmoored and then sets off for the opposite of Újmohács (New Mohács). The ferry reveals a large cruise ship moored behind it. We cross the lane of the ferry and pass close to the cruise ship named 'Swiss Tiara'. At the rear end, there's a passenger of the cruise ship relaxing on deck who greets us.
After the cruise ship, we see our intended landing spot. With the help of our navigation, we approach the mystery site quite slowly. It's a tiny marina made up of a bunch of small floating pontoons between which the locals moor their fishing boats. The cables that tie this contraption to the shore block our way to the shore, so we duck our Zucchini in between two of these pontoons to reach land and stairs up the embankment.
We bump into the obstacles around us and reach the beach. I'm putting on my shoes and then get out. I help Jonas out and… that's it. It's done.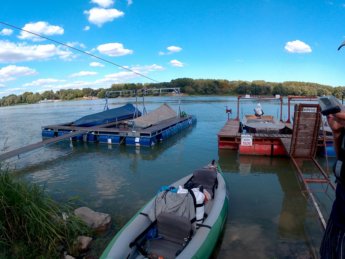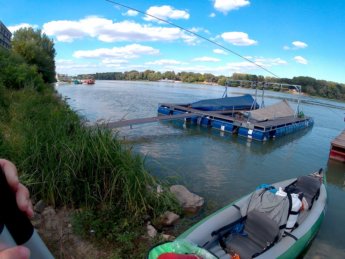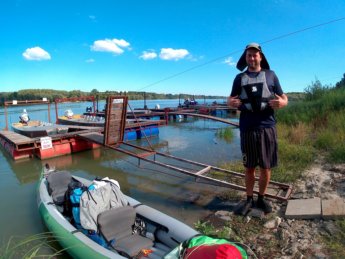 Our arrival time is 15:07.
After landing, we discover that there's a pub right behind the dike. We go there to drink an Edelweiss on the terrace while Zucchini dries in the sun. It's such a strange mix of feelings, but I mostly feel elated. Later, Jonas first goes to pick up the key of the apartment and brings the dry bags.
Meanwhile, I answer some questions from a few local people about our trip. Two men and one woman sit at the table and wonder where we came from. We find that German is our common language, but I'm happy when Jonas returns to help with words and shit. One guy asks me "Where are you going next, you and your…?" while gesturing at Jonas and looking at my fingers for an answer.
I'm still wearing my gloves.
Then we take Zucchini in a lazy roll to the apartment where we'll stay for the next four days. There's a small veranda which we use to dry Zucchini.
That was it. I can't believe that was it.
Thank You for Joining Our Adventure!