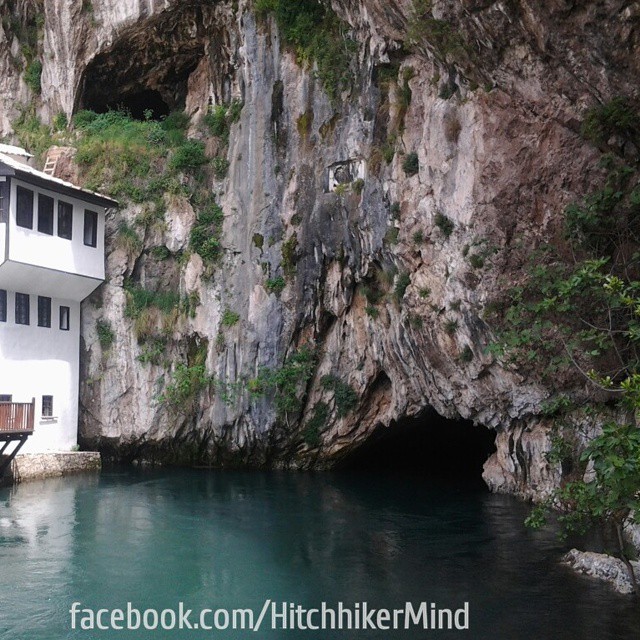 My Slovenian drivers wanted to make a stop at a specific place in Bosnia and Herzegovina called Vrelo Bune nearby Blagaj. It's only 14 kilometers far away from Mostar, where we spent the night. I had no idea what it was about, but oh my, this is peak idyllic!
But what is Vrelo Bune about? Well, for one, it's on the list of tentative UNESCO World Heritage Sites. But that doesn't tell you a lot.
As my drivers translated from their guidebook, Vrelo Bune is a perfect mix of nature and culture. The Dervish monastery – from a Sufi order of Islam – becomes one with the natural beauty of the cave, from whence the river Buna comes. It's quite a paradisical place if you ask me, perfect for building a spiritual place. The building is Ottoman architecture – like so many places in Bosnia and Herzegovina – and the cave is actually the source of this river. It's a karst spring, which basically means that the river hides underground in caves and sinkholes until it emerges right at this cave. It's ultra fresh water, probably untouched by human activity until this point. Right after emerging, it drops off an edge. This river joins the Neretva River just after a few kilometers. The Neretva is the same river that has the famous Mostar bridge spanning it.
Just look at how this river seems to appear out of nowhere:

The buildings around the site itself served various purposes, including a guest house for Sufi travelers, a monastery, and a mausoleum. I didn't know how holy this site was and we were the only tourists during our visit. So I played it safe and chose to wear a hijab inside in the case that's the rule. The Slovenian guys all wore long pants and shirts that covered their shoulders so they also looked fine. I'm not sure if wearing a headscarf is actually necessary, but it doesn't hurt to bring something. The surrounding areas have tons of cool bridges and cafés for breakfast or beer, whichever you want.
It's nice to hang out a little longer to really feel the place.
How much does it cost to enter Vrelo Bune?
During our visit in 2015, the entrance was free of charge. This might change in the future because wow, it's insanely beautiful!