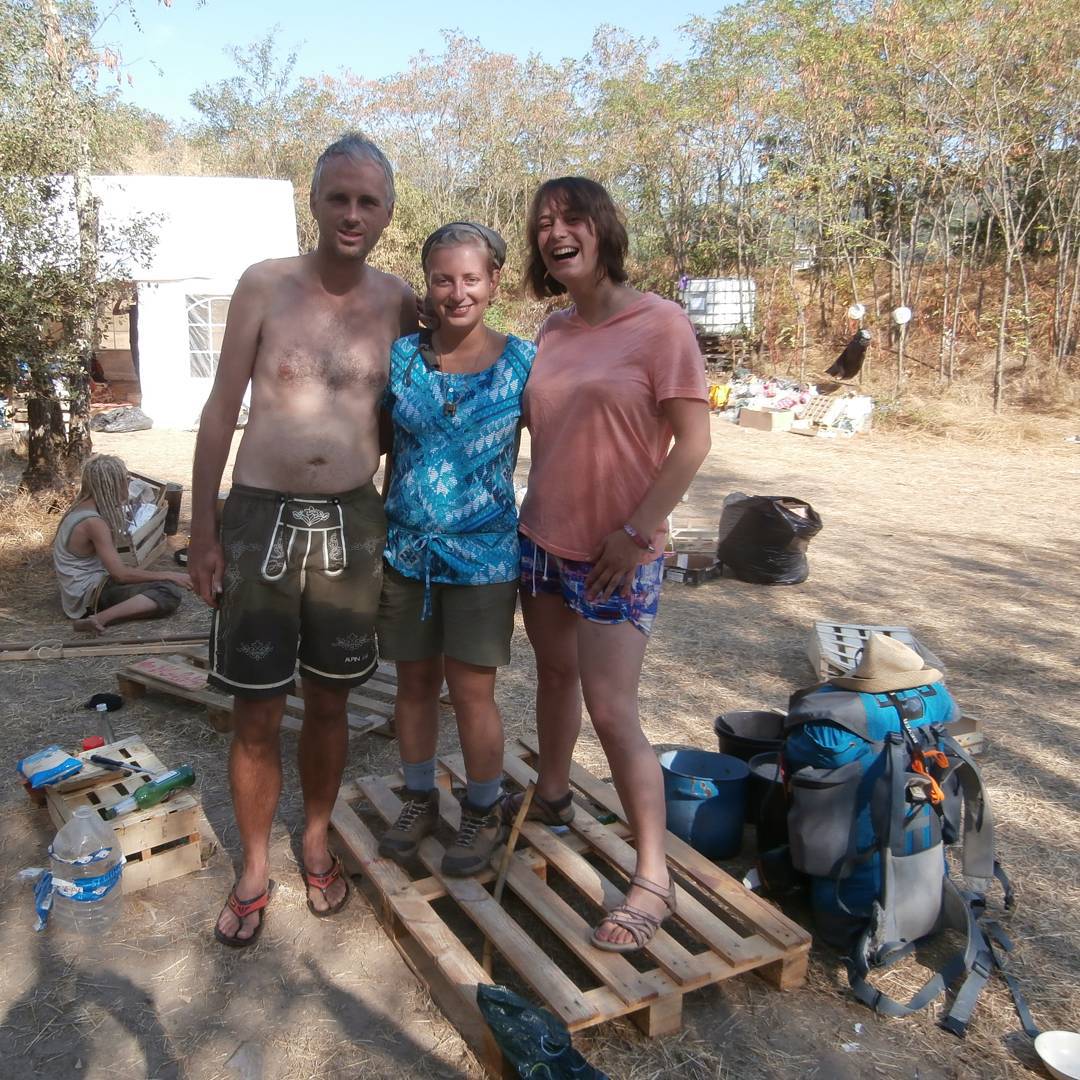 Five days and four nights without internet at the HitchGathering was a great opportunity to get to know this community of hitchhikers. They come together once a year to be among like-minded people at this 'hitchhiker's conference'. Some of them went to great lengths to meet up at this place in France and hitchhiked from farther away than I did. A good bunch of hitchhikers also needed to obtain a Schengen visa before coming here. It's not easy being an ambitious international hitchhiker without a strong passport.
I met up with awesome people who have contacted me through my Facebook page. I also got to know legendary (solo female) hitchhikers and pre-legendary folks who went hitchhiking for the first time—kudos to those making the leap!
In the picture are some of the Dutch/Flemish crew that gathered. The guy's name is Frank and he's super experienced and keeps very detailed statistics on his hitchhiking journeys. The lady's name is Griet and she often hitchhikes to work in Belgium. Sometimes she works as a tour guide in Peru.
I'll elaborate on what happens during the HitchGathering at some later point, perhaps. I just wanted to tell you that I had an intense 10-ride day of hitching to travel to a village called Mende (Lozère). It's only 161 kilometers away from Saint-Laurent-du-Pape (Ardèche), but I took many rural roads. Now I'm going to find a place to go freecamping or squatting in this cute town. I'm still amazed by a lot of things that went down at the gathering and I can't wait for where it's happening next year! Will you join?
I'm one of the few people that hitchhiked away from the HitchGathering still solo; most people found a buddy. Part of the reason is that I'm quite picky about my hitchhiking buddies since Georgia and the other reason is that nobody, NOBODY, wants to hitchhike to Spain. The consensus at this conference for hitchhikers was that hitchhiking in Spain:
"[…] sucks ass."
"[…] is the worst."
"[…] is at best incredibly frustrating."
Ehm, okay? But I'll still check out for myself to form my own opinion. This seems weirdly inconsistent with my preconceived ideas about backpacking in Spain. Is this the reason why everyone walks to Santiago de Compostela?