This article is about how we finally managed to travel to Rodrigues by plane on the 12th of April, 2022, despite some hurdles. Rodrigues is a smaller island in the Indian Ocean that's part of Mauritius and much further east of it. It's autonomous, which is why they've closed to international tourism and even domestic travel for about two years during the COVID-19 pandemic.
The Idea of Visiting Rodrigues
Booking the Flight + Rodrigues Entry Requirements
Finally, in late March, we were ready to book the flight on the Air Mauritius website. Despite success in booking the flight, they charged Jonas' card twice. Bummer.
Our only concern was if we needed a return flight from Rodrigues. We prefer not to do that because we don't know if we will like it (i.e. staying 2-3 weeks) or love it (staying 2-3 months). Nobody could really answer that question, so our plan was to arrive at the airport early in case they force us to book a return flight on the spot. These flights are non-refundable and presumably also non-movable, which sucks. We decided beforehand that – if forced – we'd book a return flight for 2.5 months later for somewhere around the 20th of June.
The entry requirements for Rodrigues in 2022 are to:
Have a valid Mauritian entry stamp OR premium visa valid for the entire duration of your stay
A COVID-19 vaccine, preferably with an additional booster
We qualified overqualified.
Now the next issue was the baggage limit on the Air Mauritius flight to Rodrigues: 15 kilograms check-in luggage, 5 kilograms handluggage. That's not a whole lot. With the help of our fantastic hosts in Flic en Flac/Quatre Bornes, we managed to keep a box at their place with a few possessions we don't want to get rid of but are generally useless in Rodrigues or too heavy to carry. Think winter jackets, a big jar of gifted honey (which doesn't expire), and other random items.
Air Mauritius Flight to Rodrigues
April 12th, 2022
Drive to the airport
We couldn't check in online 24 hours before departure to Rodrigues. But the Air Mauritius website did show we had assigned seats on the plane: 2D and 2F, far in the front of the plane. It made me a little sad we couldn't choose our own seats.
I went to bed very late, but I had already packed 95% of all my stuff. In the morning, we had a little over one hour to drink coffee, tidy up, and finish packing. We weighed our backpacks one last time. Last-minute, Jonas decided to leave his VR headset behind since his hand luggage was surprisingly a bit overweight.
We went downstairs and met Nizzam and told him about the box of stuff. The taxi wasn't here yet. We waited for about 15 minutes – getting quite nervous about needing to take a different taxi – before it finally showed up. Nizzam told the taxi driver to drop us off at the domestic terminal, which is just for Rodrigues.
The drive from Quatre Bornes to the airport went over a section of highway we didn't know yet. Straight to the airport. There were quite some police on the road stopping many cars but not taxis. I was happy we planned in quite some buffer with the late taxi driver. We drove past the Pyramids of Plaine Magnien, which we haven't seen since 2021.
I couldn't follow the route inside the airport parking lot exactly, but he dropped us off at the arrivals hall.
Rodrigues departures in Sir Seewoosagur Ramgoolam International Airport
We took one of the luggage carts and wandered around looking for the Rodrigues departures terminal. It's to the left of the arrivals hall because people who arrive in Mauritius who directly transfer to Rodrigues have to go through Mauritian immigration first.
A lady checked our temperature upon entering the Rodrigues departures hall and showed us to the check-in counters. We first made our backpacks baggage-handler ready by zipping it all up and putting it in a protective bag. The lady in front of us had to shift some stuff from her hand luggage to her check-in luggage to abide by the strict weight limits. The check-in lady asked only for our passports and vaccine cards to print out our boarding passes.
Our luggage stood at 9.7 kg for Jonas and 13.7 kg for me. Mine was exactly 1 kilo more than when I weighed it this morning, which can be explained by the half-liter water bottle I accidentally checked in plus a scale bias of 500 grams. Jonas' backpack was also half a kilo more than anticipated. I'm happy she didn't check our hand luggage weight, which might not have been fine if the scales are off by that much.
Then we had some time to kill. I was raging hungry, so we walked to the arrivals hall. There's a Paul and a Subway. I thought Subway will be ready much faster, so I told Jonas we could share a footlong of the vegetarian patty one. It was the slowest sub-build I had ever experienced, which probably explains why it's in the arrivals hall and not departures. The Subway lady also said that adding the sauces is not vegetarian because it's egg-based, so I said we're European vegetarians. The whole "Are eggs vegetarian?" question is becoming more and more prominent in our lives here.
We smashed the sandwich and returned to the Rodrigues departures hall. We chugged our water; for this domestic flight, Air Mauritius still enforces the worst rule handed down from USA paranoia and lobbied for by Nestlé.
Next was passing through immigration. It's a domestic flight, so we thought this would be quick. The man asked us how long we were planning to stay in Rodrigues, so we said two or three months. He looked at our 90-day passport stamps and the +90-days tourist visa extension stamps and did some quick math. I told Jonas to grab the premium visas because the math doesn't add up without it. Elated, he said, "Oh, you're on the premium visa!" and went to work with that data.
He couldn't find our premium visas in the database and was very apologetic about that. A small queue formed behind us that wasn't there when we started this process. He asked when we received our premium visas, which I said happened on the 3rd of March while we were already in the country. Then he could finally find it in the database. He typed some stuff and then handed back our passports, again with an apology.
Did we just get VIP'ed? I mean, 'premium visa' does sound fancy, but it's not like the Thai 'elite visa' in which you get picked up from the airport in a limo—which is an asshole vehicle.
We went through a quick security check. Jonas didn't need to take his laptop out of the backpack, which saves a lot of time. It was all very relaxed and we didn't beep.
We sat down in the departures area and waited for the flight. Gate 20. I bought a new bottle of water at the little kiosk that sells drinks and basic foods. The departures hall for Rodrigues has a lot of photos of picturesque-yet-dated photos of the island. Everyone said "Rodrigues is Mauritius 30 years ago" or "Rodrigues is Mauritius in the 1970s"—confirming that here, too, people have stopped counting after the year 2000.
I was a bit disappointed by the sheer number of tourists waiting in departures. There were even some people I had seen come out of the arrivals hall who simply got off the plane in Mauritius and transferred to Rodrigues without visiting the main island. I had always thought Mauritius was a nice buffer of protection for Rodrigues, especially COVID-wise. Right now, vaccinated people can just fly to Mauritius without a test, do a PCR test on arrival – which takes a day for the results to come in – and apparently just fly on to the more vulnerable population of Rodrigues. This doesn't sit right with me.
Boarding the ATR 72
After some mumbling over the speakers, the mass of people began to move. We walked to the gate and saw again the Emirates plane that had also been there when we arrived in Mauritius more than four months ago. It's the cult-plane Airbus A380, the largest passenger plane out there. I wonder if it still has the 'UAE 50 years' decal on the other side.
We hopped on the apron bus and drove from the comically large A380 to the cute and appropriate for the journey ATR 72. Jonas and I have quite some experience with the ATR 72 with Binter CV – since renamed Transportes Interilhas de Cabo Verde (TICV) – in Cabo Verde. They have three of them in their fleet and that is their entire fleet. The nice thing is that it's two seats on each side of the aisle; perfect for childfree couples where one loves the window seat and the other prefers the aisle.
We settled into our seats on the right side of the plane very close to the front. Air Mauritius has three of these ATR 72s in total that fit 72 passengers each. The door to the cockpit was open as the space in between functioned as one section of the cargo hold. That cargo made chirping noises. Birds! But what kind of birds? Wouldn't Rodrigues have a very protected nature?
It took another ten minutes before the doors closed. There was a quick insecticide spray session and safety instruction as we raced toward the runway as if we were in a hurry. Then the two flight attendants made a seat appear from a magic space and buckled up. We didn't stop at all and immediately took off.
So Rodrigues is really happening!
The short flight to Rodrigues
We made a left turn and flew away from the mainland. The people on the left side must have had a very nice view of Mauritius during take-off. I mostly saw the lagoon and spotted Île aux Aigrettes through the opposite window. Mahébourg was really a fun place, actually. After that, there was only a vast and empty ocean.
Once at altitude – 5500 meters/18000 footsies – the Rodrigues entry forms and the food and drinks arrived in quick succession. We could still hear the birds chirping from behind the door now the engines stopped being that loud. We began to fill in our forms. The blue one was a "passenger information sheet" and the yellow one a "health declaration form".
I'm always amazed that they know we asked for the vegetarian meal (VGML) in our online booking. And they're always surprised we're indeed the people who asked for that. The meal was a sandwich of grilled veggies on an orange bun, with a cookie and a drink for the 1.5-hour flight. A bit fancier than the Cabo Verde flights, during which they barely have time to give you a cup of water with a cookie before it's time to land again.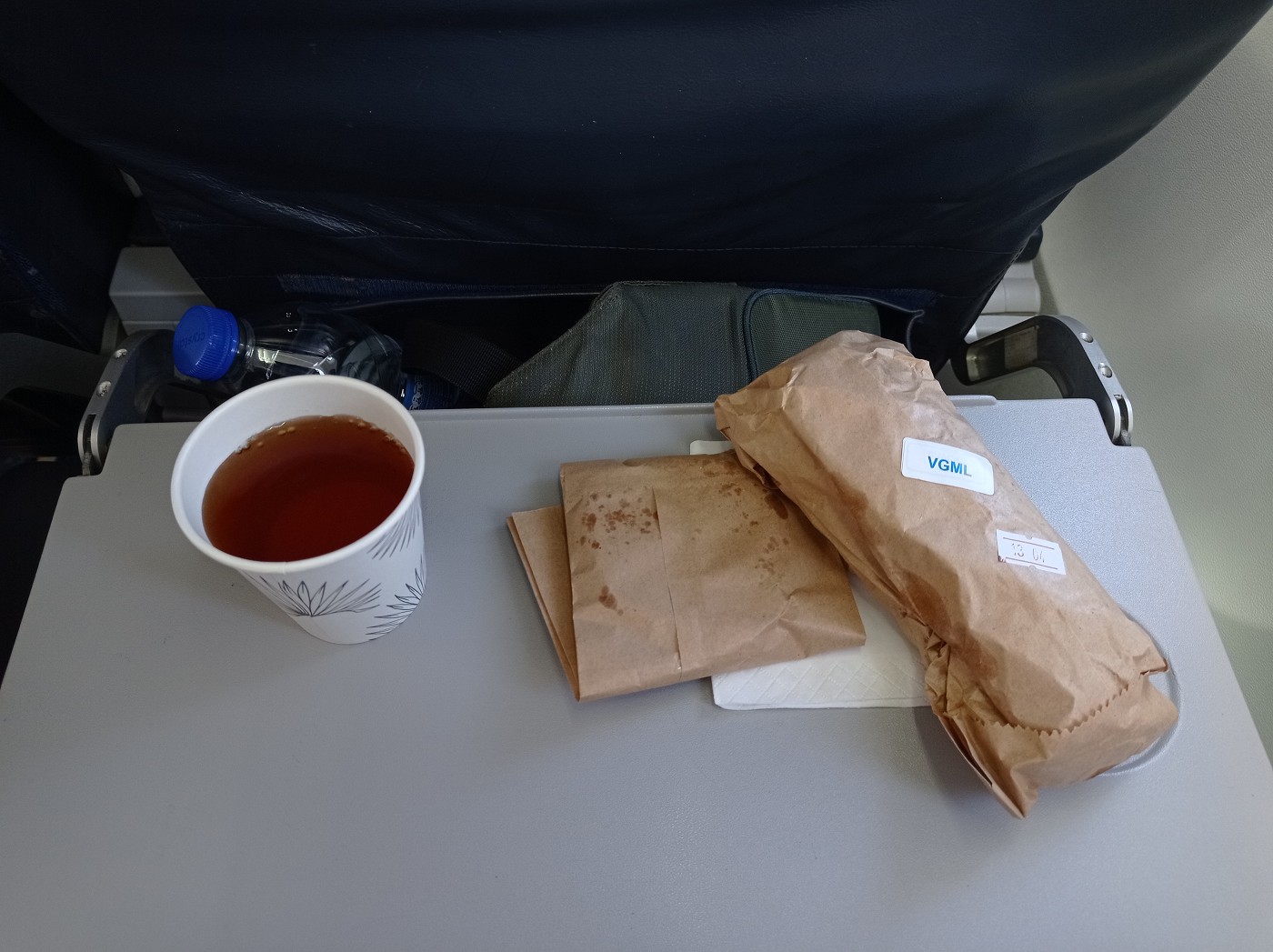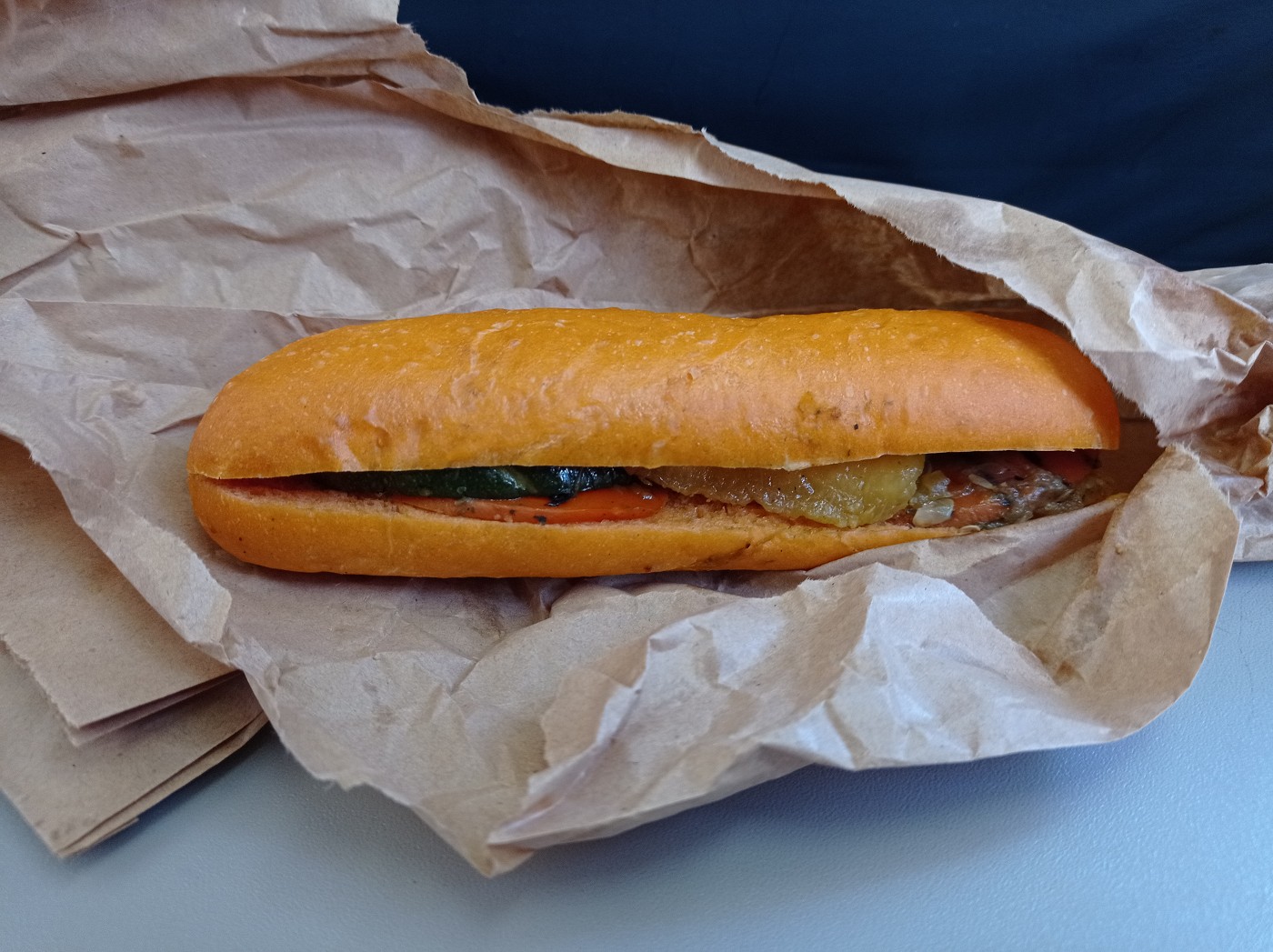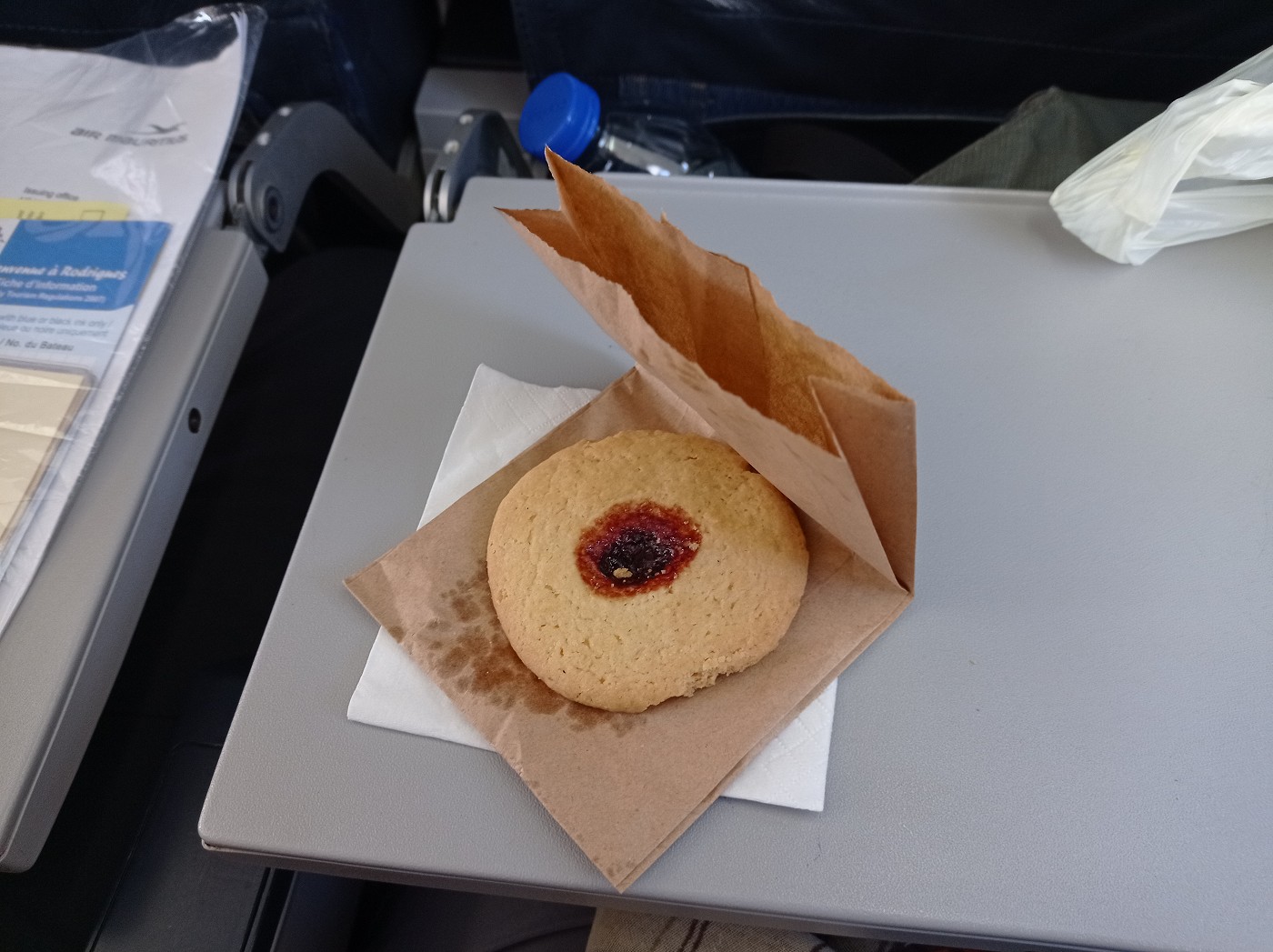 I spotted only one ship between Mauritius and Rodrigues during the entire flight. Unless a fishing vessel or a ship traveling between Australia and South Africa, I also don't really see a particular reason to be here. A few days after the flight, I got a bit curious and wanted to see the shipping situation in this part of the Indian Ocean and found out it's a lot busier than I anticipated: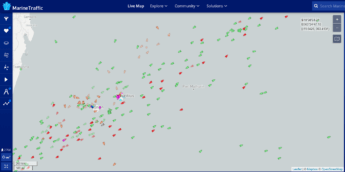 After the meal, I saw we were already over halfway. Jonas and I finished the forms and then took a short nap before the plane started its slow descent. There wasn't much to see from the plane until we were really close when I could see a bit of the huge lagoon that surrounds small Rodrigues. The people on the left side of the plane again had the advantage. The runway has northwest to southeast orientation and we landed from the northwest. I am quite upset that we didn't have the option to choose our own seats because this could have been prevented.
Once close to landing, I did spot île Frégate, Île Destinée, and Île Crabe. We came in at quite a high speed, but once touched down the brakes were engaged fully and immediately turned 180° on the runway after slowing down enough. I guess it's nice to be the only airplane and have an entire runway to yourself. No need to ask air traffic control for permissions. You own the tarmac, the terminal. All yours.
We taxied to the terminal and stopped. The main flight attendant said stuff about all the things you can't bring into Rodrigues that form a hazard to its biodiversity, such as uncooked ham and seeds or something like that. That's eh… a little late now? Also, she mumbled something about a ban on plastic in Rodrigues (good? good.) and that there are heavy fines on throwing plastic into nature (duh). Jonas seemed a little triggered and wondered if they'd take away the plastic bags that we use to wrap potentially leaky stuff in, such as sunscreen bottles.
We knew we'd be just about last to disembark. Even the birds – which I found out were baby chickens, which makes this all a lot less wholesome – departed the plane before us. We squished through people stalling in the aisle and left via the skinny aisle and the slightly wobbly stairs. I took a few photos outside, which wasn't appreciated by the employees. But it's just so cool that the tail says "Rodrigues".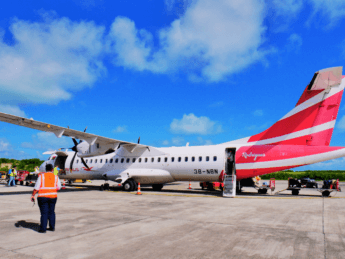 Entering Rodrigues
Welcome to Sir Gaëtan Duval Airport/Plaine Corail Airport. We couldn't enter the terminal building directly because of the queue of fewer than 72 people that all had to have sanitized hands. Inside, there was one other covid measure: a non-radiation-emitting temperature scanner. I don't know why that had to be mentioned. Anyway, it didn't seem like they'd turned it on. We slowly shuffled forward as we saw our luggage make round after round on the carousel.
What were we queueing for, besides handing over two forms? Well, Rodrigues is an autonomous region, which means they can do some things such as passport control. They don't stamp it, unfortunately, but they can do stuff like that. I'm still both shocked and surprised that they didn't require a single covid test—not even a cheap and easy 15-minute rapid test.
After the passport check, we went through past the Rodrigues duty-free shop and to the luggage carousel. It's not as small as anticipated. I unpacked my backpack from the protective cover while Jonas refreshed himself. The window there had a view of some islands and the rugged coastline. Just outside the arrivals hall was our host Sandy who came to pick us up. "Bienvenue à Rodrigues!"
Driving to Port Mathurin
He helped us put our luggage in his big pickup truck. We took the Route de l'Autonomie up into the hills. Everything looked quite a lot like… Mauritius: the infrastructure, the bus stops, the colorful buses themselves. I expected us to drive the inland route via the mountains, but at La Fourche, we made a left and followed a smaller road to the northwest coast. Google Maps is absolutely useless in Rodrigues, so I followed our journey on OSM. It's actually so nice that we arrived here while already having Mauritian SIM cards in our phones, Mauritian Rupees in our wallets, and general knowledge of how things work.
There was markedly more livestock on the sides of the road than in the parts of Mauritius we've seen. Once we had a close encounter with a teenage cow. Once at the coast, the road passed dense mangrove forests as we know them from for example Mahébourg and the Riviere du Cap estuary. The road would be just above the water level and we'd constantly pass through lower-lying fords that will likely flood during high tide. To my happy surprise, there were quite some pirogues on the water with their sails ballooning in the wind. Our teachers in Trou aux Biches had told us the lagoon in Rodrigues is too shallow to go sailing.
Sandy told us about the island and how it's low tide now. The lagoon here is much more shallow all the way to the reef than the one in Mauritius. This means it's possible to walk to most islands at low tide, but you must wait for high tide to go swimming. In one turn, he pointed towards Île aux Cocos, which is the westernmost island. It's possible to do day trips there. I'm kind of thinking it will be like the Île aux Bénitiers of Rodrigues.
We made a short stop at a second property he rents out. It's a little more rural. After learning we want to stay here for 2-3 months, he said we might want to stay here for a while too. We forgot to check the internet reception there, which would be the most important factor before we can make such a decision.
Around another cliff, we entered Port Mathurin, the capital city of Rodrigues. He drove through town, giving us a little tour while talking about how things work here. The streets are quite skinny, so I'm not sure if the big pickup truck was the right tool for this. We stopped by the port of Port Mathurin to see our first celebrity: the MV Black Rhino. It's the cargo ship that delivers goods to Rodrigues by sea from Mauritius. The lifeline of the island.
Sandy said that prices tend to go up just before the ship arrives again with new goods. And oh yeah, with the pandemic and la guerre, the prices have been going up quite a bit in general. This info, together with the info about opening times of restaurants, urged us to buy food ASAP before we go to the rental. We stopped at the bus station, where Sandy pointed Jonas towards a shop to buy some basic goods (i.e. pasta and pasta sauce). Jonas went out by himself while I stayed in the car and chatted with Sandy.
I asked about the ship situation. He told me that right now, only the Black Rhino visits Port Mathurin about once a week. That ship does not have passenger cabins, which means everyone has to come to Rodrigues by plane. Yes, that cute plane with a very tight baggage limit. The island has been waiting for a new ship for about two years, but it hasn't been delivered yet. He says it's being built in China and will be custom-made for the needs of Rodriguans. It needs to carry: passengers, goods, livestock, and oil/gas. That's a bunch of very special requirements for a ship and will need special certification.
Jonas returned with goods and we began the drive to our new home. The map on Airbnb uses Google Maps, which means we based the location of where we expected to stay on those coordinates. Sort of. Well, we totally misplaced it. If I had gone by just the five photos of the space, I would have never doubted my first (correct) guess at the National Coast Guard of Rodrigues; I concluded it matched the landscape as depicted on OSM. The Airbnb/Google Maps location, however, placed us east of the bus terminal in Port Mathurin.
We drove back through town to the house and got our stuff out of the car. After a quick tour of the house, we started to settle in. The WiFi signal wasn't strong, but we have our own mobile internet which worked without a hitch.
So far, everyone we met who had visited Rodrigues had told us about how different things are there from Mauritius. So far, I'm mostly seeing pleasant similarities. Port Mathurin looks really quite neat and gives me Mahébourg vibes. That reminds me of something Mauritians told me about Mahébourg: "It's so tranquil and quiet—it reminds me of Mauritius 30 years ago…"
Good info? Consider buying me a coffee!
Bitcoin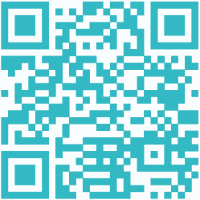 bc1q9a6w08a4gkx4gdvnh7w2vlkfzx4tlwfpfe6jm6
Open in wallet