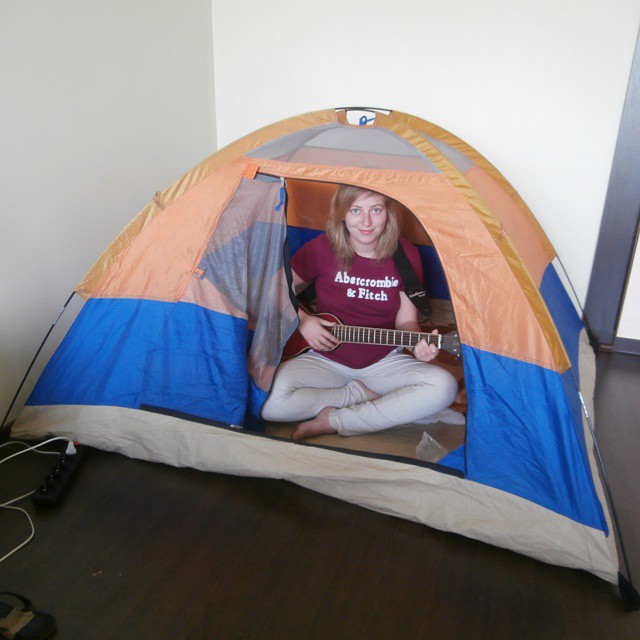 Sometimes, I can't stand normal-people beds. So I found a cool solution: indoor camping! I know it looks silly, but if you have a free-standing tent like this, it's actually nice to pitch it indoors and just lounge in it. Yes, you need to roll out your sleeping bag to make it extra comfy. I just love living that tent life.
Meanwhile, I'm using my stay in Belgrade (Serbia) to practice my guitar play, host people on CouchSurfing or from Facebook groups, write on the blog, and do small overall improvements. I'm hoping to make this apartment in Belgrade my base of operations and this tent HQ. I'm feeling very optimistic about this year and the switch from Escapist as a blog name to Mind of a Hitchhiker. It covers the content much better.
Also, I feel like I've grown out of merely escaping that dumb and depressing student life I lived in Maastricht. I have made this life work so far and I've been happier than ever before. Even if it results in silly pictures like my indoor camping experiment in my dumpster-dived Abercrombie & Fitch shirt, experiencing Belgradian sunrise and sunset. This is what an inspired person looks like, I guess?
I don't ever want to go back to that old life—even though I know I might not even have a choice in it.
#outdoors #tentlife #weirdcore #fitchthehomeless