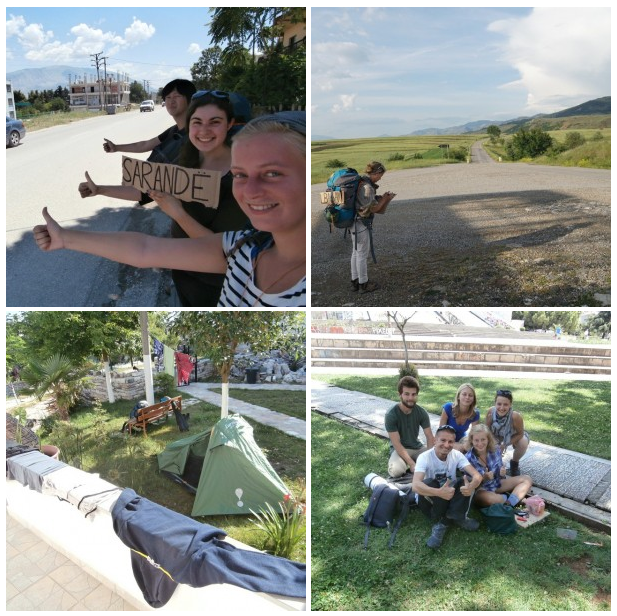 It's almost the end of the year according to the calendar I grew up with. And all the bloggers seem to be doing it. So here's a recap of my year in hitchhiking, adoring nature, and meeting people! 2015 was not the most exciting year I've had in travel; there were a few sad things going on personally. I stayed in Europe mostly as I was trying to hitchhike to all the missing countries I haven't been to. But suddenly a happy change happened; now I'm in South America continuing the adventures in hitchhiking! There were so many opportunities just up-for-grabs. I'm happy I hopped on so many of them. Hitchhiking as a means of travel is always full of surprises. The following stories (not in chronological order) all happened because of it. Enjoy part one: Albania!
#1. Albania! All of it!
From my new base of operations in Belgrade, Serbia, I got back into my hitchhiking flow. My priority was to visit some previously unhitched countries. Albania was the big winner in terms of nice people and experiences. It was generally a big happy surprise. Again, I'm very happy I didn't listen to the naysayers and doomsday thinkers who said it's a 'dangerous' country.
Albania has everything: snowy mountains and sunny beaches, Italian espresso or Turkish coffee with WiFi however you like it. For sleeping, there are couchsurfing hosts, hostels, freecamping spots, mosques with friendly Imams, and amazing squatting opportunities galore. This all shows Albania's hospitality culture. Yet somehow, Albania doesn't have a good reputation abroad. People often describe it as silly dangerous to travel in. This is why the other travelers you'll meet in Albania are generally really cool; they don't listen to what the media has to say or the people from some of its neighboring countries.
Friends and connections
Through Facebook and Couchsurfing I already made some connections with locals. For example, the amazing Anxhela, who loves traveling and got a big fine for black riding a train in Italy. She put the piece of paper in her travel diary with the caption "never gonna pay this". When volunteering in a hostel ran by tattooed long-term moneyless traveler Mattias, I met Neri. She was in fact someone else's Tinder-date. But we all became friends really quickly as the property owner put the hostel out of business. We all had to leave, but it had been a cool few days, though stressful.
I've never hitchhiked together happily with so many people as in Albania. I ran into my friend Dongbum, whom I originally met in Montenegro, and again in Albania on the "Balkan Trail". He runs a Korean website likewind.net  where he blogs about his hitchhiking adventures, currently in Kenya. Together we ran into Trudy. Though we only met shortly, we managed to hitchhike from Gjirokastra to the beach city of Sarandë. With three people! There are so many other people that deserve a mention for making Albania as enjoyable as it was, like Scott for whom I volunteered at Berat Backpackers Hostel, Gabriel, Aurora, Adela, Indrit (whom I never met but gave me tips for getting around), Hashim, Assaf & Shira and their Amazing Israeli pastries, the awesome Yohan from France with his blog Les Voyages de Yohan and Margarita and her family after they went voting.
Good memories
There are so many good memories. I hitchhiked with complete strangers and befriended them. Somehow, I met two people who sang in the finals of The Voice of Albania. I even rode along with a local election candidate on his campaign tour. After a few days of thumbing, I figured that all old Mercedes cars ask for money. Subsequently, I only put my thumb up for newer cars; it's all part of the hitchhiking-Albania learning curve. Most of all, there's still so much more to explore! I've basically been looking forward to returning to Albania since I crossed the border to Greece.