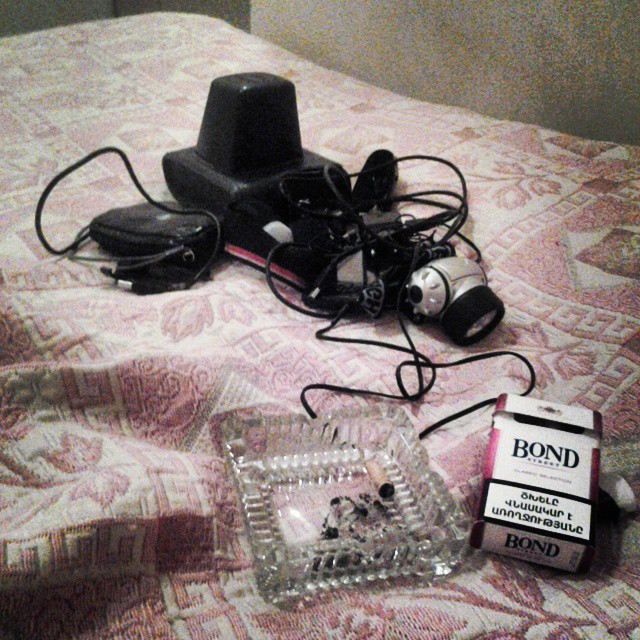 The last time I was in Armenia, I also hitchhiked this road on the way to Jermuk. But today I only went as far as Vayk (Վայք). I wasn't hitchhiking alone back then, but with Michał from Poland and our multi-day super driver. The road passes by the Azerbaijani exclave of Nakhchivan within spitting distance at the town of Chiva (Չիվա). Well, not really spitting distance; it's still like 1.2 kilometers. Our driver from back then told us that there were snipers just over the ridge. That's why – and this is a quote, nothing I verified – there's a sandy barrier on one side of the road to protect people in cars… from bullets.
Yikes.
So, I arrived in Vayk. I only hitchhiked 140 kilometers today, but it's alright. I started too late. My driver's name was Varets and yes, I only took one ride. I had kind of hoped to hitchhike to the Armenian border town of Meghri in one day, but traffic thins out pretty quickly in this direction. Doing it in one go from Yerevan would be 374 kilometers, as Google Maps tells me. But damn, I'm really excited and nervous to use my Iranian visa. Perhaps these nerves are messing with my hitchhiking mojo. Either that or I should go to bed earlier and stop playing 2048. But I'm also just very restless. What if they send me away at the border?
Varets suggested me to stay in a motel/hotel here in Vayk. I believe the hotel is Vardananc Tun and they have a sauna. I'm mostly stoked that these hotels in Armenia let you smoke inside. Love it. Such a smoking-friendly country.
I'm very happy to hitchhike alone again. This is my default mode and it feels good.
(Originally published on the  6th of  October 2014): What I love about #motels in #smoke friendly countries. #Vayk #Armenia #hitchhiking #ashtray #SAUNA #metime (at Vayq)