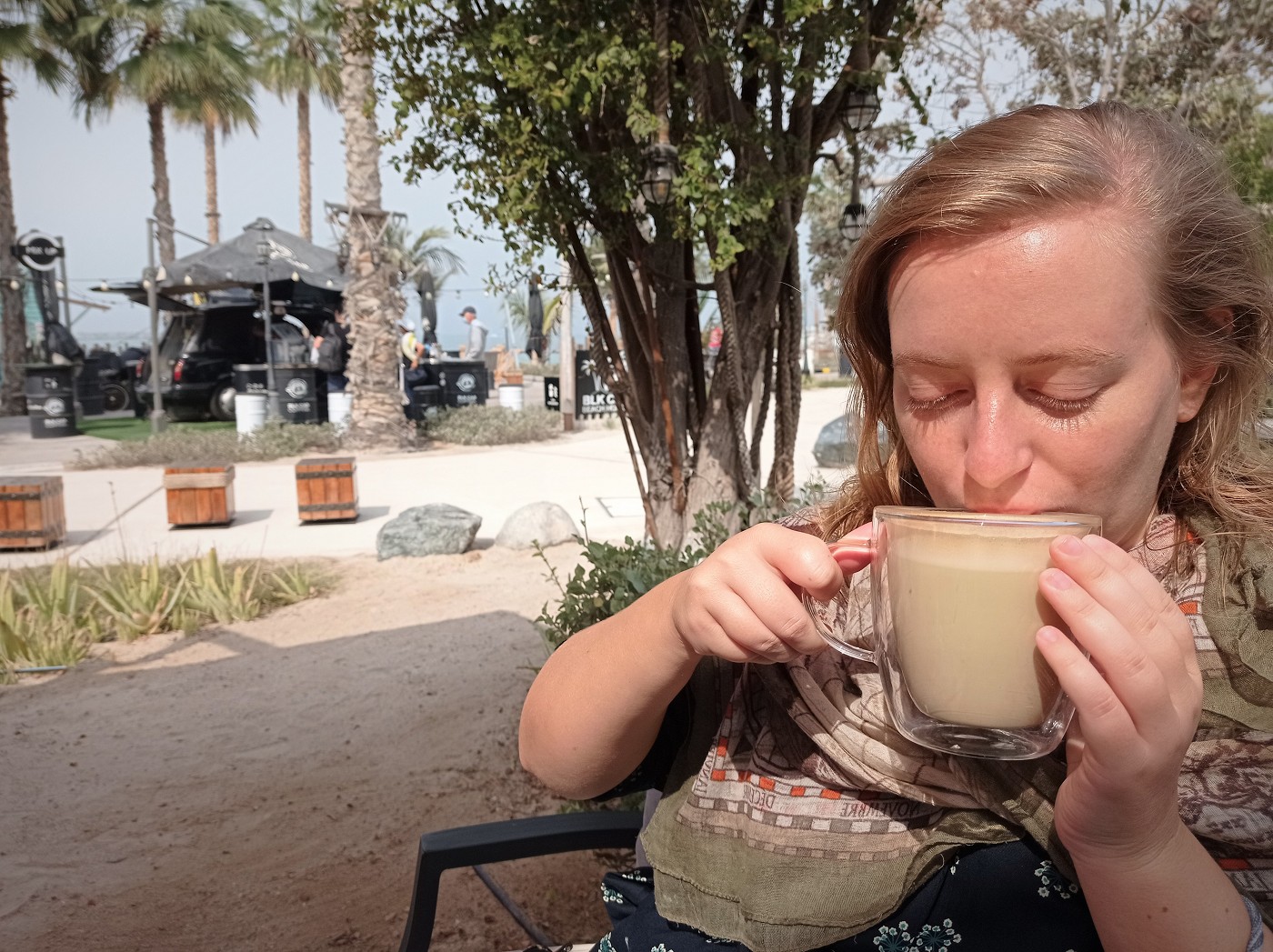 This is a diary-style post about what we did during our two weeks in Dubai before moving on to Sharjah within the United Arab Emirates (UAE). I tried to make it a bit informative if you're traveling to Dubai, but I usually don't write about cities that are already well-written about. Everything written here happened in 2021. Jonas had already visited Dubai for three days back in 2010 and told me it was a very misunderstood place.
Saturday 30th January: Sleep
Dubai Day 1
As you might know from the previous post, we slept a lot on the first day. This was necessary and doesn't feel like wasting time to me at all; we received our 90 days for the United Arab Emirates, so now we can chill.
By the time I was done napping, the sun was already setting. We could go out for dinner, but we could also postpone finding out what dining in during covid looks like and kickstart our life here by figuring out how to order food. Jonas downloaded an app called Careem (Google or Apple) and it looked… suspiciously like Grab. It's green and it has basically all the same functions, which includes taxis.
I craved dolma (stuffed grape leaves) and Jonas wanted falafel. This wasn't hard to find. We included zaatar bread and shakshouka and received an absurd amount of bread with it. Gotta love those leftovers.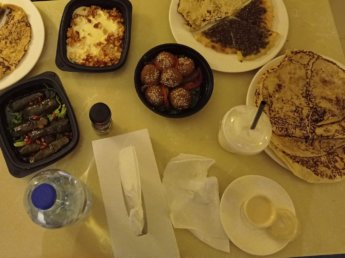 What's also important since the start of this pandemic is to figure out a way to keep track of the covid stats. We used this website by the United Arab Emirates emergency, crisis, and disaster management authority. The first graph on that page shows the vaccination doses administered per 100 people, which was at 31.49 on our entry date. The only country with higher rates was Israel. Pretty sweet stats.
Sunday 31st January: Walking to the Waterfront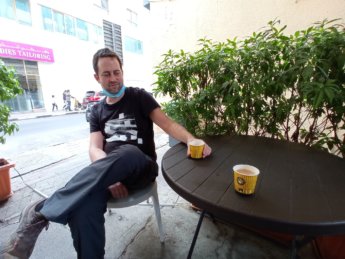 Dubai Day 2
Breakfast
During the booking of this hotel, I voted to be kind to ourselves and include breakfast. So we went to breakfast at an early time. I didn't have any trouble waking up, which is unusual but not so strange when this could be jetlag. Malaysia is four hours ahead of us now, the Netherlands and Germany still three hours behind. Contacting my folks would be easier now, timezone-wise. To my great relief, the hotel really geared the breakfast to vegetarians, specifically Indian vegetarian food. The rule in Dubai is that only staff can touch the buffet to scoop food, so we had to wait till someone in full-pandemic gear was ready to serve us some.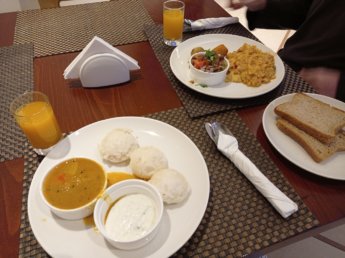 After working some on our projects in the room and ordering a new MacBook cable for Jonas, we decided to leave the upgraded hotel room and walk to Dubai Creek. Usually, we eat only two meals a day. But because we had such an early breakfast, we were hungry again by lunch. Not ideal, but we knew there'd be lots of vegetarian restaurants on the way. The first one we spotted was Swadesh (see map), but we didn't eat there yet because it was so close to our hotel. We first had a masala chai at a business called Uzhavan and sat down on the terrace in this beautiful weather with perfect temperatures.
Walking Super Jolly
The first thing that stood out about (this part of) Dubai is that it's incredibly walkable. That comes unexpectedly because – as the dude from Not Just Bikes preaches – policies of car-centrism often comes at a cost of walkability and cyclability. The sidewalks are in a good condition and sometimes the pedestrian crossings are raised to sidewalk level. Or perhaps we're easily impressed because Malaysian cities (especially JB) were so unwalkable that we sometimes rode with the same Grab driver twice.
Jonas pointed out the many rat bait boxes on the sidewalks. Apparently, this is a problem that the government is tackling hard because you can't unsee them once you know what it is. The same with all the little cards that litter the sidewalks with pictures of – often South Asian – ladies with little clothing and phone numbers you can call to presumably call these conventionally attractive women. Another thing that stood out were the many payphones on the street, which were so archaic compared to the rest in my field of vision.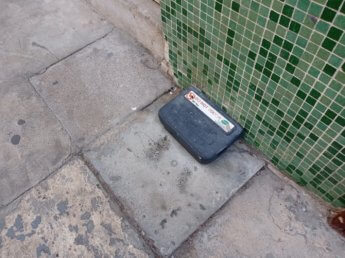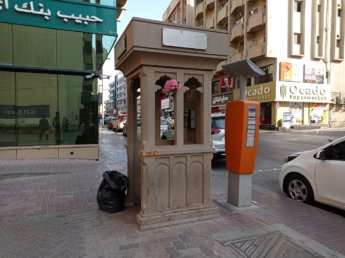 Next, we came across a shop that sold dates and nuts. This is a weakness of mine and must be satisfied on the first or second day within a country that does these products well. I did the same in Iran and Tunisia. The shop owner let us try some almonds and dates, and tried to steer us to the Palestinian or Saudi dates, not the Emirati ones, telling us "The local ones are not that good." The Emirati ones were a bit small, but they looked heckin' succulent. We went for the Saudi ones in the end.
Entering Bur Dubai and Dubai Creek
After getting our road snacks, we came closer to Dubai Creek and the Bur Dubai (بر دبي) historic district. We walked through an area with many textile shops. The buildings became a little smaller and we came across this beautiful mosque with mosaics that I know so well from Iran. I'm assuming it's a Shia mosque. Next came a little bit of a souk tourist souk, which looked very prepared for big crowds. But the crowds weren't there. Not really.
The guys who do the hard selling approached us within a one-meter distance to tell us about their wares. Though everyone wore masks as is mandatory in the UAE, this still felt a little uncomfortable. Such a job isn't very pandemic-proof.
At the Dubai Creek waterfront, we found a bench to sit down and snack on our dates and almonds. We sat in the mild sunshine on the last day of January. My legs felt finally awake again after such little action. And it was nice to see the abras do their thing, followed by a slew of hungry sea chickens.
Afterward, we ate at a vegetarian restaurant called Vaibhav where we got ourselves a Bombay Sandwich and some paneer noodles. It stood out to me that everything came on styrofoam and plastic plates. Why?
To return back to the hotel, we took a taxi through the Careem app. We first needed to walk to the main road and then call it to that location. It took a very long time before our taxi showed up. There were many taxis available on the streets as well, so perhaps it's better to learn how to communicate our address instead of relying on an app to bring us home.
Monday 1st of February: Supermarket Time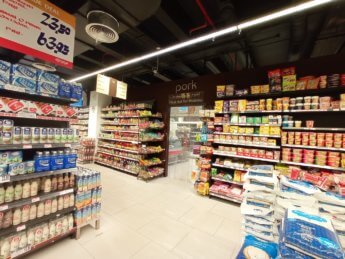 Dubai Day 3
The next day, we decided to take things easy. We learned about some new foods (notably: labneh and foul medames) at breakfast. The housekeeping staff was very adamant to take our towels that we'd barely used. Typical hotel struggles. I blogged a little before devolving into research on things to do in Dubai.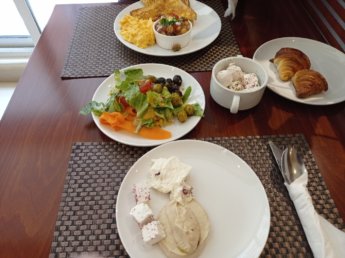 In the afternoon, Jonas' new MacBook cable arrived. We walked to our nearby supermarket to get some goodies. Our hotel room came with an operational kitchen with pots, pans, and plates. There was also a washing machine. The only thing that was missing was dish soap and a sponge to actually clean up after oneself—something that housekeeping only gave to us reluctantly.
The supermarket was a funny bunch of things; it catered to almost all cuisines of the world. Run by South Asians, there was also a 'haram' section specifically to sell pork. We'd read up about alcohol in Dubai and hadn't really understood the meaning of it all. I wondered if they sold beer with alcohol in this non-Muslim section – just like in Malaysia – but then remembered reading something about individuals needing an alcohol license. Anyway, we fully anticipated that our stay in Dubai and the United Arab Emirates would be a Dry February, March, and April kind of affair.
That's why we stocked up on tea and coffee. Tea was easy, but coffee? They only had instant coffee or coffee with cardamom. And it was a fine grind like Turkish coffee, which doesn't work well with our coffee sock.
The funniest interaction in the supermarket was when we looked for hummus. Though not from the Arabian peninsula, it seems like such a basic product in this part of the world. We couldn't find it on our own, so we asked the staff to help, who didn't understand our request immediately. We tried different pronunciations: hoomoos, hammas, hummus. Eventually, a colleague asked us "Tahini?" and we thought yes, that's close, an ingredient, take us to your tahini section. It was glorious, but there wasn't any hummus near the tahini. Then the original guy came with canned hummus, which we know from San Andrés y Providencia in Colombia. But we could only buy it as a package of four (4) hummus cans. Admittedly, that's a bit much for a one to two-week stay.
At last, we found the individual cans of hummus—product of the UAE and dirt cheap. Now it felt like we'd arrived.
Tuesday 2nd of February: Downtown Dubai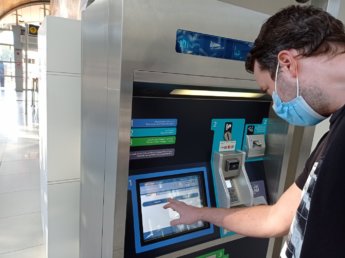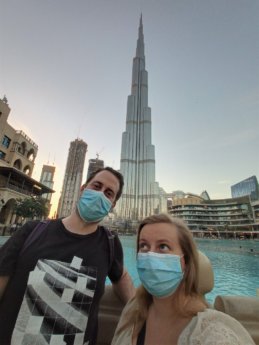 Dubai Day 4
Dubai Metro
This day started like the others at breakfast. The staff began to recognize us as people who stayed here long-term. We also dealt with our extension. Although we looked at other hotels and Airbnbs, we decided to extend at Golden Sands 3 as long as we wouldn't need to move out of our room. But we couldn't pay the original price for this family room, so after negotiating a little, we decided to pay up more to stay.
In the afternoon, we walked to ACDB metro station to go to downtown Dubai, where the Burj Khalifa is at. We'd already seen the world's tallest tower from just about any corner of the city. Now we wanted to see it up close. We'd done the research of how much it costs to go up the Burj Khalifa, but the prices weren't right for us: AED 150 per person to a rather low floor.
However, getting ourselves a (rechargeable) metro ticket was quite a hassle; we ended up settling for a paper one that might or might not be rechargeable. On the platform, Jonas comfortably waited in the area where the women-only car would arrive. I told him he wasn't allowed in there, but it took a while for him to see the notice that said AED 200 fine for men who board this part of the train. We entered the mixed section where a guy gave me a seat, which was nice because I can't hang onto one of those tall people swing grips.
If not for Jonas, I would have sat down in the women's section because the atmosphere was very unchill compared to the rest of the city. It was also the closest I'd been to a large number of people in a year.
During the ride, we had views of that brand-new building that houses the museum of the future, which looks like a shiny wonky donut. There were also many other fancy sights en route to Dubai's downtown core of new developments. Shiny buildings above Houston-like deserted streets reflected the train. Modernity can hit the uncanny valley.
Dubai Mall Ice Skating Rink
Once we'd arrived at our station, we had a long walk ahead of us. But no worries: part of downtown Dubai is a very long raised and airconditioned pedestrian zone with moving walkways (i.e. horizontal escalators) that takes you right to the shopping mall. En route, there are vistas of the Burj Khalifa. I liked the statue of an Arabic couple the most, which gave me a little o casal fundador vibes from the Brazilian TV show 3%.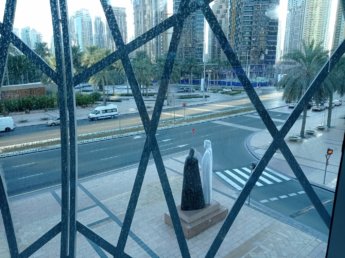 In the mall, the people running the shops were not just standing there waiting for you to approach the shop, but actively went out to market their wares—like at the souks, but with the intensity of people who've been hidden from the sunshine all day. Inside the mall, we were looking for the ice skating rink. Meanwhile, the signs guided us past ornate cupolas and huge indoor fountains; it had been a long way to the mall and another long way to the ice skating rink. But at last, we arrived there.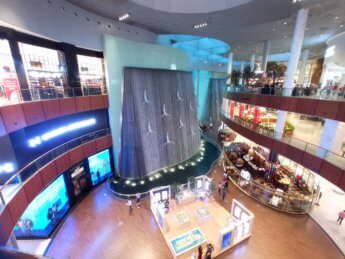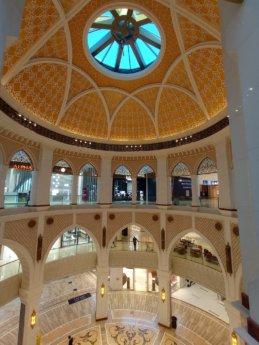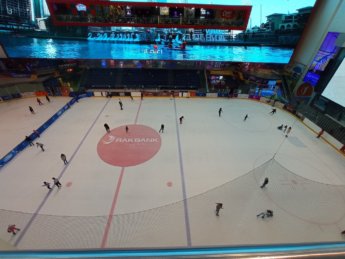 I asked my mom, and she says there isn't even year-round indoor ice skating in the Netherlands. It's winter in the UAE right now, but I can't imagine the energy demands to keep this giant open hall cold enough to stop the ice from melting. On the other hand, it was fascinating to see how good people were at ice skating. The rink's clientele was 95% women, who all wore masks neatly while twirling, jumping, and balancing on one leg while sliding away at dangerous speeds. There were quite some women in hijab, as well.
We looked at the clock and the sun was setting. Jonas wanted to be outside for the fountain show. We'd inform ourselves later about how much it costs to go ice skating here. I kind of want to do it. Finding the exit was a bit of trouble, but we made it past the Apple shop that delivered Jonas' cable and to the bridge. To our right was that huge-ass tower.
Burj Khalifa, Dancing Fountains, Kayaking
Outside, a crew enforced social distancing, telling you to move a certain way or to not linger. We eventually found a spot at the bridge to watch the fountain show from. Before the show started, we took some photos with my new phone which has four cameras for some reason and one of them is a wide-angle lens. That came in handy to capture the sheer size of this building.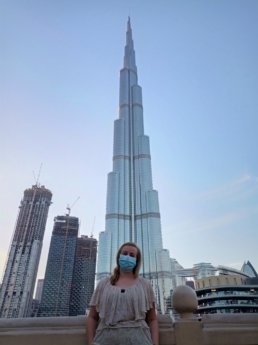 Some women wearing their hijabs in the style I know from Iran had been taking selfies for a while and then asked us to take a picture of them. "Or are you uncomfortable with that?"—referring to the pandemic and the fact I needed to touch her phone and get into a one-meter distance for half a second. Her older iPhone not having four cameras, I took many steps backward and managed to get the whole building in the picture with them too, but the lady quickly told me "Not the building, just our faces." Okay. So I wonder how the picture is much different from the selfies. I handed back the phone and heard a small "Thanks." that I knew she didn't mean. I was a little sad that my first non-transactional human interaction in months ended like that.
At 18:00, the staff opened an area of the bridge for people to watch the show in small designated squares. The music started and the fountains did their thing. It was very… extra. I thought the dancing fountains in Yerevan were extra, but these were even more so. It also made me think that 'fountain choreographer' as a job title is like a pyrotechnic engineer, but a thousand times more wholesome.
All the towers surrounding this area had the word 'EMAAR' in shiny letters on top of it. I'd read on Wikipedia that the Burj Khalifa itself isn't a financial success despite the price ticket to go up, but that the area surrounding it (i.e. downtown Dubai) is profitable, with its many malls and offices owned by this company that puts its name on everything. Jonas told me that he'd been here in 2010 and that the Burj Khalifa had just opened. He'd been very impressed with all the shiny building craze, though I vaguely remembered when he talked about Dubai before that
Mosquitoes, Kayaking
After the show, we walked around the artificial lakes/swimming pools in an anti-clockwise direction. There was staff positioned every five meters to make sure people wouldn't linger too long in this bottleneck. Once we'd passed the foot of the Burj Khalifa, we could walk at our own pace. There was another light and/or fountain show every fifteen minutes or half an hour.
On the floor, we found directions to a place to go kayaking in see-through plastic kayaks this artificial lake. I was intrigued and wanted to know the price, so we started following the signs. This took forever; the sun set, the mosquitoes came out, we hadn't brought repellent with us. This is a dry country, so we assumed there wouldn't be that many mosquitoes. I guess the many water features around this area formed the perfect place for a mosquito breeding area. To my surprise, they only went for Jonas—this has never happened before.
The hike to the kayaking spot took for-fucking-ever. We thought we could walk around the whole lake area and then maybe walk the two kilometers back through the mall to take the metro home, but it became clear that this wasn't going to happen. Another fountain show started and we found a cool unpoliced spot on a grassy hill (it was dark) where only about twenty people were watching the show. It was much more relaxing than from the bridge.
We walked past the 'three-finger salute' statue and finally found the kayaking spot. At first, I thought it would be cool to come back here another day to go kayaking, but I wasn't so convinced. The area to go kayaking is really small and you're basically paddling in a pool. It also costs AED 75 for 30 minutes. But it's good for people who have never been in a kayak because it's very supervised.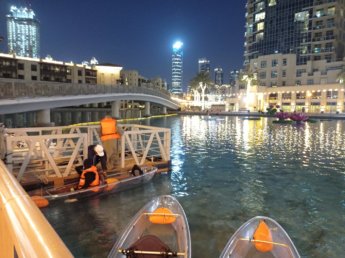 After this, we made our way to the main road and ordered a Careem taxi. This took very long again and Jonas vowed to get a card from the hotel so we can just show it to analog taxi drivers. Next time.
At home, we ordered food from an Uzbek-Russian restaurant called Afsona (Афсона). I don't think I've eaten dill in a year, but hot damn, it was good to eat something like this again. And we got a lifetime supply of adzhika.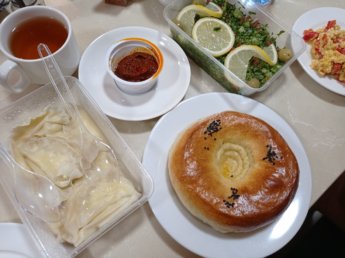 Wednesday 3rd of February: Ethiopian Food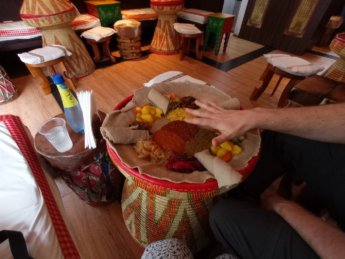 Dubai Day 5
Swimming Pool
On Thursday, we realized we should enjoy one of our last days of breakfast included. To compensate for yesterday's big hike, we worked other muscle groups by going swimming in Golden Sands 5. That hotel is next door. We'd also brought over our table tennis set because the hotel description said it had a table. When we asked about it, they said it's in Golden Sands 10, which is sounded quite far away. The pool at Golden Sands 3 was under renovation. The pool at Golden Sands 5 was on the rooftop.
Atop that roof, it was a very white affair. Lots of holidaying people tanning in the sun, which reminded us to make a dermatologist's appointment, soon. I mostly heard people speaking Russian. The pool was more for relaxing than making laps, but we could work with it. There were too many children around for my liking, but they weren't in the pool for a very long time. They used the ring buoy as a pool toy. In Twin Galaxy in JB, the ring buoy had a sign saying 'THIS IS NOT A POOL TOY'. Ah, how I miss the many signs in Asia.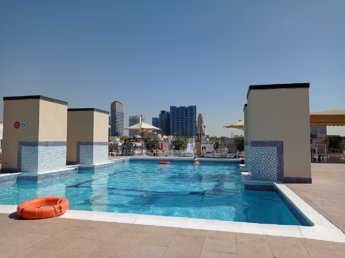 We got in and it was so nice and warm. Jonas thought it might be heated by the sun, but the last pool we had in Malaysia was about 10°C colder than this one—that's why it was always empty. We eventually found the hot water pipe that kept this pool at holiday-warm temperatures.
Ethiopian Food
For dinner, I wanted to go to this Ethiopian restaurant I'd found on Google called Zagol. Neither of us had eaten Ethiopian food before and HBO's Insecure had planted the idea in our heads. They had a vegetarian dish that looked really epic called 'yetsom mesa b mesob', which came on injera. Wikipedia described injera as something similar to dosa in flavor, so I knew at least the base would be right up my alley. The only problem was that it's for three people, so we knew it would be too much.
During the hike to the restaurant, we spotted the elusive Golden Sands 10 with its table tennis court and a beautiful 'brutalism light' building sort of resembling a pyramid. After the hike, we were quite hungry. We sat down at one of the Ethiopian tables called a 'mesob' and ordered the thing we had in mind, asking if they could maybe make it for two people instead of three. This wasn't a problem.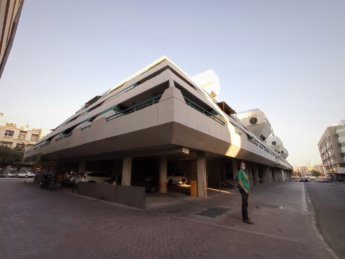 Then the food came and it looked absolutely epic, particularly its dimensions. The taste was also spectacular and made me feel all those feelings of trying something new and resulting in a smashing success. It was really a meal that ticked all the boxes of flavors, veggies, and carbs. It was pure happiness.
We ate a little over half and then asked to take the rest home.
Thursday 4th of February: Deira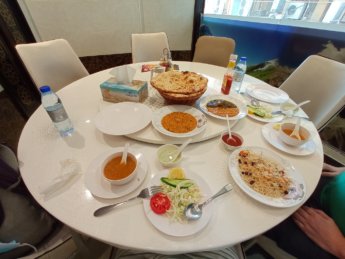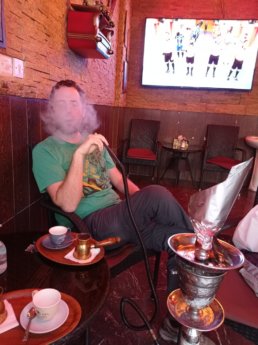 Dubai Day 6
Abra Ride + (G)old Souk
After breakfast and a little *typ typ* on the computer, we left for Deira. We took a Careem taxi to the Bur Dubai abra station to take an abra across Dubai Creek to the Deira side of town. It was a very pleasant ride and these boats docked really level with the jetties. Almost to the point that it's barrier-free.
On the other side, we walked through the Old Souk and the Gold Souk. We saw the 'biggest gold ring' on earth and mostly walked through it rather quickly because it was… quite terrible. I mean, we're really not in the market for a scarf or jewelry, but you can't just walk through these souks without vendors breaking a few social distancing rules. I get it, that's how you sell stuff. This hard-selling method has been around for ages. And since there are so few tourists to sell your wares to I guess it feels that much more necessary to approach them. So the reasonable thing for us to do was leave the non-food souk areas and walk to this vegetable souk Jonas had been to before. Food is something we're in the market for.
It was somewhere northward. He'd found it on Google and led the way after making a quick stop for some sugary masala chai. We walked onto a soulless new shopping-cum-residential area and the wind blew some construction debris into my eyes. When we came to the main road that would cross into the veggie souk zone Jonas was enthusiastic about, we saw that there was even more construction beyond that point. I asked Jonas to show it to me on the map and with our clear line of sight, we concluded that the veggie souk… is no more. Bulldozed.
Perhaps it will rise from these ashes that are blinding me, but not today.
Naif Souk
Back at the cafeteria where we'd had our tea, I suggested we'd go to one of the many restaurants called Hadramout in Dubai. Back in Malaysia, we figured that almost every major city has three restaurants called 'Hadramout' or a spelling variant. These are Yemeni restaurants that make a mean bread called muluwah (again, might go by a different spelling). Before we left for Dubai, I already Googled for Yemeni restaurants here and found this one called Wadi Hadharamoot. Unfortunately, when we checked their menu inside, they said they didn't have any of the food we wanted and only had meaty stuff. What I also noticed is that in Malaysia, all the Hadramouts are quite flashy restaurants. This one wasn't. I'm not sure if I'm on to something here but I'll report back if I unravel a pattern.
Jonas suggested going to the Naif Souk, which is more like a mall with all shops inside one building. This was a lot calmer, with vendors generally not approaching us a whole lot. Perhaps it was because most of the clothes they sold there were abayas, and the old souk sold anything from shorts to elephant pants and spaghetti tops—as well as abayas. I'm not sure if I should be in the market for a nice cheap abaya… perhaps the dress code will be a lot more conservative outside Dubai? We'll have to see if I'll need one.
By now, Jonas was really hungry. Across the street, we saw an Afghan restaurant. Yesterday's Ethiopian food was a smashing success, so why not go for Afghan food next? Never tried it before.
Afghan Food
Up the elevator, we entered a really cozy and slightly fancy restaurant with pictures of Afghanistan and surrounding countries. It was kind of like a tourism brochure. There was that famous National Geographic picture of the Afghan Girl Sharbat Gula, the gardens of Babur, and even a picture of the gaping holes where the Buddhas of Bamiyan once stood.
A guy offered us one of many private eating areas behind doors, but they all had carpet and Jonas didn't want to take his shoes off to eat lunch. There was one private booth without carpet, so we picked that one. We ordered the vegetarian foods off the menu – which all appeared to be more like Indian food – such as chana masala and palak something.
Every time the guy came, he would knock on the door and wait for an answer to come in. I think this is to give women the time to put on their hijab/niqab. The bread this man brought was absolutely scrumptious. Everything came with a lot of unanticipated side dishes, including some chicken soup (which Jonas ate), salad, sauces, and rice. The guy basically insisted we'd take some rice because he thought it was a little sad what we'd ordered. It was rice with raisins, carrots, and cooked in a little saffron and it was the best standalone rice I've ever had. The food was very delicious, but because of what we ordered it was heavy on the chickpeas.
We couldn't finish all the bread, so we took some home. Once again, we were very satisfied and happy with this food we'd never tried. Dubai appears to be one of the best places on earth to eat any earthly cuisine my heart desires.
Shisha
After food, we walked to a nearby place called 'Coffee Shop (Shisha Place)' on Google. We sat down inside and got ourselves some Turkish coffee with the shisha. I'd apparently forgotten how to drink Turkish coffee because I spilled it on the plate and didn't have the patience to wait for the light stuff to sink, making it a little gritty.
Unlike our shisha experience in Tunisia, I wasn't the only woman smoking in a sea of men. Two ladies outside were sharing one hookah and there were other young men with a female friend relaxing at the end of the day.
In the background, some kind of champions league football (Jonas' words) was playing between a Mexican team and a Korean one. In between, screens saying 'Qatar 2020' would flash by. So much money in this sport… and they were too cheap to update the graphics? Let the record state that I don't know anything about football leagues. I wondered how there were a couple of people in the audience as supporters… last time I checked, you could only enter Qatar if you're a citizen, a resident, or have a good reason to be there. Supporting your club doesn't seem important enough to me.
Afterward, we took a Careem taxi back to our hotel in the Mankhool area. This time, we passed under Dubai Creek in a fresh-looking tunnel.
Friday 5th of February:  Finishing a Blog Post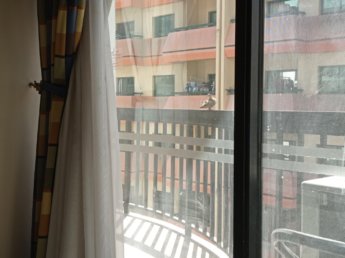 Dubai Day 7
It was our last day of breakfast included. Starting tomorrow, we'd have no more breakfast and we'd also pay more to stay in the same room. But it's better than moving within the hotel or moving to another hotel, which would mess up our ability to get some things done on the ether.
I wrapped up my old blog post about the flight from Malaysia to Dubai. That took a lot longer than anticipated. An adorable but very hurt birdy sat in the window and distracted me for a while. I think a cat snatched it, the poor thing. I have seen lots of street cats in Dubai and I'll probably have a few heart-melting experiences with the strays in this country.
In the afternoon, we swam at Golden Sands 5 again. Jonas brought a book. We used a shortcut via the parking lots to reach the other hotel, which cut down walking time by a lot. We felt pretty smart about that.
In the evening, I contacted my mom and learned that both my grandmas would soon receive their first COVID-19 vaccine. One of my grandmas heard there was another location near our town that did jabs and hustled her way into a spot. She also pointed my other grandma in the same direction and now they both have appointments. This is such a relief to me!
But I also received the bad news that someone close is in the hospital with COVID-19. Big oof. Suddenly, this disease came a lot closer
Saturday 6th of February: Burj al Arab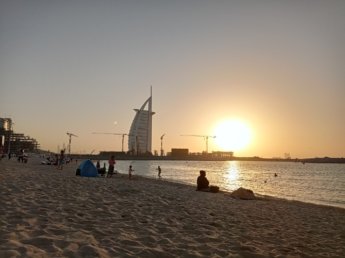 Dubai Day 8
To the Burj al Arab
Without included breakfast, we could return to eating only twice a day again. This frees up so much time, which is great. In the afternoon, we went for a swim in the pool. It felt as if everyone had left the hotel—or at least all swimmers and sunbathers.
When thinking about Dubai, one thinks of the Burj al Arab. It's that tower that's shaped like a sailboat. Like the Eiffel Tower, it has a very memorable shape. I was excited to see it in person. We took a Careem taxi all the way out there to the Umm Suqeim Park, which has a beach next door. This was also our longest taxi ride in Dubai. The tower was well-visible for the latter part of the ride.
Once we arrived, we found ourselves a spot on the beach to appreciate the tower and watch the sunset. Still, the tower was less impressive than I'd imagined. Probably because it has been hyped for so long and it's impossible to go there without expectations.
Ahhh, the Beach!
The beach itself was a very funny place. Behind us was a white couple not much different from ourselves having a picnic with the sunset. To our right were two young white ladies tanning in the sun next to the lifeguard station who went out into the sea to flirtatious videos of each other. A young Indian woman with her modestly-dressed friend group was taking videos of these two white women, shaking her head in disbelief. Behind them, in the sea, was a young Muslim couple where the husband took photos of his wife who was swimming in a colorful hijab, having a great time. Up the beach were a Gulf family with the woman in a black niqab, her husband in a white kandura, and their children in colors in between, who observed the scene, then turned around and found a different spot.
Isn't the beach the best place to become irritated at the existence of other people?
We pulled down our masks and pulled up our pant legs to dip our feet in the water a safe distance from other people, feeling the cold of the Gulf. I remember swimming in these same waters some 179 kilometers away on the other side in Salakh, (Qeshm, Iran) in 2014. I'd swum in something similar to the young Muslimah – long sleeves and a long skirt and a colorful hijab – without drawing much attention with my two temporary travel buddies.
It's a good thing we had no intention to swim at this beach in the UAE because it looked difficult to navigate the social mesh of entangled and implicit rules. These rules appeared extra complicated in Dubai. Who would've thought the sartorial decision-making would be easier in Iran than in the UAE?
After sunset, we soon left the beach and walked a bit on the running track before calling a Careem homeward. Once we arrived at the hotel, we saw that our extension came with free cake. Bummer that the staff had put the cake on top of Jonas' closed laptop.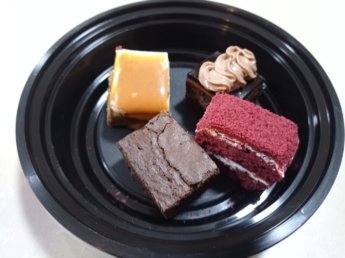 Sunday 7th of February: Mosque Visit
Dubai Day 9
Jumeirah Mosque Tour
We took a taxi out to Jumeirah Mosque in the morning. This is one of the few mosques that offer tours to non-Muslims outside of prayer times. When we bought our tickets (AED 35 per person), we had to wait in the reception hall for a little while. There was a guy with a falcon, who you could hold to take pictures. Despite our better judgment, knowing that the pandemic comes from human-animal interaction, we both took photos with the falcon as well. Jonas even held the bird with its hood off.
Another section served Arabic coffee and an individually-wrapped date as a snack. Then we went upstairs to see the nice 'Mosques of the World' photo exhibition. When we came down, Jonas wanted more of the coffee and snack. He's absolutely mad about dates. More people gathered in the waiting area, some of who didn't have their own long pants or headscarves. One guy received a kandura to cover his shorts and his wife and daughters received abayas and hijabs. We were a small group, because covid.
Then a white lady in abaya and hijab walked up the stairs to introduce herself and the tour. Tracy from Britain has been organizing these 'Islam 101' tours for years. Then we received a tour of the wudu area before taking our flip-flops off and going to the mosque. She talked about the five pillars of Islam and had photos to show what's in the Kaaba. A man in kandura showed how to pray and there was a round of questions, in which almost no one partook.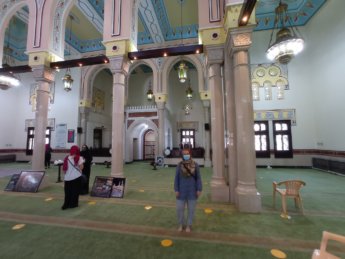 Afterward, we walked around the mosque, saw the outdoor carpets for when the mosque's capacity needs to be increased, and met a sweet cat. There's a (free?) funny-looking bus to Al Fahidi district in Dubai, but we were headed for the beach.
La Mer Beach
It was a short walk. It took us past some advertising saying 'Arabs to Mars' on a big flashy screen. Is this a theatrical play? Is this a new action movie? What is it?
I Googled, and it turns out that the United Arab Emirates has sent a probe to Mars called Al Amal ('hope') to take pictures and monitor the Martian weather. On the 9th of February, if everything goes well, they'll be the first Arab country to have launched a space thingy to someplace so far away from Earth. It's very impressive, but I do wonder why not the Moon first, Mars later?
The La Mer beach itself was… heavenly. It was clean, the water was clear, and people were very calm and infrequent this morning. There were palm trees that provided irregular shadows for people without beach umbrellas. We took off our shoes and put our feet in the water and decided we'd come back here some other time. Around the beach are a bunch of cafés and restaurants that don't see a lot of foot traffic right now. And the beach had some kayaks laid out for some paddling, although the price was again not right and there was nowhere to really paddle to from here.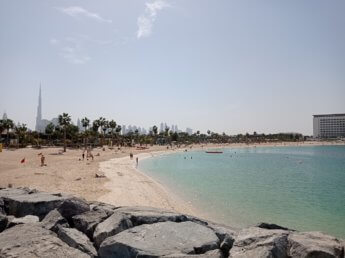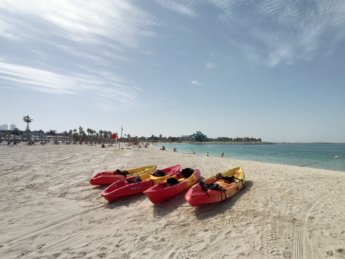 We walked past some water park and then spotted a second beach, which was in a similar state of beauty. There, we sat down at a rather fancy café called Sikka (سِكَّة – alley), where I had the best hot drink ever: pistachio latte. Jonas had a peasant cappuccino and together we ravaged some Emirati loaves of bread (khameer) with date syrup, honey, and Puck cream cheese. Then we went home.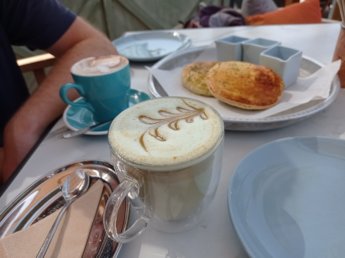 For dinner, we walked to the vegetarian restaurant we'd spotted on day one called Swadesh. They did some Indian-Arab fusion in the shape of paneer kebabs, which were happiness-inducing. All in all, today was relaxing and great.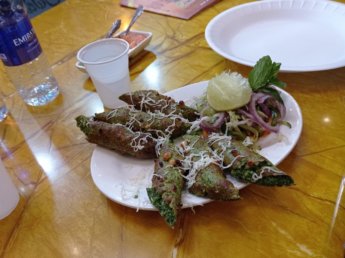 Monday 8th of February: Medical Tourism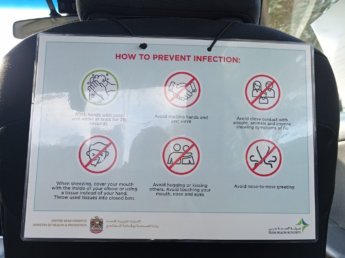 Dubai Day 10
Dermatology for He/Him
This day, we stayed in our part of town till the late afternoon, when Jonas had an appointment at a dermatologist called Cosmocare. We took a taxi that taught us about the nose greeting. We had tried to visit a dermatologist in Penang, Melaka, and Johor Bahru in Malaysia to keep an eye on potential skin cancer. But they were all in the 'beauty' business of skincare, not the 'health' part. And none of them had reasonable prices for this white people worry. Though Malaysia is a very good place for other medical tourism purposes, dermatology ain't it.
In Dubai, however, a dermatological check seems to be standardized at AED 250. We could drop in with or without an appointment. Jonas prefers a male doctor for this issue and I prefer a female one, so we went to separate businesses based on the recommendation of Dubai expat Facebook group netizens. He was in and out of the office in a rather quick time, knowing it's all good and he should visit a dermatologist again in one year or so. What a relief.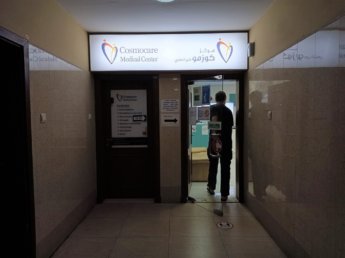 Street Art in Dubai
Afterward, we appreciated the street art in this rather funky and functional neighborhood of Dubai. It's at the roundabout on the border between Al Hudaiba, Al Bada'a, and Al Jafiliah neighborhoods and it has many shops and restaurants. I wouldn't dislike staying here if we're coming back to this emirate. And again, with the street art, it's quite hip. Although in the end, we decided to take a taxi home and double down on our favorite falafel and dolma restaurant instead of eating out here.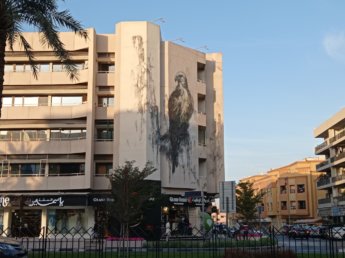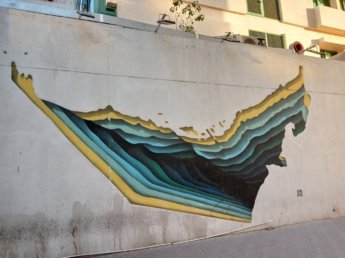 Tuesday 9th of February: Historic Dubai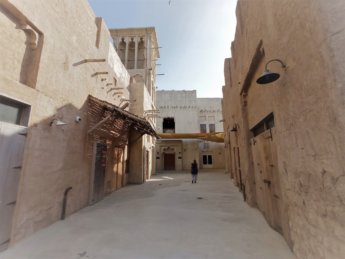 Dubai Day 11
Dermatology for Bla/Blem
Today was my dermatology day. With our stay in Dubai coming to an end, I wanted to make sure we'd still see the parts of Old Dubai that we missed the first time. We took a taxi to Burjuman mall – with indoor zipline, closed due to covid – to go to the Prime Medical Center inside. We received the confirmation of my appointment within twenty minutes of said appointment, so we had to hurry to make it there on time. Like Jonas, I paid AED 250 for this competent doctor called Dr Arpita Jain to check for skin cancer signs. I was also all good. And wow, they hustled at that medical center. To our big surprise, nobody checked our temperature there.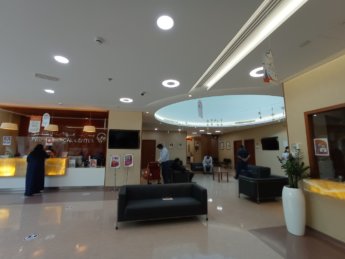 Speaking of temperature checks, we had to do that everywhere in Malaysia along with the QR code check-in on MySejahterah. The covid app for the UAE – which we have downloaded – doesn't seem to be in use or enforced. We haven't seen a single QR code and I'm feeling the signs of QR-code withdrawal. And when people do check our temperatures in Dubai on rare occasions, they never want your forehead, but always your wrist or arm. In Malaysia, people would just say no if you offered your hand instead of your forehead.
Next, we walked northeastward to an Indian gourmet vegetarian restaurant called Aryaas. Jonas went for his trusty dosa and I tried something new to us called uthappam. I couldn't pick one, so I ordered the sampler which has all of them. For dessert, we picked a qulfi from the freezer. Though relatively fancy – we didn't eat from styrofoam – it wasn't expensive. And we were very happy. So far, Dubai has been pretty wow for affordable eats.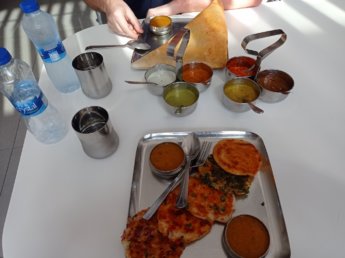 Al Seef
It was quite a hot day, as we noticed on our walk to the Al Seef waterfront area at the Dubai Creek. We entered the area right where it splits between shiny new developments and new old buildings. We only walked through the 'nouveau historic' part, which features low-rise buildings in the old traditional style. Lots of them have wind-catching towers, which reminded me of Qeshm in Iran across the narrow sea once again. It's so instagrammable, yet so empty.
That brings me to another point: even though we went to Dubai during a time when travel is discouraged in general, and people in the Anglo-centric parts of the world receive backlash for going to a country that wants them to come, according to my anecdata…
'My job is to motivate people'

Sheridan has been in Dubai since the start of January, on an 'essential work-trip' to provide sunny content for her followers.

Following an online backlash, she joins us today to defend her position.

Watch the full chat 👉 https://t.co/1VuxanpnIc pic.twitter.com/KUNvs9aMx5

— This Morning (@thismorning) January 26, 2021
… Dubai isn't busy. It isn't flooded with people. I haven't seen large groups of non-locals gathering to party. I don't even know what partying in Dubai would look like since you'd need an alcohol license, but that's beside the point.
What I have seen is that COVID-19 cases have been going down since late January. That everyone on the street wears masks. That people social distance pretty well from us even when we're just passing each other on the streets. There's hand sanitizer everywhere and soap at every sink. Whenever there's a place that can become crowded, such as the fountain show at Burj al Arab, there's an army of employees to enforce social distancing, mask-wearing, and hand-sanitizing.
It's not the narrative that UK media want to share about this emirate, but the chances of catching covid are higher on the flight from Heathrow to Dubai with your fellow Brits than by doing enjoyable things on the ground here in Dubai. They're doing fine.
Al Fahidi Historical District
After the artificial flavors of Al Seef, we walked inland to the Al Fahidi (aka 'Al Bastakiya') historical district a little away from the waterfront. Guards checked our temperature and asked us to write down a name and phone number for minimal contact tracing before we could enter. We wandered through the small alleyways and I realized it's so well-renovated here that it doesn't look much different from Al Seef. Wikipedia tells me that a British man and Prince Charles 'saved' this neighborhood from demolition to make way for the new—which is a story oof so white it damaged my corneas. But this is all very [citation needed].
This is where the bus from Jumeirah Mosque goes to shuttle tourists between the two centers for cultural understanding. There's also a beautiful mosque here called either Al Bastakiya Mosque, Al Farooq Mosque, or perhaps Diwan Mosque—although Condé Nast places Diwan Mosque on the Grand Mosque of Dubai, a stone's throw away as the bird flies. The more mappers with a poor local understanding touch the map edits on Google Maps and Open Street Maps, the higher the chances you'll end up with a mess like this. So I don't know the exact names of the various mosques in the Al Fahidi/Bur Dubai area, but if you want to visit, check it on their website. I'm like 90% sure you'll visit the mosque at these coordinates during a tour.
Though the Al Fahidi area has many things to do in normal times, many activities are shut down due to covid. We just ended up wandering a little more through the area before visiting Dubai Fort.
Al Fahidi Fort
The straight-line distance to Al Fahidi Fort isn't that far from the historical district of the same name, but there are walls and other areas that have been privatized that force pedestrians to walk around. Since we'd walked everything from Burjuman Mall, our feet were pretty tired already. Nevertheless, we walked over to the fort to conclude our visit to most of Dubai's oldest gems. The fort is supposedly Dubai's oldest building still around, originating from the late 18th century.
This is also where Dubai Museum is, which was open. But we really didn't have the energy for a museum visit. Jonas is also more of a 'one museum per country' kind of person since other things spark more joy in him. It was nice that we could enter the fort grounds on the outside without paying. From here, we also had a good vista of the Grand Mosque of Dubai, which apparently you can also visit as a non-Muslim. Wikipedia said that its minaret looks a little like a lighthouse. I concur.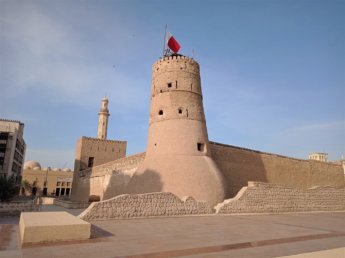 The call to prayer started and lots of people flocked to the mosque. We decided it was time to take a taxi home. This time without the help of the Careem app, we asked the taxi driver if he knows Golden Sands 3. He was like 'of course I do' and we drove home.
Al Amal Enters Mars Orbit
In the evening, I followed the news a little to see if the UAE had successfully put Al Amal ('hope') into orbit around Mars. They did. There were a lot of proud and happy videos on Twitter of scientists in abaya or kandura celebrating this achievement. I thought it was refreshing to see something like this since I only know these kinds of videos from NASA and SpaceX and the like.
Wednesday 10th of February: Pumpkin Dumplings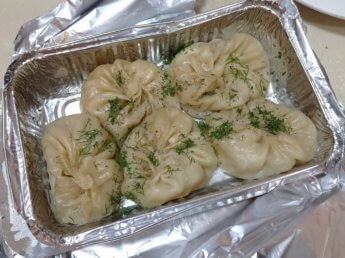 Dubai Day 12
The following day, we rested our feet from the big hike and swam in the pool. We doubled down on the fantastic food of Afsona, the Uzbek-Russian restaurant we ordered from once before. The pumpkin dumplings were huge and so tasty. The Uzbek bread was also amazing. Oh, and we included something of a lifetime supply of smetana,
Thursday 11th of February: Ice Skating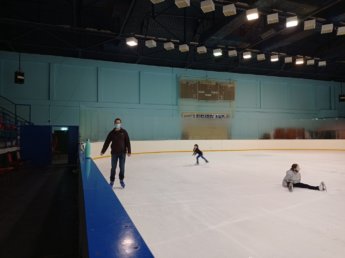 Dubai Day 13
Al Nasr Ice Rink
In the morning, we looked for ice skating in Dubai. That's when we learned that we could return to the faraway Dubai Mall and pay a lot of money to have a lot of people watch me fall on my butt, or go to the nearby Al Nasr ice rink. We could skate there for two hours for AED 30 per person through Groupon as new users. The normal price is AED 50 and the normal Groupon price is AED 35. It includes the rental of ice skates but doesn't include any penguins or snowmen (i.e. gliding aids) for poor ice skaters such as yours truly.
That's about ⅓ the price compared to Dubai Mall. That is dirt cheap. You can't do indoor ice skating in the Netherlands for this price and they aren't even open year-round. (This happened to coincide with freezing temperatures in the Netherlands when everyone went to skate on natural ice.)
So we went there and skated for the full two hours. I got a really bad blister on my foot, but I guess it was worth it. Jonas is pretty good at it and he had a great time. Lots of people spoke Russian in the rink and there was some real talent. I'm betting the UAE is training people to represent the country for figure skating in the Winter Olympics one day.
More Injera
Afterward, we took a Careem to Zagol Ethiopian restaurant once again. I'd watched a video of someone cooking (vegan) 'shiro', so I wanted to try that. But the shiro they had was with meat. So we ended up reordering the yetsom mesa b mesob we had the week before, and were super happy again. We took the leftovers home and walked back, which might have been a mistake with my fresh blister.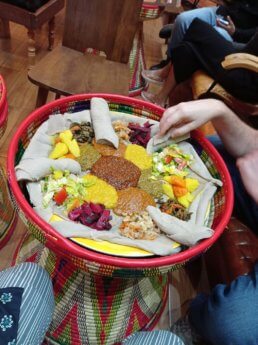 In the evening, I finished up with the guest post by Heidi Koelle about Transnistria. It was almost ready to publish.
Friday 12th of February: Swimming the Gulf
Dubai Day 14
Monster Fog
The last thing I wanted to do in Dubai was swimming at La Mer beach. It turns out the entire medium and small business area there has been arranged by the same company that created the similar area at Al Seef. I'd wondered about the similarities.
But we couldn't have picked a colder day to go for a swim in the Gulf, because a dense fog enveloped all of Dubai. Jonas heard about it in the expat groups, which referred to it as 'the monster fog'. There were lots of pretty pictures and videos of the Burj Khalifa shrouded in clouds.
Monster fog and mist causes low visibility in Abu Dhabi, Dubai, Sharjah, Ajman and Umm Al Quwain, clear to partly cloudy in other emirates.#StaySafe #Dubai #UAE #AbuDhabi #weather
Video shared by @HamdanMohammed pic.twitter.com/qzIryEh9ay

— Mohammed Farzan Ahmed (@FarzanHyderabad) February 13, 2021
Dit bericht bekijken op Instagram

Nevertheless, we had committed to swimming today, so we took a taxi out to La Mer with our bathing suits underneath our regular clothes.
Swimming at La Mer + Pistachio Latte
Jonas and I went for a confident swim. It was cold, but it quickly improved. And it was so nice to float properly once again. My blister wasn't doing well in the seawater despite my attempts to cover it with waterproof band-aids. Perhaps we should have switched ice skating and swimming around.
We'd heard that some expats had received AED 3000 fines for not wearing masks at the beach, so after swimming, we immediately dried our faces and put our masks back on. There was no one around us in 20 meters, but some prices are enough of a deterrent. None of the other people wore a mask while chilling on the beach.
Once we were dry, we went to Sikka café once again to drink pistachio latte. Jonas got one too and we didn't include breakfast this time. We'd gone early enough to the beach to avoid most families with screeching spawn. The pistachio latte was once again heavenly.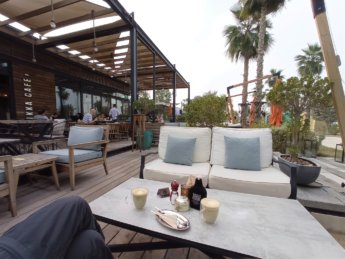 Saturday 13th of February: Leaving for Sharjah
Dubai/Sharjah Day 15
After wrapping up packing, we booked a Careem to our new hotel in Sharjah. There's an AED 20 extra fee for taxis to cross the Dubai-Sharjah border. Still, taking a taxi to the bus station, then a bus, and then another taxi would have been more expensive for two people.
Map of Our Activities
Use the menu to open up each pair of days.
Things We Didn't Do (Yet) in Dubai
As always, we're leaving some things behind for another time. Although we're quite satisfied with what we saw, next time we're in Dubai we'd probably do the following:
Going to Danube metro station – formerly known as 'Jebel Ali Industrial' – for no good reason besides it's called Danube. I guess then we also have to visit the Danube metro station in Paris.
Skiing and perhaps seeing the penguins. I don't know why, but the idea intrigues me a little if it isn't too expensive. Jonas hasn't skied before, so perhaps it won't be worth it.
Visiting the exclave of Hatta. It's far away from 'mainland' Dubai, so perhaps we'll go here on our journey through the other emirates.