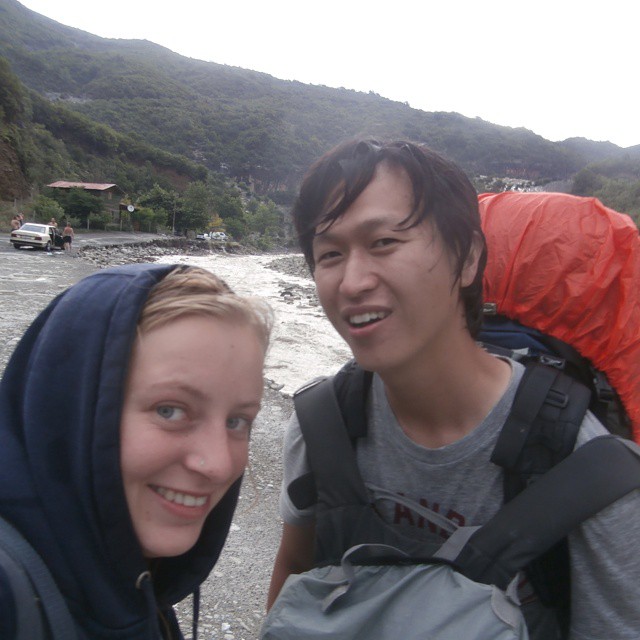 Yesterday, Dongbum and I hitchhiked to the hot springs of Benjë (Llixhat e Bënjës). These are not far from Përmet and have been on my wishlist for Albania from day one. It's past this amazingly cool Ottoman (?) bridge that's in the same style as the one in Mostar, minus the crowds. But those clouds in the distance should have been a warning.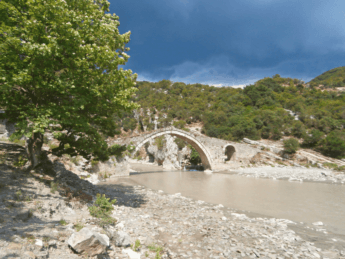 We went for a much-needed warm soak in the hot spring and all was fun until the rain started. The benign rain quickly turned into heavy rain and subsequently into hail chunks from the sky that grew bigger by the second. Just a few millimeters bigger and these hailstones begin to hurt like a bitch when they hit you.
We were hiding from the storm under the arched bridge named Katiu or Kadiu's Bridge. Six Albanian guys trapped in the same situation joined us. The storm completely soaked all our stuff. As you can imagine, the river swells rather quickly during that time; we knew our position under the bridge was untenable. But the biggest obstacle to safety from the rain were the two spontaneous mud streams. We had to cross those with our heavy backpacks on our backs. In flip flops!
All washed away and dirty once again, we managed to catch some pity rides from Benjë to Përmet. We asked the night guard of some random building near the castle for permission to sleep inside. So we kind of squatted but with approval? You can see that there are lots of grey zones when naming an activity. I love how random this trip has become.
We rolled out our sleeping bags on the first floor of the building and hung our wet clothes wherever we could. Unlike Dongbum, I don't have great waterproof bags inside my backpack. All his stuff was fine and we watched the movie One Week on his netbook. It's a great travel movie!
My shoes are nearly dry and then we're going to Gjirokastra. Fingers crossed the weather will stay nice!
#Albania #Shqipëri #backpack #backpacking #hitchhiking #actofnature #wesurvived #UCMsweatersaroundtheworld #betterthanuni (at Banjat E Bënjës (Llixha))