Events in this story happened on Tuesday the 21st of January, 2020. Jonas and I hitchhiked from Mawlamyine to Dawei in Myanmar. 
Arranging the Tuk-Tuk
As we're slowly running out of visa days in Myanmar, we only stayed two nights in Mawlamyine. The day before departure, we asked the staff at Thanlwin Seesar Hotel to arrange a tuk-tuk for us to the toll gate. As the previous hitchhiking days had taught us, toll gates are simply the best places to stand to hitchhike from in Myanmar.
We showed them the location of the Phar Auk Toll Gate on the maps – both OSM and Google Maps – so that they could communicate this. Translating the word 'toll gate' or 'toll booth' was pretty tricky. It took about 10 minutes for the three ladies to accept that we wanted to go 18 kilometers out of town to nowhere. No bus, please. And what are we going to do at the toll gate? That's even harder to explain.
The only mitigating factor is that 6 kilometers after the toll gate, there's the Win Sein Taw Ya Reclining Buddha. That's the biggest reclining Buddha statue in the world. Most people visit this statue as a day trip from Mawlamyine. I was hoping to catch a glimpse of the giant statue from the road or from a vehicle as it's absolutely humongous. One tuk-tuk driver that drove us around Mawlamyine kept pushing us to drive all the way there, which we declined. But the good news is that tuk-tuk drivers don't consider the toll gate a distance too far to drive.
Once the staff understood everything, the leader quoted the price of only 6.000 MMK for the 18 kilometers. For reference: we'd paid 2.000 to 3.000 MMK for all the <4-kilometer tuk-tuk rides through Mawlamyine. The driver would pick us up at 8:00.
The trip to Dawei would be 301 kilometers on a lesser regional road named National Highway 8 (NH8) from the toll booth. To compare: we hitchhiked 260 kilometers from Nyaung-U to Naypyitaw on a mixed regional road and the big Yangon-Mandalay Expressway. The distance from Naypyitaw to Yangon was longer at about 360 kilometers. But since that one was a highway and went straight to the most populous city of Myanmar, it wasn't a huge distance. But this trip from Mawlamyine to Dawei got me a bit nervous.
Departure Day
We joined the hotel's breakfast at the earliest time of 7:00. As we've stayed in so many hotels in Myanmar – per the rules of the visa – we've seen an emerging pattern: locals and other Asian tourists eat breakfast as early as possible. It's the western tourists that arrive at the breakfast fifteen minutes before closing.
It was busy at breakfast, so when we ordered our two meals, it took too long. There's a big downside to not having a buffet at breakfast when you're in a hurry and just want to grab a few things, eat them, and just go. So when I still didn't have food by 7:30, I walked back to my room before my meal arrived to finish up packing while Jonas stayed behind to hog down a plate of noodles. We were still five minutes late by the time we greeted our tuk-tuk driver.
It's always amazing how much you can fit inside a tuk-tuk. The driver put my backpack in the little trunk and Jonas' backpack fit right next to it. Then we drove off in the direction of the toll booth.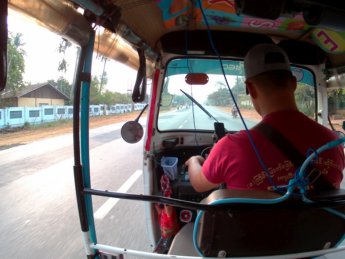 But it didn't take long for our driver to get doubts about our destination. While driving down the coastal road with its fishy smells and betel-nut spit-stained concrete, our driver started using some Myanma-to-English translation app and speaking into it. I could see the resulting English translations, which ranged from "How far do you go?" to "There's a bus to Dawei." and "Do you already have a ticket?"
Uh-oh.
I wanted to nip this in the bud before we'd drive by the bus station that was en route and get harassed by the minivan mafia. But Jonas didn't worry as long as we wouldn't leave the road and kept following our movements on GPS. Our driver started mumbling a freshly-translated phrase in English before turning his head and asking Jonas if we're really going where we said we're going. Jonas is a fan of positive reinforcement, so he said it's all good and he's doing great. I also nodded.
We turned the corner and whizzed past the bus station. It's just straight from here. We passed the location of one potential toll booth that didn't exist. I'll need to do some OSM mapping later. There was still some hesitation from our driver, but when I repeated that we're going to "Hpar Auk tollgate" everything seemed confirmed.
Finally, at the tollgate at 8:35, he turned around his tuk-tuk on the other side of the road and let us out. Jonas paid the meager yet agreed-upon 6.000 MMK and we waved him goodbye. Time to hitchhike!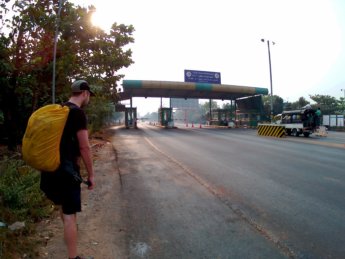 Another Short Wait in Paradise
Our arrival at the active tollgate sparked some curiosity with the employees. We took up our spot right behind the gates between two lanes of traffic and grabbed our sign. I see multiple people mouthing "Dawei" as Jonas holds up the sign in their general direction. It's not for them, though.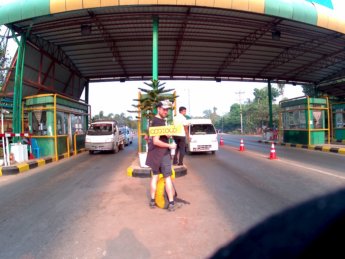 One young guy in a yellow toll booth uniform grabs two plastic chairs and hints that we'd maybe like to sit down. We thank them but say we don't need a chair. Though perhaps if this is going to take very long we'd like to take them up on their offer. Jonas put his backpack down, but I kept mine on my back.
A few cars drive through the gate. We scan their license plates and empty space in their cars. It's still nice and cool in the early morning and we're full of optimism. Now that we've visited Mawlamyine at the Gulf of Martaban, the long stretch southward along the Andaman Sea begins. The weather along this coastal area reaches some really stable temperatures. The forecast for each city we will visit from Dawei till Kawthaung looks the same, at least outside the monsoon. Sunny with perhaps a cloud, with peak daytime temperatures of 33 – 35°C and nighttime lows of 19 – 22°C. Starting early with the hitchhiking is merely a preventative measure against big sweaty discomfort.
At 8:45, we make eye-contact with two guys in a car who promptly pull over behind the tollgate. We grab our luggage and approach them.
"Dawei?"
Of course… where else would they go?
We put our luggage in the trunk and get in the back. We drive off with the two guys who are both finishing their cigarettes with the window open. The steering wheel is again on the right-hand side of the vehicle.
Speeding Past the Sights and Memorials
I introduce ourselves to the drivers and ask their names. The guy in the passenger seat is Zaw Lwin and the driver's name is Myine Htwe. As expected from their age, they drive quite fast. So fast indeed, that I totally miss the world's largest reclining Buddha. All I saw was its shimmering and peacock flanked gate right after spotting the Hindu temple at Kyauk Ta Lone hill. Oh well, too bad! I still manage to catch a glimpse of a very beautiful temple on the other side of the road called Two Horses pagoda (မြင်းနှစ်ကောင် ဘုရား) at a small lake.
We're driving out of the vortex of Mawlamyine and its nearby towns. We speed past a garbage truck that plays a monophonic ice-cream truck version of Für Elise that gets creepily mangled by the Doppler effect. We pass through the town of Mudon (မုဒုံ) – which we hoped we wouldn't get stuck in – and are relieved to pass through.
It's funny how all these pagodas and Buddha statues keep appearing out of nowhere next to the highway. We pass another giant seated Buddha statue and every time I see one I think it's the largest one in the world. Most of them are also in terrific condition considering the sheer number of places of worship in Myanmar.
I'm surprised when we pass through another (semi-operative) toll booth before the town of Thanbyuzayat (သံဖြူဇရပ်). Thanbyuzayat is one of the other few towns along the route. This is where a side road of the NH8 takes you to Kyaikkhami at the beach. If we'd had wasted less time on Yangon or just had more visa days in Myanmar, I'd loved to make the detour to Kyaikkhami.
Thanbyuzayat is also a town of historic significance. This is where the Death Railway originating in Bangkok ends. It was built during WWII by the Empire of Japan (Axis) with forced labor from Southeast Asian civilians and (Allied) prisoners of war from Australia, the USA, and the Dutch and English colonies in the region. Out of about 300.000 laborers, 102.000 died in building the military railway through the Tenasserim Hills between 1941 and 1943. Myanmar was still named Burma at that time and was passed around between Britain and Japan and back to Britain. The country now known as Myanmar gained its independence in 1948.
In town, we drive over the active train tracks of the Mawlamyine – Ye – Dawei line and past the museum and memorial of the Death Railway. This is where the rail line forks and the abandoned tracks to Thailand begin.
Betel Nut Chewing
After Thanbyuzayat, we make a stop at 10:00 at a small restaurant. They eat something, we just have a coffee and visit the toilet. I ask them if they're from Mandalay City, which they confirm. They'll also need to drive back, but I don't know in what timeframe. Jonas wants to pay for our coffees, but the boy who had served us the coffee looks at him with utter confusion. Our drivers say that they already paid for our drinks. We're traveling again by 10:15.
Our drivers switch roles and we speed off again with open windows. Myine Htwe got out the areca/betel nut and start chewing. I'm worried that if they spit out the window, it will fly back into the car via my open window, but I see that they're using a bag to spit out the red goo.
The road gets shittier and habitation more sparse. But if there's a building, there's usually some kind of political ad painted or postered on it for some local politicians or calls for solidarity. It reminds me of Latin America, where the amount of political advertising also increased as the population decreased. And everyone on the road just wants to get through it alive.
A truck uses its indicators to let us know we can overtake them on the narrow and winding road. A motorbike with at least ten treadle-operated sewing machines attached beyond the natural width of the vehicle races through a turn. He looks a bit concerned, but with a beep to acknowledge one another, we know it's all good.
And then there are constant roadworks that decrease the lane to one. Men and women bring barrels of tar to a boil on open fires. Then someone with a drip bucket gets some hot tar to spread it over the rocks that form the bottom layer of the road. It stinks pretty badly and warrants the use of a face mask, but only about half of the roadworkers have something to cover their mouths and noses. They later paint the empty tar barrels in red and white to form road markers for safety.
Despite the vehicles having the steering wheel on the wrong side, traffic in Myanmar has felt safer to me than traffic in the more developed Thailand. There seems to be some kind of awareness that driving is dangerous, so people beep to let them know they're here. In Thailand, people don't beep.
The First Police Check
At the entrance of the village of Mawt Ka Nin (မော့ကနင်), there's a police check. The officers stop our car and want to check out the trunk. There are about a dozen officers working a checkpoint on a road that probably only receives 40 cars an hour. The ones just hanging around spot us in the backseat and alert their peers to the presence of some foreigners. This triggers the senior officer to come and take a look at us. He doesn't look as amused as his younger colleagues; he looks ready to start shit and go on a powertrip.
"Passport," he says to Jonas. Jonas grabs his passport and hands it to the man, whose hands are… a bit filthy. He's chewing betel nut while hovering over Jonas' passport and I am super uncomfortable. I also grab my passport ready to have it destroyed by the red stain of this man's saliva.
He angrily shouts some things to his colleagues and flips through Jonas' passport looking for the entry stamp of Myanmar. As he goes through pages and pages of South American stamps, a Belarusian visa, and a few VOAs from Indonesia, he becomes angrier and angrier that he can't find what he's looking for. It's time for us to answer some questions he doesn't know how to ask and diffuse the situation a bit.
"Mandalay Airport. We arrived at Mandalay Airport. With Myanma Visa. Today we go to a hotel in Dawei. We have a good hotel in Dawei."
We repeat parts of short phrases with distinct keywords as he repeats back words like "Mandalay" and "Dawei". Jonas holds out his hand to ask for his passport back and goes to the page with the entry stamp from Mandalay. He takes the passport again and stares at the stamp, then keeps flipping through the pages again.
After some more deliberation, the man gives Jonas back his passport. With a stern face, he says "Dawei, you go to immigration." He directs this message to Jonas and our driver. We say yes, make sure both of us have our passports and drive off again. The jolly police officers smile and wave at us as we leave the checkpoint.
Jonas and I discuss whether we're actually going to go to the immigration office in Dawei and waste several hours. Jonas says no. Myine Htwe heard this and turns around and says: "No, no. Never mind, never mind". He shakes his head and rolls his eyes at the scene that had just happened. Zaw Lwin laughs at the incident and we apologize for the inconvenience. They say it's no problem.
Forestry and the Mountain Road
At 11:15, the day is heating up quickly. The windows roll up and the airconditioning turns on. We pass through a logging area and lots of trucks overloaded with chopped up trees clog the road. The trees here are all planted in perfect formation. Every now and then, you can see the little logging huts or homes of loggers between the young trees.
The road condition improves occasionally when we drive over a finished stretch. But those smooth asphalted roads are often not yet painted. I'm painfully aware that I'd be shitting my pants on this road had we driven through the nighttime.
When we hit a section with mobile reception around Ye, our drivers immediately receive lots of calls and texts. The coverage is still pretty good here, but it was better in the north. When there's no phone calls, the men sing along with the music. Both sound pretty good.
The much-anticipated mountain road begins. I'm worried that Jonas will get nauseous, but he seems to be alright. Sometimes there's a little waterfall in the sharp bends of the road. The views are really great and I'm looking over to the other side of the gorge to look for the train tracks that exist on my map. We haven't seen a train, though, and I'm really not sure whether that train even exists.
After a gate, our drivers switch roles again to the original position. We've climbed quite a bit now and are about to enter the mountain pass. A hundred meters after the switch, we encounter something that's a real mood killer.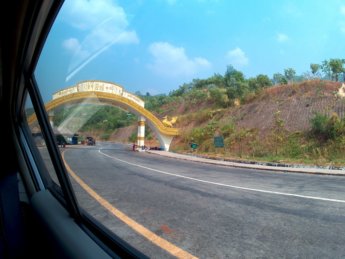 The Second Police Checkpoint
At noon, we encountered our second police stop. This one looked a lot more serious and we both had to get out with our driver and our passports at the ready. A guy who knew where to look for our Myanma passport stamp filled in our details into a large ledger. It kind of looked like every foreigner had to be registered here, bus or hitch. But at least they were competent this time rather than simply intimidating. Before we know it, we drive off again.
I only learn later that this police checkpoint also marks the border between Mon State and Tanintharyi Region.
The next stretch down the valley reminds me of the Valle de Cocora in Colombia. It's full of palm trees and lush green and I try to snap a decent picture. When the road improves, we speed through it at 95km/h. There are several (Baptist?) churches in this area, which might or might not be the result of missionaries. Christianity is a bit complicated in Myanmar.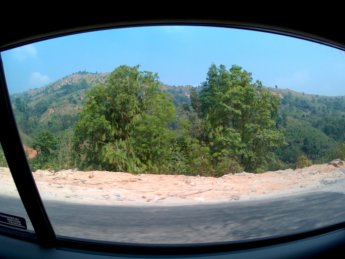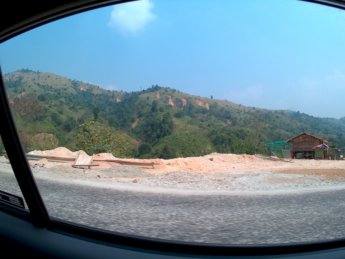 Second Lunch? Second Lunch.
The good road ends again near the area that has a hidden road to the town of Pilok in Thailand. That's also where we crossed paths with a notorious gas pipeline from the Yadana Gas Field to Thailand.
Our drivers are looking for a place to eat, but only settle on a place at 13:00 when we're approaching the town of Kaleinaung (ကလိန်အောင်). We all get out of the car and our drivers disappear off to the toilet. Many people smile and stare at us and every silly move we make. There are two older white people also at this establishment, who apparently paid for a minivan to make the journey. They're about to finish up their meal and drive on to Dawei or Mawlamyine (I wouldn't know).
Jonas is hungry, so he manages to get some food from the buffet by pointing at things, which obviously leads to some things that are hilarious to the Myanma patrons. I eat nothing and get another coffee, which is an easy thing to order. Jonas wants to give me a bite of his approved chicken, so I come to sit next to him.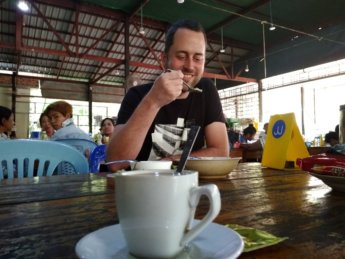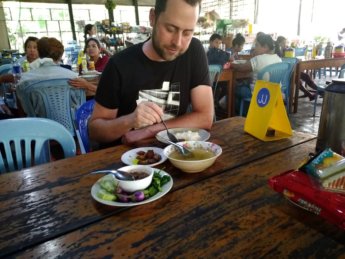 For a moment we're confused. It's been ten minutes and I've finished my coffee. Jonas has finished his food. But our drivers haven't joined us at the table. They're also not waiting for us at the car, so we look around the room until we spot them right behind us eating a big meal.
It's strange… apparently they didn't feel invited to join us at the table we chose?
We choose to join them and make some small conversation. I see that they're eating the famous lahpet which we know and also love. I point it out to Jonas and the guys offer it to him. He takes a small spoonful of the delicious dish, but I keep at my fast.
The guys are drinking Myanmar beer, which only concerns us slightly. Both are drinking a large 600ml bottle. But it seems they're mostly doing it for writing in the caps; those say whether you won something in the 'Lucky Draw'. Pretty much everyone in Myanmar is obsessed with the lucky draw from the beer brands. The national telecom provider MPT also has a virtual lucky draw that Jonas often plays in on our phones. Together, we've 'won' more than 2GB of data in those…
We drive off at 13:20. Again, the drivers paid for our lunch/coffee.
Arriving in Dawei
We cross the bridge in Kaleinaung across the Dawei River. Going by the increased vocality, they're a bit tipsy. They're driving a bit faster than usual, which is also because we're not that far anymore from Dawei.
We cross the Ye – Dawei train tracks multiple times and drive by an increasing amount of military bases. We approximate the course and direction of the river. The train tracks eventually run parallel to us for a certain stretch, but I can't even see them through the dense vegetation. On the train trip from Yangon to Mawlamyine, we hit stretches where the trees slapped into the (perpetually) open windows of the train cars, but here it must be happening constantly.
A large dark boulder features a tiny golden pagoda. Most of the surroundings here are part of the Tanintharyi Nature Reserve and the previously mentioned gas pipeline runs right through it. The reserve hugs the road for a while on this stretch of the NH8 from the cute pagoda to Dauk Lauk (ဒေါက်လောက်).
After Dauk Lauk, we approach the engorged Dawei River once again at the town of Yebyu (ရေဖြူ). We reenter the mobile internet zone at 14:15 and all phones not on silent go wild with missed messages. Our drivers have sobered up a bit and the road has also improved. We pass through a dysfunctional tollgate and enter Dawei's zone of influence: the Dawei Technical University resides on the faraway outskirts. I take note of a tiny Karaweik-style royal barge on our right-hand side. Then we see the letters at the airport saying "WELCOME TO DAWEI". Finally!
We start the conversation with our drivers about where they're going and whether that's on the way to our hotel. Our hotel is next to one of the two main roads, so as long as they go inside the city this shouldn't be very hard. I see on their GPS that they're passing by. I give my phone with the directions to Zaw Lwin in the passenger's seat and he directly understands this is about our government-approved hotel.
At the crossing with our hotel, they take the turn and drop us off at the parking lot of the hotel. We thank them immensely for the ride and wish them a good time in Dawei. It's 14:40 when we check-in and get to relax after a long day of hitchhiking.
Hitchhiking Map
Comparison with Public Transit
Apparently it's really difficult to find a bus in direction southward on this stretch of Myanmar. Getting to Yangon is always easy, but traveling in the opposite direction is a veritable shitshow. I found one price for a night bus that's 12.000 MMK per person. Including taxi/tuk-tuk rides on both ends, it would take about 6 hours without stops and you'd be in Myanma traffic on this road in total darkness…
But we've also seen people charter a minivan on expressly difficult stretches. I have no idea what the price would be to charter a van or bus, but I can't imagine it would be any less than 80.000 MMK.
For the train… I had a feeling that it doesn't exist anymore. The last information I read about the train is that it's 3.500 – 6.500 MMK per person depending on which class you take. You'd probably need to switch trains in Ye and the whole journey would take 14 hours and 15 minutes… which might be record-breakingly slow.
By hitchhiking, we spent in total 6.000 MMK to get to the toll booth and that was it. Our total travel time was from 8:05 till 14:40 with two breaks. That's a total travel time of 6 hours and 35 minutes.
Enjoyable? Pin This!
The photo used in this Pinterest image is staged and wasn't taken during the actual hitchhiking to Dawei. The sign is my Dawei hitchhiking sign and this is what I wore that day, but Jonas and I took this photo after we'd already successfully hitchhiked there.