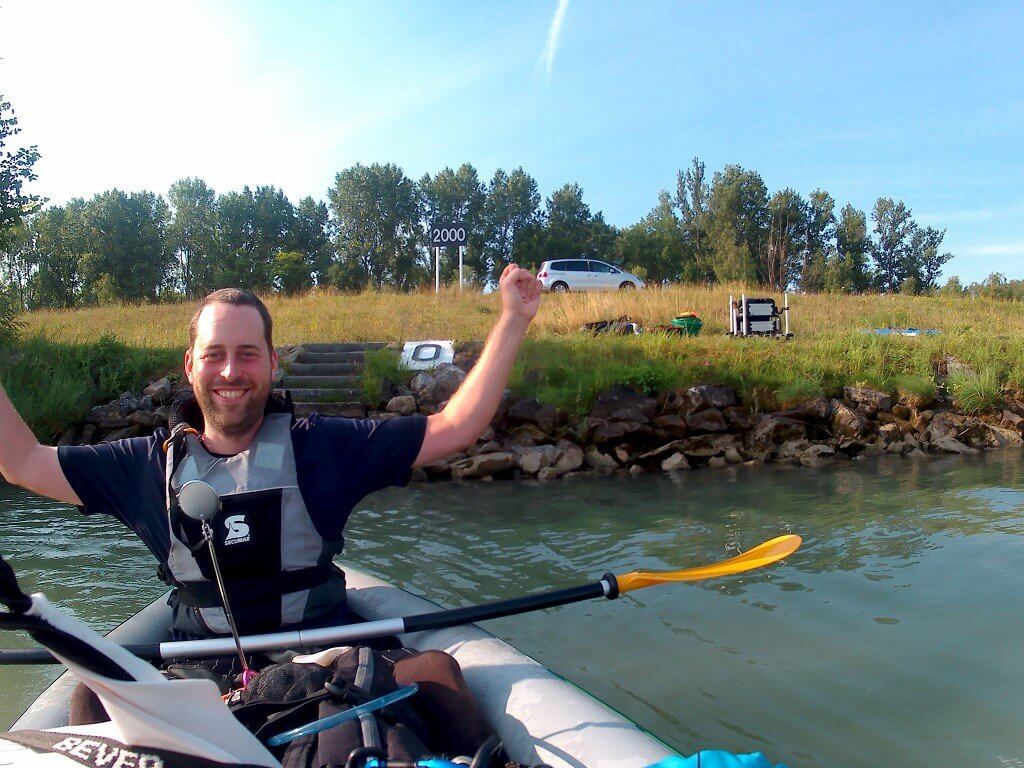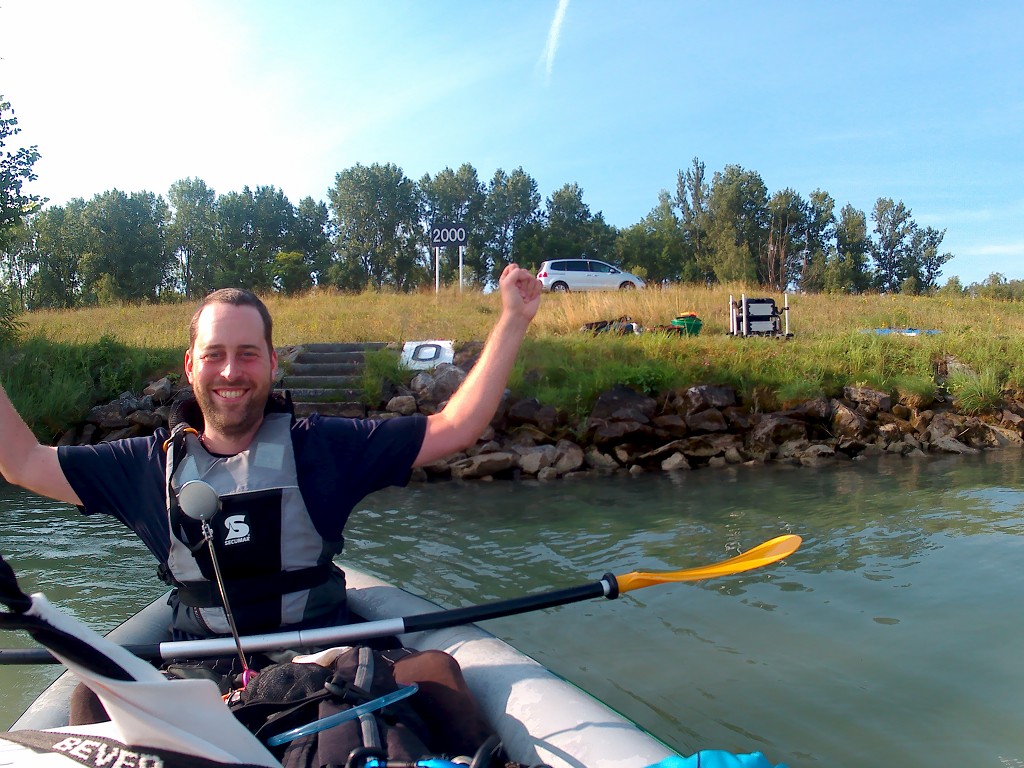 Events of this story occurred on Saturday the 20th of July, 2019. We paddled our inflatable kayak Zucchini from Stein an der Donau (near Krems) to Zwentendof an der Donau, both in Lower Austria. That turned out to be a distance of 29.1 kilometers on the Danube river.
Leaving Stein an der Donau for Zwentendorf
We only stayed in Stein an der Donau for one night. None of the accommodations near the river had more than one night available. With this reality, we decided to just hurry up with our paddling progress. So today, we paddled from Stein to Zwentendorf. In Zwentendorf, we had a room in an Airbnb booked ahead.
We left the hotel Einzinger at 7:00 without any breakfast. It would be another hot day. We arrived at the rowing club of Stein at 7:15 and started prepping our boat. Soon after we started, some people from the rowing club showed up and greeted us cheerfully. Even though there was a sign at the pier that it's only allowed to use it if you're invited, nobody really cares about it in the end as long as you're 'paddleboat affiliated' and not vandalizing the place.
By 7:40, we're paddling and out of the people's way. Nobody objected to our presence. After shooting an early video to show the Göttweig Abbey on its distant hill, we directly cross from the left-hand shore to the right. The first boat with three rowers overtakes us at 8:05.

There are already quite some cruise ships on the river that barely seem to fit under the train bridge, but it's relatively calm compared to the previous day. And so far the sunlight is dimmed by some clouds high in the spheres.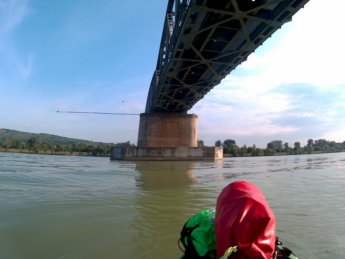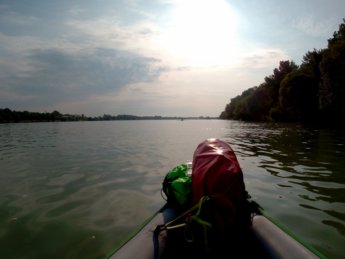 Once a Paddle Year
Today is a very special day; we'll paddle past the 2000-kilometer sign. Us paddling past a millennial sign will happen exactly once per paddle year. I'm not exactly sure where there will be a river sign saying 1000 kilometers to go, but we won't go there this year. Perhaps in 2021.
My nautical map says the 2000-kilometer sign should be just before the big St. Pöltner Brücke – a highway bridge. We first see a building on the left-hand shore saying 'viadonau', which is an organization working under the Austrian ministry for transport who's tasked with pretty much anything from flood protection and the promotion of shipping to lock management and providing us the DoRIS folder to tell us how to portage and what to expect. I assume they're also responsible for helping cruise ships loiter around the Danube while underbooked.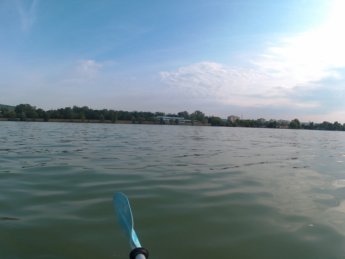 When we're getting close to the bridge, I'm getting a bit nervous. There's a little river island on my map and in the real world. Will the 2000-kilometer sign be on the shore or on the island? Will its vision be blocked from the big ships? I really don't want to miss it, so I already announce to Jonas that I'll take responsibility to paddle against the (fairly soft) current to make it back to the sign, in case we pick the wrong side.
But before we get to the sign, we can already see that it's on the main shore. We approach very slowly and see that someone has already decided that that's their fishing spot for the day. We have a humble celebration at this kilometerstone. It's 8:15 and both of us admit we want a picture of ourselves with the sign. So we hang around, turn the boat around, smile, snap photos, and enjoy this moment a little. We did like… about 700 kilometers together on this river. That's incredible!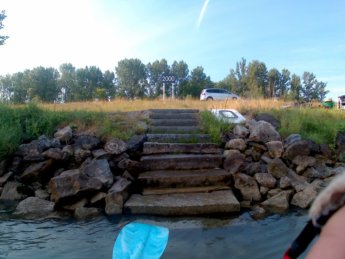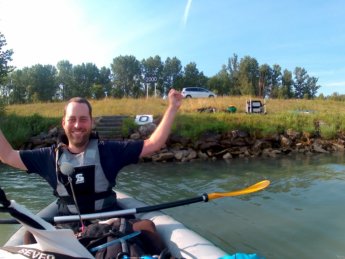 A Hydrofoil Ferry
We continue paddling. In the distance, we see the church of Schiffberg near the town of Hollenberg on the mountain ridge. The river bends right, the river bends left. The current dies down and all the rowing boats that have overtaken us before have now paddled back to their base. At 9:30, we take a break on the shore at civilization. There's a restaurant there at Sportplatz Hollenburg and a good pier for us to stop at I really needed to go. And having a toilet is… amazing. We paddle again at 9:45.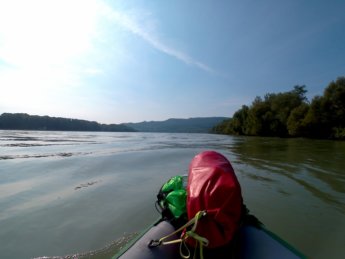 There are some big industrial towers in the distance. They're probably Kraftwerk (power plant) Theiß. Out of nowhere, a watercraft that we've never seen before shows up from the downstream. It's a hydrofoil ship. It's really, really fast – like nothing we've seen before on this river. It passes us by in no time and makes no wave at all. Then I'm thinking I have seen this model of ship before on some website about the Twin City Liner ferry that travels between Vienna and Bratislava. What on earth is it doing this far from Vienna? Anyway, I decide it's probably the new model of the Twin City Liner fleet that they're testing or expanding in use.

That's not a boat. That's a spaceship.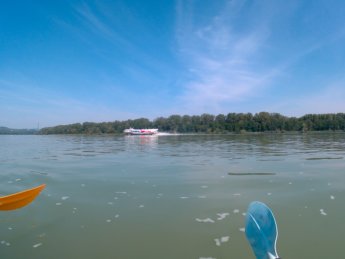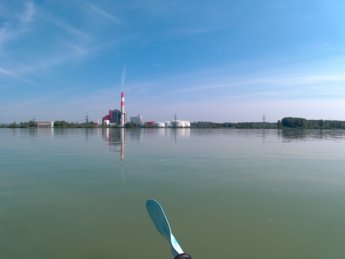 Approaching Kraftwerk Altenwörth
We paddle on to the next river bend. Both shores of the river have something called a Treppelweg. We thought it was an Austrian word for bicycle or recreational path, but we recently discovered it means 'towpath'. A towpath is a road next to a canal where you can pull your boat against the current upstream. You can of course also delegate this to horses or motor vehicles instead of humans.
Behind us appear two kayakers as we're approaching the shadow of the Donaubrücke St. Georg – a big highway bridge. We decide to have a snack in the shadow of the bridge. All the current that there still might be is counteracted by the slight headwind, so we can hang out in the shadow pretty well. Cyclists of the Donauradweg (Danube bike path) also use this bridge to cross the river via a set of spiraling ramps that lead up to a level right below the road.
The kayakers say hi and overtake us. We continue paddling after our snack and decide it's time to cross from the right to the left in anticipation of the Kraftwerk Altenwörth, where we'll need to portage. It takes us forever and it's really tough in the sunshine next to the towpath where the cyclists travel at comfortable speeds.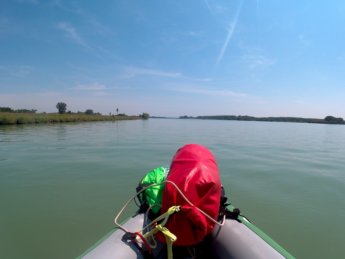 We land our boat at the slipway of the official portage point at 12:35. Jonas drops his yellow paddle next to the river and goes to fetch a boat wagon. Meanwhile, a cruise ship and a speed boat pop out of the locks. I'm not exactly sure if it was tiredness or not putting the pieces together, but I neglected to prepare our stuff for the big amount of wake that was incoming. Instead, I was filming it. Of course.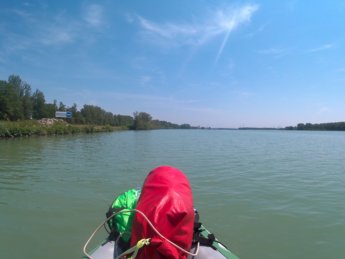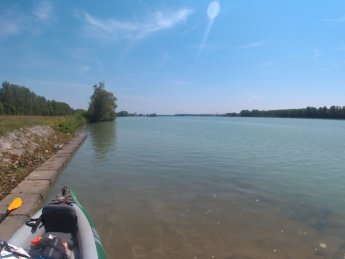 The waves came and only alerted me when they were already at our boat. Zucchini is getting dragged. I had to choose to save Jonas' paddle which was too close to the waves or the boat, so I chose the boat with all its luggage of course. In the end, I got to save both, but Jonas' seat did get a big sploosh of water over it. I didn't like having to explain that.
A Dude and His Dog
It really takes a long time for Jonas to get back. I see kayak incoming from the upstream. To my amazement, there's a dog in there, too. The guy is young, cool, and also looks like he's been at this for a while. I can imagine his name is Joseph but asks his German-speaking friends to "Call me Joe." Joe likes to party hard but also visits his grandma from his dad's side religiously. This trip is the longest time he won't see her, but she's still in good health despite her son never visiting her. The dog is a grey pitbull with a strong eyebrow game. His name's probably Brutus and he's unneutered.
Joe gets out of his boat and asks me in German if I'm going to the Black Sea.
I'm thinking "Well yes, but actually no."
"To Budapest," I say in English. I'm aware it sounds softcore. "And you?"
"Romania."
Of course, I knew that would be the answer.
He asks me where I started, so I say I started in Donaueschingen. He tells me he started in Passau. Perhaps he's a student there. I notice the English caught him off-guard like this is suddenly not a casual chat anymore, but actually a test.
I try to move Zucchini out of the way so he can get out and portage around the dam with his own wheels. Brutus is still sitting in the boat and looks perpetually worried at Joe and at me. I'm a little scared because I'm just scared of dogs – it really isn't the breed. Joe tries to convince Brutus to get out of the boat and onto the land and puts him on a leash. Brutus doesn't want to move. I ask if I can help with Brutus and Joe says "No, he's just scared of water."
Hesitantly, Brutus steps into the shallow water of the slipway and runs onto the land.
Portaging Around
Jonas returns with a boat wagon. I tell Joe that Jonas speaks German, in case they want to talk or something. Jonas and I put Zucchini on the boat wagon and start walking. Joe decides to take Brutus for a walk and follows behind us. I kind of need to pee, so I'd like the privacy at some point.
I'm embarrassed by the wet boat. I tell Jonas about what happened and that we perhaps need to put our stuff further on the land so that one person can manage all the stuff.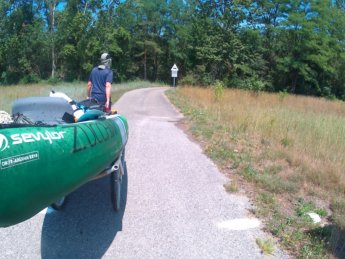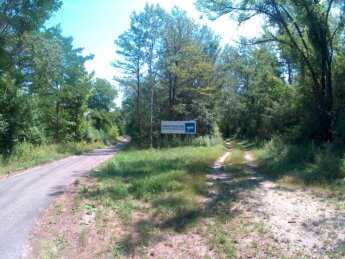 We arrive at the other slipway inside the river Krems. It was quite a big distance between the two ramps. We take a short break before we furnish the boat again with the luggage and paddle away at 13:20. We're quite tired, but we also know that we have to portage again in two kilometers.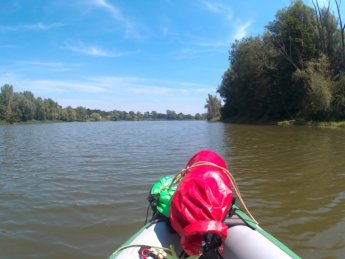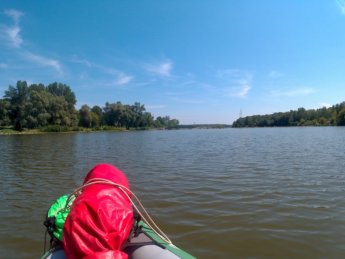 The Most Beautiful Fish Ladder
The next obstacle appears. It's the second portage point and we need to get out on the left somewhere. There's an official ramp, but it's been occupied by angry-looking geese. It's shallow and we run aground a bit too soon. The geese win this stand-off and we paddle to the beachy side closer to the bridge after all.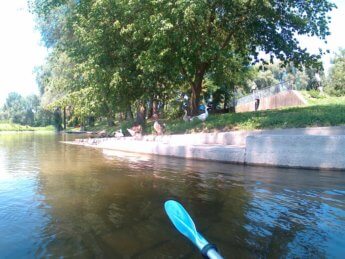 We're getting out and I analyze the reason why. Under the bridge is a rocky area where the water flows over back into the Danube. We can't paddle this down even if we wanted to. Next to the steep drop is something absolutely amazing: a fish ladder that looks like a labyrinth. It slows the water down quite a bit so the fish can travel upstream. It's the best version I've seen on the Danube yet.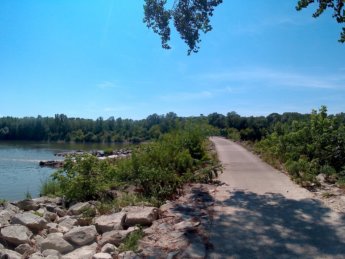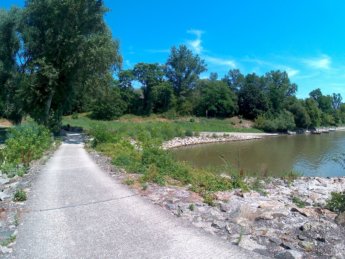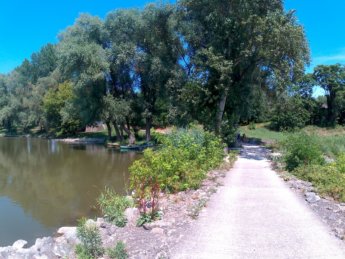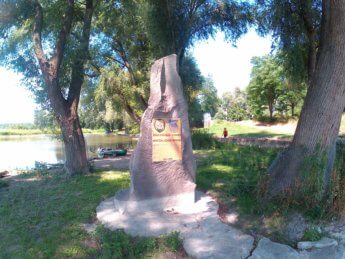 We're paddling again by 14:05. Before we rejoin the current from the hydroelectric dam, we have to paddle between quite many little motorboats. Many people are tanning completely naked on their boats, so we're trying to keep a respectful distance. But their boats are quite a bit in our way. Jonas suggests that it might be some legal loophole thing that you can be nude on your own property, and a boat is a property, so you can do whatever you want on there.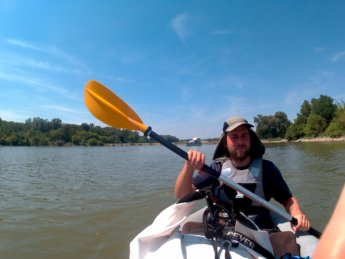 Zwentendorf: The Safest Nuclear Power Plant in the World
We cross into the main Danube again. There's a big cargo ship lying in wait for the lock to open its doors. We decide to cross from left to right just behind that ship. The right-hand side has our destination of the day: Zwentendorf.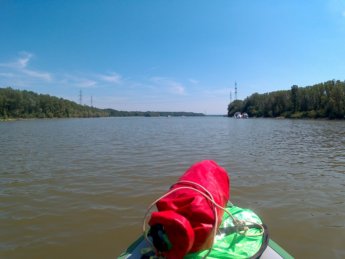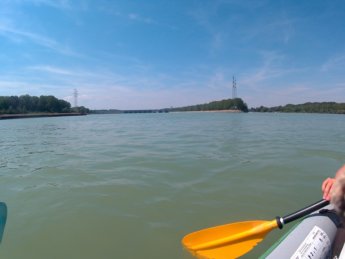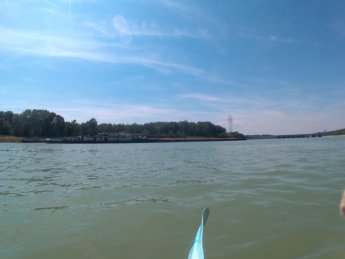 In the shadow of a few trees, we snack some food. The current isn't as strong as we'd hoped here. On our shore, the big nuclear power plant dominates the sky. Jonas read up about it before we left. He tells me it's "the safest nuclear power plant in the world", but also that it has never been turned on. I'm thinking that this is one of these jokes that's supposed to throw you off balance at the start of the phrase, similar to the classic "The best nazi is a dead nazi."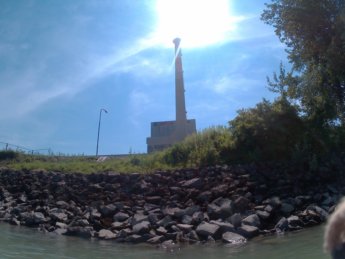 There is a big sign on the outside of the nuclear power plant's building. Bright red numbers tell us how much CO2 has been saved by this nuclear power plant. I am confused? I thought it had never been turned on? We'll ask our Airbnb host later. For now, we paddle past a big cargo ship and a moored Zille type boat.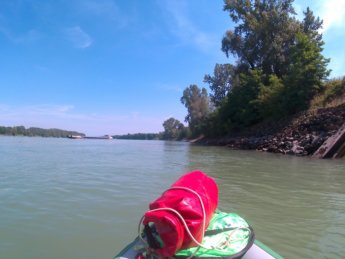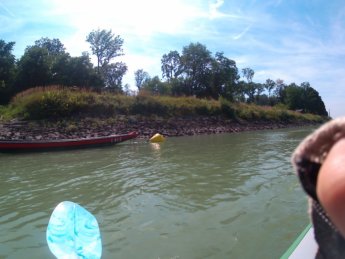 We arrive at our exit spot on a pebbly beach at 15:10. There are many locals hanging out on the beach on this hot day. Many of them are taking a swim in the river to cool down. Jonas and I hang our stuff in the nearby trees in case a boat comes by and causes a lot of waves. I learned from earlier today.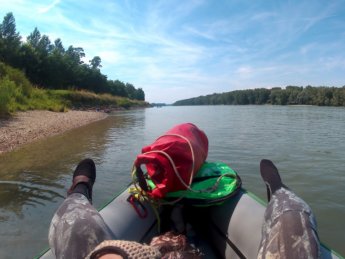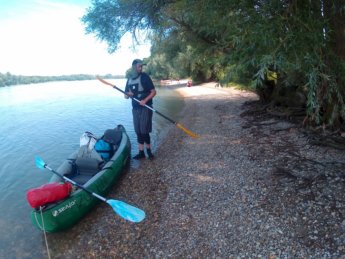 We're drying our boat and discussing our next steps. The supermarket closes at 17:00 and it's a Saturday, so if we want to cook for ourselves in the Airbnb, we need to get food now. Jonas contacts the host that we're checking in a bit earlier and then goes to buy groceries. I'm packing stuff and drying the boat.
In the meantime, the hydrofoil space ship of a ferry returns downstream. It causes a bit of wake, but nothing compared to the cruise ships. Joe and Brutus also paddle by at 16:10. He's not stopping in Zwentendorf. I wish the poor dog was wearing a hat or some form of sun protection. And Brutus needs to get snipped.
Checking in to Airbnb Zwentendorf
Jonas returns and we pack up the boat together. It's not a far walk from here to the Airbnb. He already has a key and met our host, who has Superhost status on Airbnb. Jonas talks about all the delicious food he got at the supermarket. I'm very much looking forward to taking a shower, relaxing, and sharing a pizza.
Our room is spacious and very nice. We hang up all our stuff, wash out the neoprene socks, take a shower, and connect to the internet. I've been very excited to watch more episodes from our Spanish TV show La Casa de Papel.
We later meet our host in Zwentendorf. She's really well-traveled as well and is also planning some future trips to Southeast Asia. There's a scratch map in our room and I launch the topic to Jonas of "Where do you want to go?"
It sounds like it's so far away in the future, but actually, it's not. There are a few places that we have in common, like Taiwan, but we also have our own countries we want to visit. Jonas' interest is piqued by Japan and I have a distant love affair with Timor-Leste.
I'm in contact with my mother and stepfather, who are passing through Austria on their way to Slovenia in the summer holidays. We've decided to meet up in this area, which is great because the last time I was in the Netherlands, they weren't home.
Please Share this Article, if You Feel Like It.