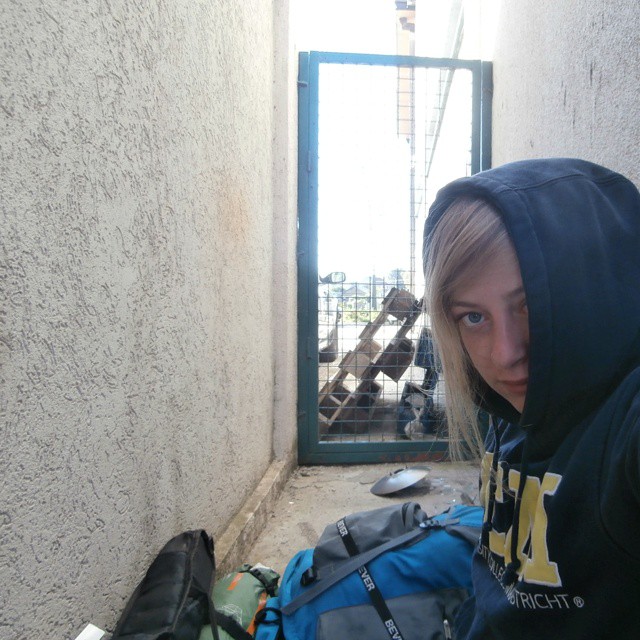 This was my urban freecamping spot last night next to the hotel I used the WiFi at. It's an alley next to the parking lot that the lady from reception recommended me and the hotel staff paid attention to my safety during the night, so that's really nice of them! A little cold and windy, but you know I'm prepared for the worst. The best thing about this spot? The hotel's WiFi was still working! If you're wondering, it's the alley next to the 4-star Hotel Marshal in Nikšić.
The downside was that the skinny alley created some kind of wind tunnel, so it was extra chilly. I buried myself deep inside my sleeping bag. That was fine. I guess it's also not really urban freecamping, but more like sleeping rough with permission. There's a lot of grey area and I'm not clear on the exact definitions. All I'm sure of is that it was free of charge.
Ending up here so late at night wasn't intentional, but I was very tired after walking back from the Ostrog Monastery during a pilgrimage day. I barely remembered that I started the day at the Bay of Kotor. I caught a short ride with a guy to Nikšić, but he was bad news so I got out early and tried to not be followed to this hotel and the alley cave.
P.S. I know, I look like a disturbed teenager who does everything ironically, but this is how I woke up. It was still a little cold in the morning
#Nikšić #Montenegro #CrnaGora #camping #freecamping #asknicely #UCMhoodie #UCMaroundtheworld #UCMrtw #dropout #HotelMarshal (at Hotel Marshal, Nikšić)