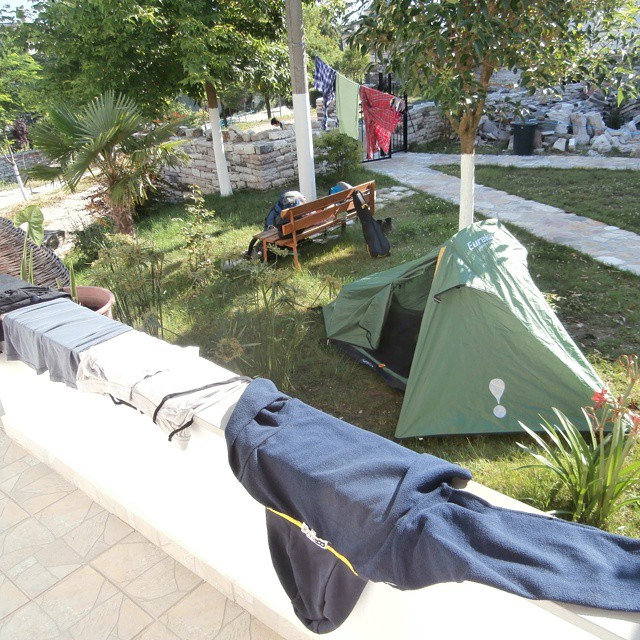 Good morning from Gjirokastër! Me and Dongbum went freecamping next to two hotels with permission from both owners. That's very kind of them! And honestly, it's one of the better places to pitch a tent; the grass is well-kept and it's nice and quiet most of the time. The hospitality and flexibility of Albanians to make us feel welcome has been astounding.
I had a pretty comfy night in my tent. The air is nice and dry and it doesn't get very cold at night. Though I still don't experience 'peak' camping comfort as I don't have a camping mattress, Dongbum doesn't have a tent at the moment. My tent only fits one person, so he slept on the bench. I'm not sure how much rest he got. I think the grass would have been a softer choice to stretch one's bones. He still seems happy on this adventure though.
We ran into the same German tour group for the past three days. It seems it won't be the last time, since they're headed to Sarandë later, and so are we. It's surprising how often people head down the same route. I've been thinking that there's definitely a sort of 'Balkan Trail' in the region, much like the 'Gringo Trail' in Central and South America.
The clothes are almost dry from the storm incident close to Përmet two days ago, but still need a little extra air and sunshine to dry. Sometimes it's incredibly difficult to get my clothes to appropriate dryness levels before packing. I've rolled up my tent and only need to pack it all up. Then we can do some final sightseeing on the way out of Gjirokastër, downhill and back to the main road. But first, we need to play some more with the adorable puppy here!
(at Babameto House)