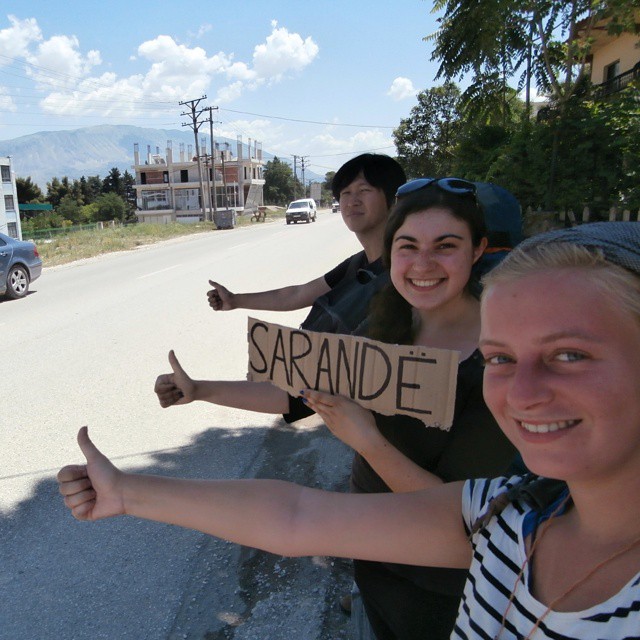 Three hitchhikers, one car? Why not?! Meet this lady from Oxford in the United Kingdom. She decided on a whim to go hitchhiking with us from Gjirokastra to Sarandë one hot afternoon.
Now I know you have questions. Did it work with three people? Sort of… we decided to split up. Dongbum would hitchhike alone and Trudy hitchhiked with me. We let Dongbum catch a ride first. Then we caught a ride, but our car had enough space. And when we saw a familiar face standing next to the road, we urged our drivers to pick up one more hitchhiker!
We completed the last kilometers as a team of three. We even did some sightseeing on the way to the Blue Eye Lagoon (pretty!) and had beers and Albanian (!) wine at the beach after swimming in the Ionian Sea with our two drivers. Our roads have split or will split soon, but it's really cool to run into so many relaxed people in Albania and share experiences for a while!
Would I recommend being three hitchhikers? Eh, probably not. It's a really inconvenient number, especially with all our backpacks. But it was enormous fun. Albania keeps making cool things happen. I'm so grateful for these experiences. And somehow I'm really into teaming up with various hitchhikers for just a short while. Perhaps it's the destination that attracts such cool people.
#Shqipëri #autostop #nonstopautostop #teamup #sharingiscaring #JoLekJoProblem #beach #hitchselfie (at Gjirokastra, Gjirokastër, Albania)