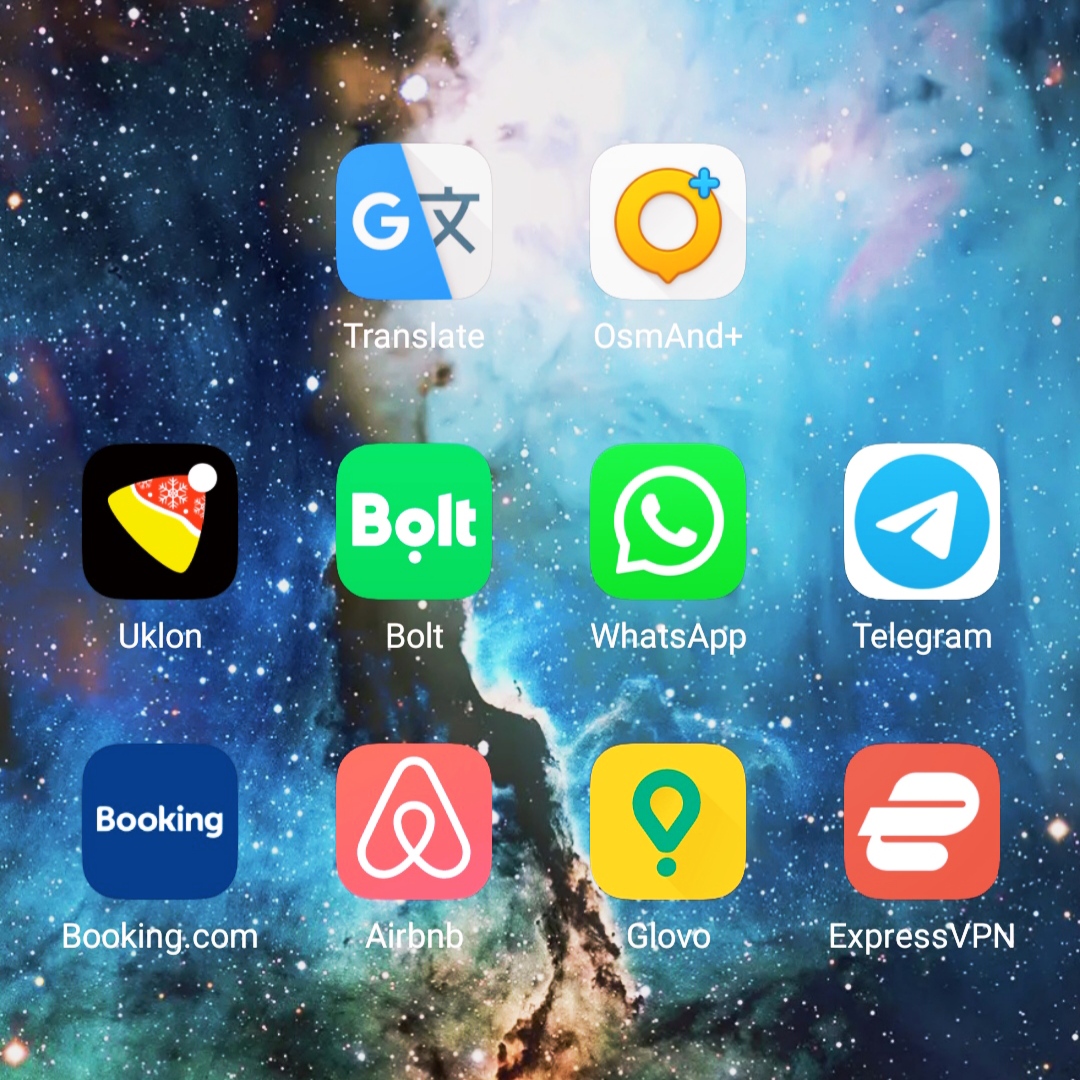 We spent 89 days in Ukraine in 2021. These are the apps that proved most useful in Ukraine and helped us navigate the country. Click here to read which and how to get a SIM card in Ukraine.
1. Google Translate with Downloaded Ukrainian + Russian
This is essential if you don't speak or read either of these languages. It starts with using the camera function to translate menu items, followed by typing in something and then letting the translator robot voice speak for you, and lastly using the conversation function to let either party speak their preferred language.
I used this app every single day in Ukraine. I learned a lot from it in both Ukrainian and Russian. It also taught me all the things I still don't know in Russian.
The app is only as good as the data within it. That's why you shouldn't try to translate phrases that are too complicated directly. Instead, break up the phrase into many short phrases, avoid dependent clauses, and use simple verbs. I know some Russian, which is why I could often spot whenever Google Translate messed up. If you don't know Russian, you can copy the Ukrainian/Russian translation, paste it and reverse translate back into English. This way, you can see how it fucks up the translation and then try to find another way to say what you want to say until it reverse translates what you intend to say correctly.
If you're afraid of insulting people by assuming they prefer Russian over Ukrainian: that never happened to us. Granted, in 2021 we mostly traveled in Eastern Ukraine. This whole "Speak Ukrainian to us in Ukraine, not Russian!" stuff is probably something that's more common in (North) Western Ukraine. In my experience, people were just happy to communicate with us in whichever language or a mix in between.
The only downside of this app is that the conversation function doesn't work very well with my voice in any language. I'm gonna say that the AI trained with men's voices and therefore doesn't perform well with my voice, but it's just as likely I'm just shit at – any accent in – English.
You can download Google Translate on Google Play and iOS. Look into your keyboard functions to download a Ukrainian and Russian keyboard.
2. Open Street Maps (OSM)
In addition to an online map such as Google Maps, it's a good idea to download an offline map app to navigate whenever there is no mobile service. Ukraine is a huge country and there are patches where you simply cannot use your mobile data. Open Street Maps fills in that gap. Just download the region of Ukraine you're traveling to and make sure your GPS is on so it can locate you.
Many tech-savvy Ukrainians love open-source and crowdsourced stuff, so the maps are generally of great quality. You can find things in OSM that Google just doesn't know, such as tiny hiking trails and specific ferries.
The public transport stops such as metro, tram, and bus lines are also often mapped, which makes city navigation on the cheap more accessible.
If you're new to this app, it seems a little intimidating how to use it. But once you get the hang of it, it's the best mapping tool in the world.
You can find OSMand+ on Google Play which is free, but I pay €2.99 a year to get all the features. Here you can find the iOS version of Open Street Maps.
Communication Apps in Ukraine: 3. Telegram + 4. WhatsApp
The most popular messaging apps in Ukraine are Telegram and WhatsApp. To communicate with your Airbnb/Booking host, a new friend, or a tour guide, it's best to add each other on one of these apps.
In our experience, Ukrainians are very active on these apps and will answer quickly. However, the older generation does like the call function. This led to many calls Jonas picked up, shoved in my hands, and then an awkward conversation in broken Russian with me saying "Please write us a message so we can run it through a pyerevodchik. Please."
Download Telegram on the App Store or Google Play. Download WhatsApp in the App Store or Google Play.
Taxi Apps in Ukraine: 5. Uklon + 6. Bolt (and Maybe Uber)
There are two taxi apps in Ukraine that are like Uber, but they have different coverage zones. Most cities with over 150.000 population will have drivers for either or both of these apps.
In no specific order: there's Uklon and Bolt. I recommend you download and set up a profile on both. Uklon seems to be Ukraine-specific whereas Bolt exists in other European countries as well. We used them to travel both short or long distances within or outside cities in Ukraine. We'd often take a ride with them to the edge of town to start hitchhiking.
Uber was only really a thing in the big cities such as Kyiv, Kharkiv, and Odesa. It's still good to have it.
All these apps have very cheap rates in Ukraine, which often encouraged us to take these instead of walk. So yes, these taxi apps aren't harm-free to Ukrainian cities. We found Ukrainian cities with populations of over 300.000 people often very car-centric and dangerous to pedestrians because of the lack of traffic calming. But we're rather unprincipled about this and rather be inside the car that's speeding over a crosswalk while pedestrians are anxiously waiting to cross than be the pedestrian and feel like walking is going to kill us. We prefer to use a taxi app over a regular analog taxi because we can plot our destination and the driver doesn't argue with us whether we really want to go there.
These apps are not fuckery-free. Sometimes a driver would not say 'ride completed' after we got out, leading to a many-kilometer overcharge. Sometimes drivers would drive past us and tell the app they picked us up, which led to a charge. The app lets you start a dispute so you can get your money back and let the app know the driver is either incompetent or an asshole. This was always resolved quickly by their customer service and we'd get our money back quickly or a voucher for our next ride from a robot. In the case of the latter, the voucher would often be of a higher value than the overcharge, which encourages you to just forget about the slight. Fuckery like this would happen in about 1 out of 20 rides.
Download Uklon on Google Play or the App Store. Download Bolt on Google Play or the App Store. And also download Uber on Google Play and the App Store. 
7. Food Delivery Apps in Ukraine: Glovo, not Bolt!
Do not get Bolt Food. It didn't work with our foreign bank cards. We tried everything to make it work. It was glitchy and disappointing and left us hungry. If they fix this one day, I'm happy to include them. But it will probably be a long time before I return to Ukraine.
The one food app that helped us through difficult (or lazy) times was Glovo. As of 2021, there aren't that many restaurants on the app and the options for vegetarians or vegans are even more limited, but it works quite well in big cities. Translating the Ukrainian or Russian menu in the app would often be difficult, so we'd often use the website first to browse restaurants and then order from the app. Ordering via the website was also possible.
The most mind-blowing thing we ever did was ordering cheese-mushroom khinkali with a Georgian traditional salad via Glovo in Odesa. Khinkali. Delivered. Just wow.
Download Glovo on Google Play or the App Store. 
Accommodation Apps in Ukraine: 8. Airbnb + 9. Booking
We preferred to book our accommodation in Ukraine via the browser and not the app. However, the apps are still essential for check-in details when arriving at a new place. Airbnb is also good for communication with your host if they don't want to switch to a different messenger app.
As digital nomads, we only used these two platforms to find accommodation
Download Airbnb on Google Play or the App Store. Download Booking on Google Play or the App Store.
10. A VPN (Such as ExpressVPN)
I said it before and I'll say it again: yes, download a VPN app before you travel to Ukraine. Non-Ukrainian websites you love might block traffic from Ukraine because they think it's a sketchy country. For some godawful reason, some videos are blocked when you're watching from Ukraine. Turn on your VPN of choice and you're golden.
We use ExpressVPN for some years and are very happy with it. If you want to try ExpressVPN for 30 days for free, you can sign up via this link. It's a referral link, so if you sign up I might, might, receive €8 from ExpressVPN for pointing you in their direction. Of course, this 30-day free trial isn't long enough if you're staying in Ukraine for the full 90 days as we did.
You can find ExpressVPN on Google Play and on the App Store.
App Screenshots
Here are some screenshots from inside the apps mentioned in this article: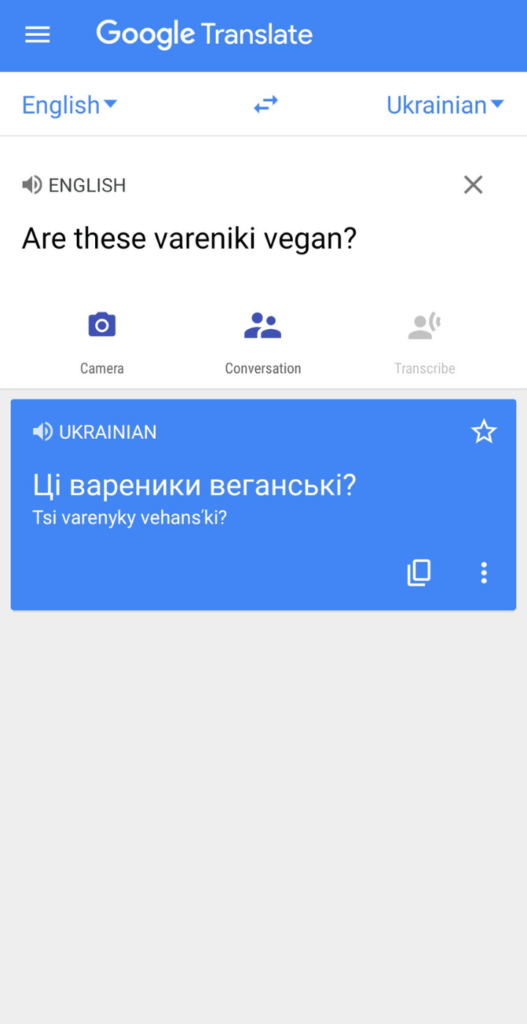 Google Translate with Ukrainian, an example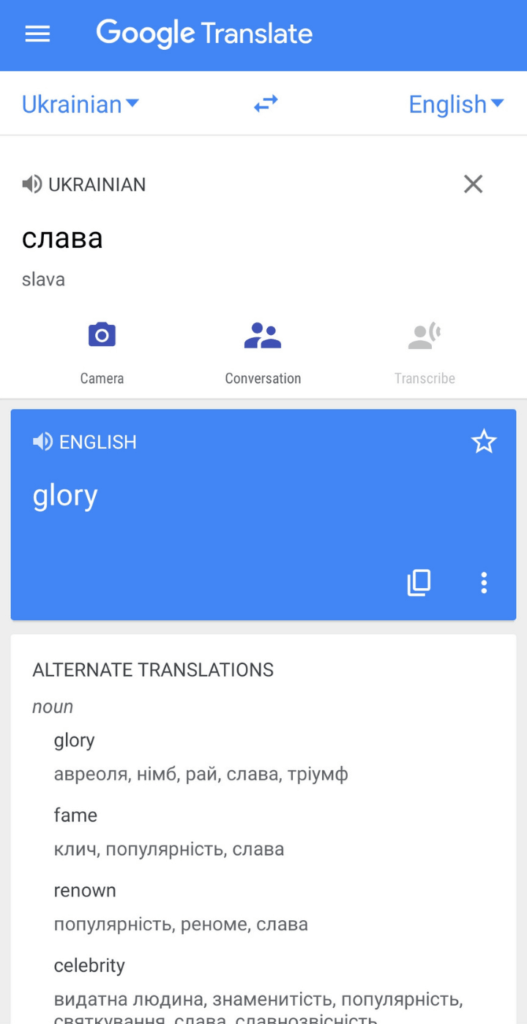 Reverse translation from Ukrainian to English. You'll need to download a Ukrainian keyboard to type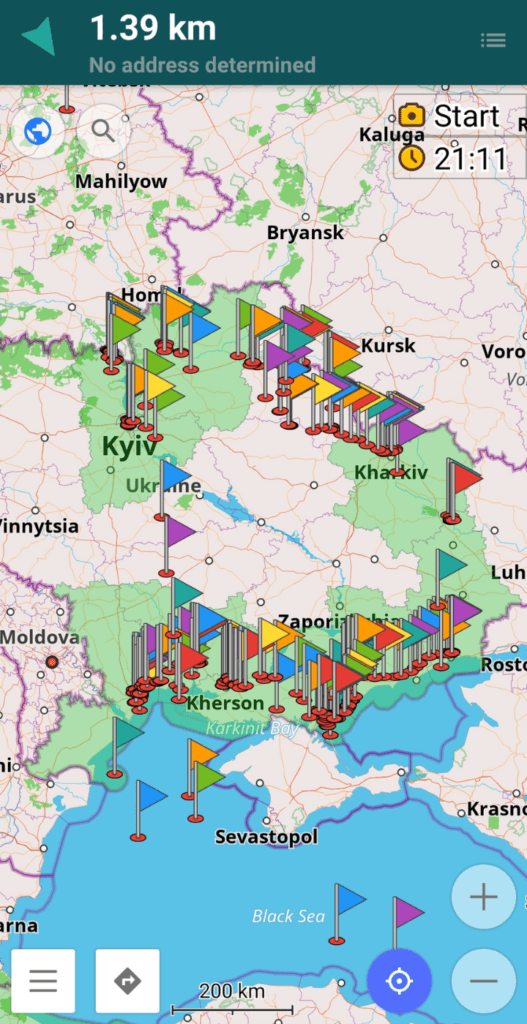 Some oblasts (regions) of Ukraine that I downloaded. They show up in green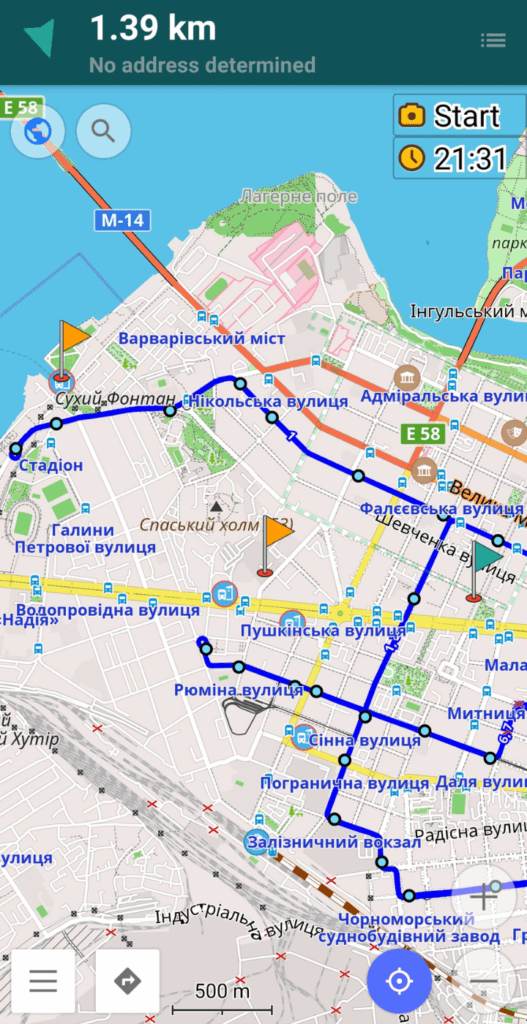 Tram lines on OSM in Mykolaiv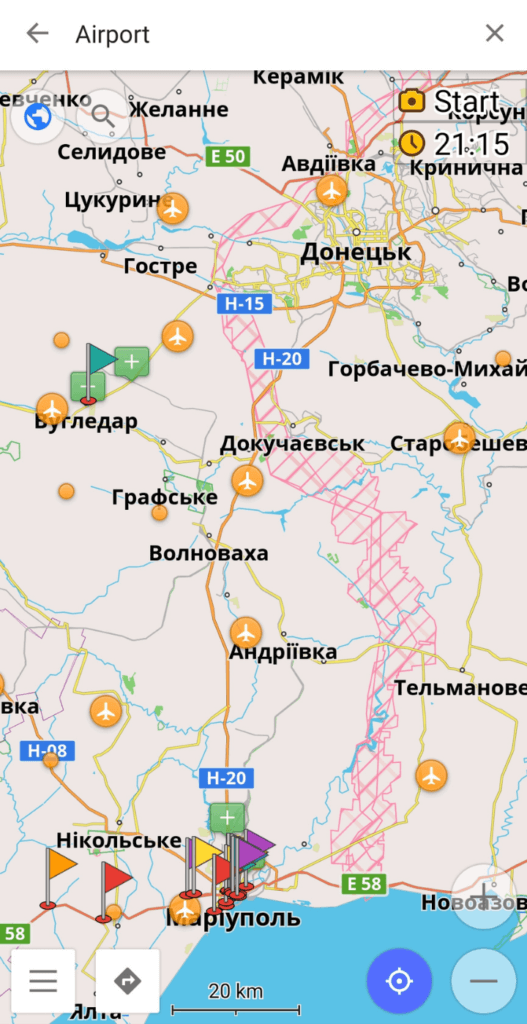 OpenStreetMaps screenshot of the contact line in eastern Ukraine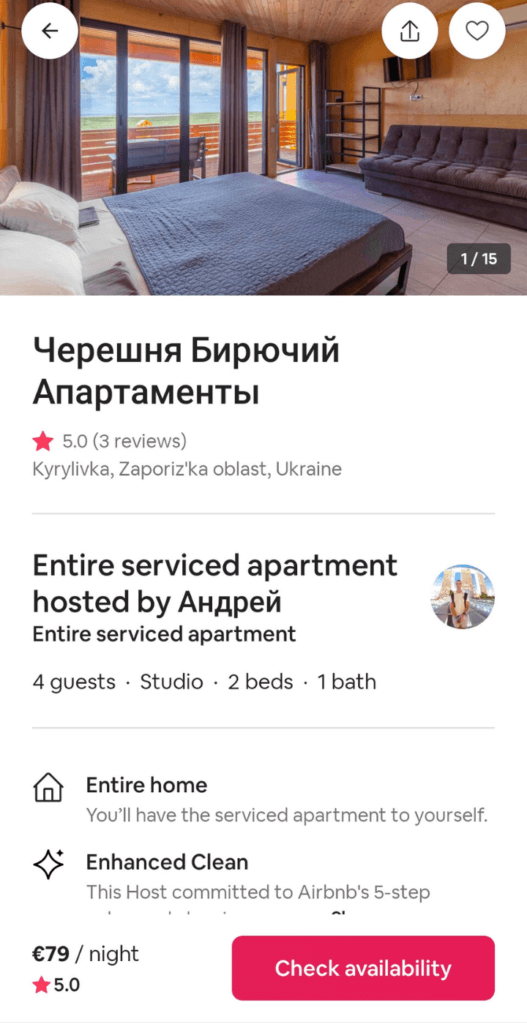 A pricier Airbnb in Biryuchiy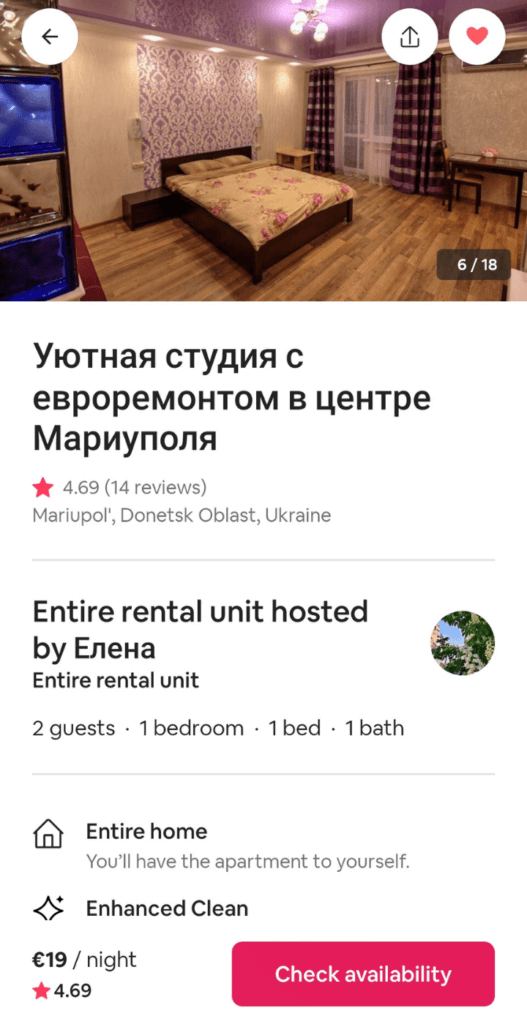 A very affordable Airbnb in Mariupol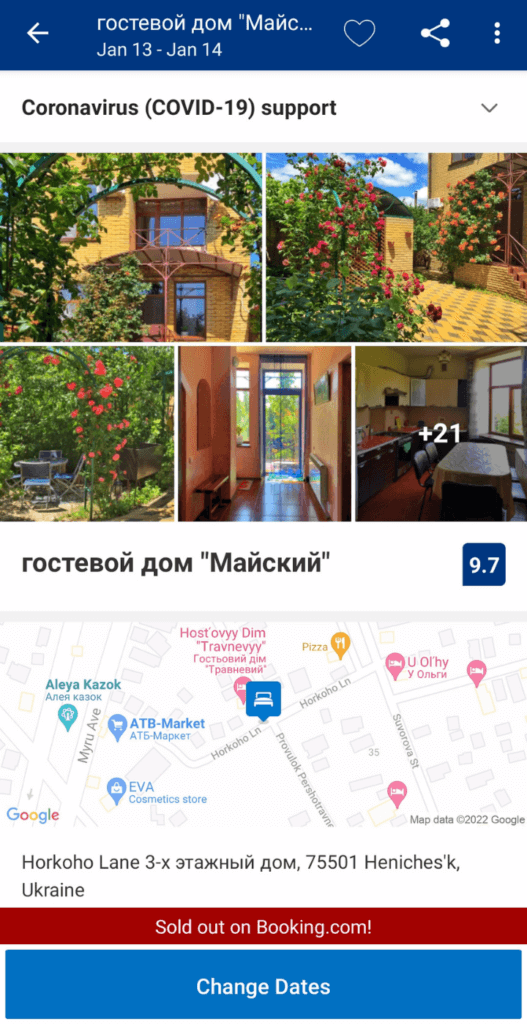 A guest house in Henichesk found on Booking.com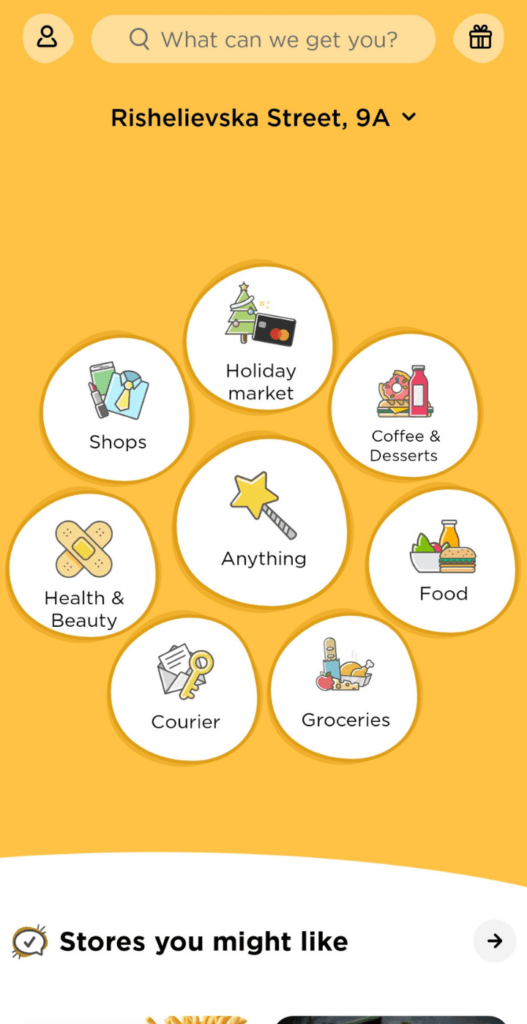 Glovo is a delivery app. We used it for food delivery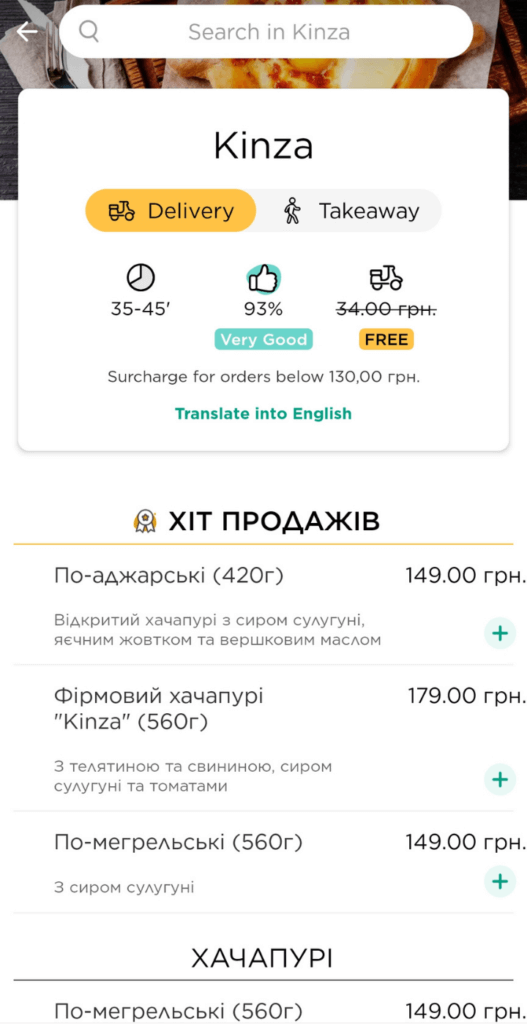 Glovo: restaurant Kinza in Odesa does khinkali delivery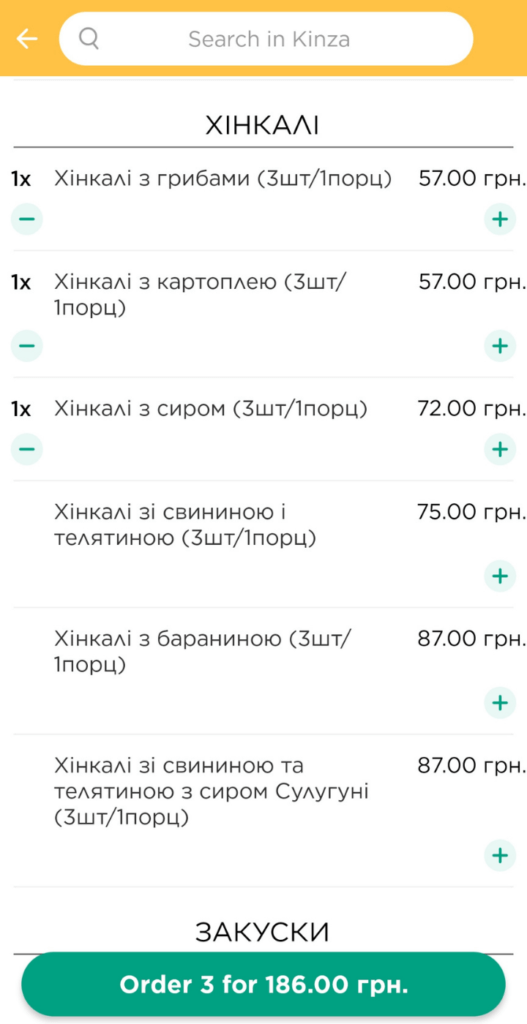 Selecting three types of vegetarian khinkali in the Glovo app
Glovo shows your receipt before you order. Make sure to order plenty of khinkali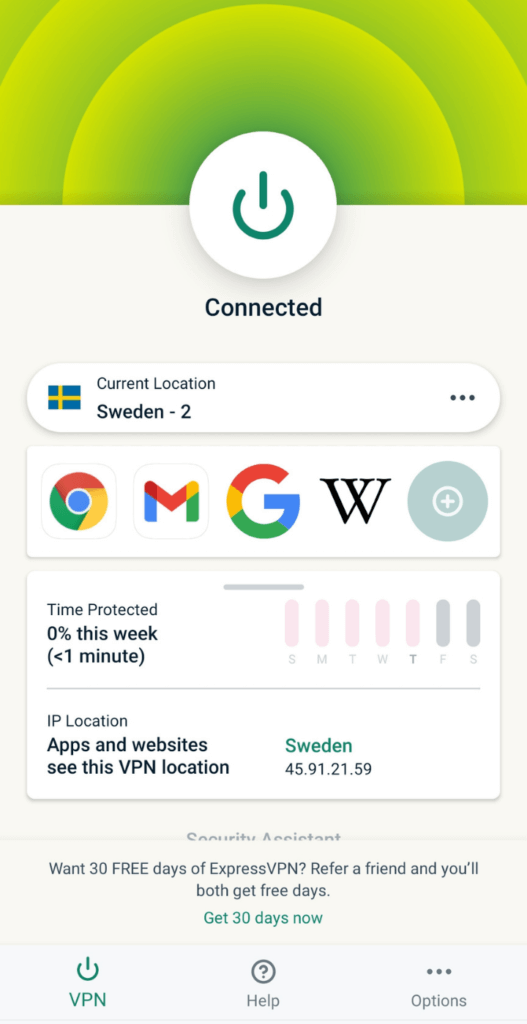 ExpressVPN main screen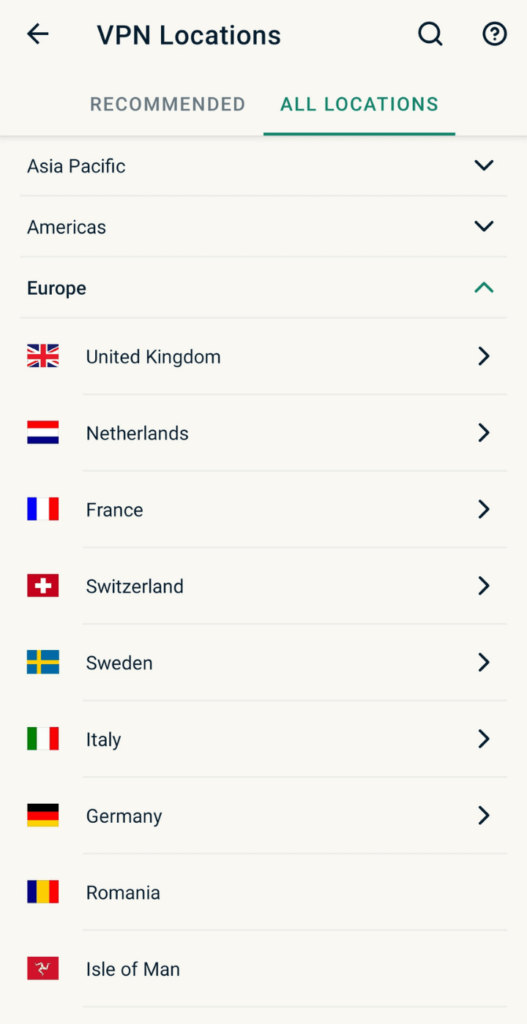 A selection of countries in ExpressVPN
Bonus Info for Eastern Ukraine
Not used as apps, but as websites. These are the ones we used to check out the situation while traveling through Eastern Ukraine, specifically Sviatohirsk and Mariupol in Donetsk Oblast. You know… because of the War in Donbas. The best resource is this Live UA Map that visualizes the frontline and the events surrounding it. We also used UkrInform for details about events. Live UA Map also has an app (Google Play + App Store) but downloading a news app is one sure way for me to never sleep again.
Good tips? Consider buying me a kvass!
Bitcoin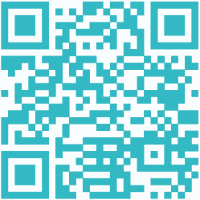 bc1q9a6w08a4gkx4gdvnh7w2vlkfzx4tlwfpfe6jm6
Open in wallet
Ready for Ukraine? Spread the word!