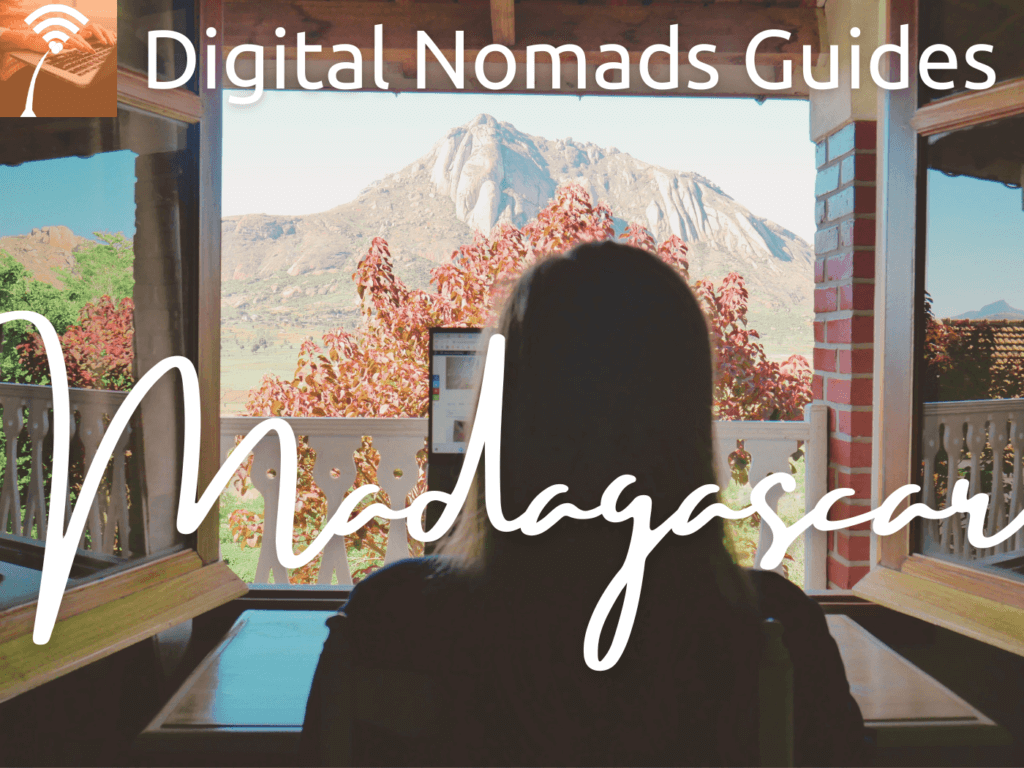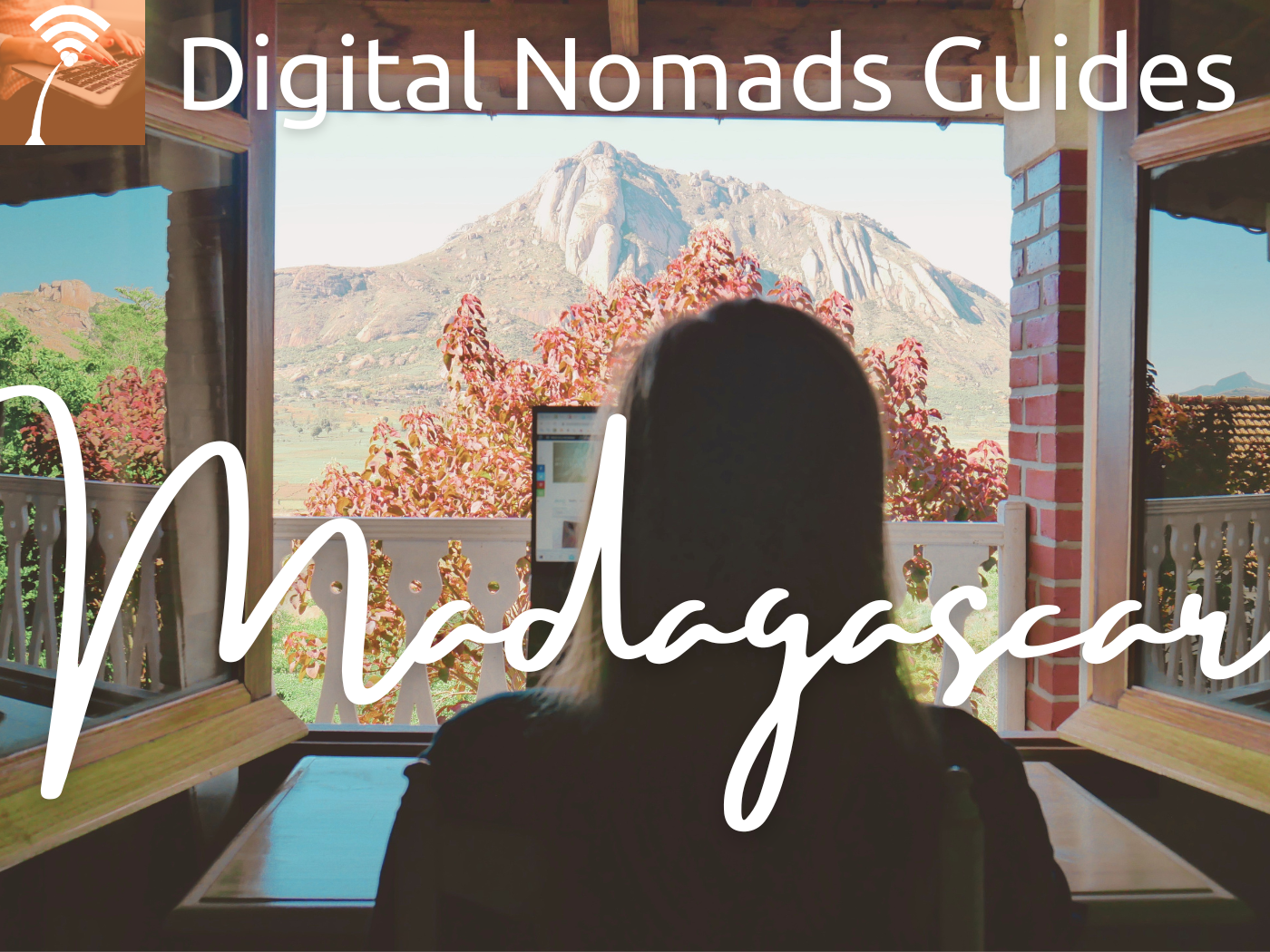 This guide to Madagascar also appears under the Digital Nomads Guides brand
Why Madagascar?
Introduction to the Red Island
Madagascar is basically its own continent. Though Madagascar is by no means an easy country to work online from, a visit will absolutely be rewarding in many ways. Madagascar offers digital nomads a wildly different experience from the established destinations. Madagascar is a developing country. By some measures, it's the fourth-poorest country in the world, having suffered a lot under French colonialism till independence in 1960.
But as nearly everywhere on Earth, the essentials of the 21st century to make international tourism and remote work possible have arrived. The country is going through the early stages of a digital transition. As a freedom-loving entrepreneur yourself, you might just fall in love with the scrappy and can-do attitudes of the Malagasy people. Madagascar is a rough gem where you'll have to put in some work in order to get work done.
The warmth of the people, the uniqueness of the culture and history, and the diverse flora and fauna make you want to return to see more. It's a wild beauty that will slap you in the face to remind you why you fell in love with travel in the first place.
Will you have an easy time? No. So consider yourself a trailblazer or pioneer with a MacBook in tow.
Which Digital Nomads can make it work in Madagascar?
While asking around online if it's possible to digital nomad from Madagascar, the opinions are mixed. Here's a guide to who can do it and who will be better off elsewhere in Africa or elsewhere. This guide is for people who want to work remotely from Madagascar for several months. If you're traveling for less than a month and don't need to work, consider your travels in Madagascar a vacation, and don't expect to get anything done. Here are some features of your work that are dealbreakers:
❌ Video calling
❌ Anything that's dependent on real-time data (video games, trading)
Features of your work that might complicate things:
❎ Needing to work in the following timezones: USA, Latin America, East Asia, and Australia/New Zealand
Features of your work that make Madagascar compatible:
✅ Being self-employed and making your own schedule
✅ Employer/clients based in Europe, Africa, and India timezone
✅ Low data usage
Income + language skills + experience
You can also make things more or less difficult for yourself by paying your way out of tough situations or traveling around less. As a digital nomad (couple), having an income of €2500 or more per month will allow you to live and travel around comfortably in Madagascar. You can do it much cheaper if you travel and live more locally, although that might also impact your ability to earn.
As Madagascar is a former French colony, almost everyone speaks (some) French as a second language. Getting by in French is a huge plus. However, anyone who knows (some) English will prefer to speak English with you. Not being a French tourist makes you 100 times more interesting.
Lastly, if you're new to traveling abroad or remote working, I think you can stop reading here. May I suggest the wonderful Mauritius and Rodrigues first? That country is way more beginner-friendly as it's easy to find help from the local digital nomad community there. In Madagascar, you'll likely be on your own (for now), unless you don't venture beyond the capital city Antananarivo (Tana). But I 100% recommend leaving the capital at the earliest opportunity.
Money
The currency in Madagascar is the Malagasy Ariary. Prices are usually indicated with the letters Ar, e.g. 14 800 Ar. Though there used to be coins, they aren't used currently. The smallest bill you'll encounter is 100 Ar and the largest 20 000 Ar. The currency code is MGA.
Back in 2005, Madagascar changed from the Malagasy Franc to the Malagasy Ariary. Though this shouldn't be relevant anymore 17+ years later, many people still calculate things in Franc instead of Ariary. If something sounds five times more expensive than it should be (e.g. a bunch of lychees), the person you're talking to is likely quoting the price in the old currency.
Paying by card is rare and ATMs aren't omnipresent. In order to pay for expensive/touristic things, you could either enter the country with a lot of euros (but you'll absolutely get a poor exchange rate and shouldn't rely on this) or use local ATMs to get your hands on stacks of Ariary.
One way to bypass carrying around too much cash is by getting a local SIM card (see below). You'll automatically have access to mobile money services in Madagascar. This will help you pay by card even in remote towns without an ATM.
For more information about cash, ATMs, and mobile money services in Madagascar, check out this detailed article:
Money in Madagascar: the Ariary, Cash, ATMs, Orange Money + MVola
Internet
Most hotels offer WiFi, but unless they're in a big city, they will only have a signal at the onsite restaurant. You could work at the restaurant, but if you booked a nice room with a desk, you'll probably want to get work done in the comfort of privacy.
To solve this issue, we used this WiFi repeater called 'Mango Box'. It boosts the WiFi signal to make it stronger. We bought this thing years ago and only use it in countries with poor WiFi strength, such as Germany and Madagascar.
If there was no signal in the room, we used mobile data. This is okay for our type of low-data online work, but otherwise, mobile data is expensive in Madagascar. If the signal was still not strong enough, we connected our mobile data to this Mango Box as well to boost the signal.
As a digital nomad in Madagascar, getting a local SIM card or three is essential. Not only will you have access to mobile money services as mentioned above, but also you'll be able to get work done from smaller towns or remote places, such as Belo sur Mer. For now, mobile data is expensive, but we expect the price to go down over the coming decade as Madagascar slowly digitizes.
For more information about which SIM cards to get in Madagascar and the prices, read this article:
Plugs + Power Cuts
Madagascar has the European type plug C on 220V. There are no international adapters provided since the far majority of visitors come from France.
Sometimes accommodations only have one plug in one corner of the room, so it's a good idea to bring a multiplug with a long cord. Remote hotels may ask you not to use any high-power devices, such as hair dryers and electric kettles since they will pull more power than is available. Laptops and phones are both not high-power devices and charging them won't put the entire hotel in darkness.
Power cuts in cities and towns are not uncommon, especially during storms or in the rainy season. As long as your battery is charged, you can continue working as normal. Power outages usually don't last very long. The WiFi of your hotel will then also turn off, which is why it's important to have mobile data as a backup. Telecom towers have their own generators, so their signal will usually not be interrupted. If a city anticipates a power shortage, your hotel might have to turn off high-power devices such as air conditioning for the whole building. But if a building in a hot place has AC, the building itself will also be in such a way that the room stays cool for a long time.
Lodges in remote places are off-grid and have their own solar panels with batteries and/or generators. Hope for sunshine, because generators are loud and may fuck with your focus or your night's rest.
Accommodation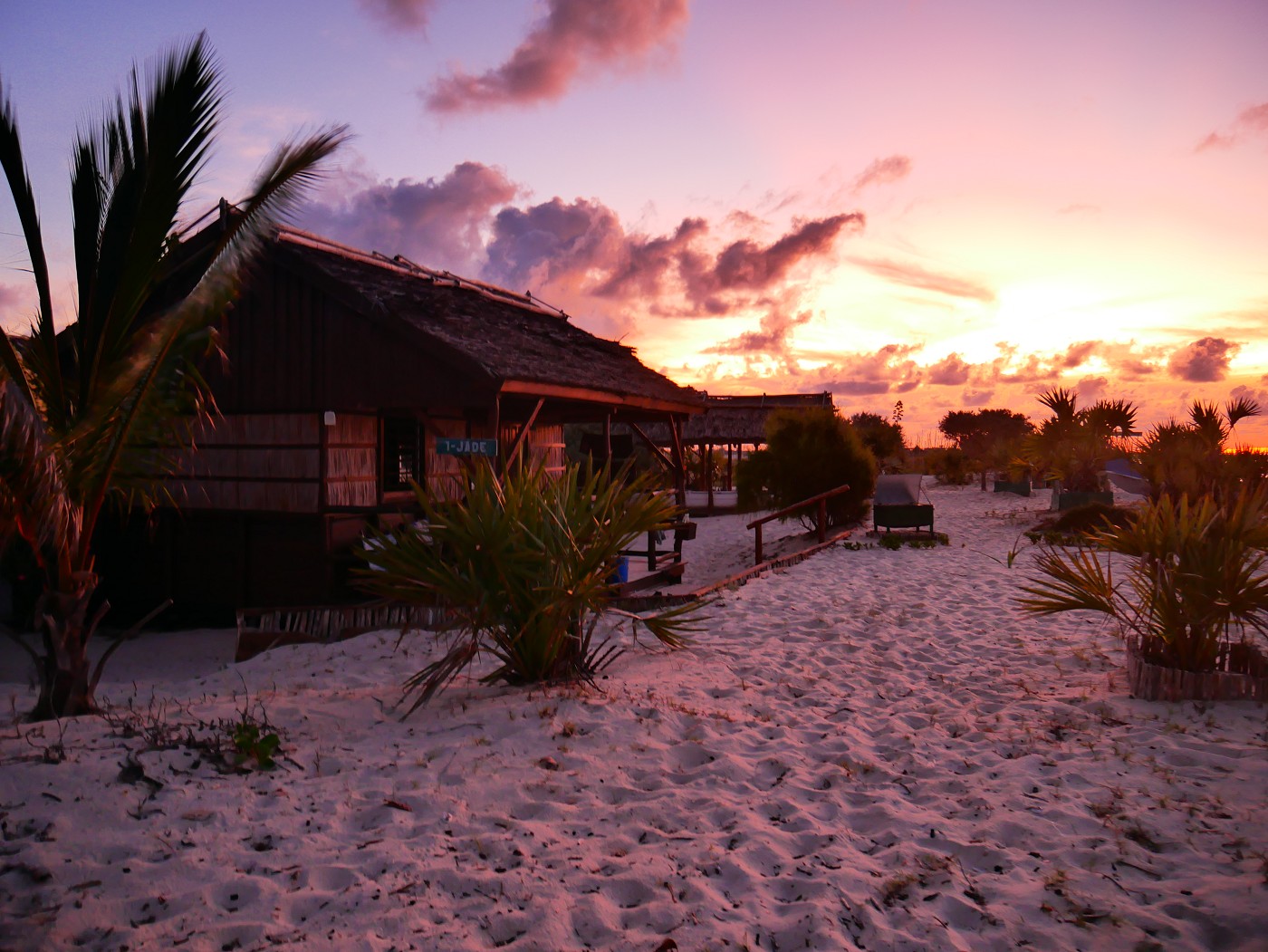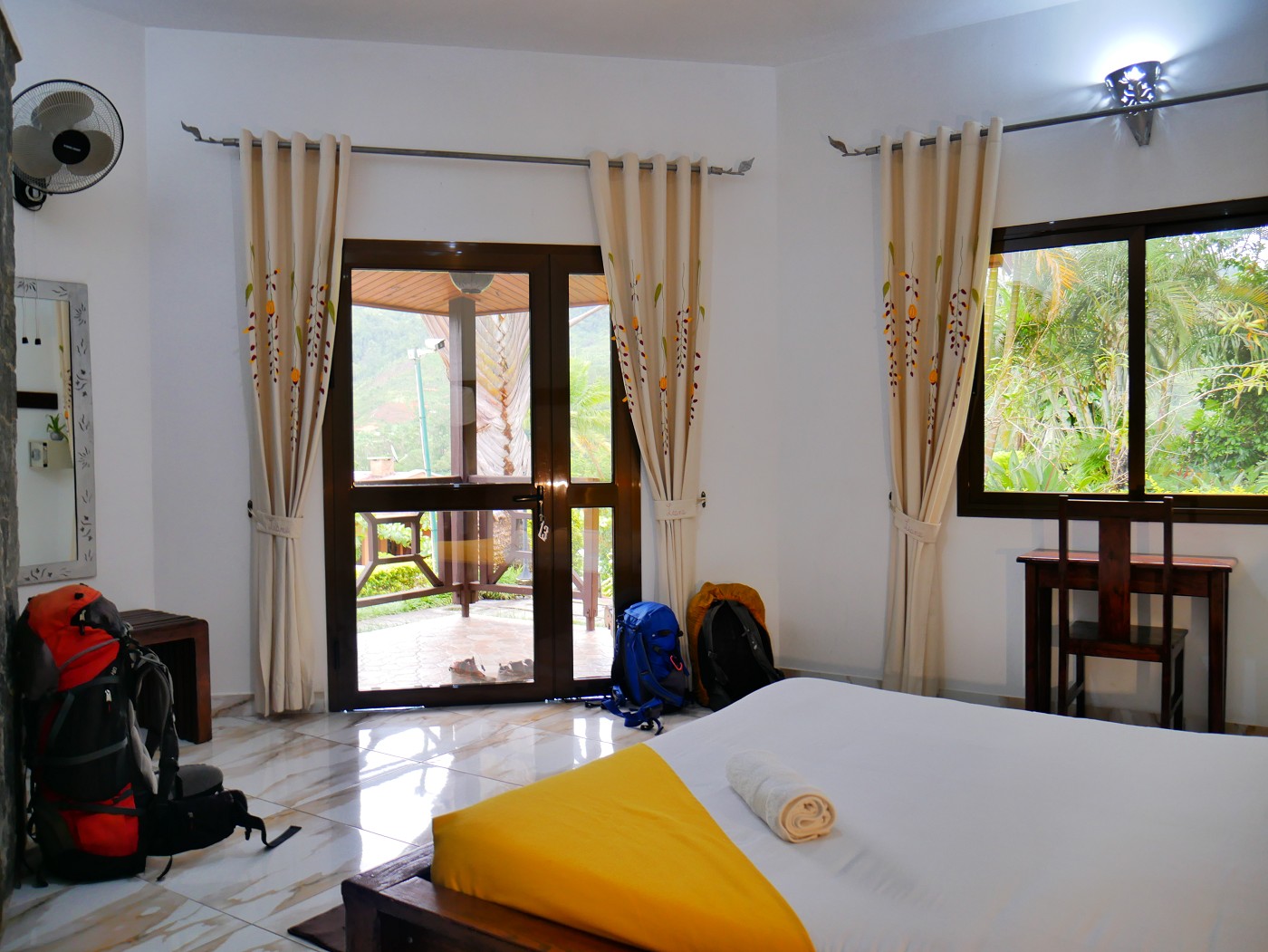 Airbnbs aren't abundant in Madagascar. Most of the time, you'll be staying at hotels, guesthouses, lodges, or beachy bungalows. However, it's still worth it to check out Airbnb for bigger cities to find rare gems.
The price range for accommodation is very large, from dingy budget accommodations geared toward locals to expensive resorts targeting wealthy foreigners and anything in between. In the big cities, such as Antananarivo, Toamasina, Antsirabe, Fianarantsoa, Mahajanga, and Toliara, there is a wide offer of hotels findable on Booking.com. The level of service will vary, from reading your mind about a towel change to making you beg for a roll of toilet paper. Read the reviews carefully.
Accommodation is widespread in Madagascar, even in very remote places. While going remote is a gamble for the ability to work and pay for the accommodation, some of our best experiences have been in the villages without a reliable road connection. Madagascar has attracted many (French) foreigners with a vision who opened up their own lodges. Some of these are quite expensive but absolutely worth the price. Look especially for places run by older French women without a husband. Somehow this demographic truly has her ducks in a row.
Laundry + services
Your accommodation also provides laundry service. Finding a place with a washing machine is mission impossible. Sometimes they give your washing to a local laundry lady who takes it god knows where. It's always hang-dried, so in the rainy season, it may take up to a week to get your clothes back.
Most places know a local massage lady who can come by to loosen the muscles of people of any gender. By international standards, a Malagasy massage is quite cheap. It's a great way to support local women.
Receptionists are also great for finding reliable taxi drivers or guides to visit nearby national parks.
Food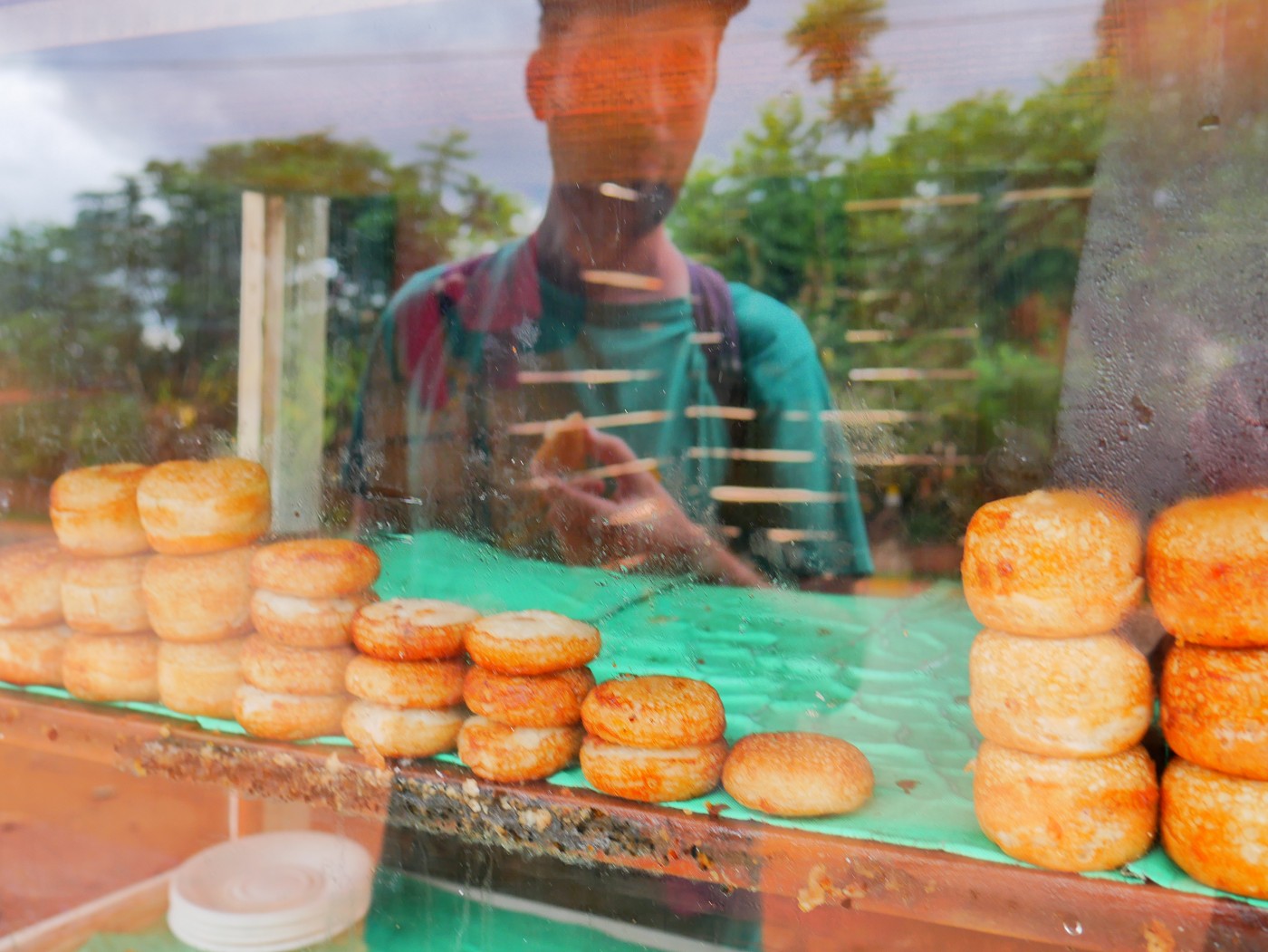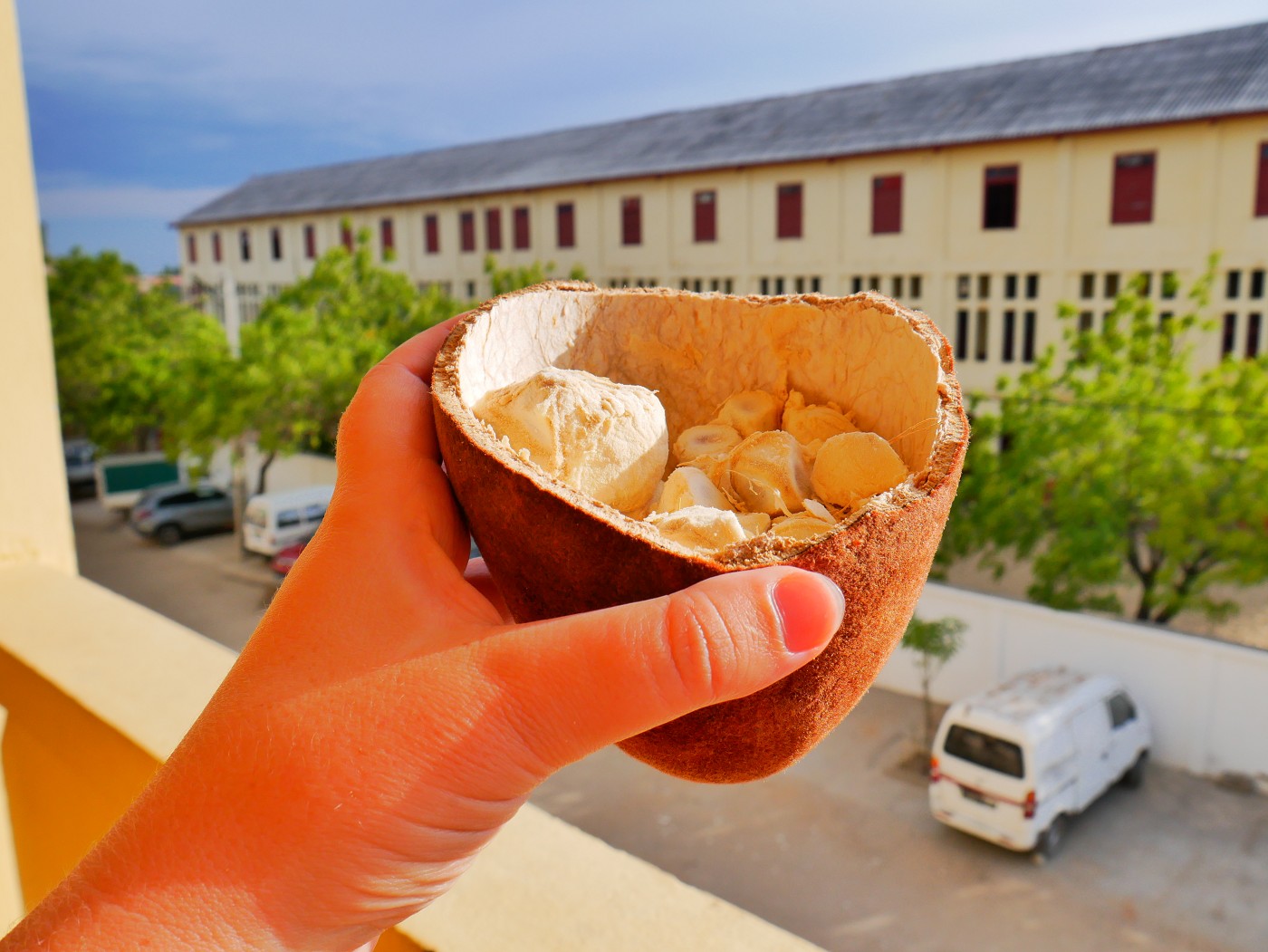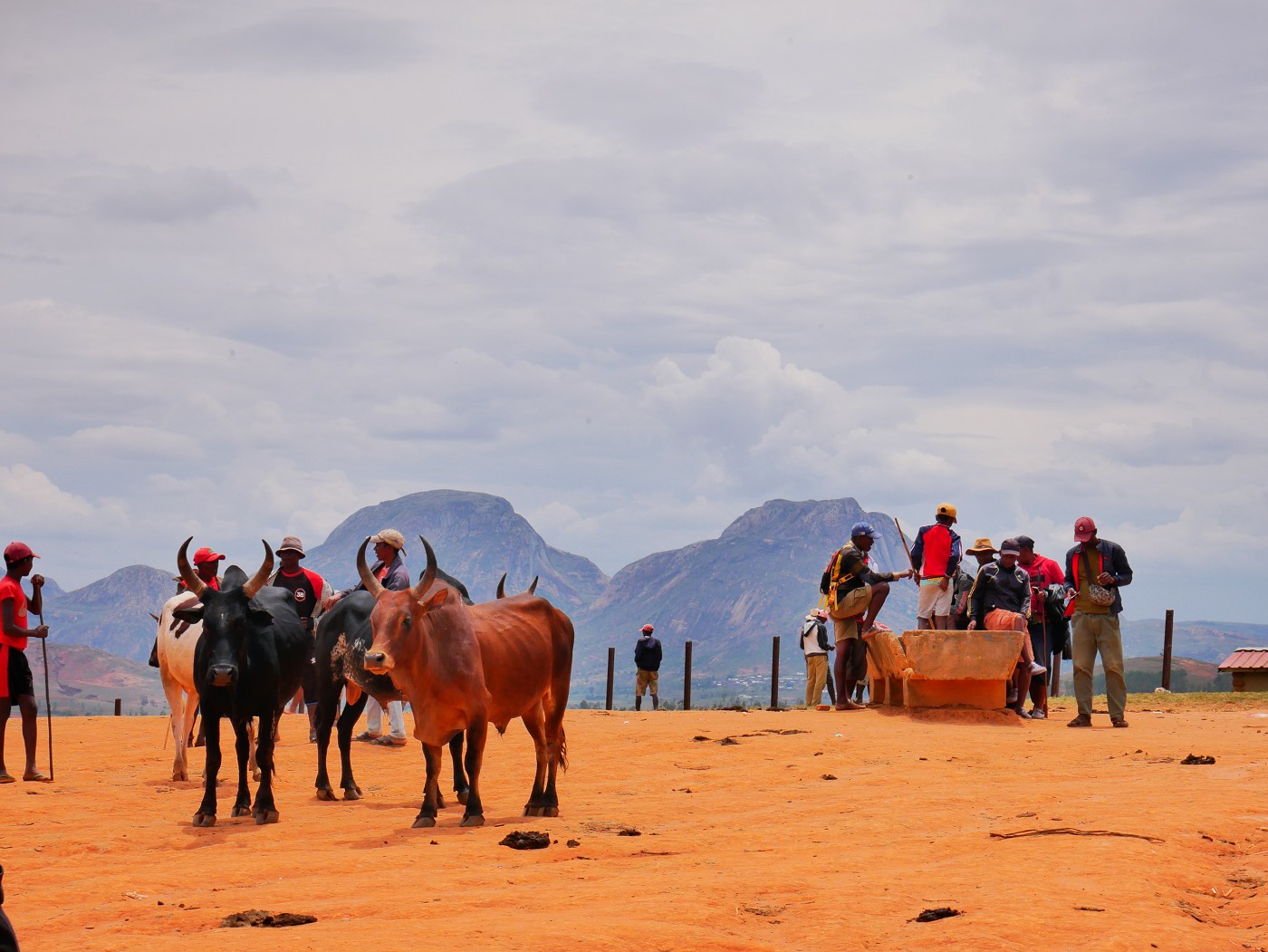 Most accommodations in Madagascar won't provide you with a kitchen or kitchenette. Most of the time, you'll find yourself eating at your hotel restaurant, a tourist restaurant in town, or a local restaurant called a hotely in Malagasy. In bigger cities, it's also possible to go to the supermarket to buy bread and toppings to make your own sandwiches for the road.
Restaurants
Malagasy food is centered around rice (vary) and toppings (laoka) and the drink made from the water the rice was cooked in (ranovola). Since it's a very agricultural society, these are highly subject to seasonality and general availability. Often, the topping is zebu meat, which is the Malagasy cow and animal that does much of the labor in the fields. In coastal places or at lakes and rivers, there will be plenty of fishy options. Vegetarians can also find toppings, although this is much harder to communicate at a hotely. There are also many local snacks, such as mofo grefy, a type of rice cake similar to Dutch poffertjes.
Hotels provide breakfast in nearly all cases, sometimes included and sometimes at an extra cost. It is usually a continental breakfast with an egg prepared to your liking. Hotels often also operate entire restaurants, which serve dinner and usually lunch as well (unless it's the low season). Hotel restaurants have local specialties, sometimes with a French twist, French staples, and often pizza. All hotel restaurants cater to vegetarian visitors, although sometimes it can get a bit boring.
Tourist restaurants in serve the same fare as hotel restaurants, but they have more options that go beyond the usual.
(Super)markets
Fancy supermarkets (Super U and Score) mostly do products imported from abroad. Things can be quite pricey. Look for domestic products, such as Malagasy chocolate, honey, baobab fruit powder, local yogurt, artisanal cheese from Antsirabe, (cheap!) local rum, and Malagasy wines from the highlands. If you need fresh bread, the bakery where you get your fresh baguette is usually located next door.
Markets and roadside stands are also a big thing in Madagascar. Every village has a market with fresh produce. This is where you can get your hands on ripe (masaka) fruits from the area.
Vegetarian food + dietary restrictions
Though I can say that vegetarians have a somewhat easy time, vegans might not have it that easy. The lack of accommodation with cooking equipment is a factor that makes things quite complicated. However, when asking for vegetarian food, we often had to specify that eggs and cheese are okay. So if you tell restaurant staff what's excluded from your diet, they can adapt accordingly.
Transport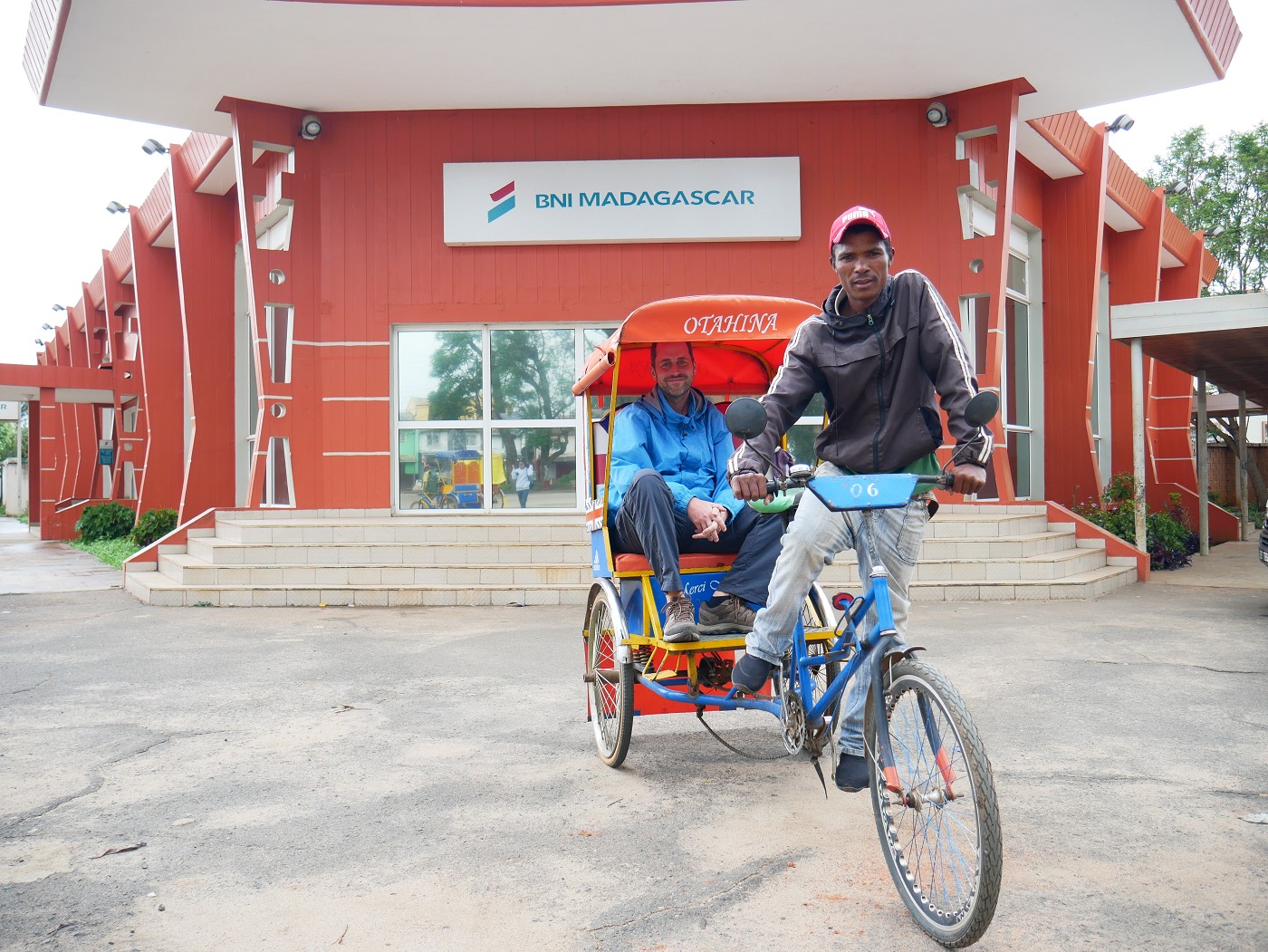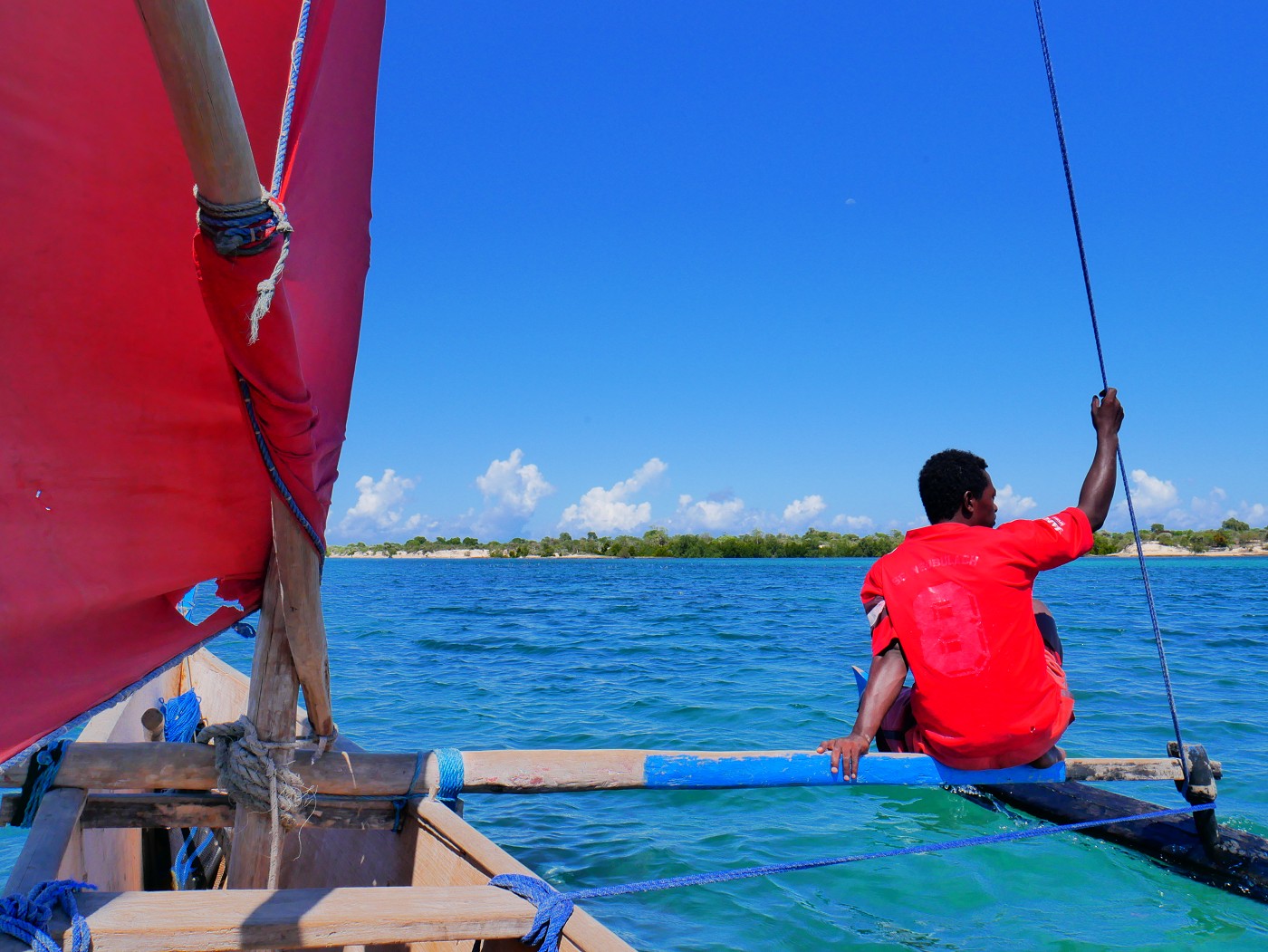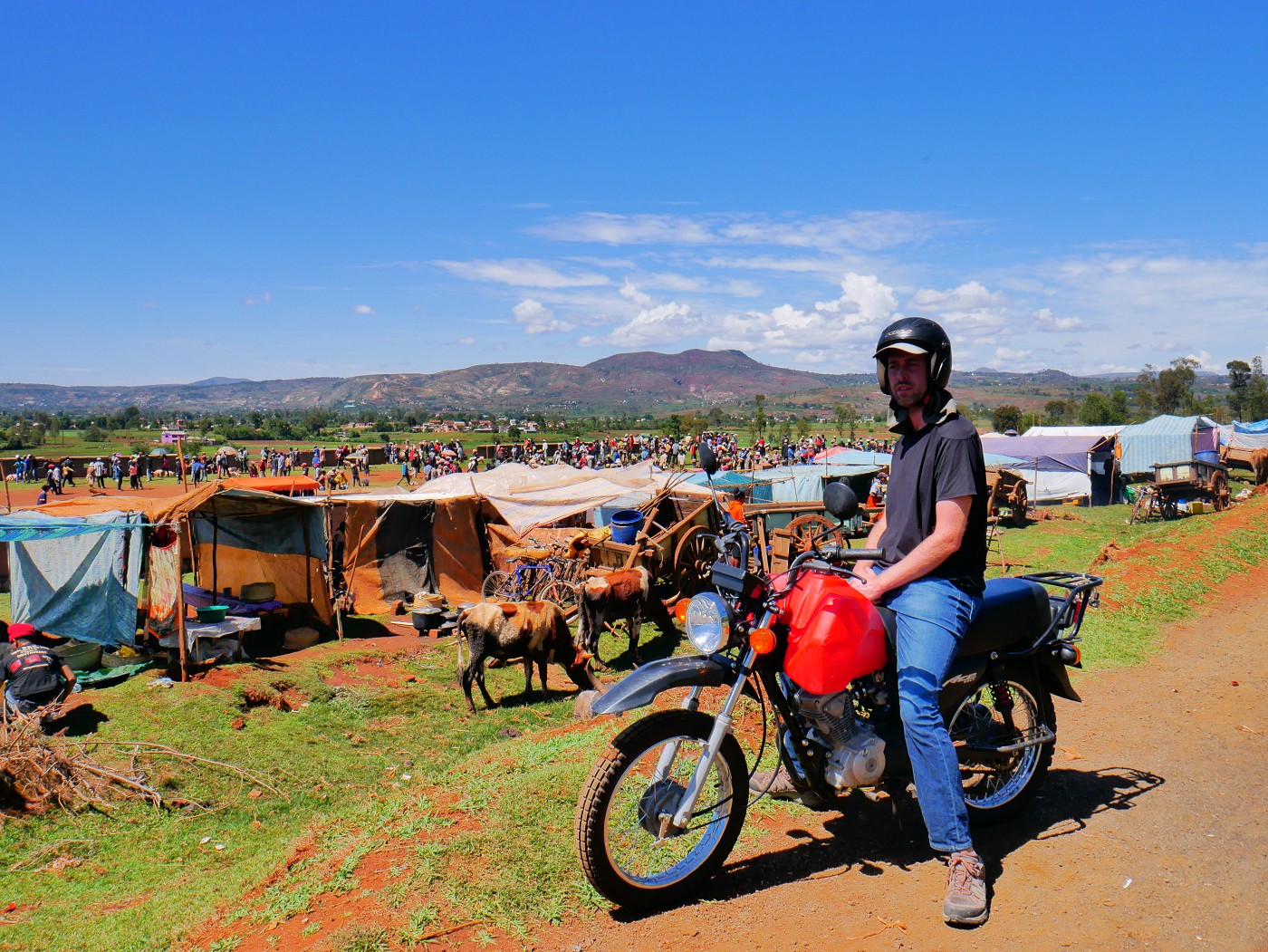 Entering Madagascar
There are no international boat connections to Madagascar. So you'll have to fly into Madagascar. Flights to Madagascar are expensive. There's not really a way around this, so you must keep in mind the entry/exit costs before committing to Madagascar.
In theory, there are multiple international airports, but effectively you'll most likely fly into the capital Antananarivo. Only Nosy Be might be a possible alternative.
You can enter from France, Mauritius, Kenya, Ethiopia, South Africa, Turkiye, and sometimes Comoros, Poland, China, Czechia, and Italy. Not all of these flights have year-round connections outside of Madagascar and some of them are really hard to find and book online.
Local transport in the cities
Within the cities, you'll walk or take taxis of various levels of motorization. What exactly is available depends on the city. None of the taxis have meters and it's best to negotiate a price before you get in until you have a feeling for the appropriate prices.
Road/rail transport between cities
How you travel between cities will make a huge difference in your budget and comfort. The fanciest way is a voiture de location, which means rental car with driver.
The cheapest way to get around is by taxi brousse, aka 'bush taxi'. These are minivans that have already lived a lifetime in Cambodia and are spending their last working years in Madagascar. They only leave when they're full, which might take hours.
The only two options that exist between these ranges are the cotisse bus and the trajet à vide à Madagascar group. The latter is a group to find voiture de location that would otherwise drive back empty. Since the fuel is already paid for by the initiator of the ride, it should be much cheaper.
The cotisse is a recent phenomenon. It's a company that does minivans like taxi brousse, but they're not old and beaten up. Their real feature is that they promise to leave at the stated time even if they're not full. And you can see prices and book online (unless the website has one of its many downtimes).
At the time of writing, there are no functioning passenger trains in Madagascar.
Boat travel
Islands such as Nosy Be have regular ferry connections to the mainland. Also, there are several rivers (e.g. Tsiribihina River) and internal waterways (Canal des Pangalanes) with boat transports.
If you're at the coast, it's often possible to rent a boat like a rental car with driver, let's call it pirogue de location. These can be either wind-powered or motorized, which makes a big difference in both price and travel time. If you're sensitive to seasickness (French: mal de mer), buy some pills for that at the pharmacy and take them an hour or two before embarking.
Domestic flights
Disclaimer: I don't have personal experience with taking domestic flights in Madagascar 
There are many domestic airports in Madagascar, but which ones have regular scheduled flights changes a lot. All domestic flights go to/from Antananarivo and they are quite expensive. You cannot fly between other cities. You can book your domestic flight on the website of Madagascar Airlines.
Business Hours
Hotels serve breakfast usually from 6:30 or 7:00 till 9:00. Some of them are closed for lunch, but if they're open, you can basically get food all day long. Dinner is usually from 17:30 onward till 22:00 or 23:00. Restaurants have similar opening times, but the kitchen might close early if it's a slow night. If you're in a remote village, life happens quite early and things might close quickly after sunset. Adapt accordingly.
Supermarkets such as Score and Super U only exist in larger cities. They open at 8:00 and close at 19:00 or 19:30.
As Madagascar is mostly Christian, holidays such as Christmas and Easter are a big thing. However, for guests to Madagascar like you, the show must go on. Your hotel restaurant will have a special Christmas menu, many if not most shops are open, the pousse-pousse men still bring you across town, and drivers and 4×4 drivers will work. Most people either can't afford to or won't miss out on a (big) payout.
Visa
Madagascar has the same visa policy for all nationalities except Palestinians and Abarundi. If you're coming to Madagascar for 15 days or less, you don't need a visa, but will still need to pay €10 for 'border control formalities'—whatever that means.
But if you're my target audience and are committed to trying this digital nomad thing in Madagascar, you'll get the option to pay for a visa on arrival (VOA) of 30 days (€35) or 60 days (€40). You'll need to pay this in Euros, US Dollars, or Ariary. You can't really get your hands on Ariary outside of Madagascar, so plan accordingly. The requirements say that you need to show proof of an onward flight. There's a bit of queueing involved to get the VOA, but as long as you've come prepared, it's a smooth process. Read more about our Malagasy VOA experience here.
Online it says there's an option for a 90-day VOA in Madagascar, but it isn't real in 2023. The same goes for the eVisa; unfortunately, the link is dead. It's a shame because paying online by card for the eVisa and avoiding one of the two queues would be preferable.
The visa is extendable by an extra 30 days in seven cities around Madagascar. Plan your trip around the island in such a way that you end up in one of the seven cities a week before your visa expires. If you bought the 30-day visa, you can only turn it into a 60-day total stay. If there's any chance you want to stay 31 days or more, just get the 60-day VOA at the airport of entry as I do not recommend going for the visa extension unless absolutely necessary. All information about the Malagasy tourist visa extension is in this article:
Culture, Language & Religion
Safety
Traffic
As always and even though it doesn't get the media coverage it deserves, the biggest risk to your personal safety is getting into a traffic accident. Madagascar is no exception. The biggest favor you can do for your safety is not driving long distances yourself. It is difficult to find a rental car without a driver anyway, and it will not be cheaper.
People
Street safety is a highly subjective topic. There are definitely dodgy areas in the capital Antananarivo and walking outside after dark isn't recommended. The same goes for a few other parts of big cities in Madagascar, such as Hell-Ville in Nosy Be. Other parts of the island tend to be reasonably safe, also after dark. The more rural a place is, the earlier people go to bed. Good night's rest and little crime are correlated.
As a tourist – especially a white vazaha – you will draw the attention of people everywhere. Especially crowds of young kids, unfortunately. Begging is commonplace for both children and adults, but it's not done in a threatening way. People understand boundaries, such as not touching you to beg for money. Adults will also stop if you tell them no or stop. Children will not stop talking at you no matter what.
Because of poverty, (violent) crime is not unheard of. As always, if you want to read the latest horror stories, just join a local expat group. You're more likely to come across a police check where the cops will try to receive bribes from drivers. Corrupt cops plus challenging roads and traffic are also the primary reason to go for a car with a driver.
Health
Health-wise, you might risk illness from two things: food and mosquitoes. There are food-borne bacteria that your body might not be familiar with. The effects can be intense diarrhea or vomiting. Pharmacies stock loperamide/imodium and oral rehydration salts for the former. One way to avoid food poisoning is by drinking bottled water and trying to eat at places that cater to tourists; they tend to take food hygiene very seriously and know foreigners can be constantly sick in Madagascar.
On a personal note, despite following this advice, I've never been as sick while traveling as in Madagascar.
As for mosquito-borne illnesses, the big one is malaria. Some accommodations provide mosquito nets of varying quality. Carrying mosquito repellent is a necessity. You can bring anti-malaria medicine from abroad or buy it locally. If you show symptoms, you can also buy a malaria antigen self-test at some pharmacies for €0.13. This test requires you to stab your finger to draw a blood sample. All the stabby things, alcohol wipes, and instructions are provided with the test.
There are also leeches in wet forests, but locals say they don't spread diseases. I'm skeptical of that statement. The bigger issue with leeches might be that the wound sometimes doesn't stop bleeding for a long time.
Nature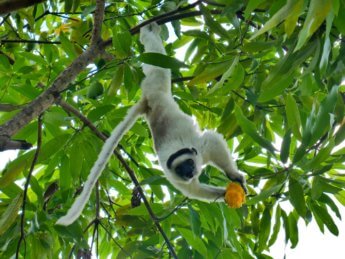 The weather can be of concern. There's a distinct rainy or cyclone season starting in December and ending in March. These cyclones usually hit Madagascar's east coast. Sometimes they linger over the island until they cross over to the west coast to regain power and bully Mozambique. It's good to keep an eye out for cyclones, as rivers will swell, bridges collapse, and roads get wiped out each year.
There are surprisingly few street dogs. Most of them will leave you alone or are sweet. As someone who is scared of dogs, I am happy to report that this wasn't a problem.
Wild animals can also do critical damage, though the risk is negligible. Most of the dangerous ones don't go where humans live and if you're visiting a national park, you'll be with a guide who knows best. And as always, leaving the animals alone is the best way not to be attacked by them.
Useful Facebook Groups
Get in contact with Samantha Mandresy from Digital Nomad by Tiasy website and Facebook page. She's really passionate about making Madagascar a digital nomad destination, has tons of information about off-the-beaten-path destinations, and can answer specific questions about life in Madagascar
Madagascar Expat Lifestyle Facebook group
Expat : Madagascar Facebook group
There's no dedicated 'Madagascar Digital Nomads' Facebook/WhatsApp group yet, but feel free to start one!
Final Words
I hope that this guide is helpful in considering Madagascar as a destination for work + travel. Let me know what your experiences were and how you liked the country as a digital nomad.
If you are still unsure about Madagascar, check out more articles about the country. Or leave a question in the comment field down below.