Madagascar is a country I first visited in 2022.  It's not that far from Mauritius, which is why it was a contender for the next destination.
Upon arrival, we got the 60-day Malagasy visa, which costs €40 per person. The eVisa website didn't work and also didn't seem super useful as you still need to pay for it in cash on arrival. Online promises of receiving 90 days on arrival against payment were all false.
Things I'd Like to Do in Madagascar
Hitchhike! It's a huge island, so there must be opportunities to travel by thumb. Hitchhiking also seems like a prime opportunity to pick up some Malagasy words and phrases. Wikipedia has a useful list to break the ice
Visit the capital city Antananarivo. It seems like a good place to learn about the country's history (Twelve sacred hills of Imerina + Upper Town) and contemporary life
Visit some natural areas, such as the Rainforests of the Atsinanana and the Tsingy de Bemaraha Strict Nature Reserve. Both of those are UNESCO sites. Moreover, I'd like to visit the Isandra cliff and caves, the Analavory geysers, Lake Alaotra, Lake Ihotry, Riandahy and Rianbavy waterfalls, Sakaleona waterfalls, Les Chutes de la Lily waterfall, and of course the famous Avenue of the Baobabs nearby Morondava
Enjoy a few islands and perhaps go kayaking during an island stay. Many cater to tourists, such as Nosy Be (volcanic crater lakes), Nosy Iranja (sand spit), Nosy Boraha (pirate cemetery), and Nosy Mangabe
Travel to other villages, towns, and cities on the island, such as Toamasina (Nosy Alañaña lighthouse), Antsirabe, Ambovombe, and Tsiroanomandidy (zebu market)
Try some of the Malagasy wine, beer, rum, coffee, and local tea
Travel by small boats or ferries internally in the country. For example, I'd love to travel from the coast up the interior on a river
I guess I'll have to see lemurs? That seems pretty mandatory. Luckily, there's a Lemur's Park near the capital city Antananarivo
Next Time in Madagascar
So my trip to the Red Island in 2022/2023 was a great introduction, but we couldn't travel everywhere because A) it's huge and B) it was the start of the rainy season. And with more knowledge of the country now, I'd like to add the following things to do as well:
Take boats in or paddle a kayak in the Canal des Pangalanes. I've missed the east coast and this canal seems exactly like my thing
Witness some cultural things, such as a hiragasy performance, a moraingy match, and people dancing and singing with regional music. Perhaps I'll also be lucky to visit during Malagasy new year (Alahamady Be) and/or the Santabary festival
Perhaps see the highest peak of the country called Maromokotro (2876masl – remote multi-day expedition). If I'm going back to the lovely Ambalavao area, I'd like to see/hike the second-highest peak in the country in Andringitra National Park named Imarivolanitra at 2658 masl
Visit and ascend lighthouses at the many capes in the country. I'd especially love to travel to Antsiranana (Antsiranana Bay) and visit the northernmost point of the island. The same probably goes for the southernmost point. Though I'm not sure if there's a lighthouse in the south
Finally take the train. There are supposedly two parts of the country that have passenger rail service… but in reality, it was just one part of the country, which happened to also not work when we were in Fianarantsoa. The train between Fianarantsoa and Manakara crosses the runway of the latter's airport
Eat local (vegetarian) foods. During my first visit, I was often so sick that I didn't try much local food. I only had the rice (vary) with a topping (laoka – some of those toppings are veg-friendly) once in Tana
Next time, I'd like to arrive and/or depart by boat. I'd love to make a connection between Madagascar and Réunion, Mayotte, and Comoros. If crewing a sailing yacht, it would even be possible (though we might need a permit) to visit remote places such as Europa Island, Bassas da India, and Juan de Nova
Map of Madagascar POIs

If you know cool places and things to do in Madagascar, comment below! Then I can always find your suggestions again once I start making the dream come true. Tips are especially welcome if you are Malagasy or have lived there for a while
Are you a travel blogger and do you have good posts about Madagascar? Drop them in a comment below and I'll read them!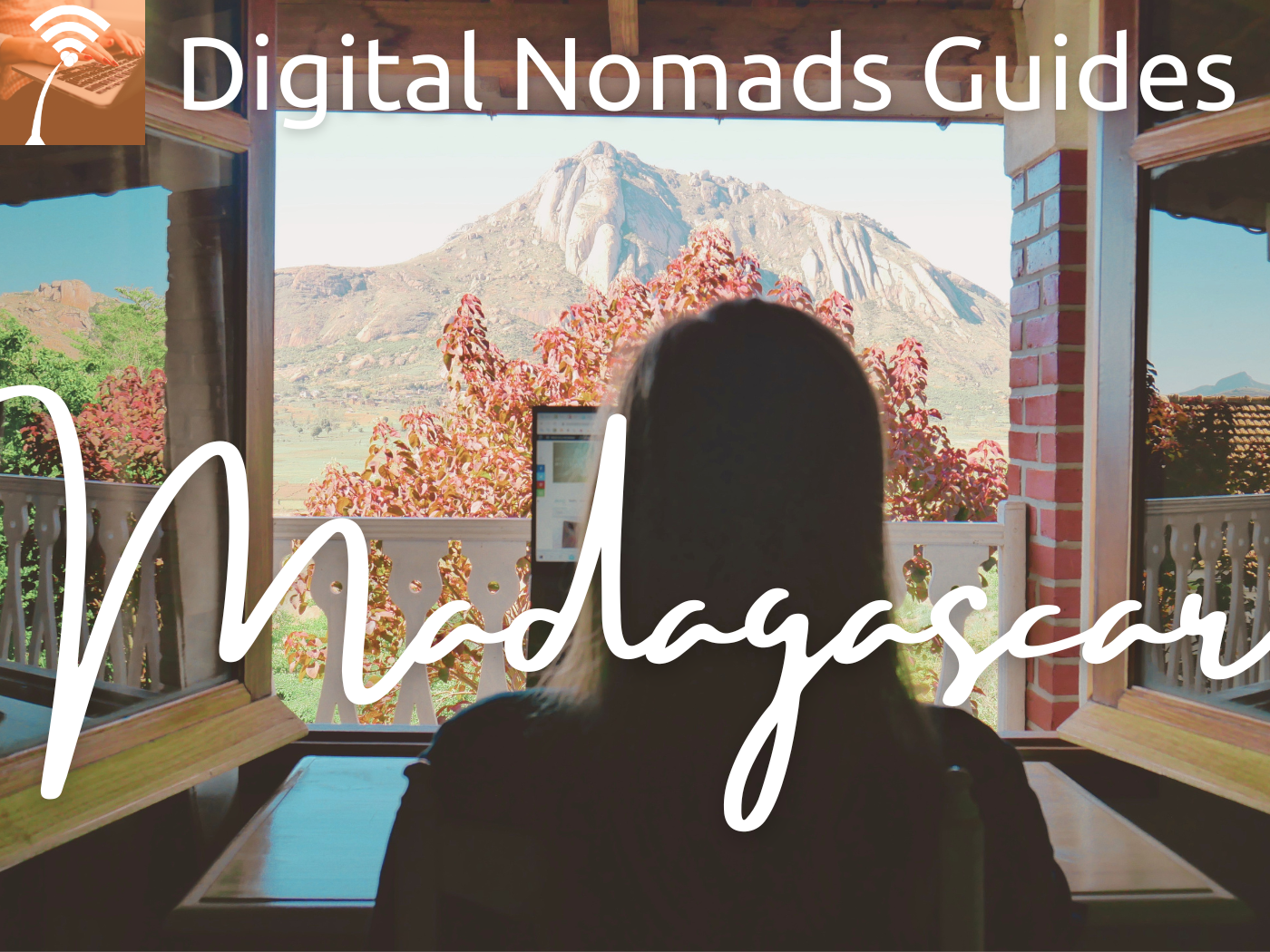 This guide to Madagascar also appears under the Digital Nomads Guides brand Why Madagascar? Introduction to the Red Island Madagascar is basically its own continent. Though Madagascar is by no means an easy country to work online from, a visit will absolutely be rewarding in many ways. Madagascar offers digital nomads a wildly different experience from the established destinations. Madagascar is a developing country. By some measures, it's the fourth-poorest country in the world, having suffered a lot under French colonialism till independence in 1960. But as nearly everywhere on Earth, the essentials of the 21st century to make internationalContinue reading