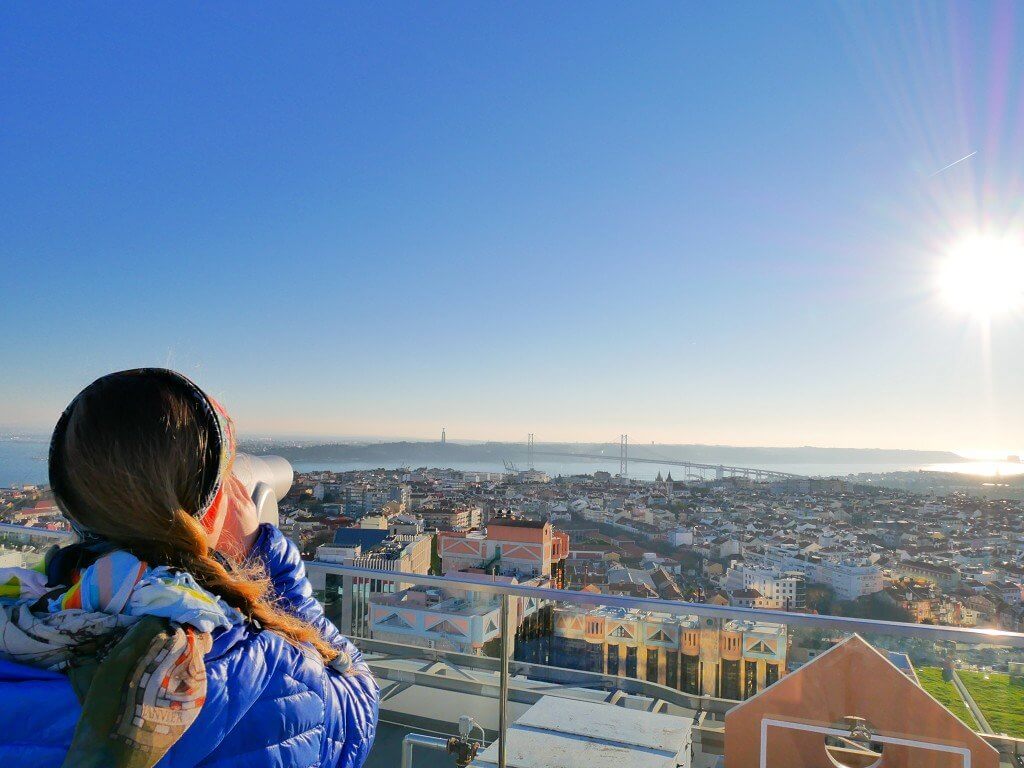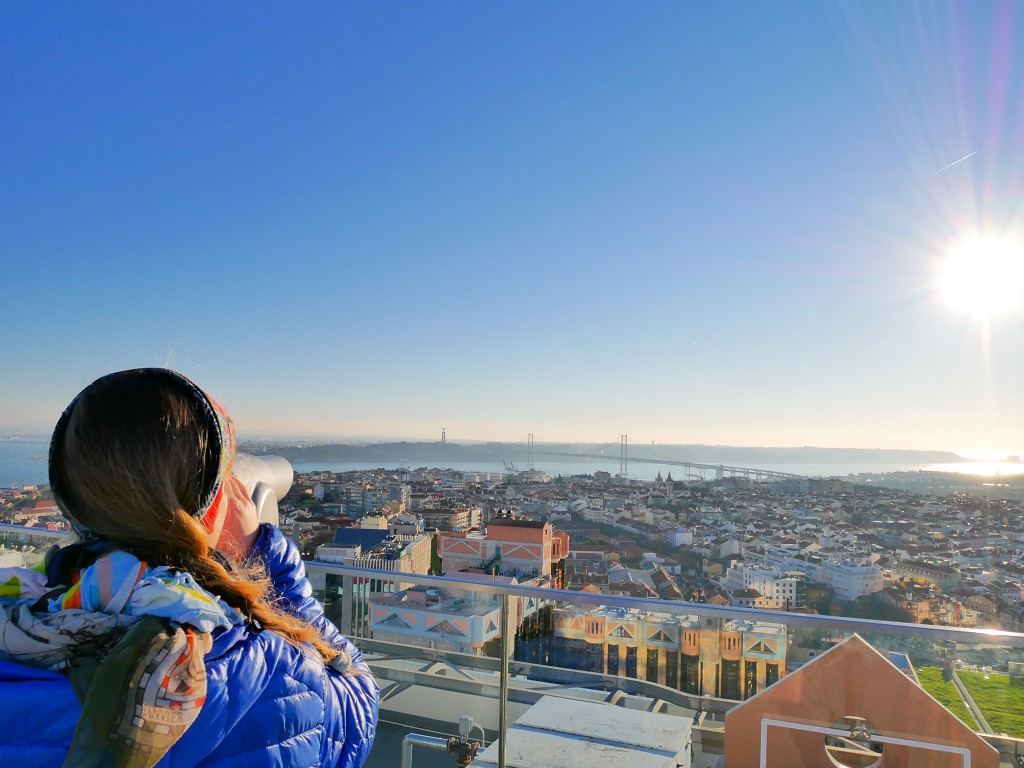 From the 3rd till the 15th of January 2019, we stayed in the neighborhood named Campo de Ourique in Lisbon, Portugal. After Lisbon in winter, we traveled to Cabo Verde for 88 days to catch some of their abundant sunshine. Jonas worked from our cold but comfortable Airbnb and I finished my university thesis. These are some of the fun activities we did inside and from our cool neighborhood. To scroll down to the map, click here. To read some tips about staying in Campo de Ourique/Lisbon in winter, click here
Mercado de Campo de Ourique
Opening times: Sunday–Thursday 10:00–23:00. Friday and Saturday 10:00–01:00. Different opening times apply during Christmas and New Year's. More information on their website.
The easiest thing to visit a few times from within Campo de Ourique neighborhood is the market (mercado). Here you can find lots of people passionate about their craft; be it wine, beer, or hummus, you'll find something nice here.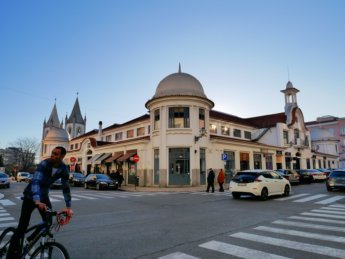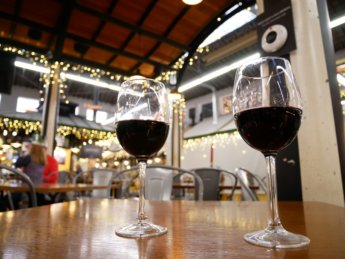 As is normal with such markets, there's a central area with tables where everyone can eat and drink their goodies. It's normal to get a drink from one stand, a snack from another, and your buddy might eat and drink something completely different. That's very nice if you have different diets. There's something for everyone!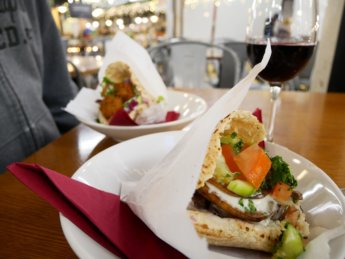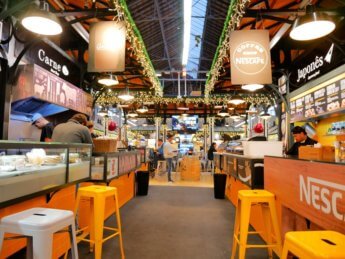 Planespotting from Amoreiras
Price: €5 for adults. €3 for those over the age of 65.
Opening times: October–March 10:00–12:30 and 14:30–18:00. April–September 10:00–12:30 and 14:30–22:00. July–August 10:00–22:00 continually. Closed on December 24th, 25th, 31st and January 1st. More information on their website.
The rooftop of the Amoreiras shopping mall has some excellent views over the city. There are free tower viewers/public binoculars to use in almost every direction. It's best to pick a clear day to have a very distant 360° view. The planes fly almost directly over the viewing platform, which is pretty cool and only slightly terrifying.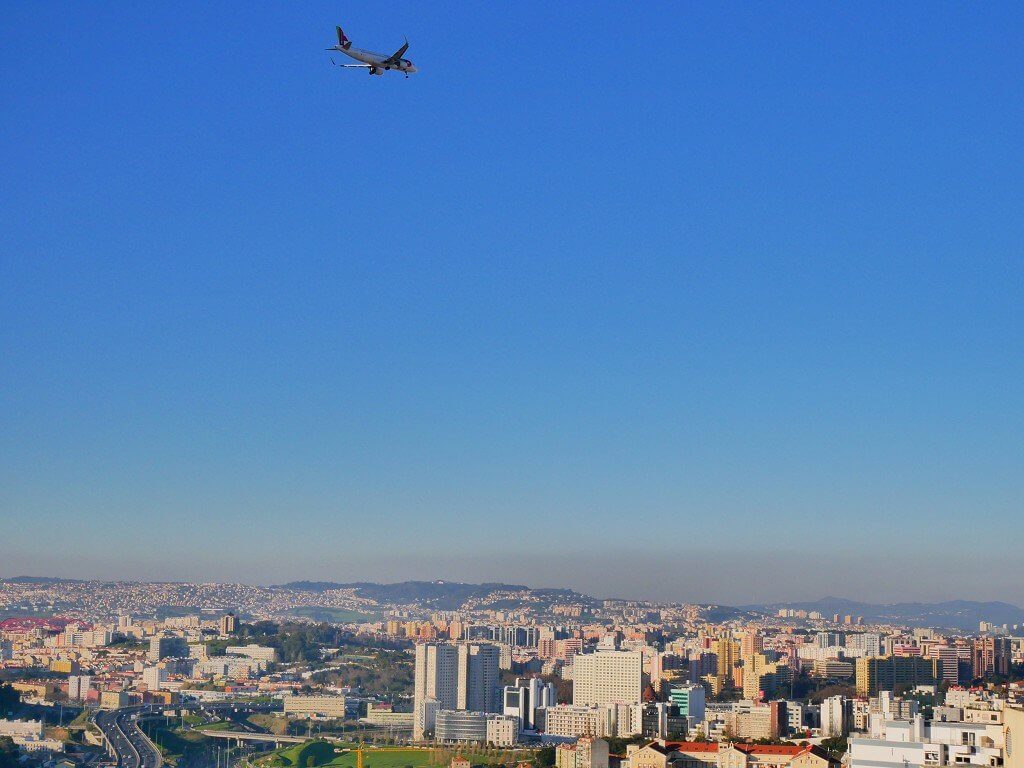 If you look from the other side, you'll see the Ponte 25 de Abril (bridge), the Santuário Nacional de Cristo Rei (Christ statue), and even the Ponte Vasco da Gama (huge bridge). There are many cargo ships lying in wait in the Tagus estuary. The big green area on a hill is the Panorâmico de Monsanto. You can also see a bit of the best sight and activity of Campolide neighborhood: the Aqueduto das Águas Livres.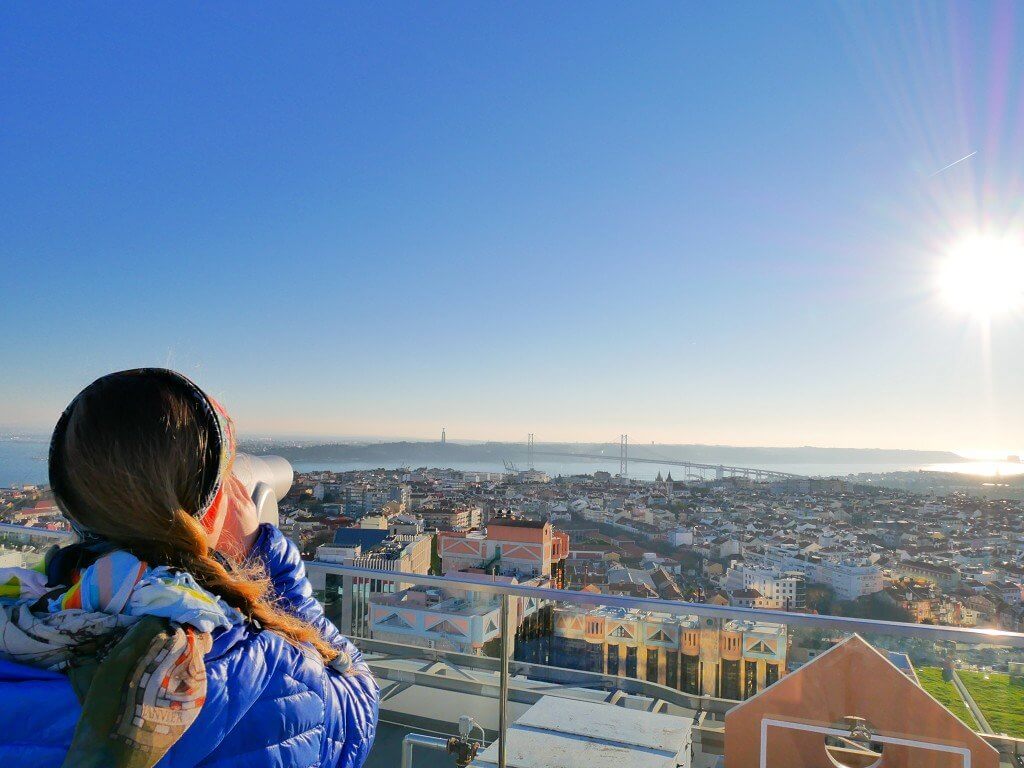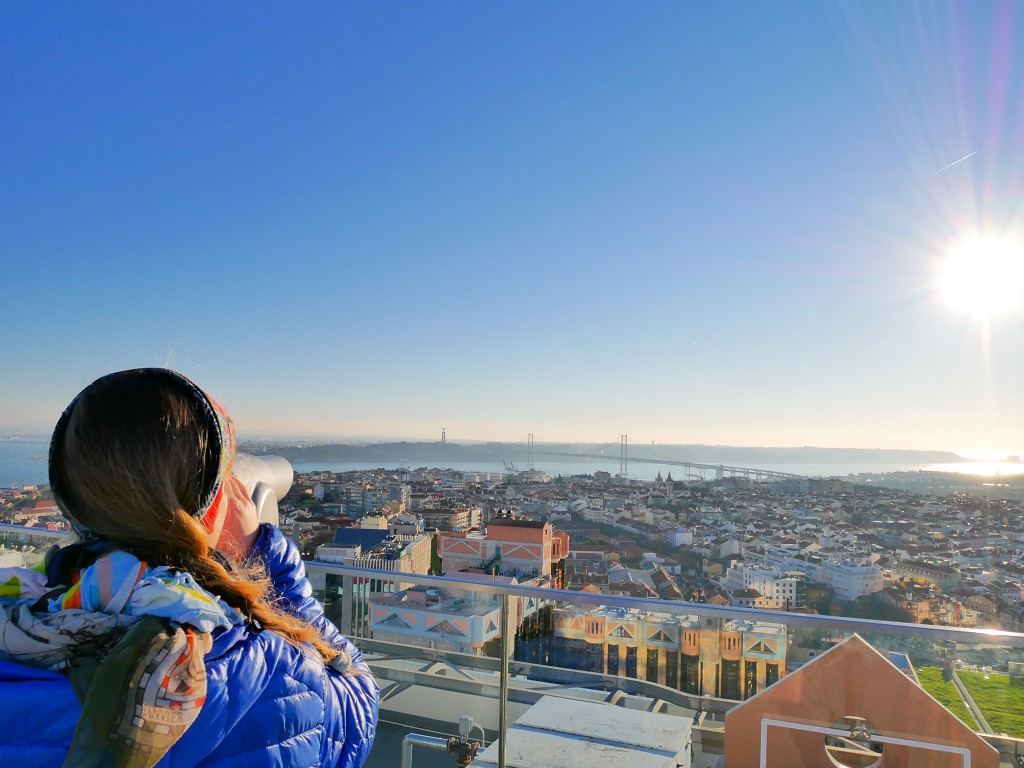 Smoking a Shisha at Lisbon Café
If you're fond of shisha/nargile/qalyan/hookah/waterpipe, Lisbon is a great place to do it. There are many shisha bars in Lisbon where you can enjoy a fruity smoke with a beer to unwind. A definite favorite is this café in Campo de Ourique, because they had all 17 flavors they advertised, even the weird ones, for only €7. Their kebab is also very good, though a bit small for an evening meal.
Aqueduto das Águas Livres
Opening times: Tuesday–Sunday from 10:00–17:30. Closed on Mondays.
Prices: €3 for adults and €1.50 for students.
This 18th-century aqueduct is truly amazing. It crosses the Alcântara valley at a dizzying height. Oh, the efforts humans will go through to bring fresh water to places that don't have any! The incredible construction even survived the heavy 1755 Lisbon earthquake that yielded 8.5–9.0 on the Richter scale and destroyed much of the city.
The aqueduct is the highlight of the larger grouping of sights from the Museu da Água. You can get special tickets to combine sights. It also comprises the Mãe de Água reservoir, the underground galleries, the patriarchal reservoir, and the Barbadinhos steam pumping station.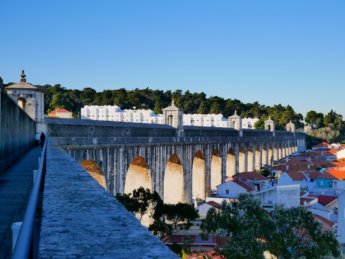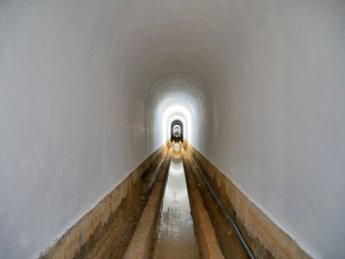 The incredibly arched bridge spans the valley for almost one kilometer. The highest point to the bottom of the valley is 65 meters. At the bottom of the valley lies the big busy highway that's part of Lisbon's ring road. Driving underneath it in your Uber to and from Campo de Ourique neighborhood is also very spectacular.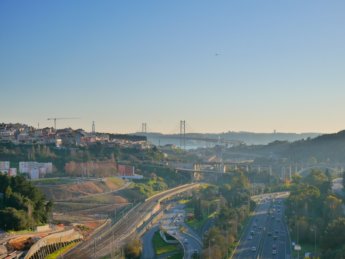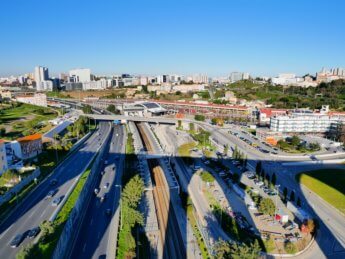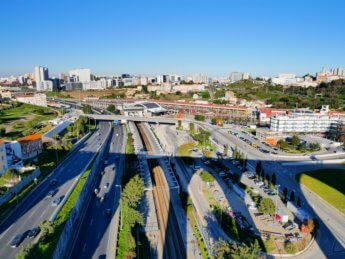 Especially in winter, it's very quiet and doesn't attract a lot of visitors. Due to its orientation, there will be one distinctly sunny side and one with shadow. You can cross to the other side about halfway. We didn't manage to get out on the other exit across the Alcântara valley of the aqueduct, which is, of course, a missed opportunity to use existing infrastructure to help pedestrians cross an entire valley.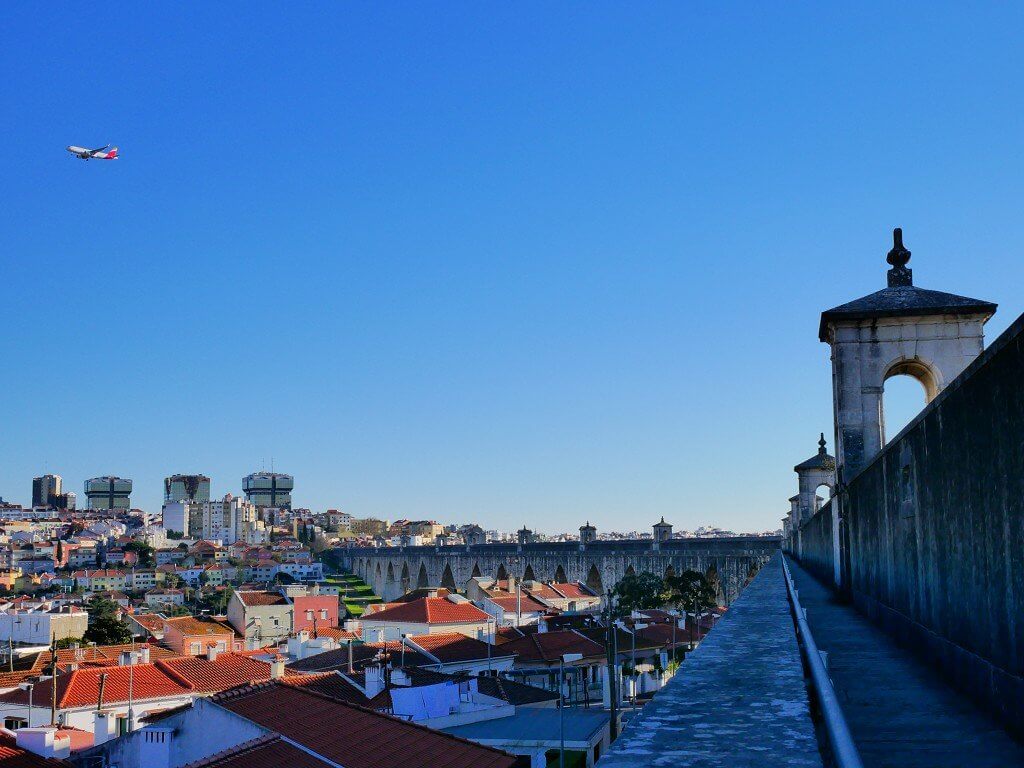 Jardim da Estrela
A pleasant garden to stroll around and do some people-watching from is Jardim da Estrela. It's near the beautiful Basílica da Estrela. On a sunny winter day, it's very nice to have a cup of coffee and fresh air. You might even see people practice their dancing skills in the pavilion.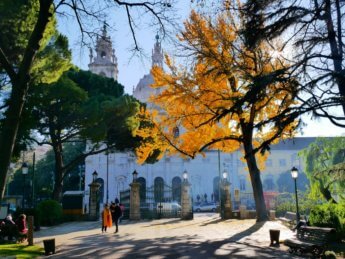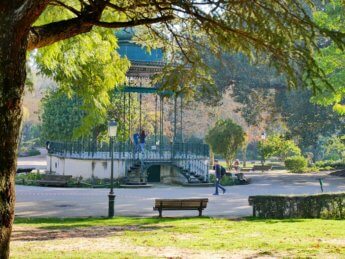 If you've been tempted by the Lime Scooters in Lisbon, this is a relatively easy place to learn how to ride one. That is if you aren't super irritated by them by now.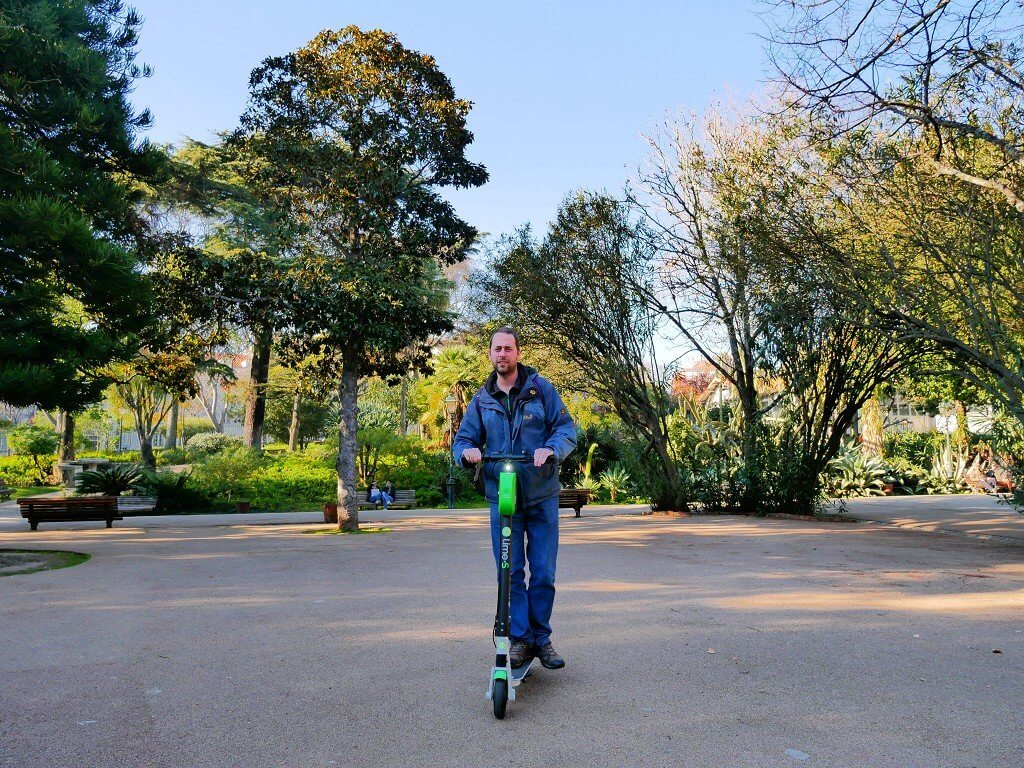 Miradouro Parque Eduardo VII
The Avenidas Novas neighborhood of Lisbon is also not too far away from Campo de Ourique. This park is a more popular attraction in Lisbon. Both locals and tourists hang out here to catch the light. Therefore, it's more crowded year-round. But it's still a nice place to visit on a downhill stroll before or after a pastel de nata.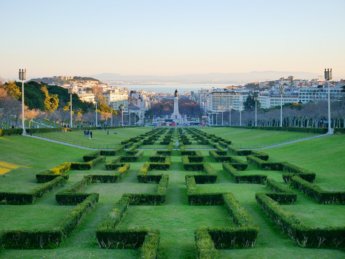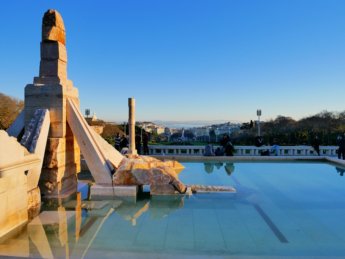 Bonus: Arrábida Natural Park
Though Parque Natural da Arrábida isn't in Campo do Ourique or even in Lisbon, we did our day trip to this beautiful area from this part of Lisbon. To get there, we first traveled to Setúbal from where we rented a scooter to explore Arrábida Natural Park.
Interactive Map
Tips for Staying in Campo de Ourique in Winter
Unlike Lisbon's city center, this neighborhood isn't overrun with tourists yet. The prices for Airbnbs are much more reasonable as of writing. Also, it's not very complicated to make a day trip to Lisbon's city center or the famous Torre de Belém from Campo de Ourique without needing to move there.
The airplanes landing at Lisbon Portela Airport (LIS) fly over the neighborhood. This can get pretty loud depending on the wind direction of the day. If you have a hard time focusing or sleeping with airplane noise in the background, it might be a good idea to pick a different neighborhood, such as Seixal across the Tejo (Tagus) River in Setúbal.
Campo de Ourique is also a little hilly. To get anywhere, you'll probably get a little tired from walking up and down constantly. To learn how to use public transportation in Lisbon is too complicated for someone who doesn't want to move there, so I recommend using Uber to get around for longer distances.
We stayed in Campo de Ourique in winter, which is a beautiful time of the year to be there. But it's really cold! Not outside the door, but inside the homes. That's because the houses in Lisbon are mostly built to be comfy in warm weather. They're poorly insulated for winter and often only have single-layered glass windows.
To combat the cold, your home will likely have a portable heater. But such devices suck up a lot of electricity, which means that all electricity might pop out and go dark if you're also using the TV or heat water. It's a good idea to find out how to solve this problem whenever it happens. We switched to mostly using blankets to stay warm inside our homes and spend lots of time outside whenever possible.
Save for when it becomes useful? Pin this!